Vintage Art Prints Gallery Wall
A beautiful collection of online vintage ART prints framed and hung in a unique gallery wall. Perfect to fill in any large empty wall space.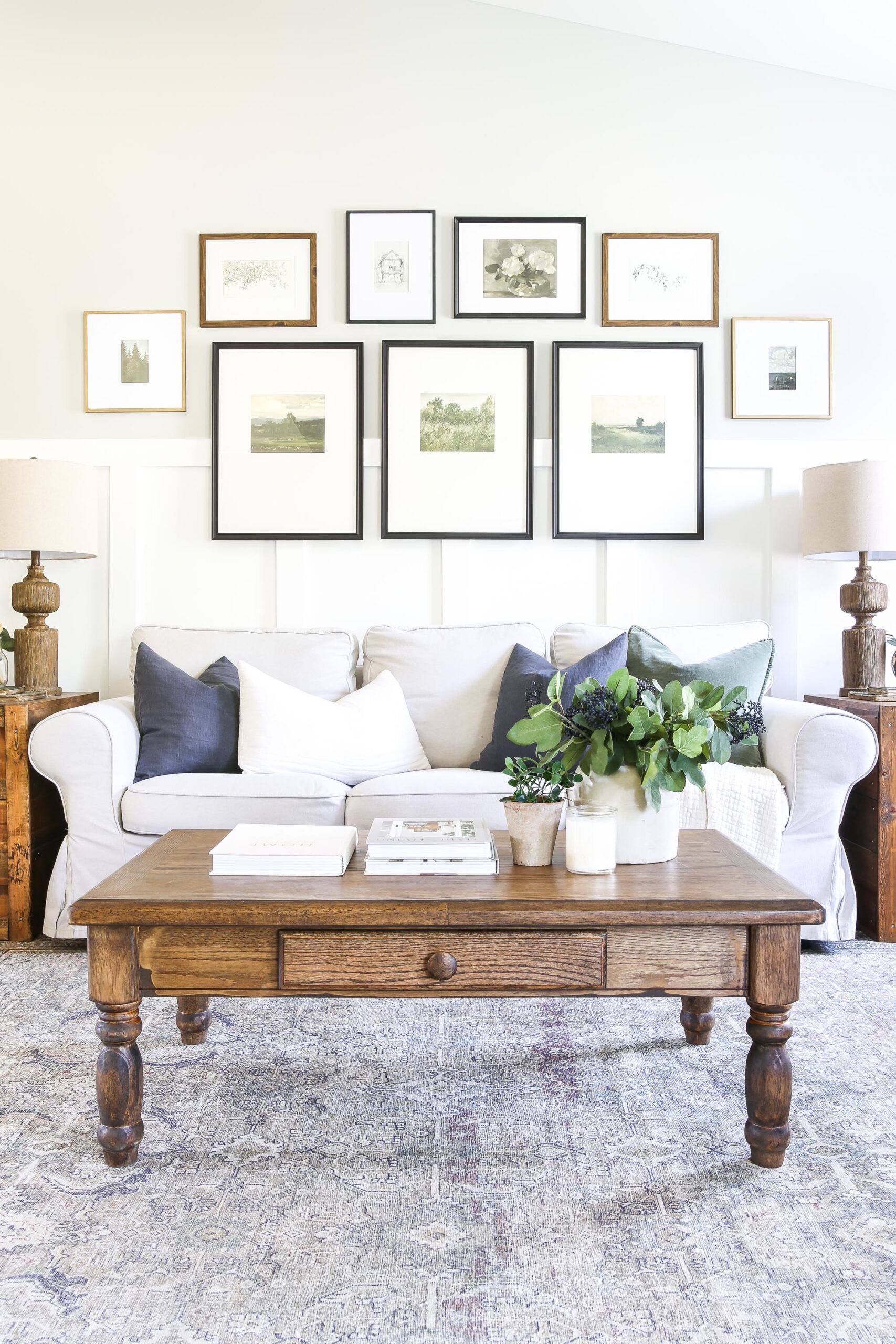 Framed vintage art has become such a huge trend over the past few years. Whether it be original old paintings, or ones that you can buy online and print yourself, you can find these popping up in a lot of homes nowadays.
I've been a huge fan for some time now. I did my first little gallery wall with vintage printables last year in our master bedroom makeover, and still love it. Since then, I have sprinkled them all over our house. And when I'm out antique shopping, originals are always on my list.
I even wrote a blog post about where you can find them online.
Our living room wall behind the sofa was in need of a major update, so I went for this vintage arts prints gallery wall look once again.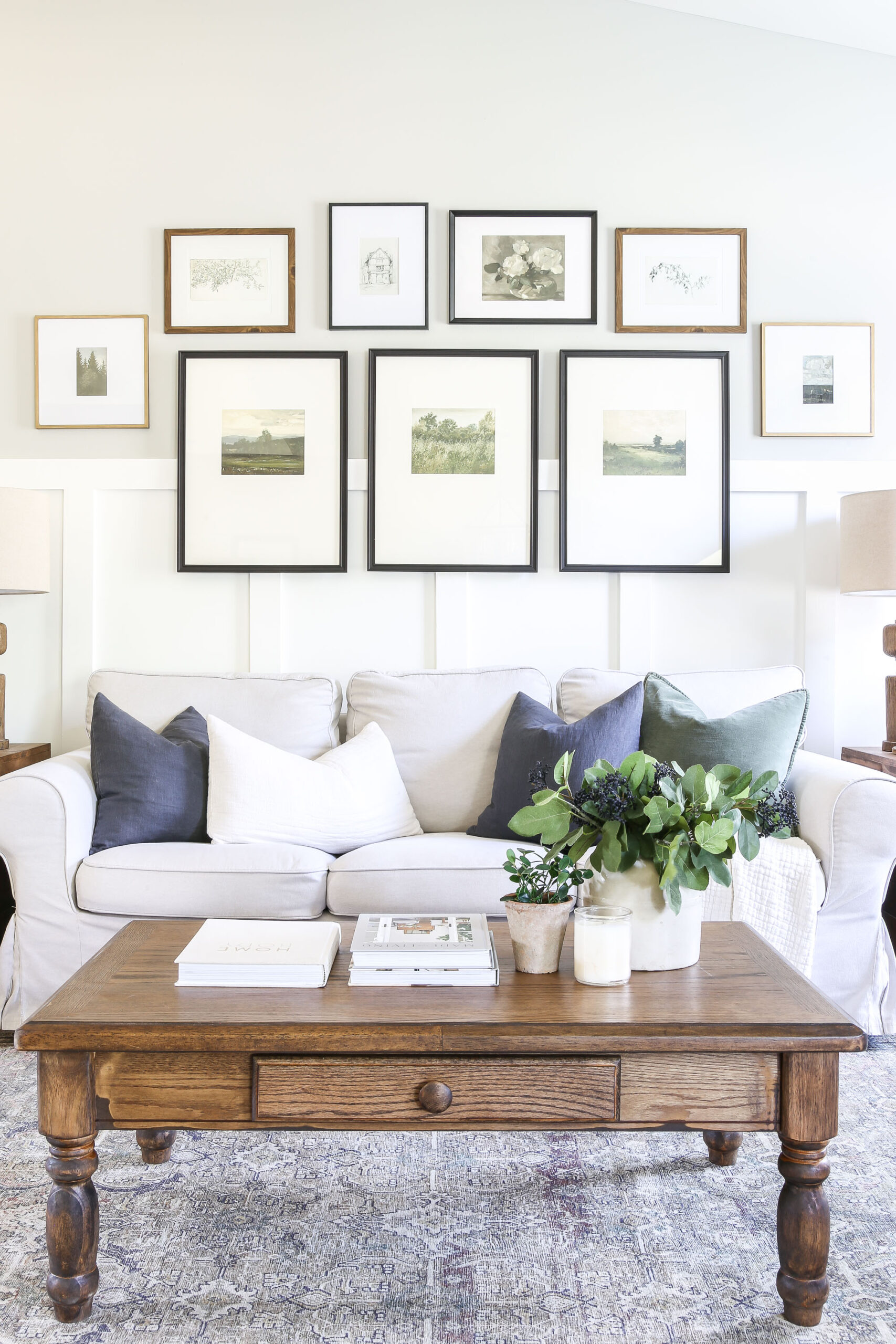 Affiliate links are provided below for your convenience. For more information, see my full disclosure here.
Tips for Creating a Vintage Art Prints Gallery Wall
There are so many different ways you can create a gallery wall. Since I started loving the look of vintage prints, I've had a game plan all along of how I was going to create a few gallery walls in our home.
Collect frames – Frames can get expensive. A few of mine on this wall were way more than I wanted to pay but the size I needed was hard to find. However, other times I grab them from Goodwill, garage sales, antique stores for just a few dollars. But I'm always collecting them.
Incorporate different styles, colors, and textures of frames – This makes the gallery wall much more interesting. Mix wood, metal, brass, thick, thin, old, new, matted, not matted, etc.
Customize frames – You can always change the color of a frame! Even new ones. I used Rub'n Buff on my gold frames because I wanted a more antique look. You can also customize the matting to whatever size you need it to be.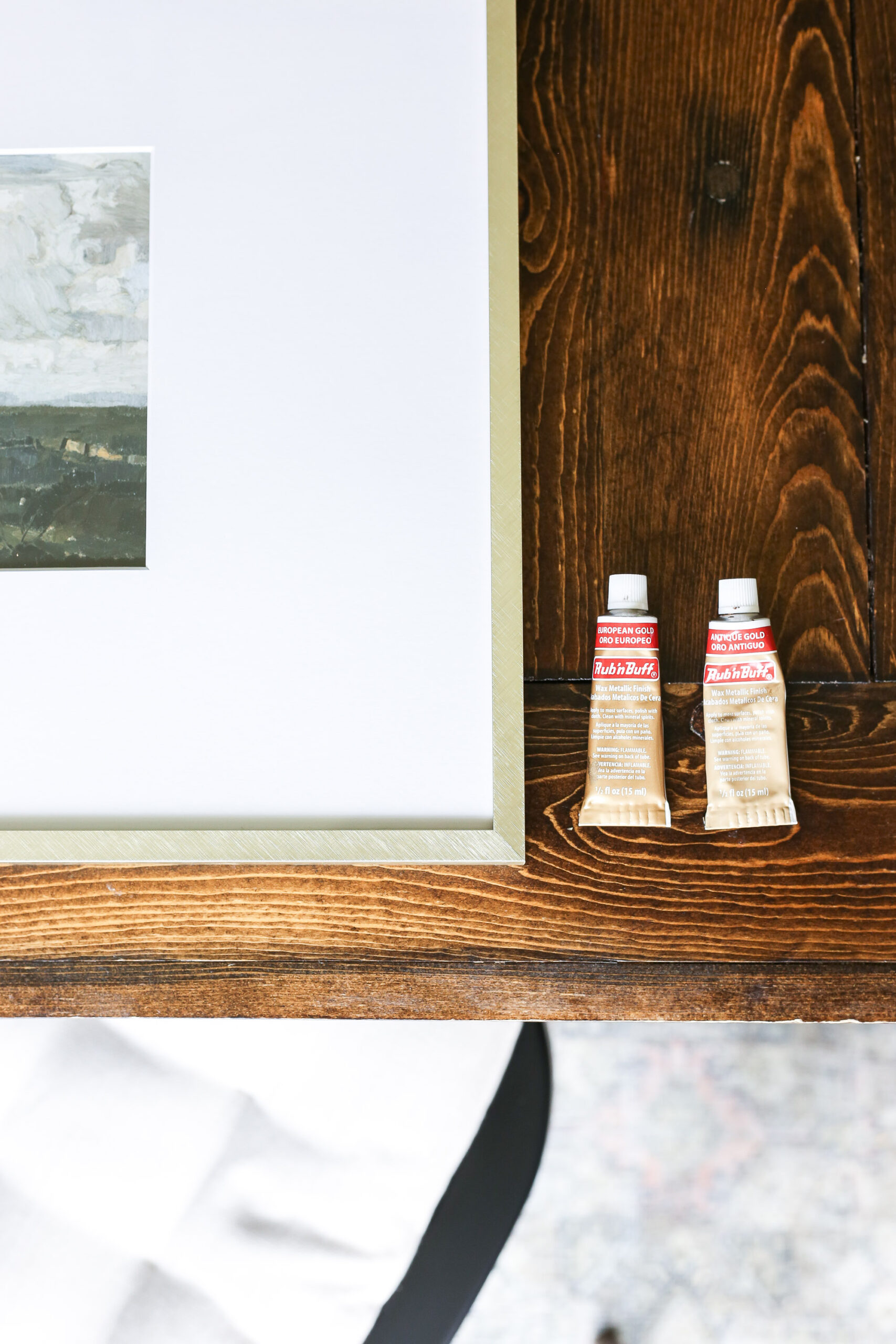 Hang frames before ordering your art – I like to figure out how I want my frames hung before I order art for them. So I played with the frame design (which can be tricky and take some time), hung them all up how I wanted them, then got online to order the art pieces for each one. That way you know what sizes to order for each frame.
Finding prints online – The cheapest prints I have found online come from Etsy. A quick search for "vintage prints" and you will find so many shops selling them. My favorite shop is called North Prints. They run deals for a percentage off when you buy a certain number of prints, and they always have the best collection.
Printing the art – Once you purchase your prints from the Etsy seller, you can either print them from home, which I only recommend if you have a great printer, or you can order them to be printed elsewhere. I always use Walgreens, because they also always have coupons for usually 50% off. You just go online, upload them in the sizes you want, and they can be ready in the same day.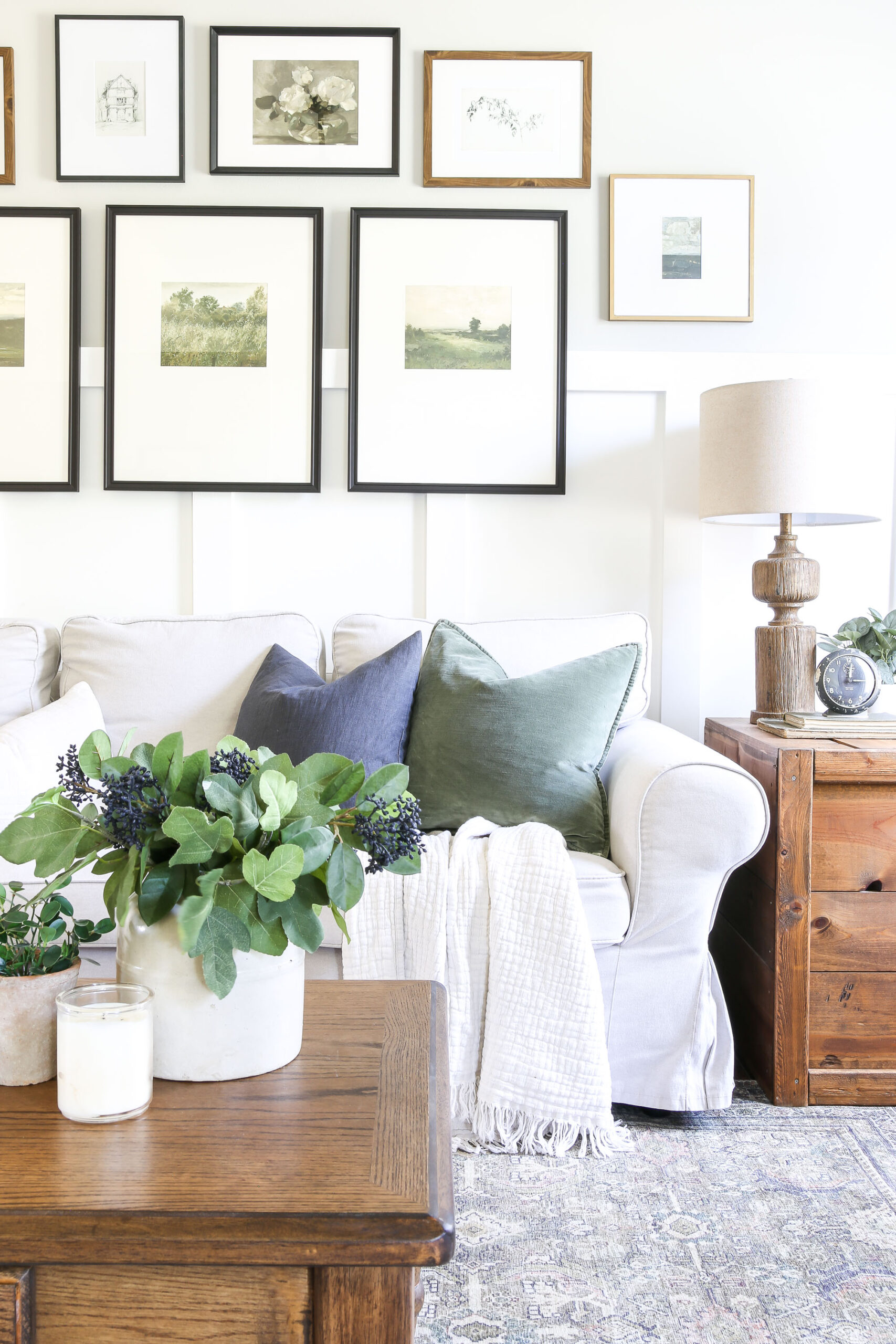 Frame Sizes and Sources of Gallery Wall
I chose to do a mixture of frame sizes and colors. I think with vintage looking art you can mix and match to play off of the artwork colors and textures. I also wanted this particular gallery wall to have all matted frames so the artwork wasn't too overwhelming with the amount of pieces I had together.
Here are the frames I used: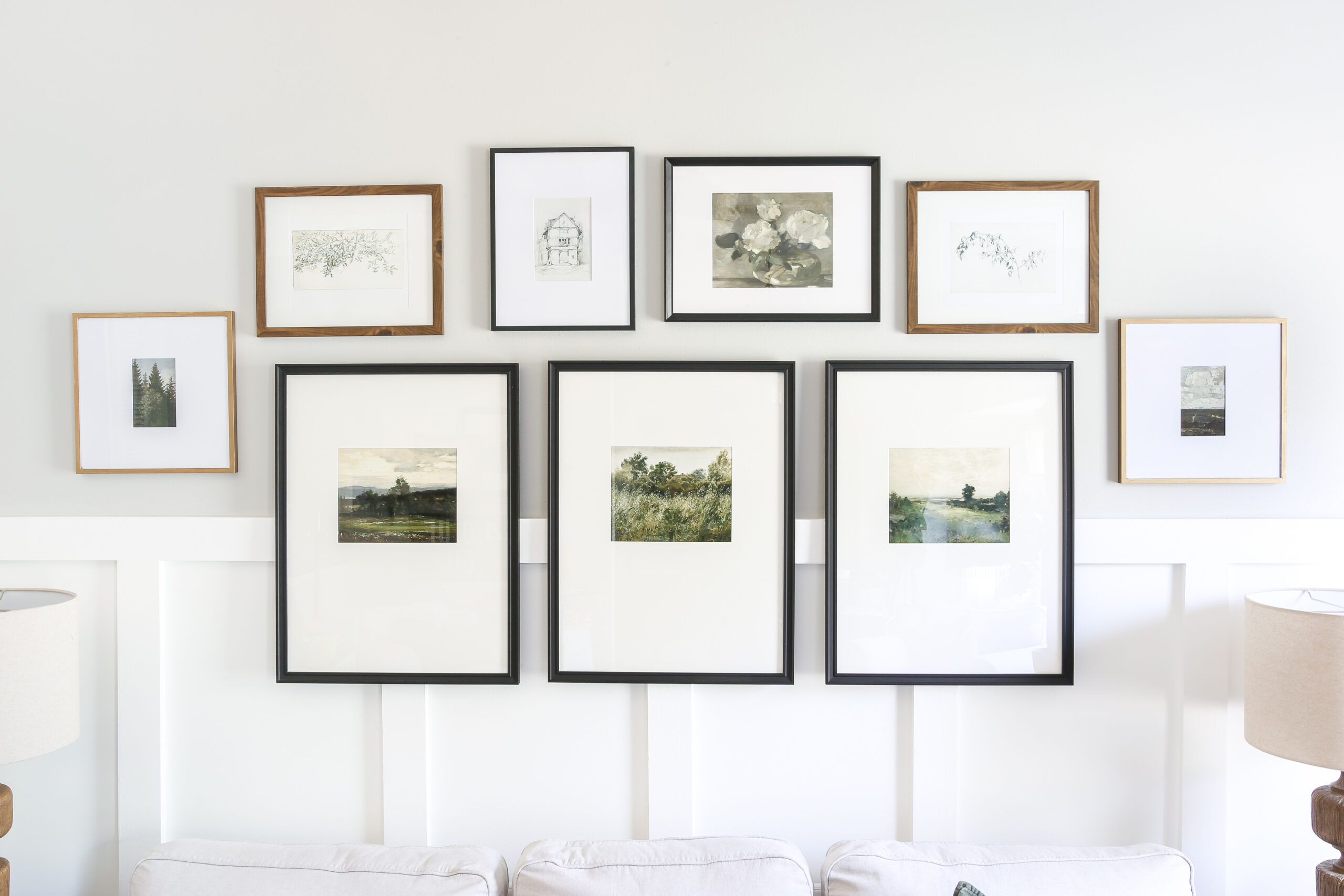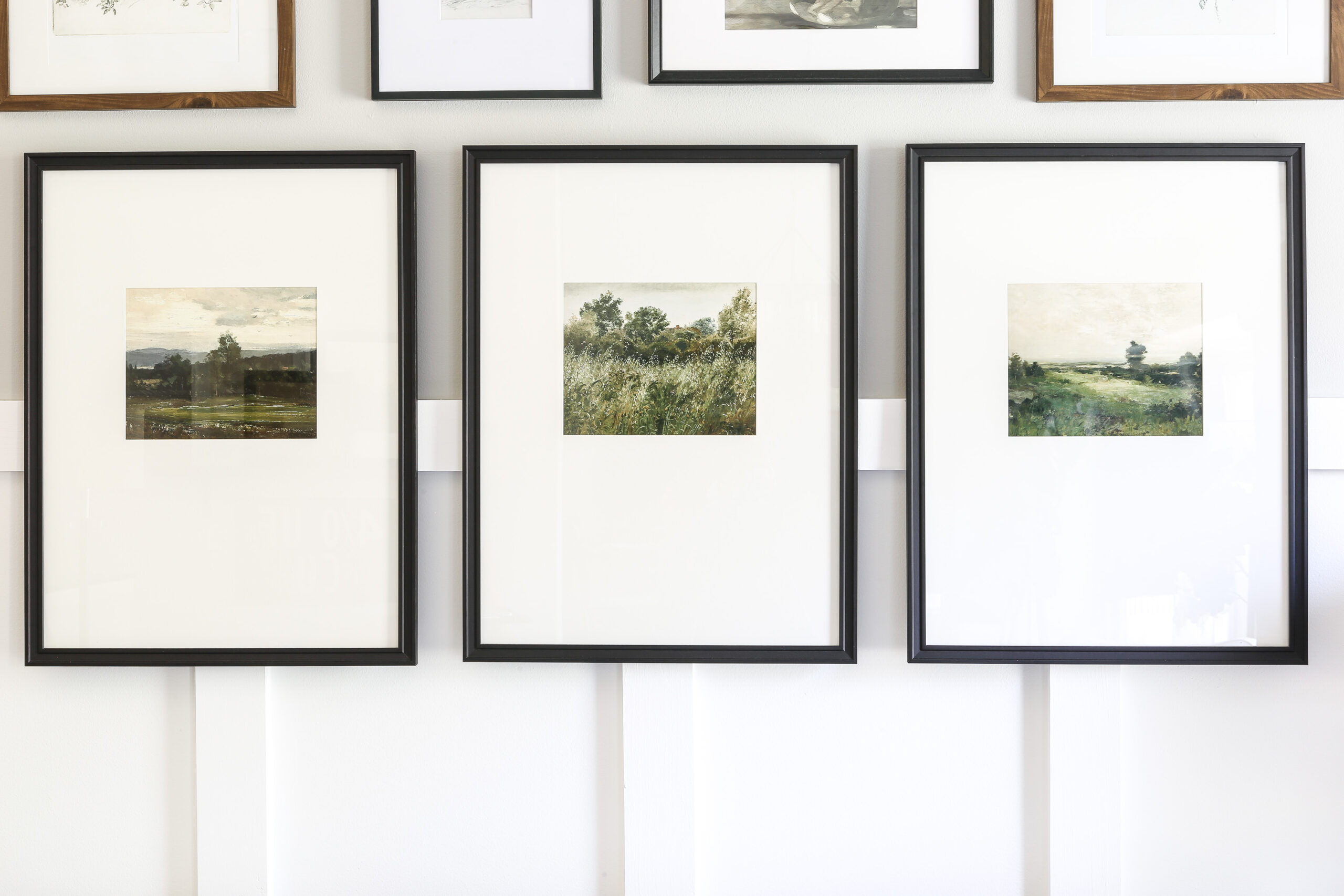 Vintage Print Art Sources of Gallery Wall
Like I said above, I buy all my printable art from Etsy. Most of, if not all of, the prints in this gallery wall are from North Prints. Landscape art is my absolute favorite, but I also like to mix in simple sketches too, and florals here and there.
Here is the art I used: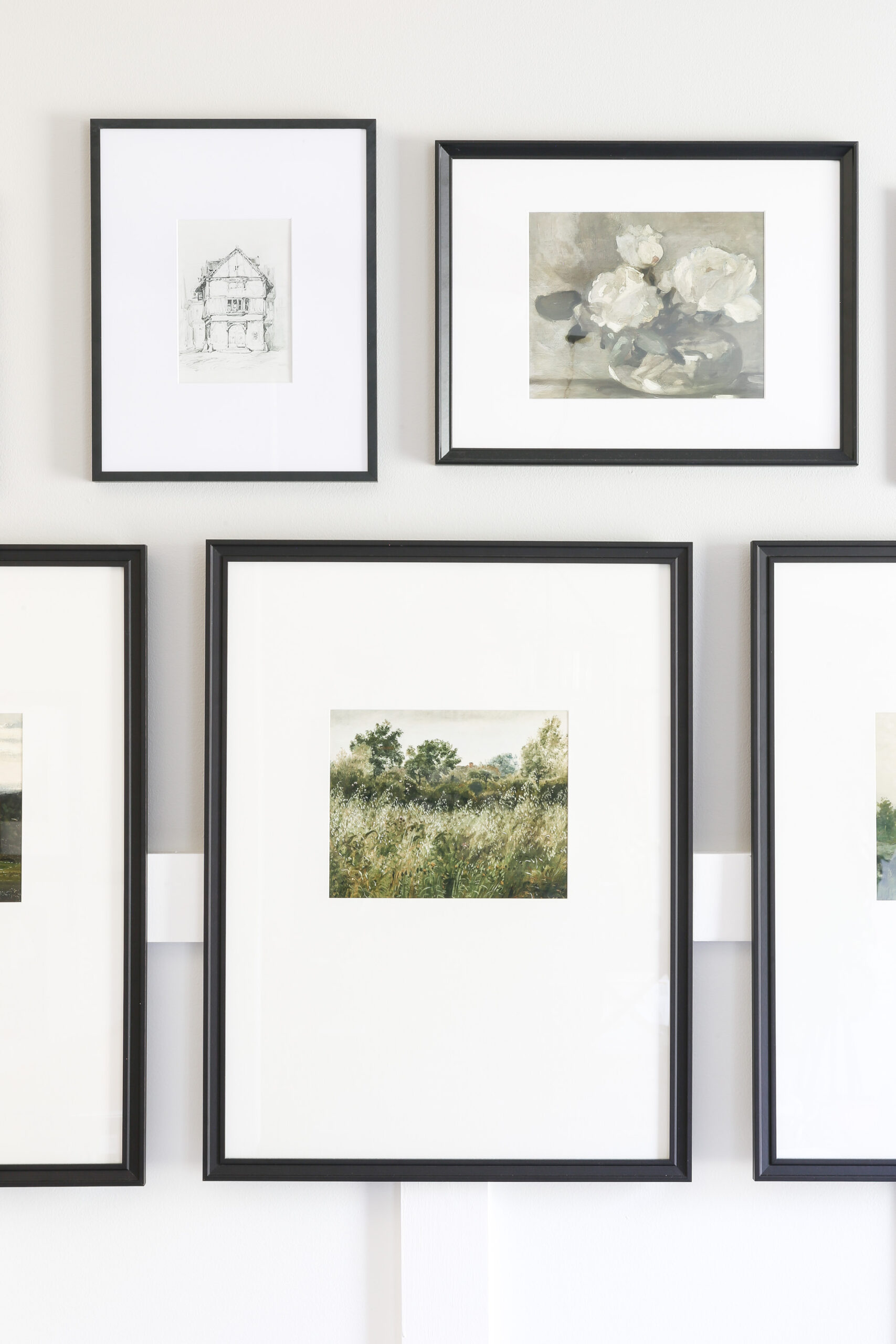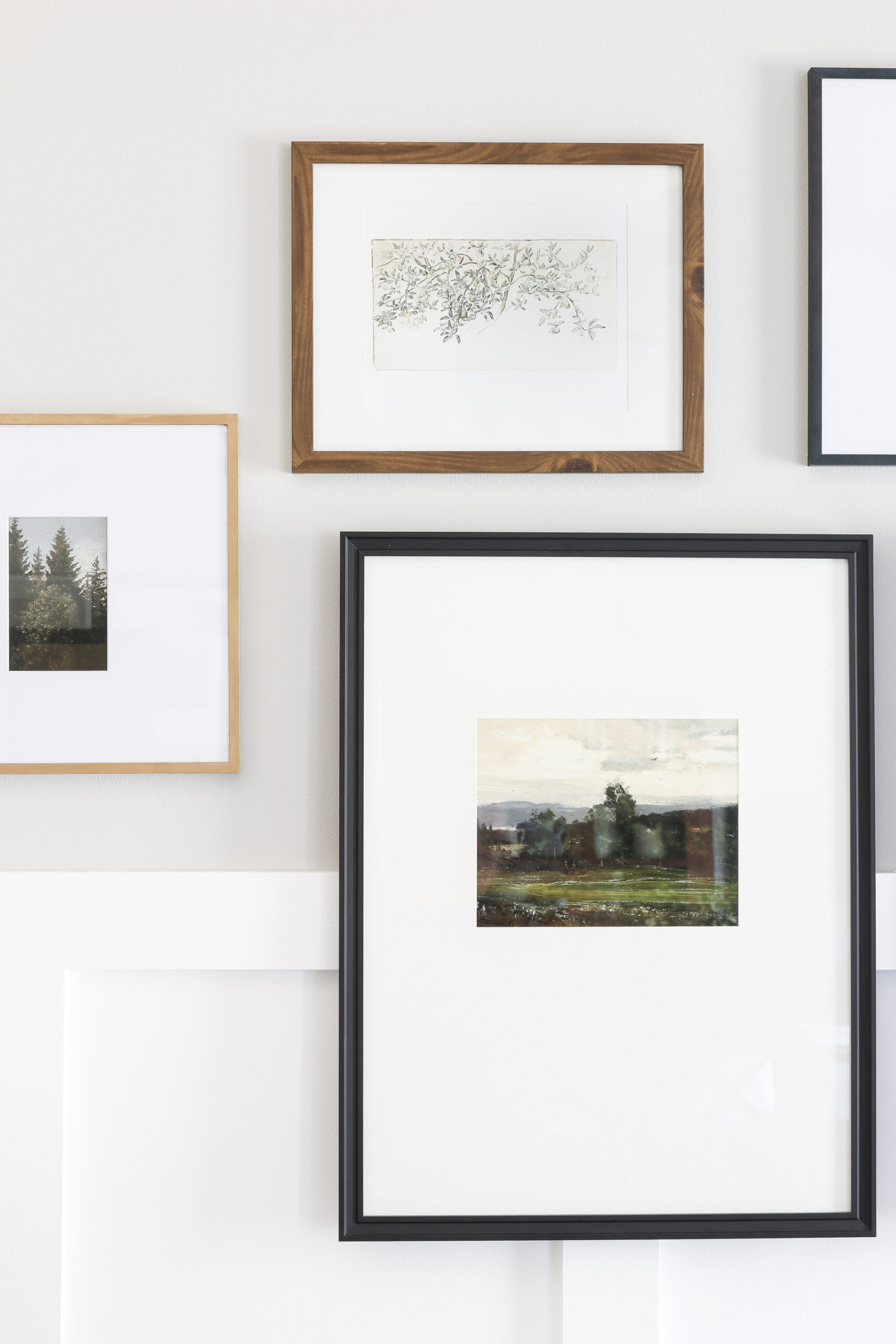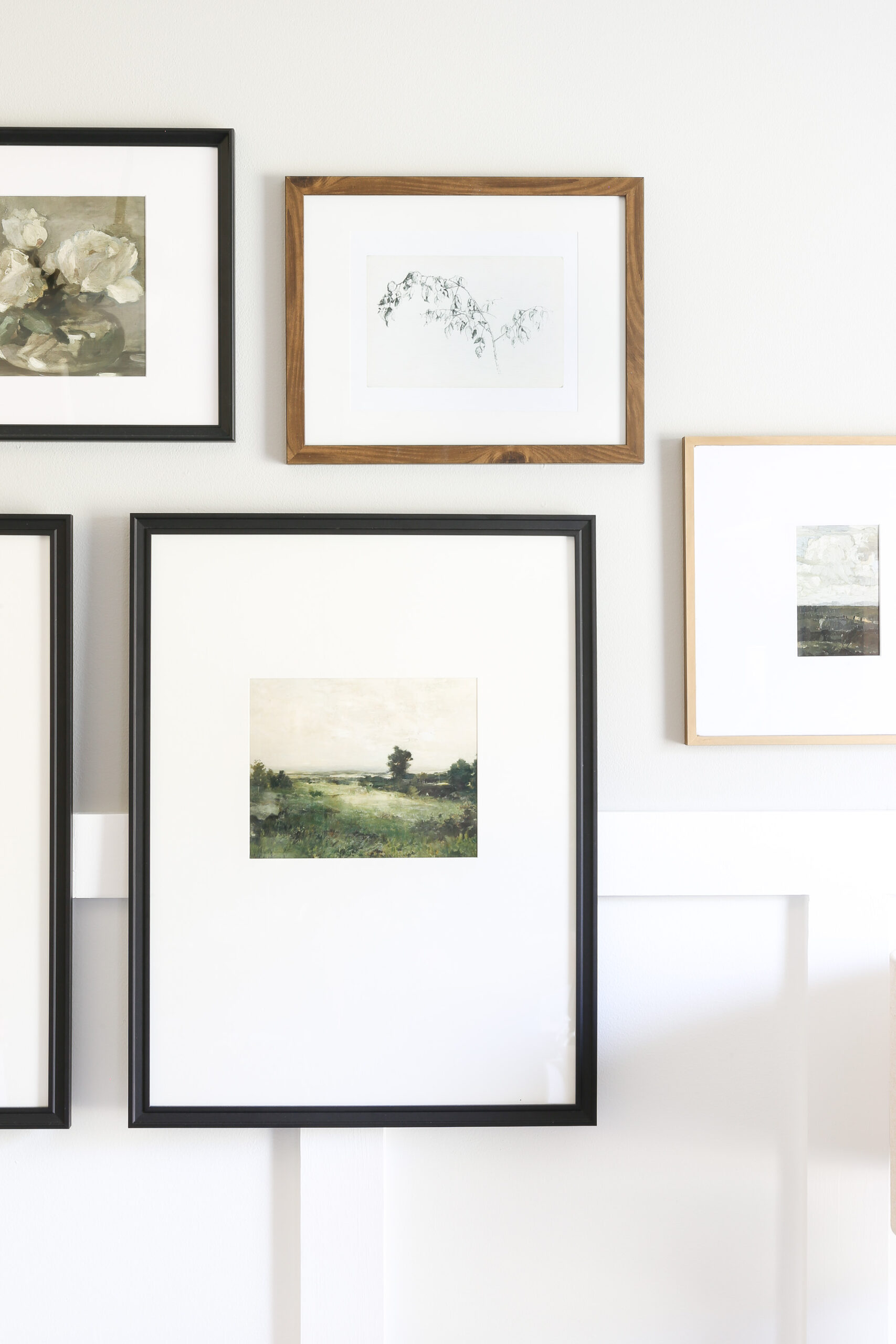 Overall I just love the entire look. All the different frames, the prints, how they mesh so well with the natural, neutral look of our living room. I think it was definitely a much needed change!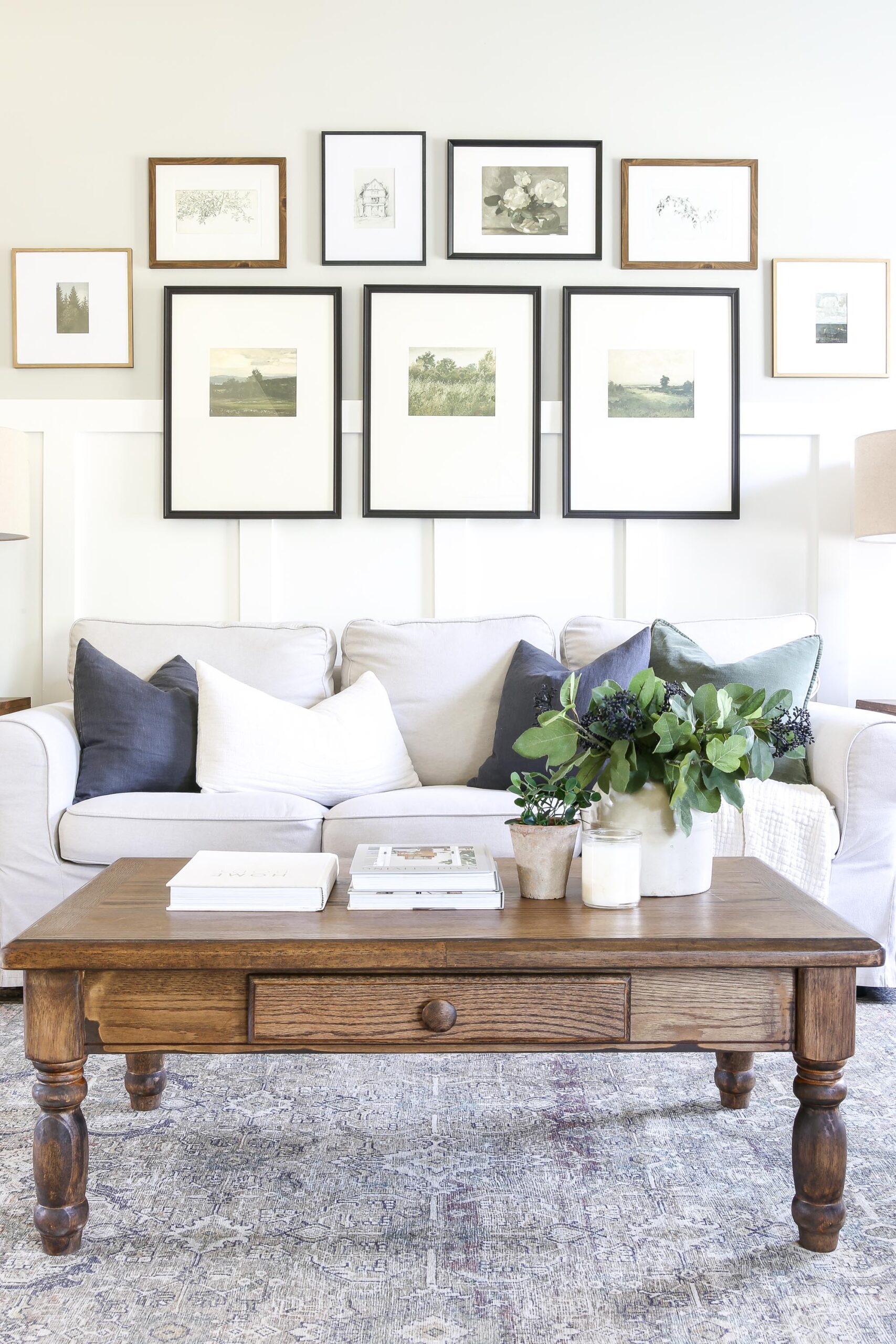 Other Decorating Tips
Pin This Post for Later