DIY Industrial Coffee Table
This post may contain affiliate links. For more information please see our disclosure policy.
Build your own affordable DIY Industrial Coffee Table with this easy step by step tutorial. It's the perfect living room addition for any decor style!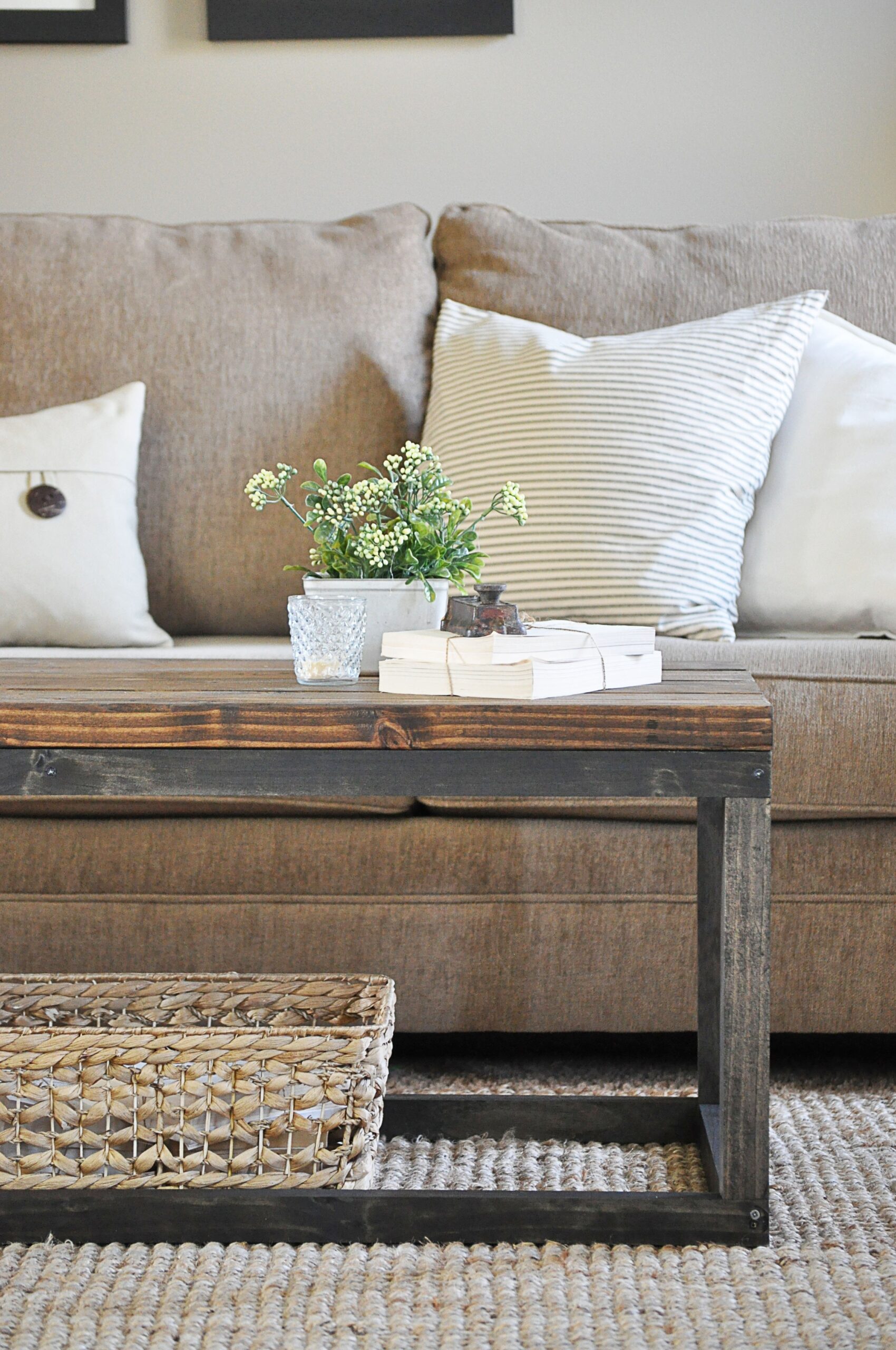 You know those projects that make you do a little happy dance when you finish them? This affordable DIY Industrial Coffee Table is one of those!
Not only do we have a much needed new piece of furniture now, but we saved a lot of money building it ourselves rather than buying it. The DIYer in me is so proud!
I've wanted one of these industrial wood top coffee tables for a while now. But the ones I liked were always a little out of my budget. So as any DIY enthusiast would do, I decided to attempt to make one myself for an affordable price.
I have seen some of my fellow blog friends make some great knockoff versions of this coffee table (such as this one by Home Made Lovely), so I knew it could be done.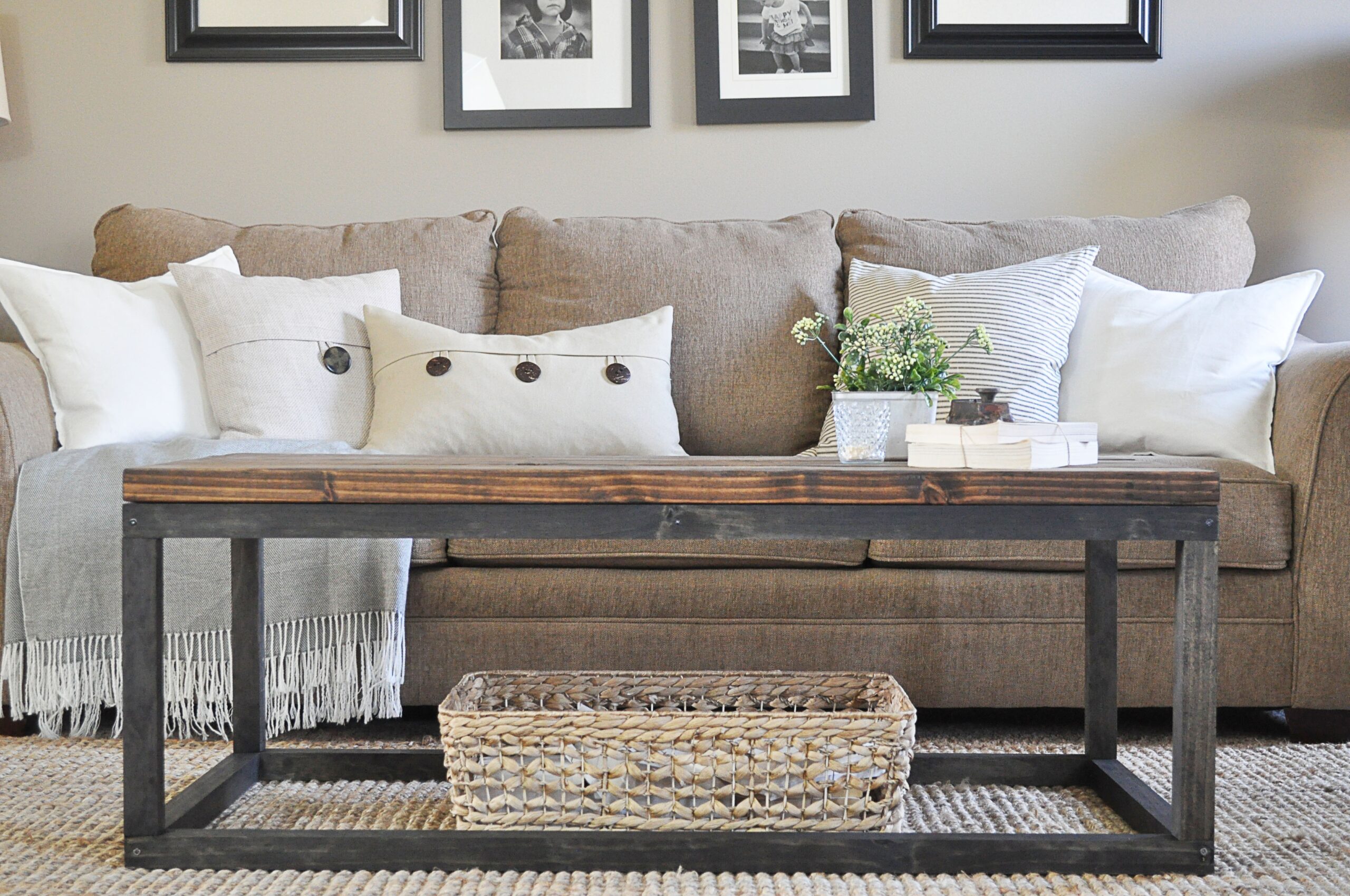 Supplies Needed to Build DIY Industrial Coffee Table
Affiliate links are provided below for your convenience. For more information, see my full disclosure here.
2 8ft 2×6 Prime #2 Better Douglas Fir Lumber (Planked Top)
4 8ft 2×2 Select Pine Board (Frame)
Sander
Power Drill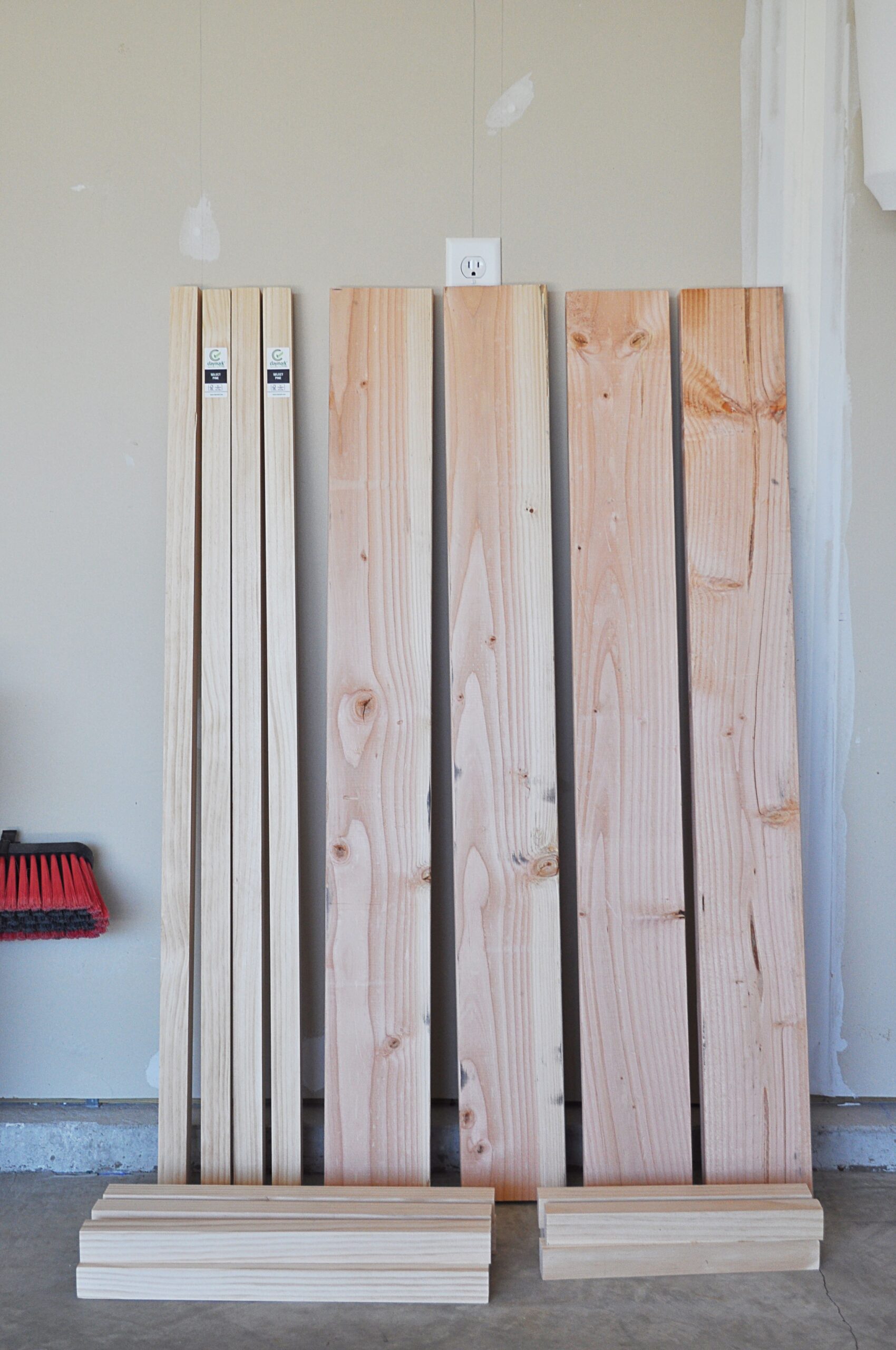 Instructions on Cutting the Wood
Tip: Take advantage of your local hardware stores cutting center. They will usually cut your wood to the size you need at little to no cost.
We had the two 8ft 2×6 boards cut in half to give us our four wood planks that make up the top of the table.
We had two of the 8ft 2×2 boards cut in half to give us our four 48in pieces for the top and bottom of the frame.
Once we got home we used our miter saw to make the smaller cuts: Five of the 2×2's 20in a piece (four for the top and bottom sides of the frame and one for the middle to support the planked table top). Also, four of the 2×2's 12in a piece for the legs. All cuts pictured below.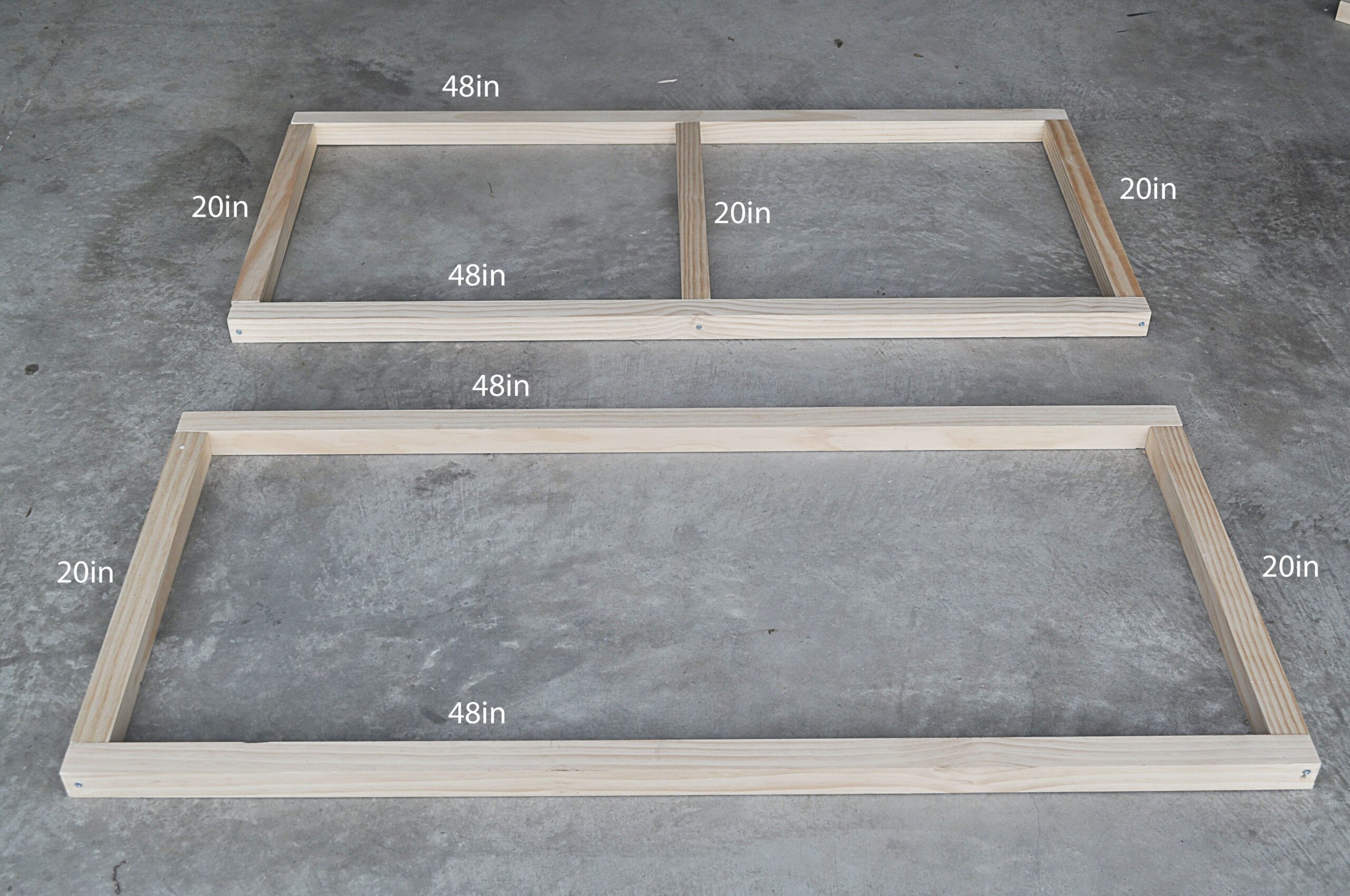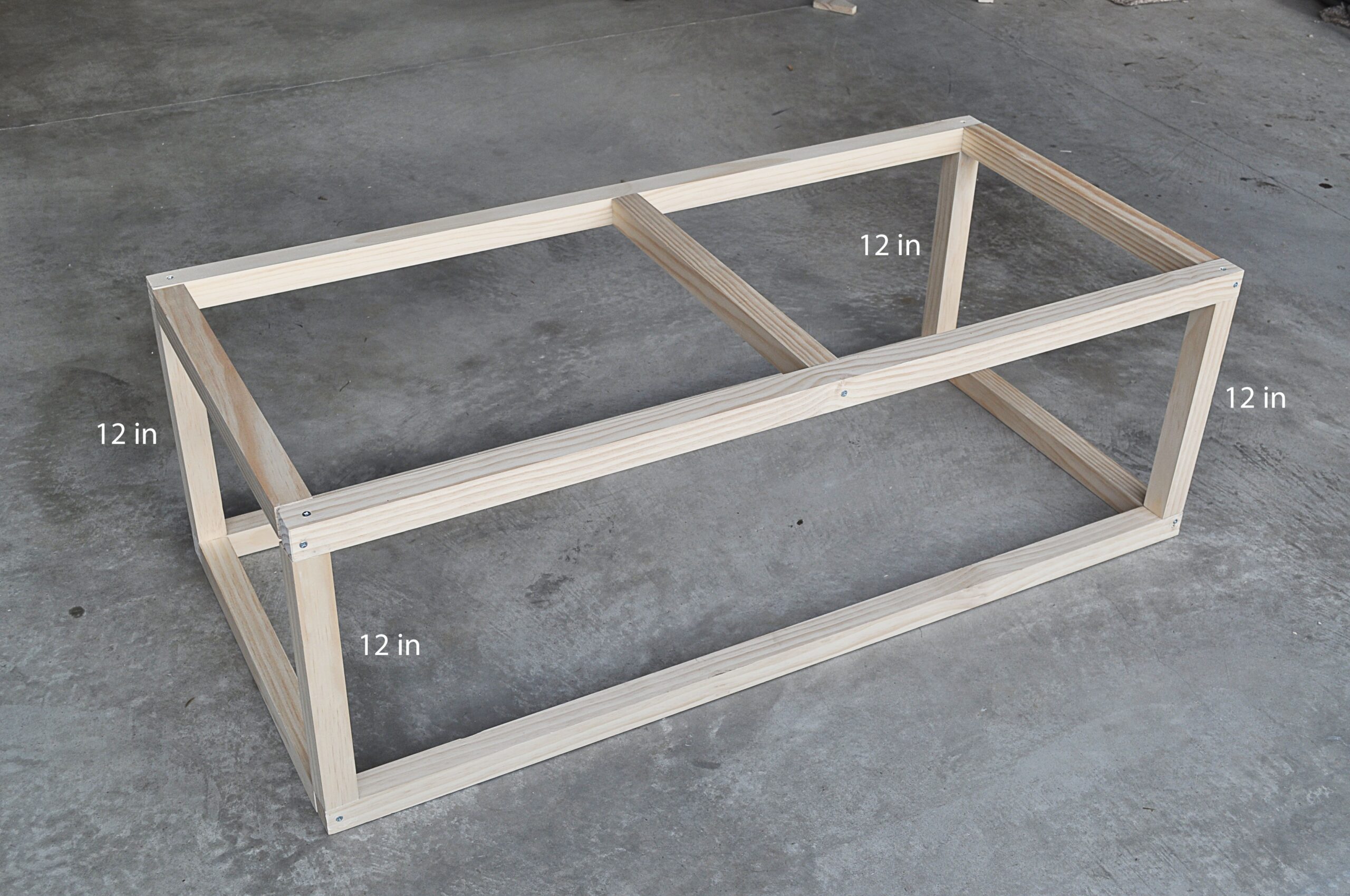 How to Assemble the Frame of Table
When assembling the frame, the position of the screws were kind of tricky. There were two 2.5in screws being drilled into each of the eight corners in very close proximity.
We just made sure they didn't run into each other, as pictured below. Or with a Kreg Jig, you can create pocket holes if you would like instead. Two additional screws were used to attach the middle support piece as well.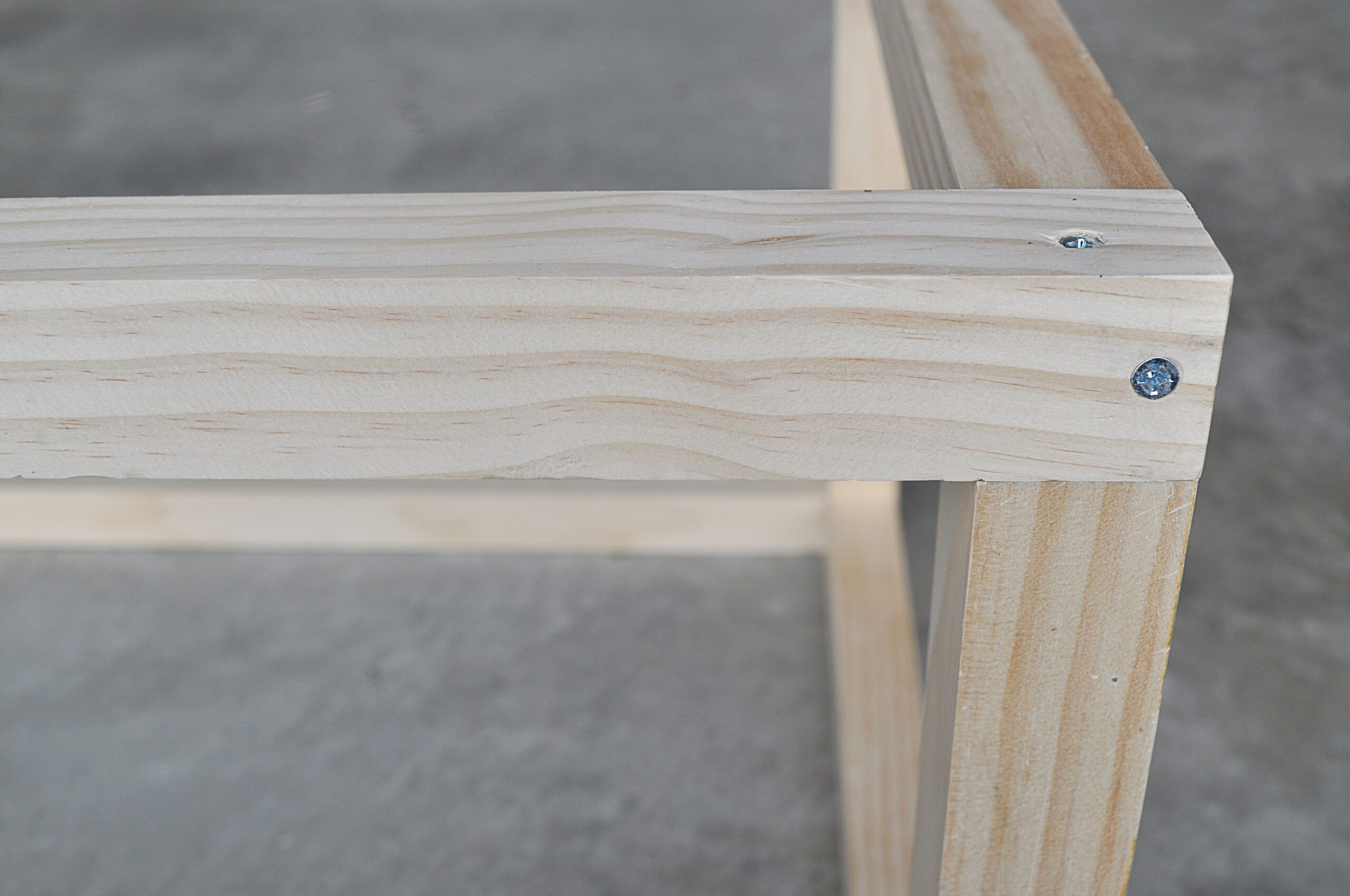 Sand, Stain, and Seal the Wood
For the planked wood table top, I sanded down the wood then used my favorite Dark Walnut wood stain to stain all four pieces.
For the legs, I used two coats of Ebony wood stain which actually gave it the slight metallic look I was hoping. Since most of these tables have steel looking legs.
Once everything was dry, I used clear matte polyacrylic to seal all pieces.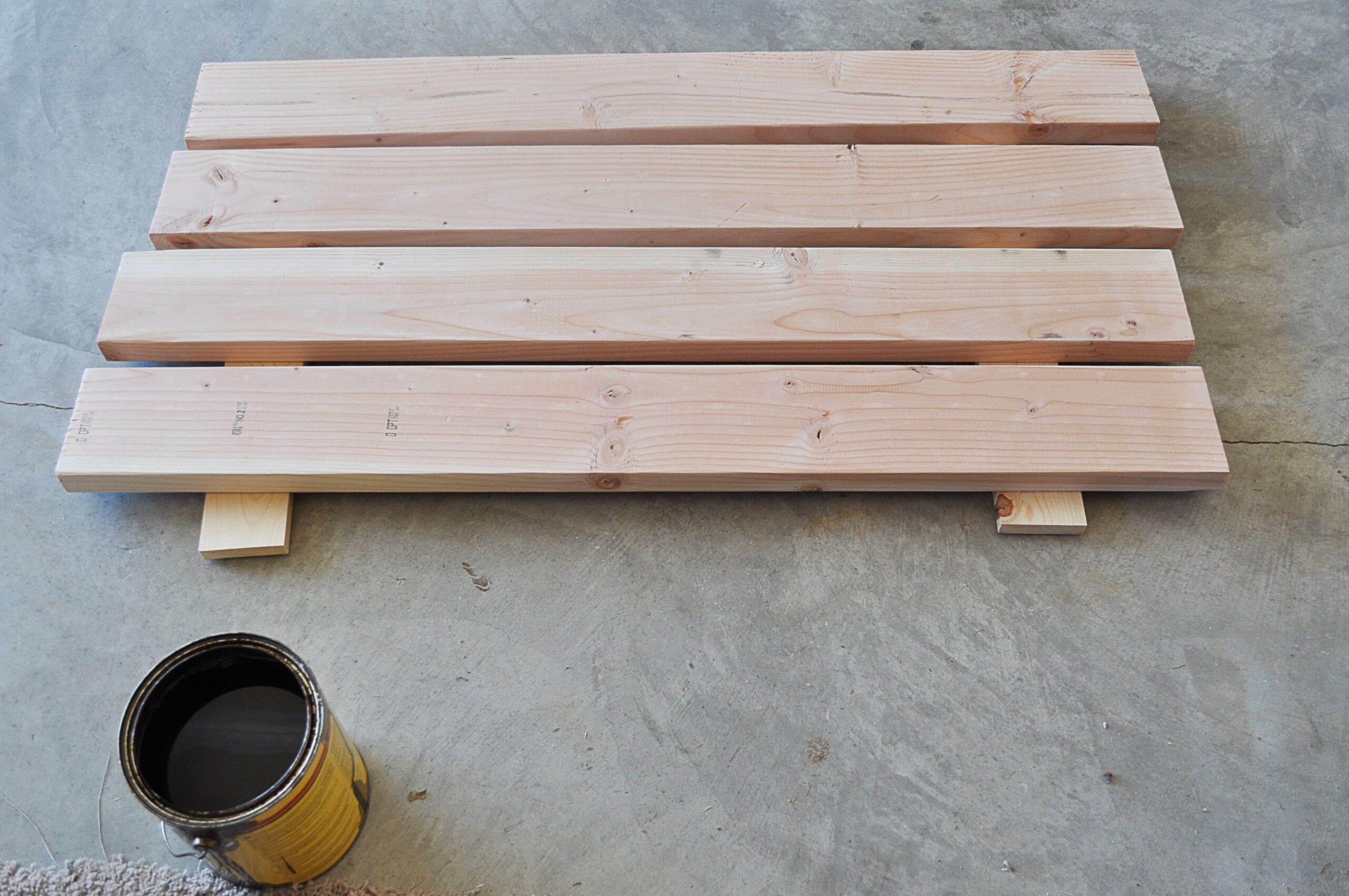 How to Attach Planked Table Top To Frame
The remaining twelve screws were used to attach the planked table top to the top 20in pieces of the frame, three screws per plank.
We flipped the table over to complete this part from the underneath so the screws would be hidden. (NOTE: We spaced out the planks a tiny bit on the top so they would be flush in width to the frame).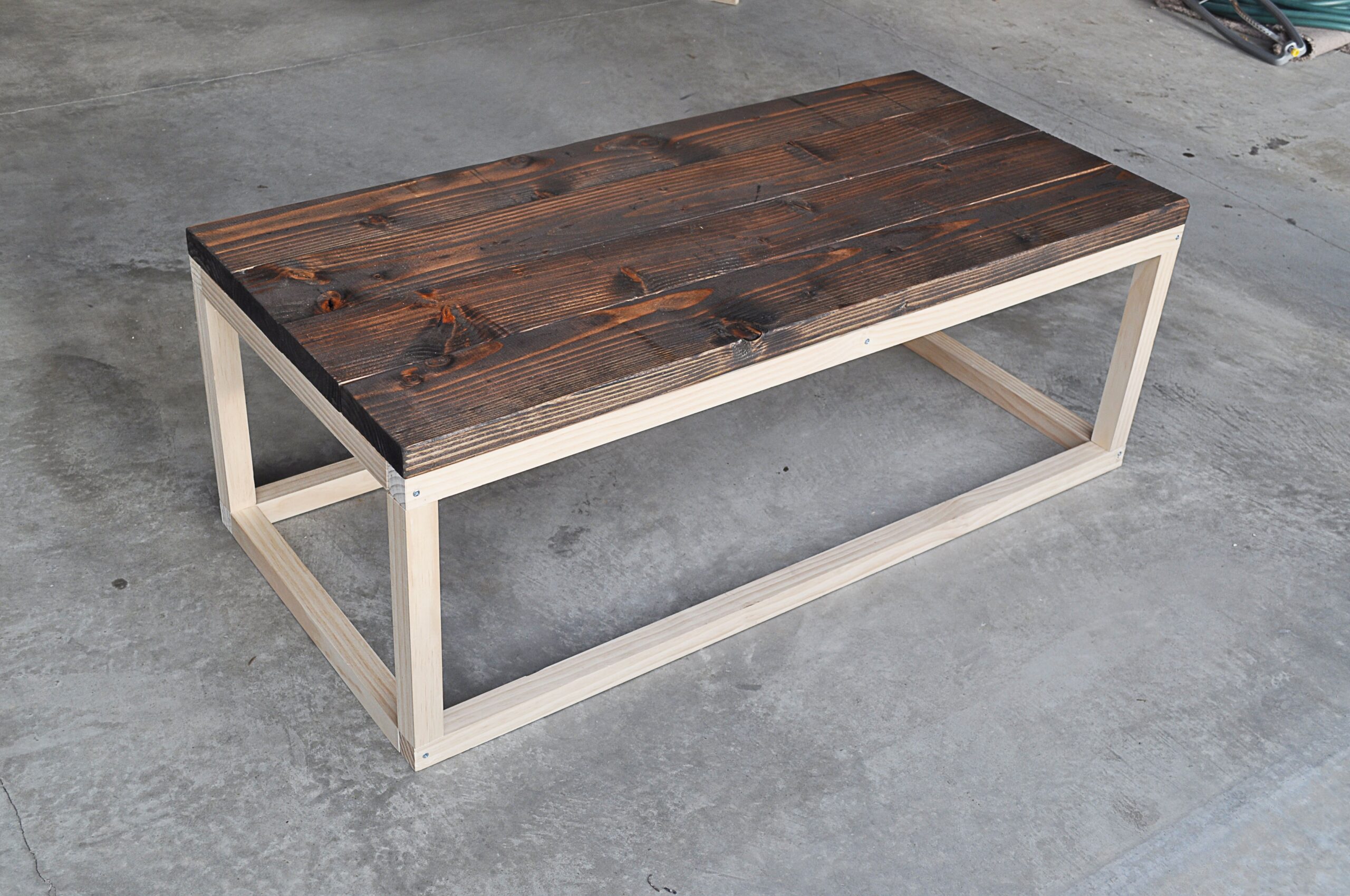 The Completed DIY Industrial Coffee Table
Would you believe me if I told you the complete cost of this DIY Industrial Coffee Table is under $75.00? And honestly the project itself is not hard.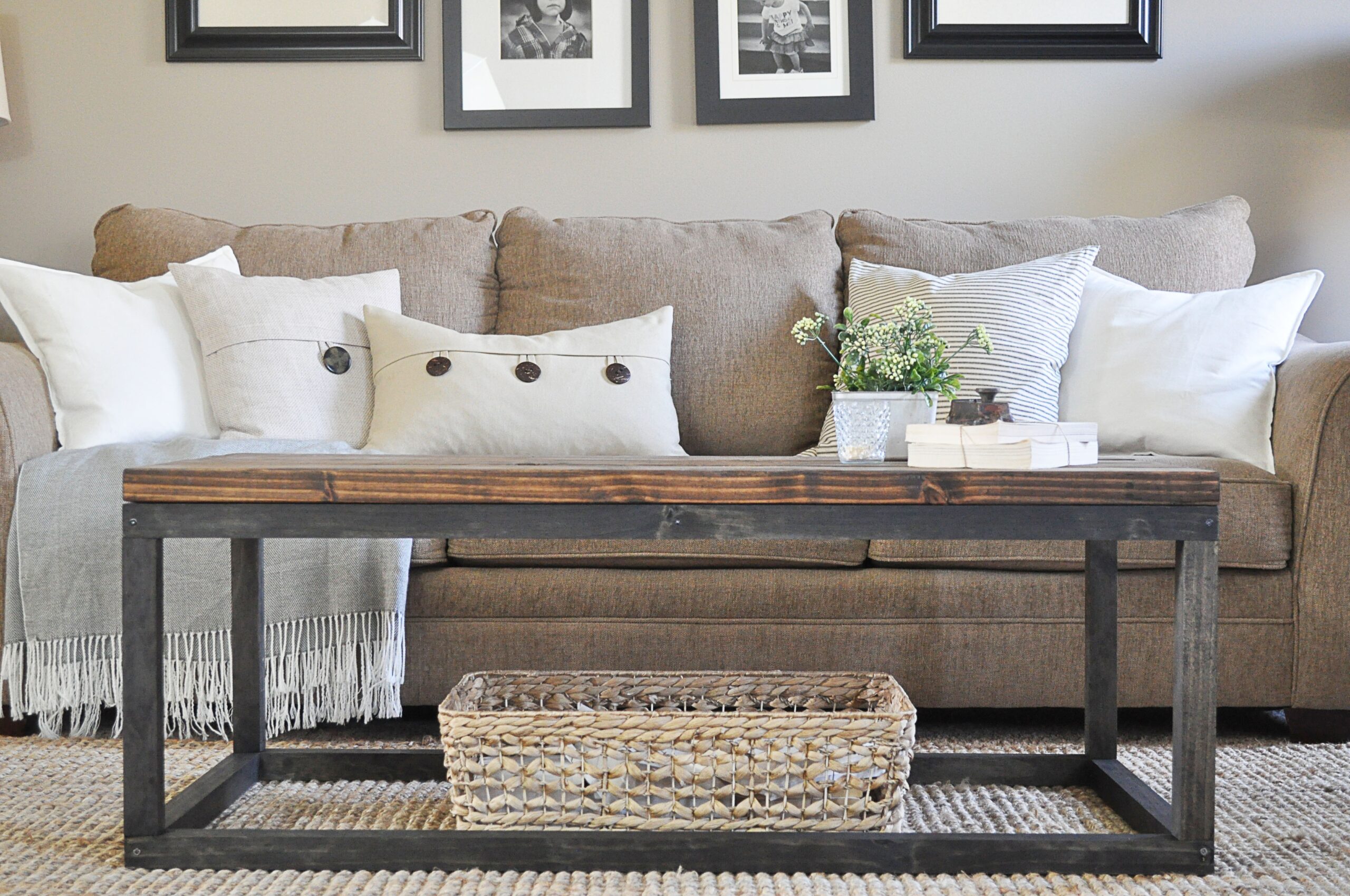 I know that power tools can feel intimidating if you don't know how to use them. However, if you get your cuts done for you at your local hardware store, all you have to do is stain or paint your table, and assemble it. It really is that easy.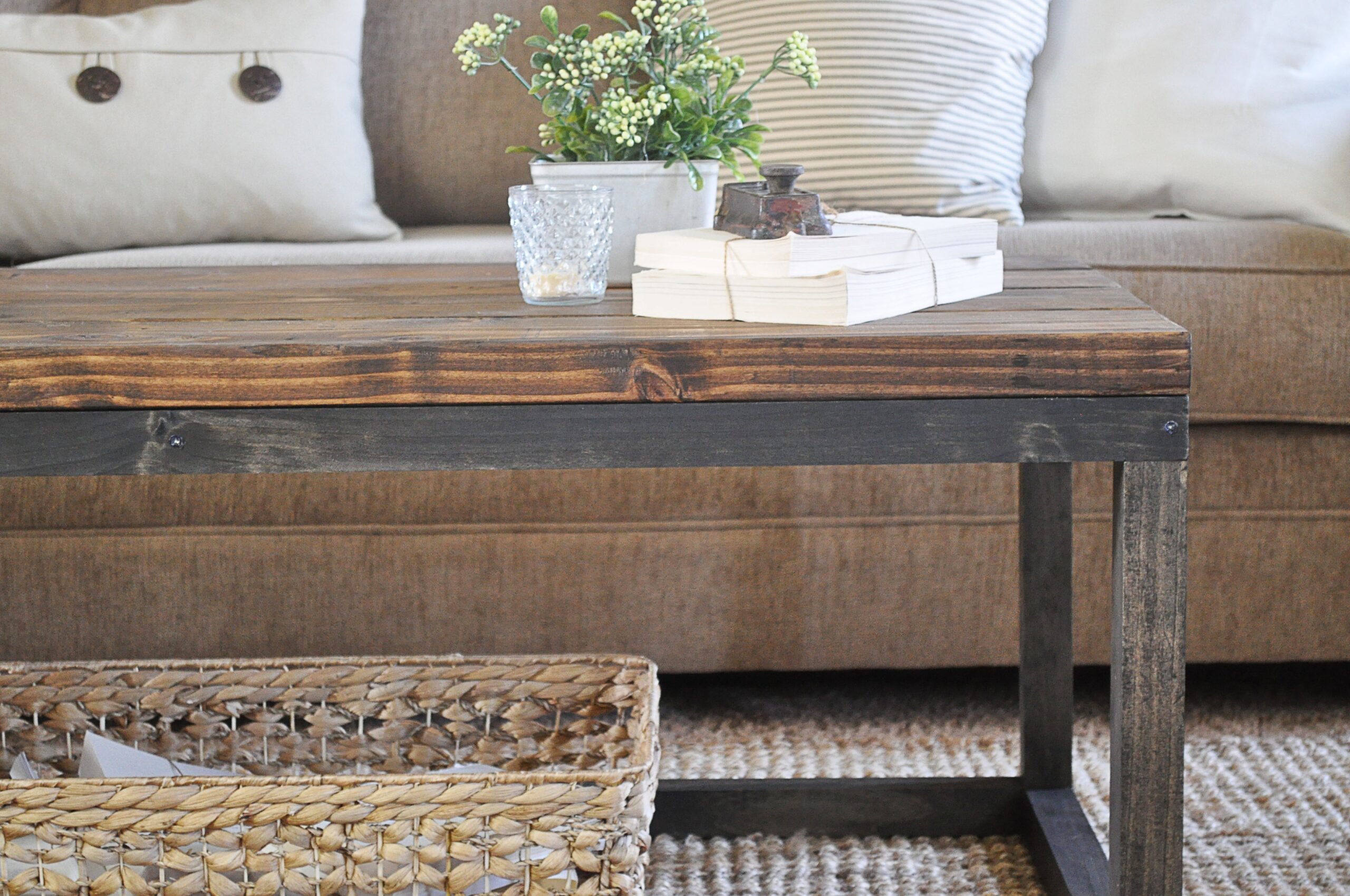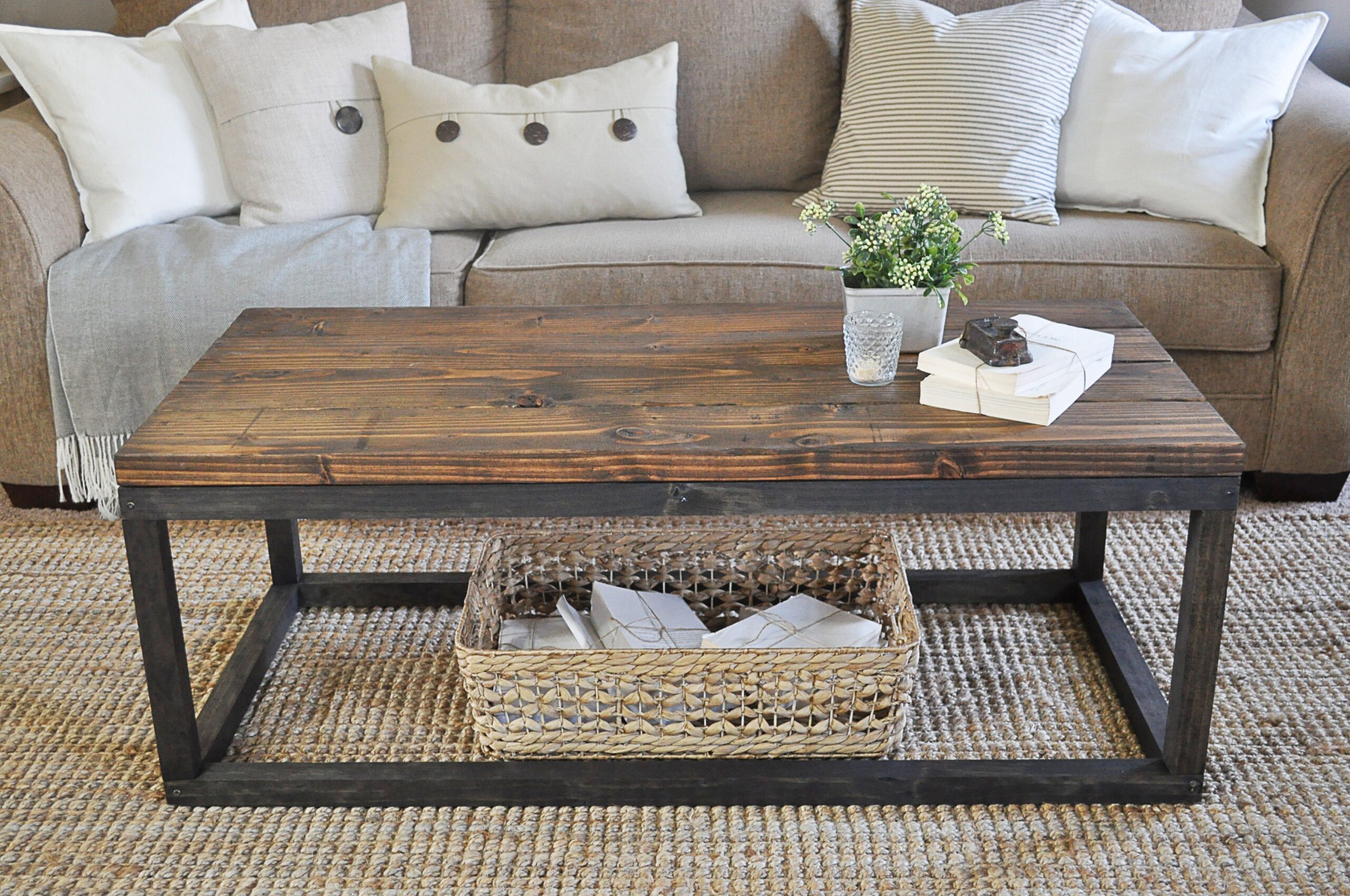 One of my favorite aspects of this DIY Industrial Coffee Table, is that you can customize it anyway you want. Use different stains or even paint it whatever color you need for the space you are decorating. Mess around with the measurements too if you need to.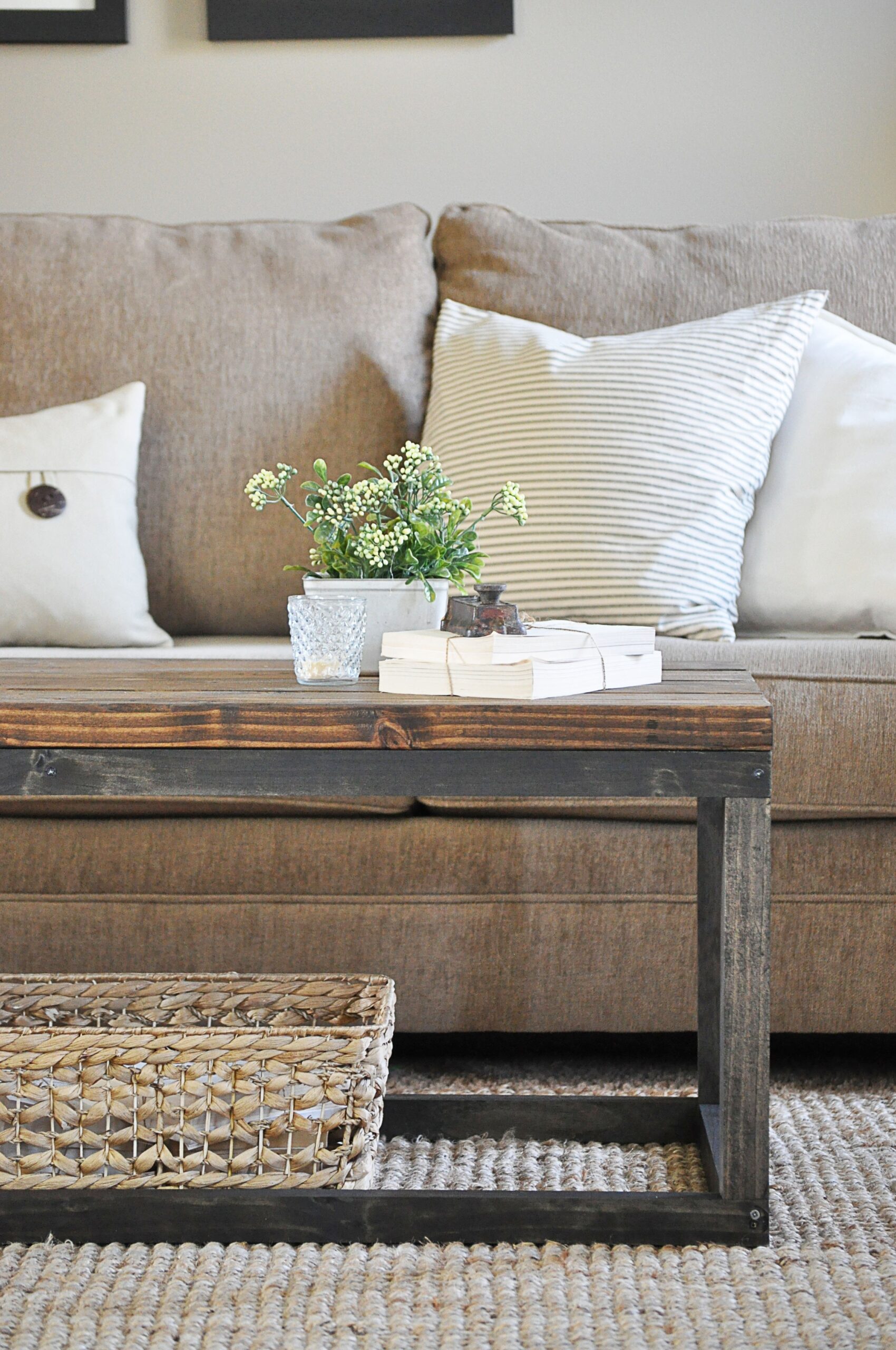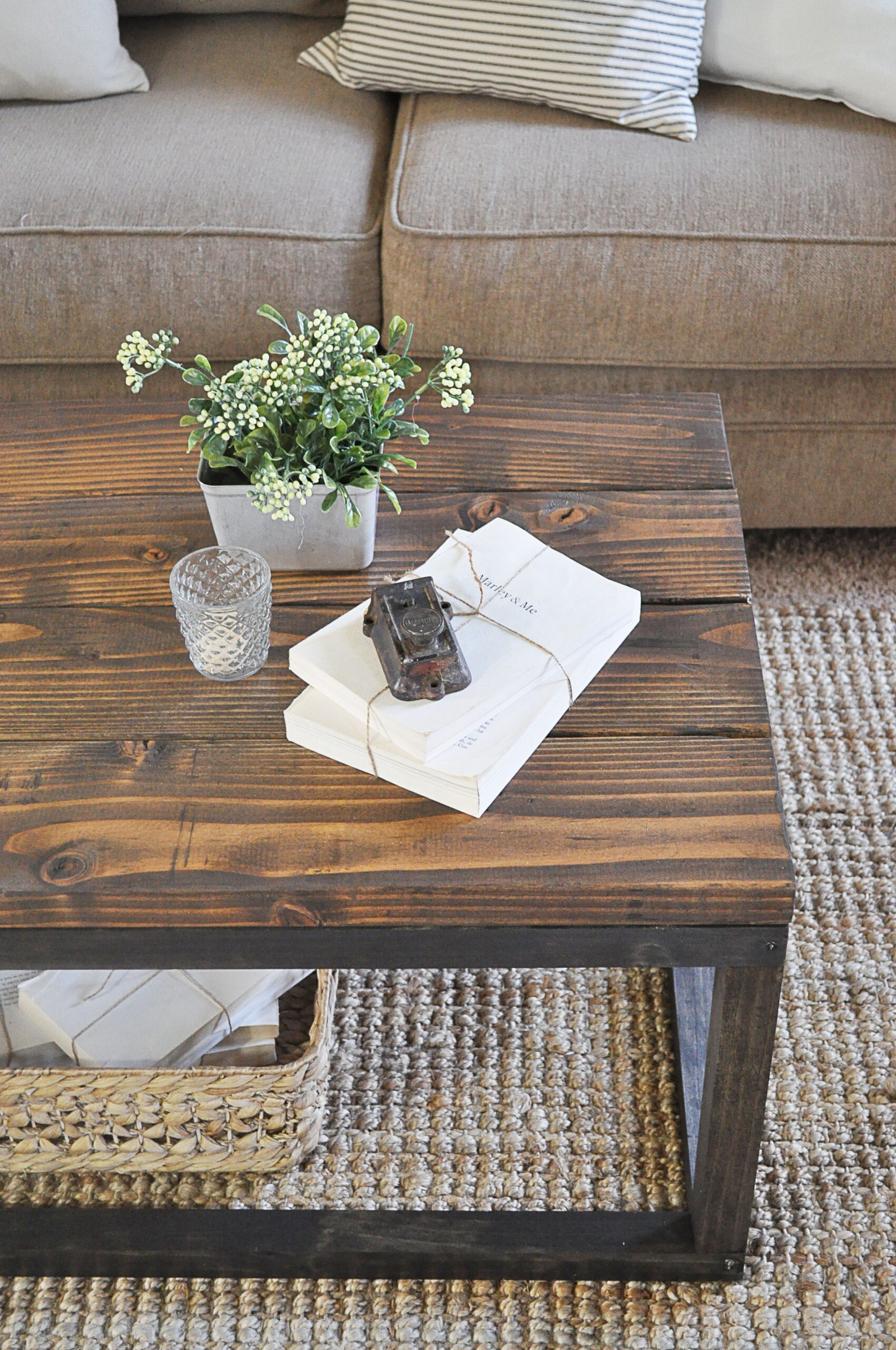 Shop Similar Industrial Coffee Tables

Similar DIY Projects
Pin This Post for Later