Easy DIY Baby Gate
This post may contain affiliate links. For more information please see our disclosure policy.
A step by step tutorial on how to build an easy DIY baby gate. Simple and beautiful for any space in your home.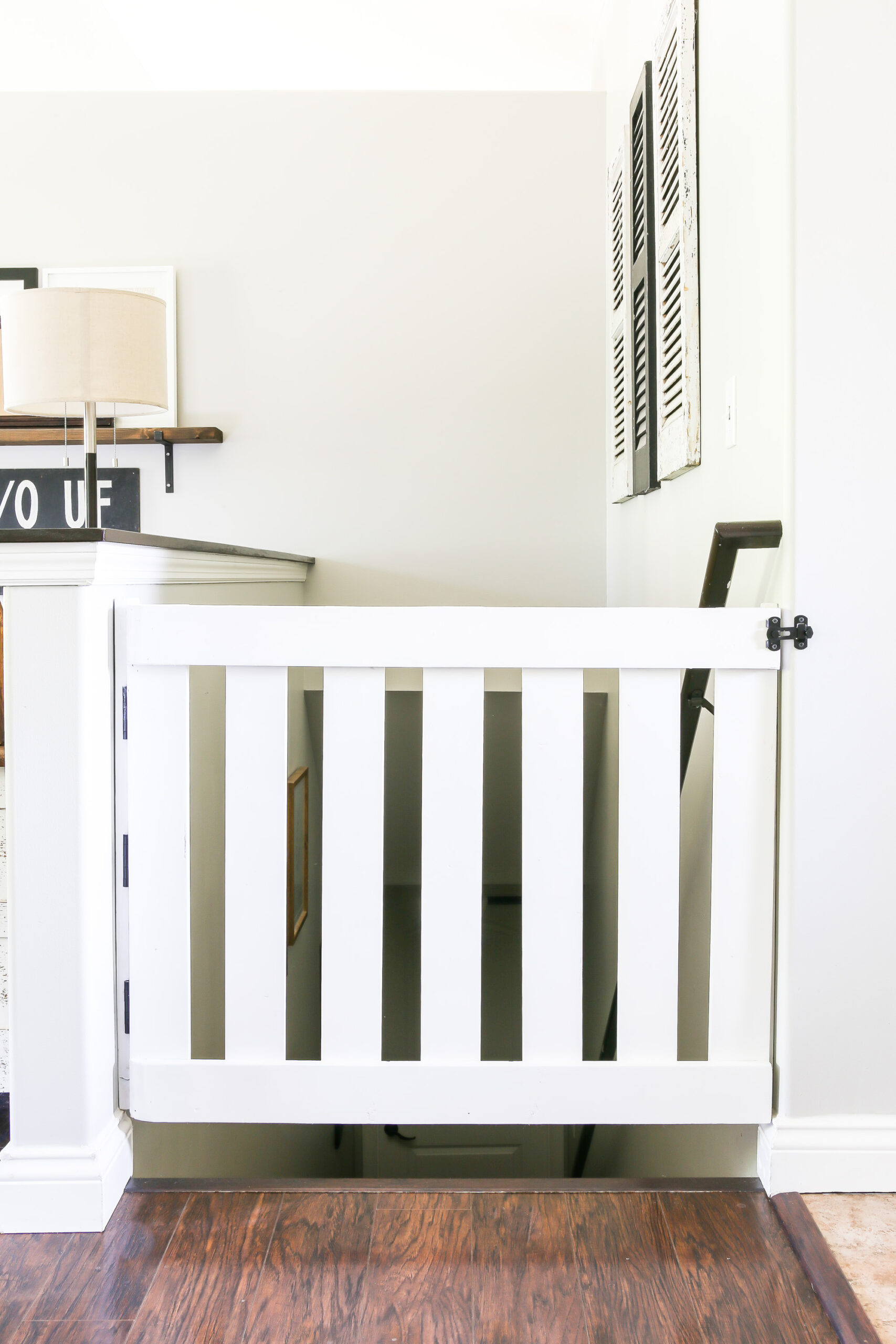 Confession. It took me over a year of Bailey being here to actually get this easy DIY baby gate built. I mean, in my defense she wasn't really mobile for at least the first half of that year, so she was never near our staircase.
Of course we had one of those cheap looking plastic baby gates there the entire time, but I needed something a little more permanent and prettier to look at. So I built this super simple one, and it works perfect for our space!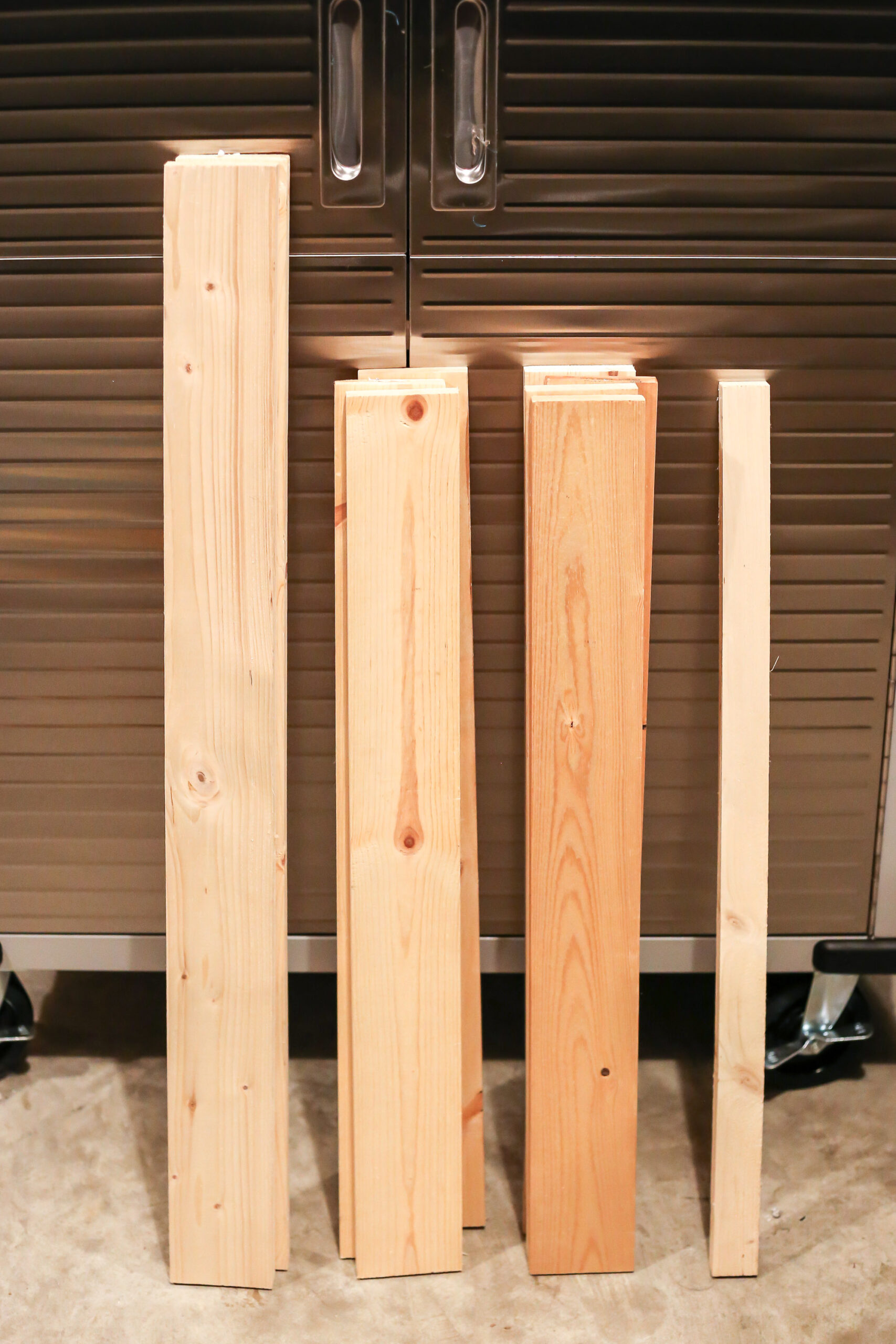 Supplies Needed for Easy DIY Baby Gate
Affiliate links are provided below for your convenience. For more information, see my full disclosure here.
NOTE: Measurements will obviously be different depending on the space you need this gate for. For reference, our staircase opening is 39 inches wide, and our gate had to start above our baseboards.
Also, the left side of our staircase comes out further than the right, so since the gate won't be flush with the wall on the left, we needed to use a 2×4 (for hinge/wall attachment), otherwise the gate won't open all the way.
Wood Cuts:
(7) 1×4 inch wood boards cut to 30 inches (for vertical slates of gate)
(2) 1×4 inch wood boards cut to 37 and a half inches (for horizontal top and bottom pieces of gate)
(1) 1×4 inch (if gate is flush) or 2×4 (if gate is not flush) wood board cut to 30 inches (for hinge/wall attachment)
(1) 1×2 inch wood board cut to 30 inches (for lock/wall attachment)
Other Supplies:
Saw
Sanding block
Drill / drill bit
1-1/4 inch wood screws
3 inch wood screws
Wall Anchors
(3) Door hinges
White Paint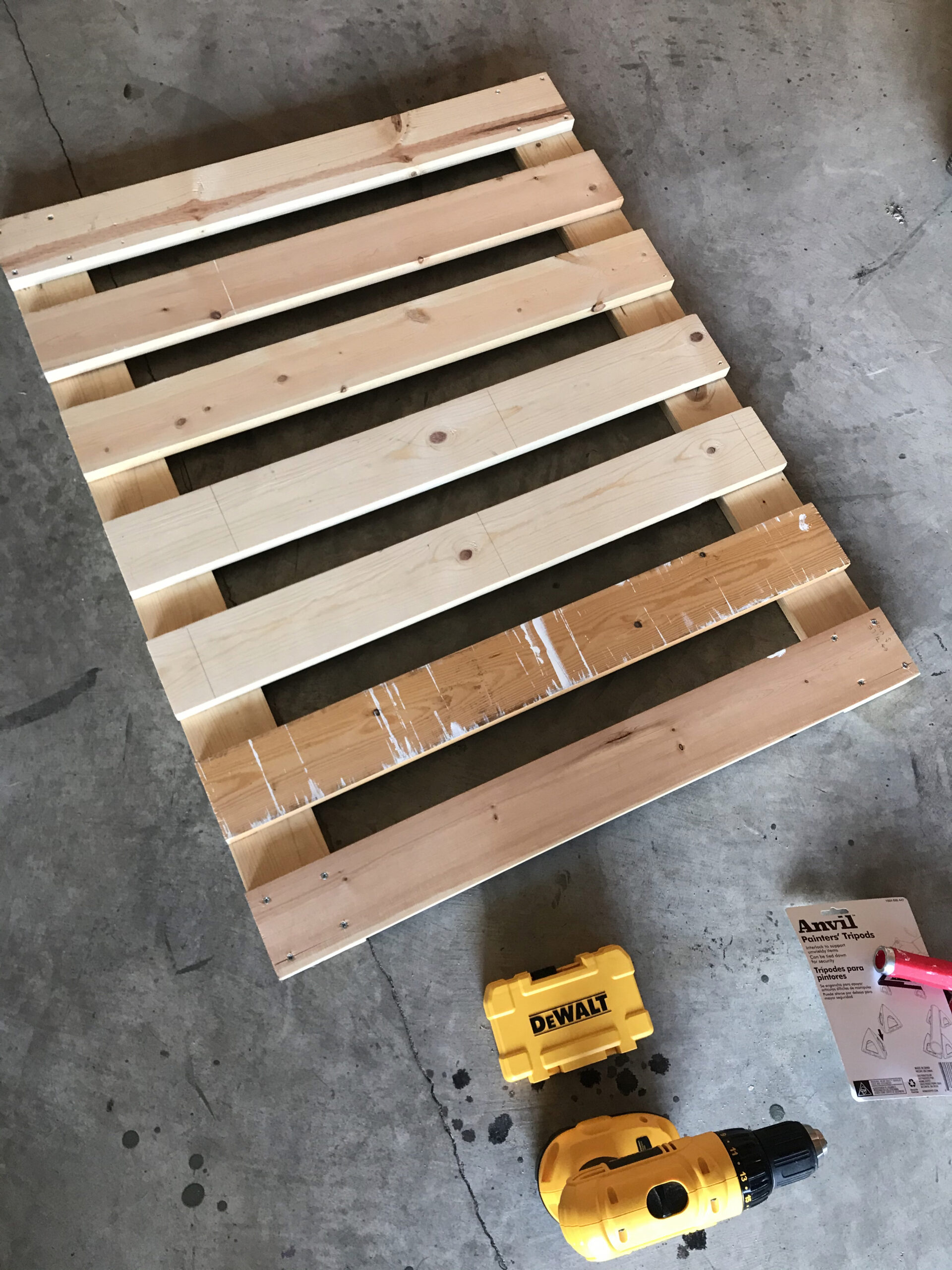 Instructions to Build Easy DIY Baby Gate
Using a saw, make all wood cuts from cut list above. Or you can ask your local hardware store to make the cuts for you when you go to purchase the wood.
Sand down all wood edges that were cut with sand block or sander.
Lay out both 37 and a half inch horizontal boards, and attach the first and last 30 inch vertical boards to the horizontal boards with (4) 1-1/4 inch wood screws in each corner. (See above picture).
Space out the remaining (5) 30 inch vertical boards evenly, and attach with (2) 1-1/4 inch wood screws to top and bottom horizontal boards.
Paint finished gate and wall attachment pieces white.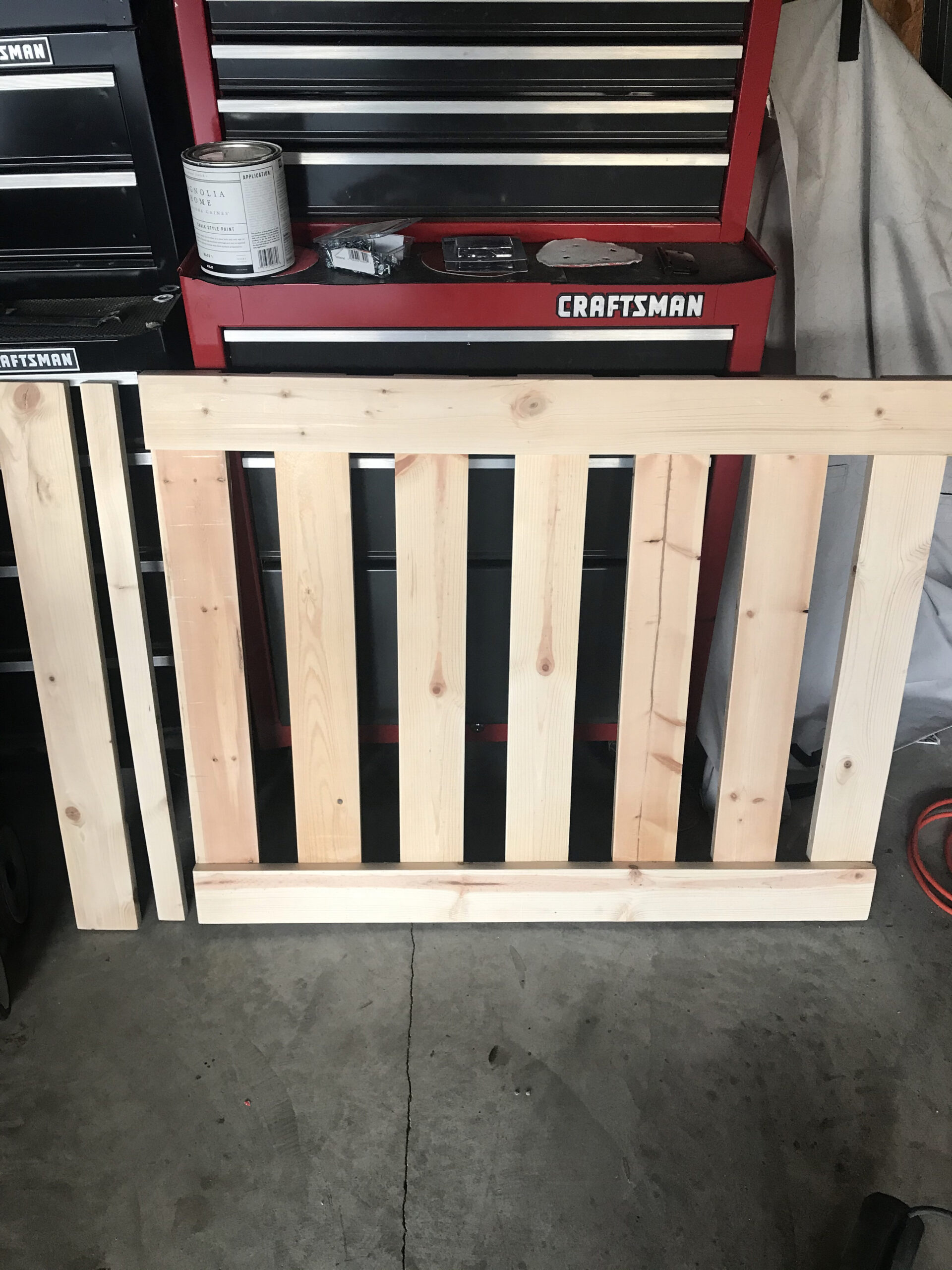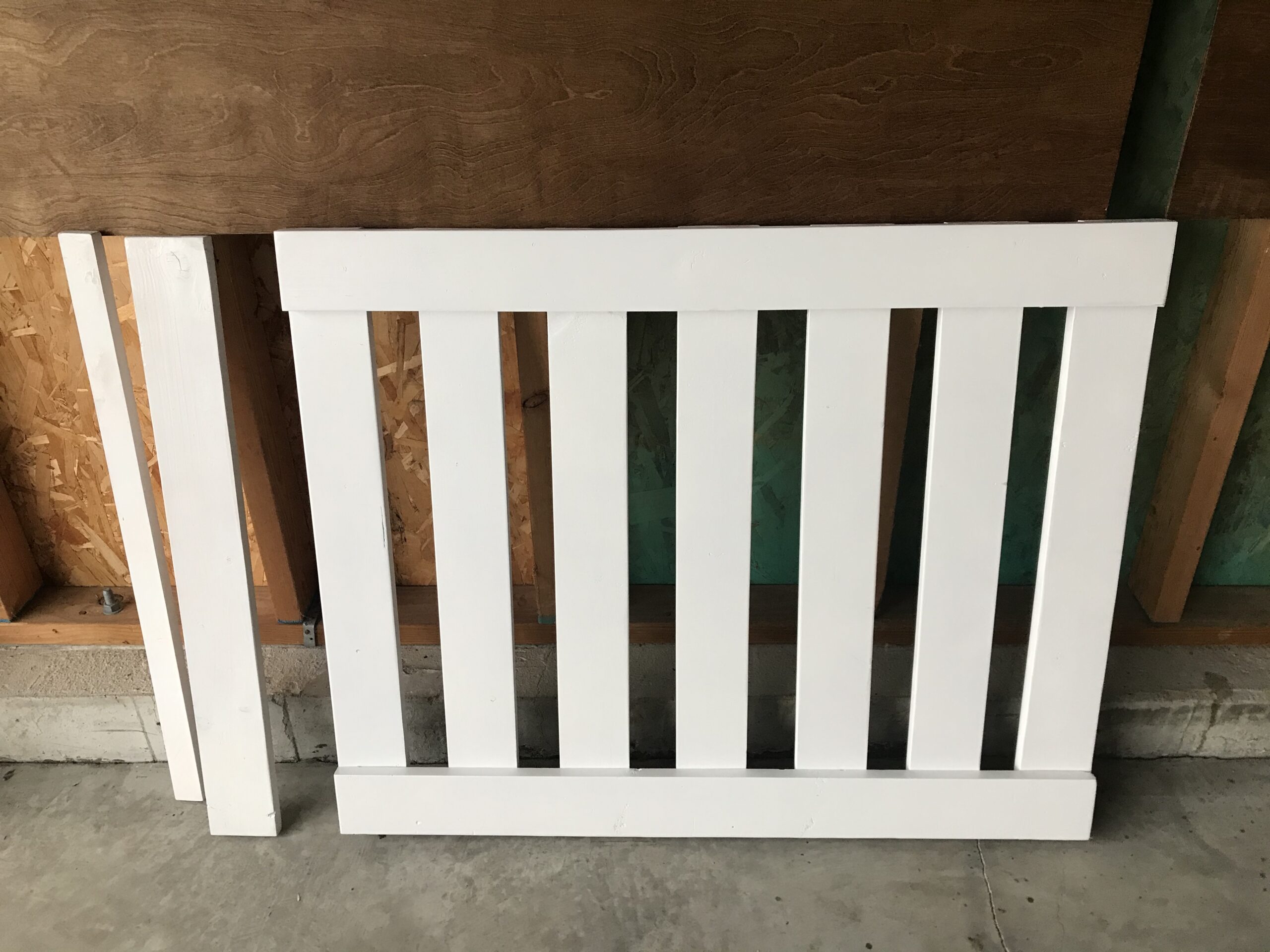 6. Attach the (3) door hinges to the gate where you would like them with provided screws.
7. To attach the gate to the wall, I marked where the hinges would be attached on the hinge/wall attachment board, held that board to the wall, and used a drill bit to drill through the board and into the wall where I had marked the 3 hinge holes. I also added three additional screw holes with my drill bit at the top, middle, and bottom of the wall attachment board.
8. I removed the board, inserted wall anchors into the wall where all the screws would go, and used 3 inch screws to attach the gate and board to the wall.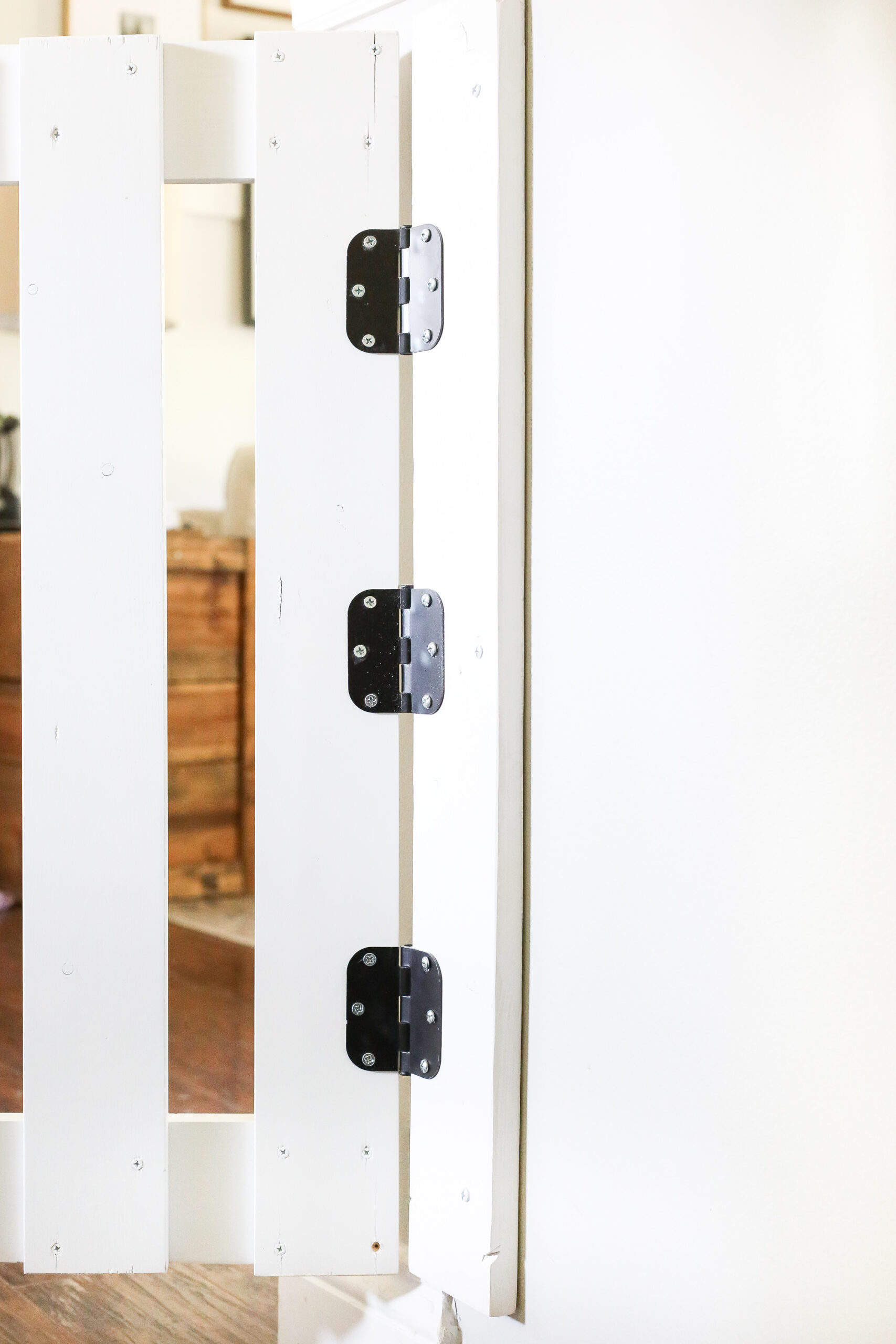 9. On the other side, where the gate opens, I attached the 1×2 in the same manner, with a drill bit, wall anchors, and 3 inch screws. This is for extra security so that the gate can't be pushed back in that direction, and for an additional hook and eye latch lock that Bailey wouldn't be able to reach.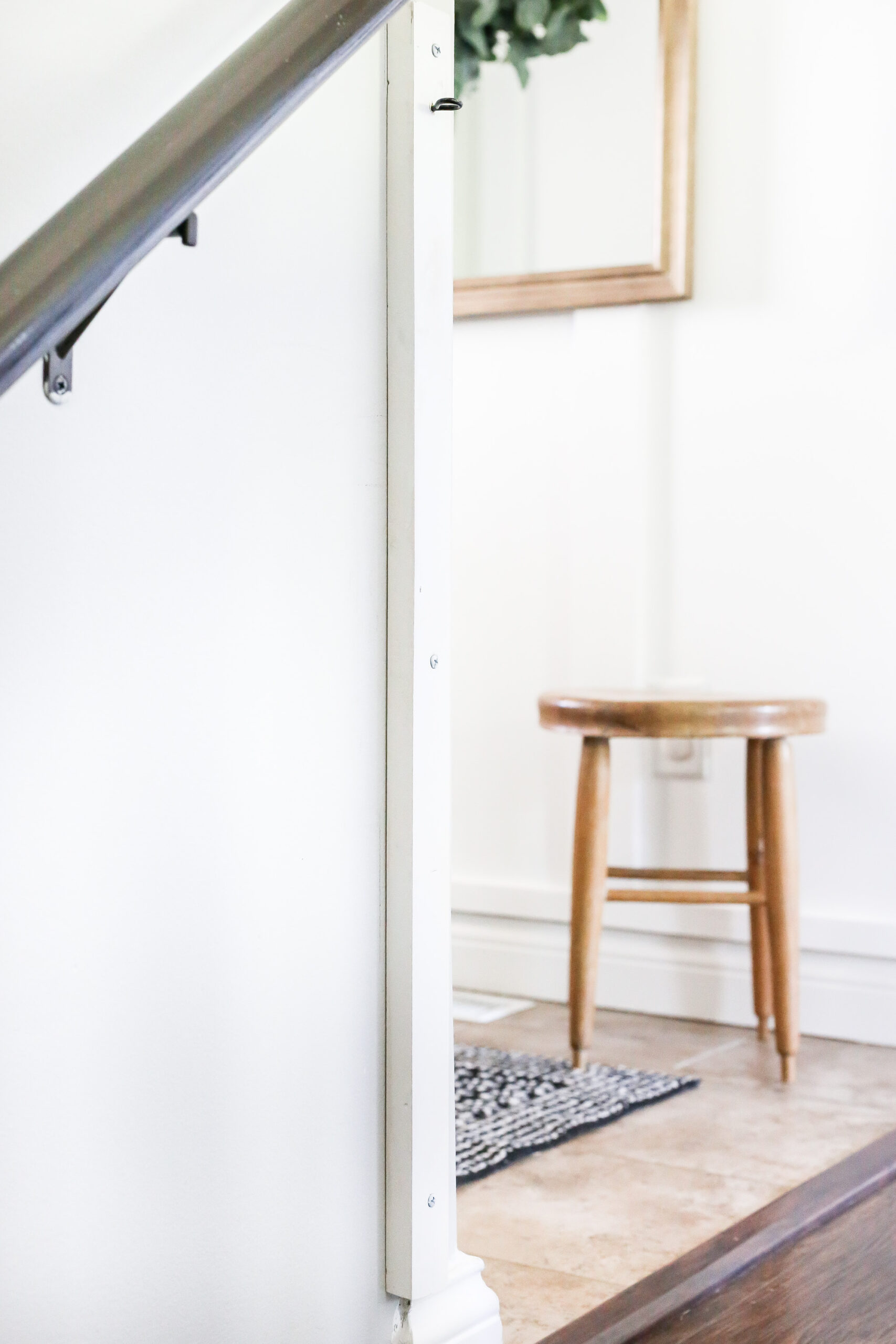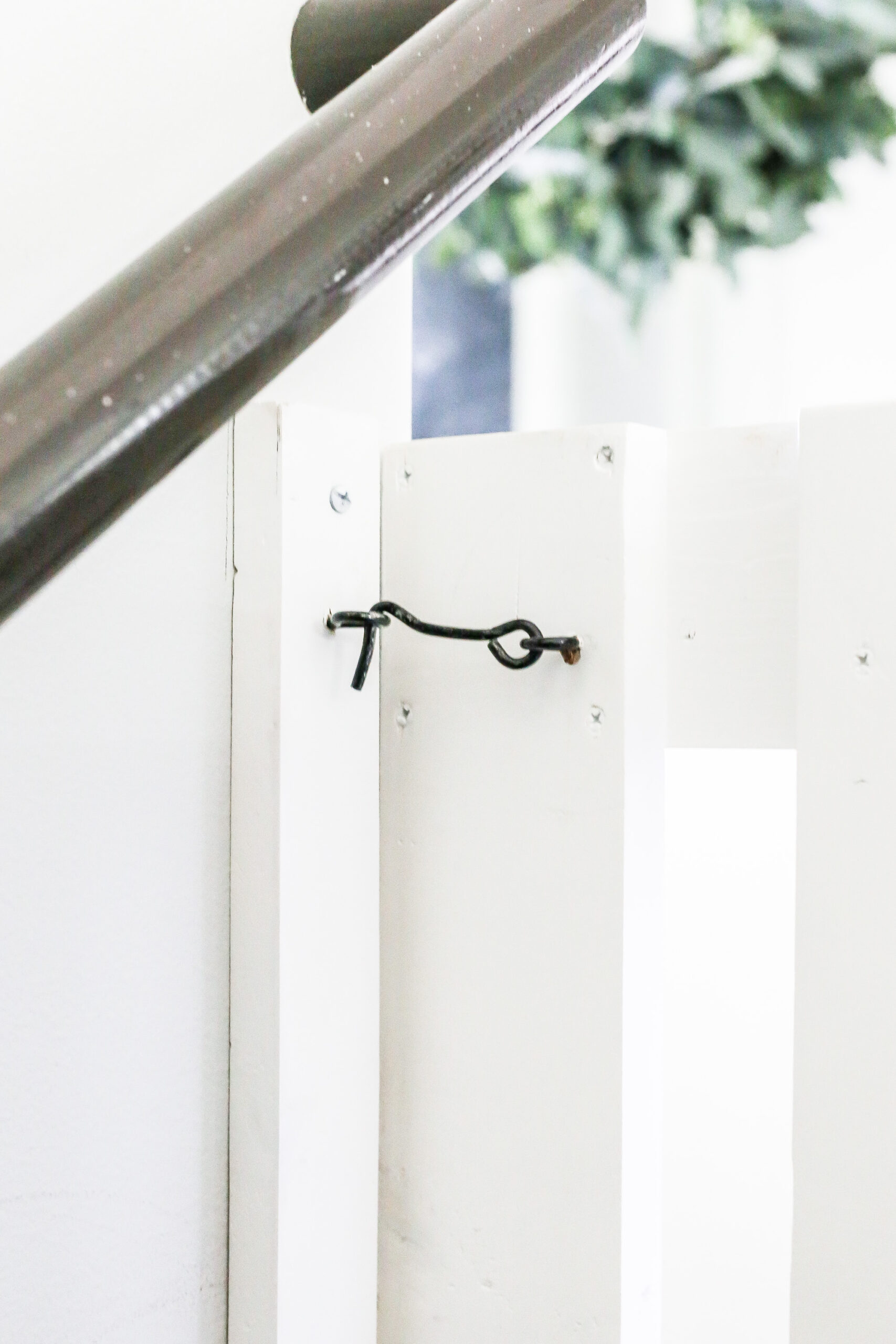 10. Lastly, I attached the main lock to the front of the gate as ours is flush with that side of the wall.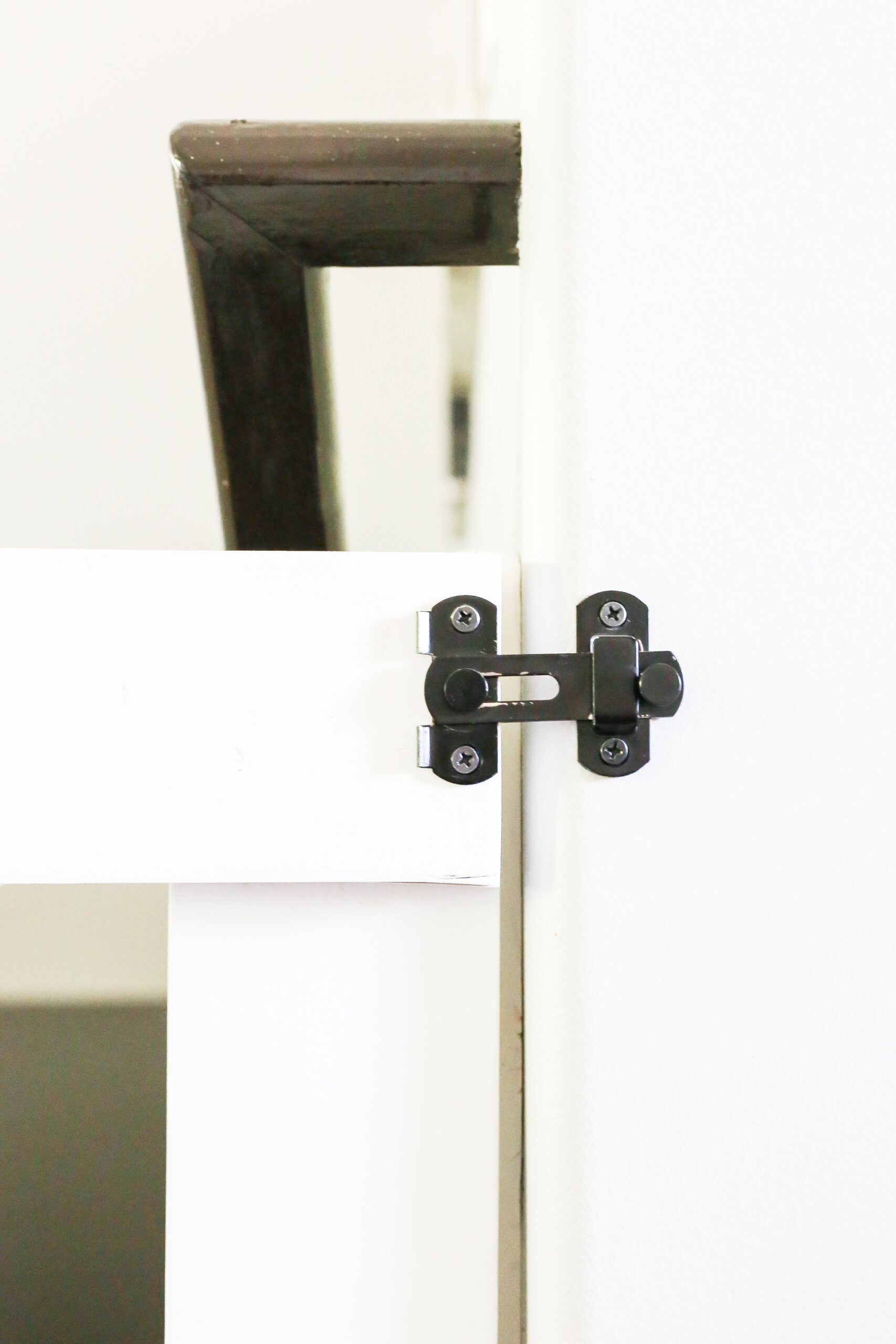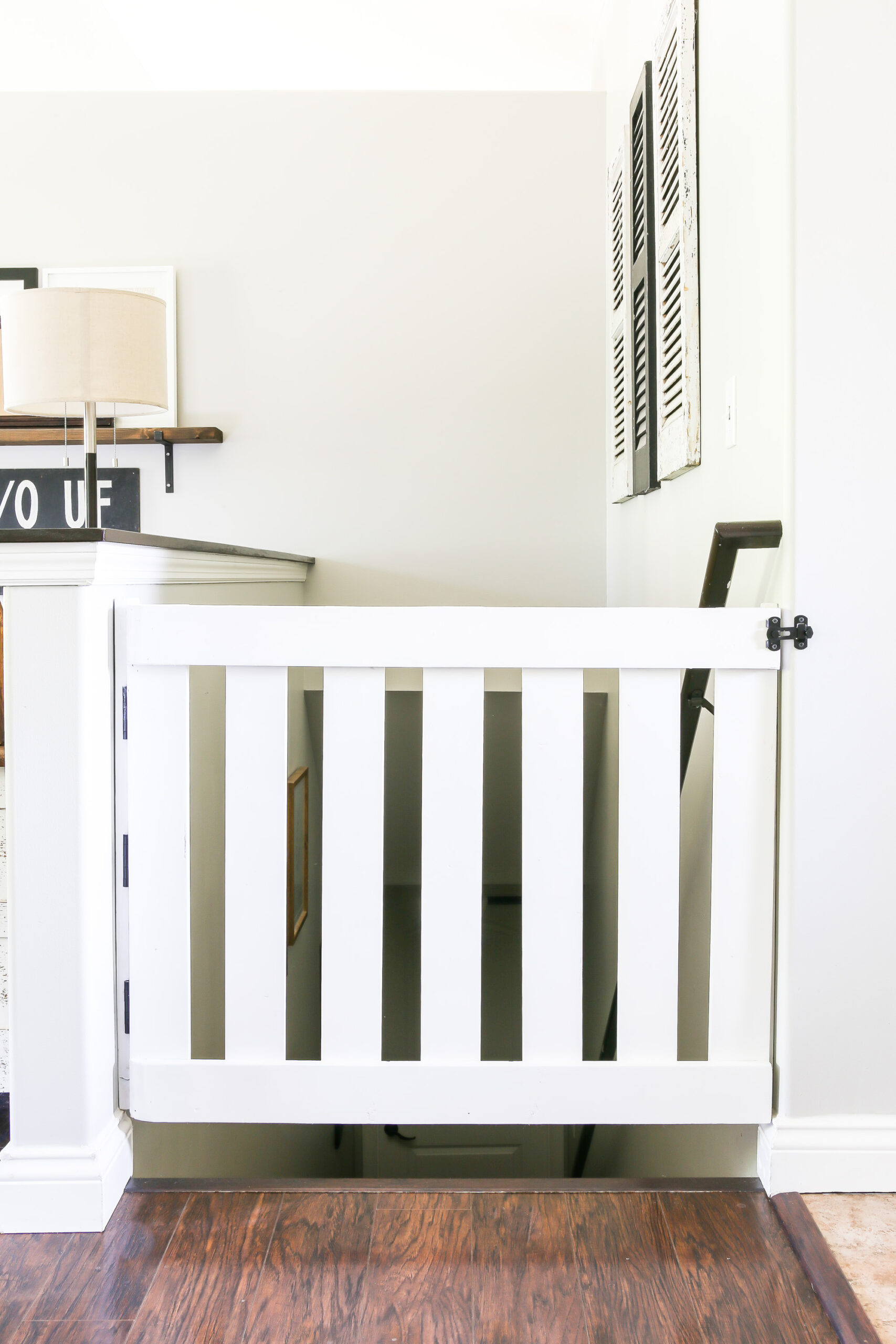 I feel like that was a lot of instructions, but I promise you, this was a quick and easy build and attachment process! If I can do it, you can too! And I really love the end result!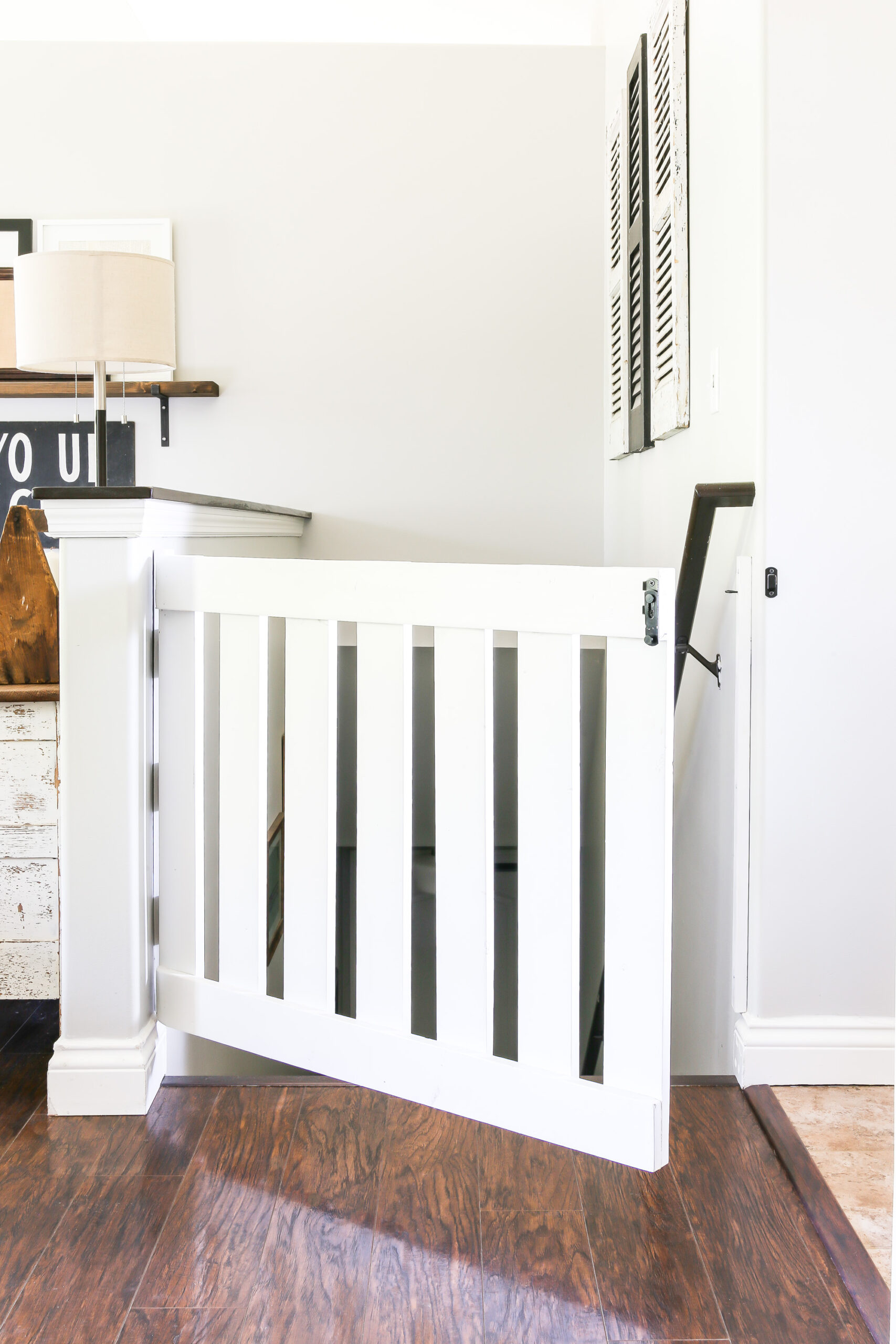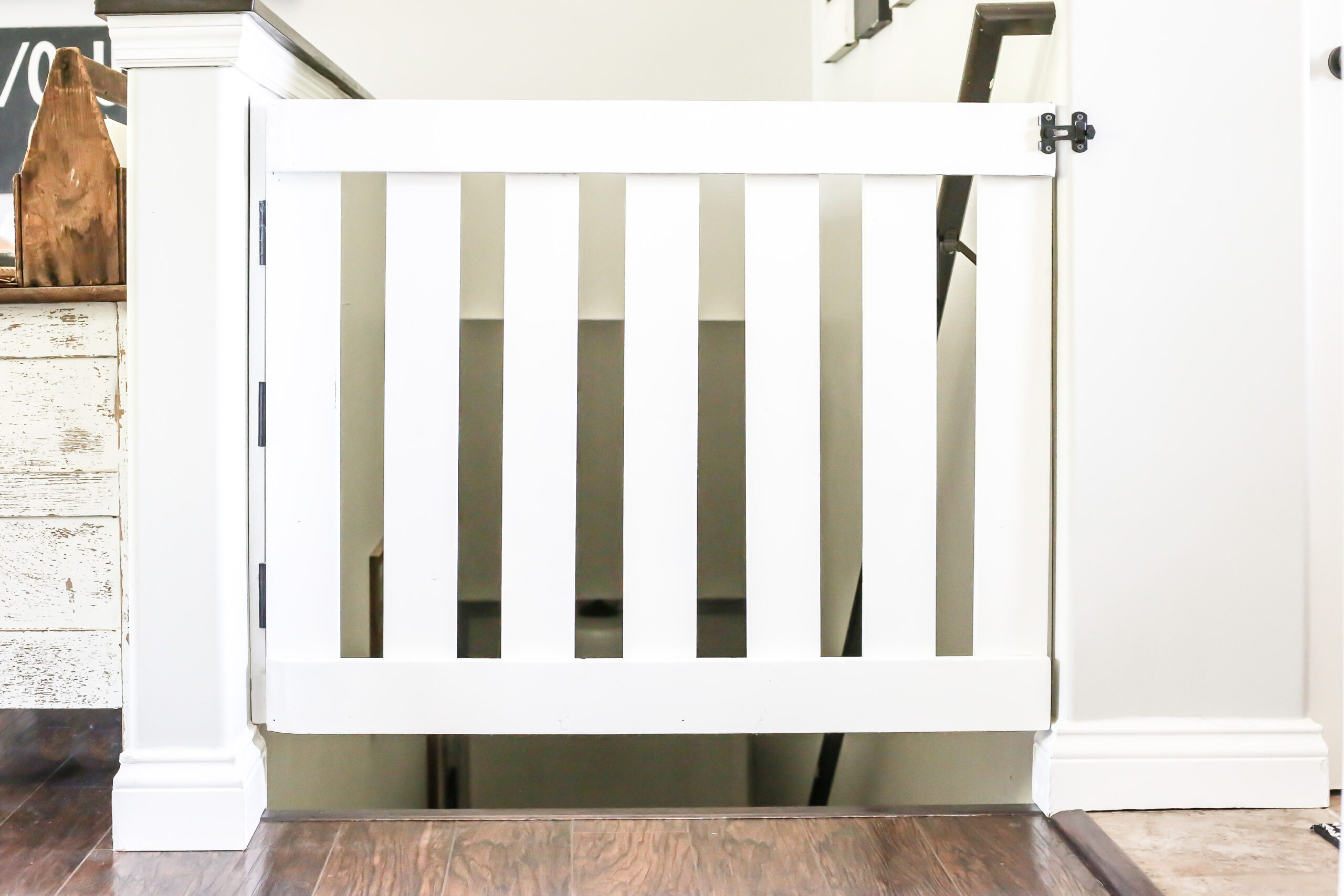 We've had this gate up for over a year now and it works wonderful! I absolutely love the simplicity of it, and most importantly it's kept our baby girl safe from the staircase!
If you decide to build it, let me know if you have any questions at all!
Other DIY Projects
Pin This Post for Later