Guest Bedroom Beverage Station
This post may contain affiliate links. For more information please see our disclosure policy.
Happy Monday, friends! I can't think of a better way to kick off the week than by teaming up with Home Depot and 24 other amazing bloggers on an awesome do-it-herself project! Each one of us is sharing how we customized this little Beverage Station and we want you to make one too! If you caught my save-the-date post last week about the #DIHWorkshop, then by now you are all signed up to take part in making one yourself at your local Home Depot today, right!? I hope so, because these are super cute and you don't want to miss out on all the fun! It was so nice to be able to build this project all on my own with no help from my husband! I would say it was a success!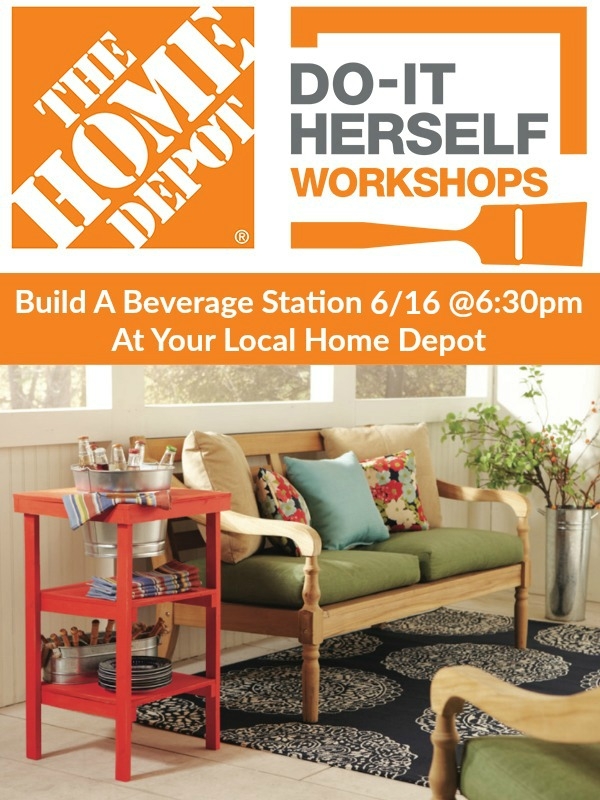 I decided that this Beverage Station would be the perfect edition to our guest bedroom, so any company we had could treat themselves to a drink without having to leave their room. I gave it my typical farmhouse style touch and I seriously love it! So convenient and functional for this space in our house.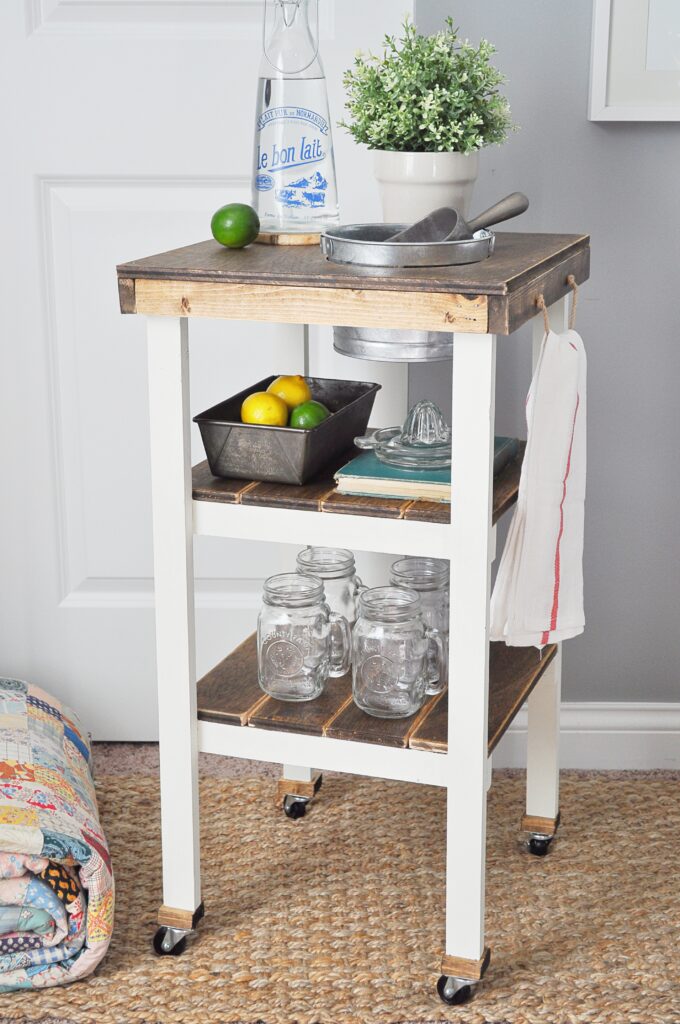 SUPPLIES NEEDED:
1 – 1⁄2˝x 2´x 4´ Sanded Plywood Board
3 – 1˝x 2˝x 8´ Common Board
Galvanized Pail
Twine / Scissors
Casters
Nail Gun & 1 1⁄4˝ Brad Nails
Saw
Wood Stain / White Paint
Drill / Drill Bits
Screws
Measuring Tape or Carpenter's Square
Pencil
Hand Sander or Sanding Block
CUTLIST:
Legs – (4) 1″x 2″ x 28.5″ from Common Board
Long Frame – (2) 1″ x 2″ x 16″ from Common Board
Short Frame – (2) 1″ x 2″ x 14.5″ from Common Board
Shelf Brace – (4) 1″ x 2″ x 14.5″ from Common Board
Top Shelf – 16″ x 16″ from Plywood Board
Middle Shelves – (2) 14.5″ x 13″ from Plywood Board
DIRECTIONS:
MEASURE AND MARK: Measure and mark the long and short frame boards, and the shelf braces from the (3) 1˝x 2˝x 8´ boards, and the three shelves from the 2´x 4´ plywood board. Reference the cut list.
CUT: Using a circular saw cut the legs, long and short frame boards, and the shelf braces from the (3) 1˝x 2˝x 8´ boards, and the three shelves from the 2´x 4´ plywood board.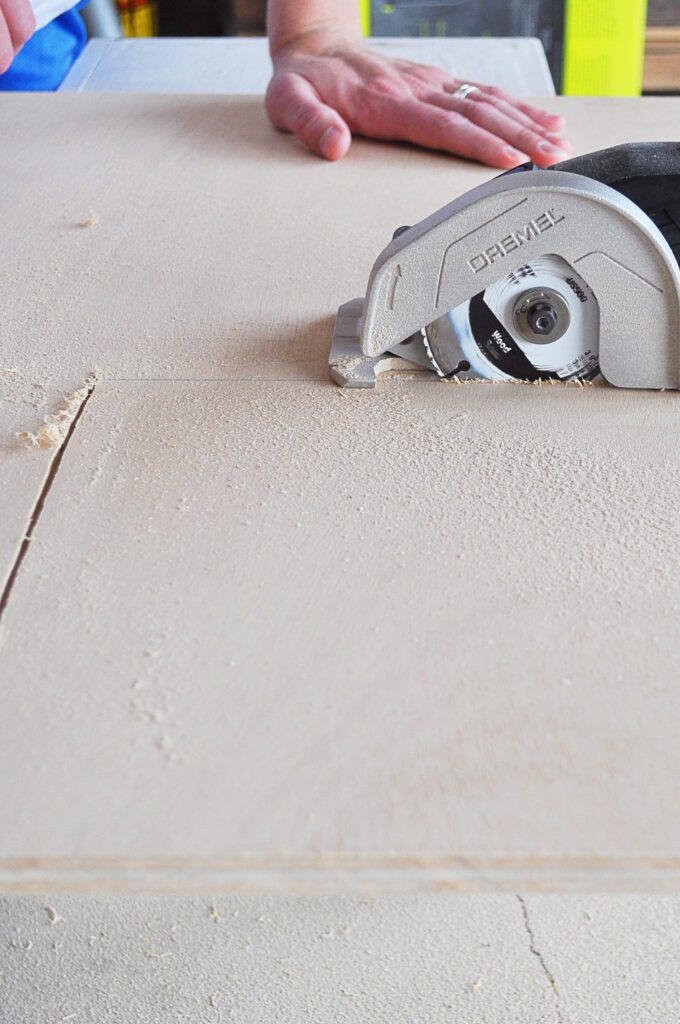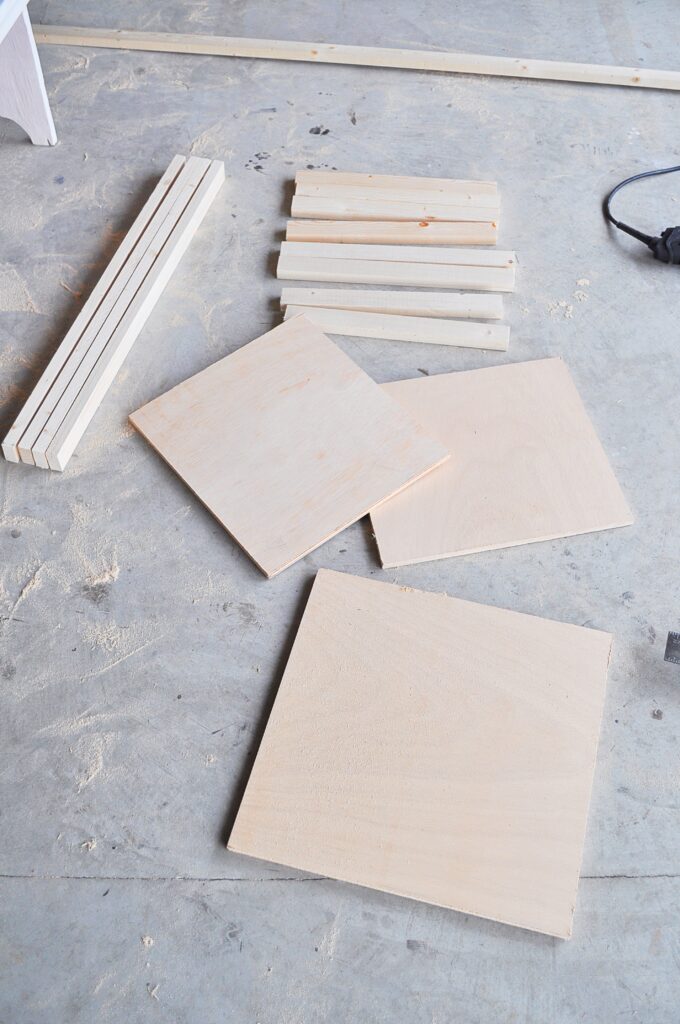 SAND: Smooth any rough ends with a hand sander or sanding block.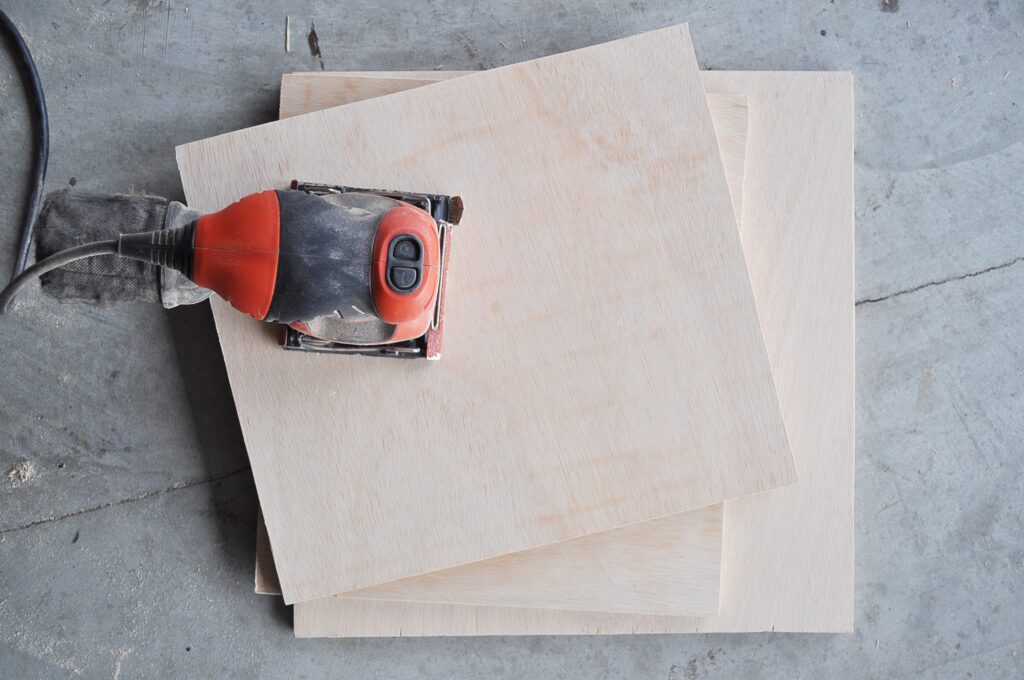 CREATE TOP SHELF FRAME: Stand the (2) 16˝ long frame boards on end and parallel to each other. Sandwich the (2) 14.5˝ short frame boards between the long boards to create a 16˝x 16˝ square frame and secure with nail gun.
CREATE LEG FRAMES: Lay (2) legs flat 14.5˝ apart. Using nail gun, attach (2) 14.5˝ shelf braces to legs with the first attached at 7.5˝ up from the bottom of the legs (for bottom shelf) and the second attached at 17.5˝ up from the bottom of the legs (for middle shelf). Repeat with the other (2) legs and shelf braces.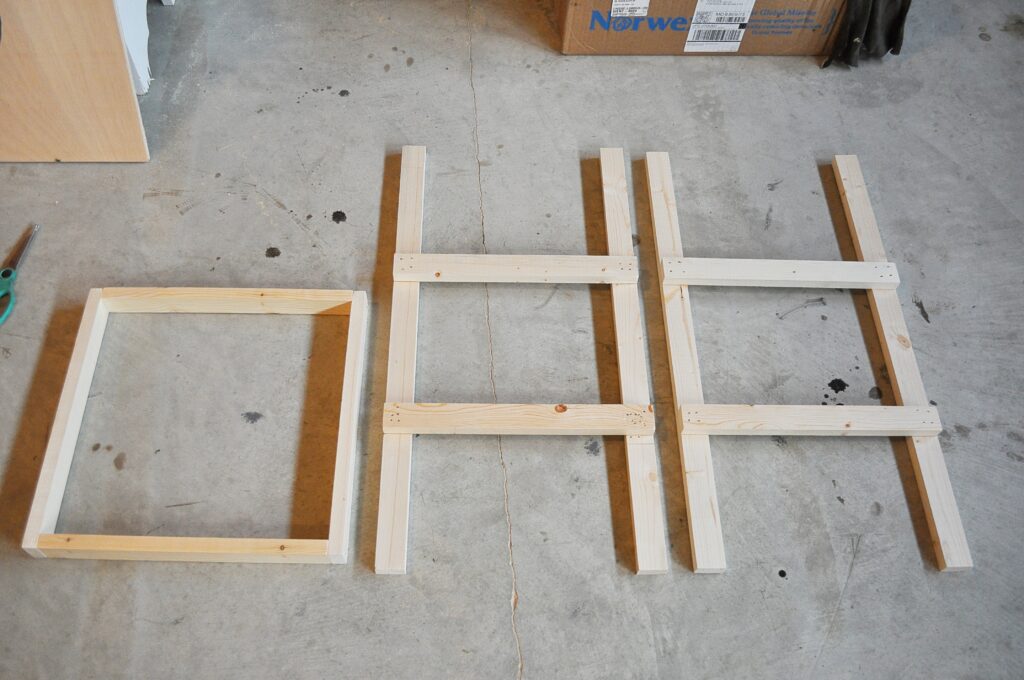 DRAW CIRCLE IN TOP SHELF: Mark where ever you want the galvanized pale to go on the 16˝x 16˝piece of plywood. I just traced around the bottom of the pale and cut a little bigger to fit the pale in the hole properly.
CUT CIRCLE IN TOP SHELF: Using a 1⁄2˝ drill bit, drill one hole inside the edge of the circle. Using the reciprocator saw or jig saw, cut the circle out around the edge.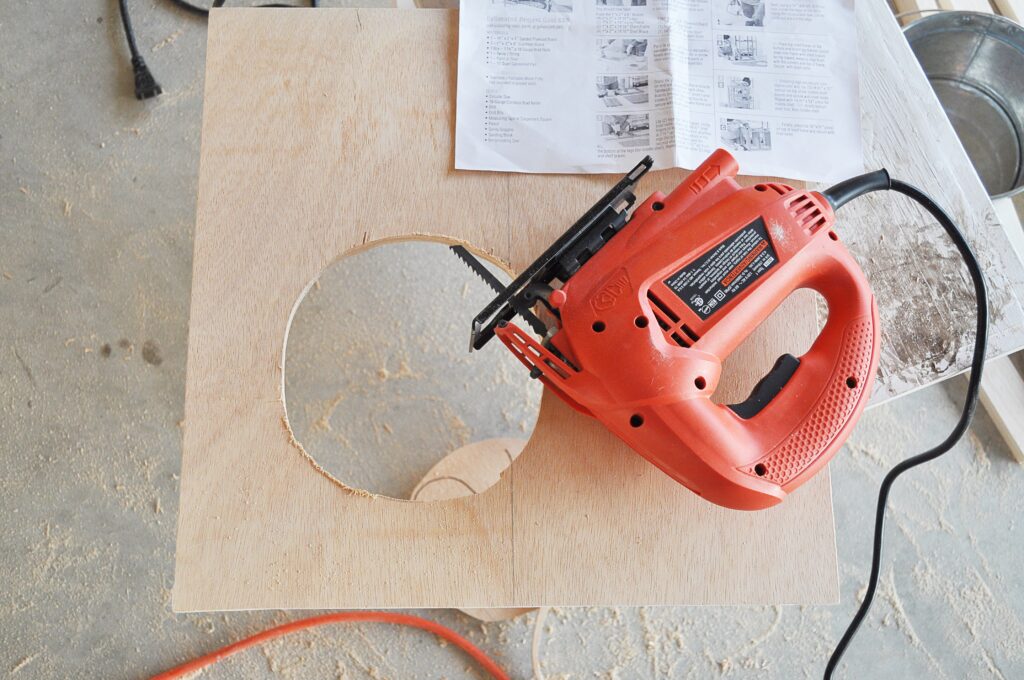 ASSEMBLE BASE OF BEVERAGE STATION: Place top shelf frame on flat surface and insert leg frames upside down into frame with shelf braces facing inward, keeping legs flush with the corners and top of frame. Secure with nail gun.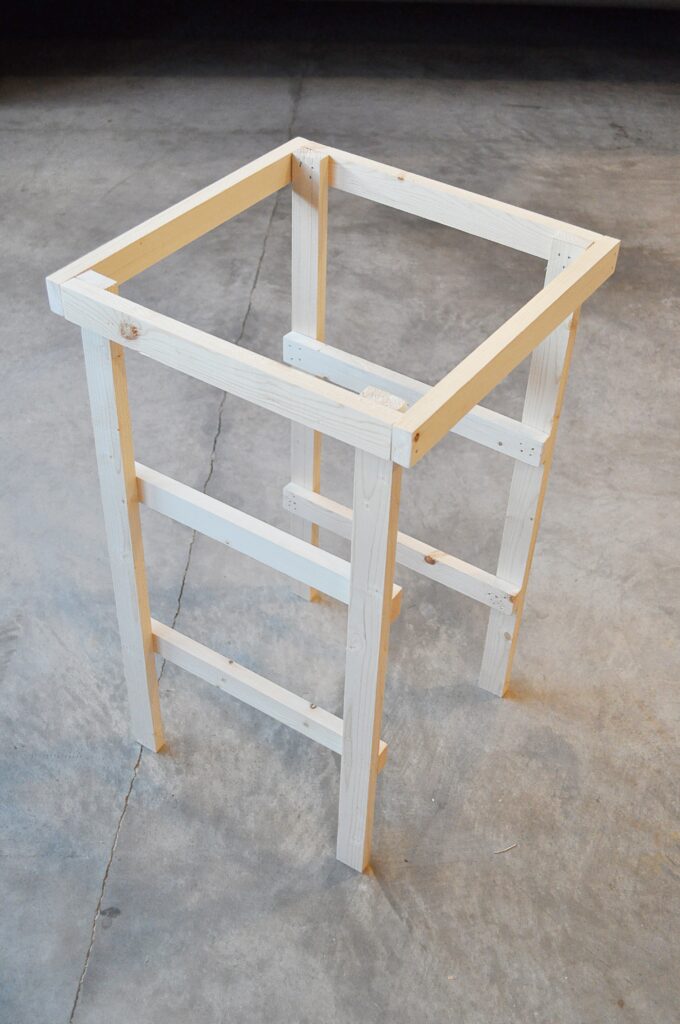 STAIN: Apply wood stain to base and shelves.
PAINT: Paint ONLY the two legs with white paint. Leave the top shelf and middle shelves stained.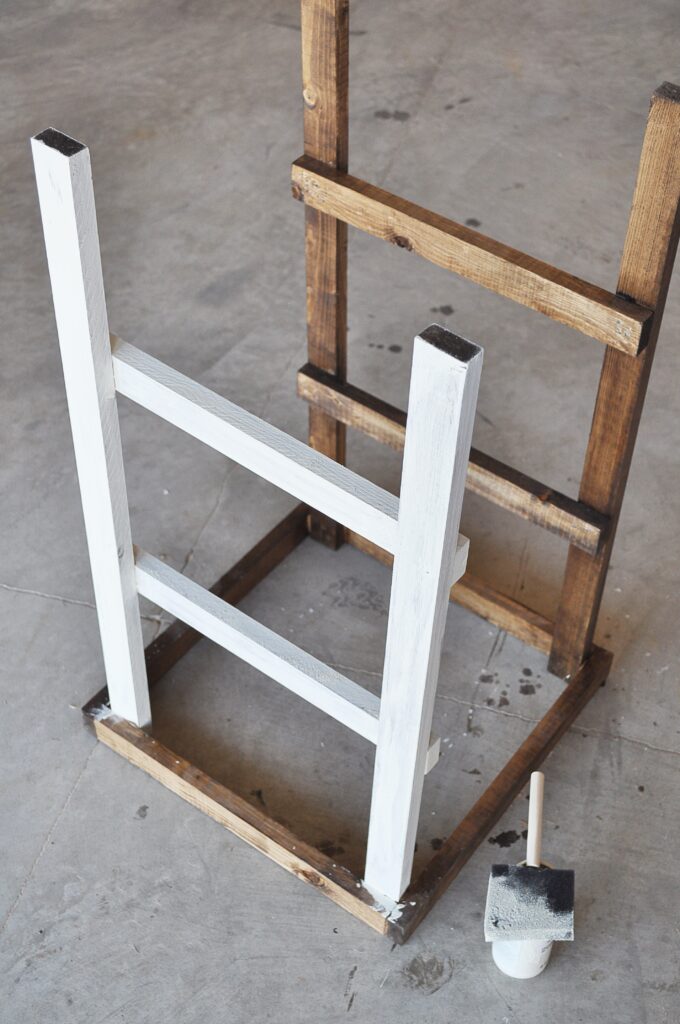 PLANK MIDDLE SHELVES: Measure and mark each middle shelf into 3.625″ strips from 14.5″ sides. Use circular saw to cut each shelf into 4 strips. Smooth any rough ends with a hand sander or sanding block.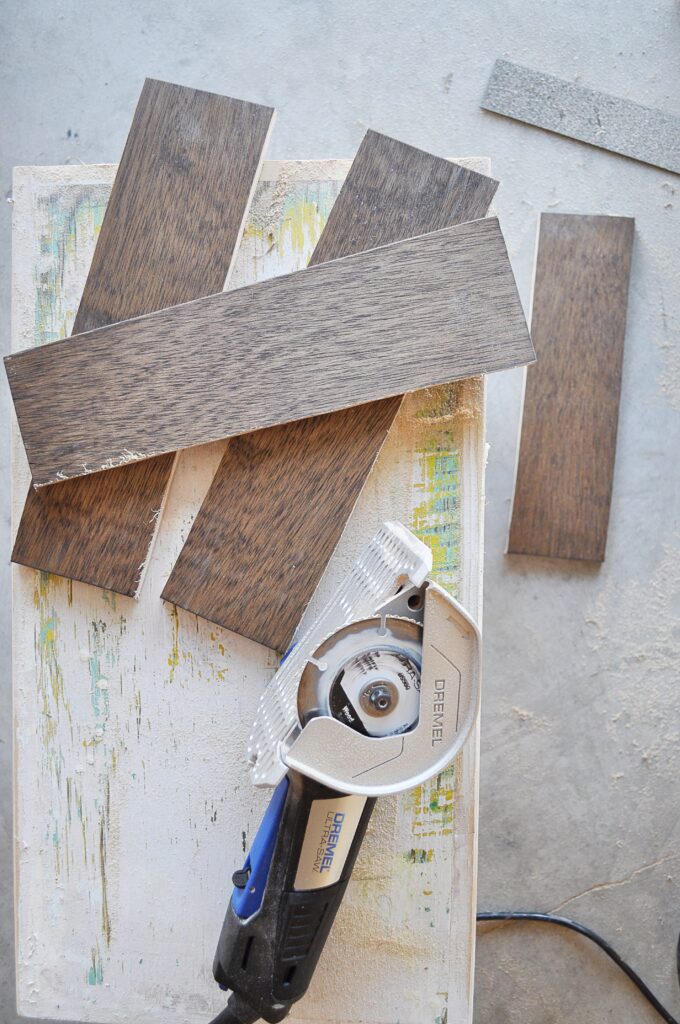 ASSEMBLE REST OF BEVERAGE STATION: Ensuring legs are secure, turn station over and lay 4 planks on top of the bottom shelf braces and secure with nail gun. Repeat for middle shelf with remaining 4 planks. TIP: Attach bottom shelf first, then middle shelf.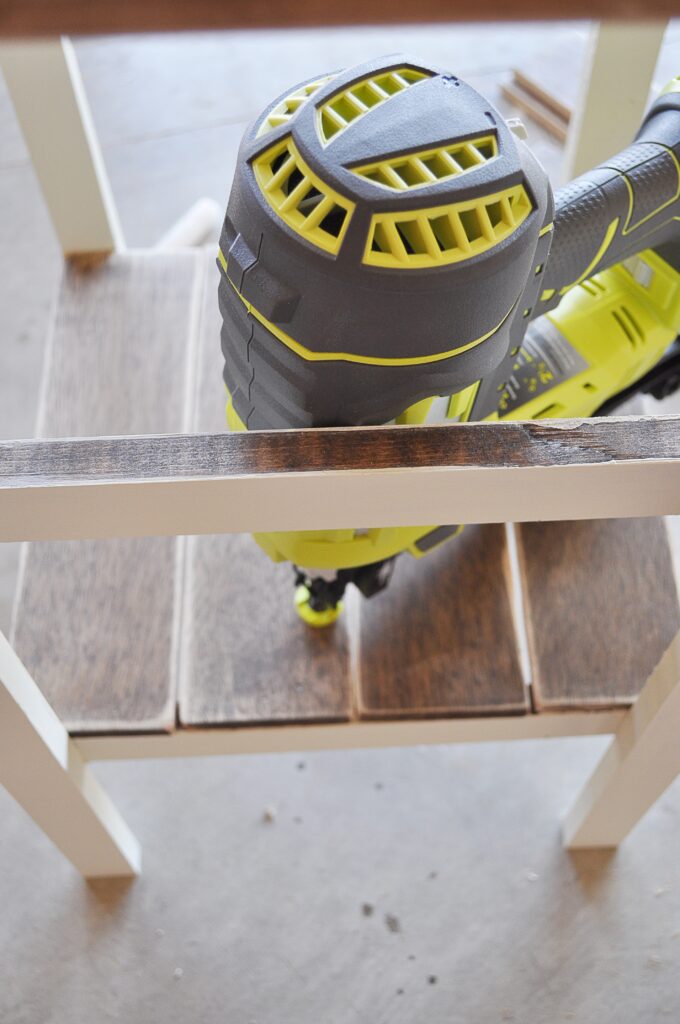 Finally, place the 16˝x16˝ piece on top of shelf frame and secure with nail gun.
ATTACH CASTORS: From scrap common board, cut (4) 2″x 2″ pieces to attach with 2 inch screws to the bottom of each leg. Place castor on top of wood and attach with 1/2″ screws.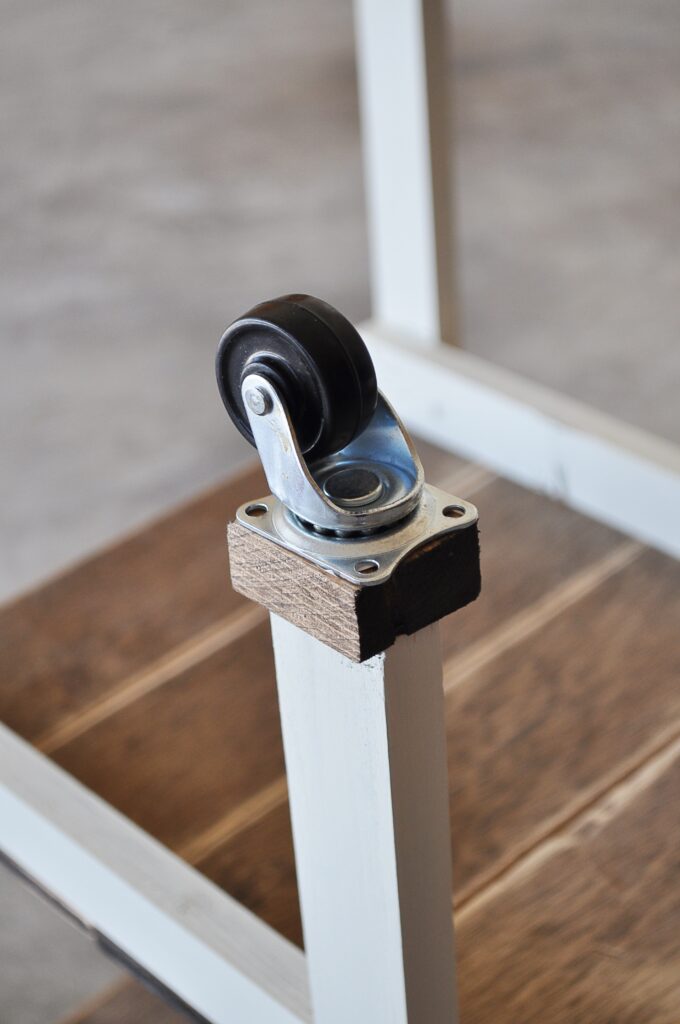 Now it's time to decorate and accessorize! The best part! I wanted our Guest Bedroom Beverage Station to be fun with a little vintage farmhouse feel. What do you think!?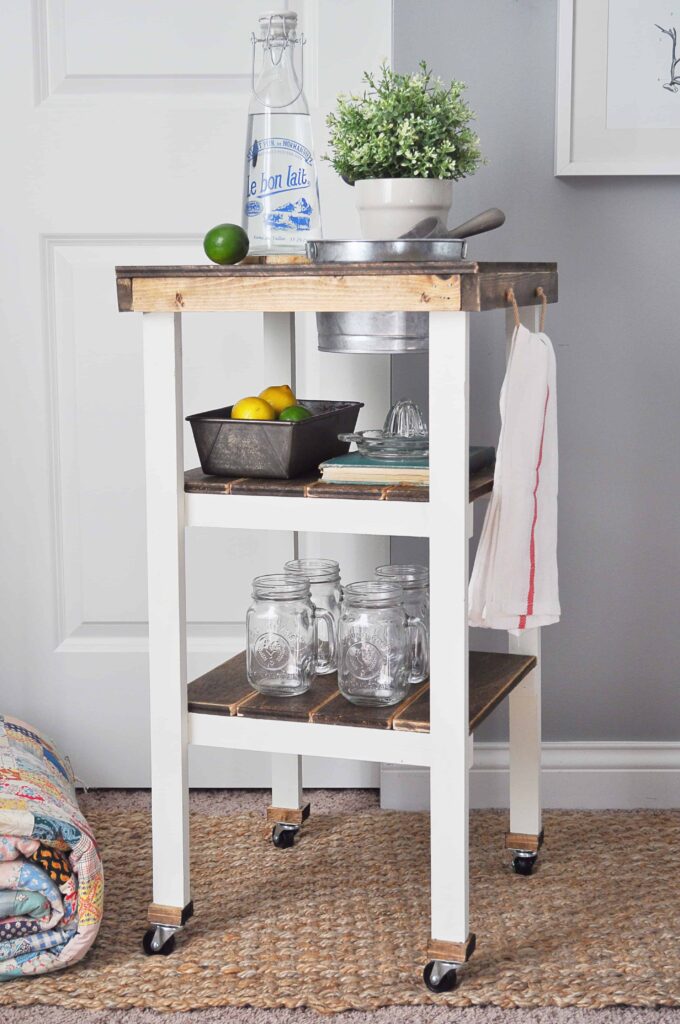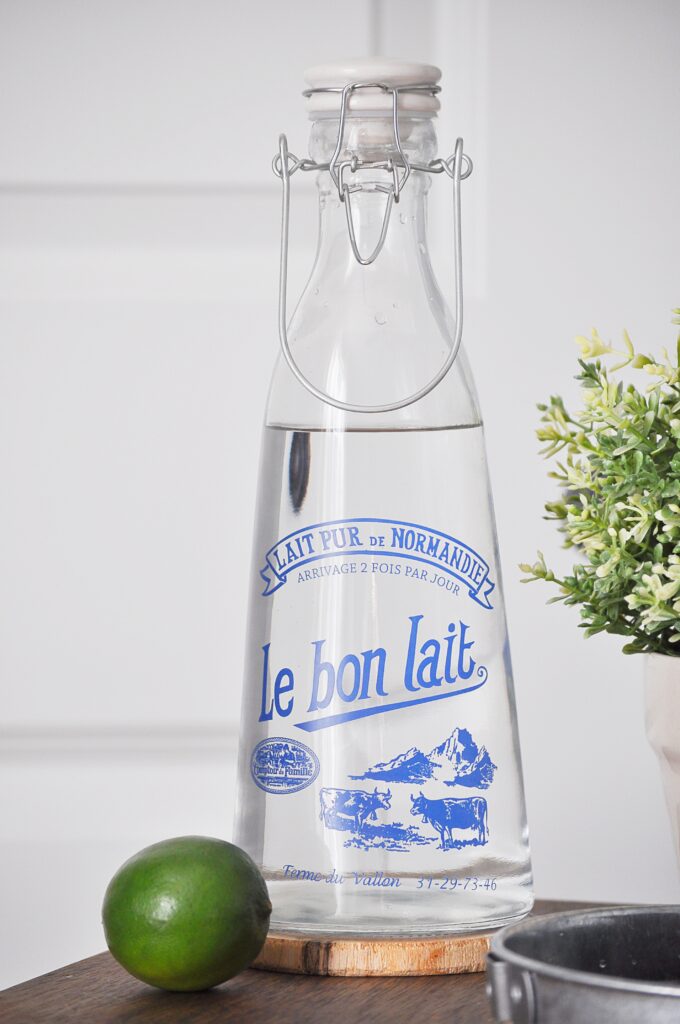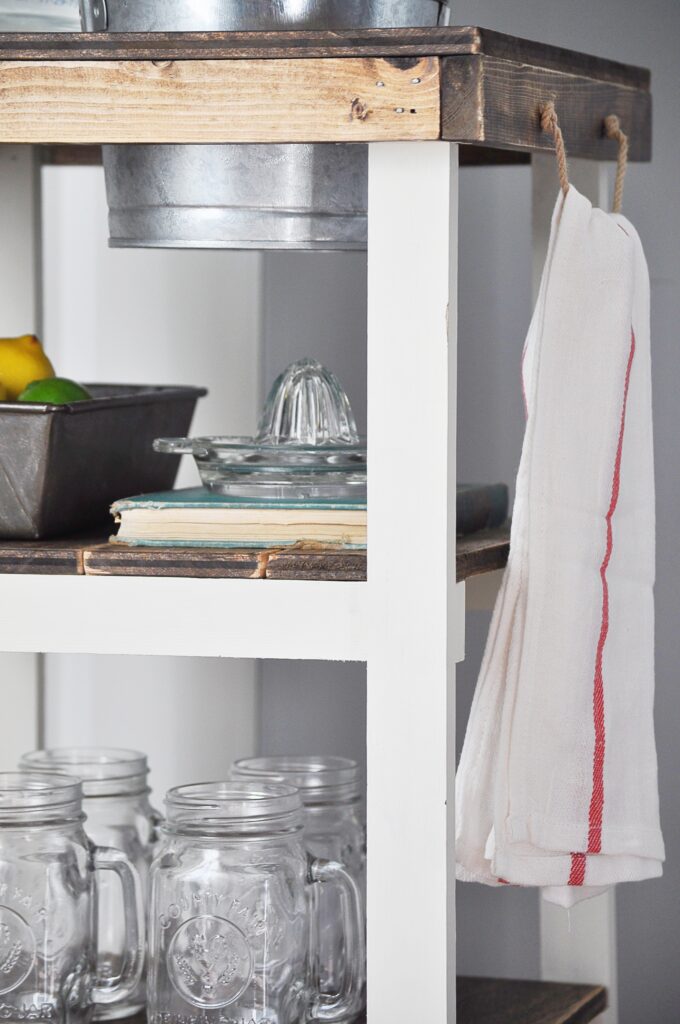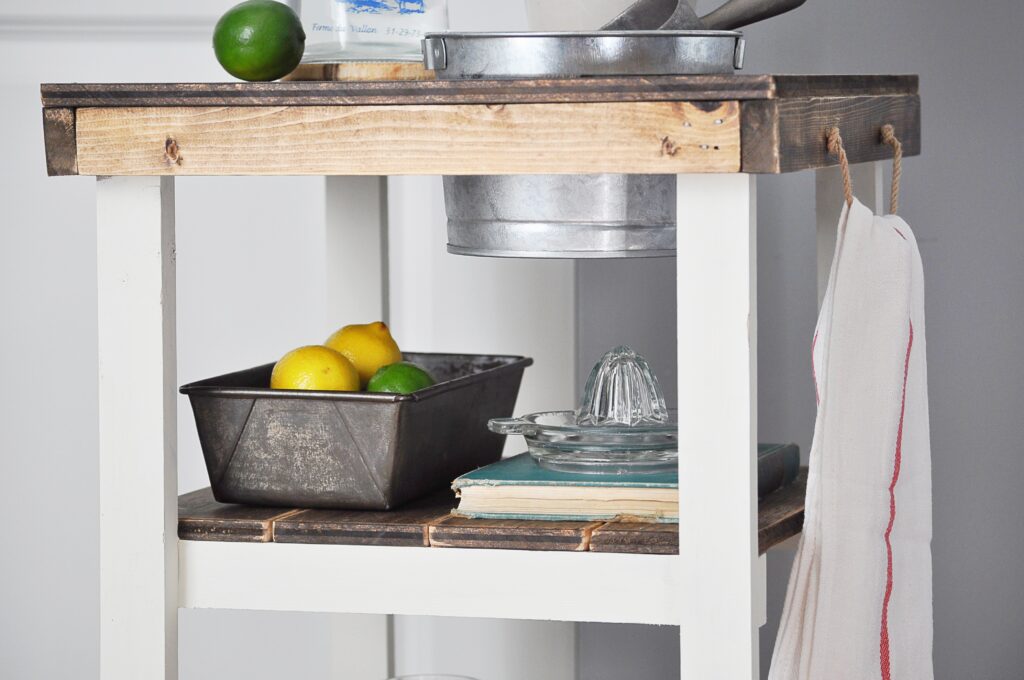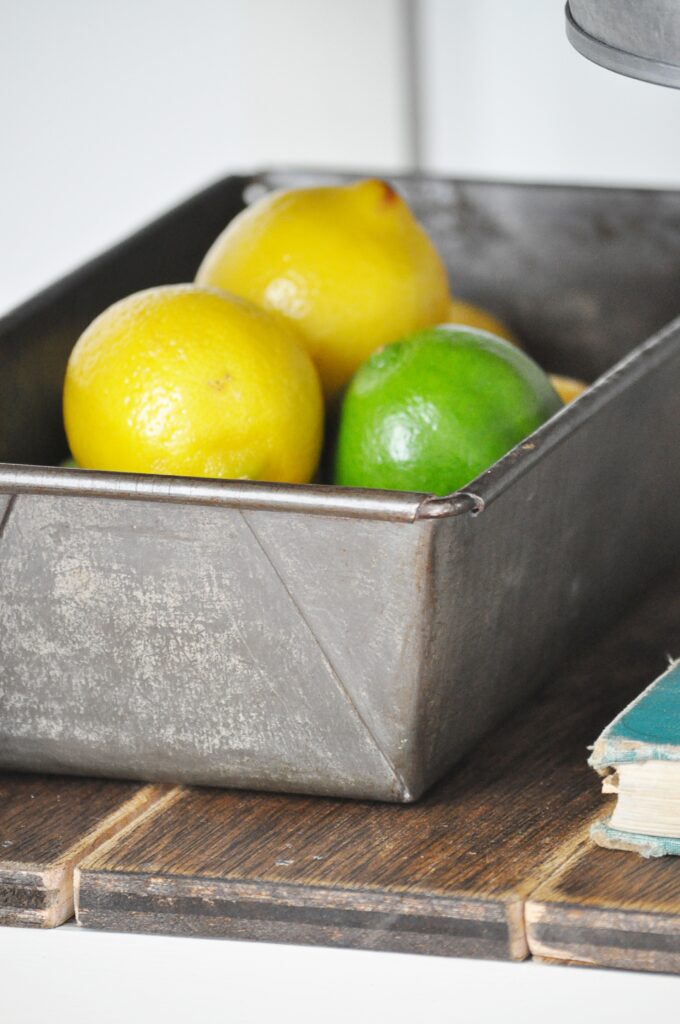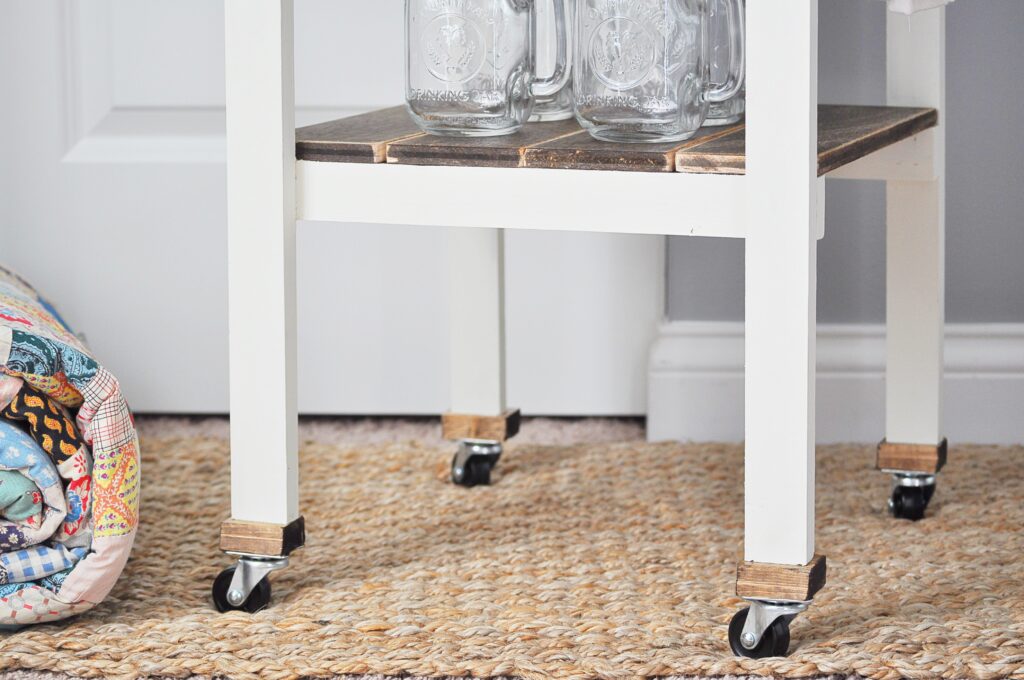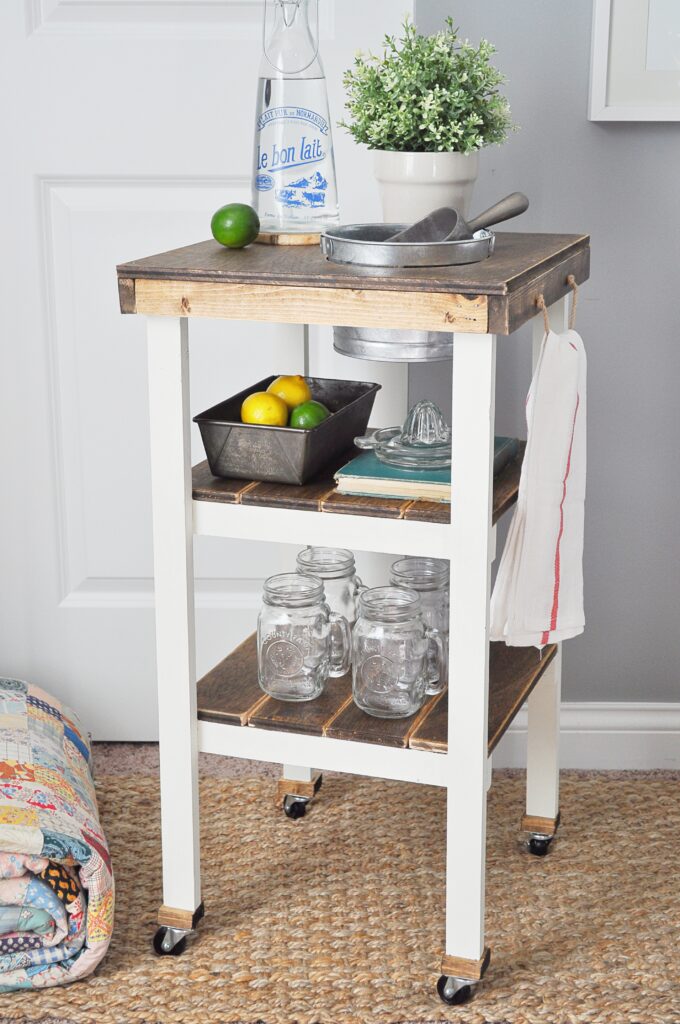 Did I mention there are 24 other bloggers who customized this DIH Beverage Station too!? Be sure to visit the other talented ladies who Kelly from Live Laugh Rowe selected for our group! So much cuteness!!!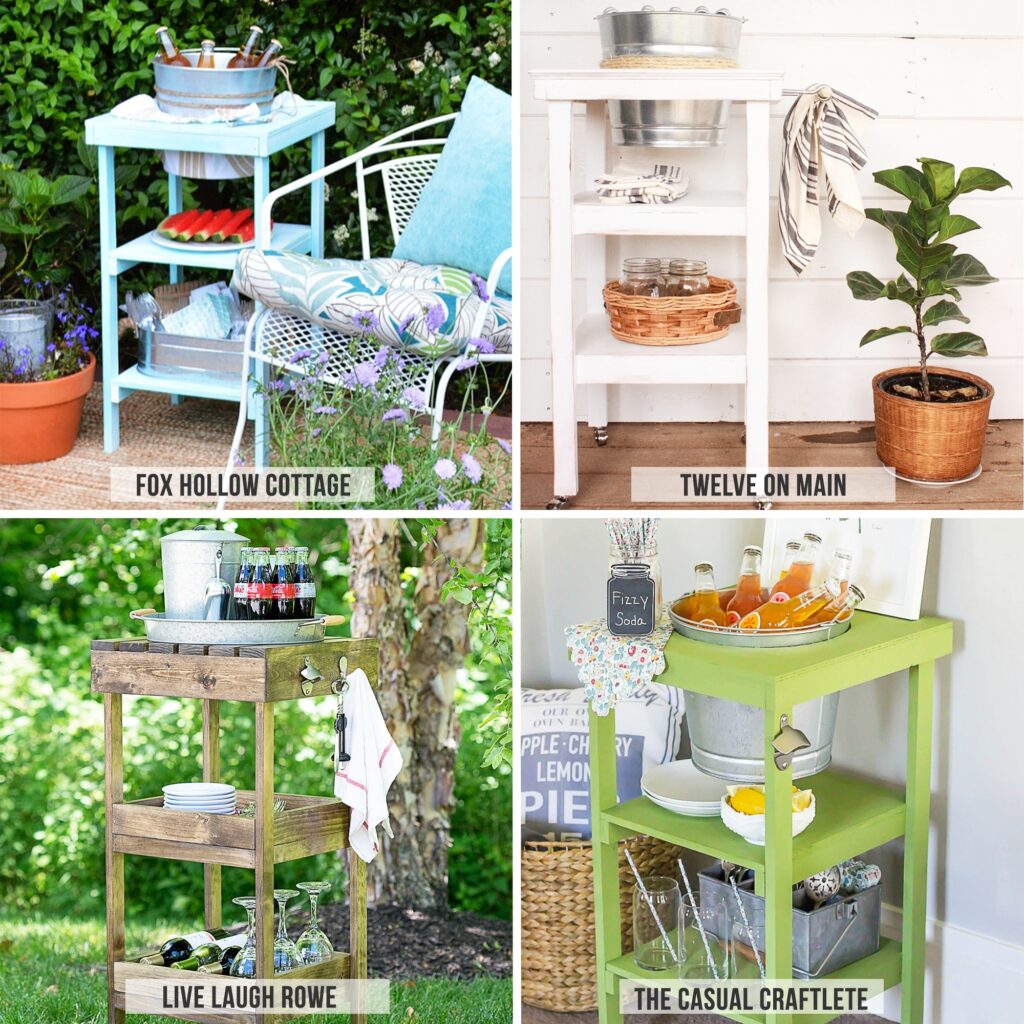 Team Live Laugh Rowe:
AND SO MANY MORE…
Just Between Friends | One Horse Lane | The Crafting Chicks | Family Food Fun | Inspiration For Moms | Petticoat Junktion | Our Southern Home | Artsy Chicks Rule | Iris Nacole | The Rustic Life | Domestically Speaking | The Creative Mom | Little Vintage Nest | One Artsy Mama | Dagmar's Home | Fancy Farm Girls | All Things Thrifty | Whipperberry | Lolly Jane | Landee See Landee Do
Just a reminder: Home Depot offers awesome workshops at all of their locations for do-it-yourselfers of all ages and experience levels. There are three types of workshops: Do-it-Yourself (DIY), Do-It-Herself (DIH) and Kids. You can learn for FREE how to build decor projects, how to make easy home repairs and how to operate tools through demonstration and step-by-step instructions. Materials can be purchased to make your own project at your location too. Register TODAY, you will have a blast!
This post is sponsored by The Home Depot.