Cozy Vintage Master Bedroom Makeover Reveal
This post may contain affiliate links. For more information please see our disclosure policy.
I'm revealing our Master Bedroom Makeover today for the One Room Challenge! See how I've transformed this room over eight weeks into a beautiful, cozy vintage bedroom.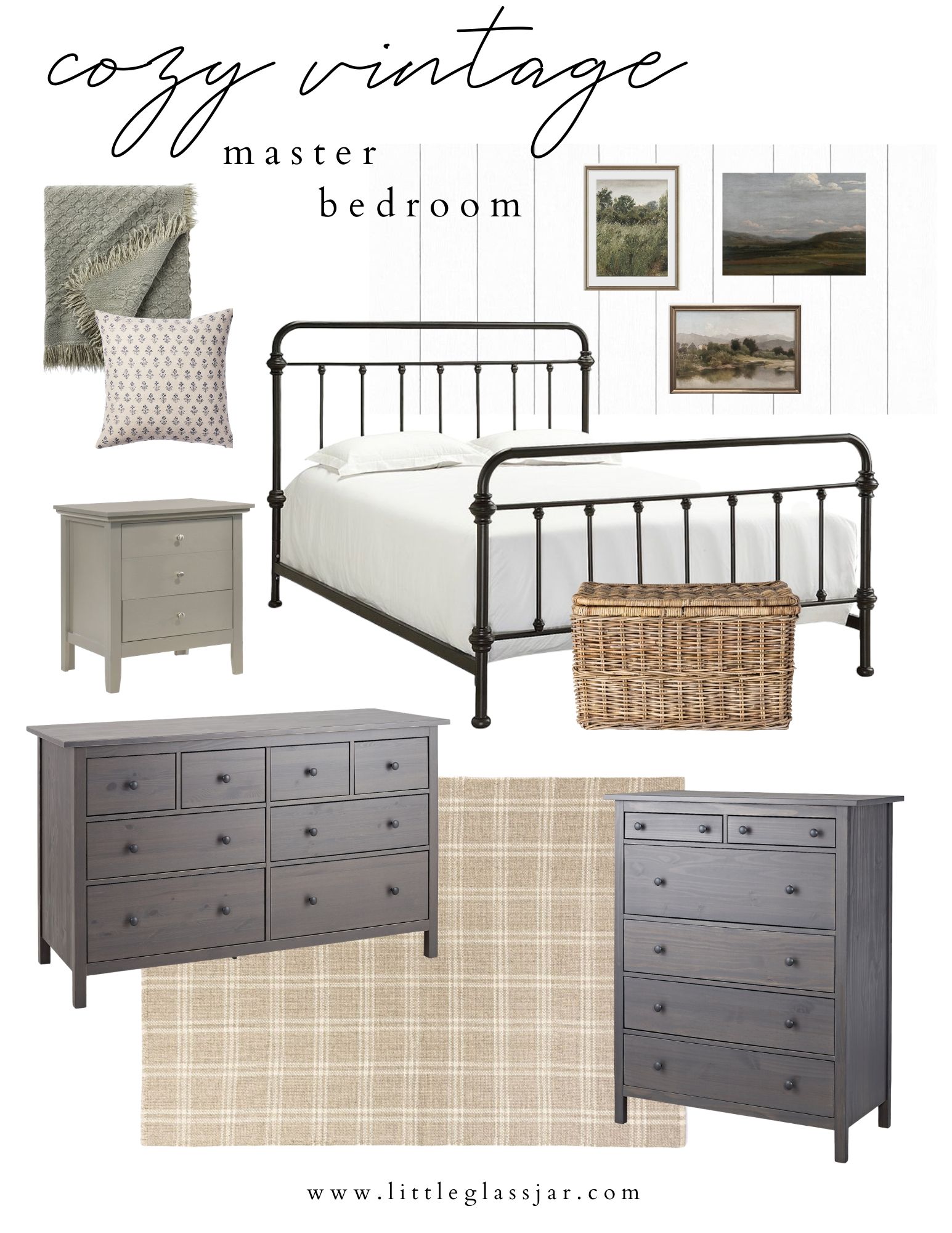 The day is officially here! It's reveal day for the One Room Challenge, and I'm sharing all the details on our master bedroom makeover!
It's been a long eight weeks, and honestly a bit challenging to work on a makeover during a pandemic! But this room is one that I have been holding out on for too many years. So it was time to give it the attention it needed.
Let's recap the before pictures and the last eight weeks, shall we?
Master Bedroom Makeover – The Before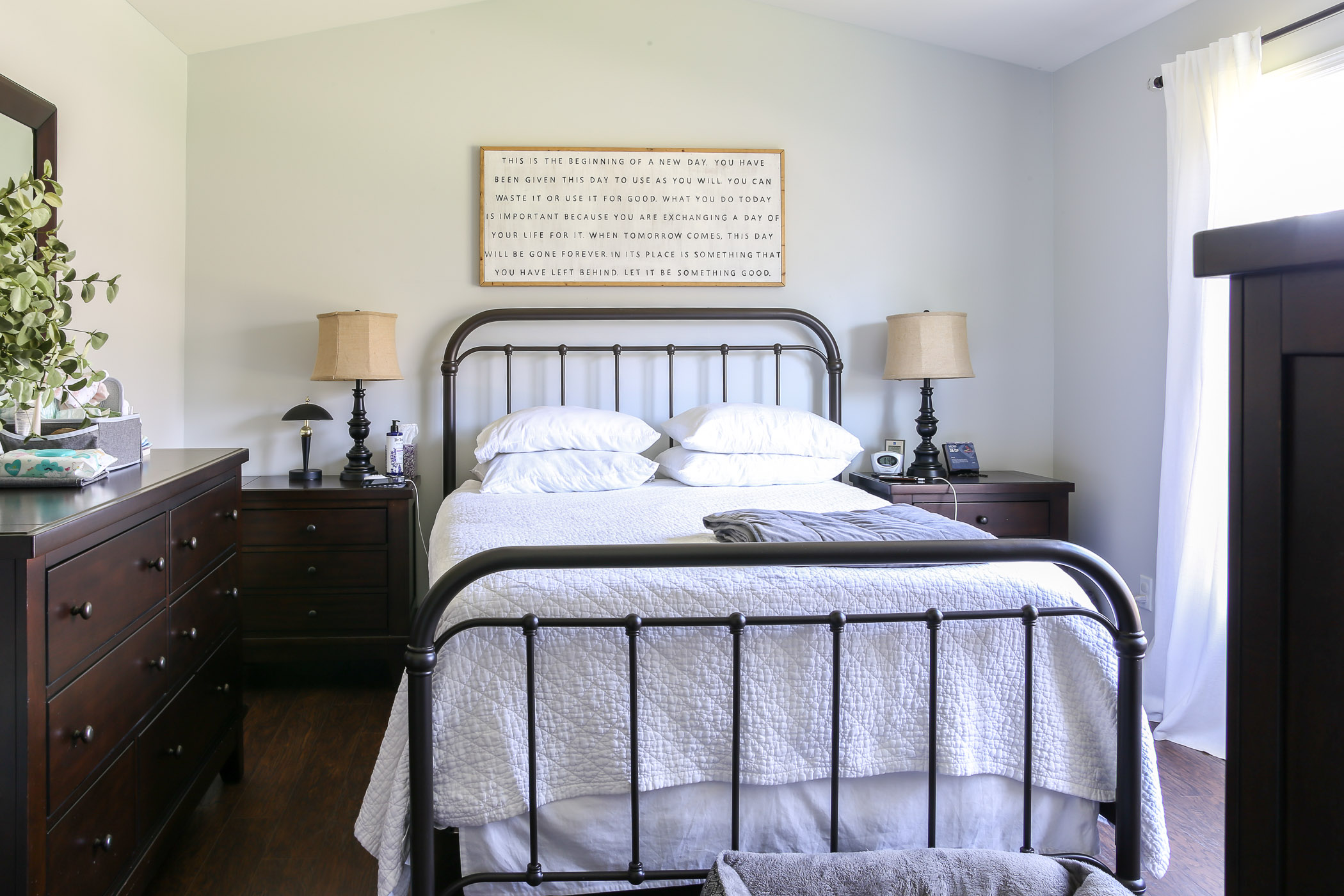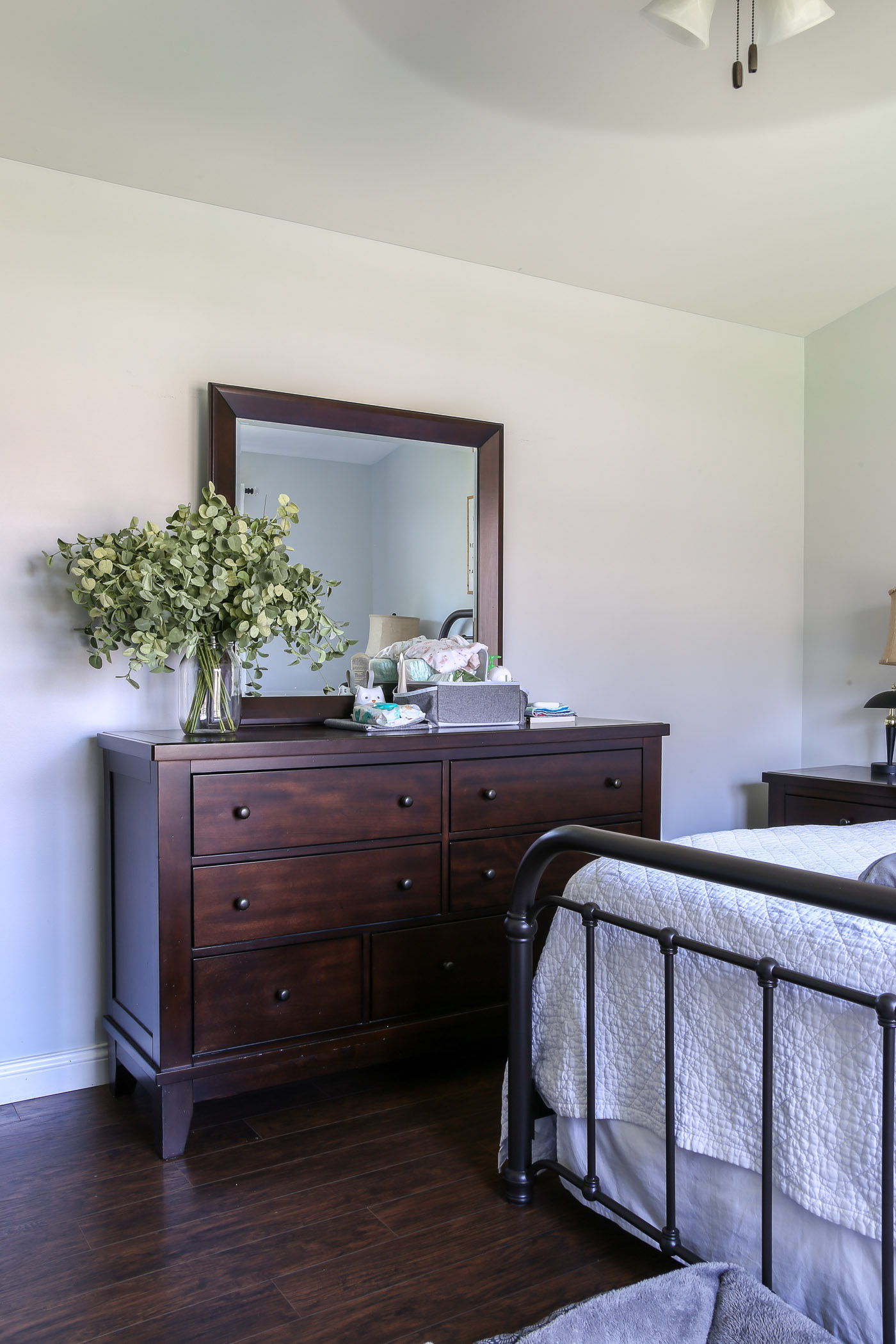 Master Bedroom Makeover – Eight Week Recap
Here is a rundown of the last eight weeks:
Week Five – Canceled
Week Seven – Skipped
Week Eight – Cozy Vintage Master Bedroom Makeover Reveal (You Are Here)
Master Bedroom Makeover – The Reveal
Let's get to the good stuff already! I am so pleased with the way this room turned out!
I have honestly been dreaming up what I wanted our master bedroom to look like for years, and I finally got everything I wanted!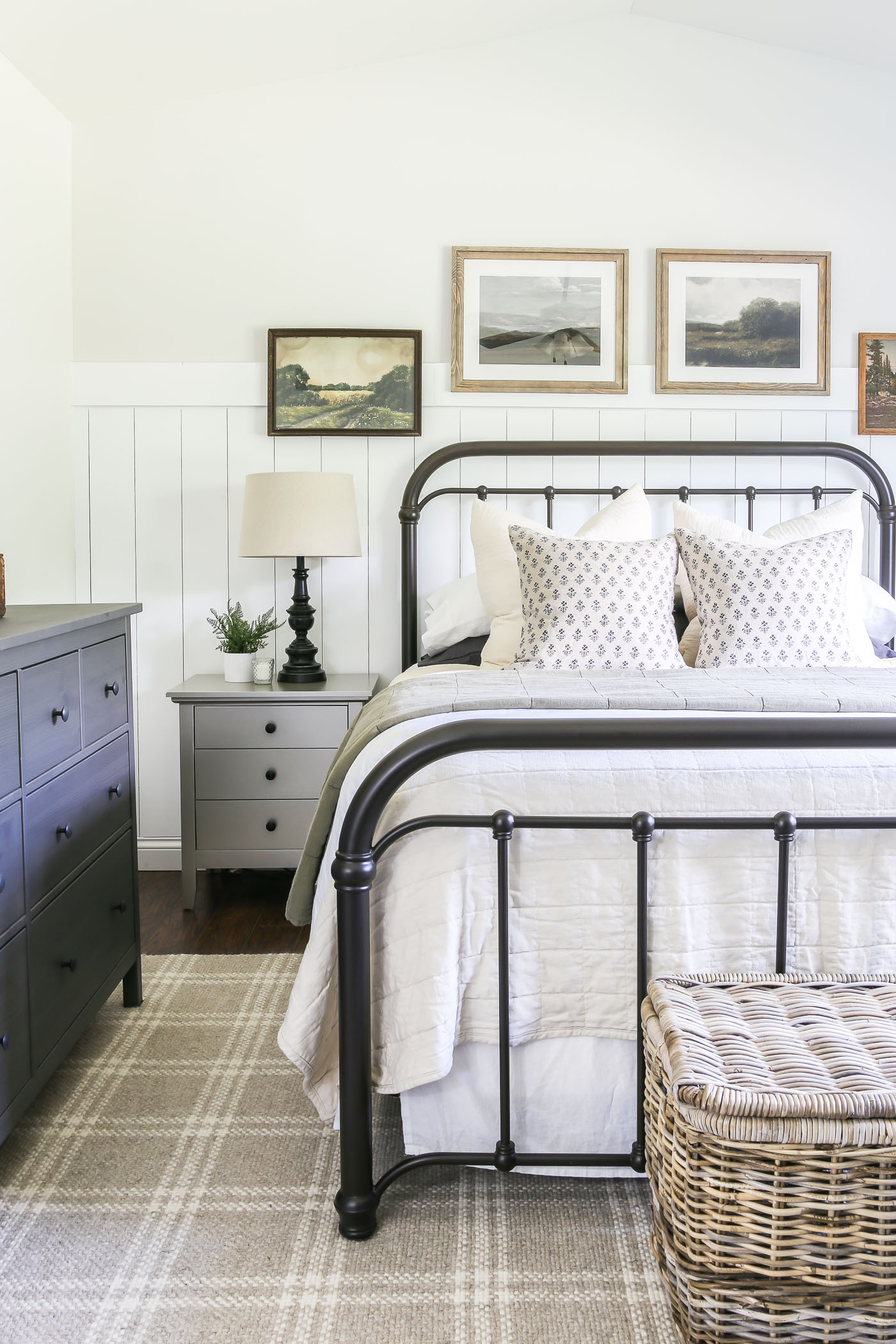 The whole vibe I was going for was cozy, beautiful, with lots of vintage touches. I wanted to keep a neutral color palette, but add in a lot of natural textures.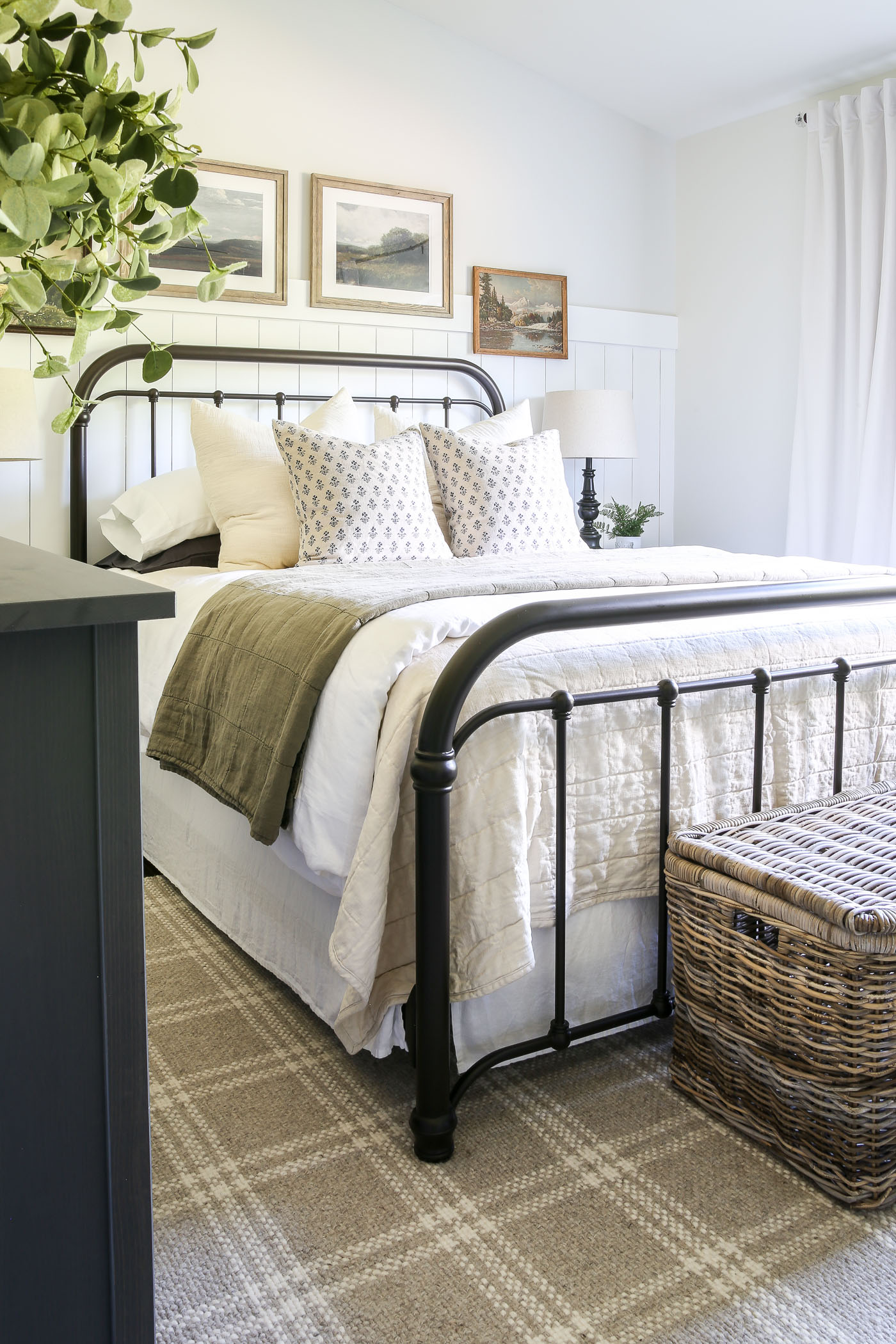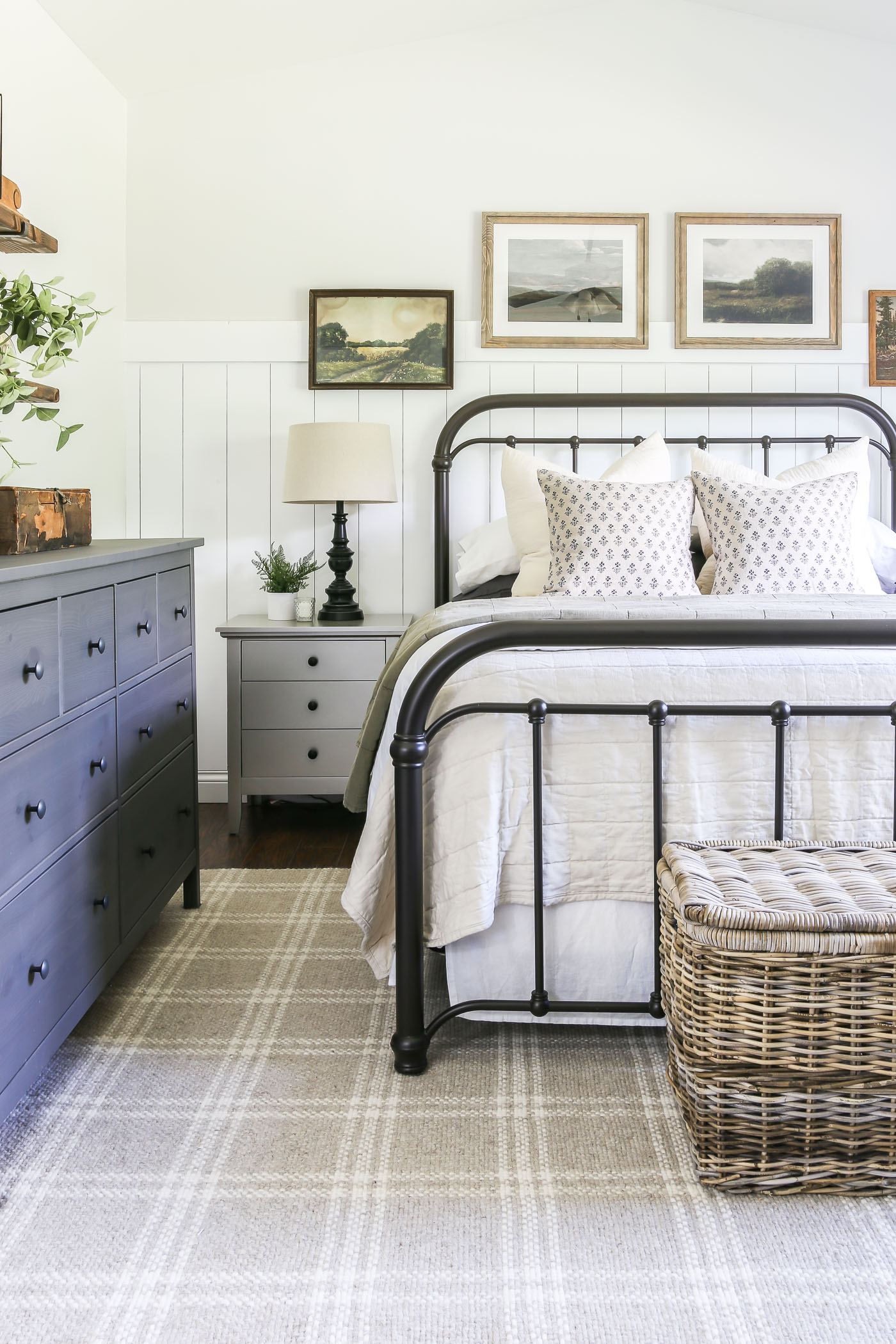 My inspiration came from a few vintage landscape art pieces I've had stashed away for years. They finally were pulled out and showcased for how beautiful they are. I also added in some new landscape art prints too.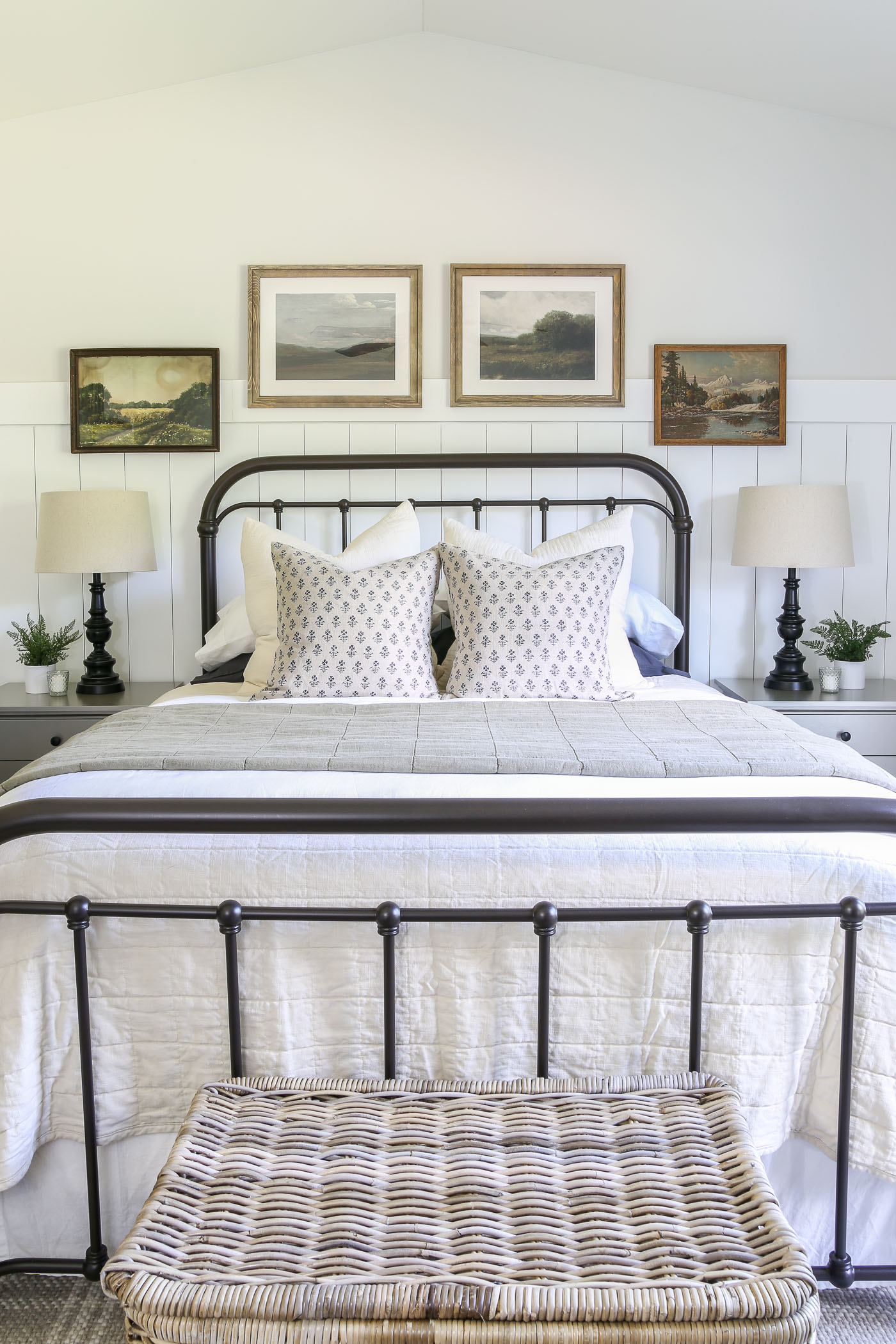 I am obsessed with the vertical shiplap wall I did behind the bed. I think it adds so much to the space, and honestly it makes the room even look a little bigger than it is!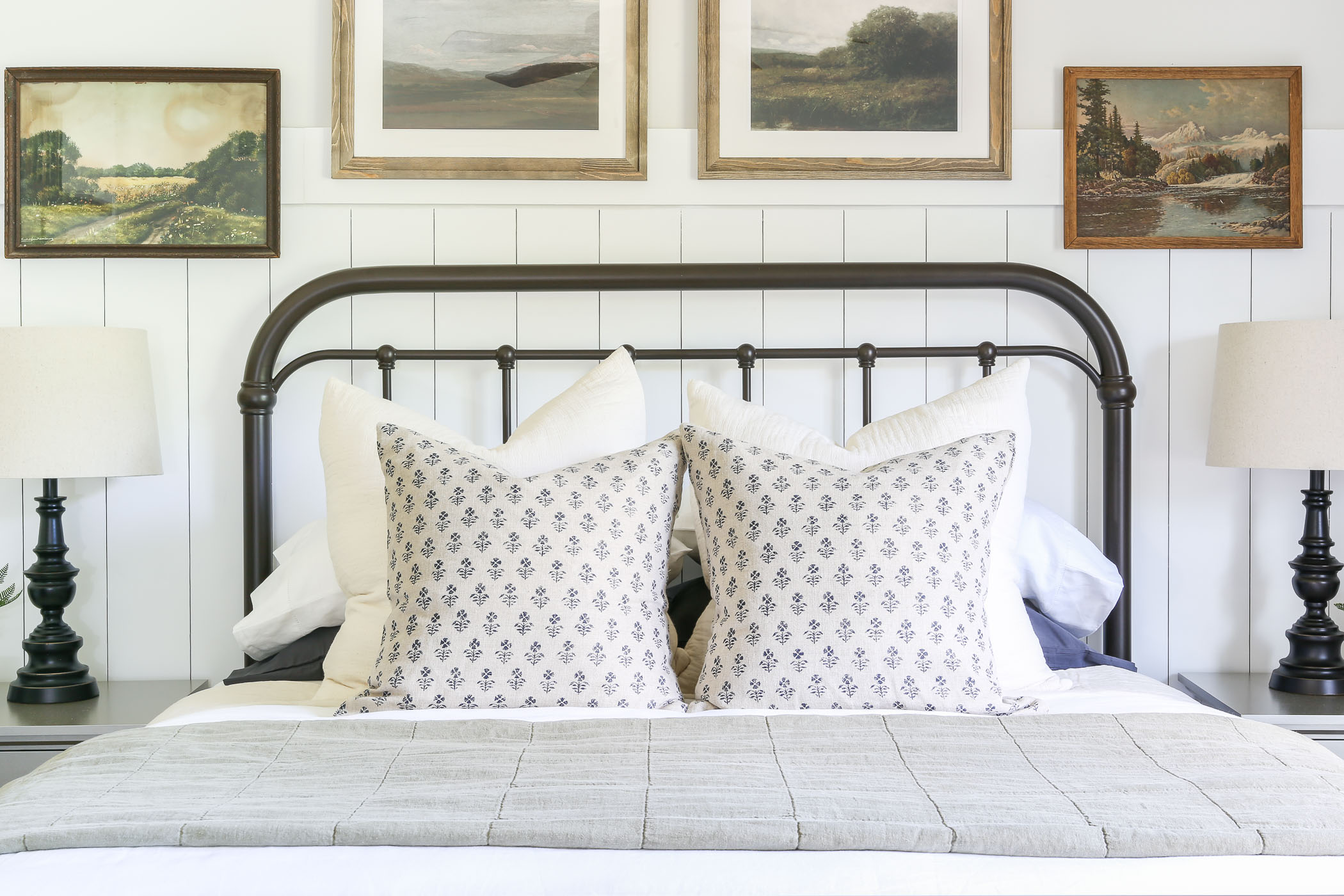 I was very very picky about the bedding I chose. I actually decided to invest in some good quality bedding, and you guys…best decision ever!
And it's all so so pretty!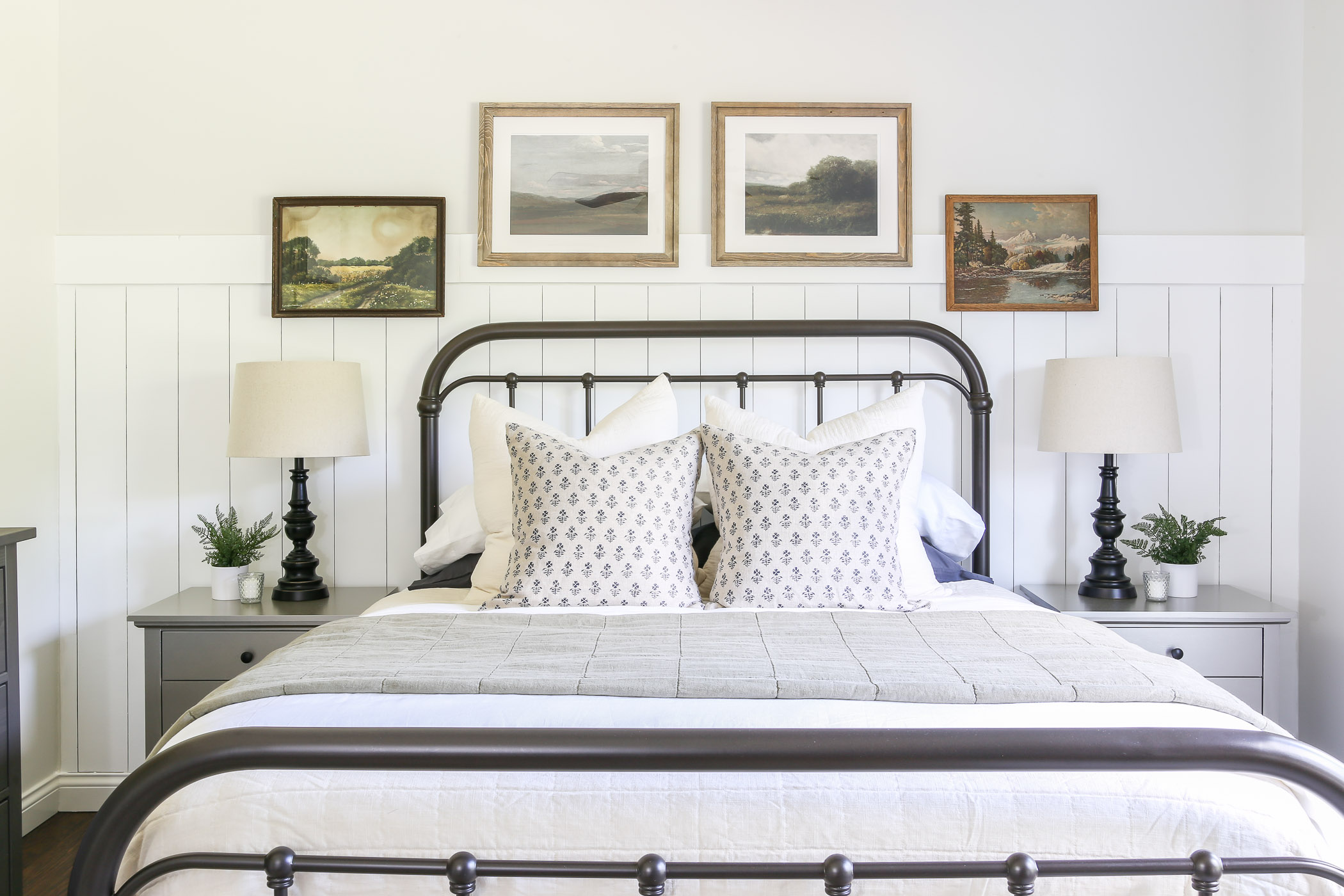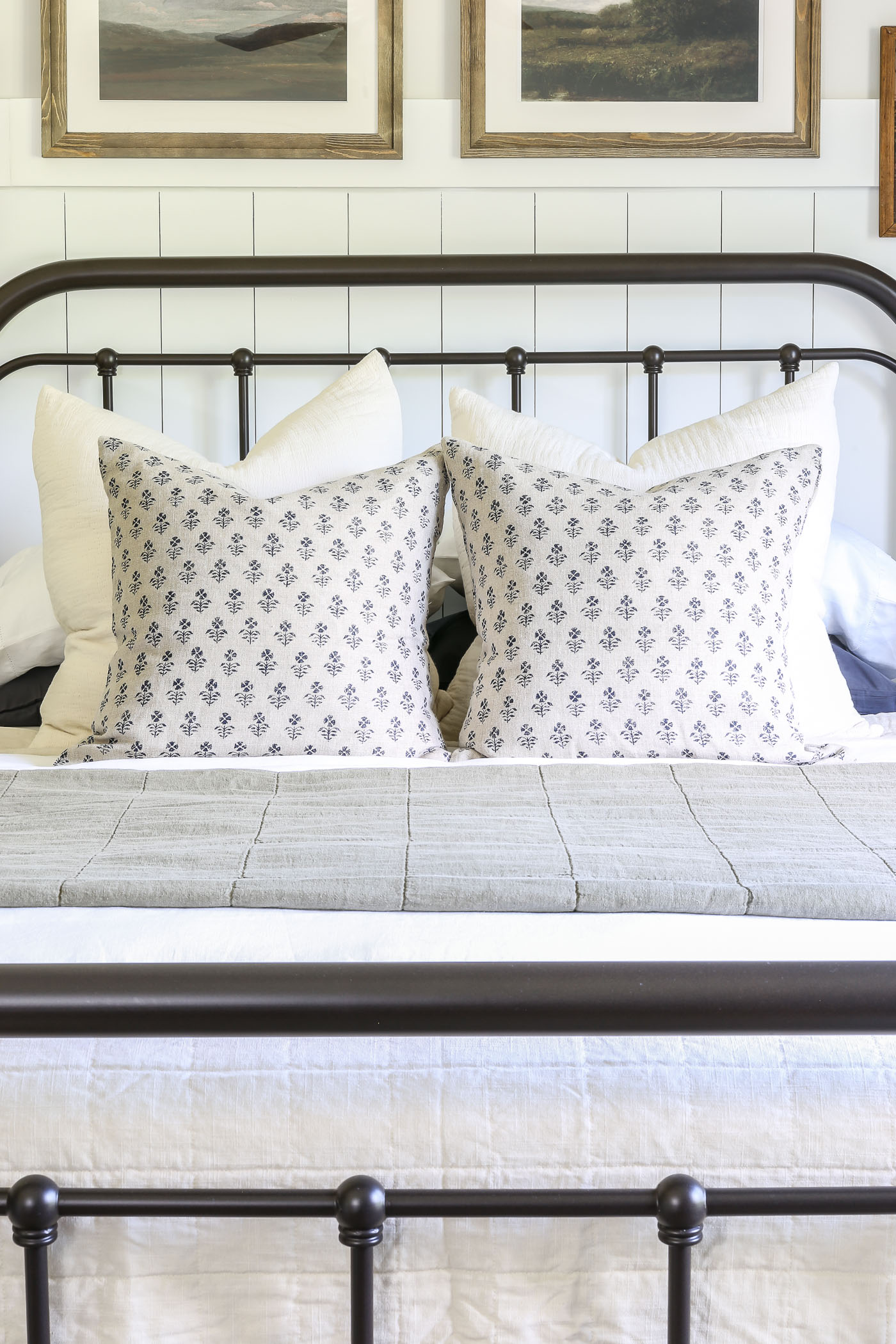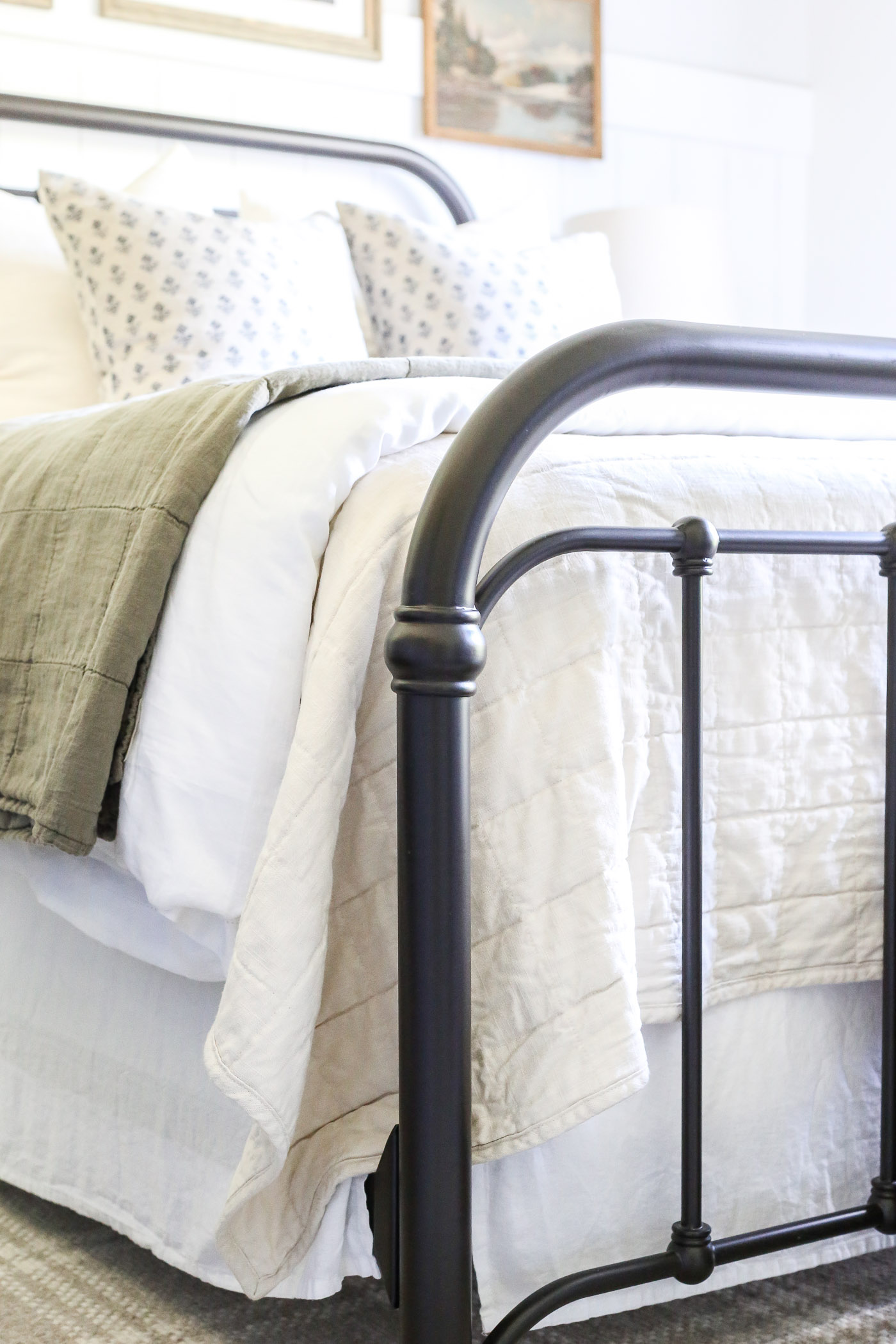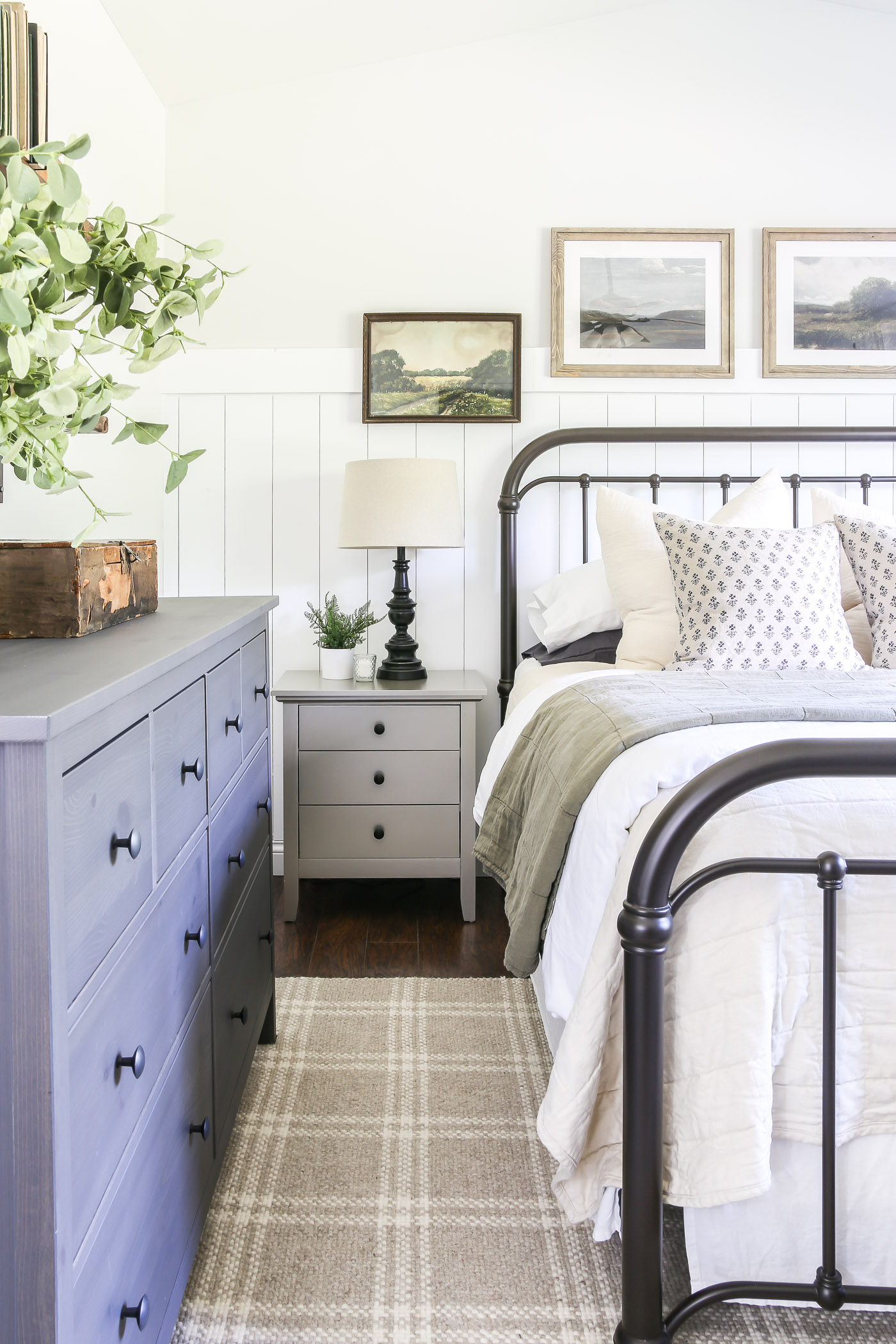 I did switch out the hardware on our nightstands. Such a cheap and easy way to customize a piece of furniture if you don't love how it comes.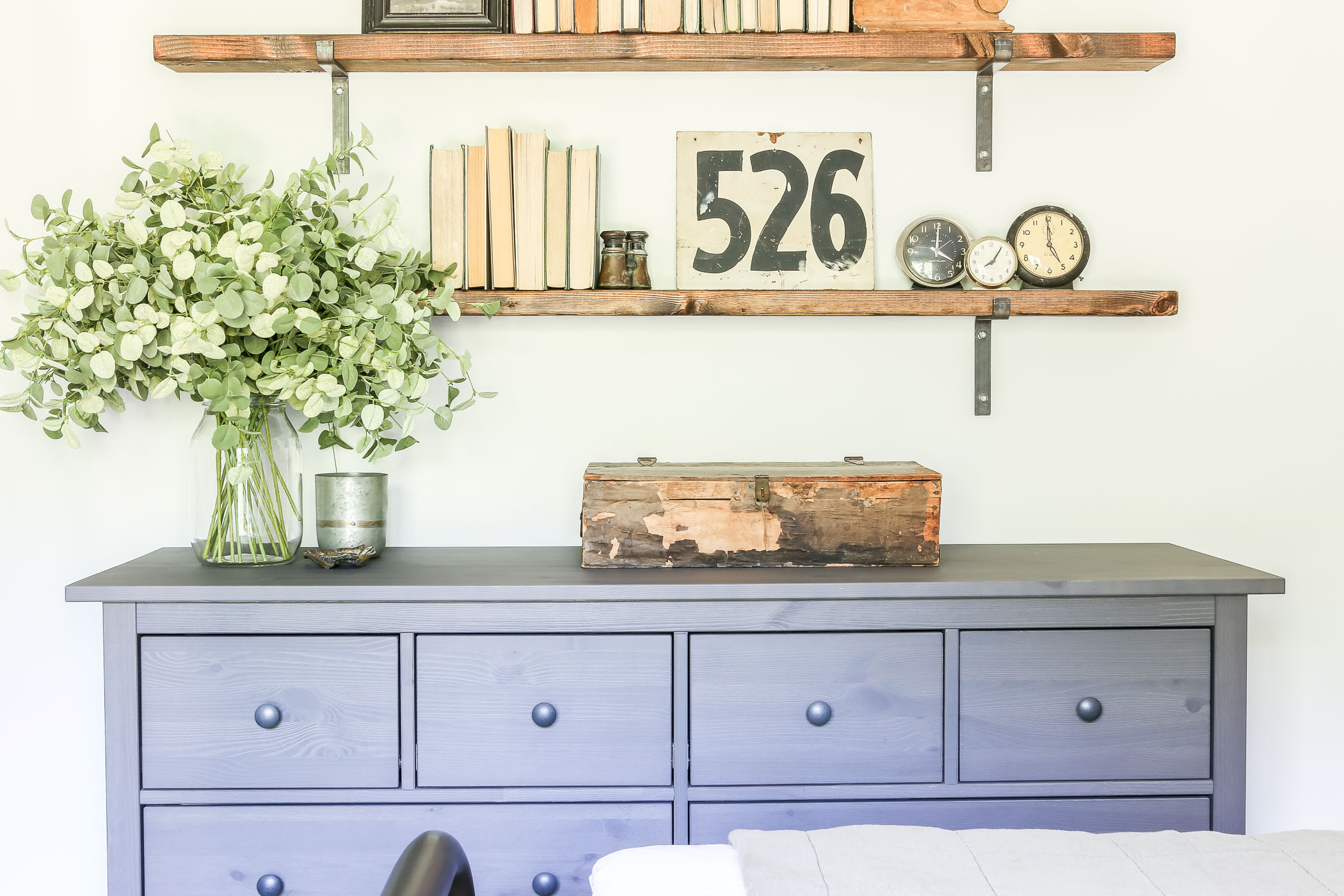 I love our dressers (even though they do read very blue in these pictures, they aren't! They are indeed grey!) Everything on the shelves are some of my favorite vintage finds.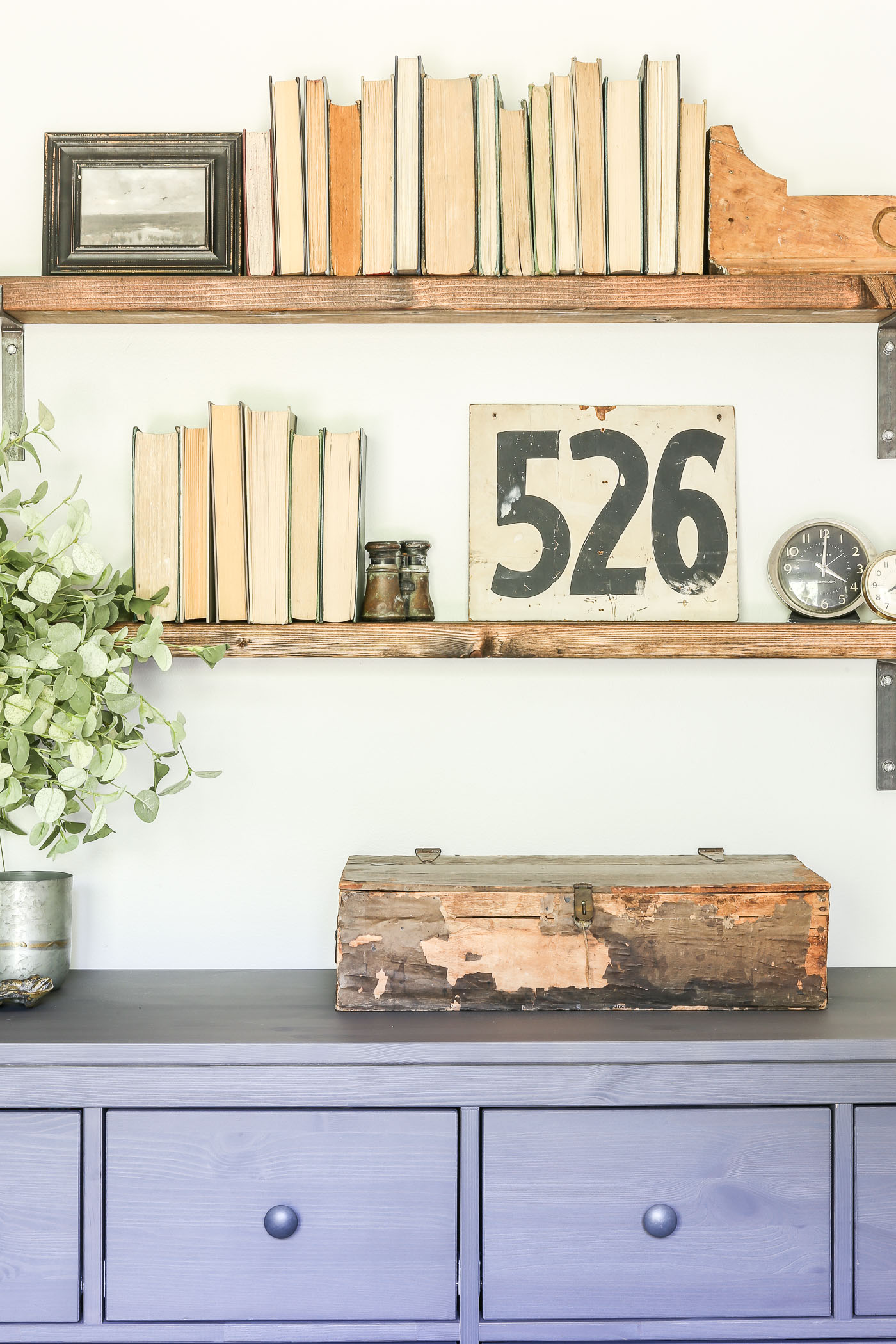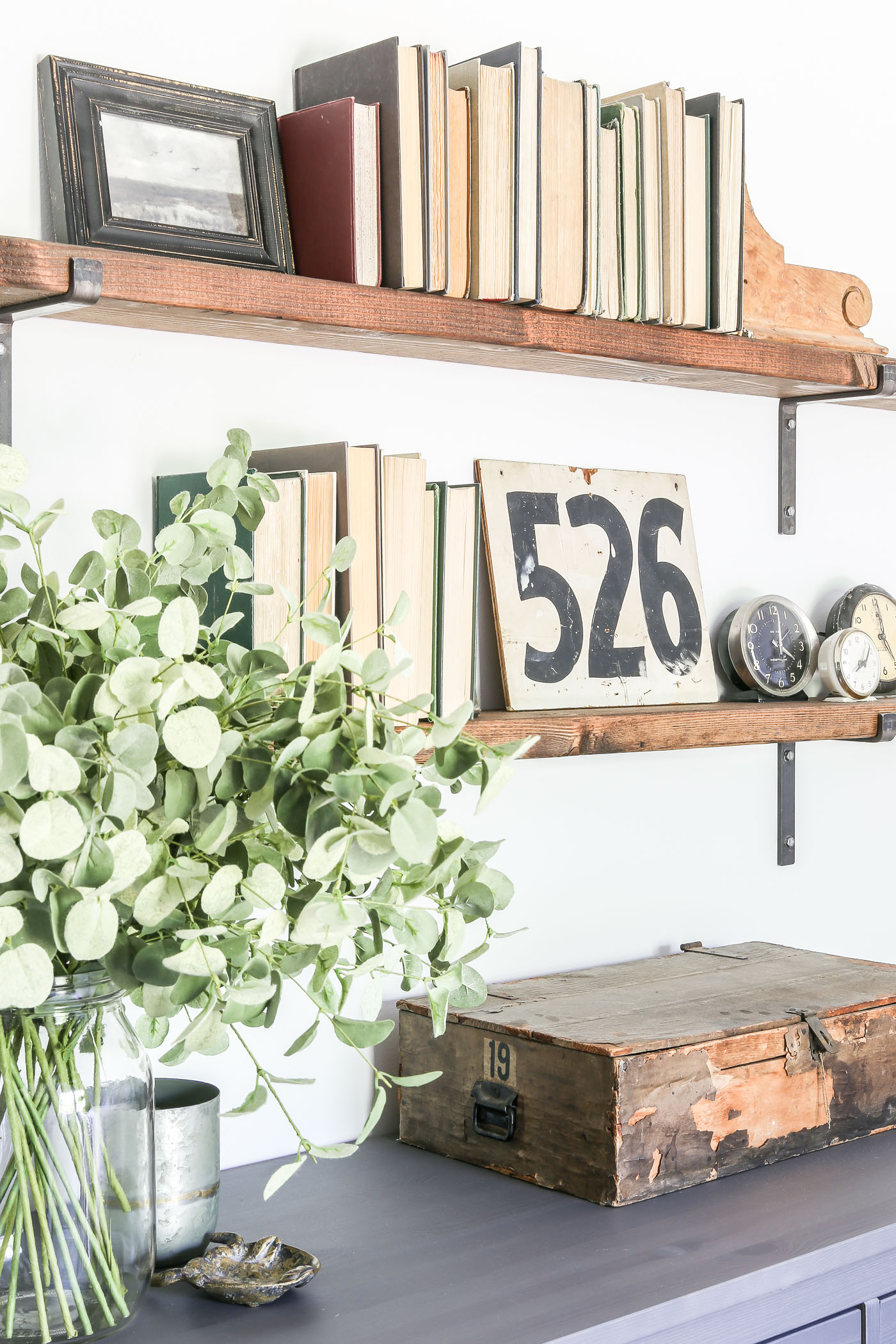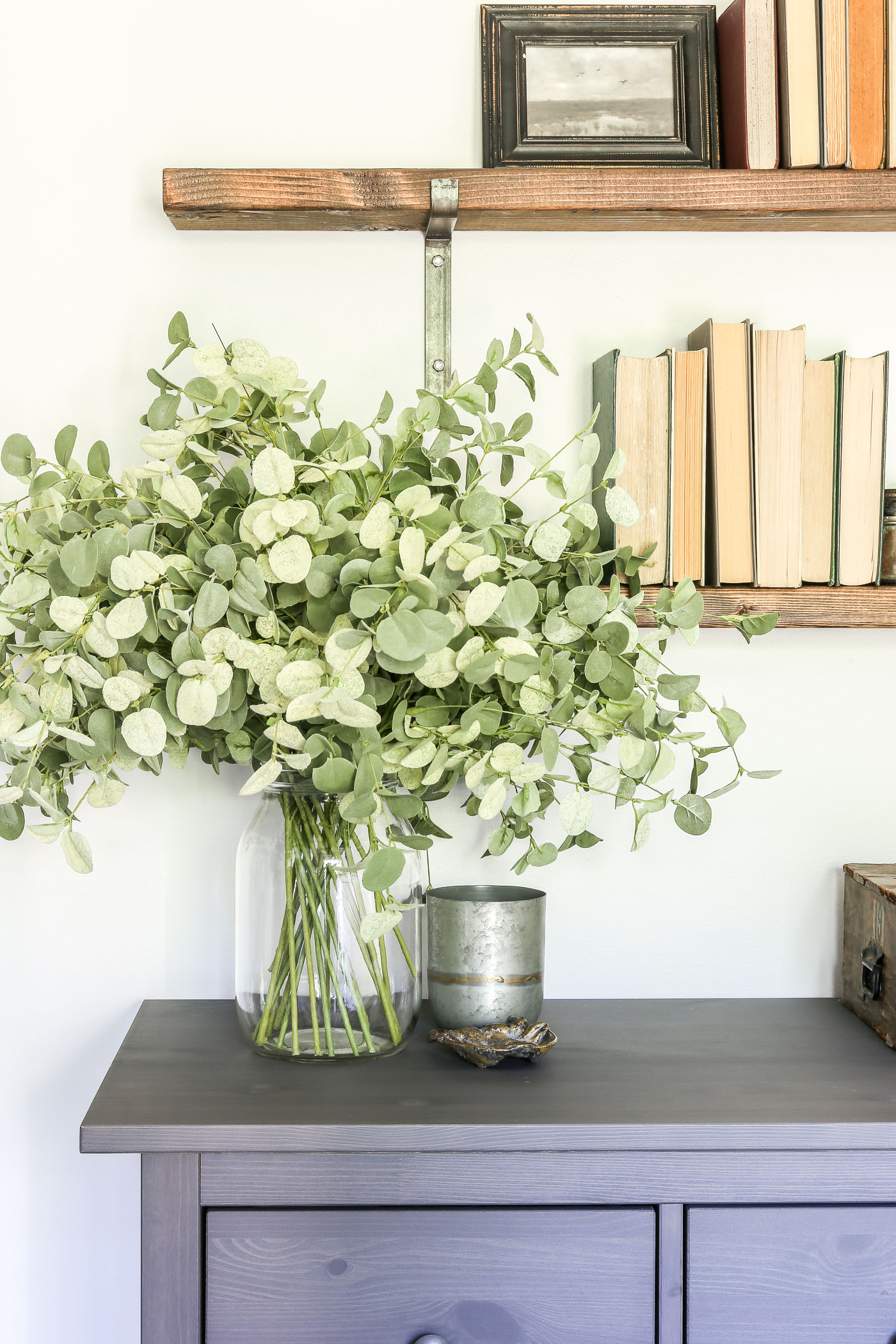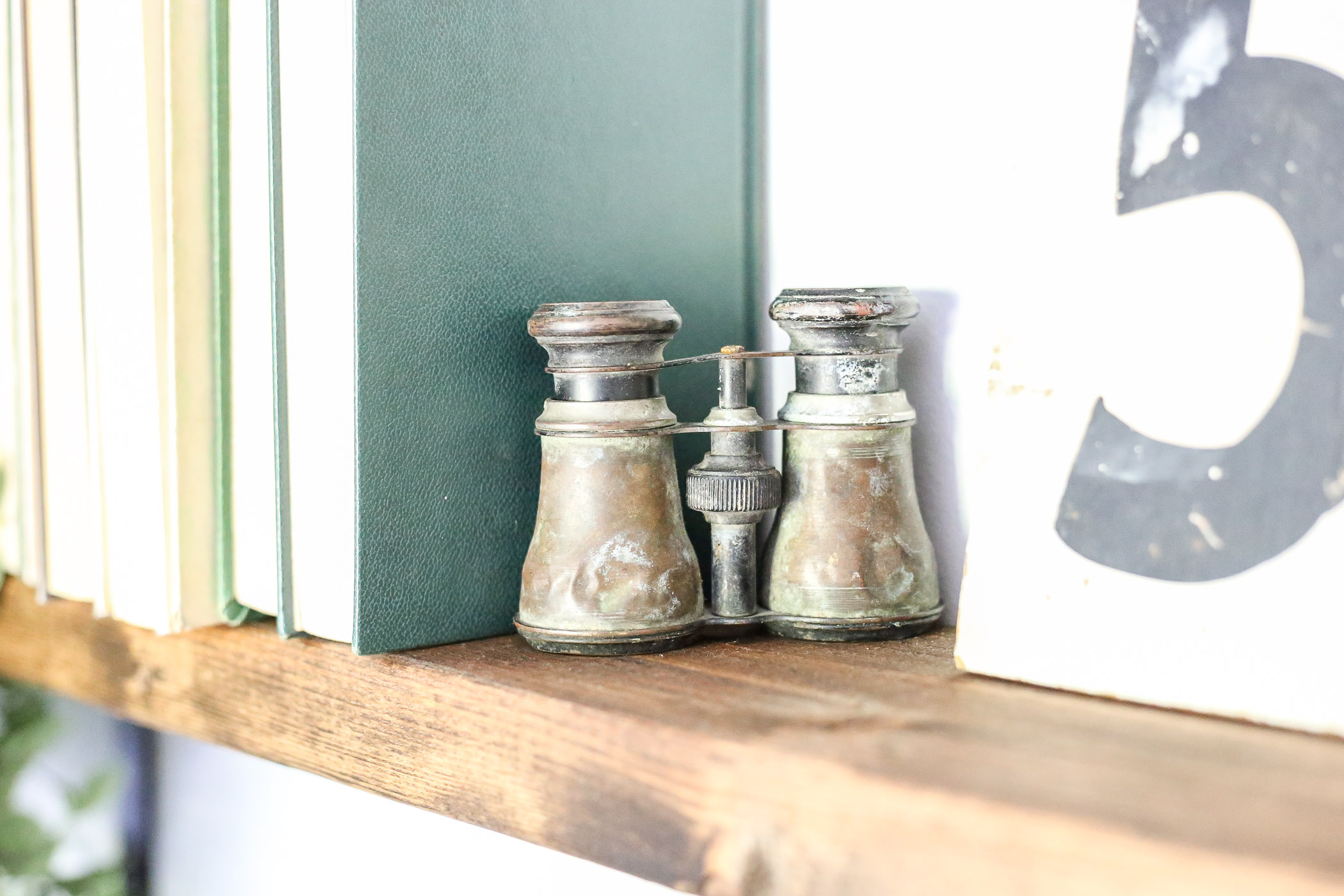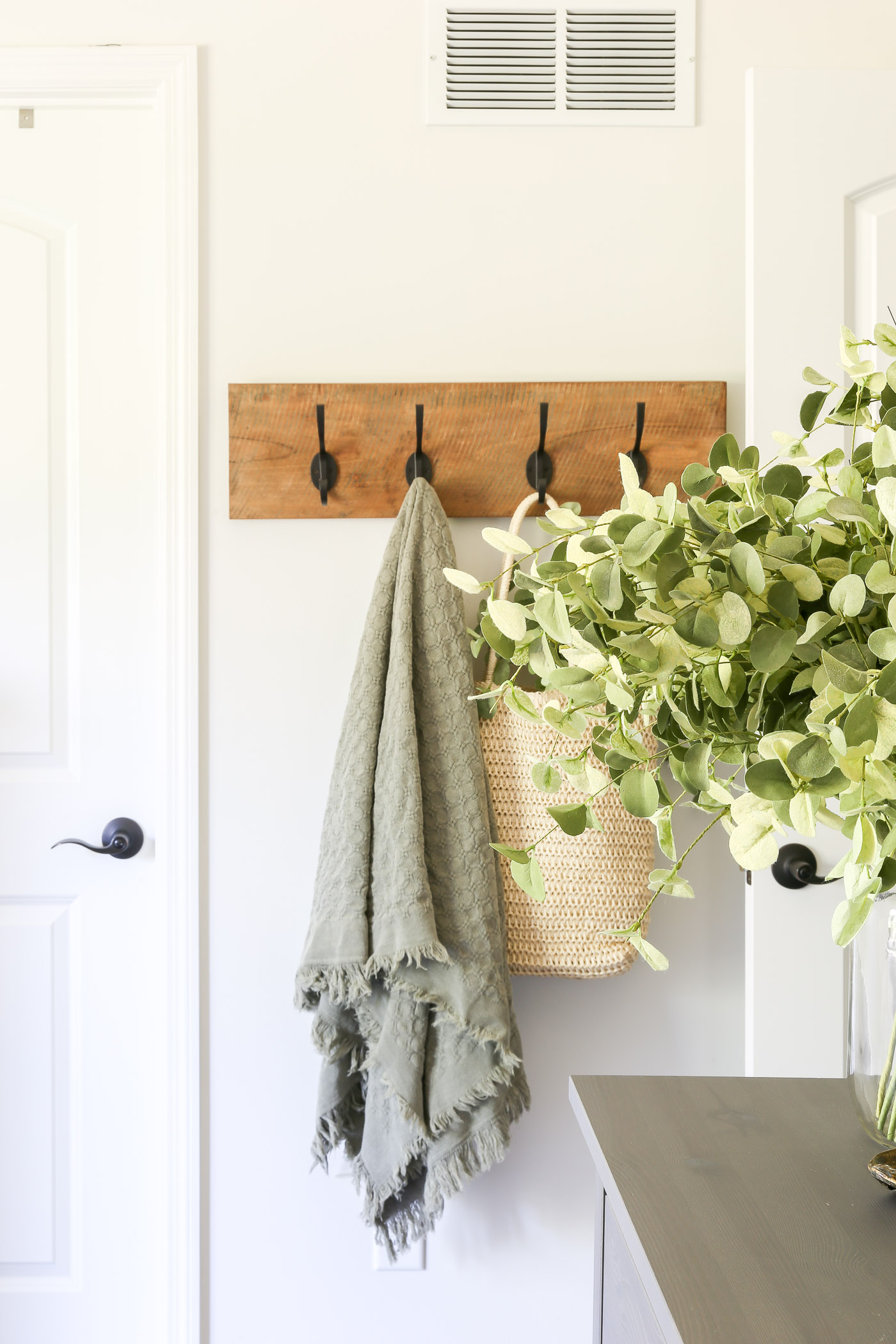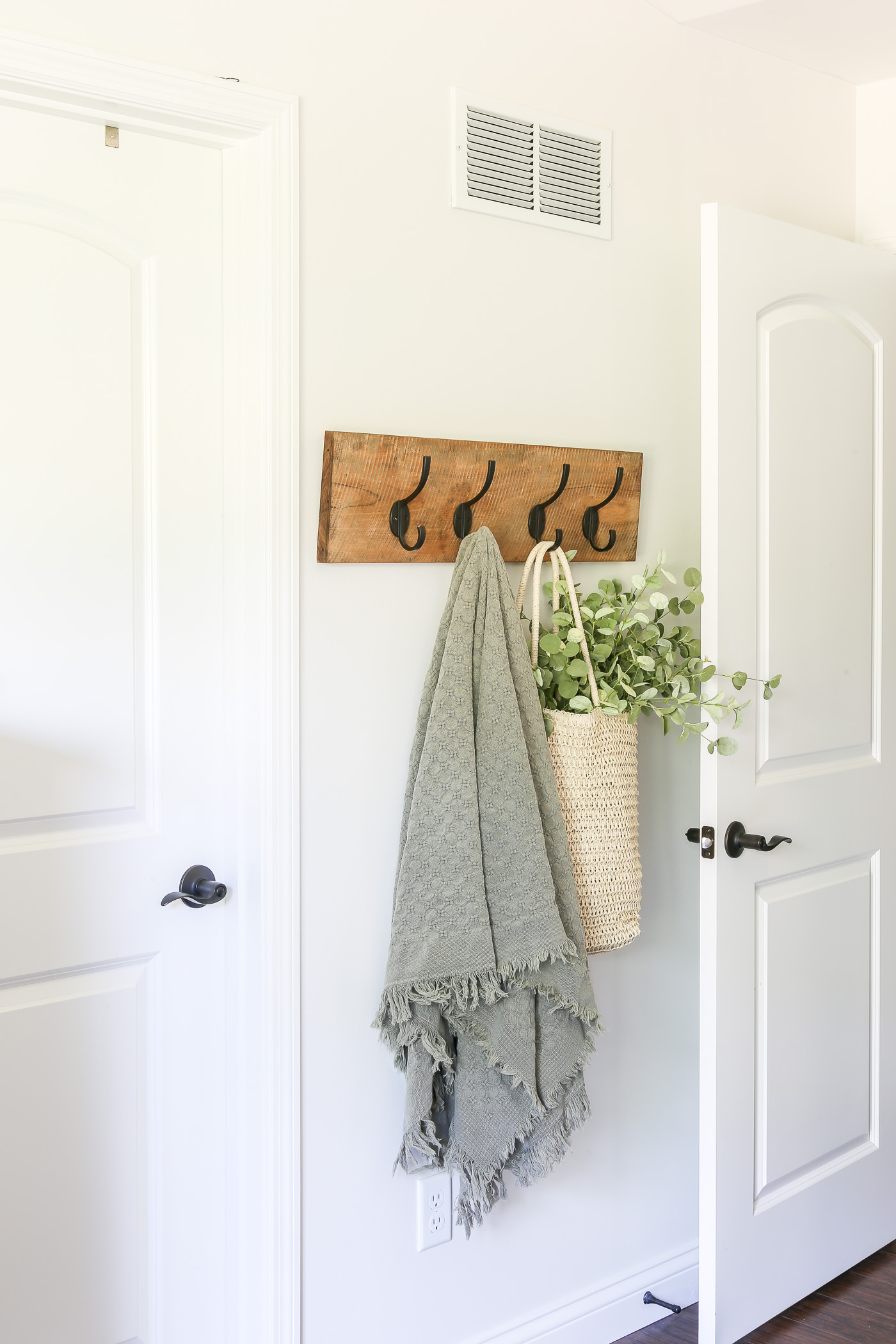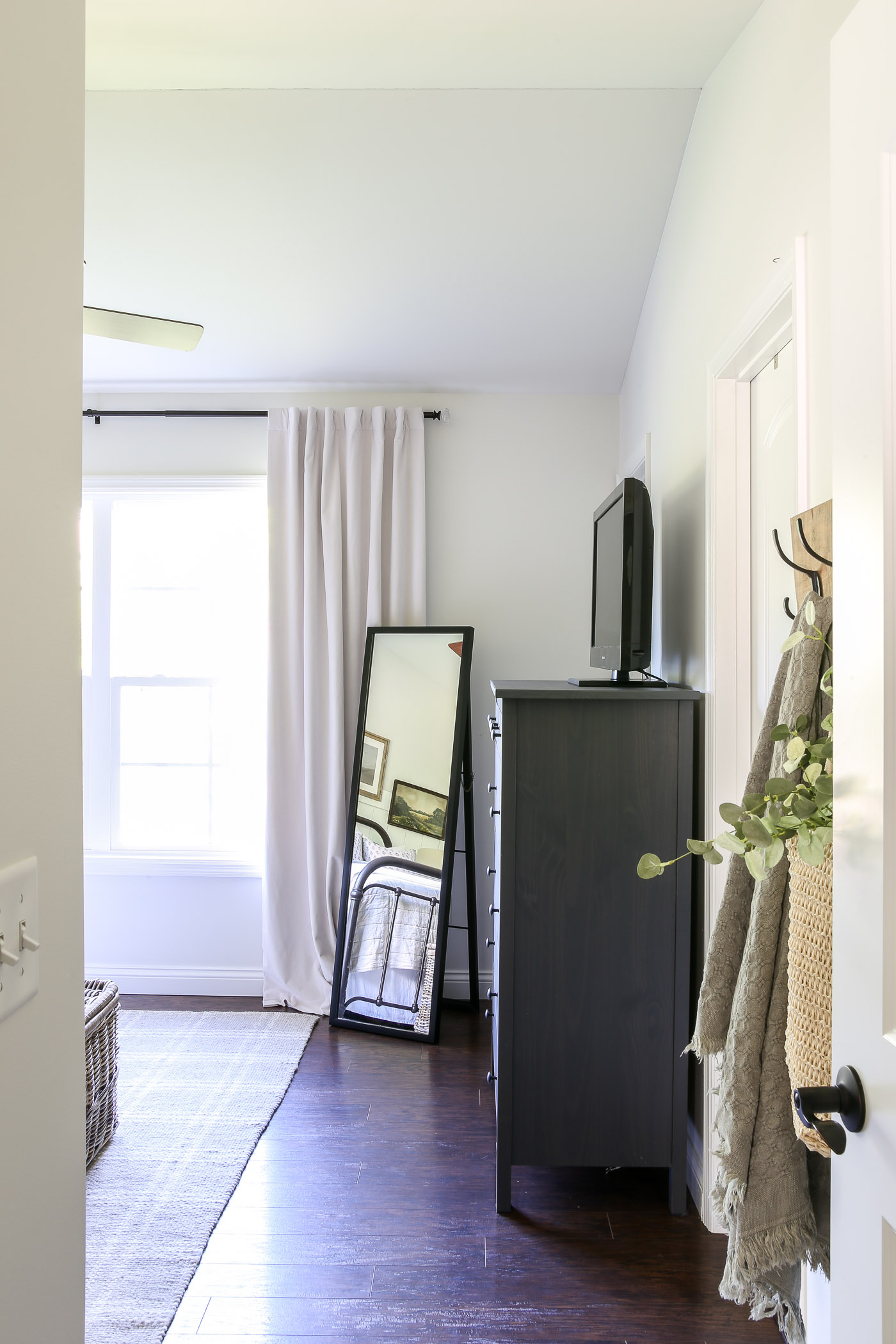 Okay, the windows. First of all, I cannot shoot a good window picture to save my life, but if you follow me on instagram you saw how I added grids to our builder grade windows. WHAT A DIFFERENCE! I have it saved there if you want to see.
Also, these velvet curtains are EVERYTHING! They are blackout and I want to shout from the rooftops how expensive they look, but they are still rather affordable for the quality. So pretty.
And I have bamboo shades on the way. They didn't make it in time for the reveal.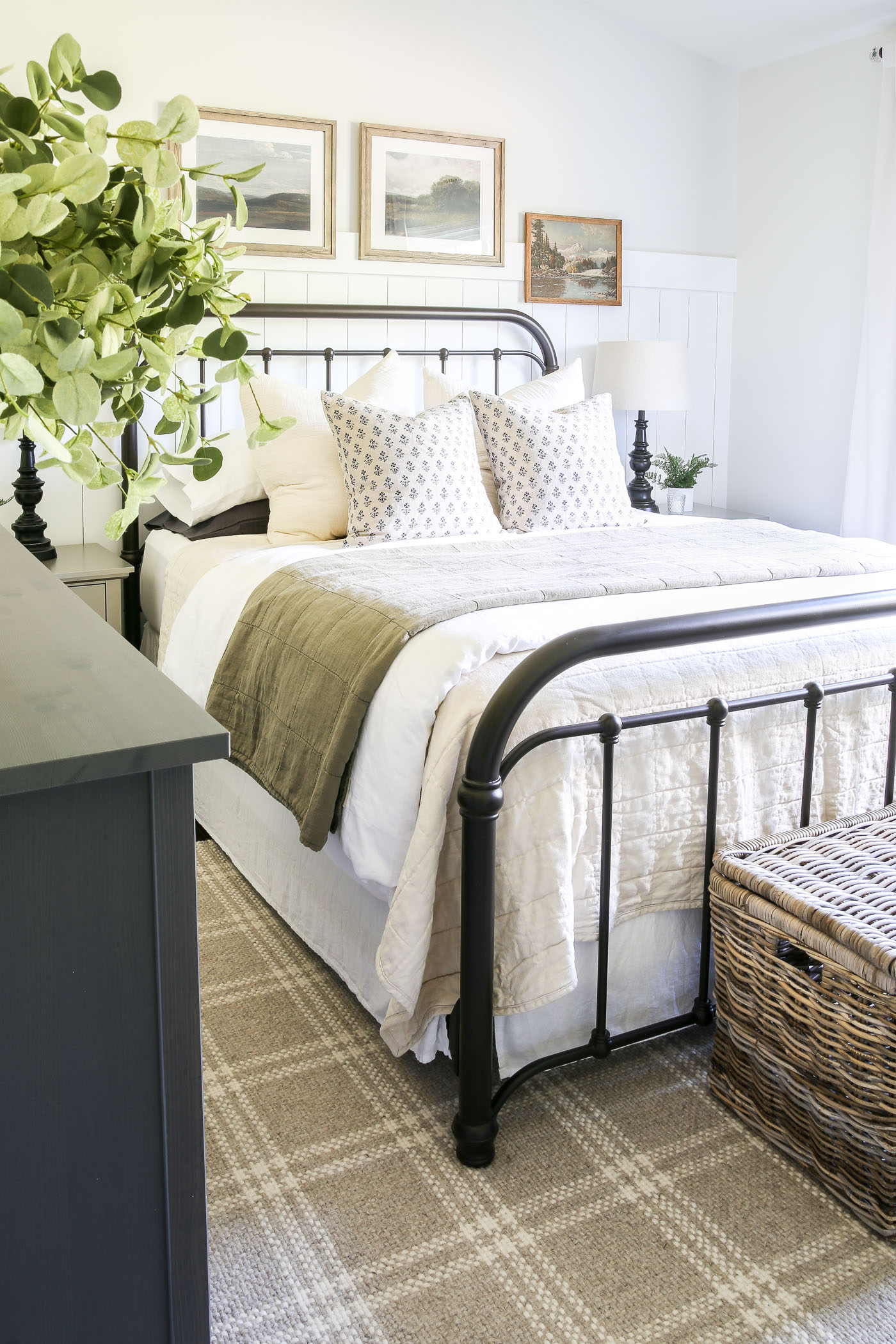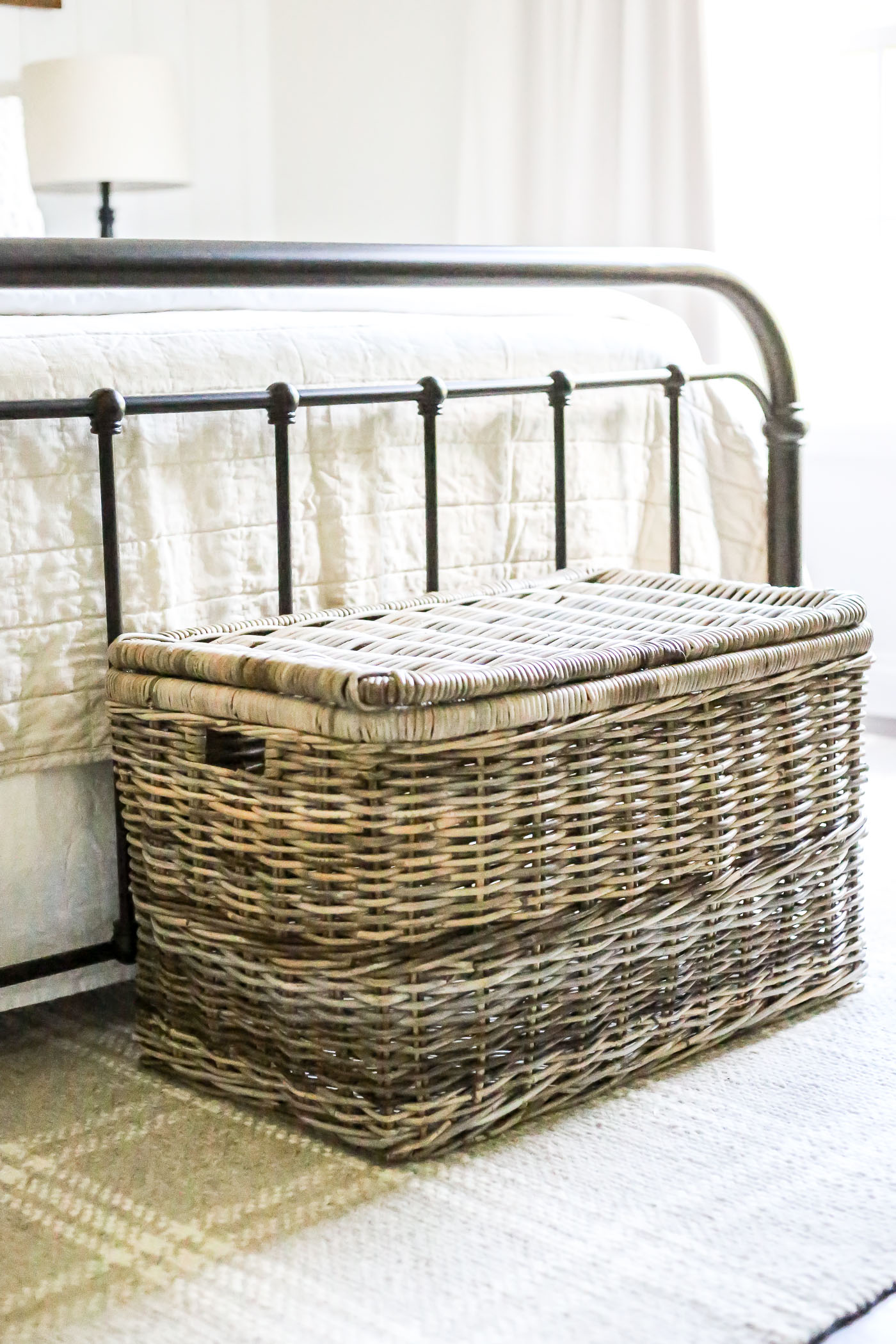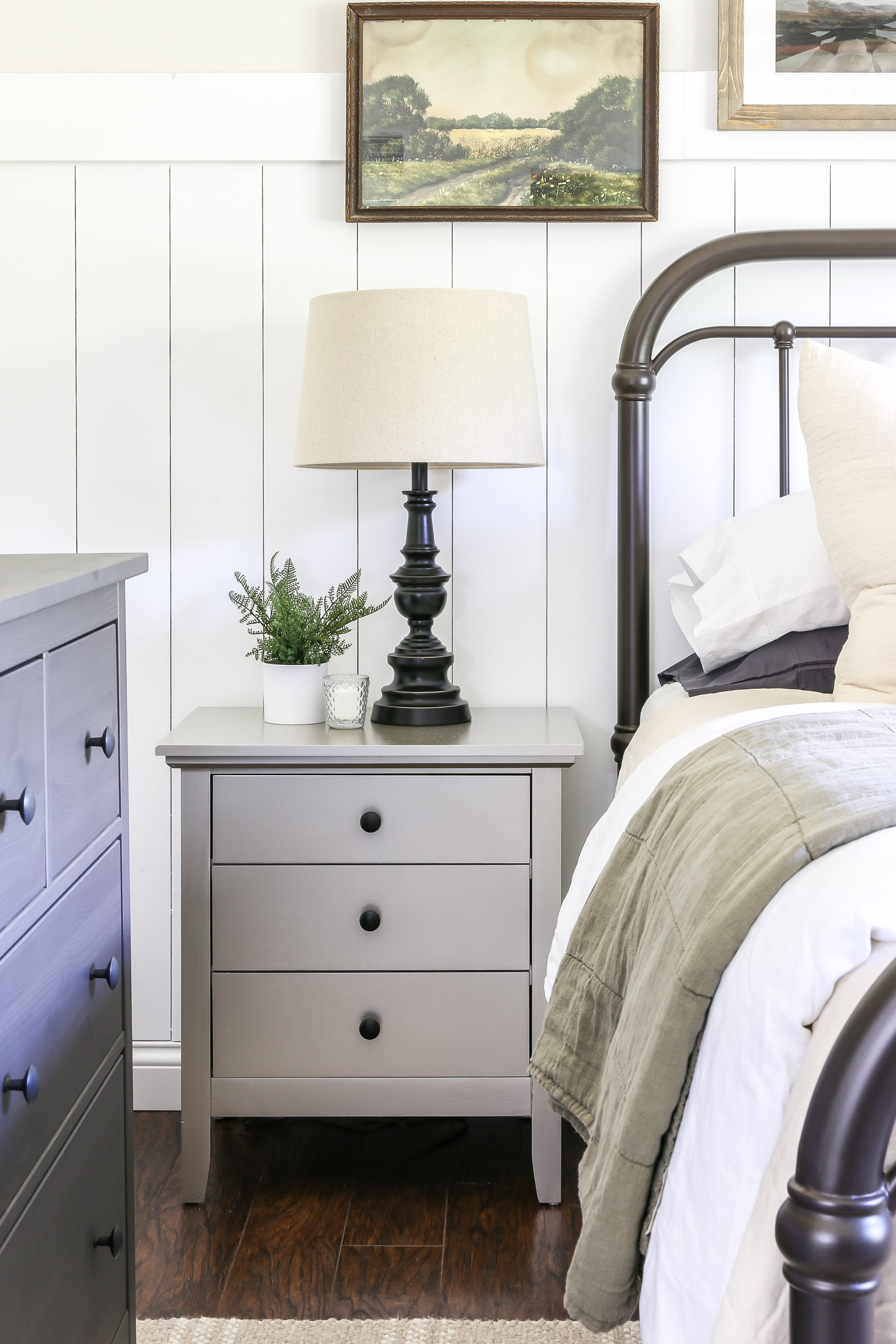 I ended up keeping my lamps, but I just switched out the lampshade for something more my style.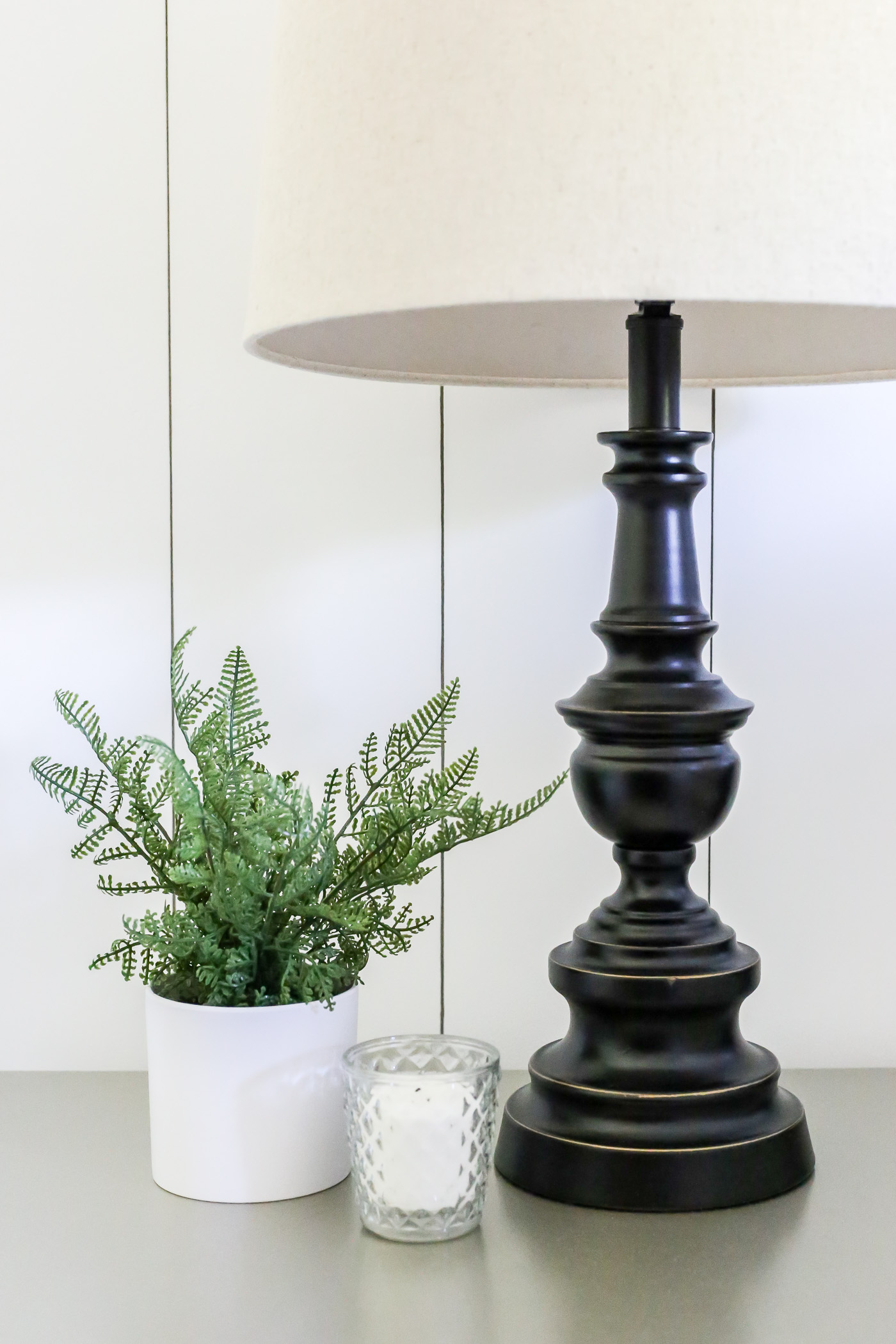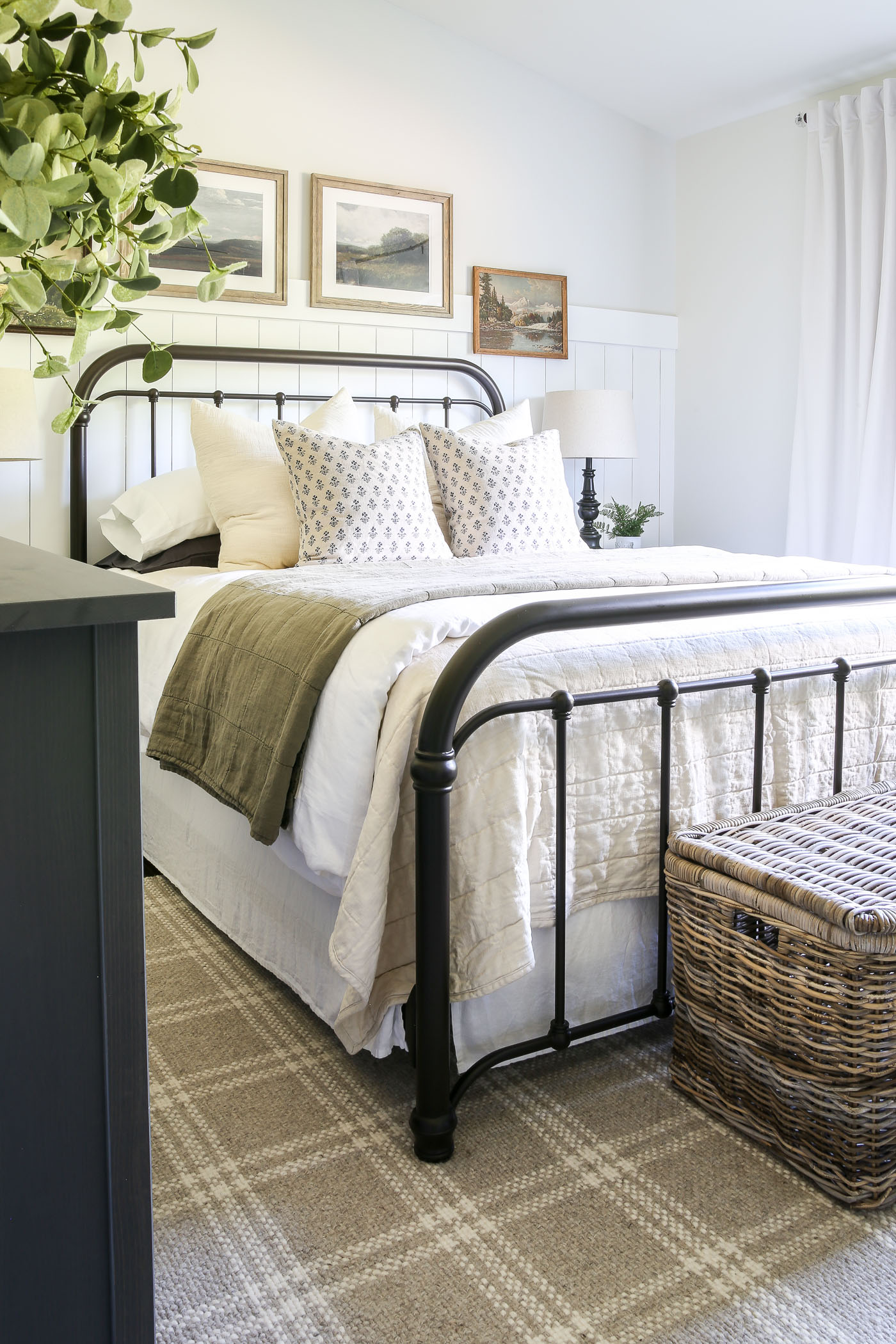 I feel like the pictures speak louder than my words, so I hope you enjoyed them! I am wiped, but so inspired and ready to tackle more spaces in our house now that this big project is finally complete!
Thank you so much for tagging along!
Master Bedroom Makeover – Sources
Affiliate links are provided below for your convenience. For more information, see my full disclosure here.
Bedframe – Big Lots (Here are similar ones)
Rug – Target
Short Dresser – IKEA
Tall Dresser – IKEA
Nightstands – Wayfair
Lamps – Bed, Bath and Beyond
Lampshades – Walmart
Curtains – Amazon
Large Basket – Target
Wood Matted Picture Frames – IKEA
Large Landscape Prints – Vintage Supply
Small Landscape Prints – Vintage
Pattered Pillows – Target
Large Ivory Pillows – Home Goods
White Linen Duvet and Pillow Shams – The Company Store
Ivory Linen Quilt – Target
Green Quilt – Parachute Home
Charcoal Pillow Shams – McGee and Co
Linen Bedskirt – Target
Faux Fern Potted Plants – Target
Faux Eucalyptus Stems – Kirklands
Shelf Brackets – Cascade Iron Co
Shelf Props – All Vintage Finds
Green Throw – Target
Mirror – TJ Maxx
---
F O L L O W A L O N G
Facebook | Instagram | Pinterest | Twitter
---