Master Bedroom Weekend Makeover
This post may contain affiliate links. For more information please see our disclosure policy.
A master bedroom weekend makeover using mostly home décor on hand, rather than waiting for the perfect time and budget for the real thing.
Of all the room makeovers that I have done, have you ever wondered where our master bedroom was? Well, that's because I have been hiding it from you! It hasn't been touched since we moved in. That's going on six years, for those counting.
I have been patiently waiting and waiting for the ideal time to tackle this room, because I wanted it to be perfect and I wanted to really take my time on it.
I'm still not ready to give it the attention it needs. I'm still furniture shopping and I'm still tweaking my design for it. But, I was also very tired of it being completely bare. I hated spending time in there, and of all rooms it should be the one I can cozy up in when I need to.
So I decided, on a total whim this past weekend, to use what I have and give it a little makeover. To hold me over until I was ready to really work on it. I did buy some new bedding, a jute rug, and a full length mirror for the space, but the rest is from my own stash of goodies. It was fun to throw together and I hope you like it!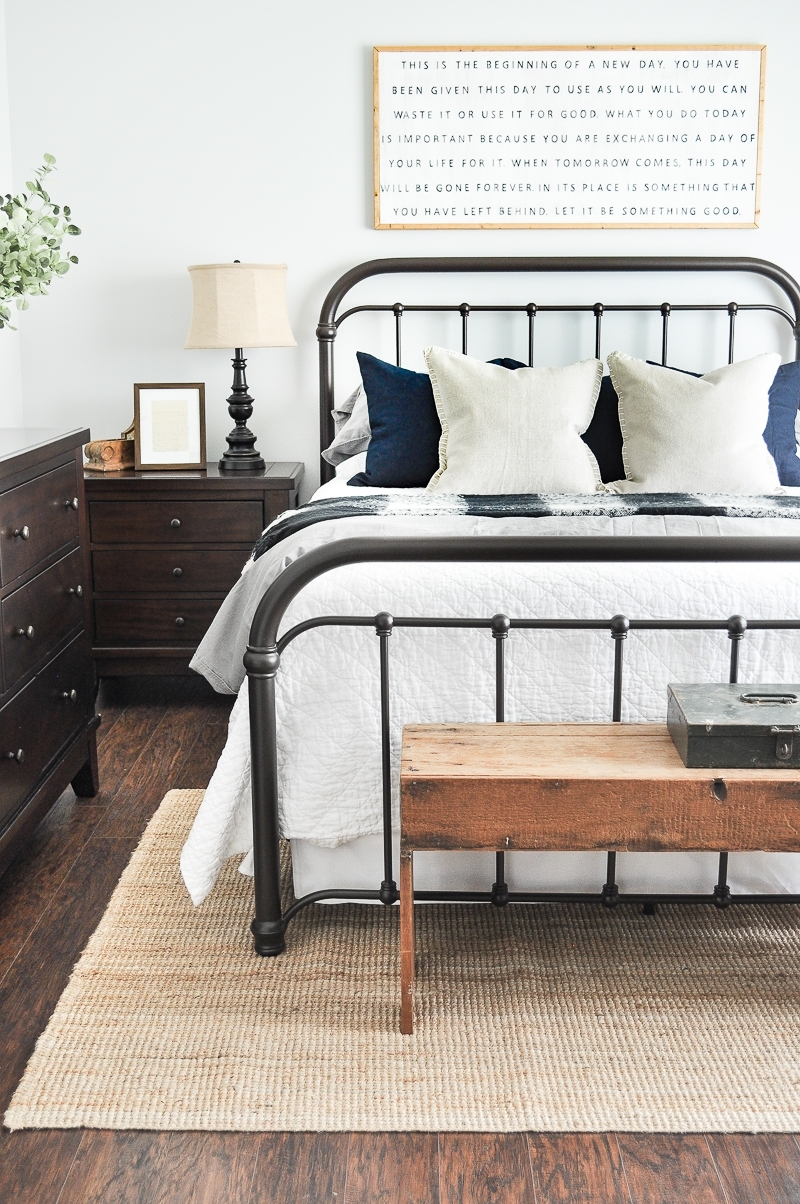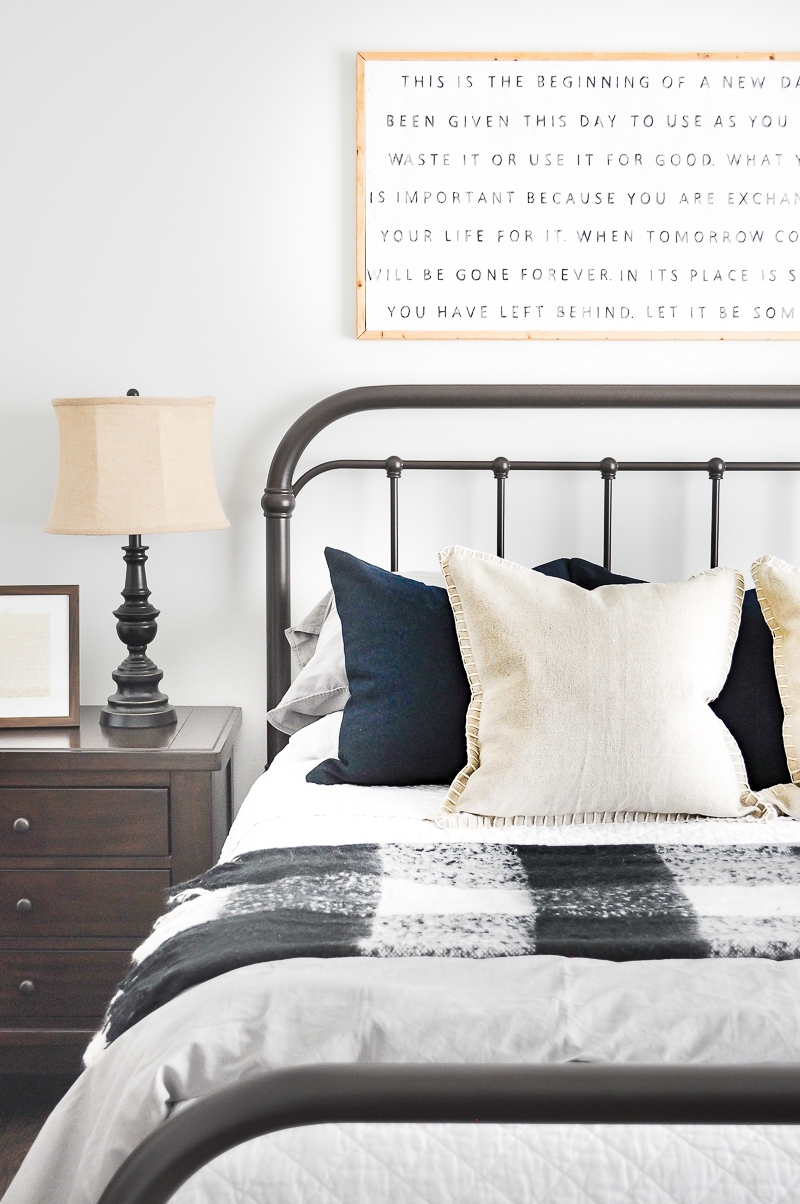 WHAT'S OLD, WHAT'S NEW
A quick rundown of what's old, what's new. We bought this bed frame about two years ago from Big Lots, of all places! I absolutely love it, and it was really the first purchase we made that we knew we would keep for this room.
The lamps I've had for years. I got them from Bed, Bath and Beyond in a set with a floor lamp that I use in my office. I don't love the burlap shades, but I do like the base of the lamp. So I might just swap just the shades out for new ones later on.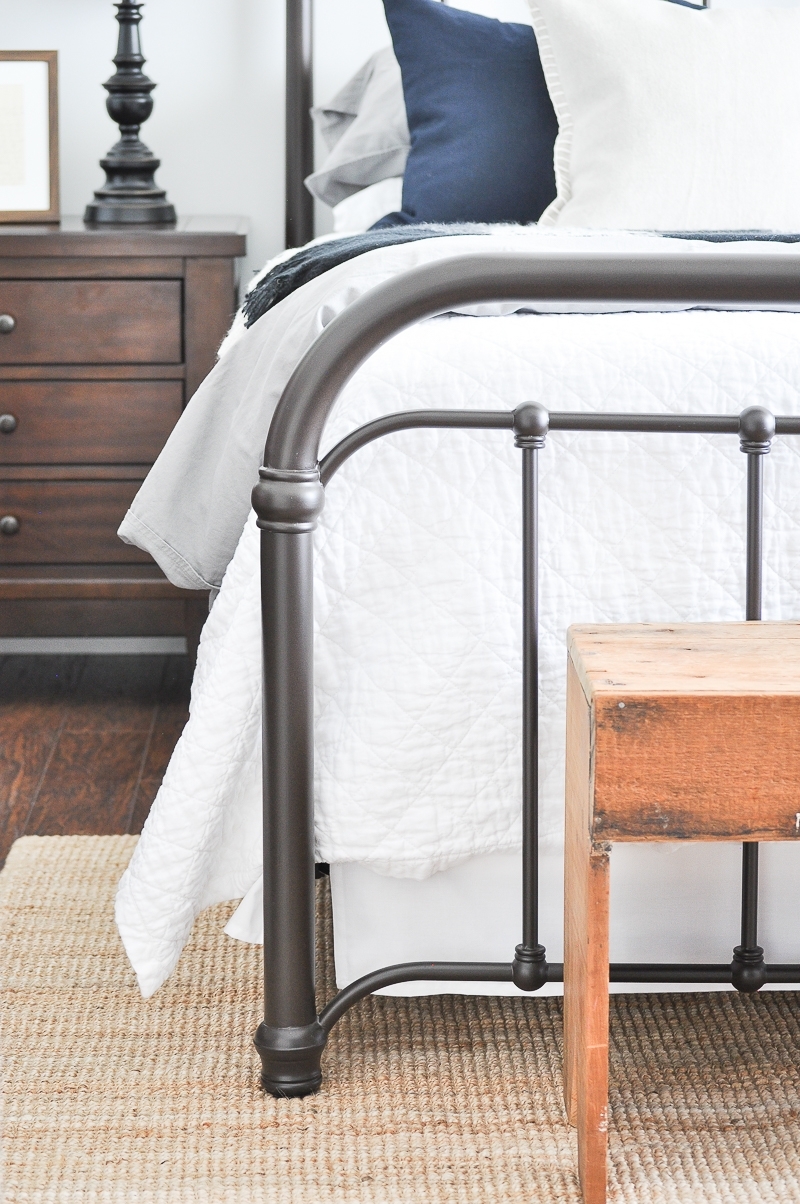 The dressers and nightstands are my husbands from before we were married. They aren't the worst, but they are too bulky for this room, and I'm just not a fan of the finish. I've been looking for months for pieces that I can redo exactly how I want, but it's been a challenge!
The most frequently asked question I get on this blog is about the sign above my bed. You've seen this in my farmhouse guest bedroom before I recently gave it a refresh with some old vintage mirrors. It's from an Etsy shop that no longer is in business, unfortunately.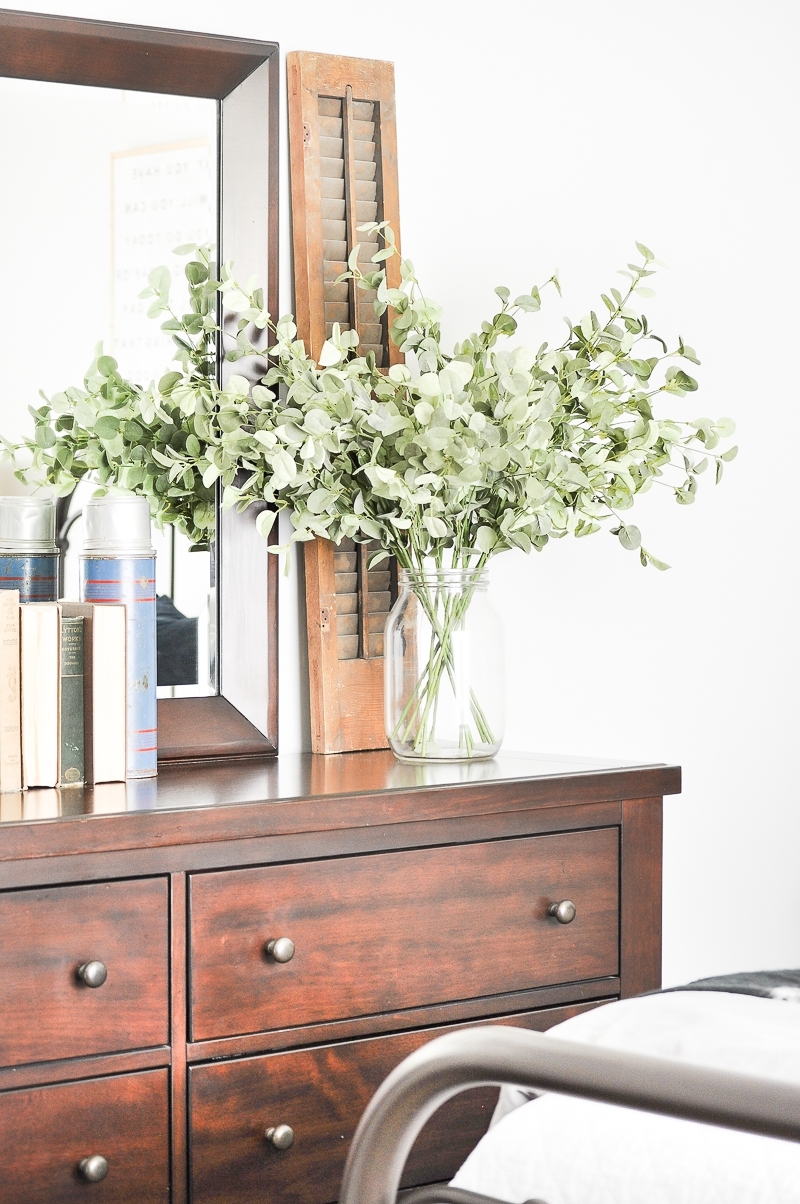 Basically all of the décor pieces are vintage finds that I've collected for years. I have two old shutters propped on each side of the dresser mirror. I'm thinking eventually I'll probably just remove that mirror and add some shelves.
I used two old thermoses as bookends to hold some vintage books together for a cute vignette. I have these eucalyptus branches I got from Kirklands in big over sized jars all over my house. They are the best ones I've found yet! I might have bought them out last time they were in stock!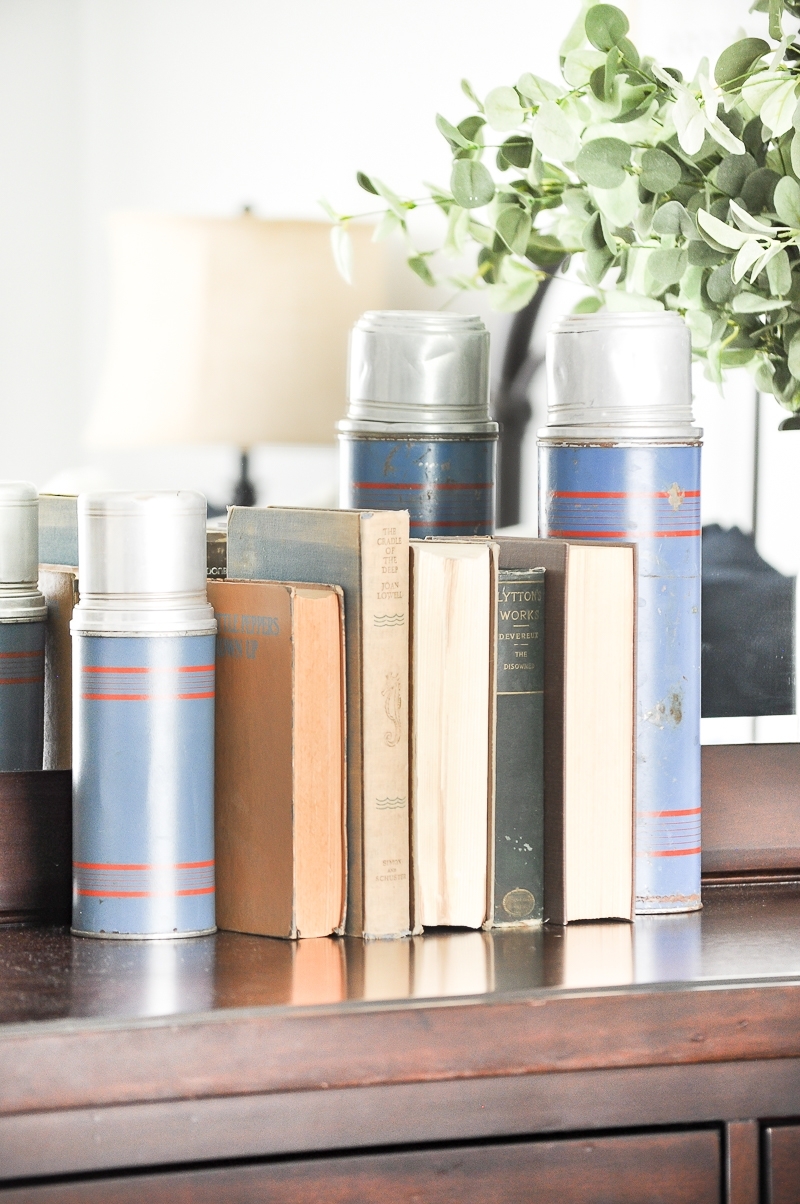 For the real makeover (to come), I'm still unsure if I want to do a vertical shiplap wall behind the bed, or board and batten. So that's another thing holding me back. What do you think!?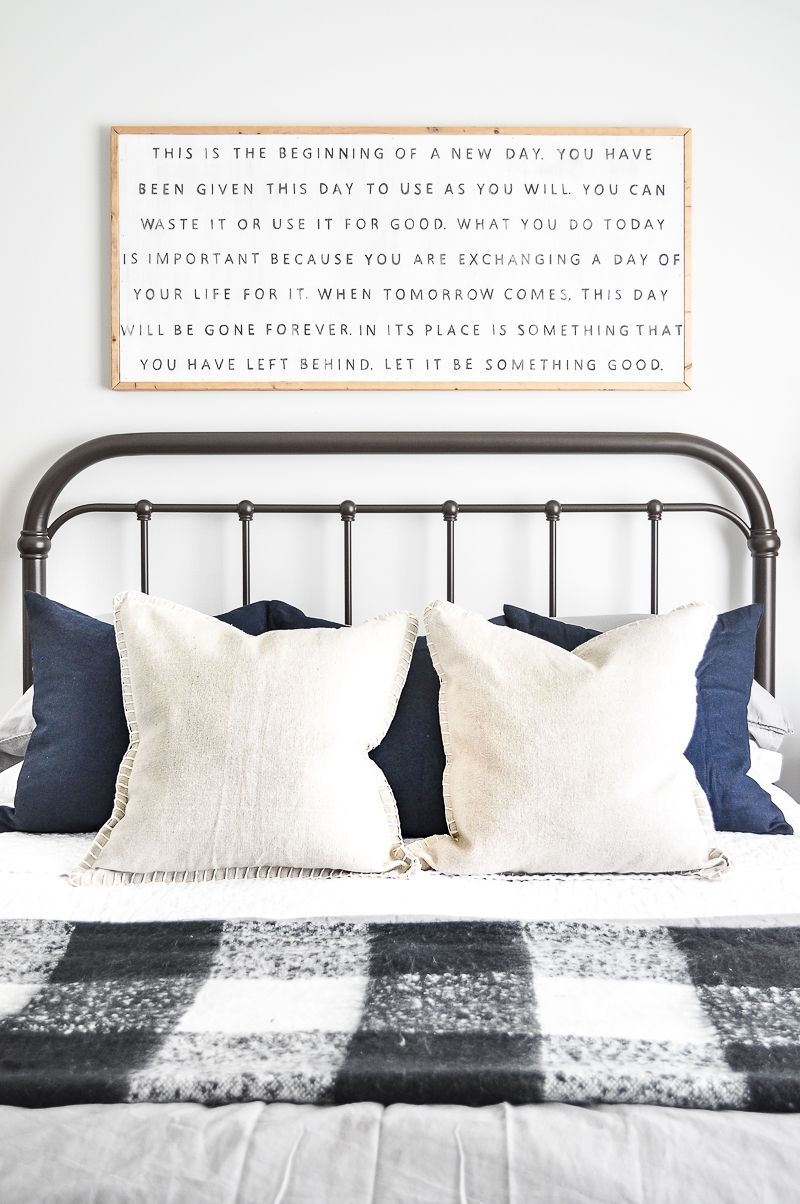 I did invest in some new bedding that I know I will carry on to my next design. I've had my eye on a white quilt from Pottery Barn, but I couldn't justify paying $300 for it. Instead, I found a similar one from Overstock for just $110, and I love it!
The buffalo check throw was from Kirkland's last year, and the gray duvet and blue pillow covers are from Ikea. I loved putting this bedding all together, and it is so cozy and inviting!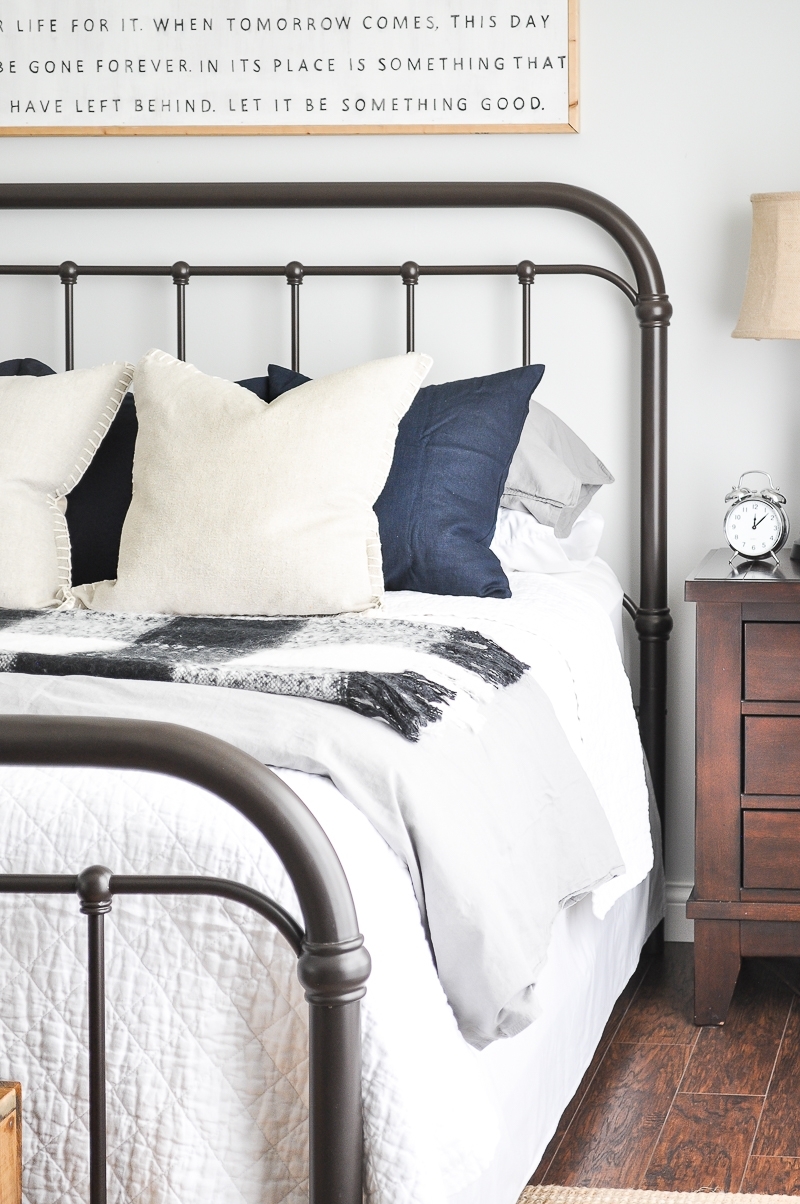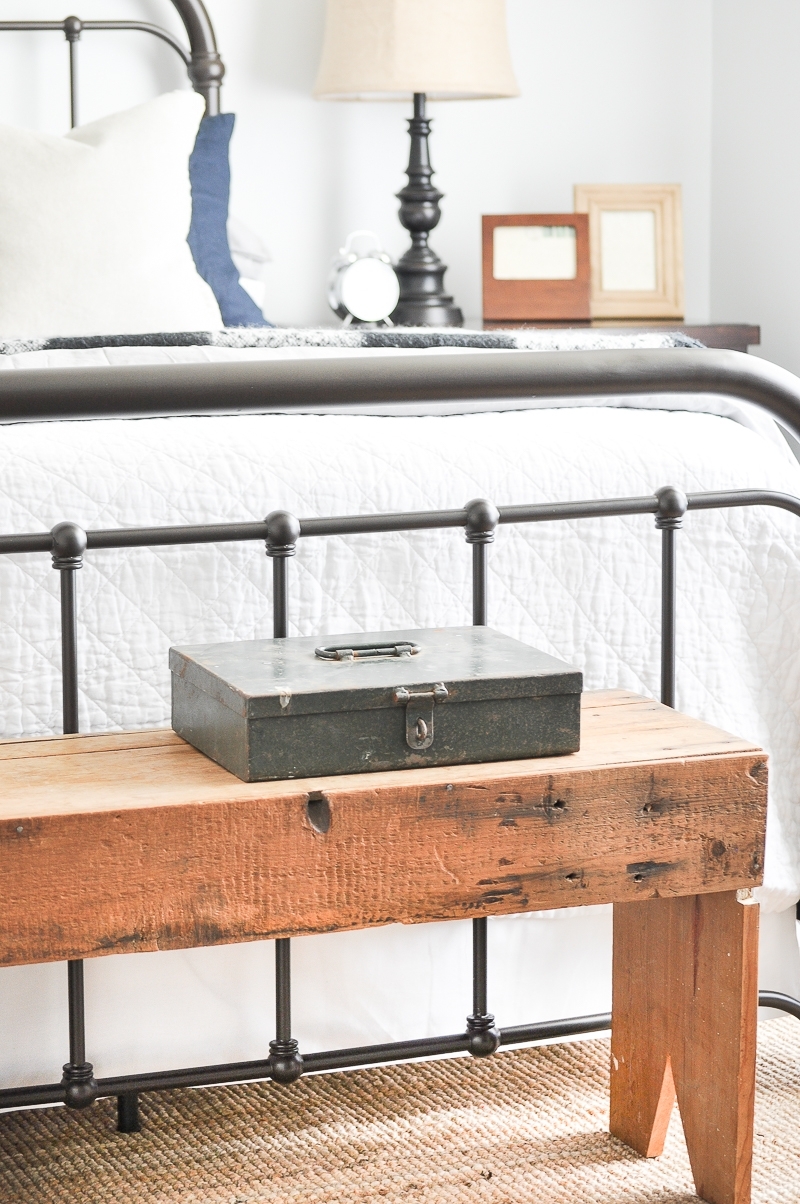 I like to fill photo frames with some kind of art, so I just used some vintage envelopes and letters from my great family members. You can also just tear out book pages too, nothing beats free!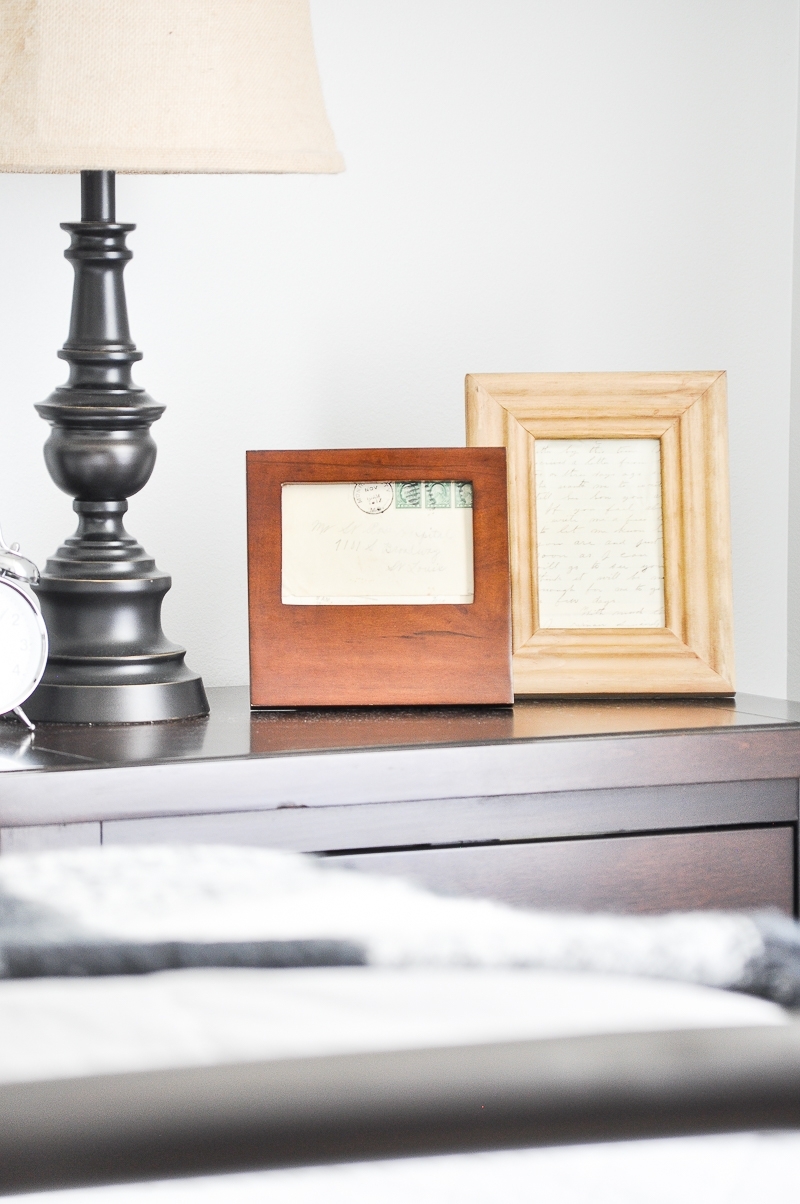 FUTURE PLANS
Like I said, I would love to add some vertical shiplap or board and batten behind the bed eventually. I have an old cedar chest that I need to finish restoring, that I would love to put at the foot of the bed. New furniture would be ideal, possibly in a raw wood tone. And more artwork for the walls.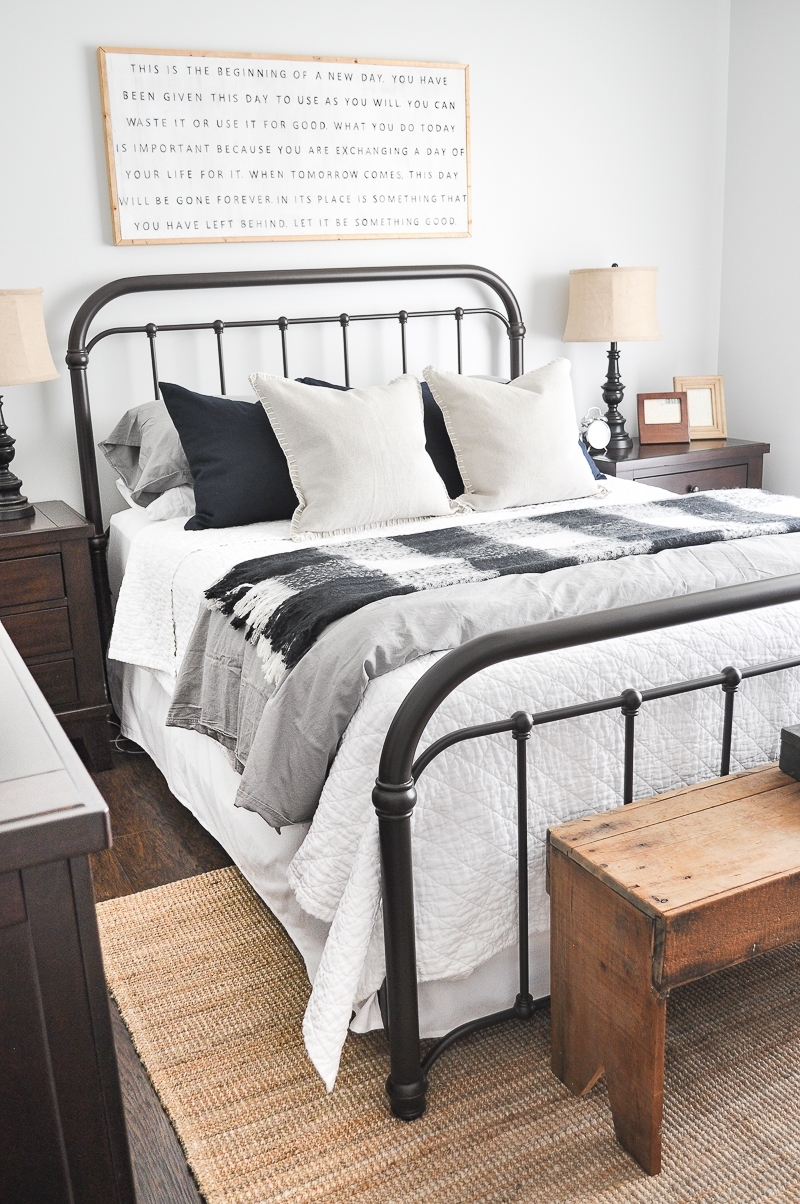 For a weekend makeover, I'm pretty happy with it so far. I still will probably change things here and there until the real makeover happens. But until then, I can totally live with this!
If you have an unfinished space that has been driving you crazy like this one, use what you have!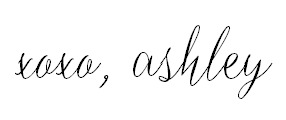 SaveSave
SaveSave
SaveSave