Simple Touches of Christmas in the Bedroom
This post may contain affiliate links. For more information please see our disclosure policy.
Here are easy ways to add simple touches of christmas in the bedroom. You don't have to go overboard, just enough to bring in a little holiday cheer.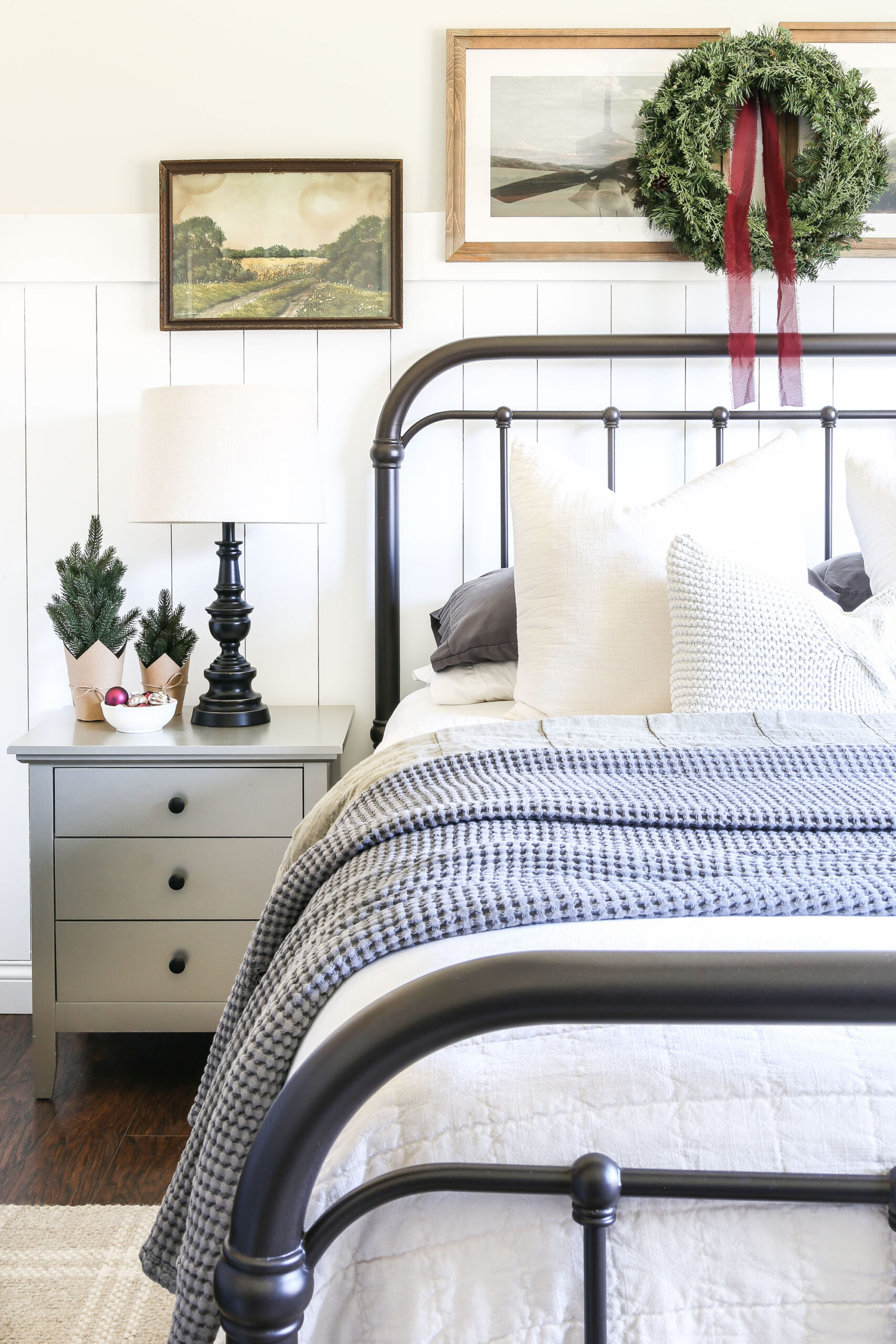 Do you decorate for Christmas in the bedroom? I always wonder if people do or don't. To be honest I never did until I started blogging. Then once I started doing it every year, I loved it.
There is something magical about the holidays in general. And bringing that into your bedroom just brings happiness before you lay your head down at night.
Now before you start thinking, that's too much money to decorate a bedroom for a holiday, I have a few tips. Here are some simple ways you can add touches of Christmas to your bedroom without breaking the bank.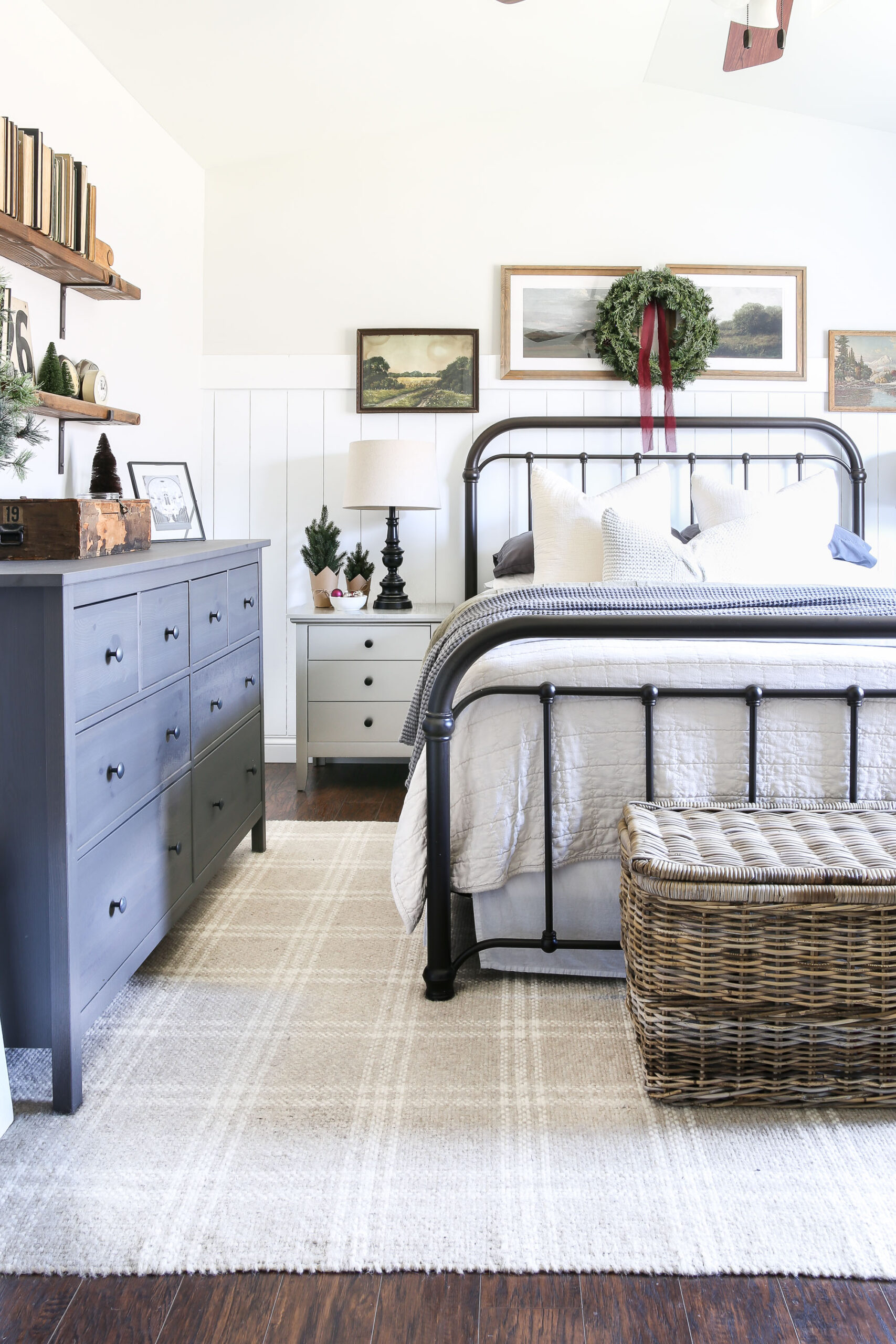 Hang a Simple Christmas Wreath Over Your Bed
I am wreath obsessed. And I love really simple, plain wreaths. So in our bedrooms, above all else, I will hang a Christmas wreath above the beds. That can be all you do, and it alone with bring some holiday spirit into your space.
This wreath I have pictured is your basic three dollar Micheals greenery wreath. I just added in extra sprigs of winter greens I had already and then added a piece of ribbon.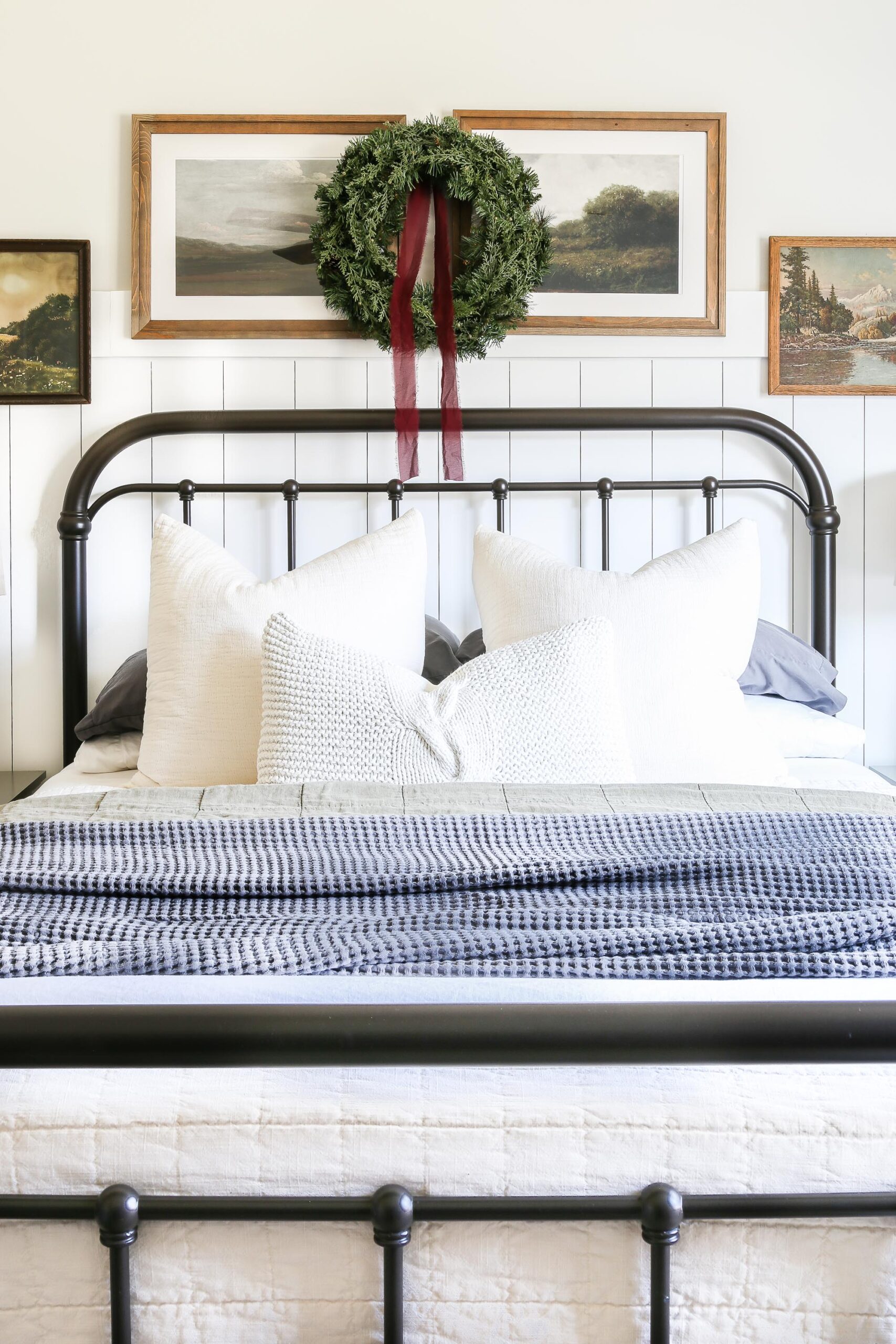 Add a Knit Pillow or Warmer Throw to Your Bed
Another thing I always do now when the season changes and the weather turns cold, is change out some of my bedding.
Now, I don't mean go out and buy snowflake or gingerbread themed flannel sheets and a red blanket.
I mean if you have something already that is more suited for the winter, like knitted pillows and blankets, thick quilts, etc, change it out! Or if you find something on sale in the off-season, grab it and reuse it each year in the winter.
I have invested in some good deals over the years, and now I have plenty of extra throws, pillows, blankets that I reuse over and over for each season.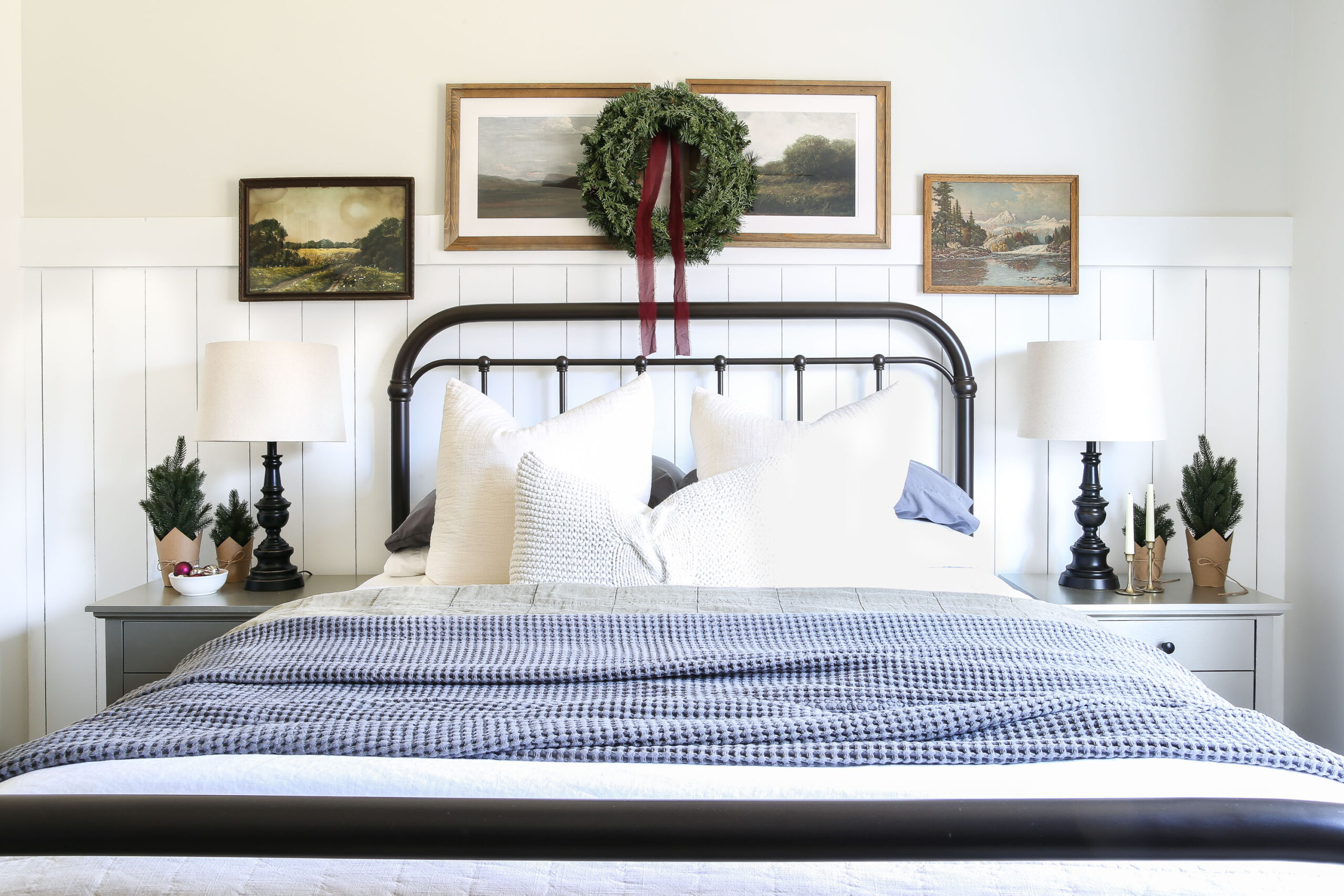 Decorate Your Nightstand with Christmas Accents
Again, something that can be super inexpensive or something you already have. I had a few extra mini trees I bought a few years back that I added to each nightstand.
Then I pulled an ironstone bowl I had and filled it with extra ornaments I wasn't using. I also grabbed a couple of brass candlesticks I use every year and set those out too.
It doesn't have to be Christmas characters and snow globes. It can be random items you already have that remind you of winter.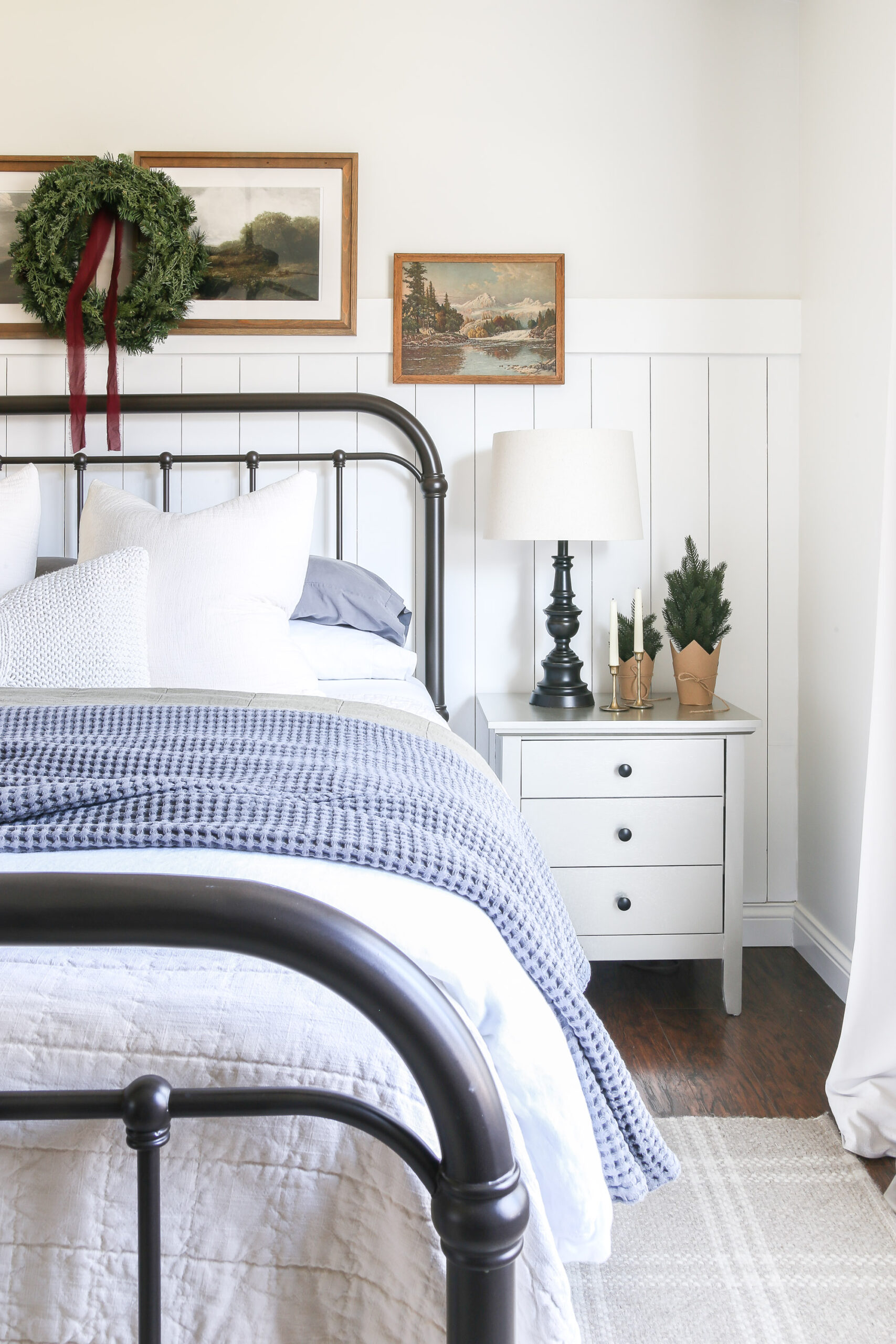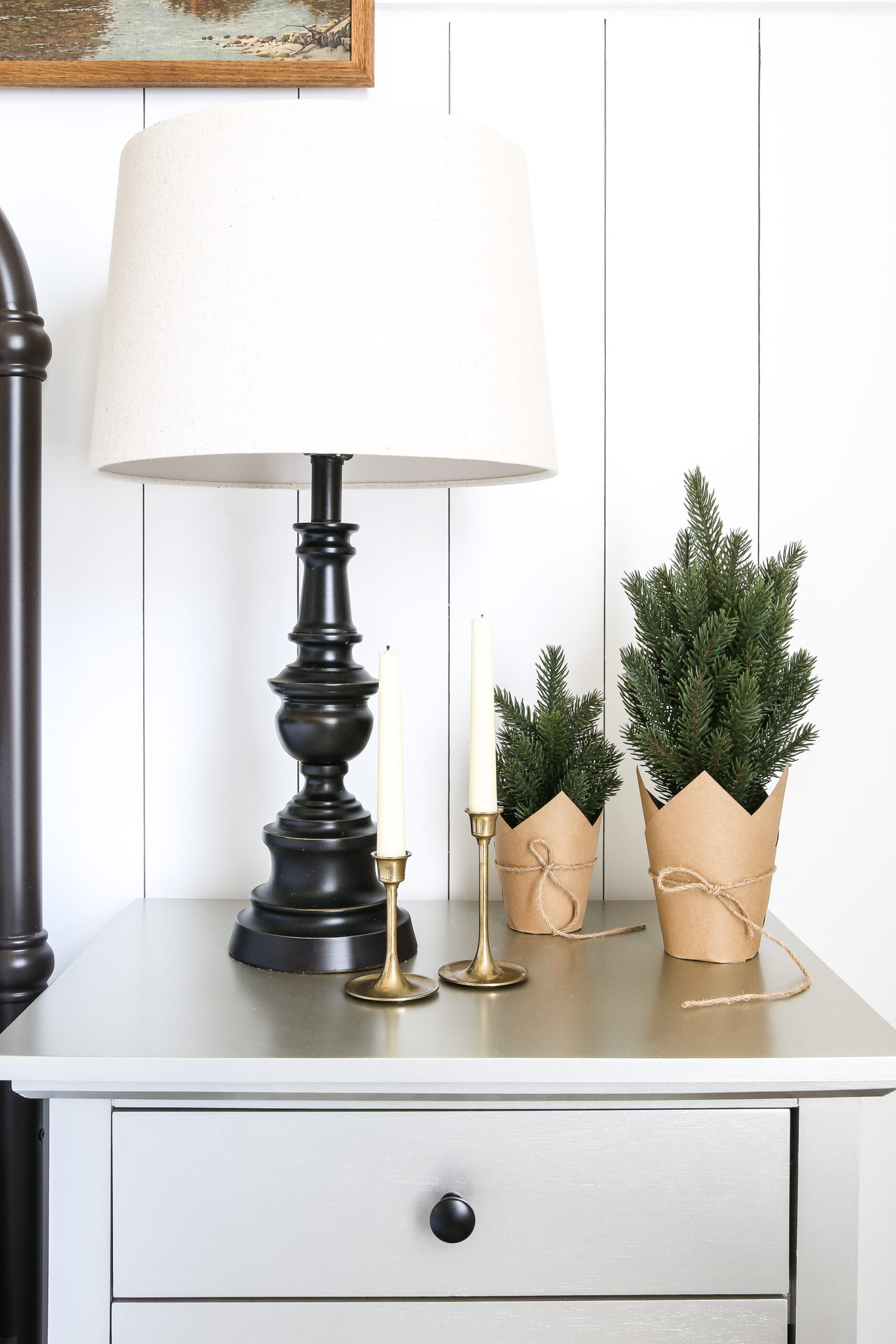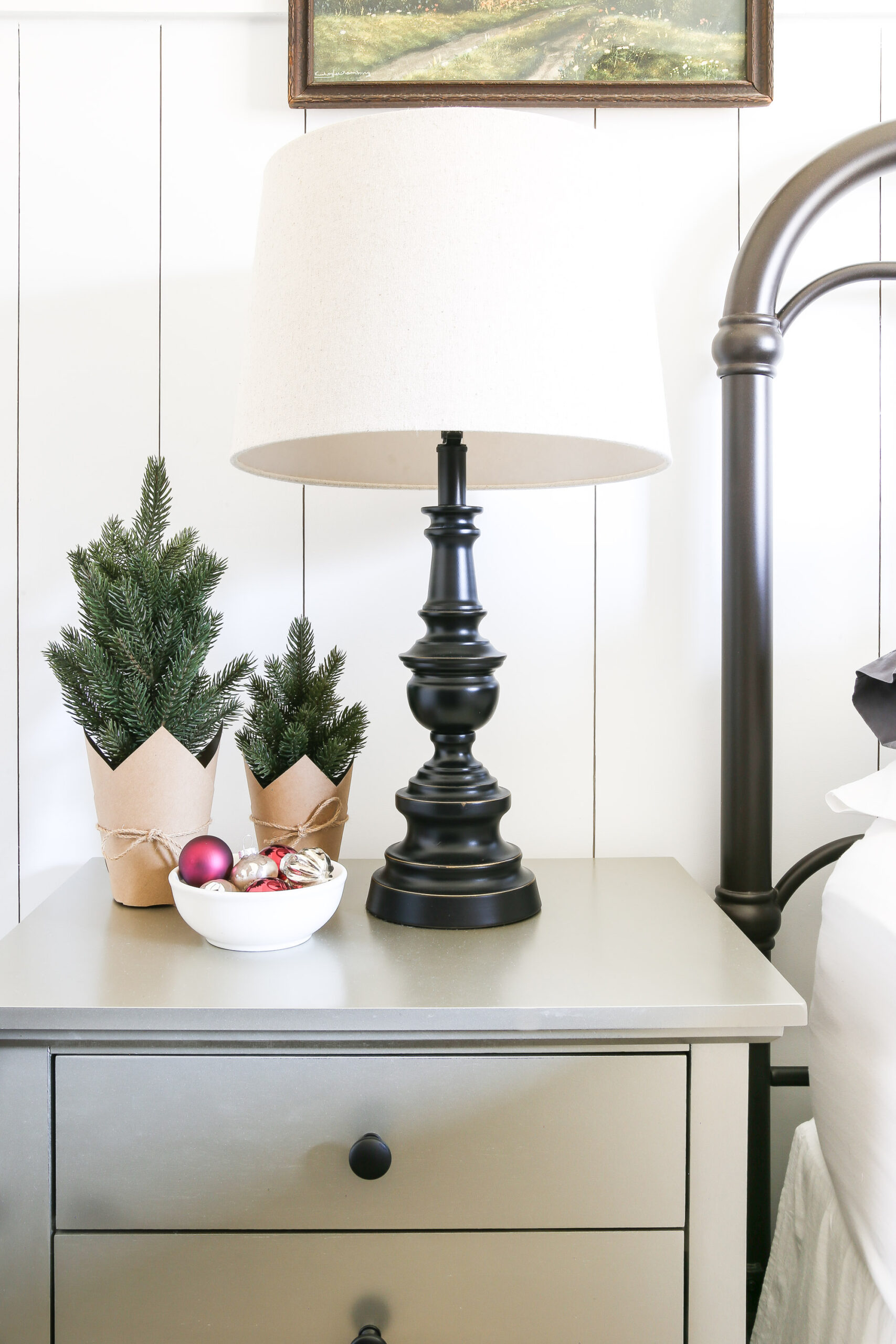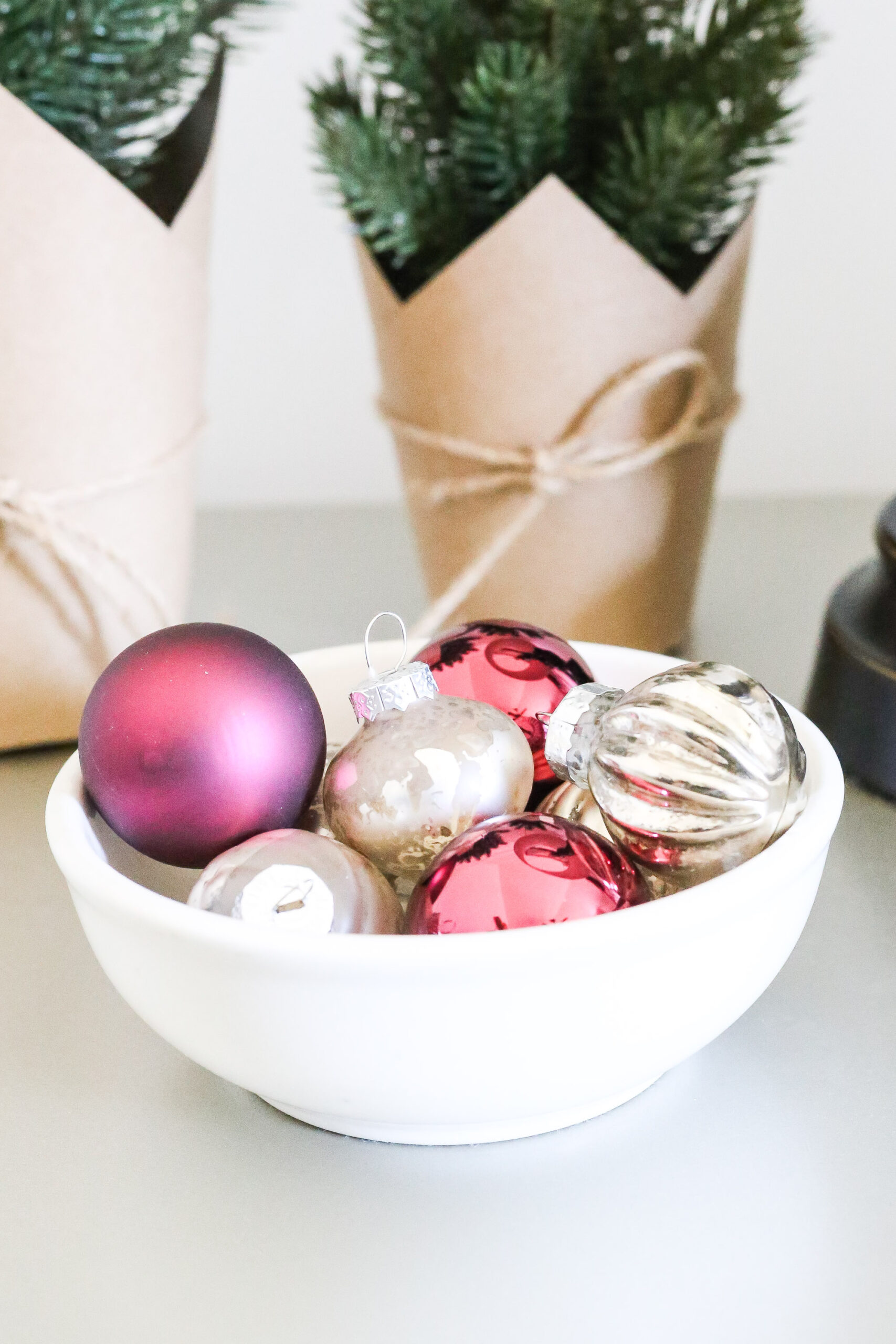 Fill in with Pinecones and Bottlebrush Trees
Two of the cheapest Christmas decorations that will always be classic, pinecones and bottlebrush trees. You just can't go wrong with these two.
Sprinkle them wherever you feel like you need a filler. I added mine to our two shelves and dresser. A simple little holiday touch.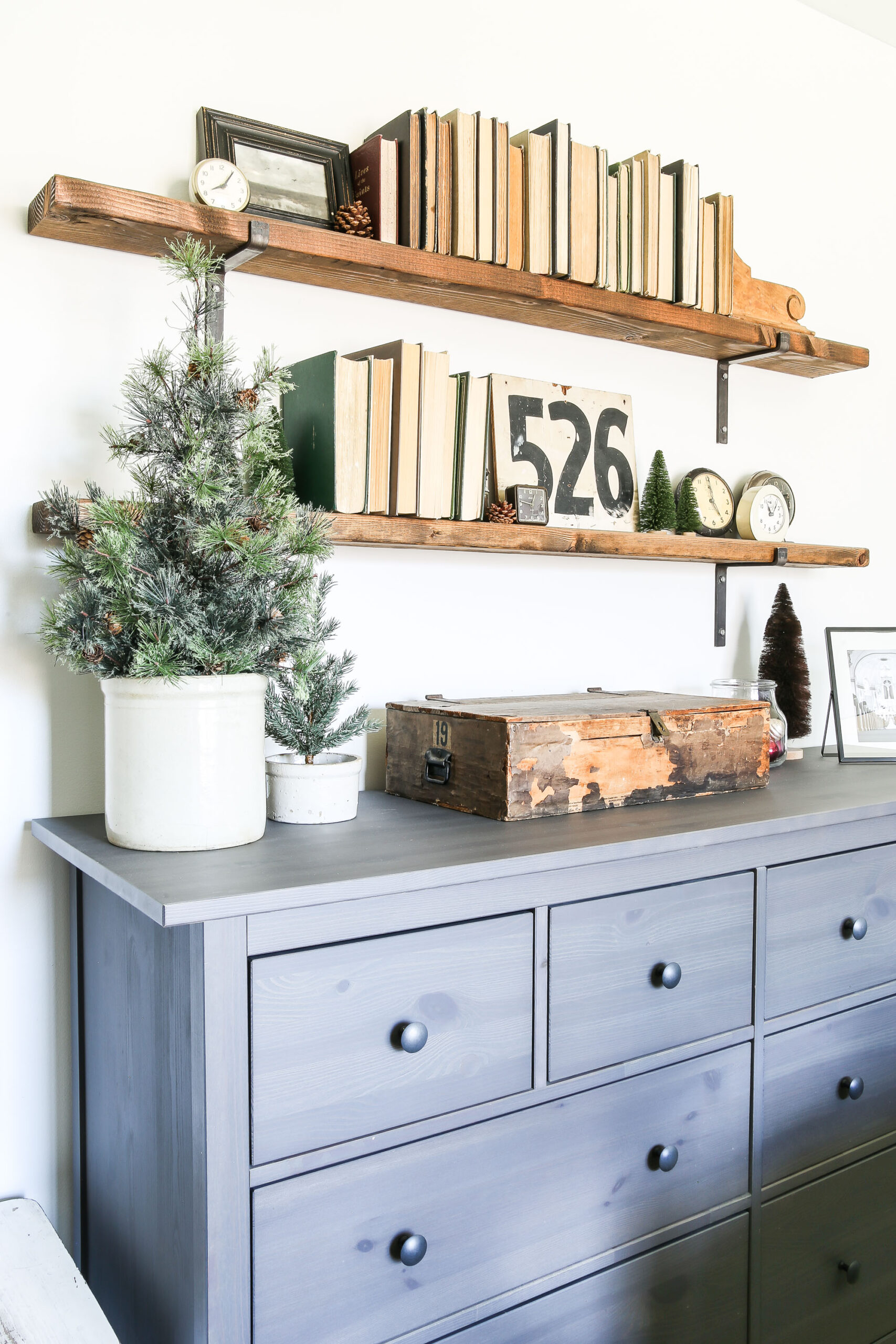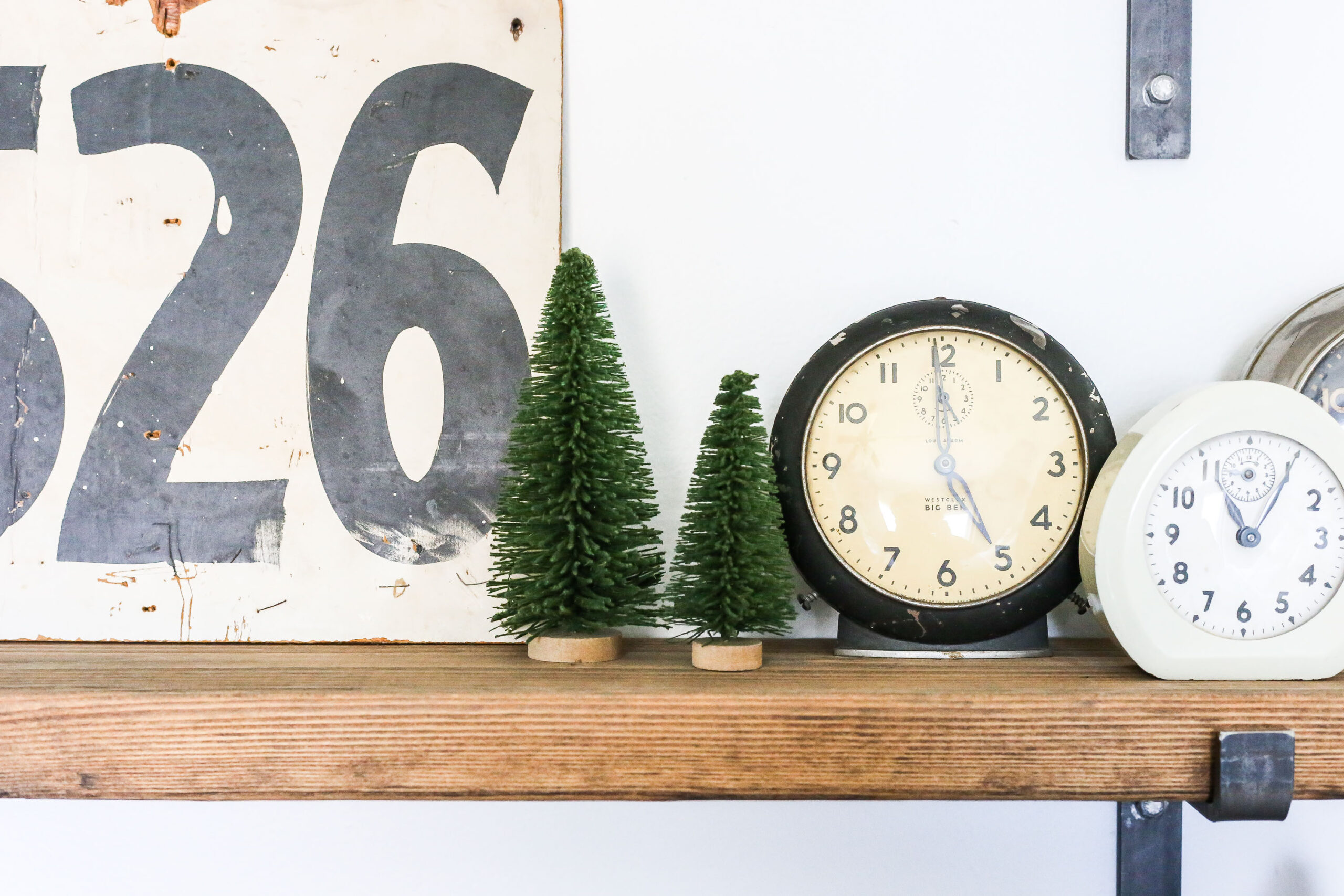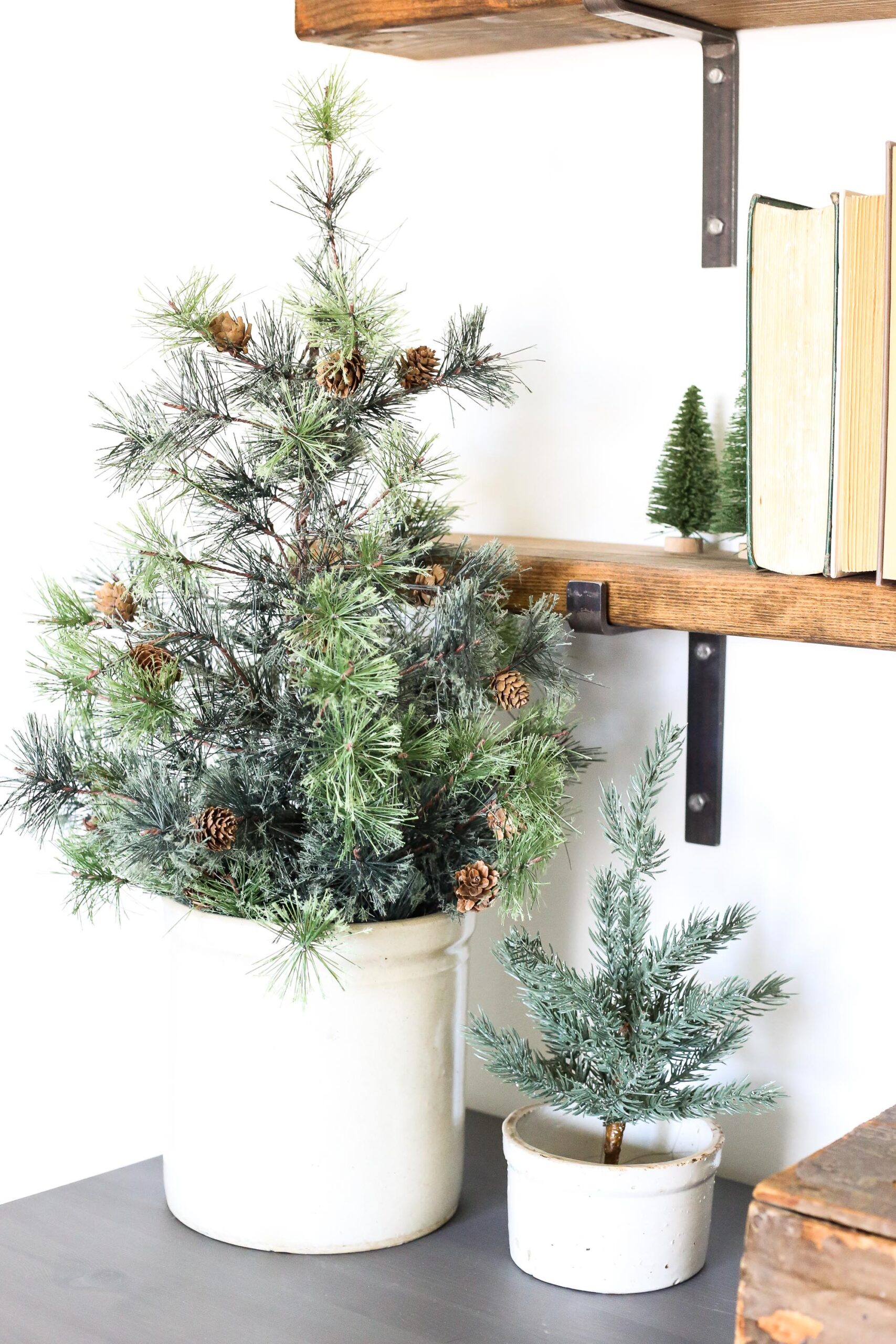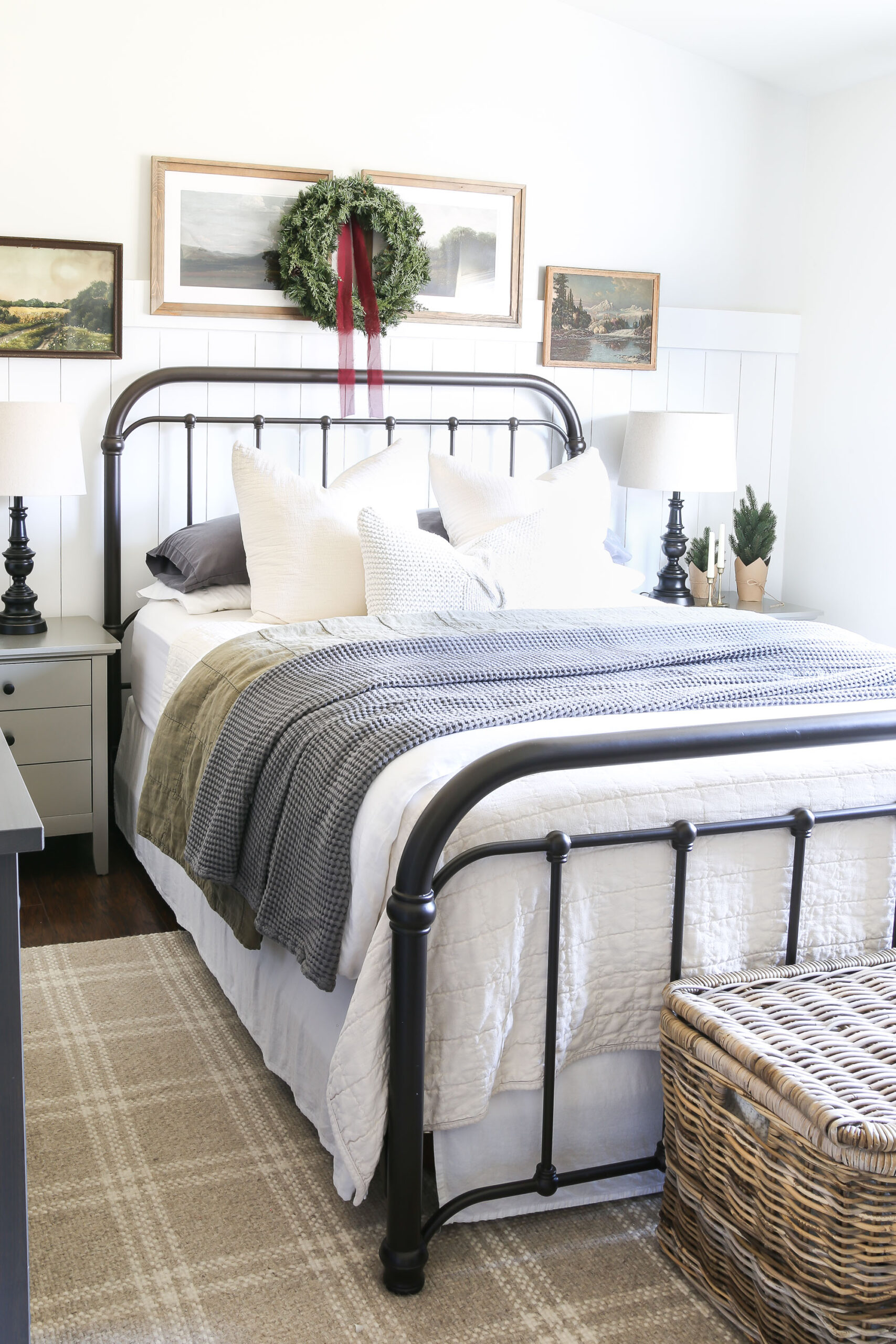 It's really that simple! And you don't have to add in everything I discussed. Like I said, just the wreath alone makes such a huge impact. Then you can enjoy the holiday spirit as you sleep, and as soon as you wake up!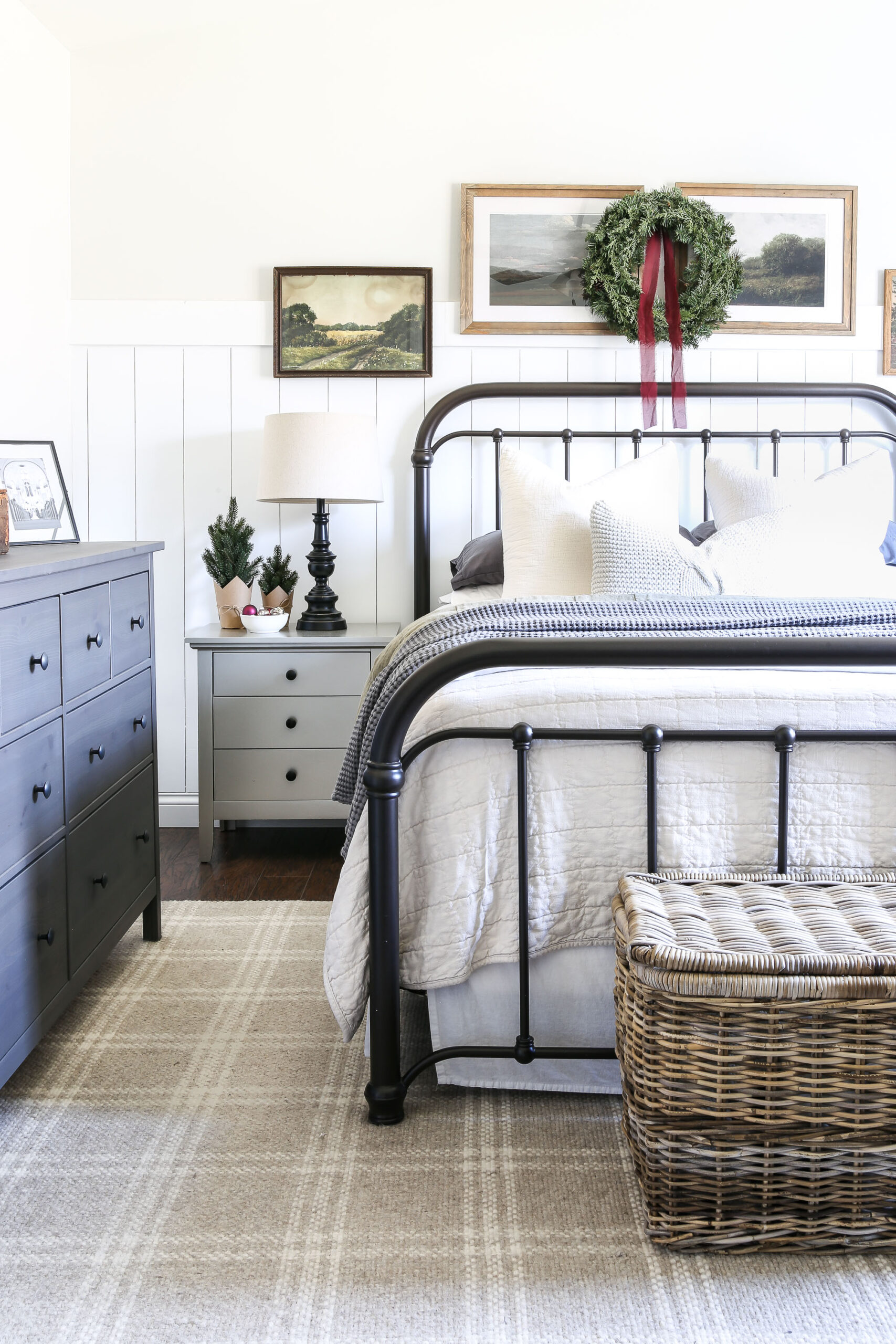 Shop This Post
Affiliate links are provided below for your convenience. For more information, see my full disclosure here.

More Christmas Decorating
Pin This Post for Later