Crimson, Wood, and White Christmas Tree
This post may contain affiliate links. For more information please see our disclosure policy.
Our crimson, wood, and white Christmas tree is full of holiday colors and elements. Pinecones, ribbon, pops of crimson and wood all make it festive for the season.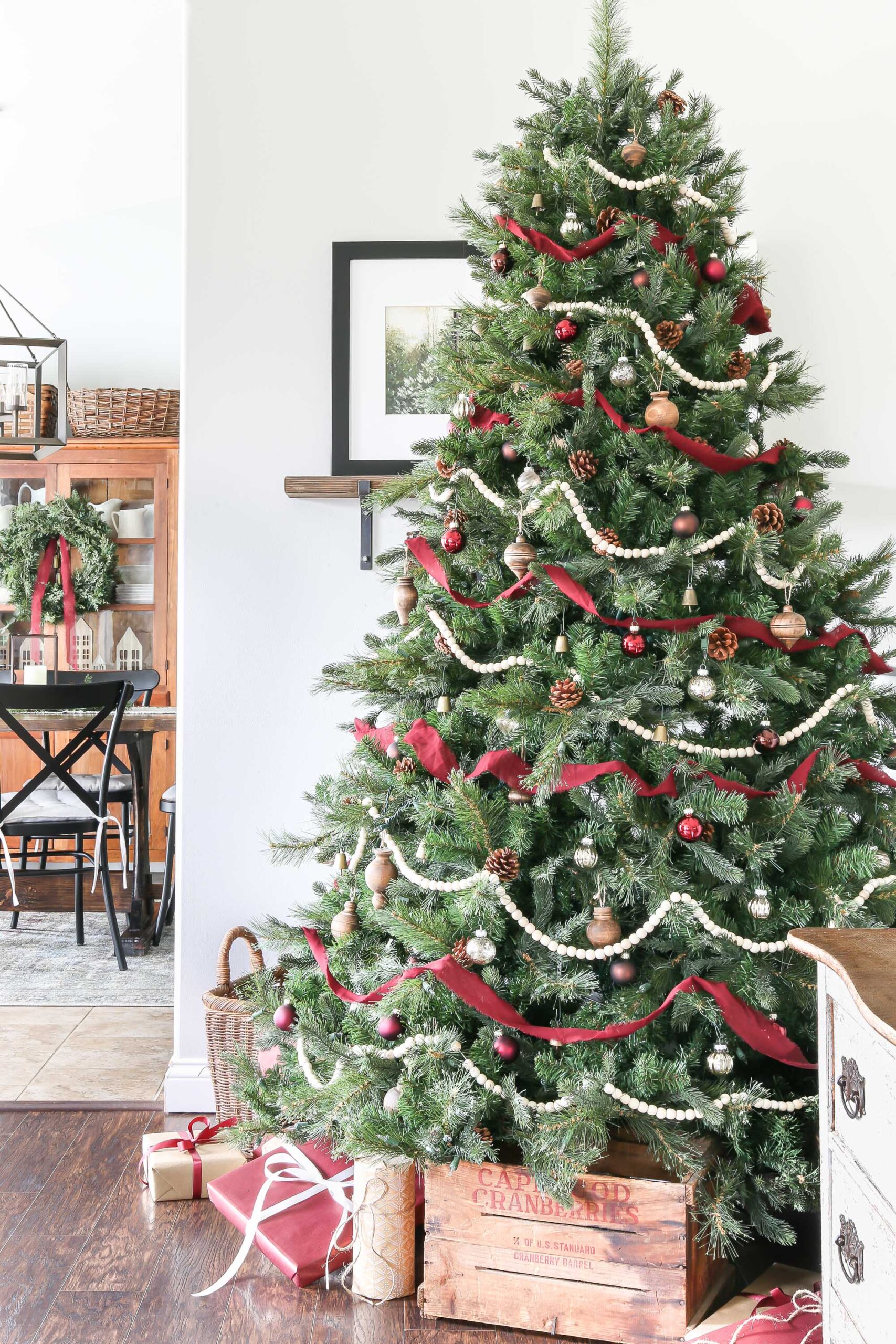 If you know me, you know I'm all about my neutrals. But this holiday season, as I did the last, I was craving color. So I brought back our crimson, wood, and white Christmas tree again this year!
Also, I asked Bailey what colors I should use, and her favorite color currently is red. That pretty much sealed the deal!
I didn't get around to sharing as much holiday decor as planned last year, unless you follow me on social media. So you might not have even seen this tree yet. It happens to be one of my favorites so far.
Sometimes a pop of color is just needed. Our house is decked out in crimson and I just love every bit of it! And today I wanted to walk you through all the elements I used when decorating this Christmas tree!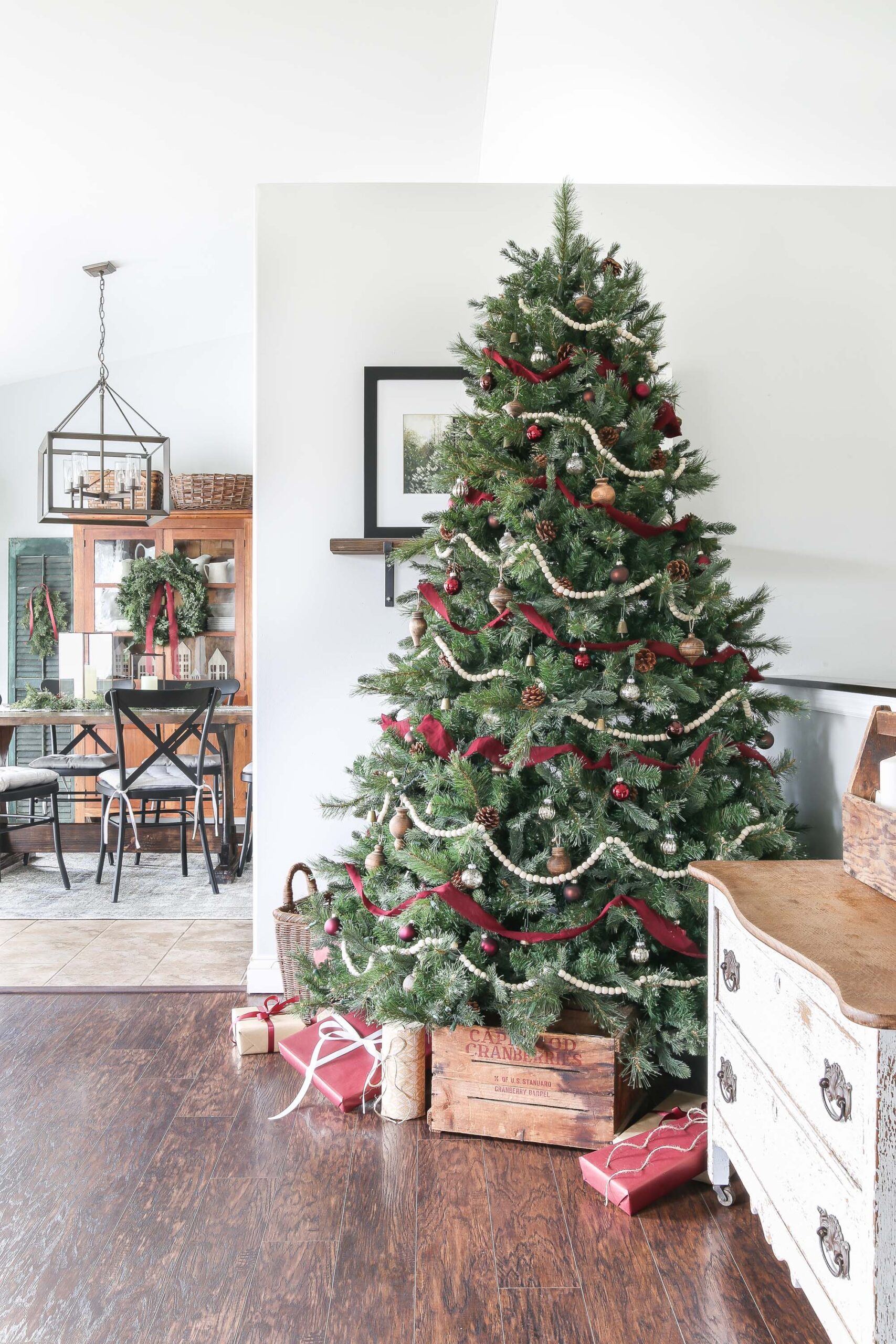 Affiliate links are provided below for your convenience. For more information, see my full disclosure here.
Crimson Chiffon Ribbon Garland
I always have a starting place when I decide how I am going to decorate a space, or in this case a Christmas tree! This look started with this beautiful chiffon ribbon I found on Amazon.
It's honestly the prettiest ribbon I've worked with, and at a reasonable price. I used it as one of the garlands on our tree to add in color, and also on all of the wreaths in our home.
If you ever wanted to change up your look one year without buying all new Christmas decor, my one tip would be to just buy a different color ribbon. Everything else can stay the same!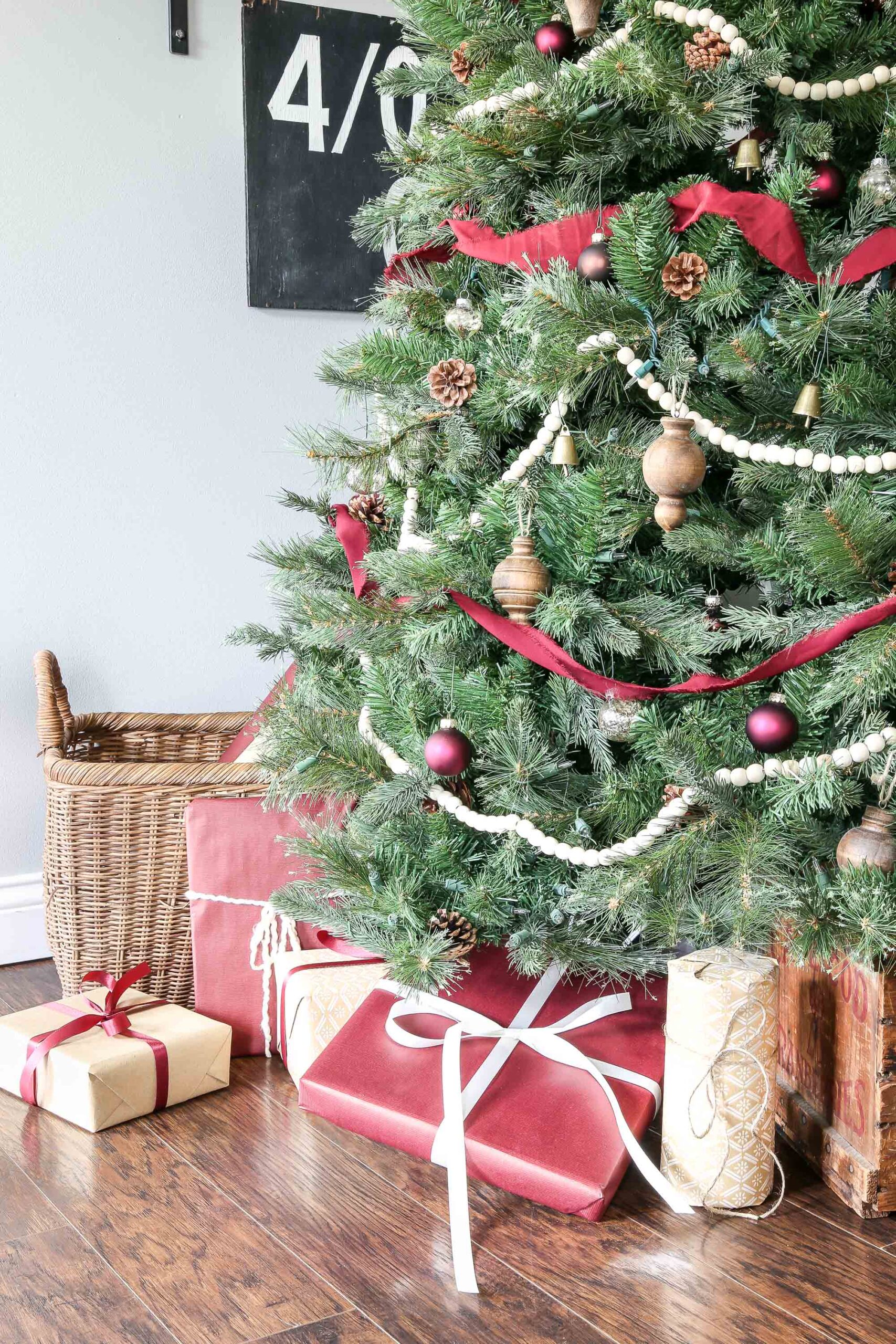 Natural White Beaded Garland
I've always doubled up my garland. One ribbon garland and one beaded garland. This natural white beaded garland has become a stable for our tree because it goes with everything.
It also adds to my wood element which I always love incorporating into any design I am working on. I just love the draped flow it gives our tree and how it plays off the darker colors.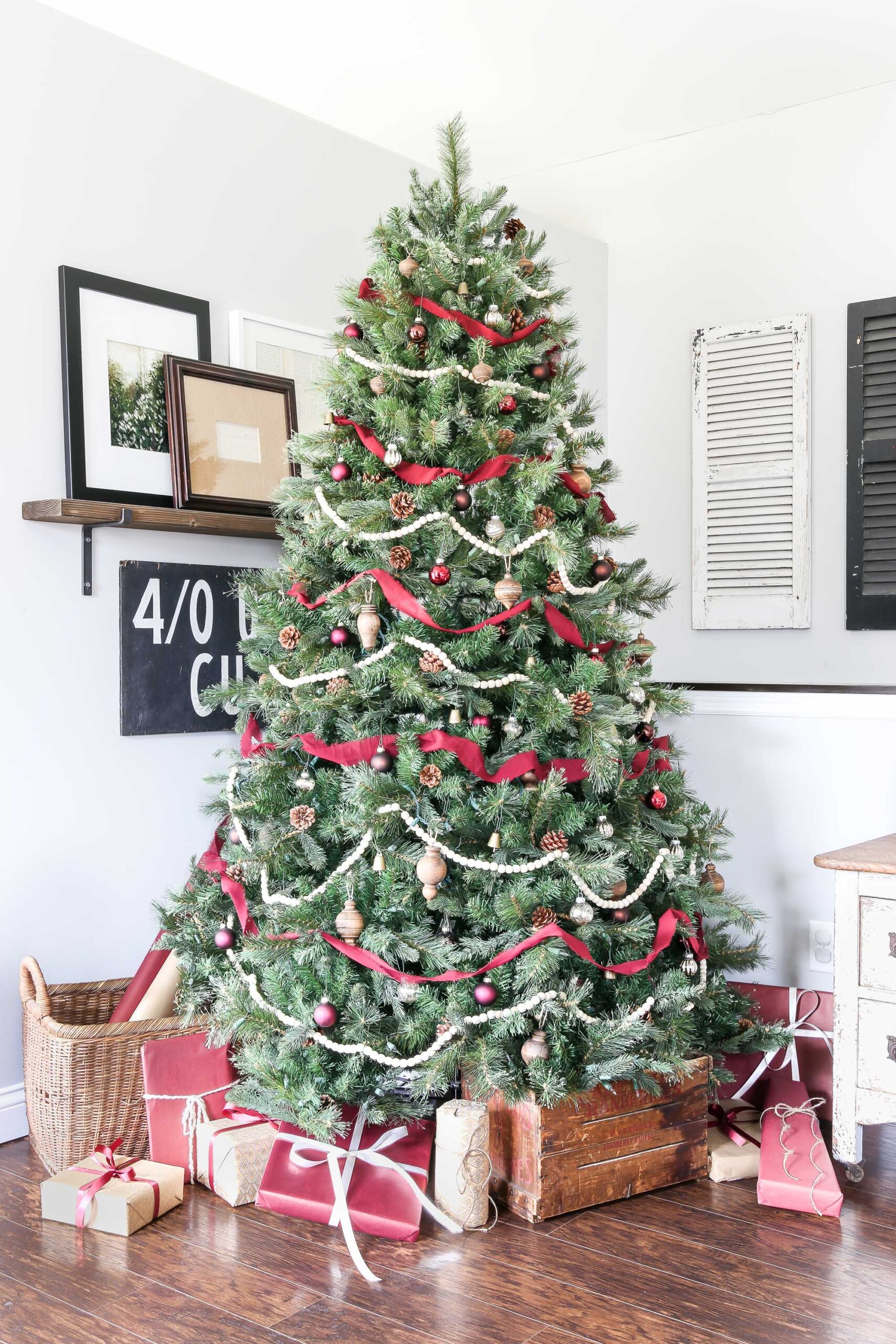 A Mixture of Unique Ornaments
My ornament selection is always a mix. This Christmas tree I decided to go with all ornaments I had already. Wood, crimson and brown balls, brass bells, and mercury glass ornaments all made the cut.
The mixture always plays well off of each other. And our tree has pinecones already attached, so that provides a great extra natural element too.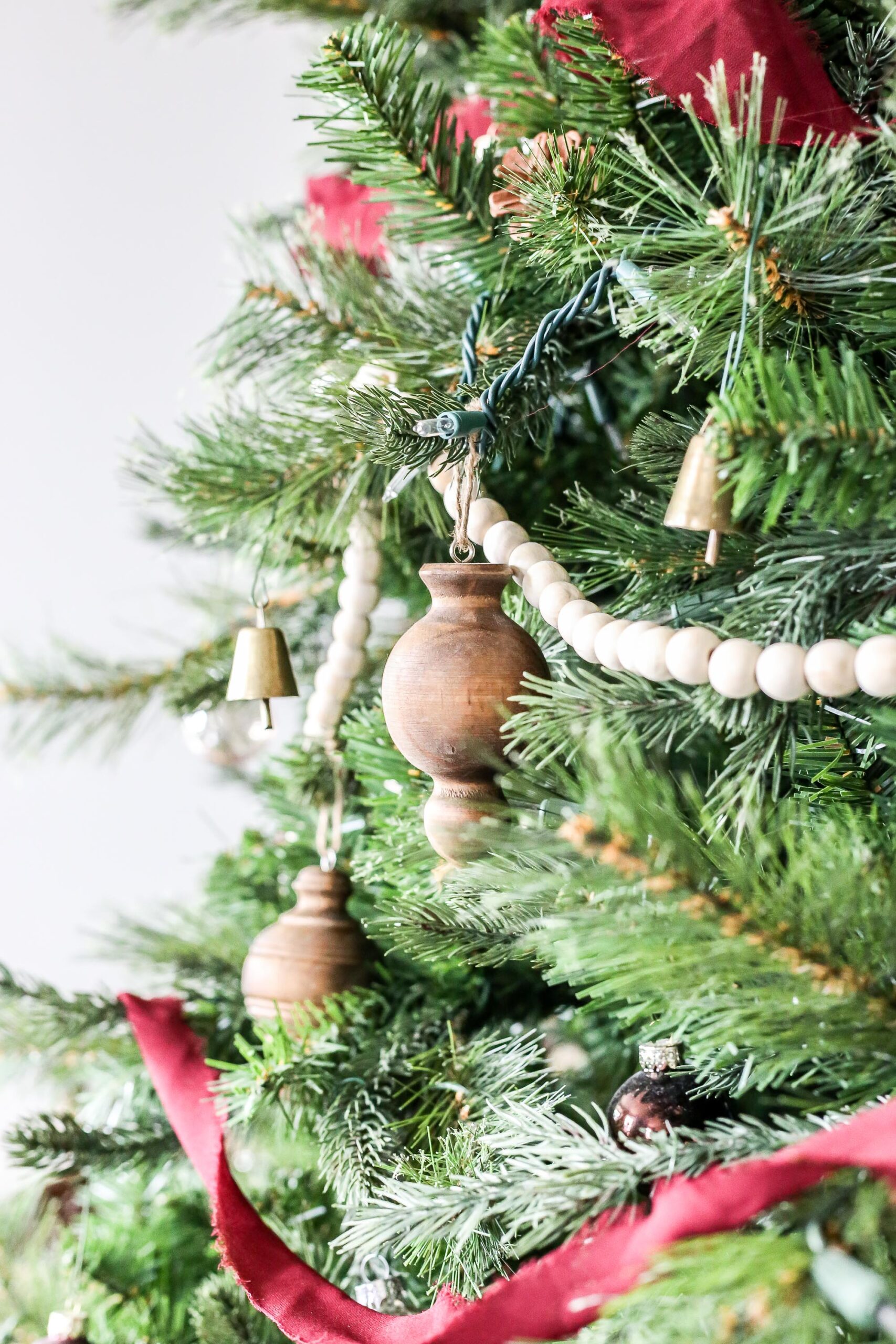 Matching Presents Under the Christmas Tree
Now obviously this step I take is not at all necessary, but it's a fun one for me. I typically always match my gift wrap to the color theme I have going on. Silly? Yes. But I just love the look of it!
I love gift decorating. Decorating, NOT wrapping! I am an awful gift wrapper, but I can always jazz it up with the ribbon and tags to distract from that! It's just a fun way to add extra "decor" to your tree.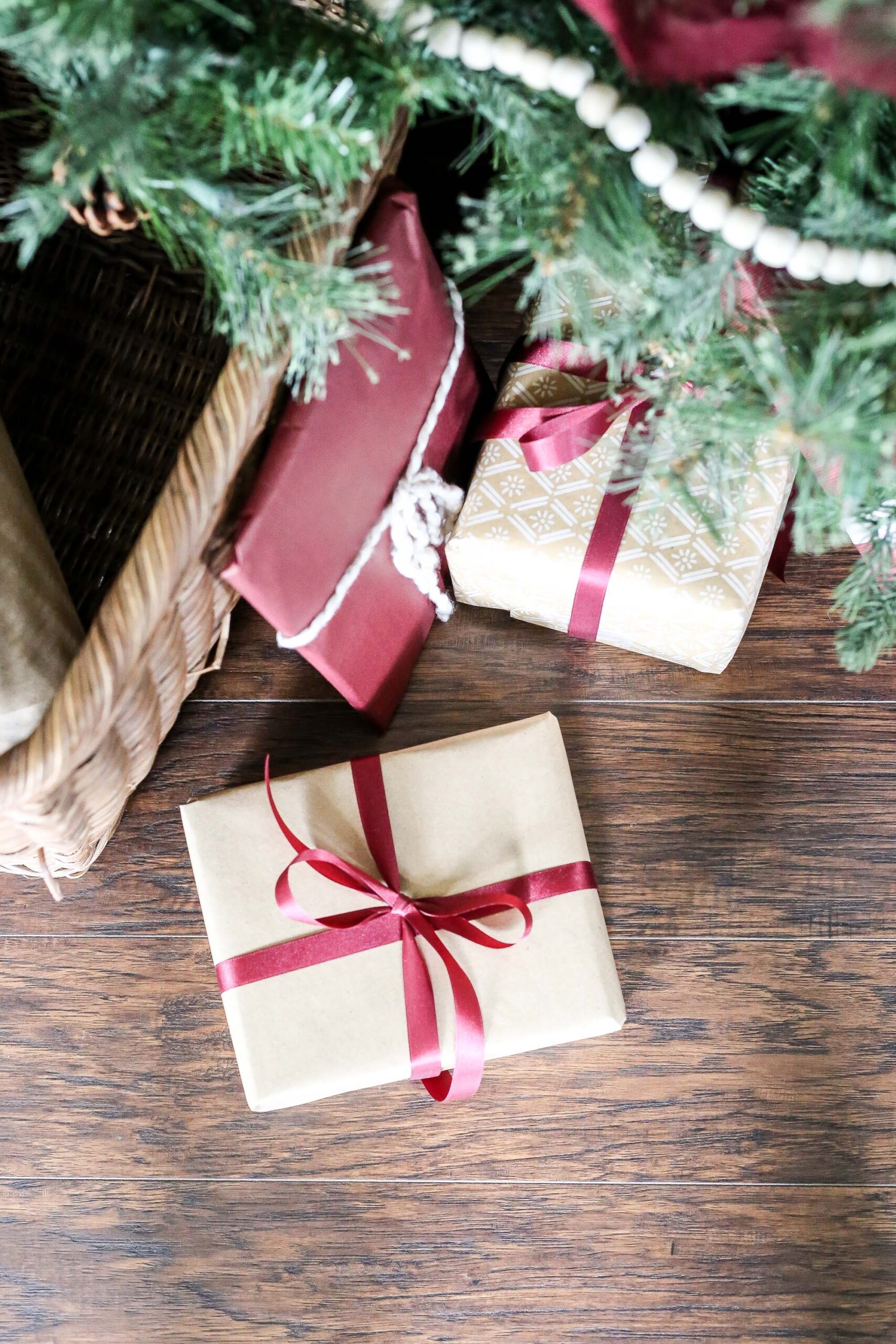 Baskets and Crates as a Christmas Tree Collar
Again, another extra step I take. I currently don't have any kind of tree collar. So instead I just grab a bunch of different crates, baskets, whatever old vintage box I have to stuff under the tree to hide cords and the tree stand.
And then I surround the other empty spots with gifts. I think it adds a nice vintage touch.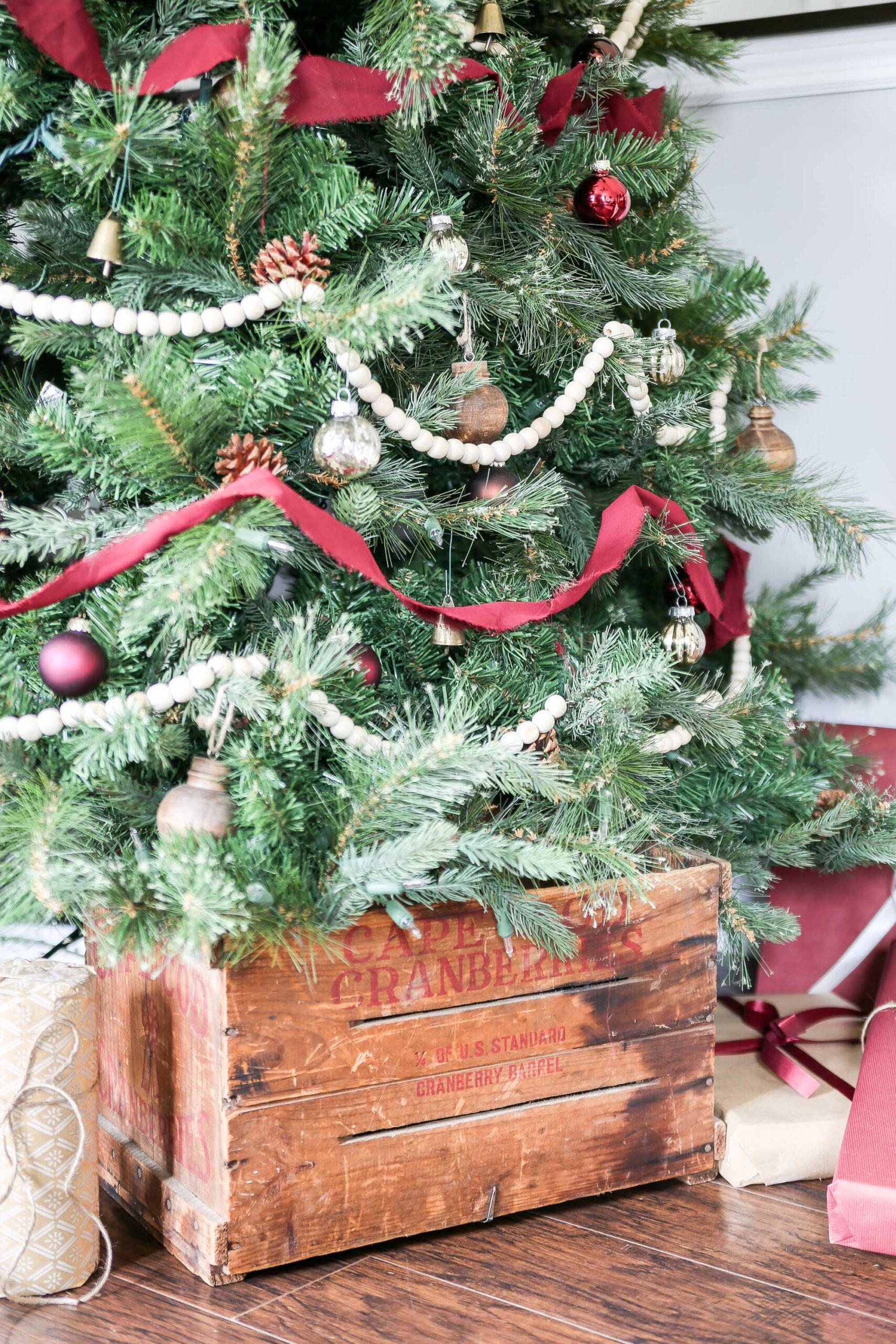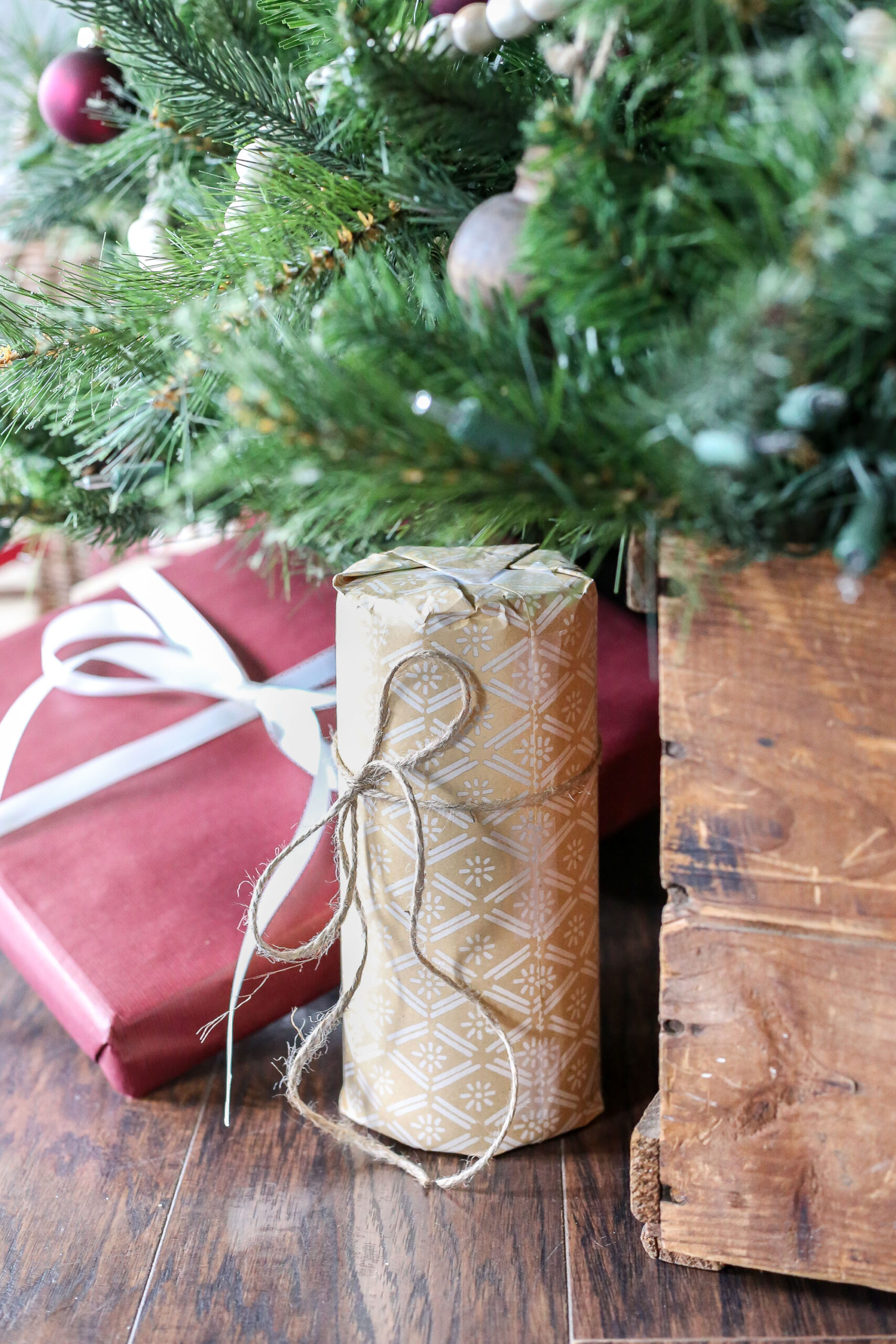 And that's that! Those are the elements I used for our crimson, wood, and white Christmas tree this year! And a guideline of how I typically decorate the tree every year. Hope it helps!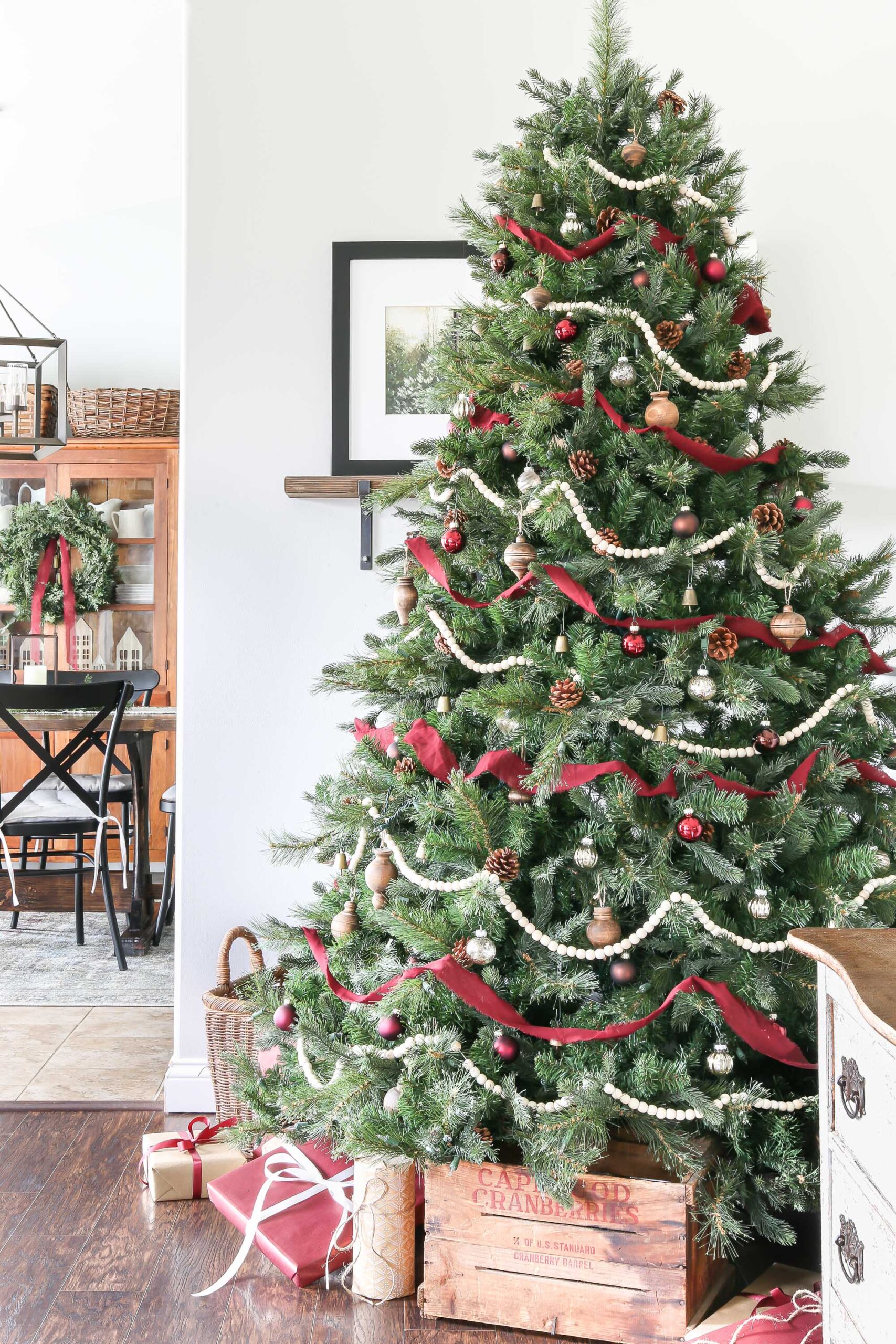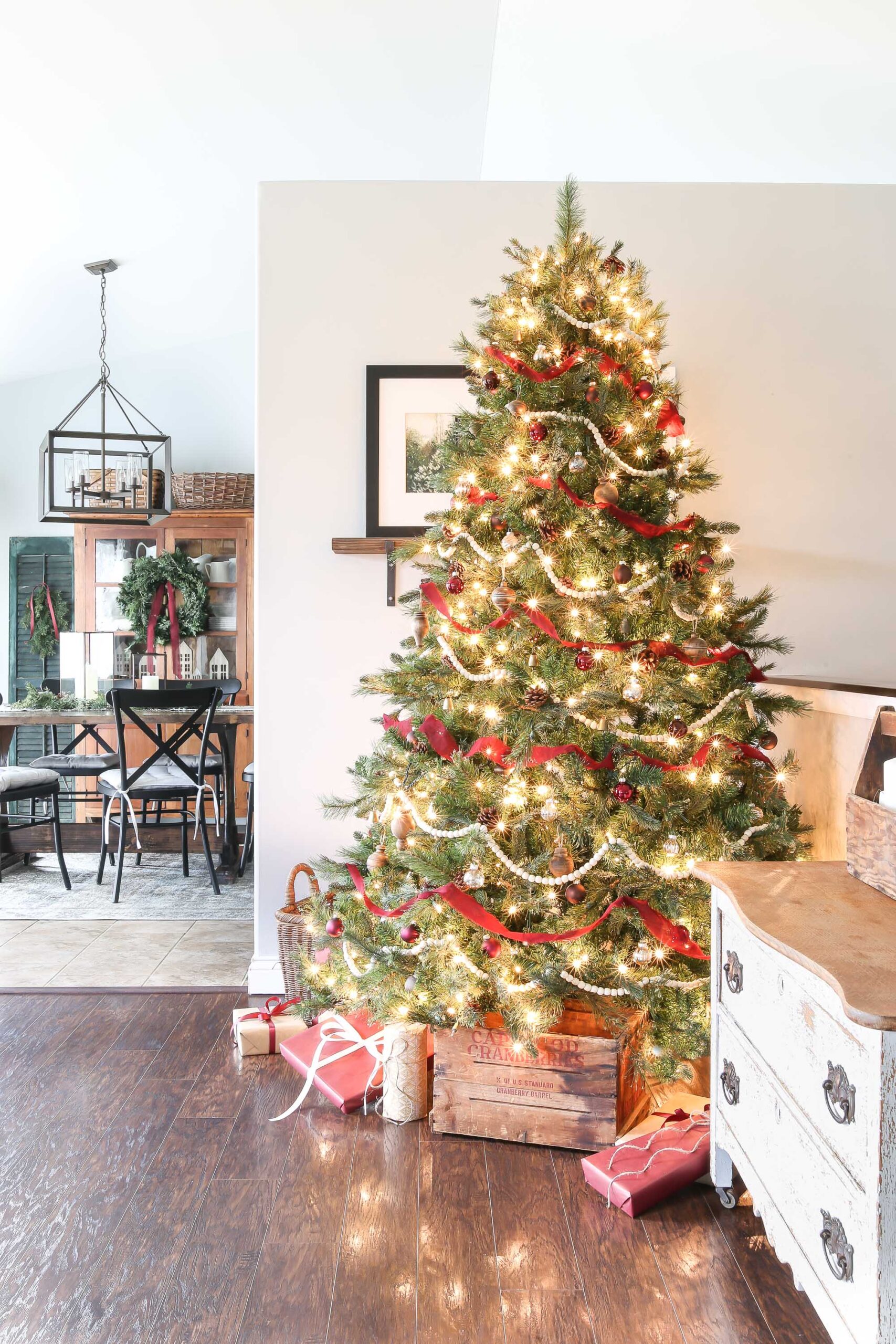 Shop This Post

Other Christmas Tree Ideas
Pin This Post for Later