A Traditional Christmas in the Living and Dining Rooms
This post may contain affiliate links. For more information please see our disclosure policy.
Tour our traditional decorated Christmas in the living and dining rooms. Touches of crimson and other classic elements for the holiday season.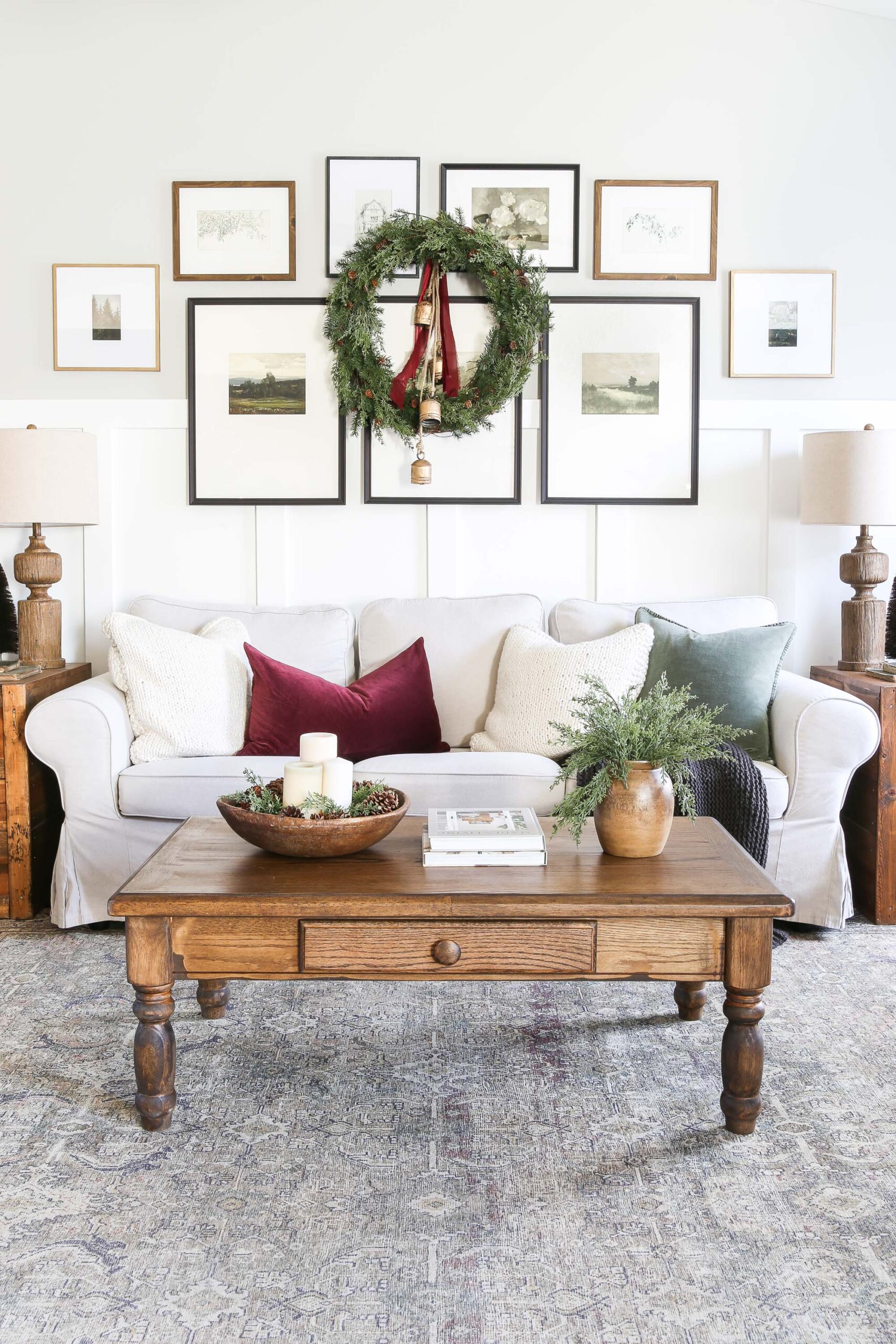 I cannot tell you how nice it is to have our house all decked out for the holidays. If I'm being honest, I might have started decorating and put up our tree the day after Halloween.
I have never, ever done that.
But I'm really happy that I did. I think it's because Bailey is finally of age to understand what is going on. It has been so fun to tell her all about Santa, read Christmas books, and do all the fun festivities with her.
I thought I might get burnt out having holiday decor up this long, but so far, so good! We all have to do what makes us happy these days!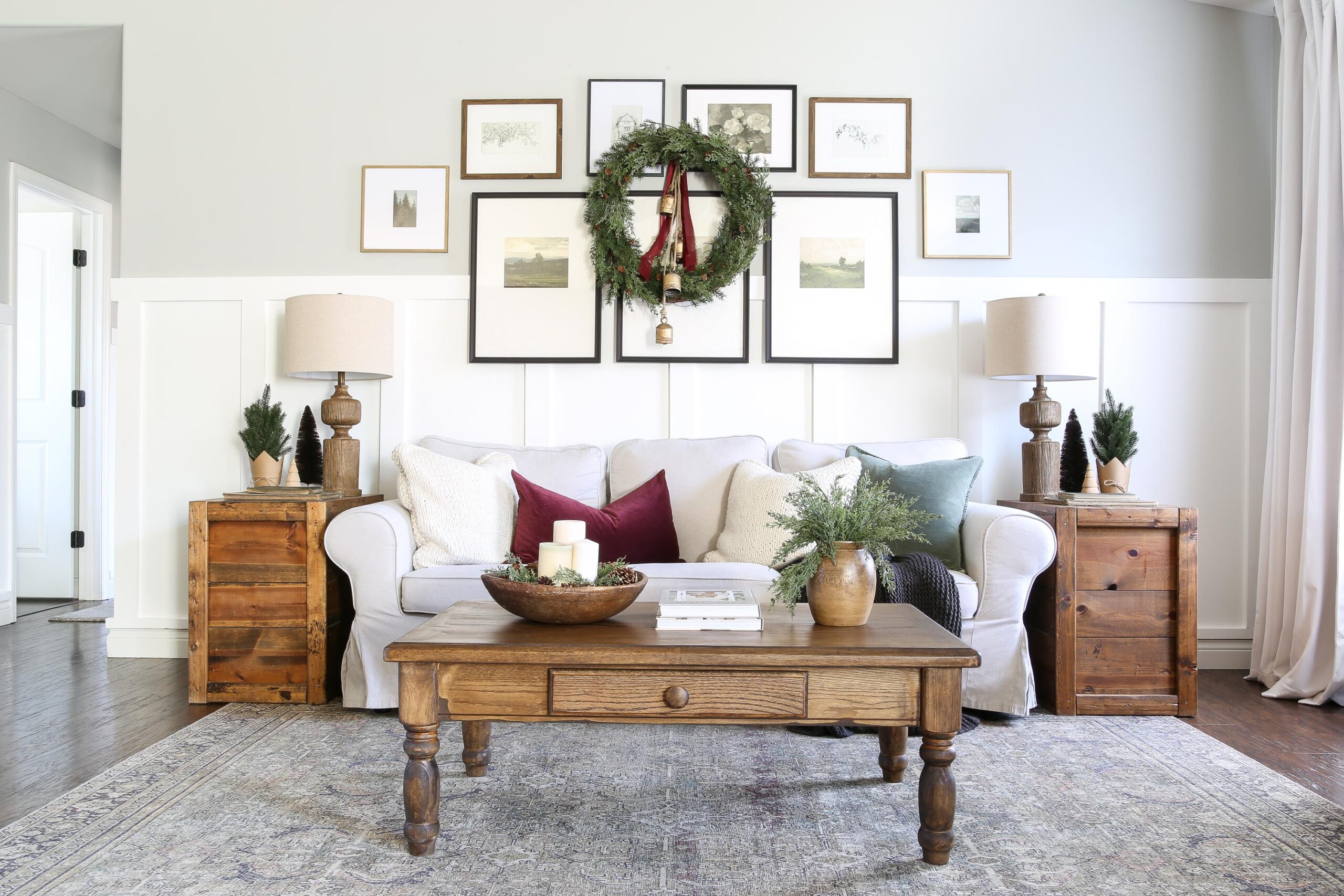 Traditional Christmas in the Living Room
My Christmas decor is very similar than last years. I actually didn't buy anything new this year, but instead raided all seven tubs of what I already had.
I battled with using red again, because I just love neutrals so much. But I love the pop of traditional Christmas it gives to our spaces.
And if you read my last post, Bailey was set on her favorite color: red. She's the boss!
Traditional Christmas Colors
I went with traditional Christmas colors this year. Reds, greens, browns, creams, and then added in touches of brass and wood. My favorite combination!
I used ribbon and fabrics throughout our house to bring in the red pops of color. It doesn't take much in an already neutral space to make a huge statement.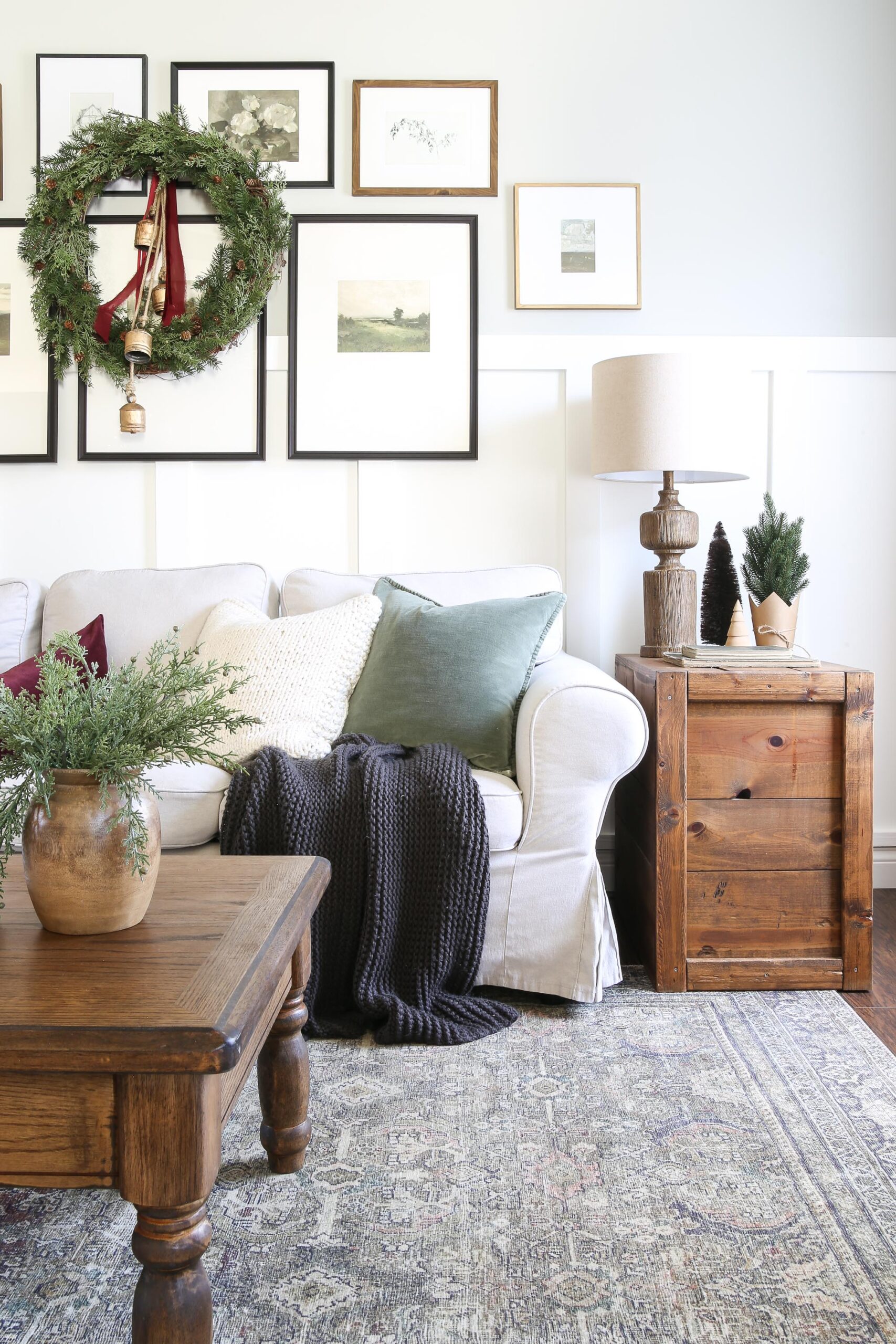 Cozy Textures
Always, always, always, if you can, switch out throws and pillows with chunky knit ones for the winter. It makes your space extra cozy!
Over the years I have grabbed a lot of knit throws for so cheap over the holidays and after just to keep everywhere in the house. They are so nice to have on cold days, and they go great with seasonal decor.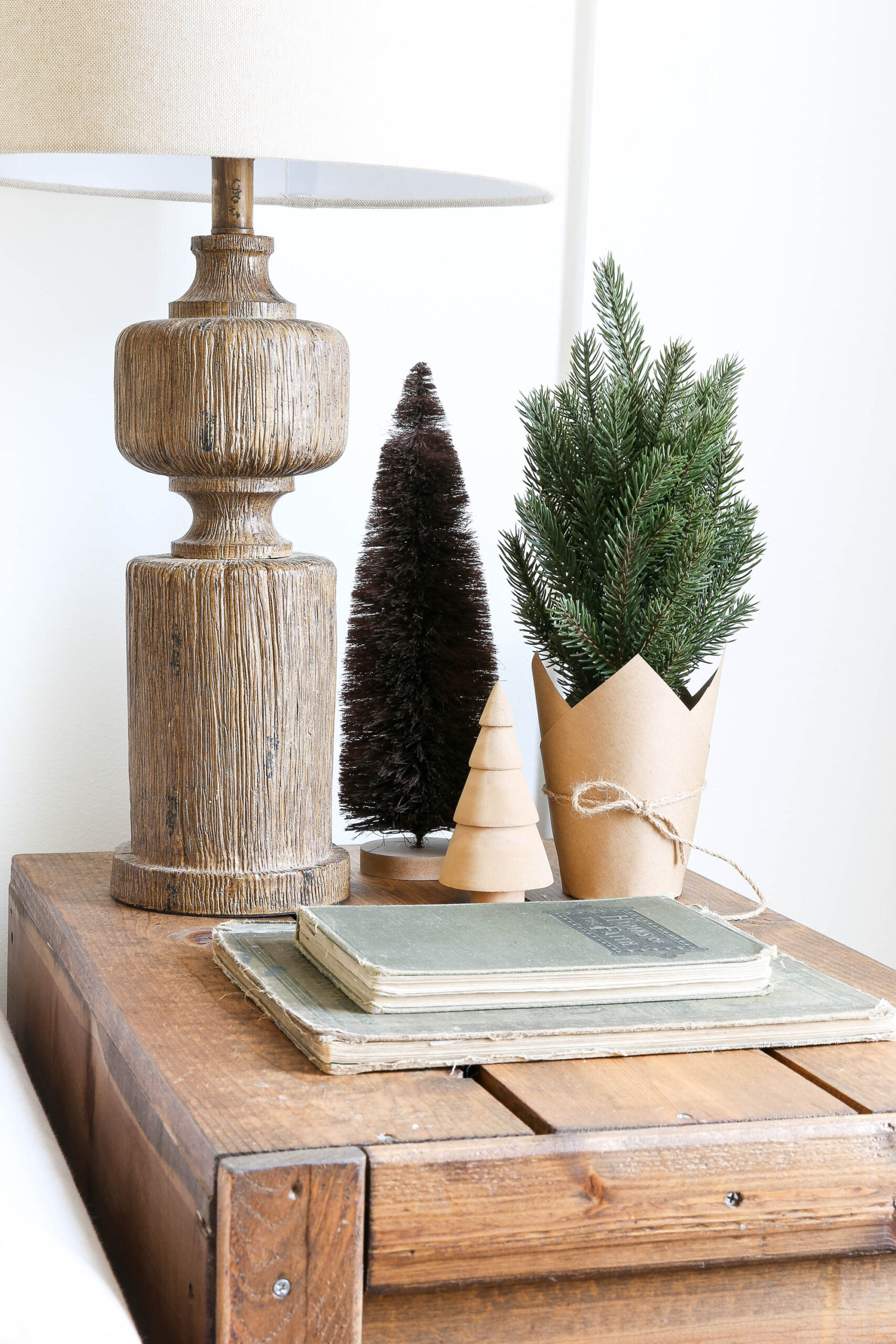 Subtle Christmas Accents
I don't like to go overboard with the Christmas accent pieces. I sprinkled some little Christmas trees here and there, used pinecones, and winter greenery.
Brass can go with any season in my opinion, but it's best mixed in with Christmas. I have some brass bells hung from my DIY wreath, and I love that extra element in this space.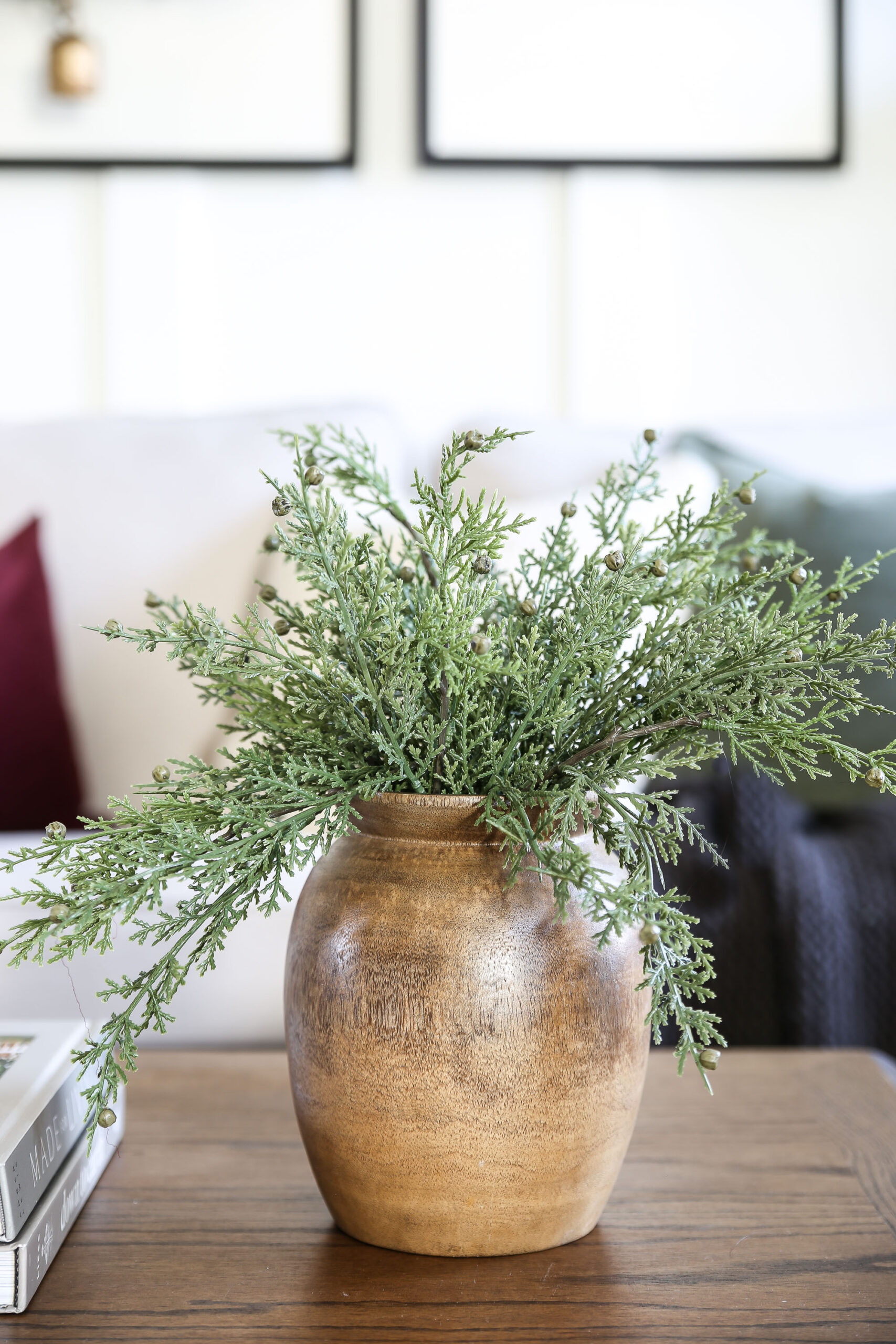 Decked Out Traditional Christmas Tree
I am in love with our traditional Christmas tree this year. Does anyone else turn theirs on as soon as you wake up and leave it on all day until you go to sleep? I do!
You can see and read all the details of our crimson, wood, and white Christmas tree here!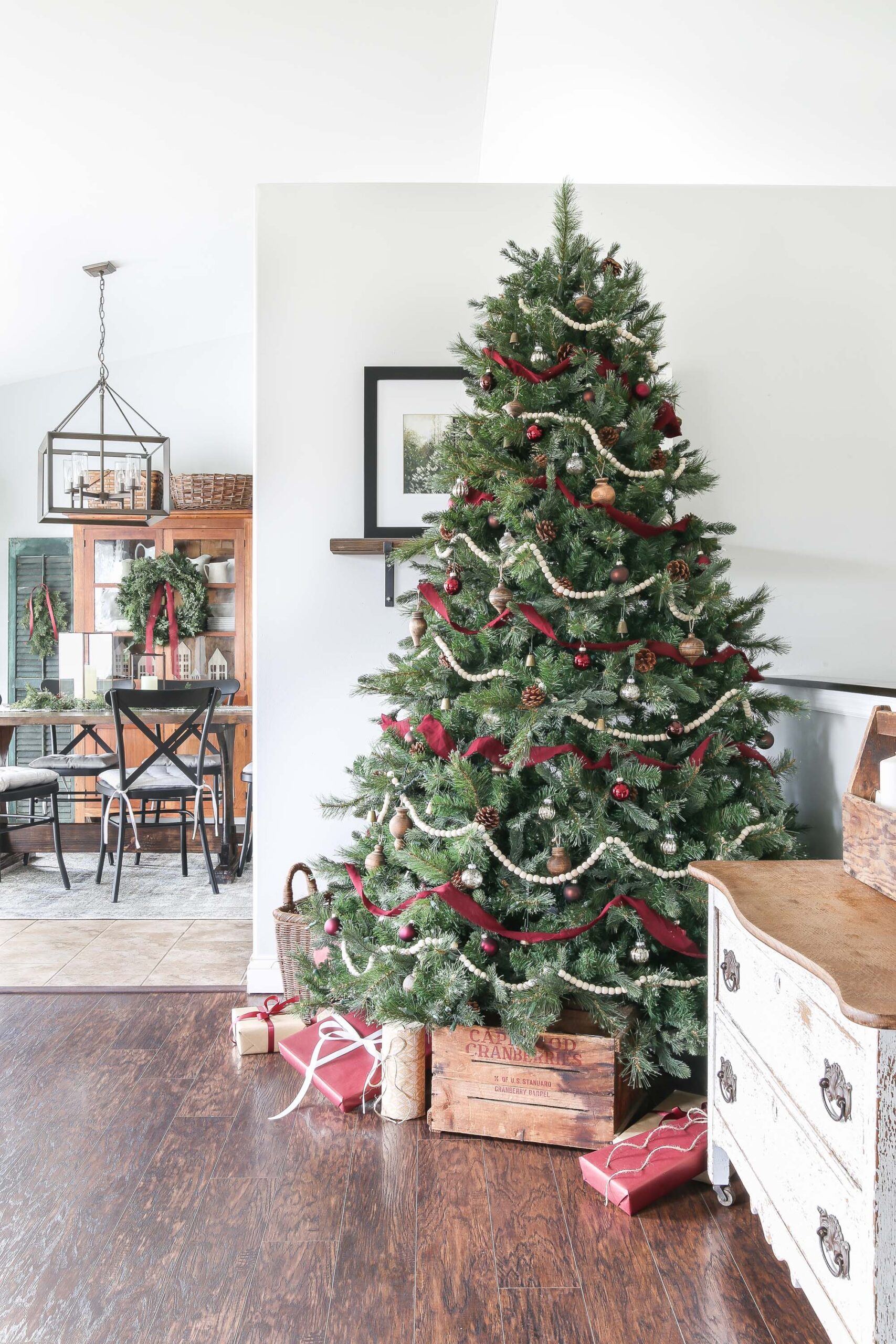 Traditional Christmas in the Dining Room
Now moving onto the dining room! This space is actually almost the same as I shared last year. I did change out the table centerpiece though.
You can see last years Christmas dining room here! That centerpiece was my absolute favorite! But I love this one too!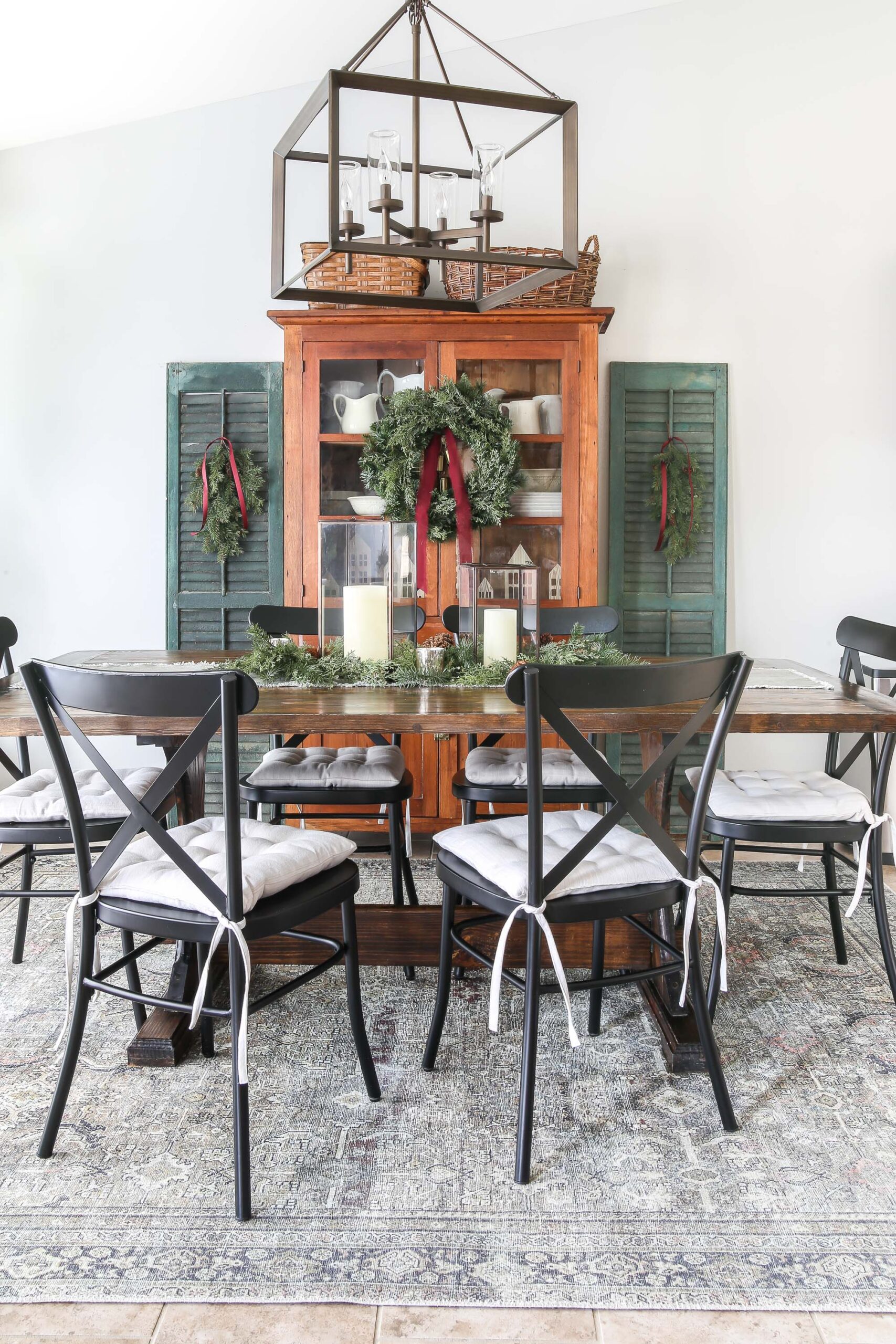 Christmas Greenery
Honestly, decorating with Christmas greenery is my first go-to. In our dining room, I don't like to reinvent the wheel, because if it ain't broke, don't fix it!
You'll almost always see sprigs of greens on the shutters and a festive wreath on the hutch. Dressed up with ribbon and bells just makes it even better.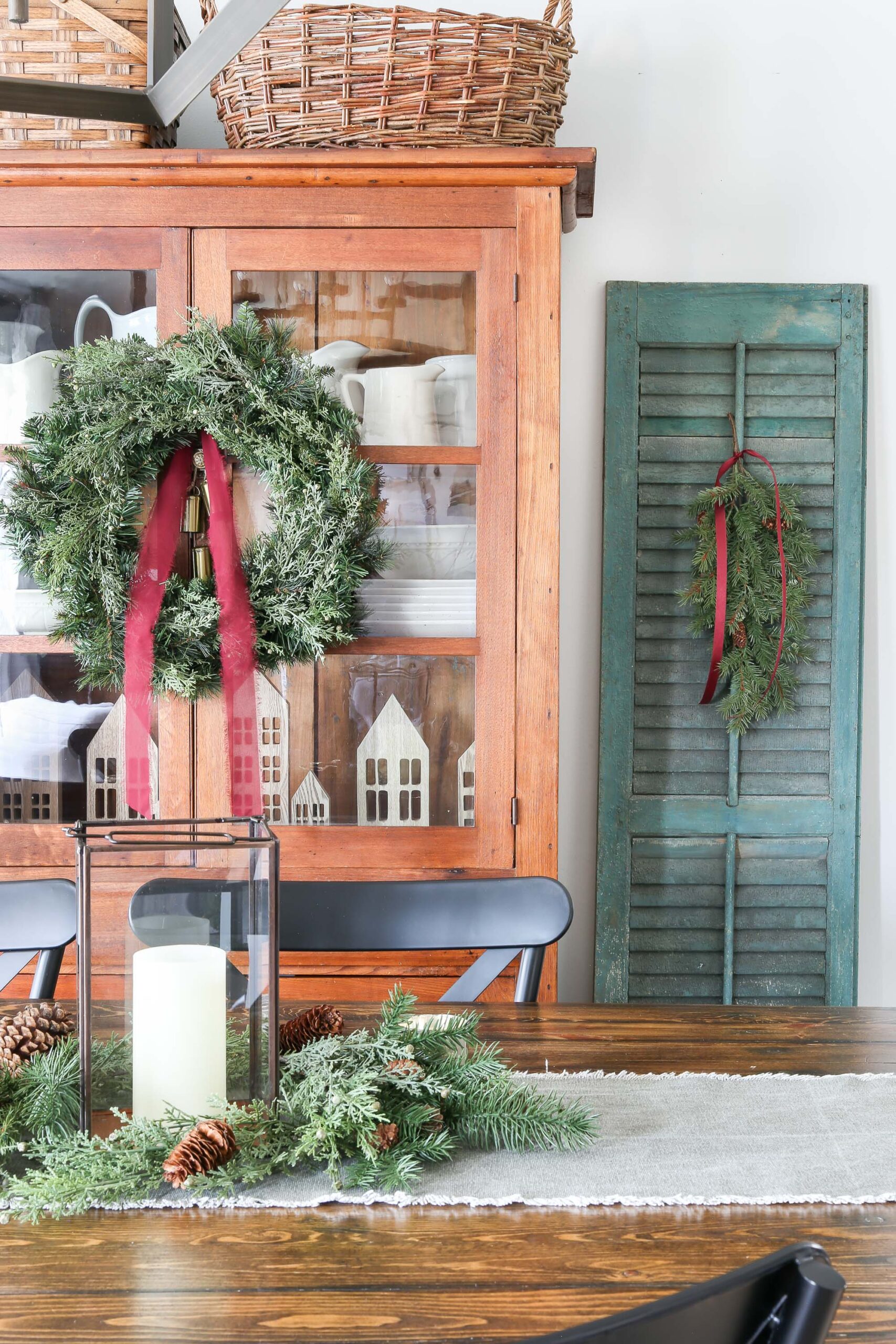 A Festive Christmas Table Centerpiece
For the Christmas centerpiece this year, I grabbed some brass lanterns, added white pillar candles, and filled around it with sprigs of greenery. Then dropped in some pinecones, and sprinkled in some mercery glass candles votives.
It's simple, but it screams Christmas for me!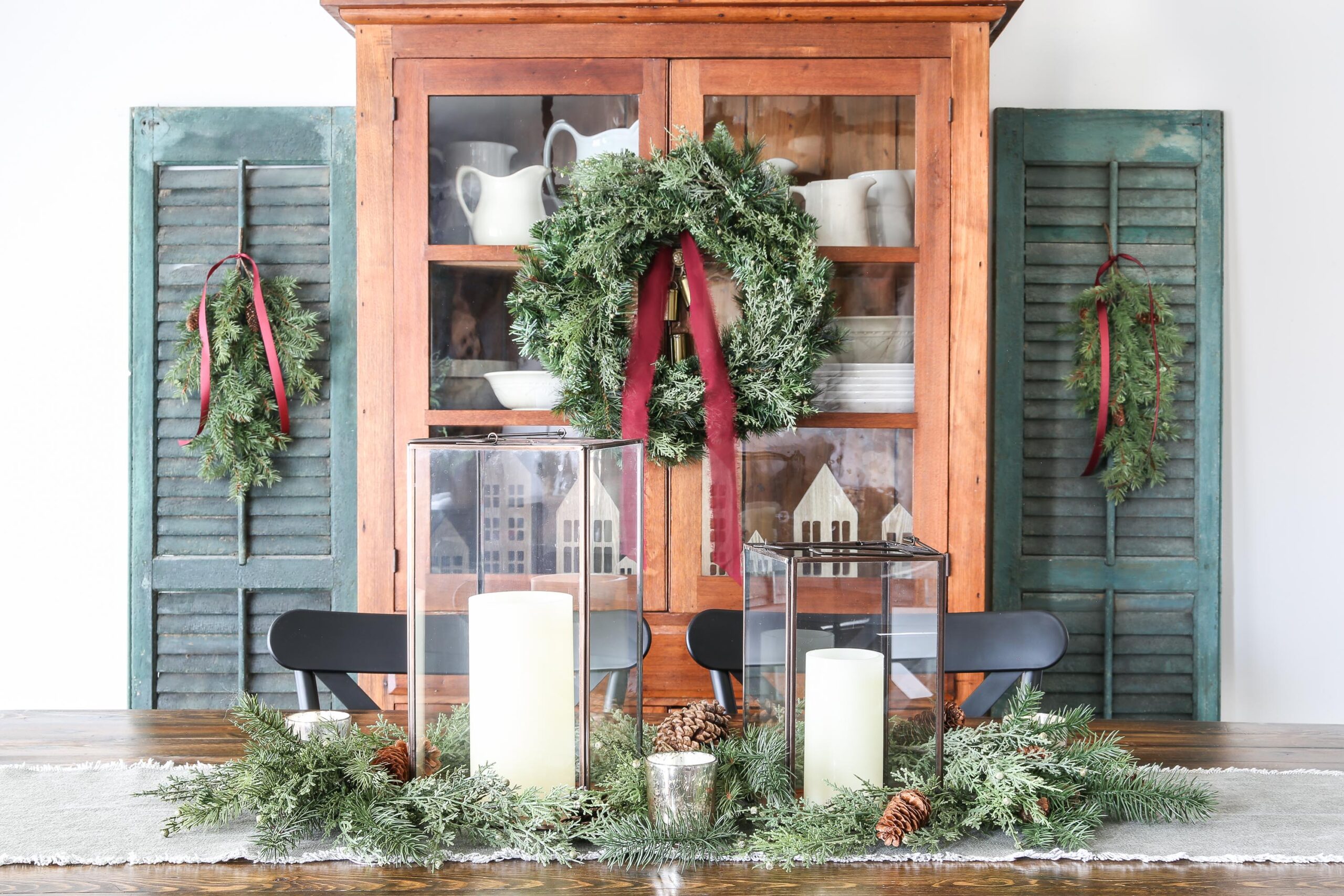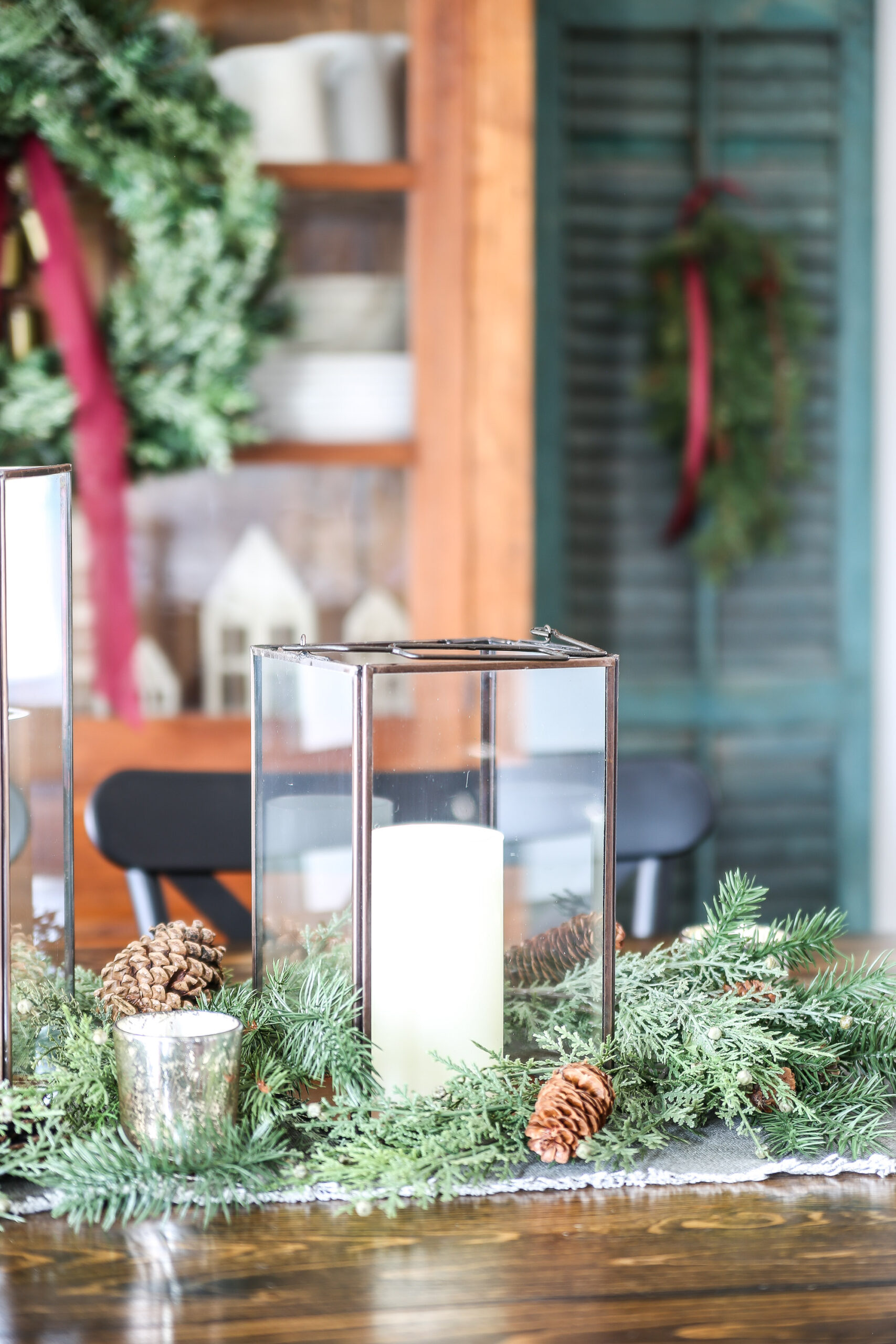 Wood Houses
Inside the hutch I added some wood houses that I am absolutely obsessed with. I don't know why, but all the little houses that you can find around Christmas time are must haves for me.
I love them so much that might be the theme of Baileys Christmas tree this year. You'll have to wait and see it!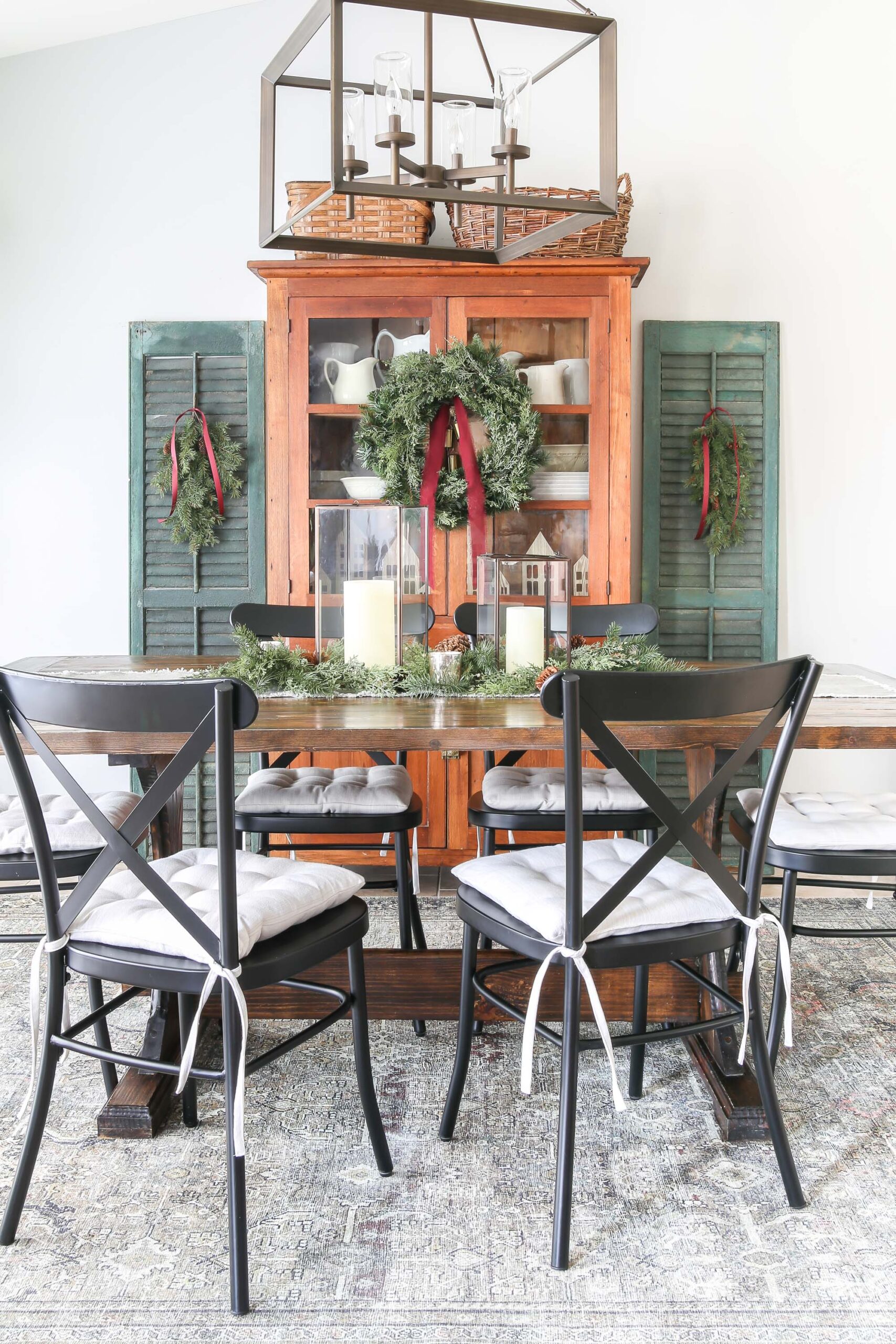 I hope you enjoyed my traditional Christmas decorated living and dining rooms! I had so much fun decking them out, and I always love sharing them with you!
Shop This Post
Affiliate links are provided below for your convenience. For more information, see my full disclosure here.

More Christmas Decorating
Pin This Post for Later