How to Layer and Style a Bed
This post may contain affiliate links. For more information please see our disclosure policy.
A simple and beautiful way to layer and style any bed in your house. An easy step by step tutorial that can accomplish that designer look.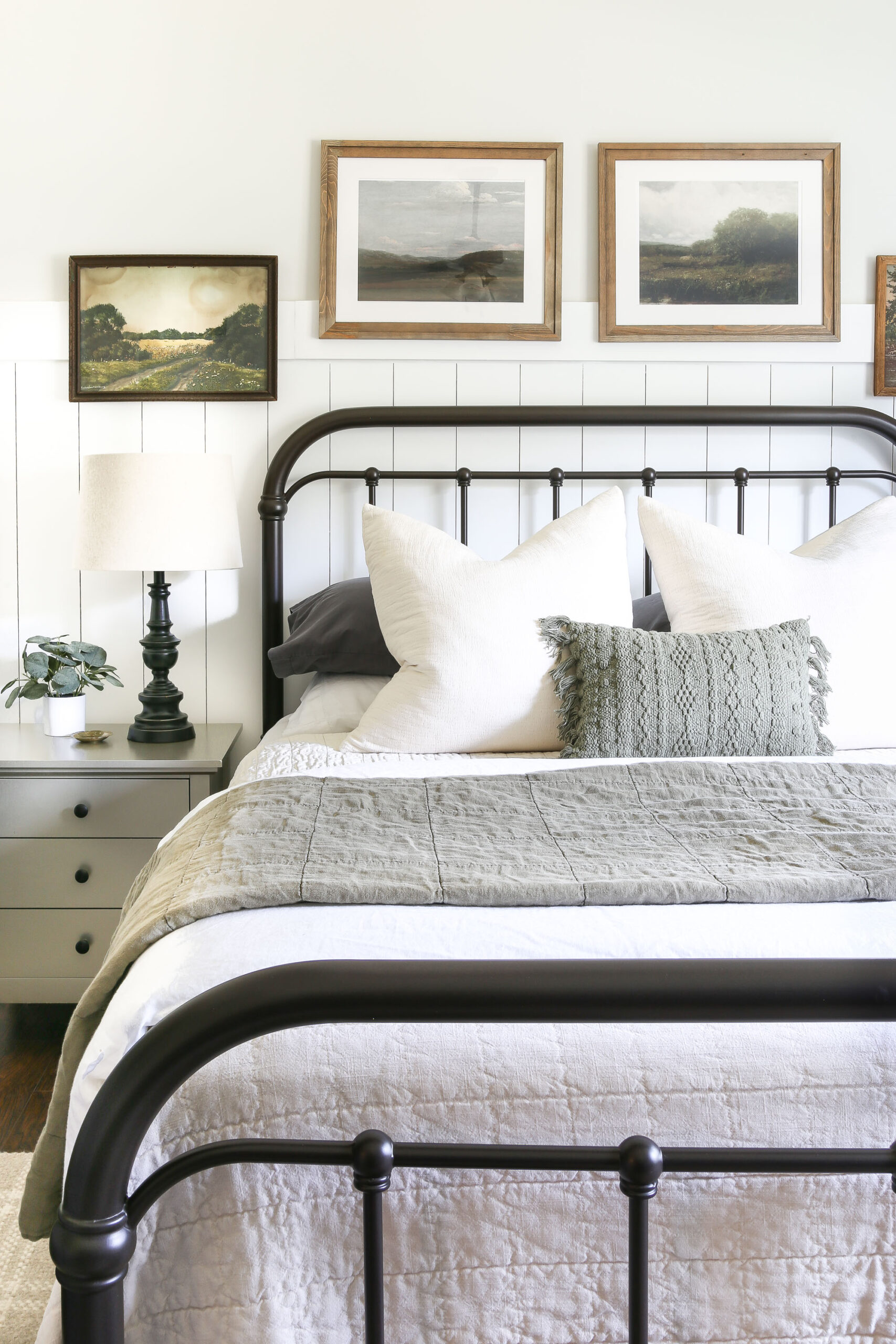 One of my absolute favorite parts of decorating a bedroom is when I get to layer and style a bed. It may sound silly, but it's such a work of art to mix and match the perfect bedding and pillows to get the look you want.
Sheets, pillows, bedskirts, coverlets, duvets, throws, the list can go on and on. You don't have to overthink it, or overdo it. Keep it simple, invest in good quality, and make it work for you.
There are so many different ways people make their bed, but I thought I would show you how I do it in particular, in case you wanted to change things up a bit!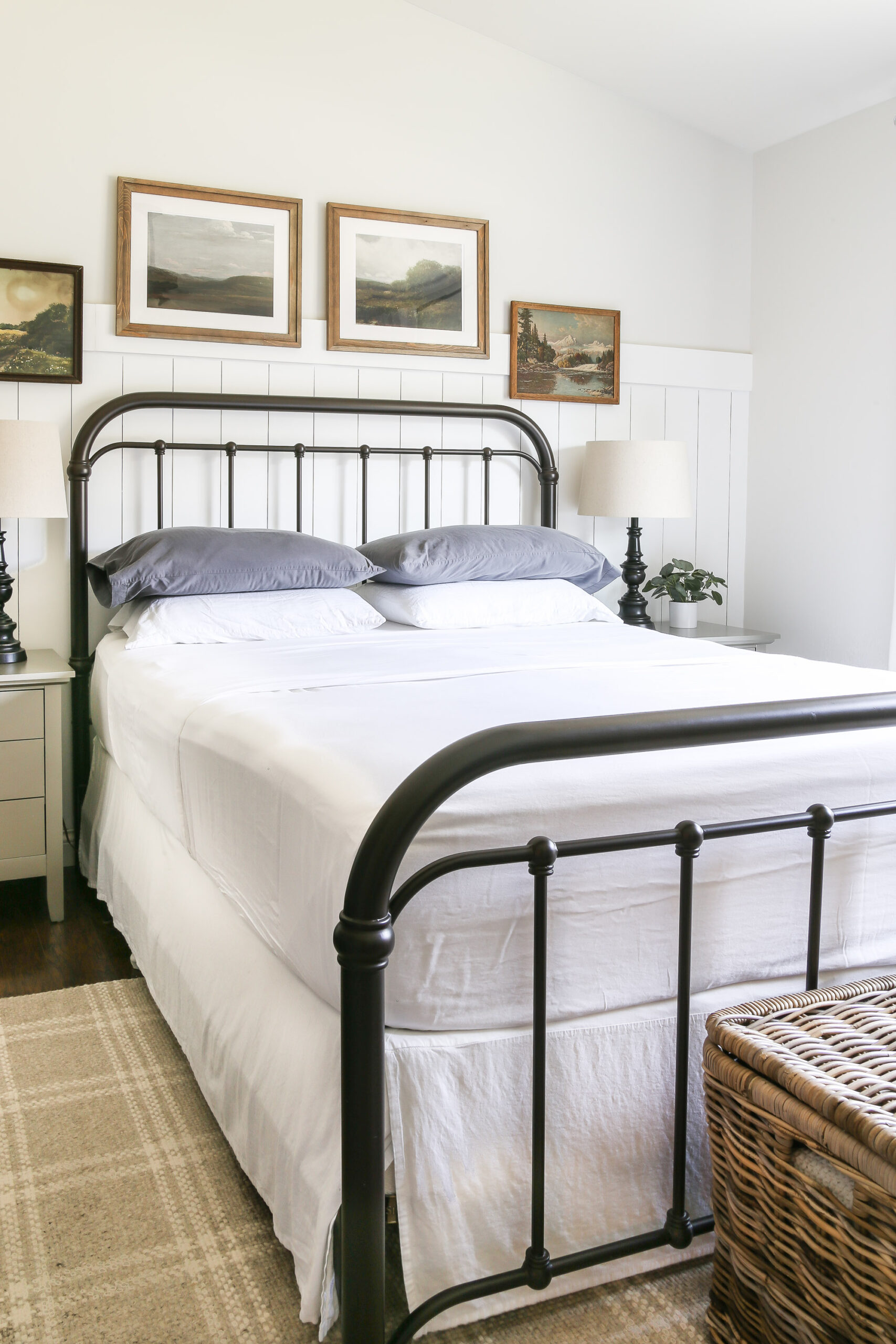 Layer One: Bed Skirt/Bed Sheets
I love a good clean, white bed skirt. If you have a bed that you store things under, or you just want a more cozy look, I would definitely add a bed skirt. This is not where you want to spend all your money. A cheap one will do just fine!
Quality bed sheets on the other hand, are a game changer. And I wrote an entire blog post about how to pick the perfect ones here. For us, bed sheets are worth the investment every time.
Layer Two: Quilt or Coverlet
We love using quilts or coverlets as our main cover at night. They are warm enough for winter, and cool enough for summer. And personally I prefer this look over a super thick comforter any day.
These are thin enough to layer even more on top, and they look great as the base cover in your bed design. I like to keep it more of a neutral color, and bring in other colors with throws or pillows.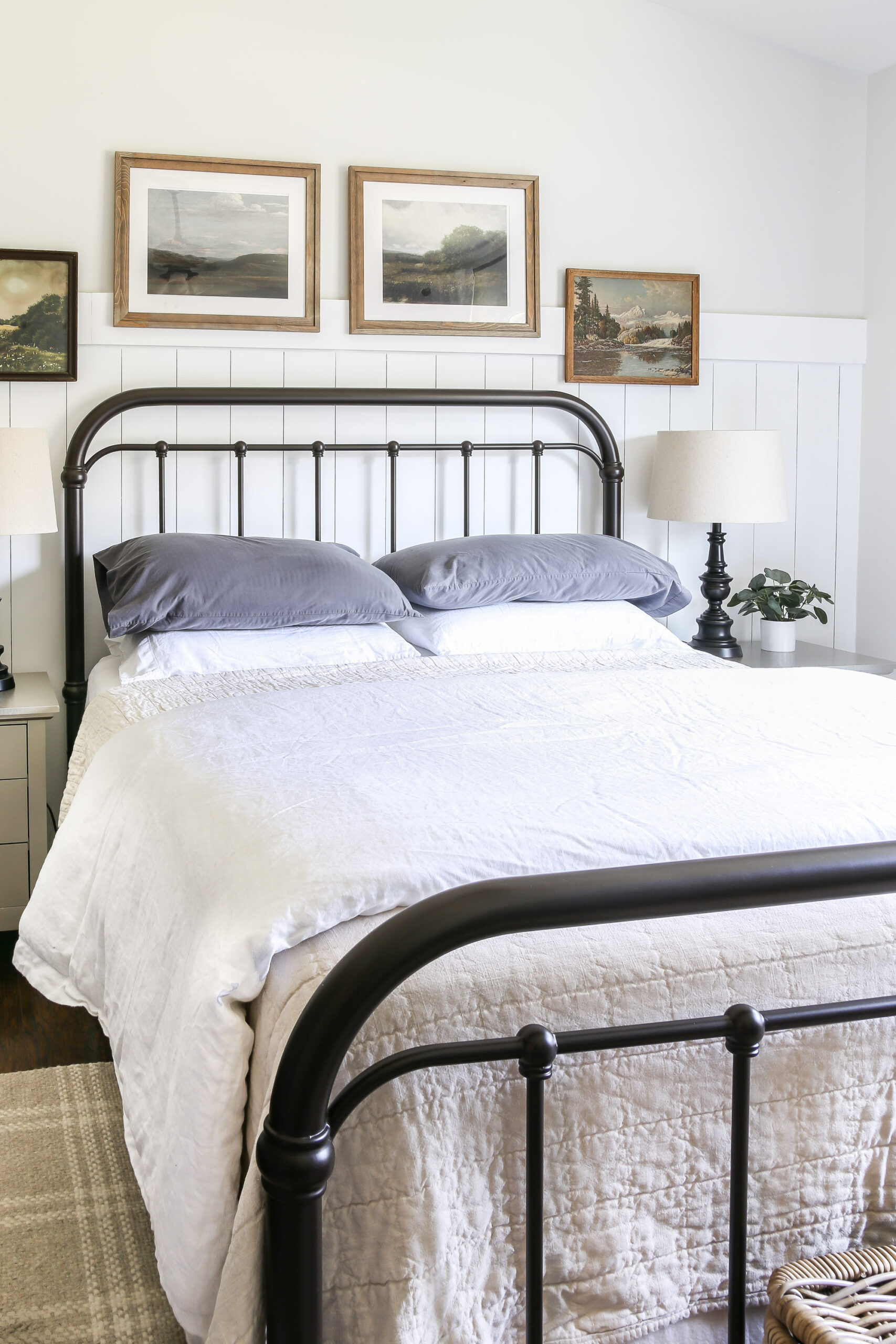 Layer Three: Folded Duvet
My love for duvets runs deep, even though they are sometimes a pain to put together. For this particular look, I used a white linen duvet and doubled up on the insert to make it a little more fluffy.
In our guest room the duvet is used as the main cover, but in this room we fold it in half and it sits at the end of our bed. It is the most cozy cover ever, and I love to use it when I pop in for a quick nap, or to watch a movie without messing up the rest of the bed.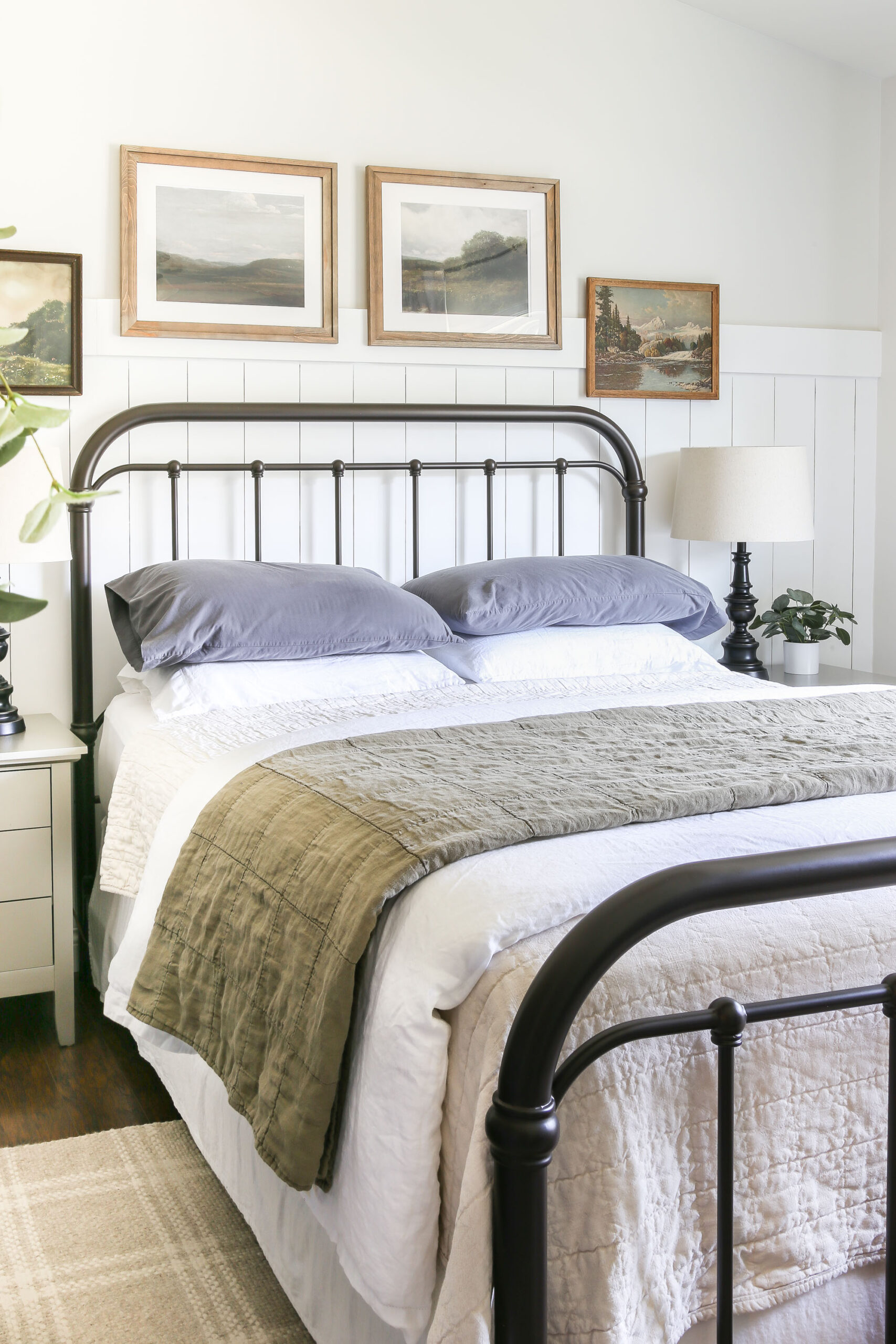 Layer Four: Colored Quilt or Throw Blanket
This is more of the design layer. I use a colorful quilt or throw blanket to go with whatever design I am wanting. In this space I wanted to keep it all within the same color scheme, so I went with a quilted green color I love.
This layer is for texture, color, pattern, whatever you want to dress up the design and make it more interesting.
Layer Five: Pillows
My rule of thumb usually for a queen bed like ours: two solid colored standard pillows stacked on each side, two solid colored euro shams or larger throw pillows, and then either two patterned or color regular sized throw pillows or a lumbar pillow.
Again, there are so many different variations that people use on their own bed. This is just how I like to do it. And I love having a little wicker basket at the end of our bed to stack all the pillows we don't use every night.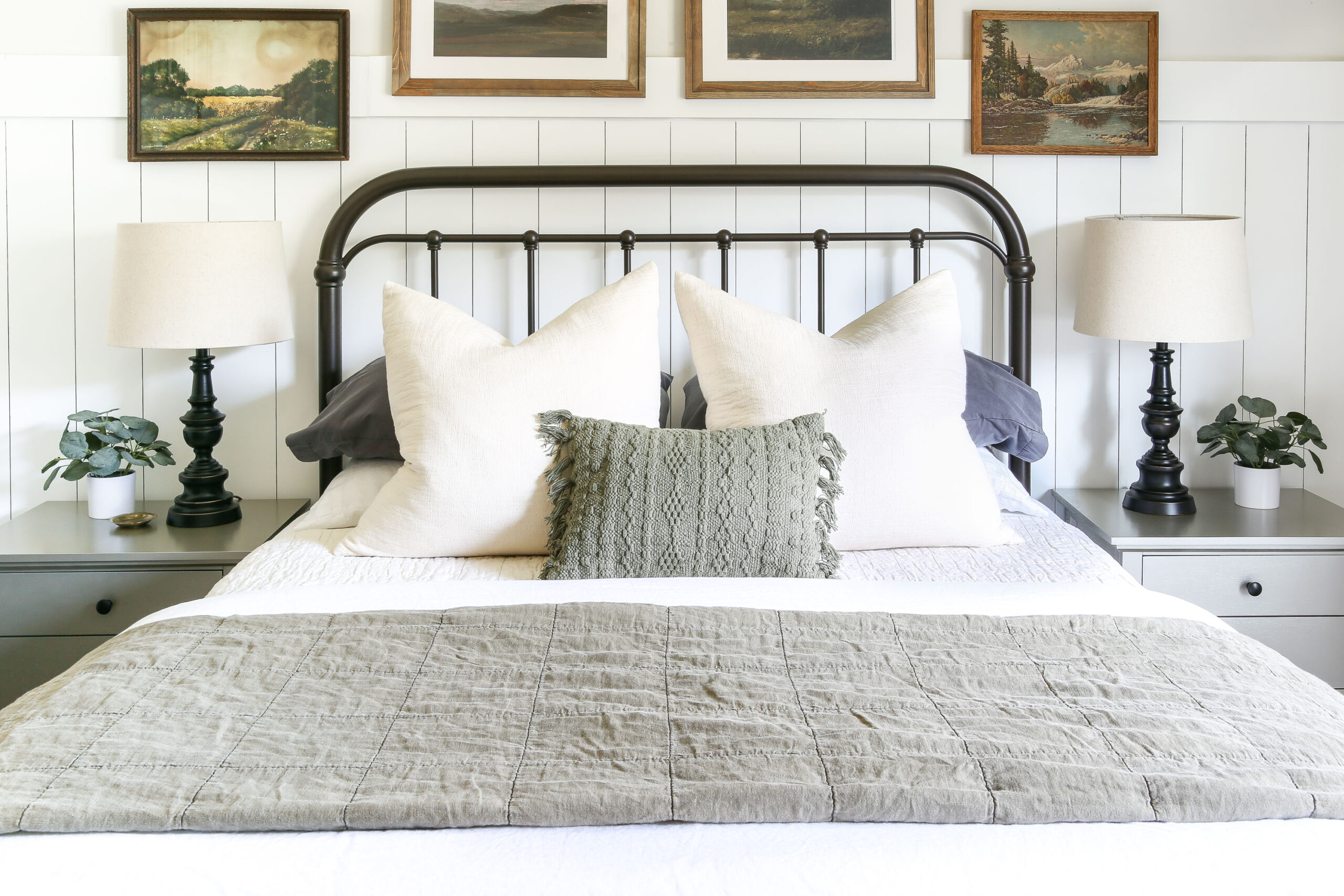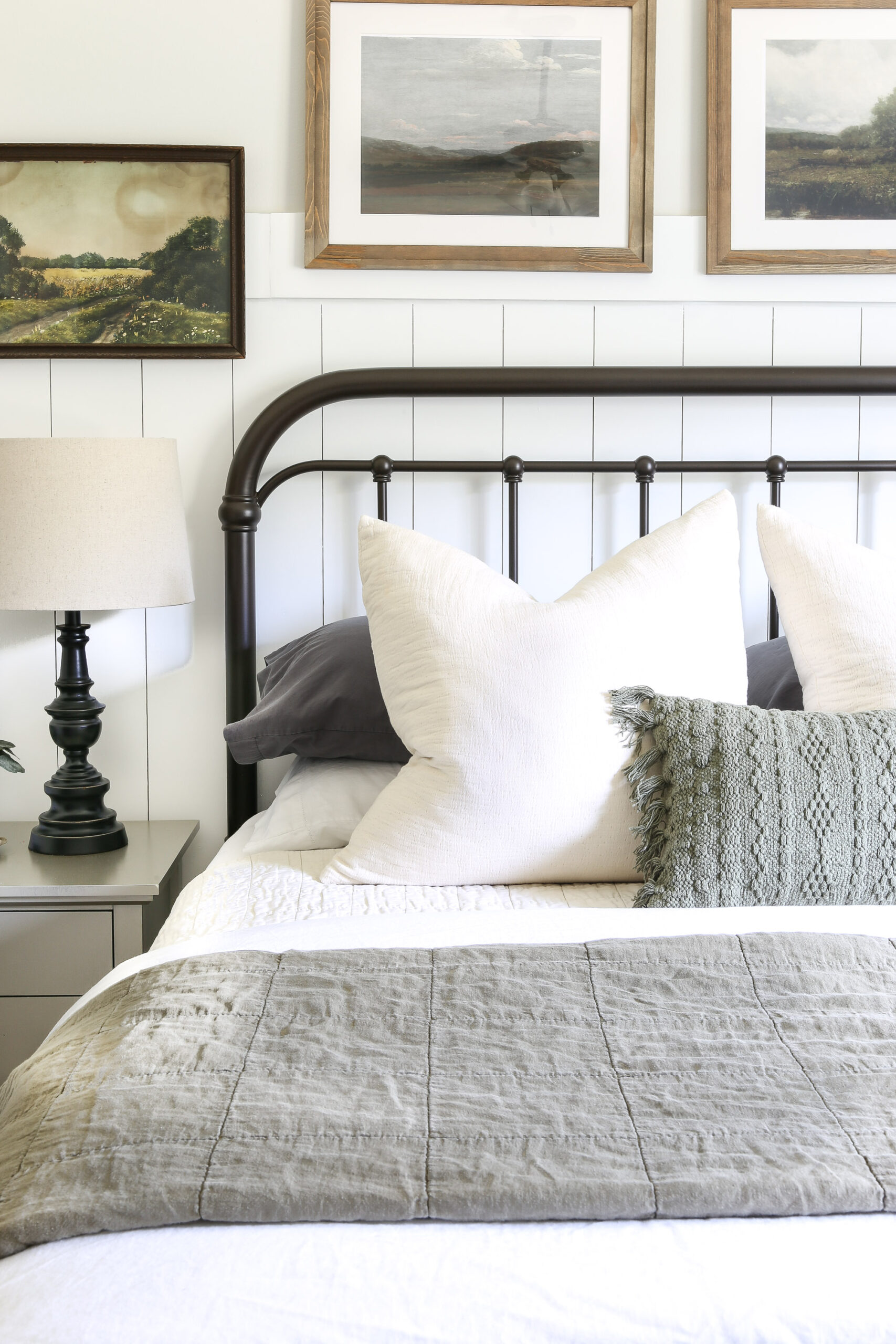 There really is no right or wrong way to layer and style a bed. Do what makes sense for your lifestyle, and what works for your wants and needs.
This is just a little guide to go by if you want to add a little extra to the way it looks! I hope it helped!
Shop Our Bedroom
Affiliate links are provided below for your convenience. For more information, see my full disclosure here.

Other Related Posts
Pin This Post for Later