How to Choose the Perfect Area Rug
This post may contain affiliate links. For more information please see our disclosure policy.
A simple guide to help you choose the perfect area rug for your room. All of the things to consider before buying!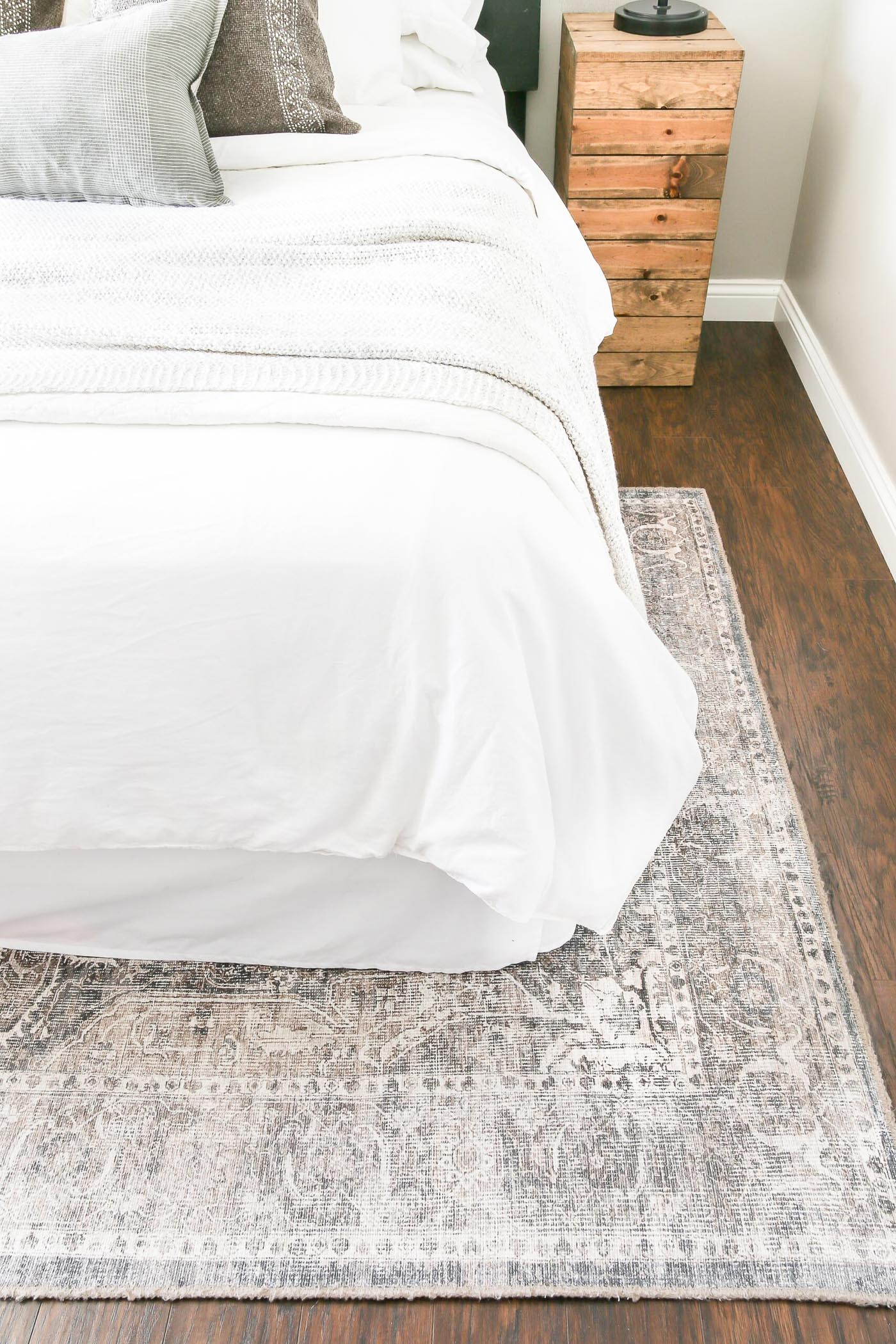 To me, an area rug is like the mascara of a room. The one thing you just can't forget, otherwise the space looks like it's missing something.
Throughout my home decorating journey, I have learned so many things to consider and avoid when buying rugs. And how to correctly pick the perfect one for any room.
The style, size, and pile of a rug seem to be the main three aspects you really have to take into account before pulling the trigger. And of course all while staying within your budget, because let's face it, rugs can get expensive!
So let's chat about how to choose the perfect area rug for your space!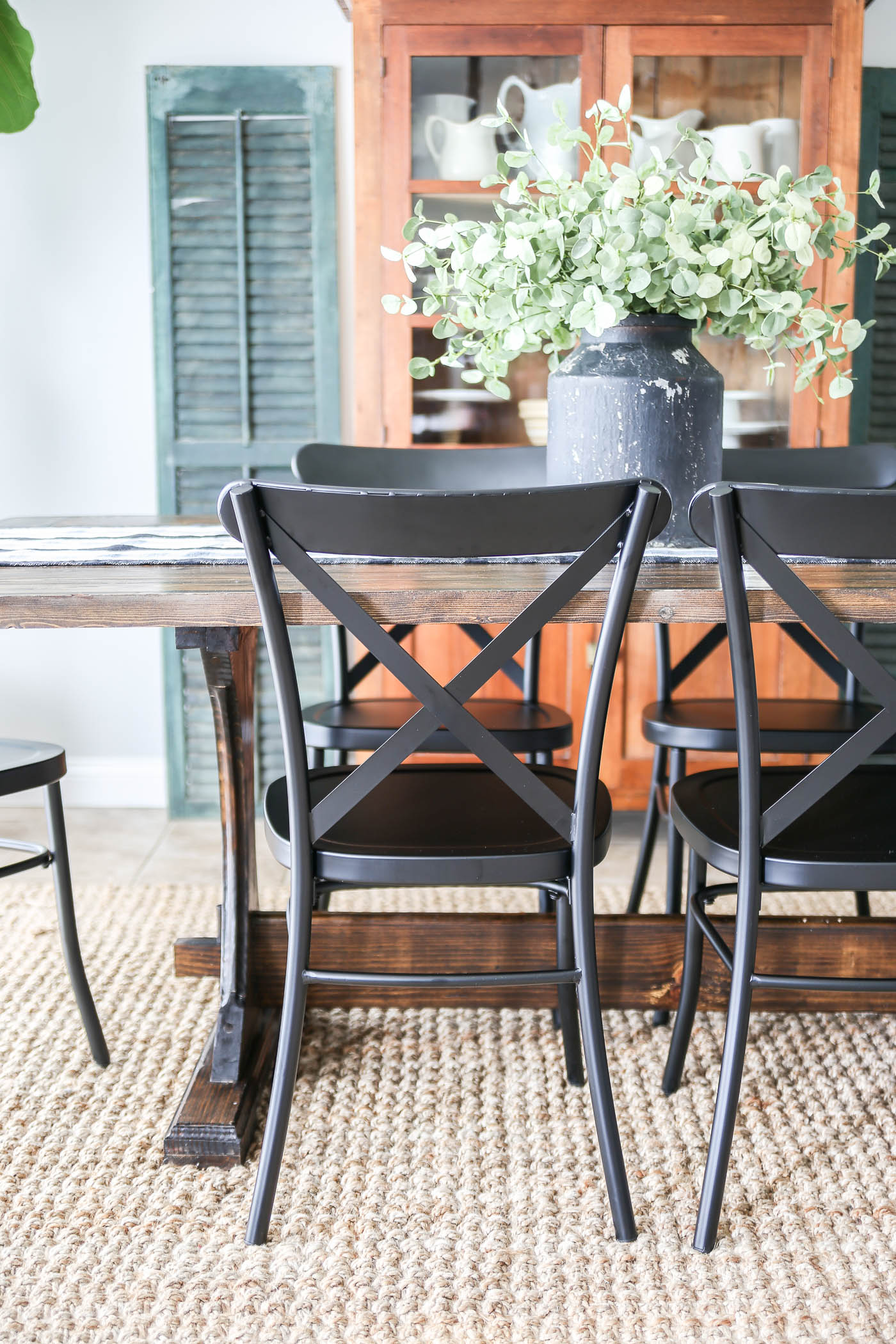 What Style Area Rug to Choose
When we first bought our home, jute rugs were very much in style and I absolutely loved the look and texture it brought to a space (and still do). So I bought one for every room.
Literally every single rug in our house was a jute one. But after continuously wearing them out, and going through multiple different brands for each space, I learned they just weren't durable for our home.
When we decided to switch them out, yes all of them, I was paralyzed when I realized I most likely would have to choose new rugs with a pattern and different colors.
If you know my design style at all, you know I stick to neutral, solid colors. So it took me weeks and weeks, and a few returns to finally decide on our first non-jute rug that is currently in our living room.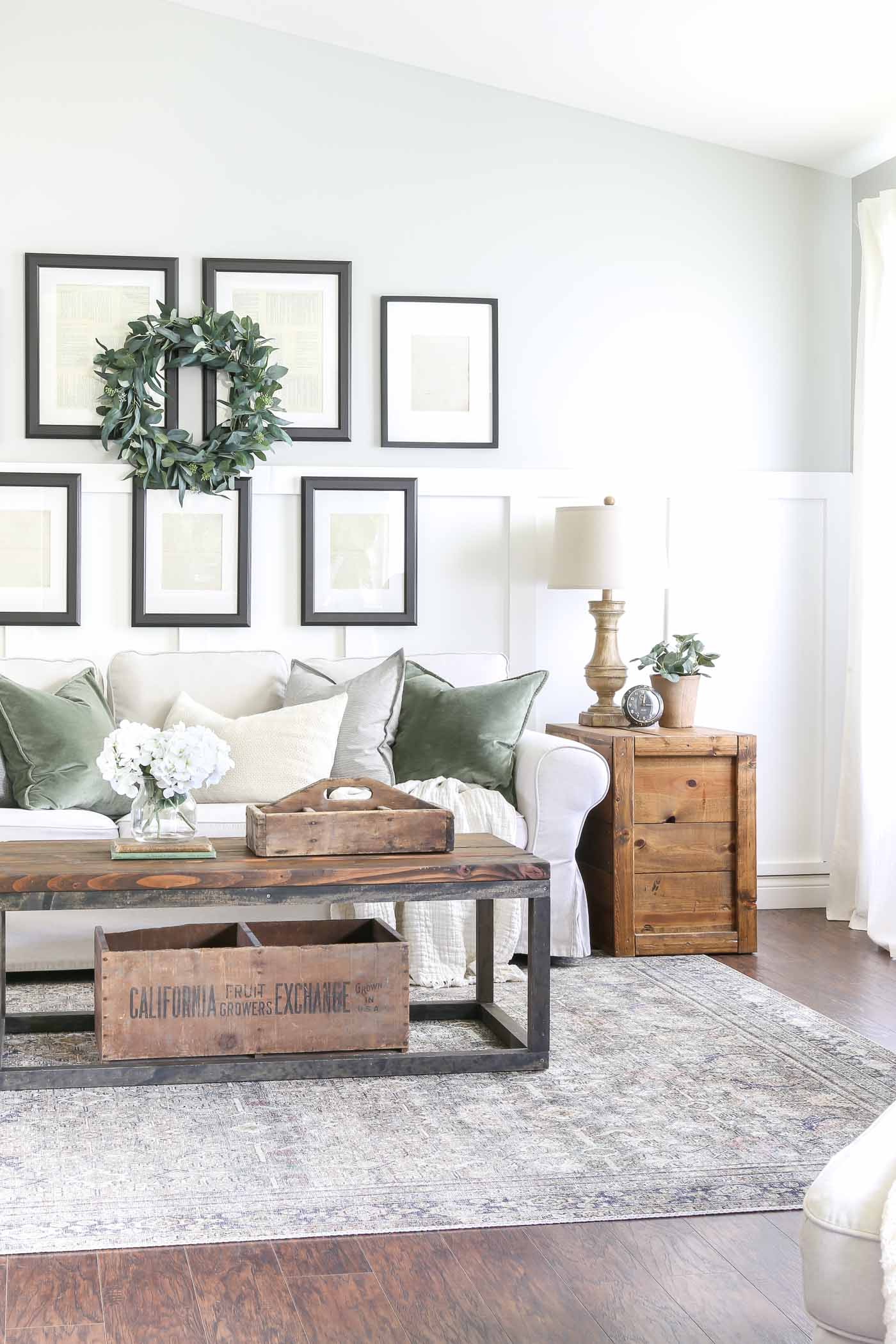 When choosing a rug, style will most likely be the first thing you consider. Here is my rule of thumb:
If a room has a lot of different patterns (in pillows, wallpaper, throws, etc) – go for a more solid color neutral rug.
If a room has more solid colors and no patterns – go for a pattered rug.
The key here is balance. You don't want your rug to compete with all the other "stuff" in a space. You either want it to be the star of the show, or you want it to quietly compliment everything else.
If you love neutrals, look for rugs with earthy tones like browns, grays, and greens. If you love color, I say go for whatever color combos you are drawn to.
There are so many different patterns of rugs nowadays too. Traditional, geometric, solid colors, floral, vintage, natural etc. If you aren't sure which pattern fits your style, I would find a website that specializes in rugs and browse it. Then you can narrow down what you like and dislike from there.
Honestly choosing the style of our new rugs was so tricky for me in the beginning. But now that I know what I like, it's been so much fun to see how these new rugs change our spaces for the better.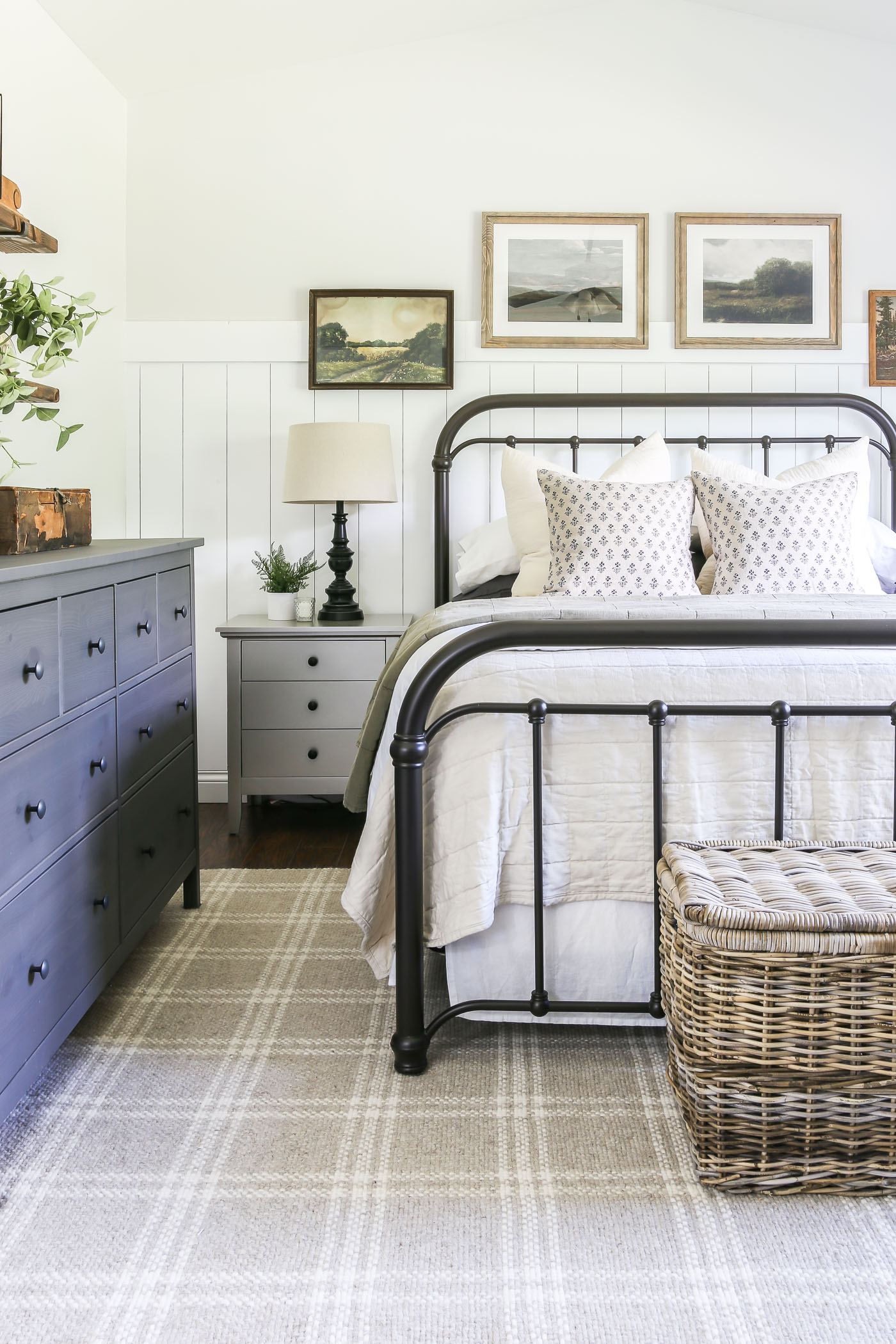 What Size Area Rug to Choose
I feel like rug sizing is pretty simple when you know the "rules" on what size a space needs. But if you buy a rug that is too small or too big, it can really throw a room design off.
Here are the standard rug sizes per room:
Living Room – 8×10 | 9×12 | 11×14 – The front two legs of each piece of furniture should sit on the rug.
Bedroom – 5×8 for a Twin | 8×10 for a Queen | 9×10 for a King – There should be at least 36 inches of rug on each side and the foot of the bed.
Dining Room – 8×10 | 9×12 – There should be at least 24 inches of rug on each side, and all four legs of the chair should still sit on the rug when the chair is pulled out.
These are great rules to go by, but there are circumstances when you may have to choose a different size. For example, our guest bedroom has a queen bed, but I could only fit an 5×8 in the room.
So modify the size if you need to!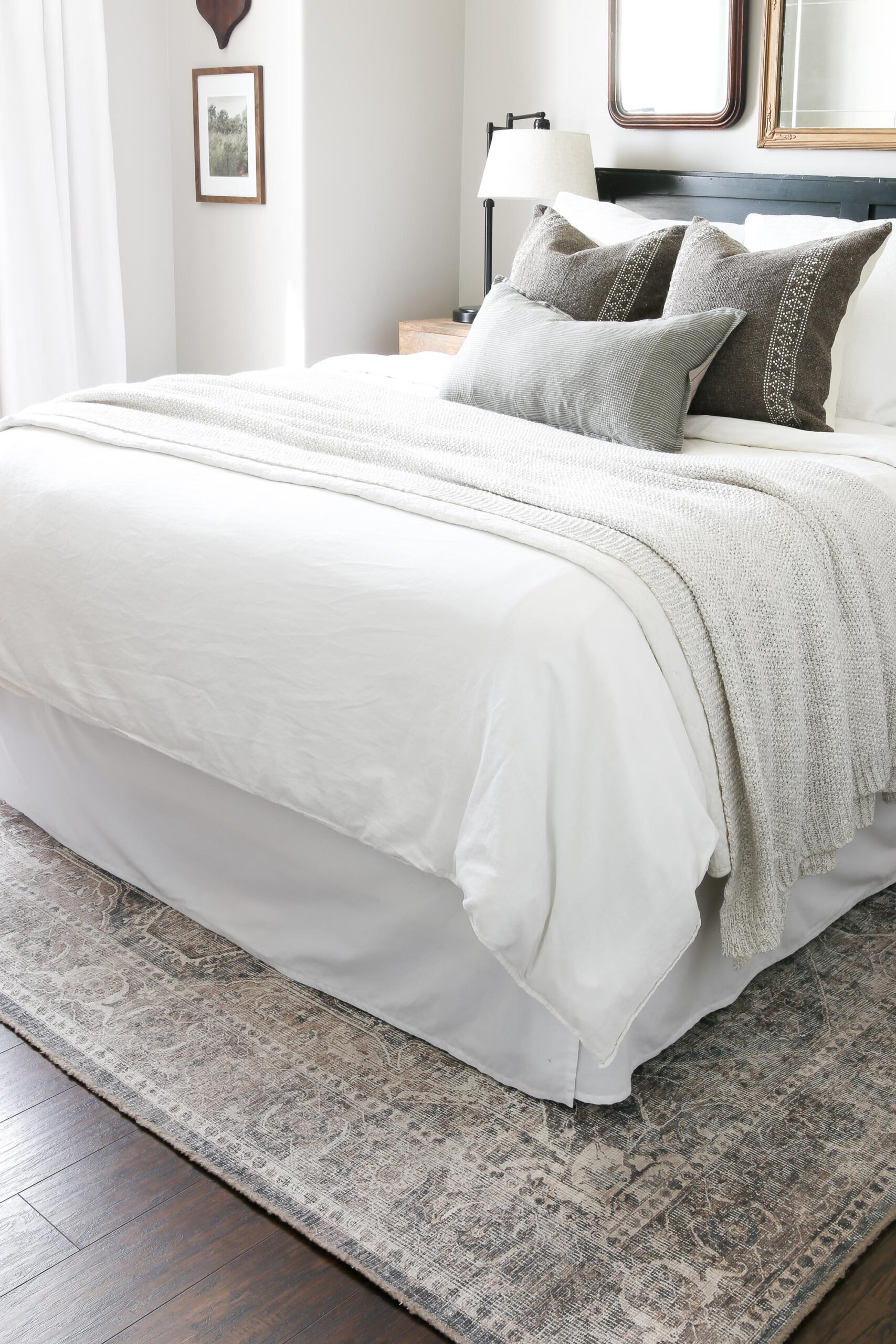 What is Rug Pile and How to Choose the Best Height
Rug pile is the density of fibers, or basically put the thickness of your rug. I never looked into this aspect when buying my rugs, but I have learned it's actually pretty important.
Here's how to decide on rug piles:
1/4 inch or shorter (flat weave or low pile) – Best for high traffic
1/4 inch or higher (medium to high pile) – Best for low traffic
Since our house is rather small (1370 sqft), every single rug is walked on every single day. We have a very active chocolate lab, and an even more active toddler, so the traffic on our rugs is pretty high.
The higher the traffic, the more wear and tear. So I now buy only low pile rugs. They are easy to vacuum, easy to spot clean, you can't tell when there is a spot more traveled than the other.
Since the low pile rugs are pretty thin, I just add a little bit thicker rug pad underneath. With or without the rug pad, I still prefer the way they feel over thick, shaggy rugs.
But that is just my own preference! Neither is right or wrong!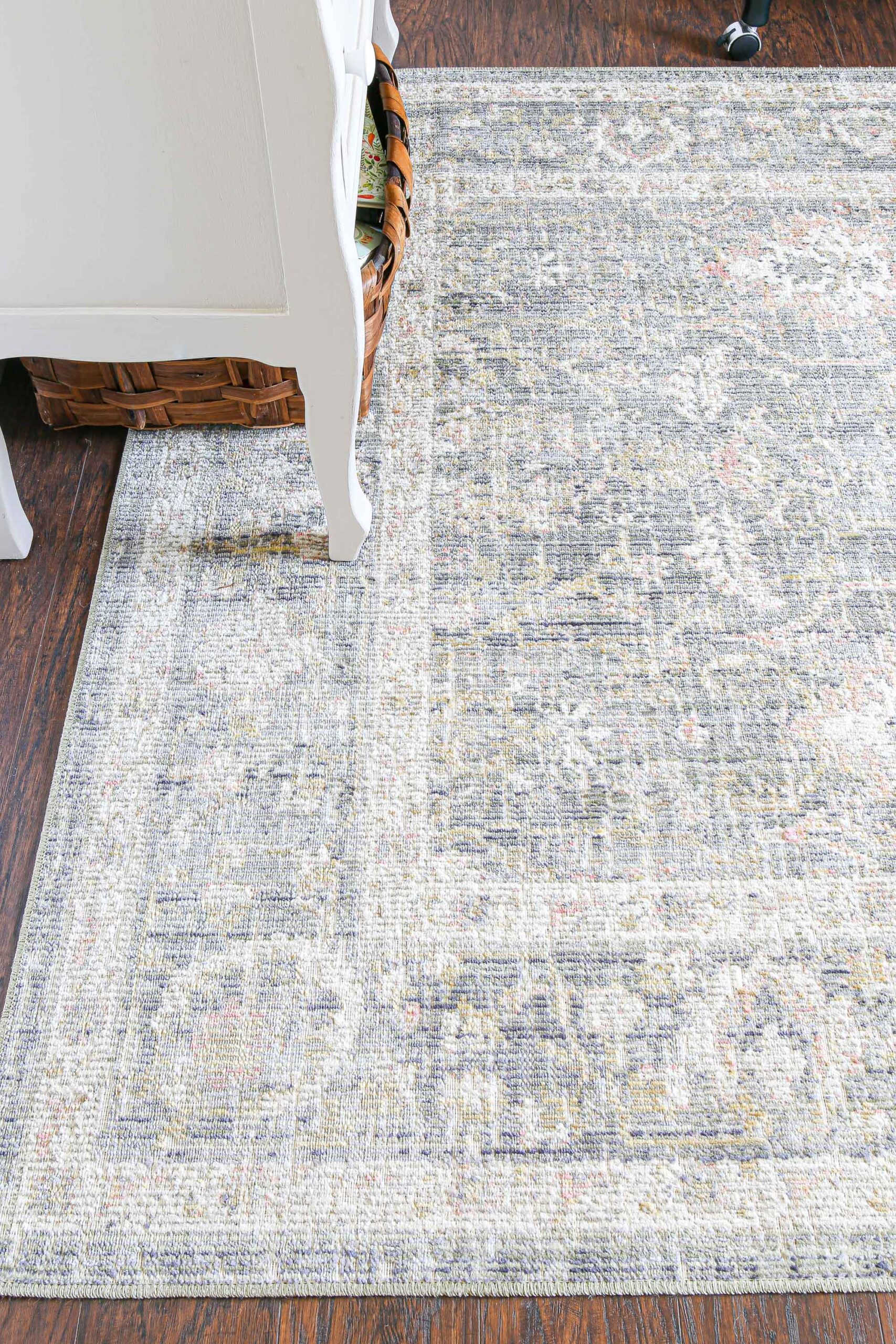 I really hope this helps if you are struggling to find the perfect area rug for your home.
I know rugs can be quite an investment and a decision you want to get right on the first try. But like I say with everything in decorating, always go with what feels right for your home and your style.
This is merely a guide to help along the way!
Shop Our Rugs
Affiliate links are provided below for your convenience. For more information, see my full disclosure here.
More Decorating Tips and Tricks
Pin This Post for Later