Fall Dining Room
This post may contain affiliate links. For more information please see our disclosure policy.
A simple fall dining room with beautiful lanterns and white pumpkins! The easiest centerpiece to display for the season!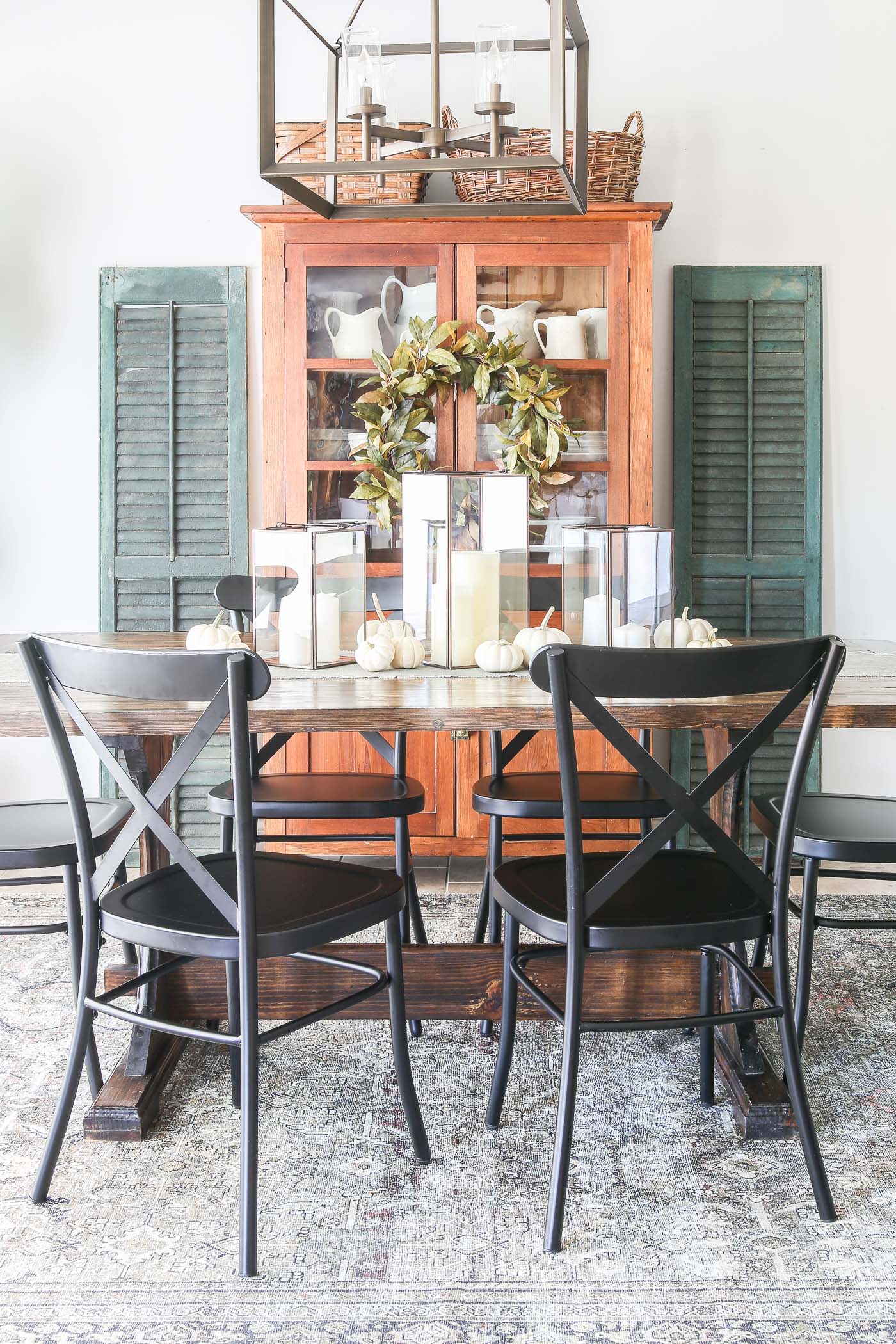 Fall has made its way into our dining room, and I'm not even mad about it. Honestly, this might be my favorite fall centerpiece yet.
I love simple. And I always tend to over decorate a space in the beginning of the process, until I take a step back and stare at it.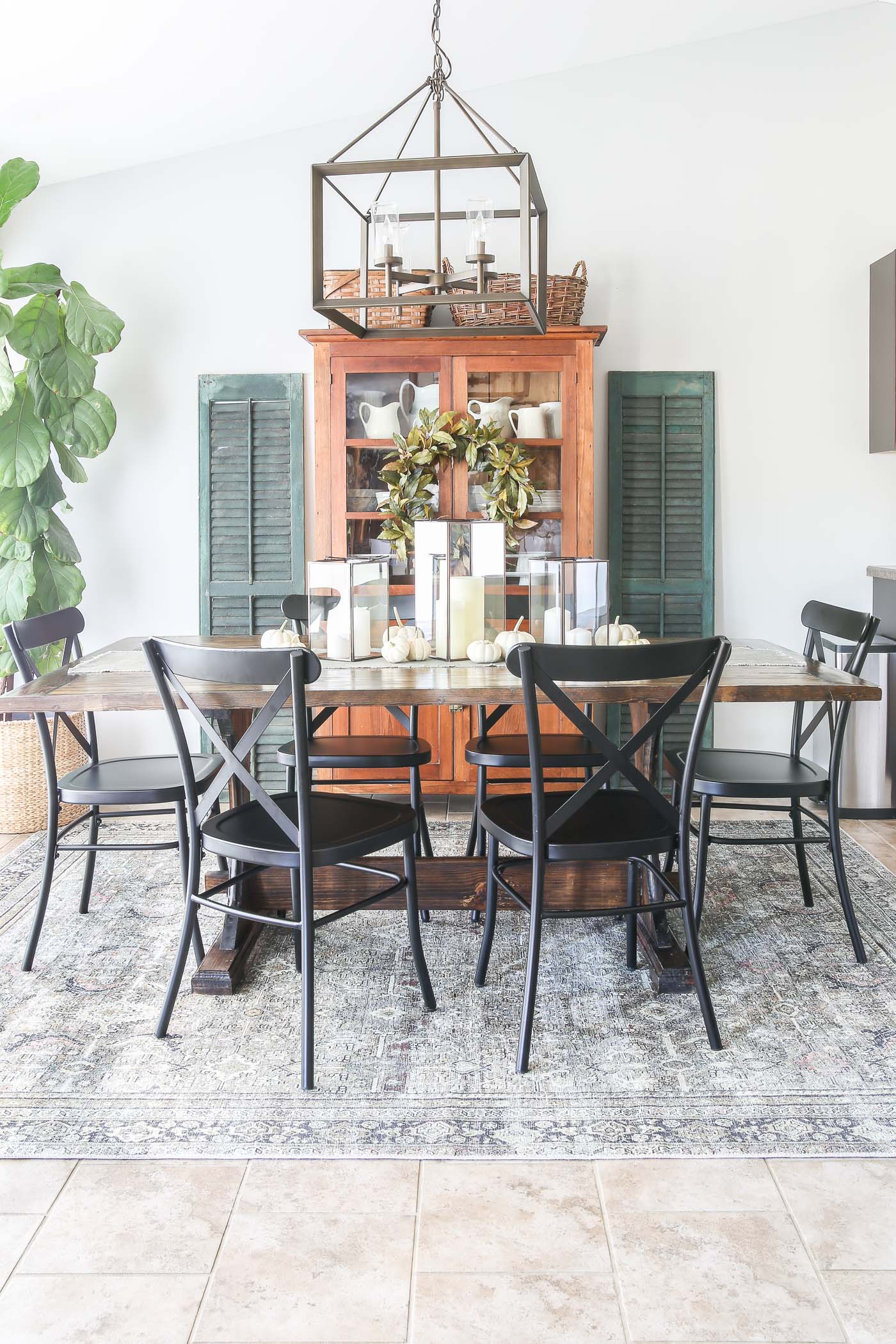 I mean really stare at it. Sometimes my husband walks past and just looks at me like, "Ashley, what are you doing?"
It's the creative process for me. Decorate. Stare. Change it. Stare. Add things. Stare. Remove things. Stare.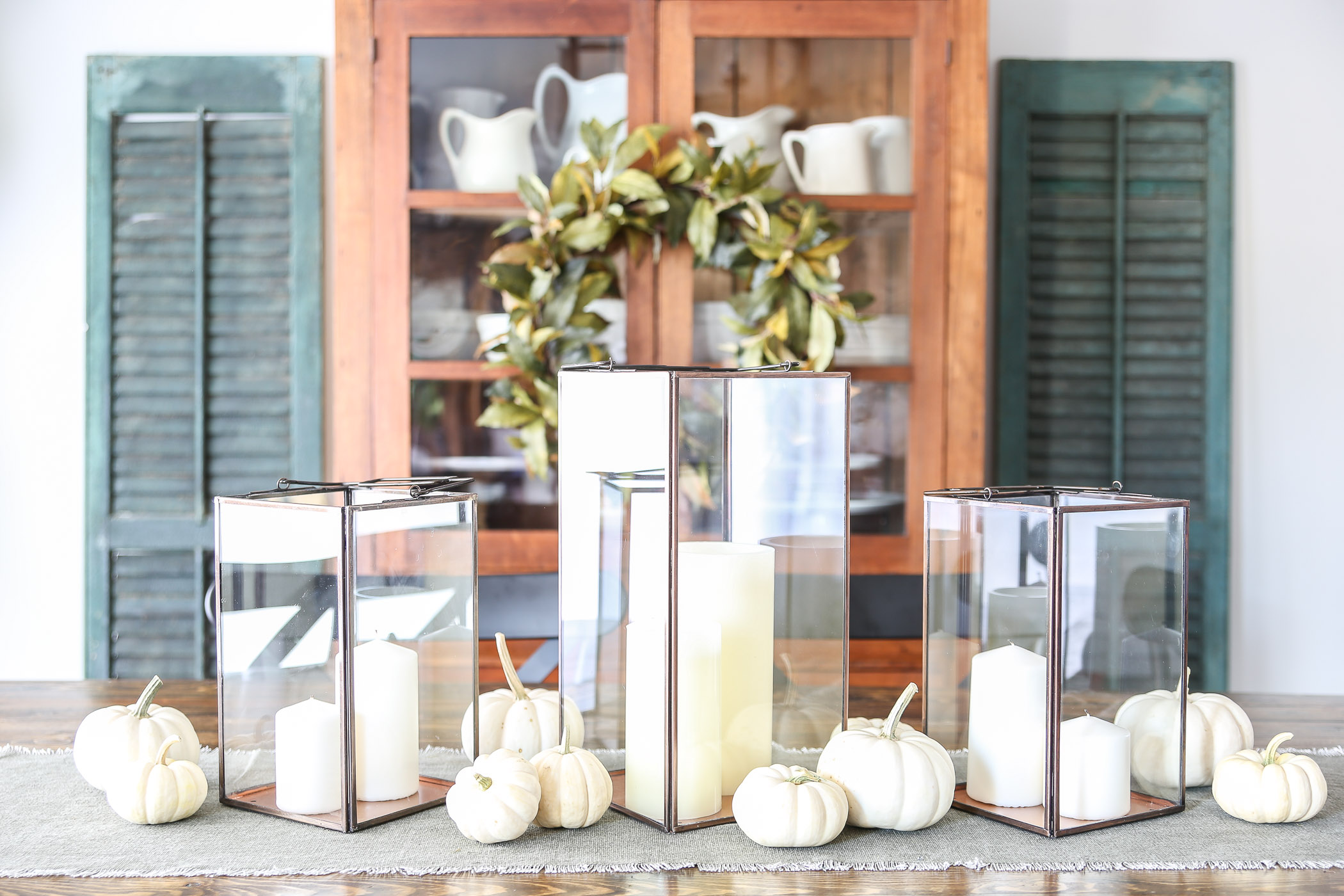 I even drove over 40 minutes to our closest Whole Foods to buy some fresh greenery for this room. But it just didn't work out.
That's the thing about decorating. It's a lot of trial and error. A lot of disappointments, or things not going as well as you picture it in your head.
But you just keep at it. Keep changing it until you truly love it. YOU. Not how everyone else is decorating their house. Decorate how YOU want to decorate.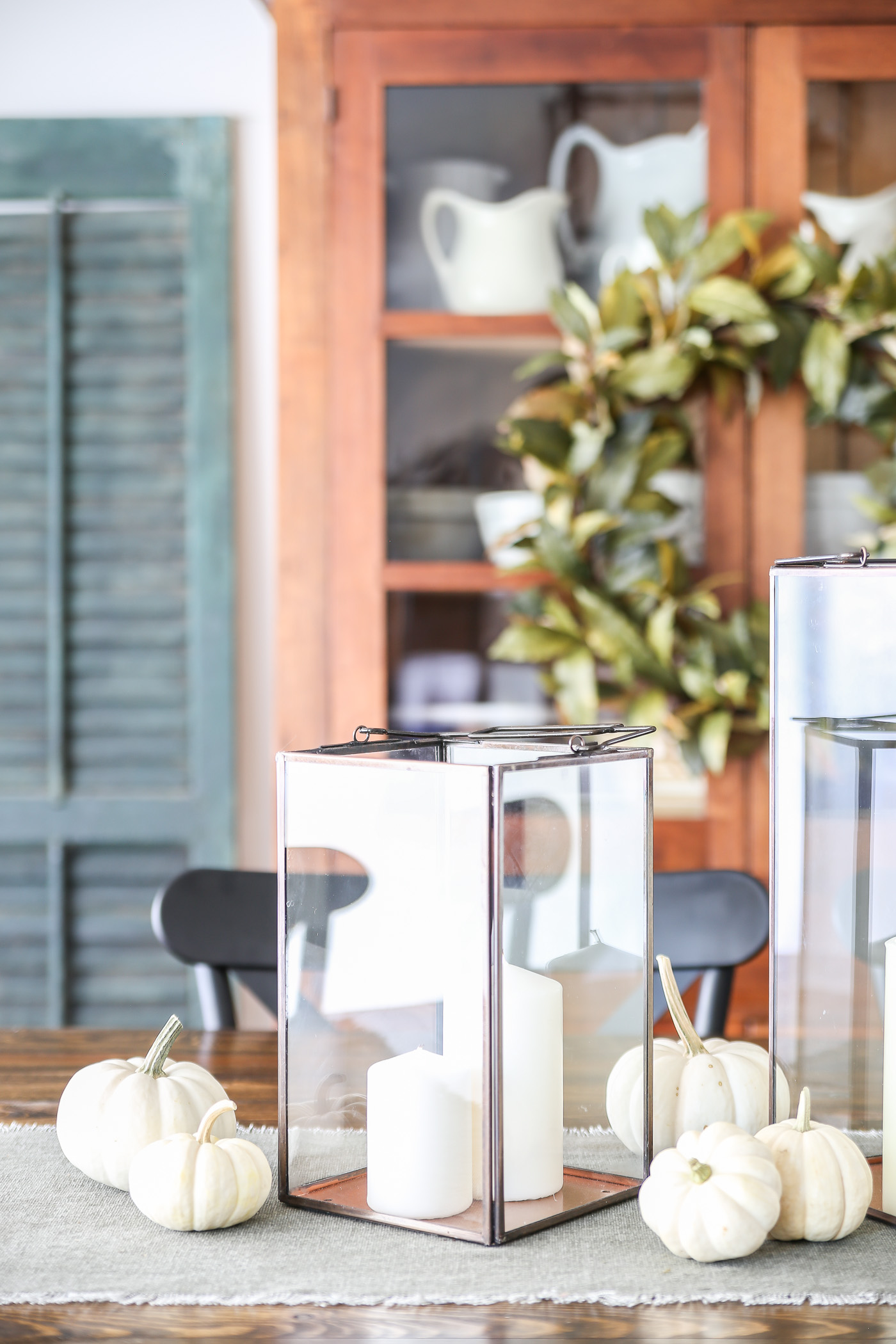 So I kept this space simple. A pretty sage green table runner, some beautiful lanterns, white pumpkins, and a wreath.
And I foresee these lanterns making their way through many different seasons and holidays in the future.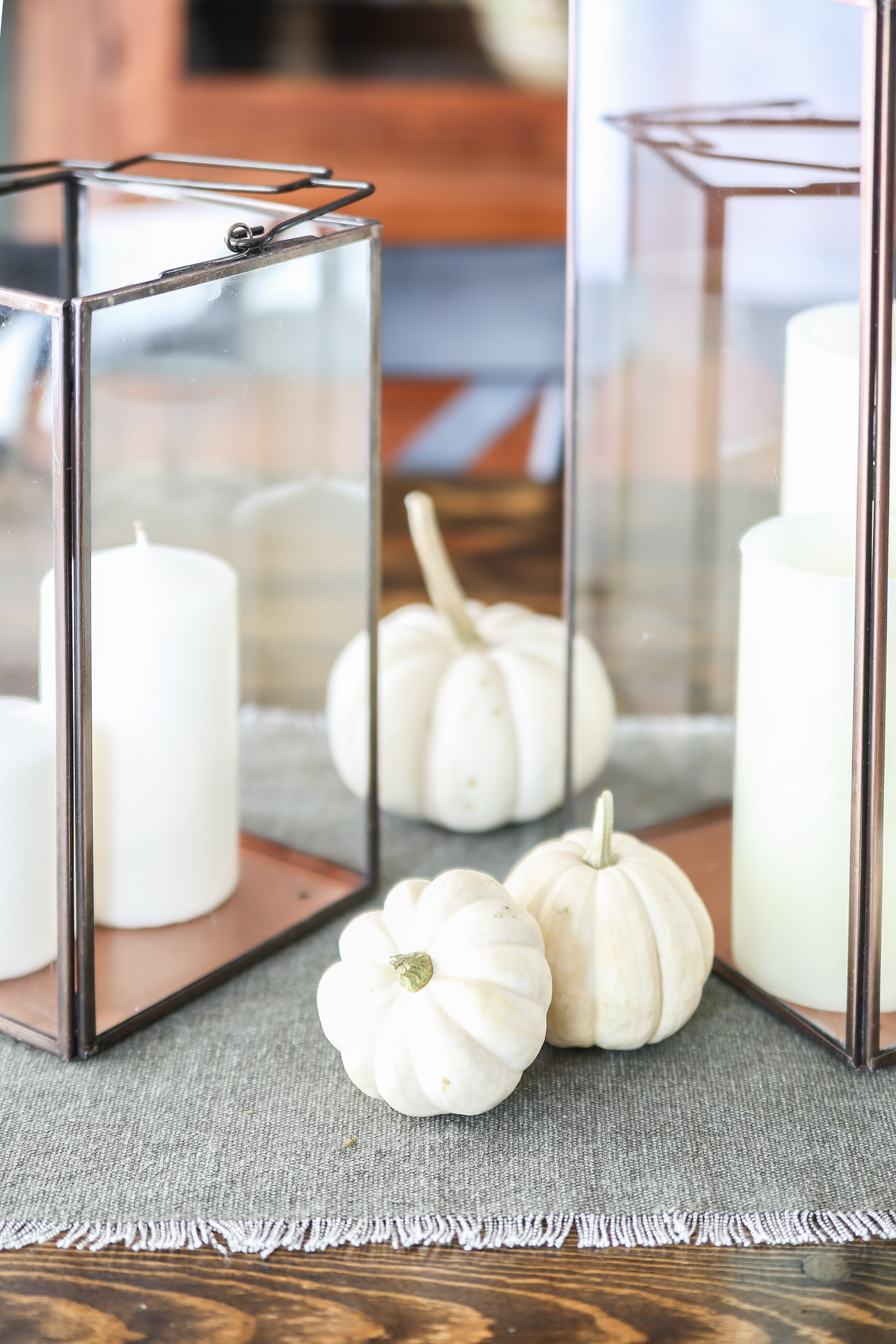 If you are a regular here, you may have noticed we got rid of the jute rug in this room. It's something I have been meaning to do for a while.
I love the look of jute rugs, but they just weren't working in our home anymore. So I have been slowly changing them out in each room.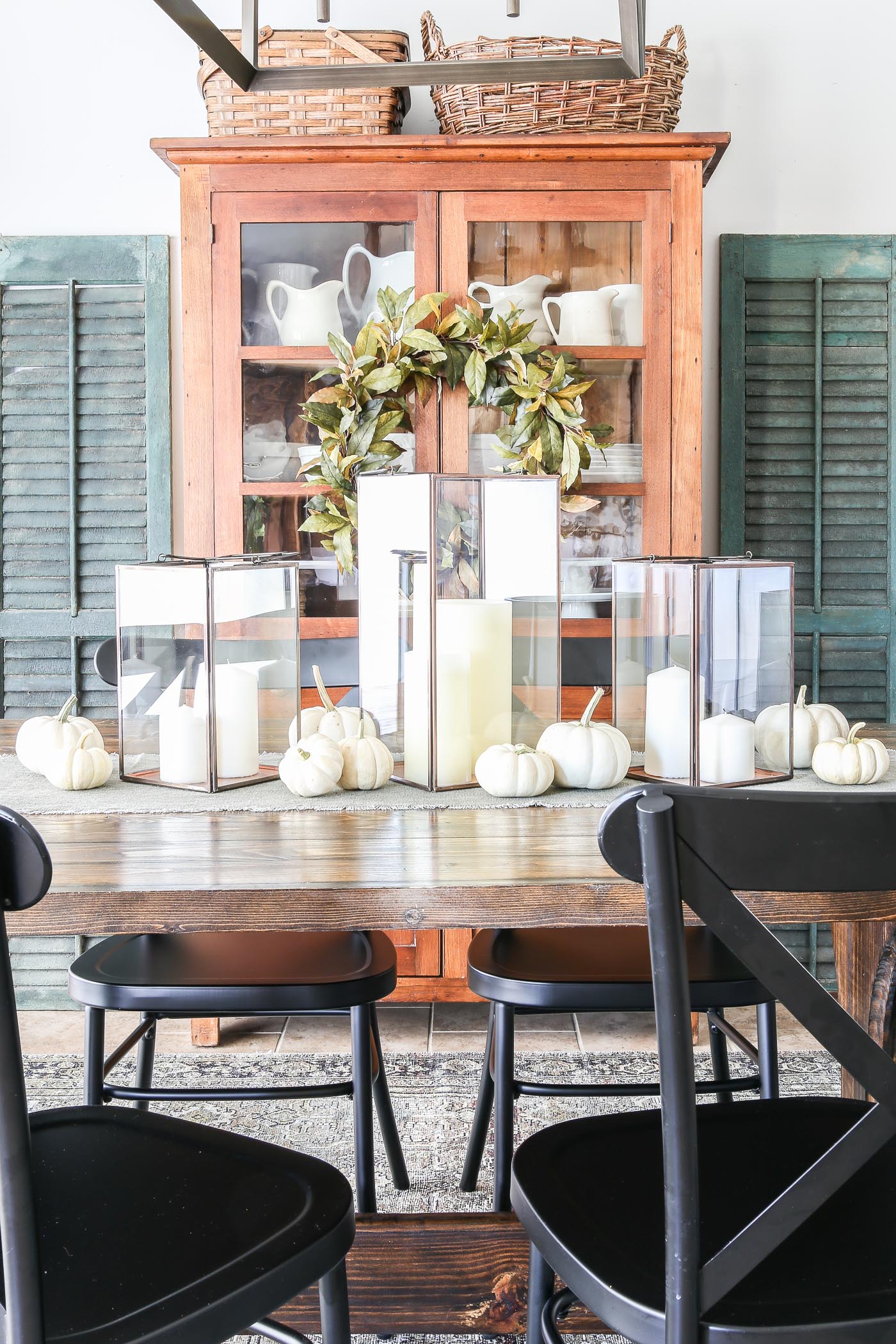 Enter the Layla, again. It's in our living room too. It has become my absolute favorite rug I have ever ever owned.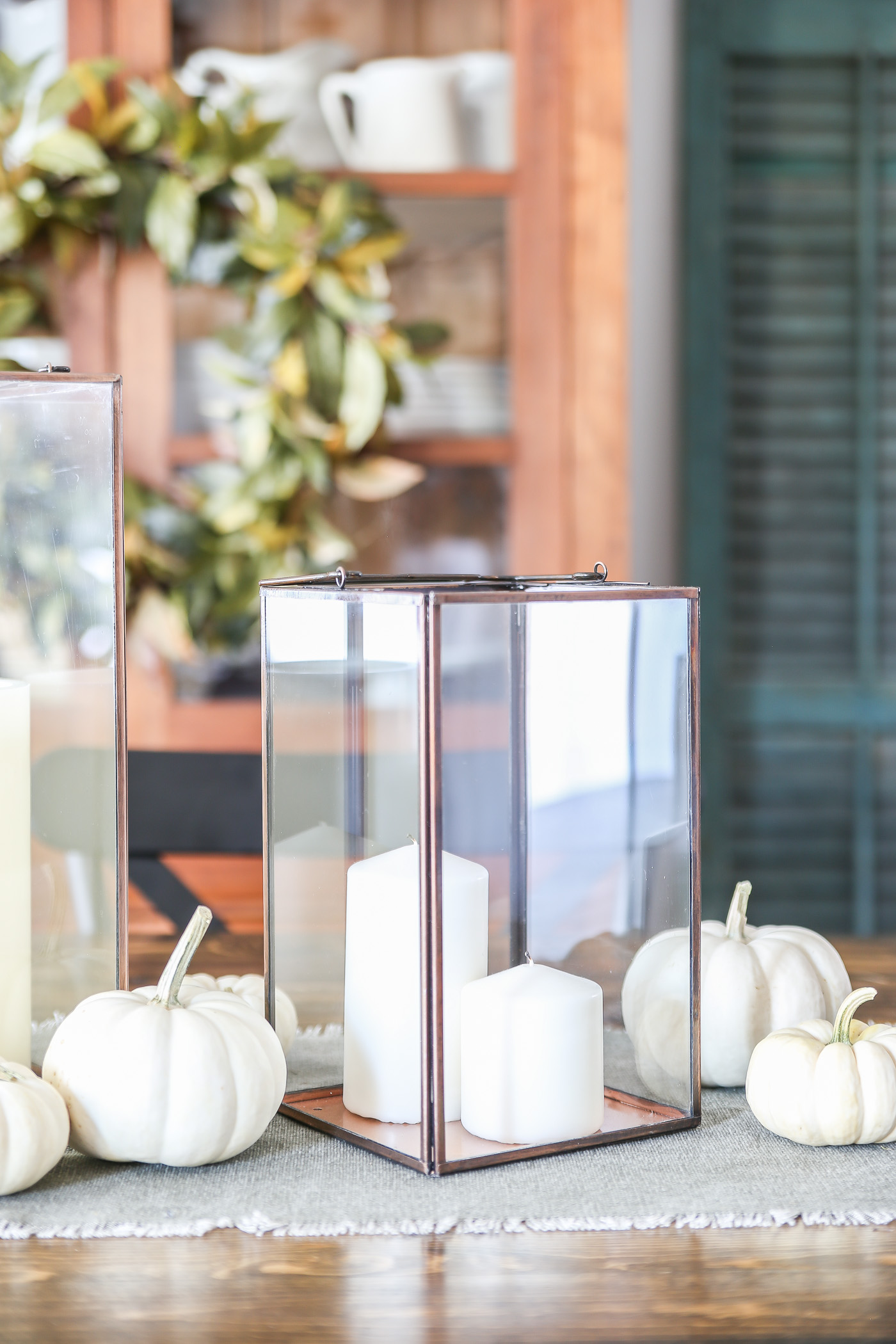 So our dining room is looking nice and festive and I love it!
I cannot even tell you how much I look forward to covering this table with newspaper and carving a pumpkin with Bailey here soon.
Seriously a dream come true.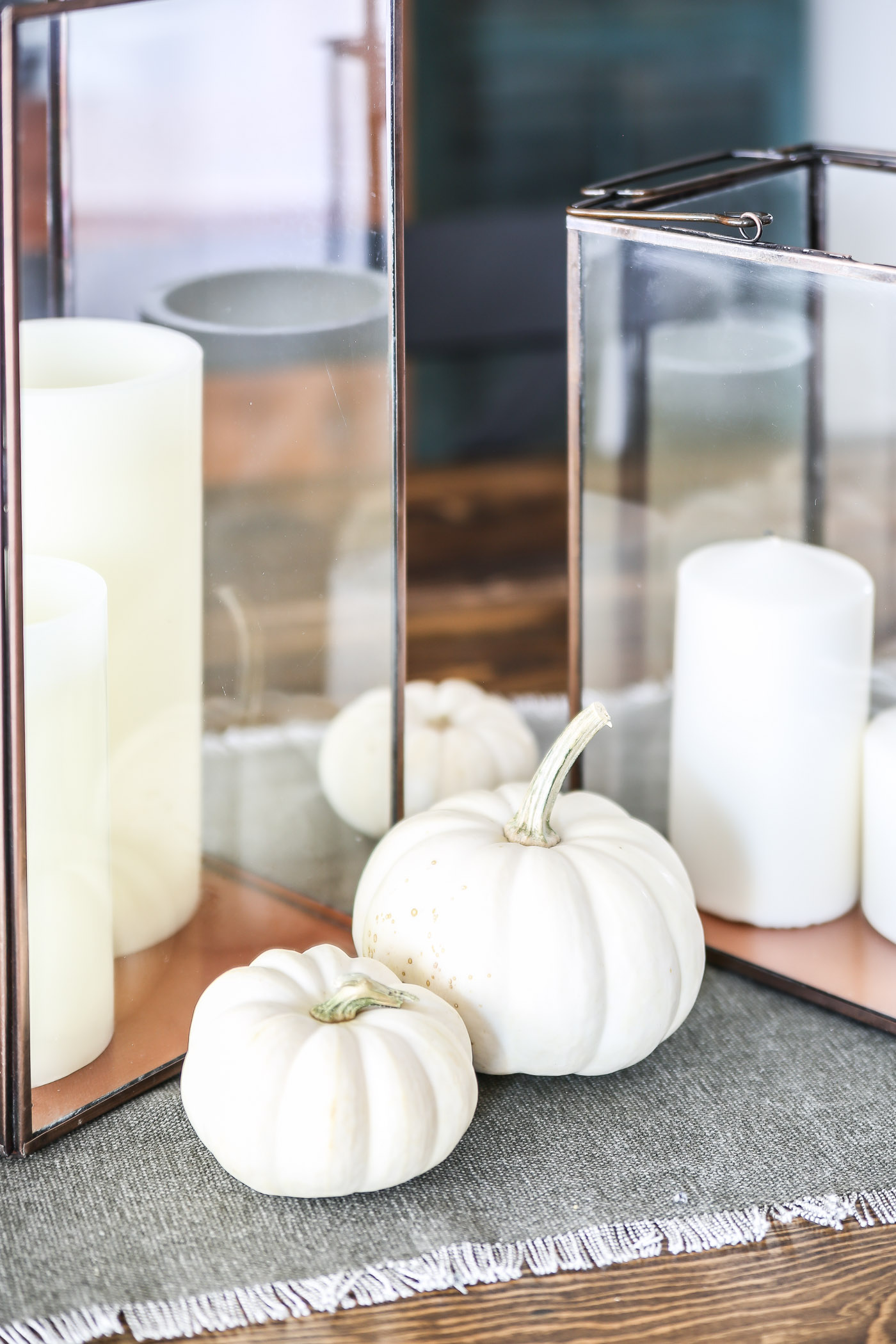 And funny story about little miss. I made a great attempt (on a whim) at getting pictures of her yesterday.
However, the one fall-ish outfit I had clean and ready to go…she spit up all over as we were walking out the door.
There's a little real life for you! I mean she hasn't spit up since she was a baby! We will try again tomorrow.
I cannot wait to share an update on her with you all!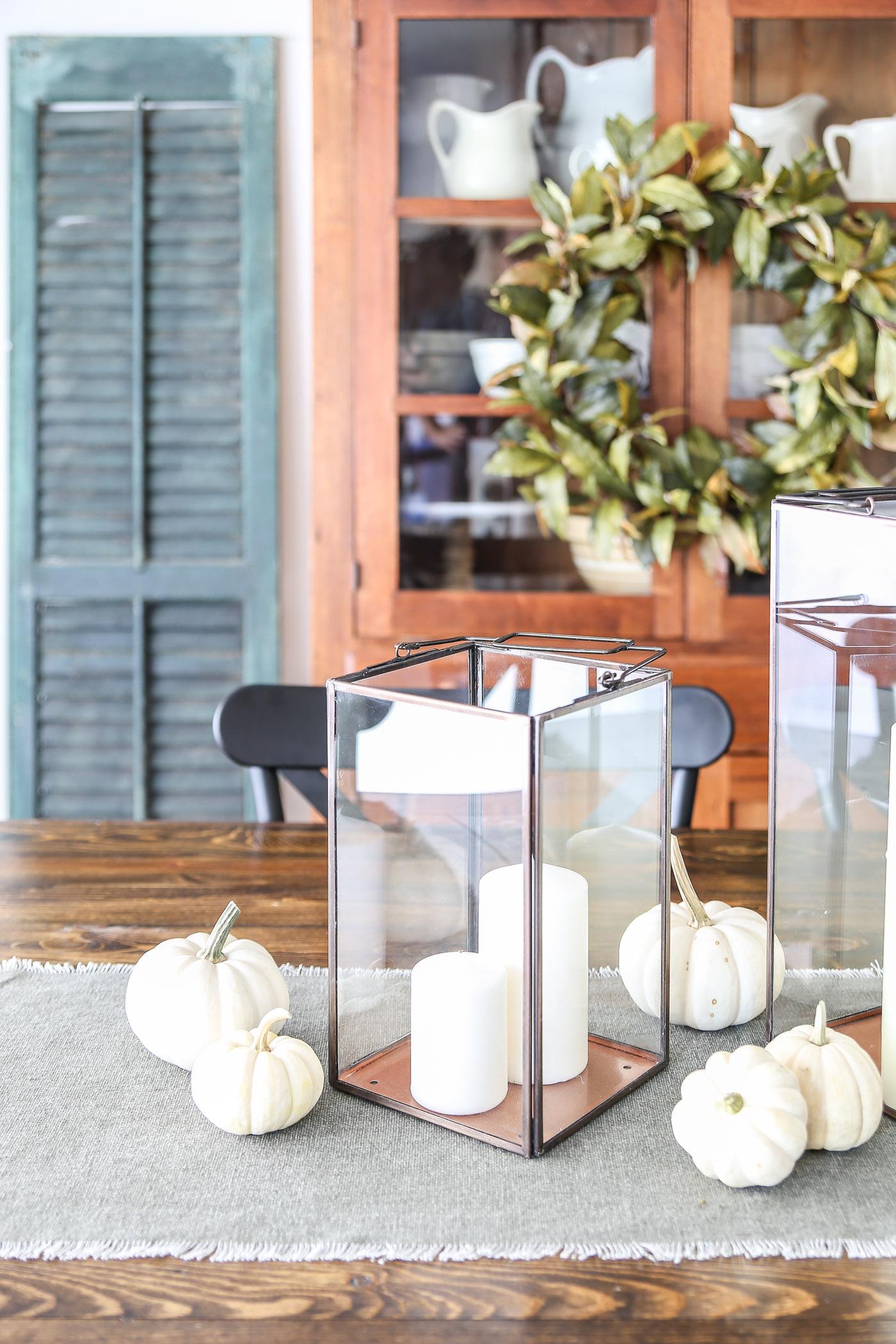 I hope you all are enjoying your fall season! Our trees are really at peak right now, so I am in heaven! How are they near you!?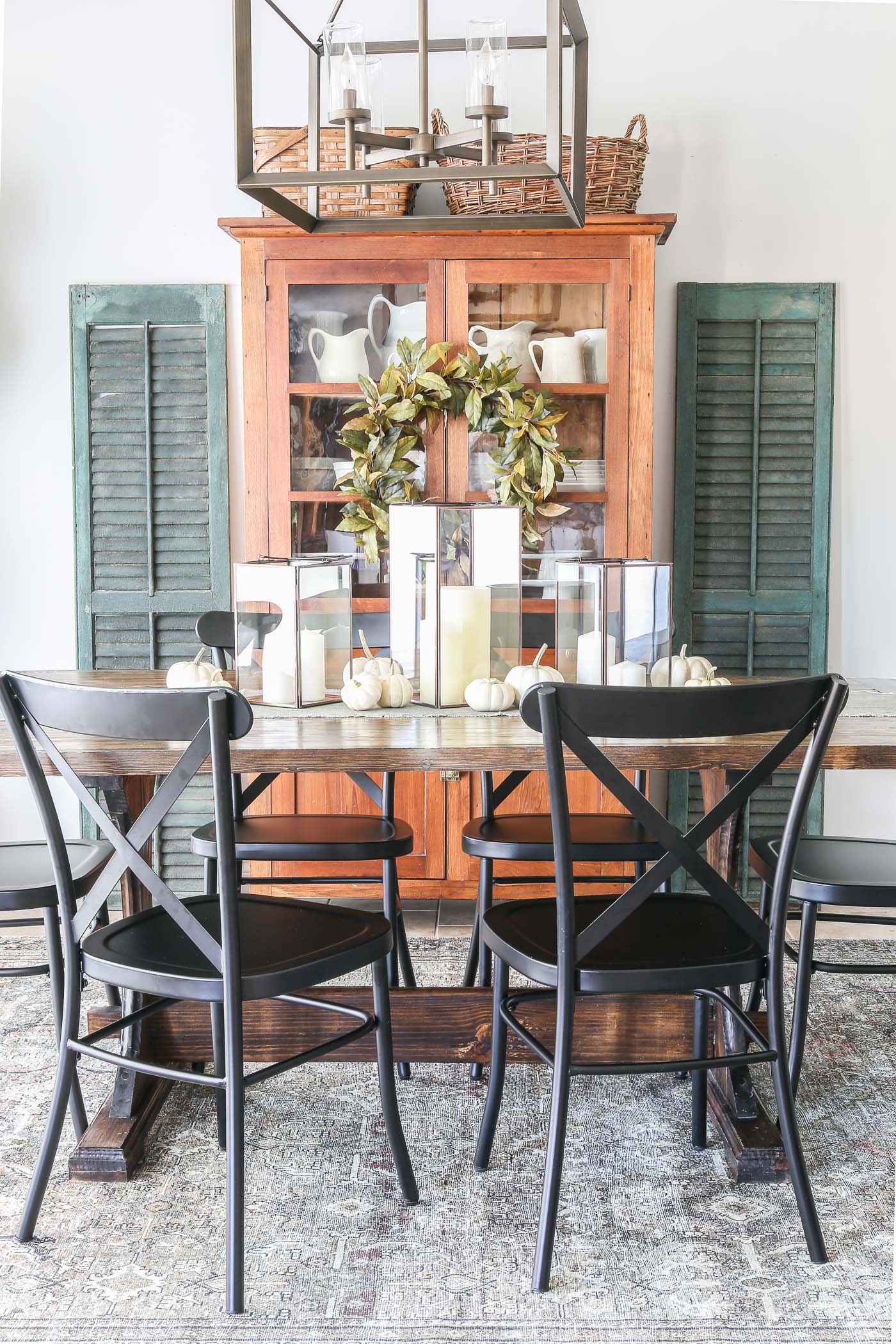 Shop Our Fall Dining Room
Affiliate links are provided below for your convenience. For more information, see my full disclosure here.

More Fall Posts
Pin This Post for Later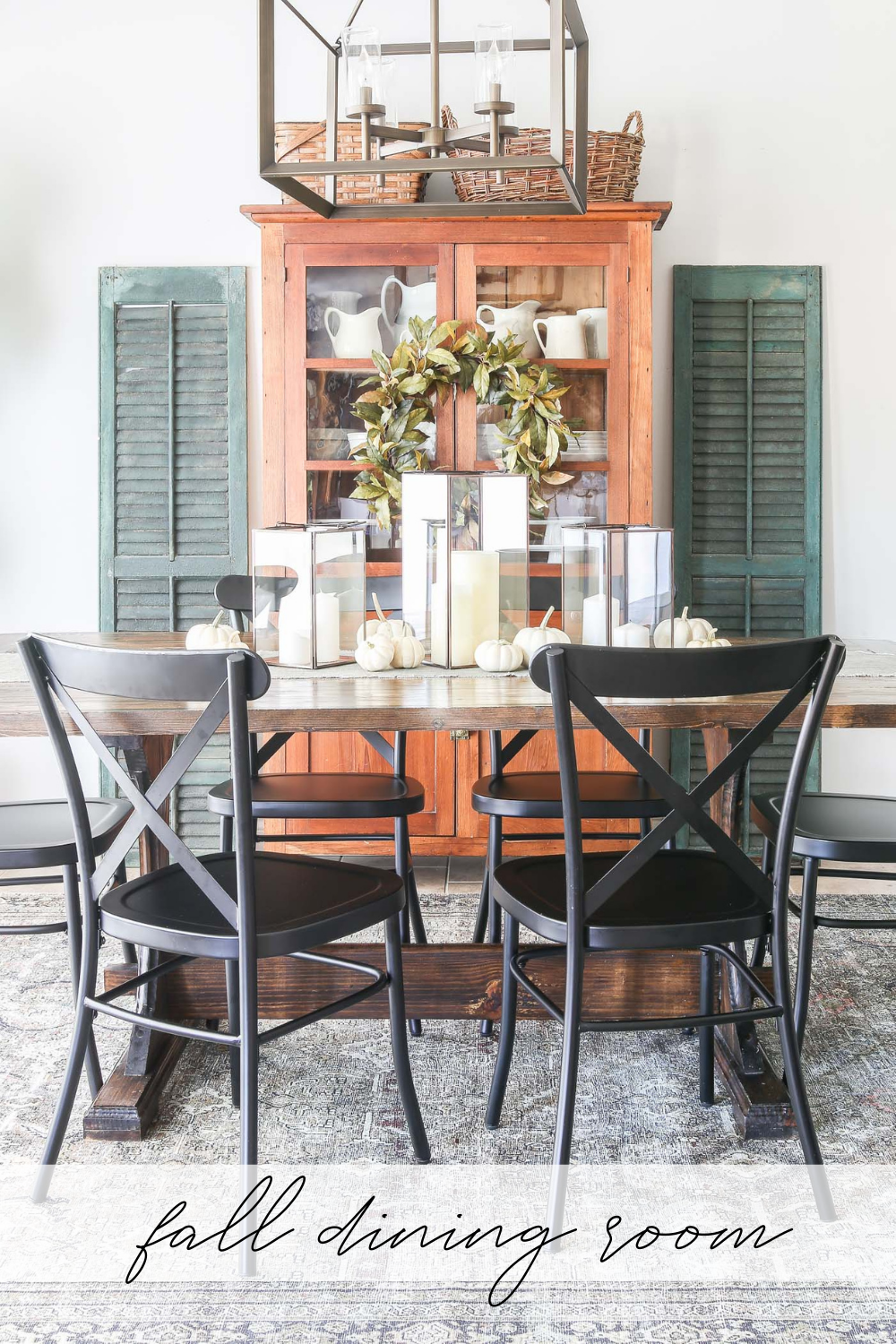 ---