Simple Christmas Dining Room
This post may contain affiliate links. For more information please see our disclosure policy.
Let's be real. It's full blown Christmas mode from this week on, so what did I do to prepare this weekend? Absolutely nothing. And it was fantastic! I left the house once, I took a few naps, I worked on editing when I felt like it, I watched the entire Gilmore Girls special on Netflix, and I had no obligated plans to be anywhere. It was so needed. I am working a ton of overtime hours at my corporate job for the rest of this month on top of doing my best to run this blog, so I needed a time out. I think it's so important to take that time, especially during the busy holiday season, so I'm glad I did. And I'm all refreshed and ready to share my Simple Christmas Dining Room with you guys today!
If your're new here or you haven't stopped by in a little while, you are catching the very end of a Christmas Home Tour blog hop that my sweet friend Ashley from Cherished Bliss put together! You're definitely going to want to catch up, because the ladies involved are so talented and wonderful and worth giving a visit! Week one we shared our Christmas decorated entryways, week two was our Christmas trees, week three we shared our Christmas living rooms, and finally today is our Christmas dining rooms! If you are coming from Setting for Four, welcome welcome welcome!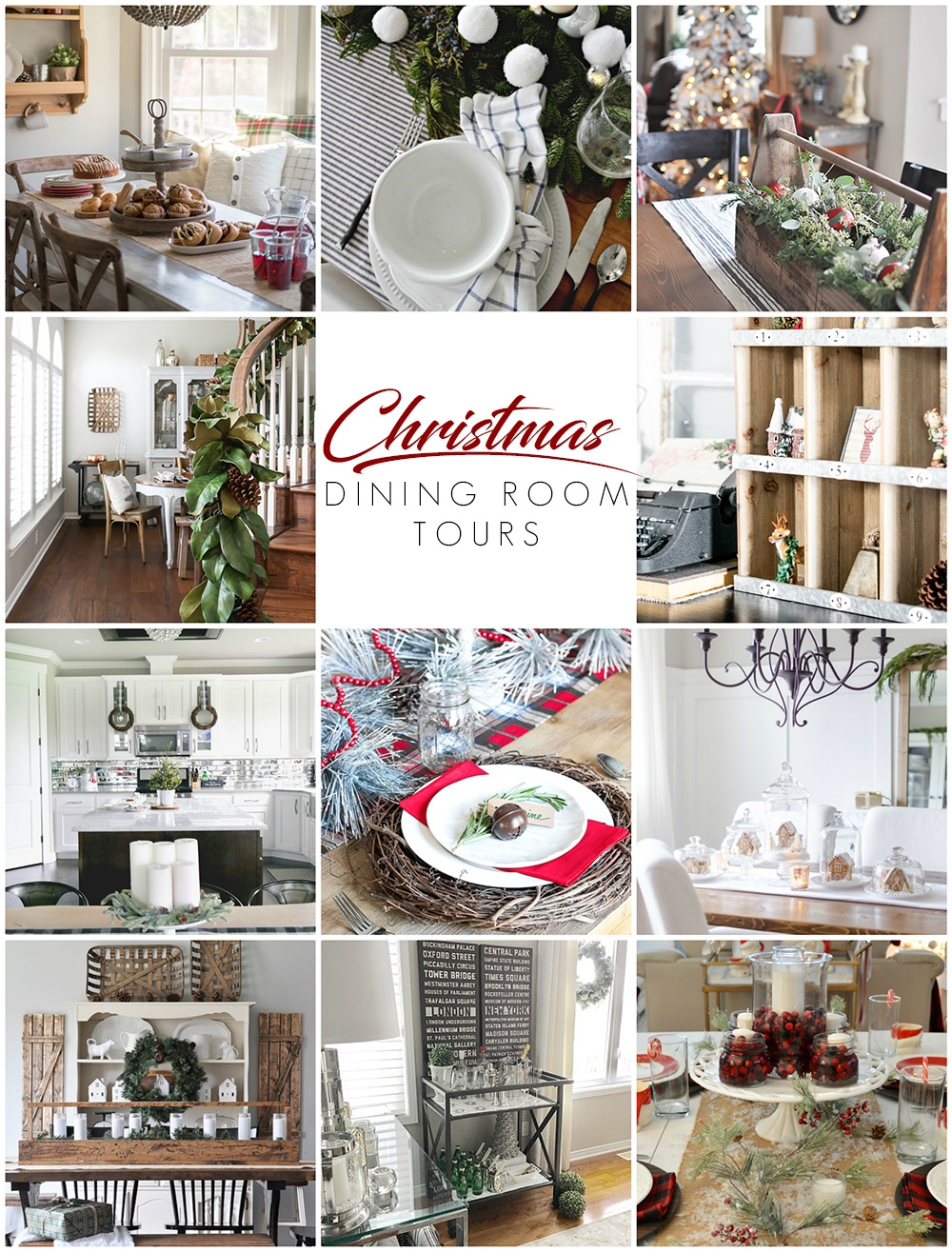 My dining room is always one of my favorite spaces to decorate for the holidays. This year I went super simple and am happy about how it turned out. This space it so easy to decorate in different ways, and going rustic was just a natural fit.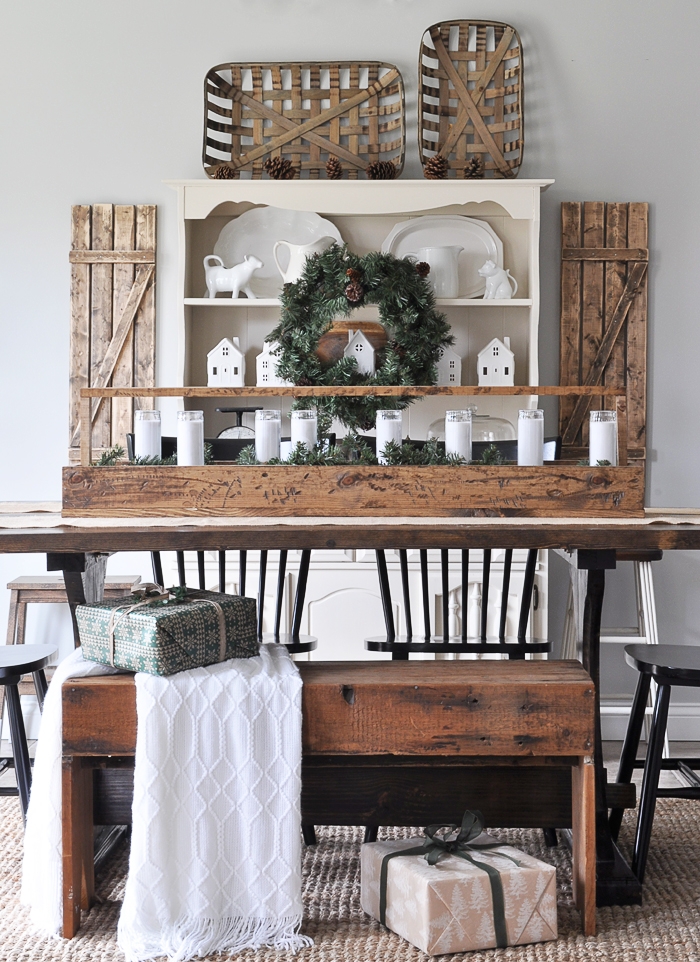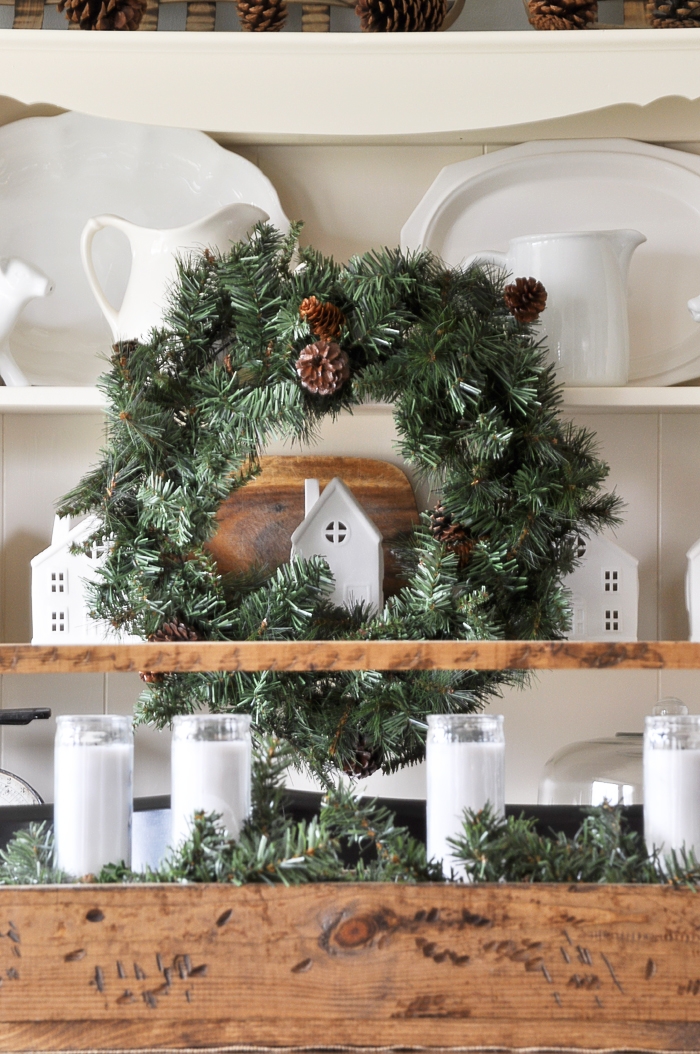 I added a lot of greenery to this space, as I always do during Christmas time because I just love it! I layered a pine needle wreath on the front of my hutch, and lined up some pine cones on the top of it. I love bringing in natural elements, especially when going for a rustic look. I also DIY'ed this awesome old looking tool crate for our farmhouse table and stuffed it with garland, pine cones, and tall white candles I scored from the dollar store.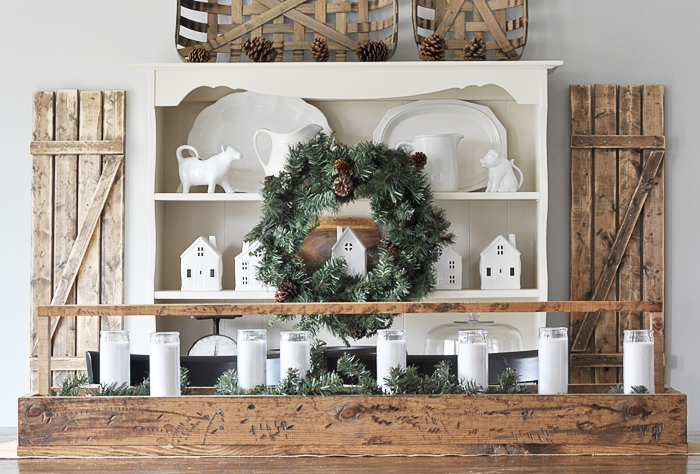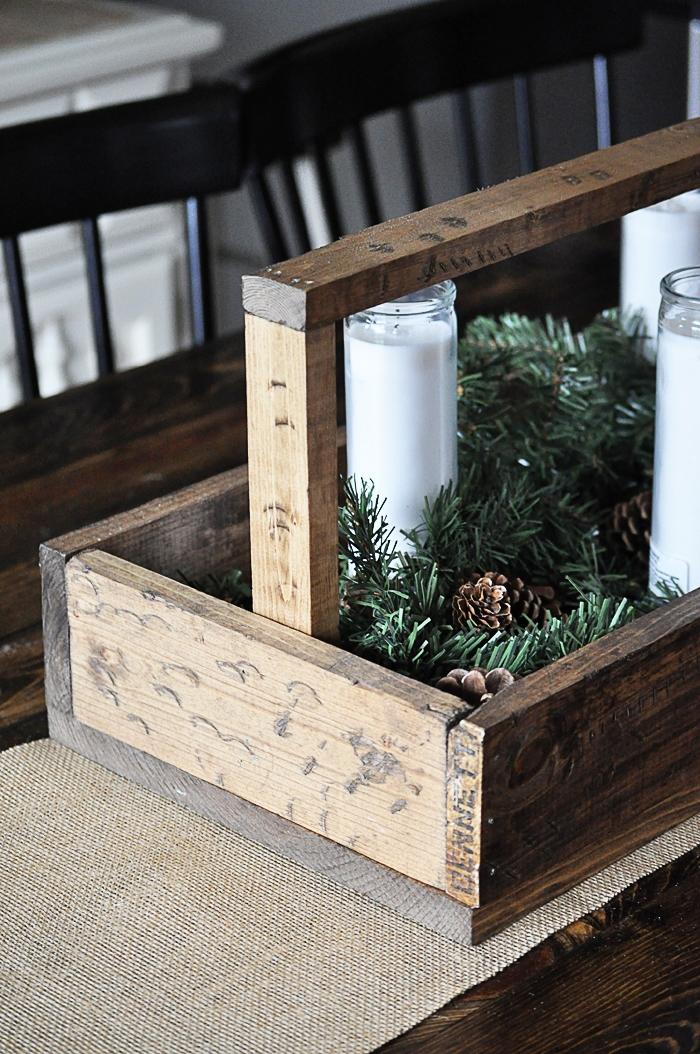 I am in love with these little white ceramic houses from Target that I grabbed, so I added them to my ironstone collection on my hutch. I love that you can add tea lights to them too for a nice glow at night.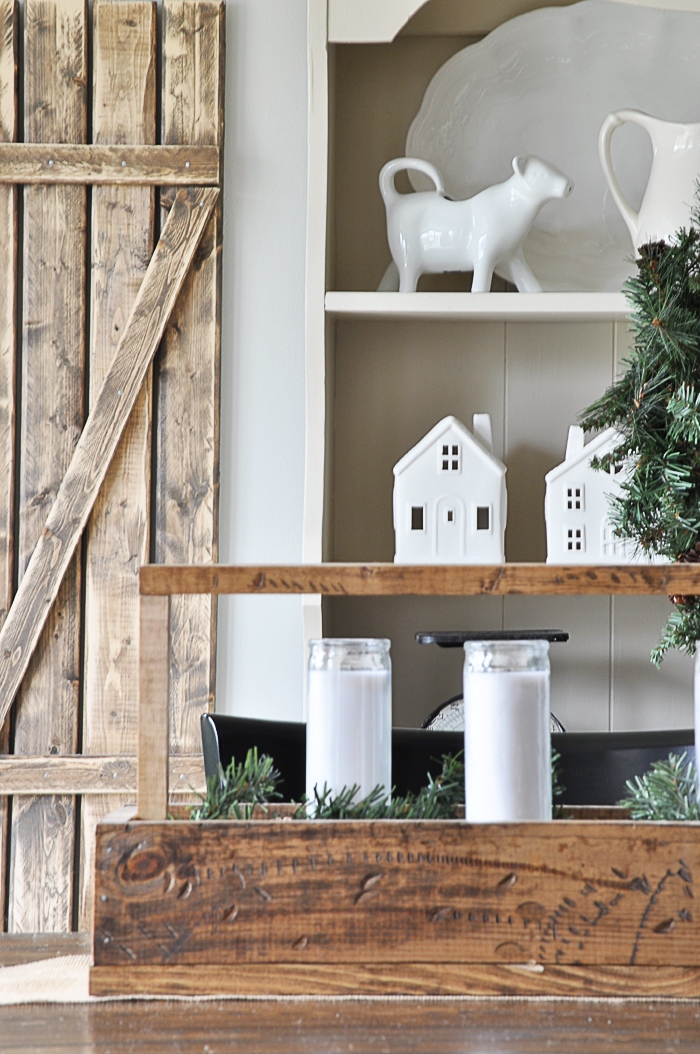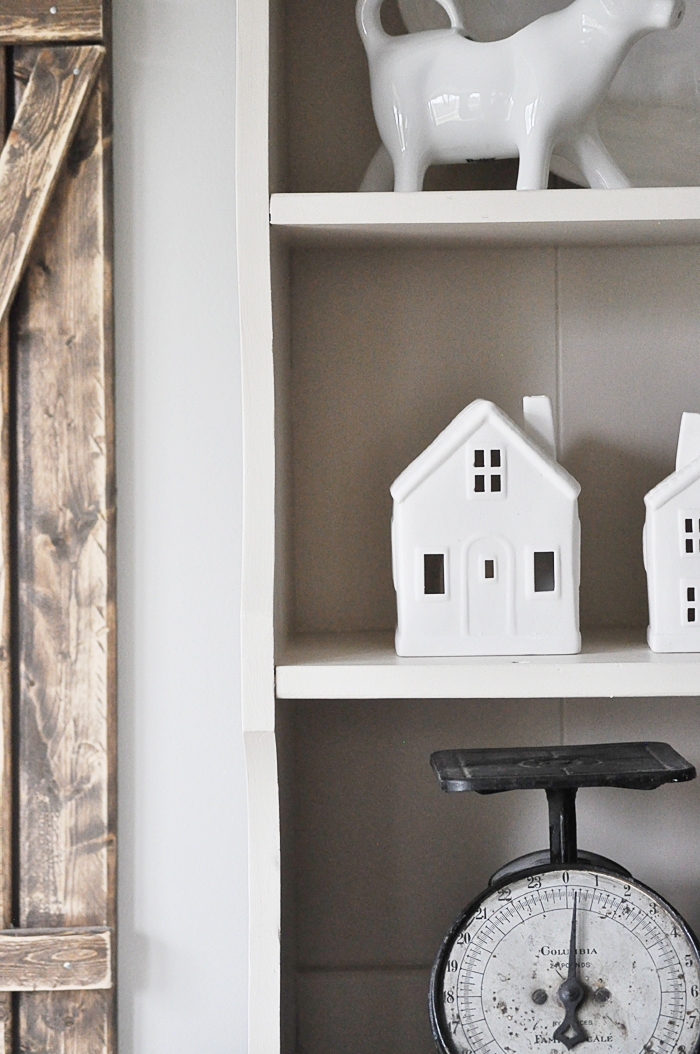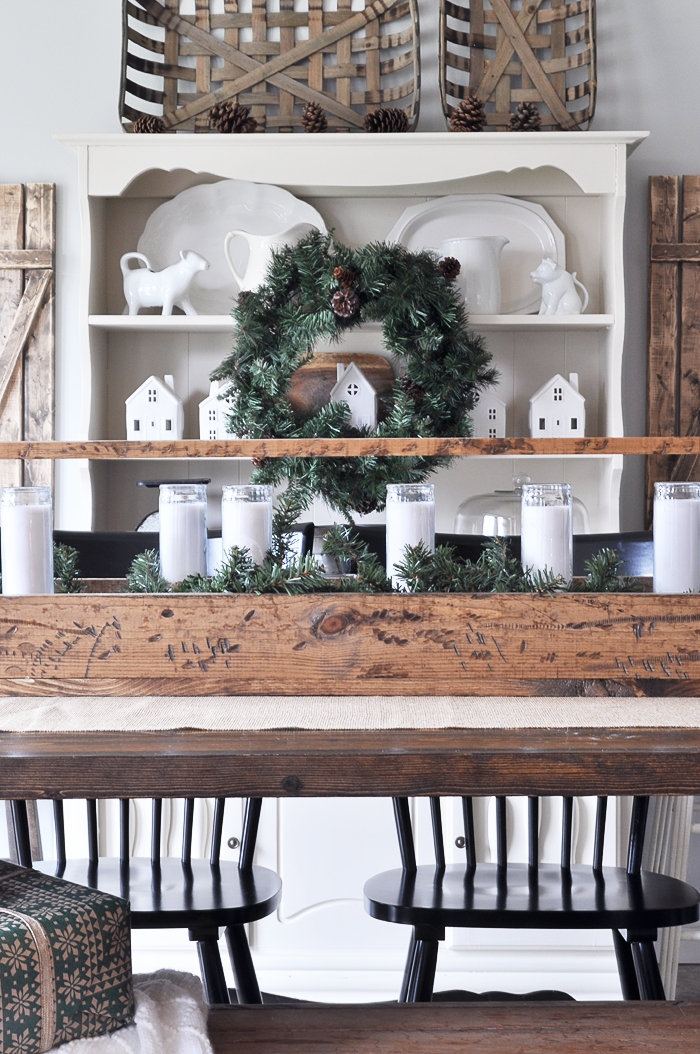 I like to bring out this little bench every now and then, especially during the holidays because it adds so much more character to the room, and not to mention its so much fun to decorate! I added a white throw and a few presents to make it festive!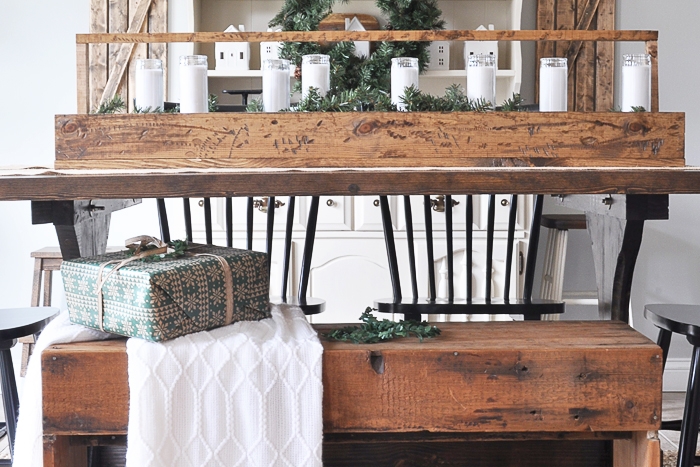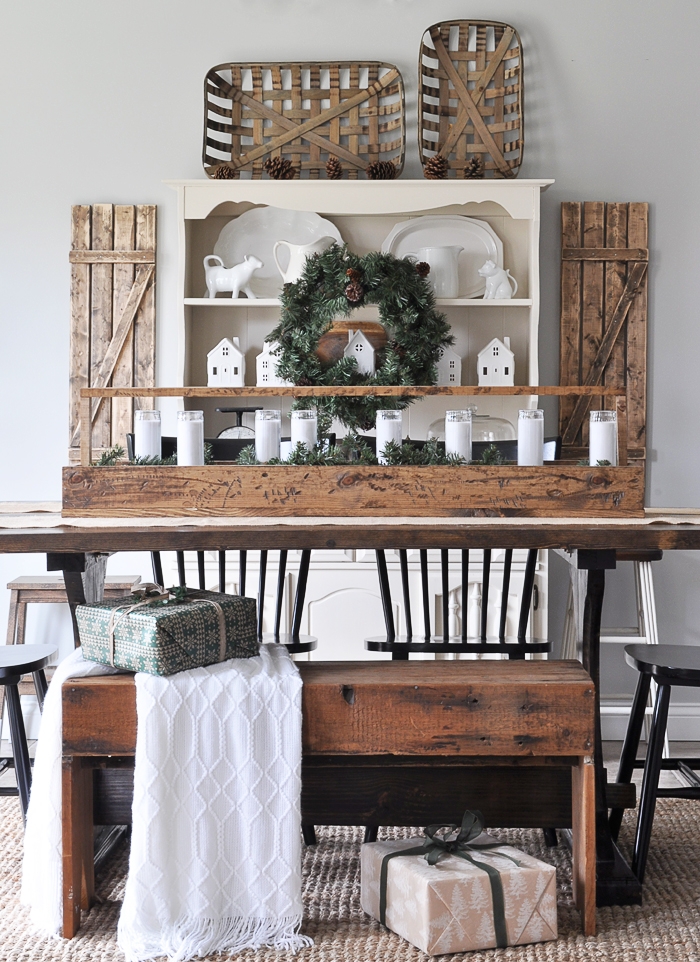 Hope you liked my Simple Christmas Dining Room! I'm so glad you all hung around for our fun little blog hop!!
But you it isn't over yet!
Next up is my friend Jen from My Fabuless Life! Head over and check out her beautiful Christmas dining room!