Elements of a Festive Thanksgiving Tablescape
This post may contain affiliate links. For more information please see our disclosure policy.
Create a festive thanksgiving tablescape for guests to enjoy using elements such as greenery, white plates, unique chargers, and beautiful linens. Incorporate holiday themed colors and centerpieces to celebrate the season.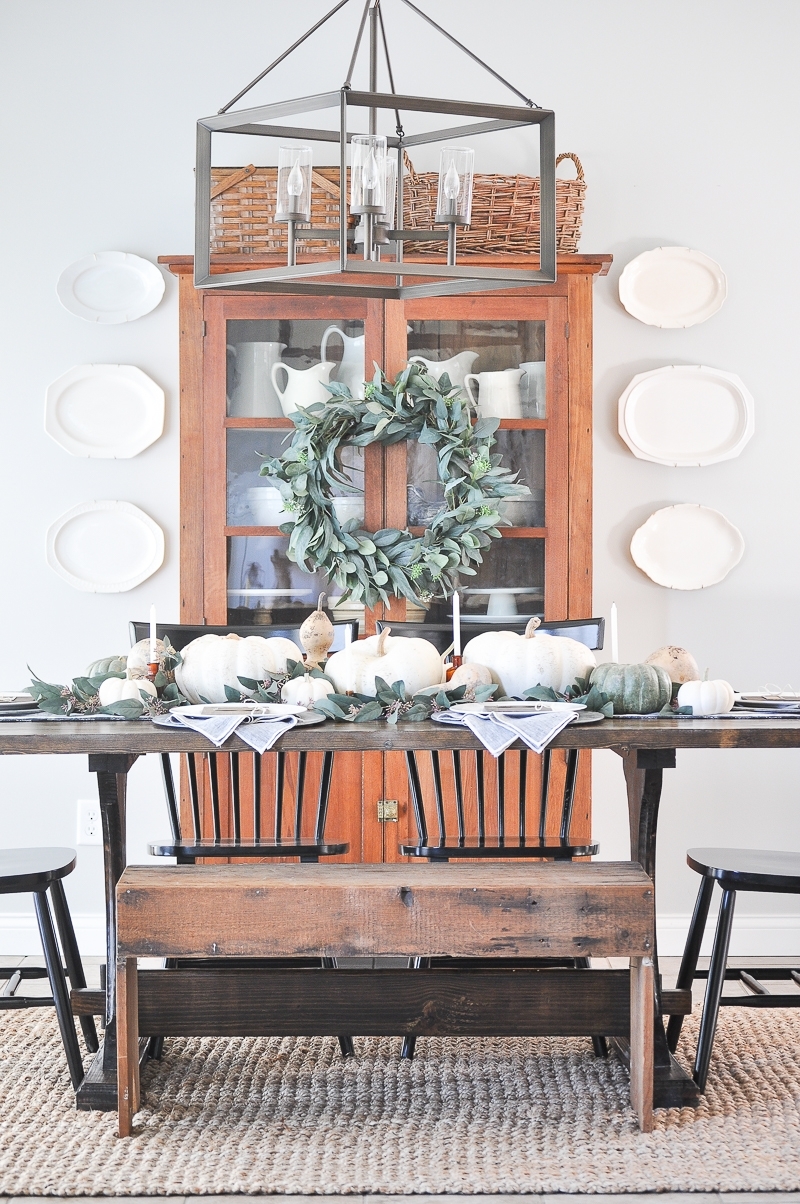 One of my favorite parts of decorating for the holidays is creating different tablescape ideas. I love picking out each element, from the plates, to the linens, the greenery, and the decor to accent each celebrated holiday or gathering. You can make it as simple as you want, or you can go big. Either way I just love a good decorated table for guests to admire as they eat a great meal.
I have been creating different tablescapes for quite a few years now, and there are always the same elements that are needed to pull it all together. So before the holidays get too crazy, I thought I would share my process so that you are ready to host your guests this coming season!
This post does contain affiliate links for your shopping convenience. Thank you so much for supporting my little blog!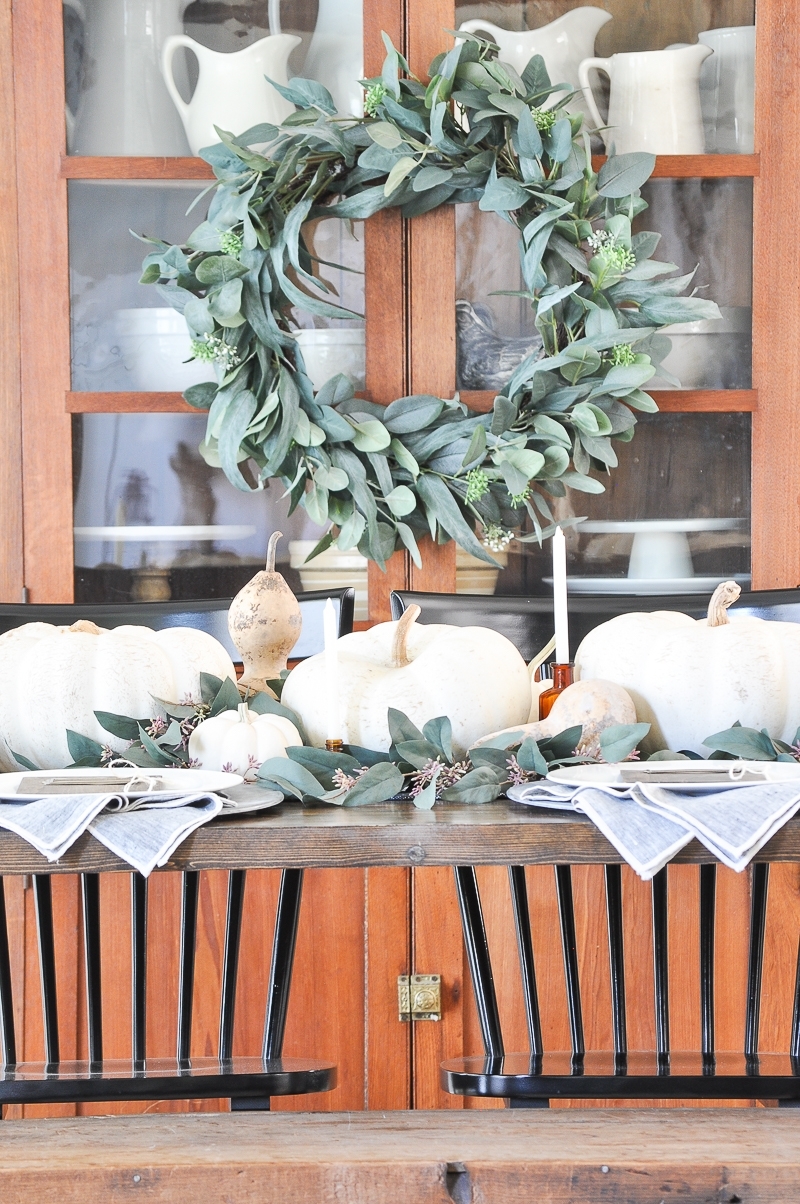 Color Scheme
When I begin my tablescape design, I always choose a color scheme I want to stick with. I usually try and keep it close to how I've decorated my entire house for that specific holiday or season. This year for fall, I've been using a lot of faux eucalyptus, neutral pumpkins and gourds, and natural colors with a touch of burgundy, so that is what I tried to use here too.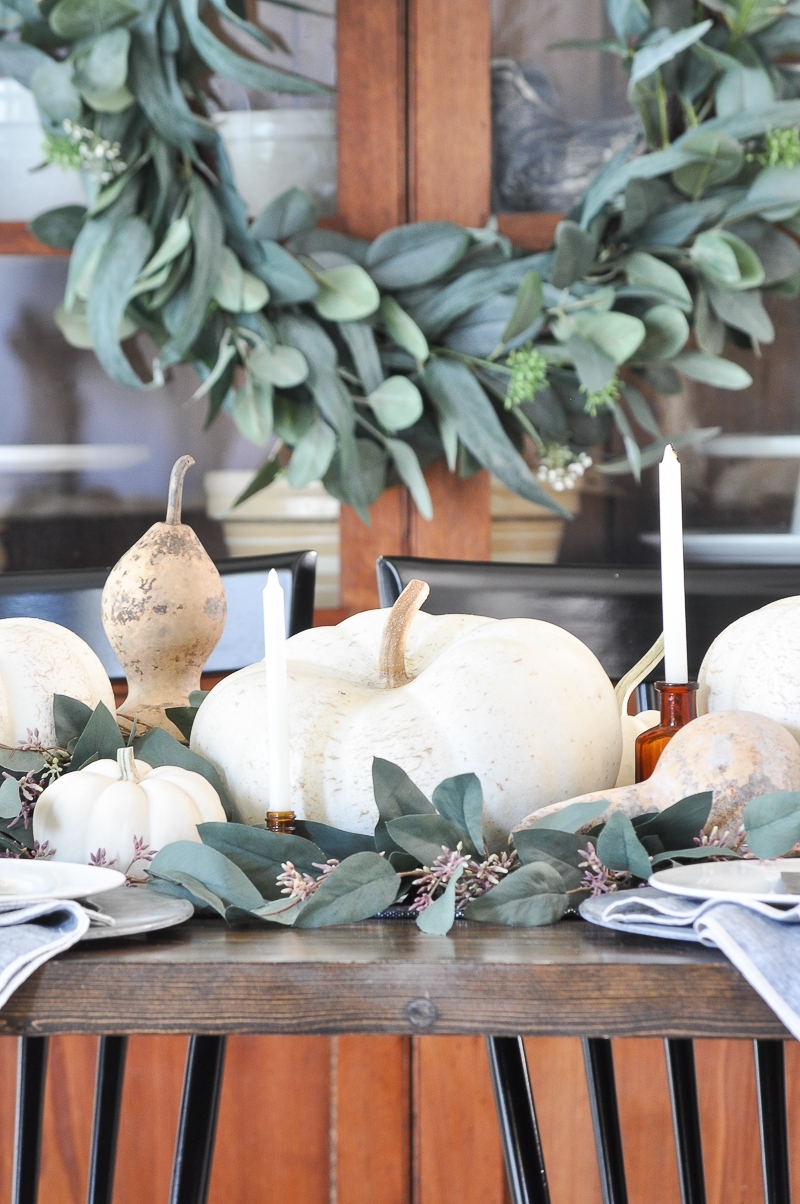 Table Runner and Napkins
After I know what colors I want to keep to, I grab my corresponding linens to start. I like to keep these fairly simple, typically solid colors, maybe sometimes a ticking stripe, gingham, or buffalo check, but that is about as crazy as I get! I like my table runner to be long enough to have a little overhang too.
Recently I did find this black, grey, and white buffalo check table runner that I absolutely love! It's a little busier than normal because it's patterned, but in my personal opinion, you can never go wrong with a good buffalo check! Especially in the fall! And these linen napkins are my new favorite.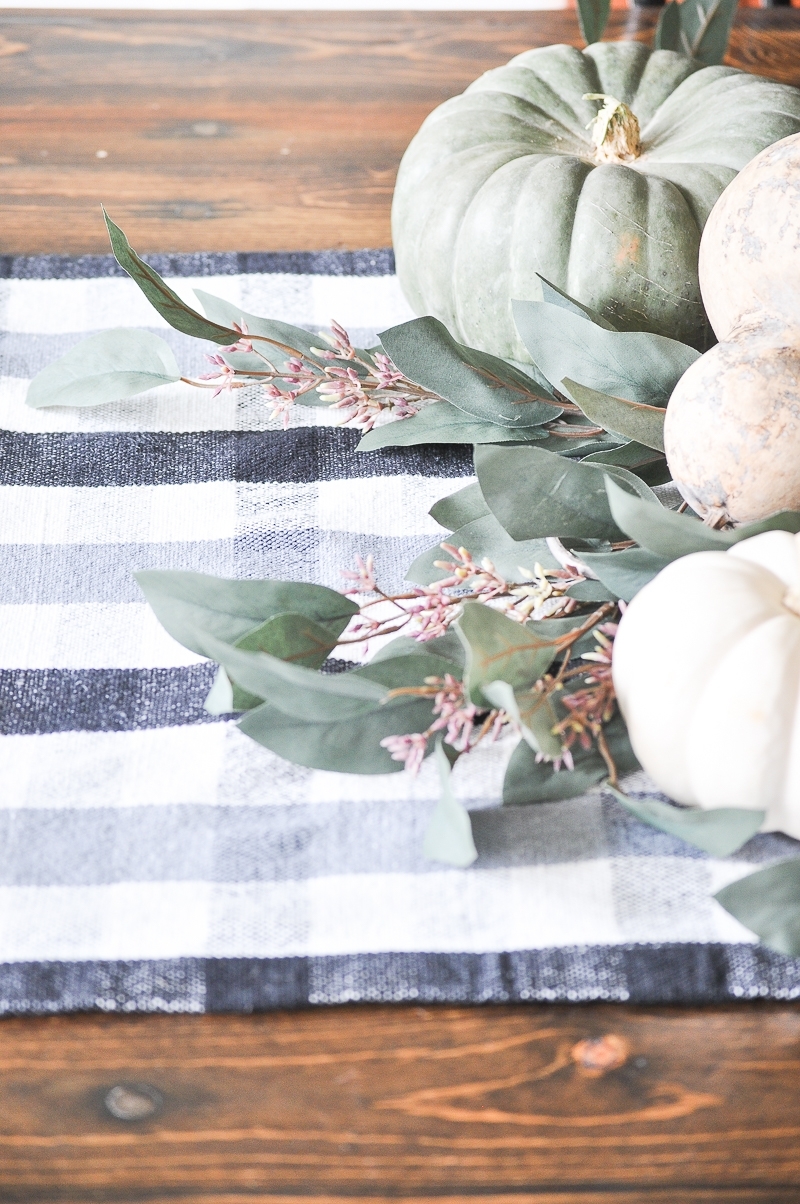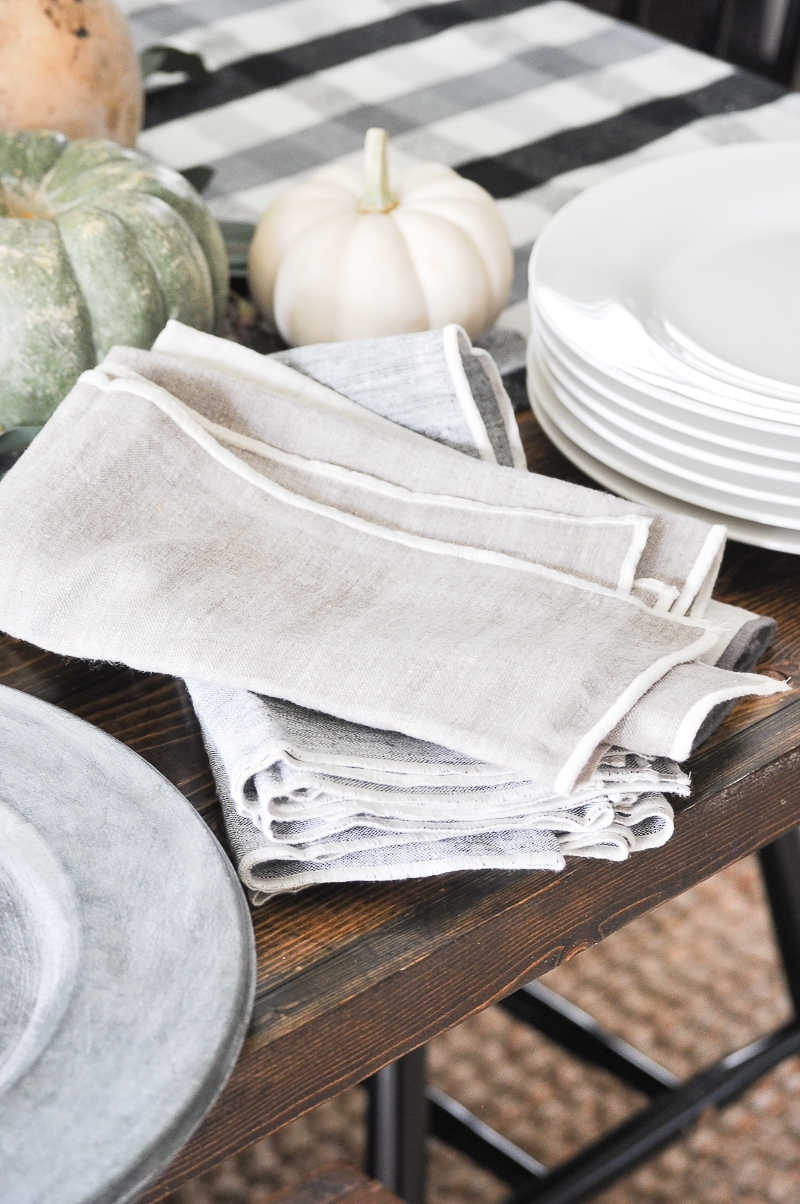 White Plates and Unique Plate Chargers
Personally, I love a round, white plate and I will probably never use anything else! I guess never say never, but you guys. Invest in a set of good white plates! They are so timeless, classic, and clean looking in a table setting. Enough said, moving on!
Plate chargers. They are basically dressing up your white plate and making it look even better! Here I used a galvanized metal plate charger, but I also like to use wooden ones or wicker ones too. They really add that extra element that makes a place setting look so well put together.


Greenery
I personally love greenery all over my house. Like ALL OVER. I have started to really appreciate how it livens up a space while also adding in an extra texture. I've talked about how I used to be a snob about faux flowers and greens, but guys, I am now a new person and I am addicted (but still very picky)! Plus, I can't keep a real plant alive to save my life, so there's that.
For tablescapes I like to use either a garland or just greenery stems. Garlands make it easy to get that flowing look, but you can easily achieve the same vibe by bending and strategically placing the stems around your centerpieces as well. In this particular tablescape, I just used some faux eucalyptus stems.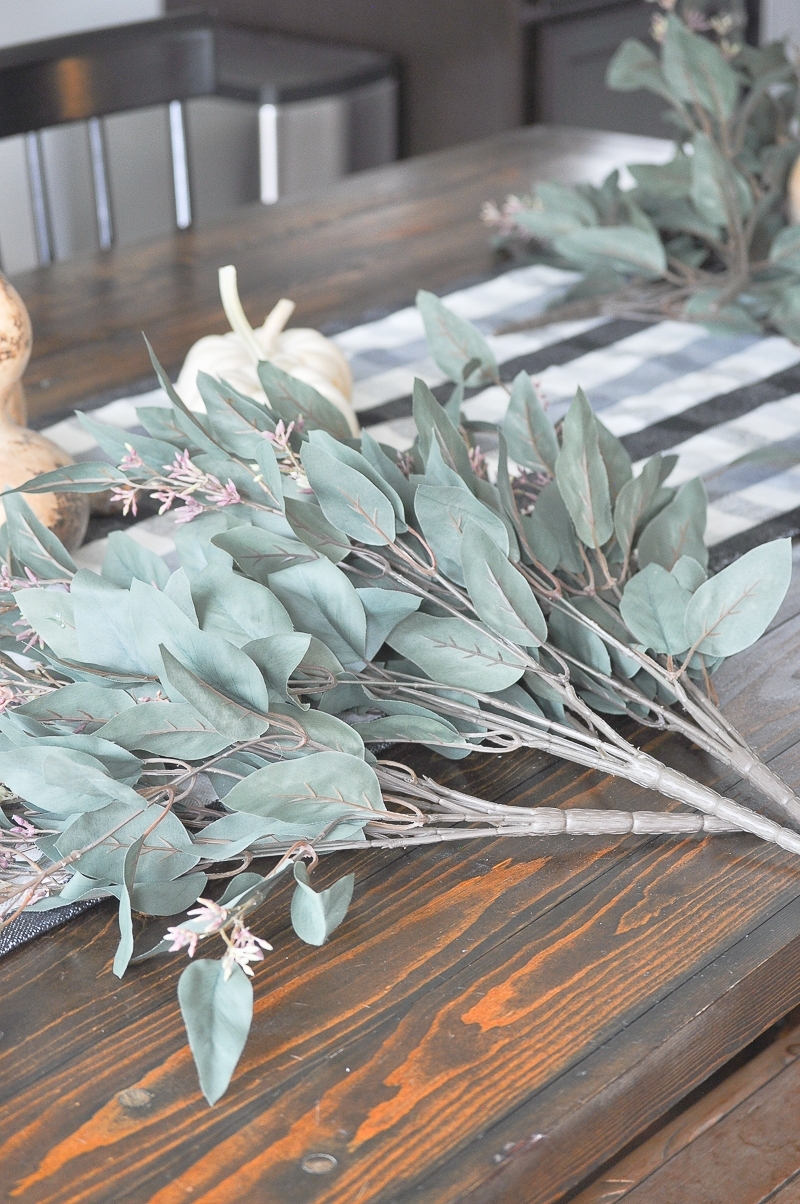 Holiday or Seasonal Decor Centerpieces and Accessories
Well, it's fall so that's a no-brainer. Pumpkins, gourds, pumpkins, and more pumpkins! Mix the colors, and mix the sizes! I like to use bigger pumpkins in the middle and then build out from there with smaller ones and other accessories. Here I used white and green pumpkins, and threw in some natural colored gourds as well.
I stuck some mini candles in amber bottles to use in place of my usual candlesticks (which are always a must for me). Votives are also a great addition, and if you have a lot going on, you can use the battery operated ones instead of lighting real ones.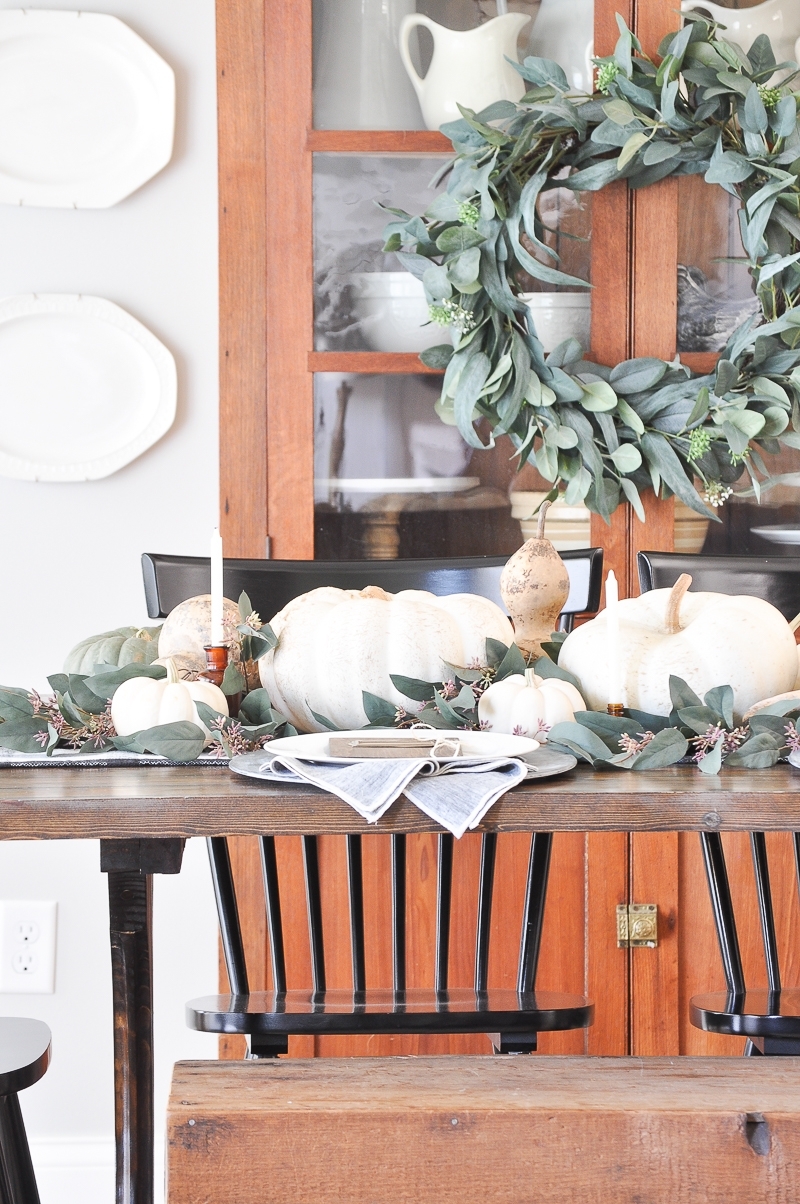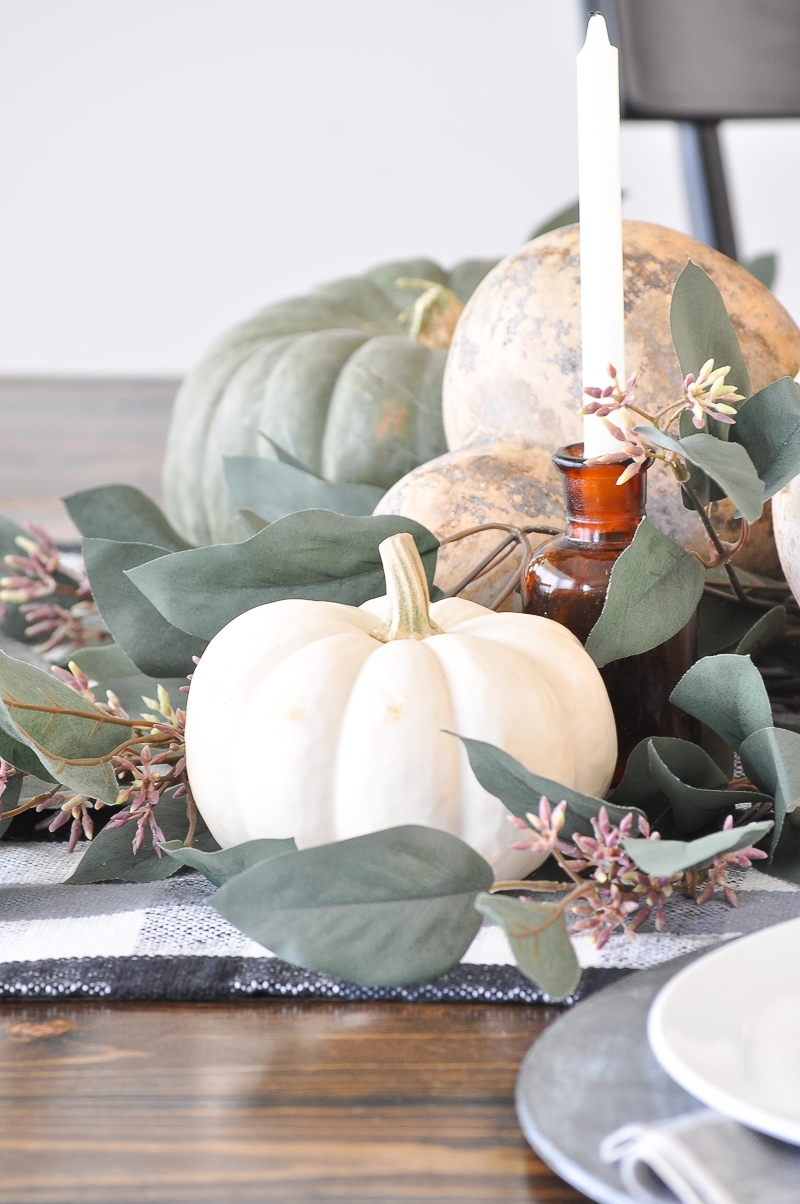 Name Cards
To me name cards are a bonus when it comes to tablescapes. Take a piece of cardstock, cut a square, fold it, and write your guests name on it. Or, put a little extra effort in and make them super unique. I had these gold vintage book plates that I got for a few cents a piece at a resell shop. I just used some brown craft paper, a little letter stamp, and some twine to give it a little character.
Even though I feel like this step isn't always necessary, it's my favorite part. I love being creative so anything new I can come up with to make my guest feel special, I am up for the challenge.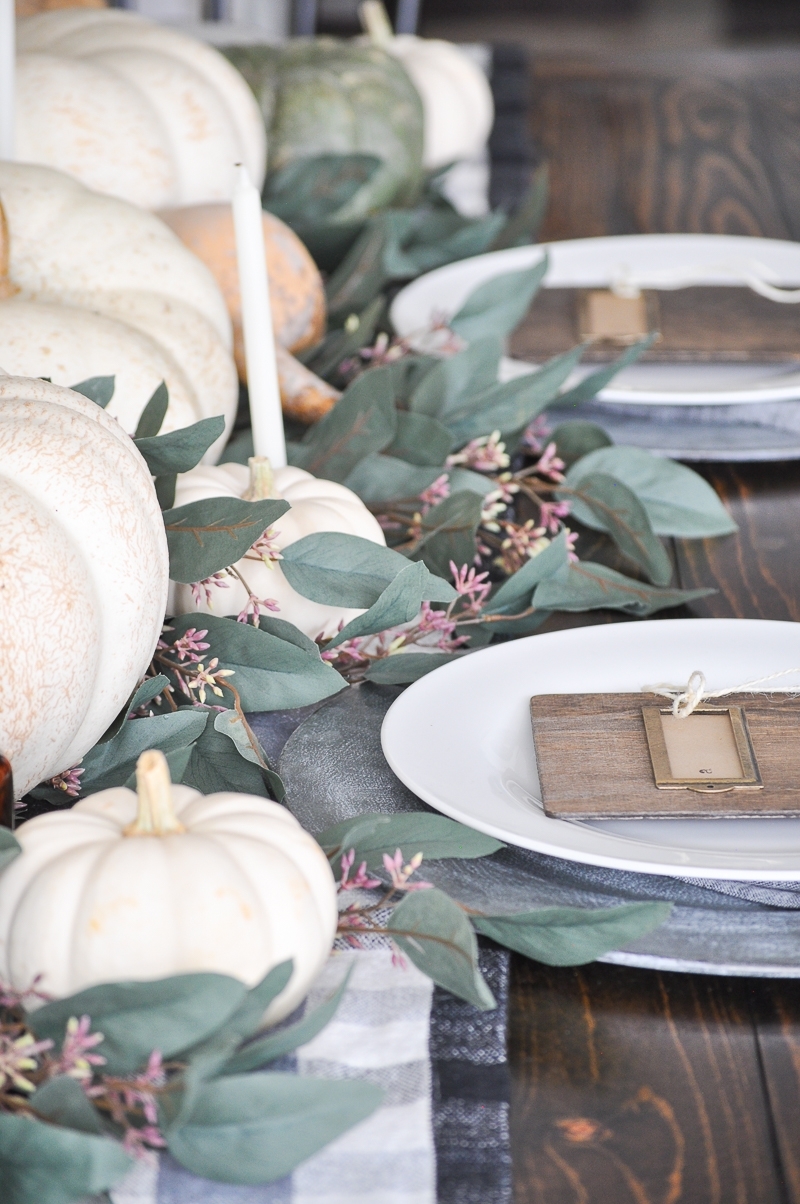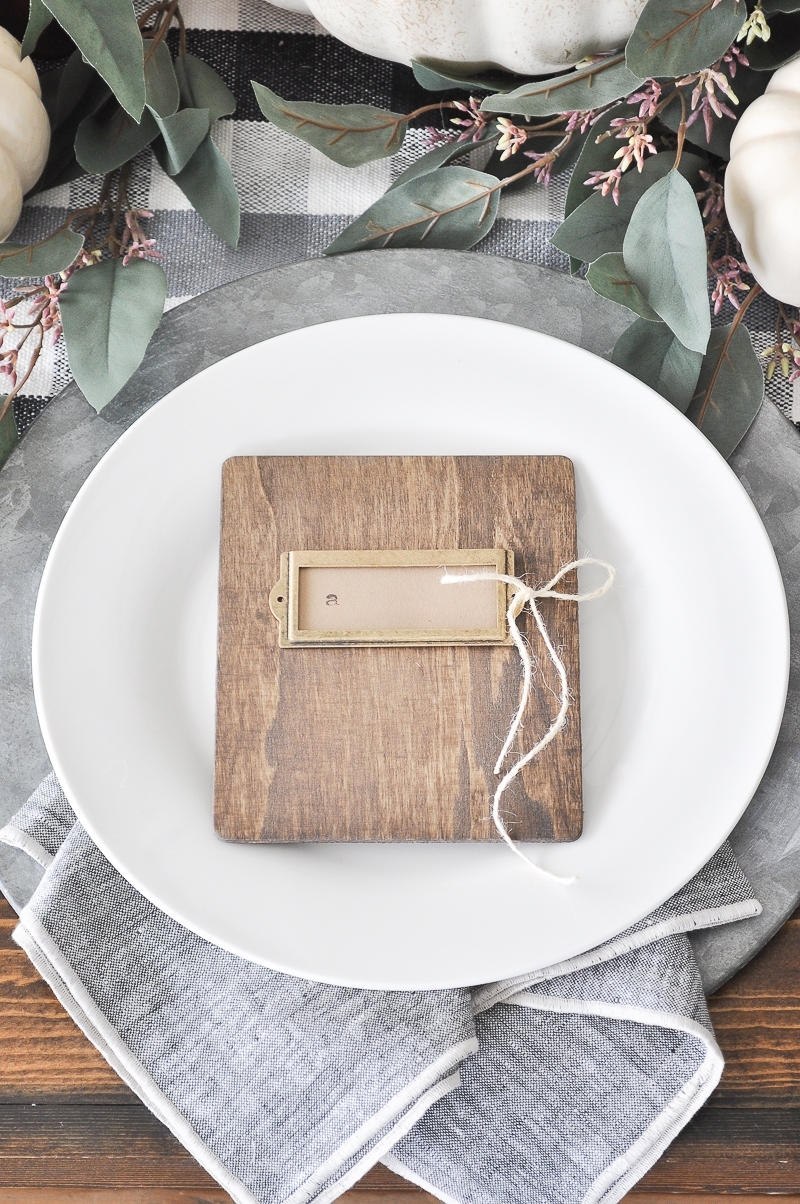 So there you have it, my go-to elements for a festive Thanksgiving tablescape! I do add in the silverware and usually just clear goblets as well, but those are to be expected! What are your favorite parts of a good table setting that you do, or that you admire when you are a guest? What gets you in the holiday spirit at a dinner party?
---
SHOP THIS POST


---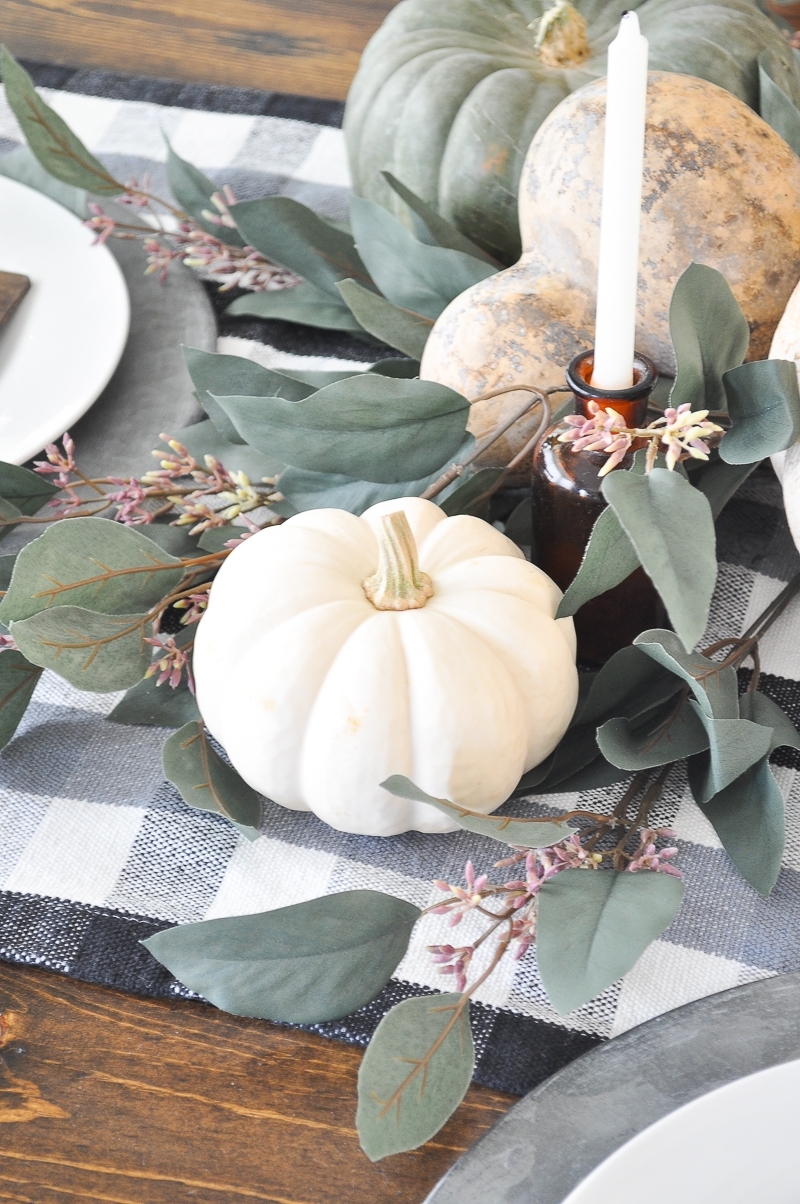 I wish you the very best Thanksgiving with your family in a few weeks! It's definitely one of my favorite times to gather around the table with those I love most!
---
PIN FOR LATER
---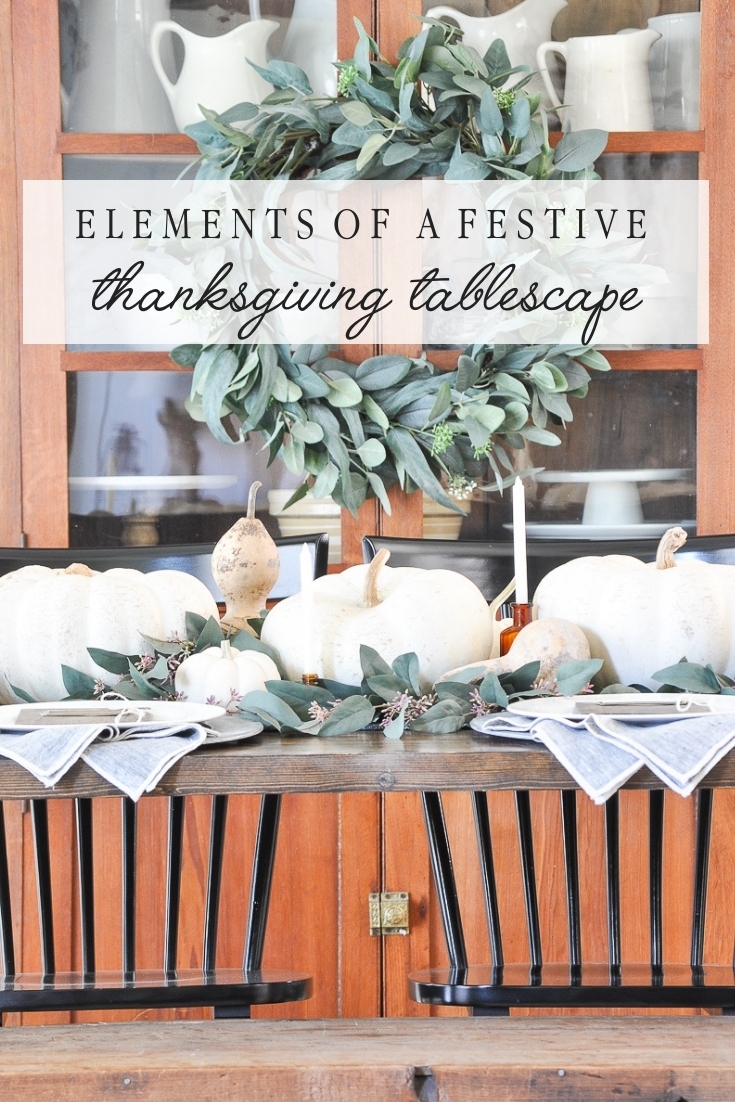 ---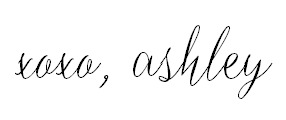 SaveSave
SaveSave
SaveSave
SaveSave
SaveSave
SaveSave
SaveSave
SaveSave
SaveSave
SaveSave
SaveSave
SaveSave
SaveSave
SaveSave
SaveSave
SaveSave
SaveSave
SaveSave
SaveSave
SaveSave
SaveSave
SaveSave
SaveSave
SaveSave
SaveSave
SaveSave
SaveSave
SaveSave
SaveSave
SaveSave
SaveSave
SaveSave
SaveSave