Crate Side Tables
This post may contain affiliate links. For more information please see our disclosure policy.
The sun is shining, my windows are wide open, curtains flowing, birds are chirping, and I am one happy girl that the weather has been absolutely beautiful recently. Beautiful weather for me means I get to work on building and painting my projects from our garage, and it is so therapeutic for me in so many ways. It's where I love to be. Outside and creating things that add character to our home, and that I get to share with you guys! And today I have some pretty awesome DIY Crate Side Tables I built that I hope you all love!
A lot of changes have been happening in our house, one of which is that we got new living room furniture! I'll have a whole post on that coming up, but you'll get to see a sneak peek in this one! Naturally, when you make a huge change like this, you have to tweak a few other things to allow for a good flow in the space. I mean, I'm certainly not complaining because it just means that I had to fix other areas that I wasn't crazy about, like our side tables. Last summer when we were out junking we came across these large shipping crates that I thought would work perfect as side tables, but I didn't pull the trigger, and I've regretted it ever since. So I made similar ones, and I kind of love them.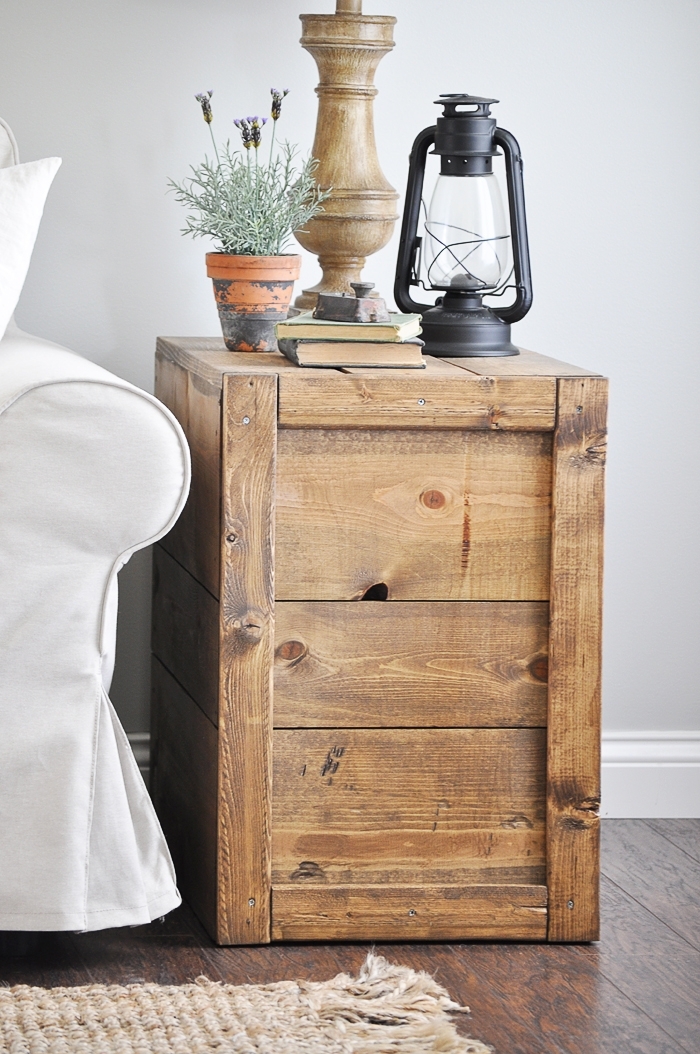 SUPPLIES NEEDED (For one table, double if you want to make two):
*DISCLAIMER – All wood is not going to be exact when you buy it. I had to make a lot of little cuts here and there along the way to get it all to size. You'll get the hang of it as you go. I also don't mind when things are a little off – gives a piece more character when it isn't perfect 🙂
FOR TOP:
3 – 1x6in boards cut to 26 1/2in
FOR SIDES:
2 – 1x6in boards cut to 26 1/2in
4 – 1x10in boards cut to 26 1/2in
FOR FRONT:
1 – 1x6in board cut to 15 1/2in
2 – 1x10in boards cut to 15 1/2in
2 – 1x3in boards cut to 25in
2 – 1x3in boards cut to 12 1/2in
FOR BACK:
1 – 1x6in board cut to 15 1/2in
2 – 1x10in boards cut to 15 1/2in
FOR INSIDE:
4 – 2x2in strips cut to 24in
OTHER:
Saw
Drill and Drill Bit/ Screwdriver
Screws (we used 1 3/4in, 1 1/2in, 1in)
Wood Glue
Measuring Tape + Pencil
Nickels (for spacers)
Sander
Wood Stain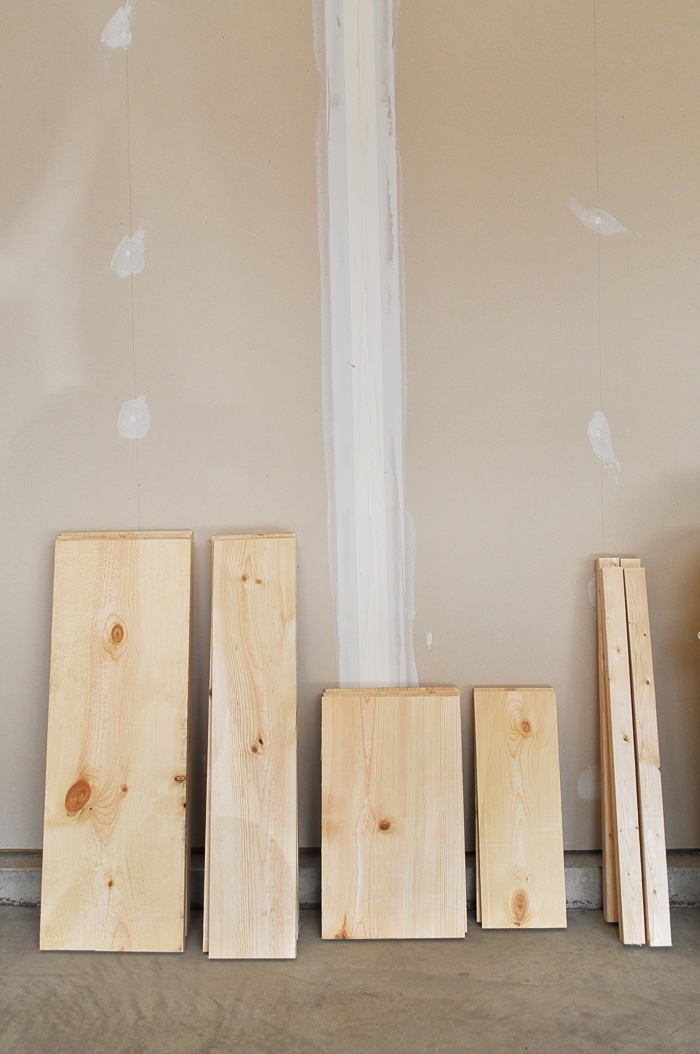 DIRECTIONS:
I started this project by measuring out and cutting all of the wood with my miter saw to the size I wanted my table. For ours, I made the table a tiny bit taller than the arms of our new couch.
Once all of my pieces were cut, I started by building the front and back of the side table. I laid down two of the 24in 2x2in wood strips and attached one 15 1/2in 1×10, followed by one 15 1/2in 1×6, followed by one 15 1/2in 1×10.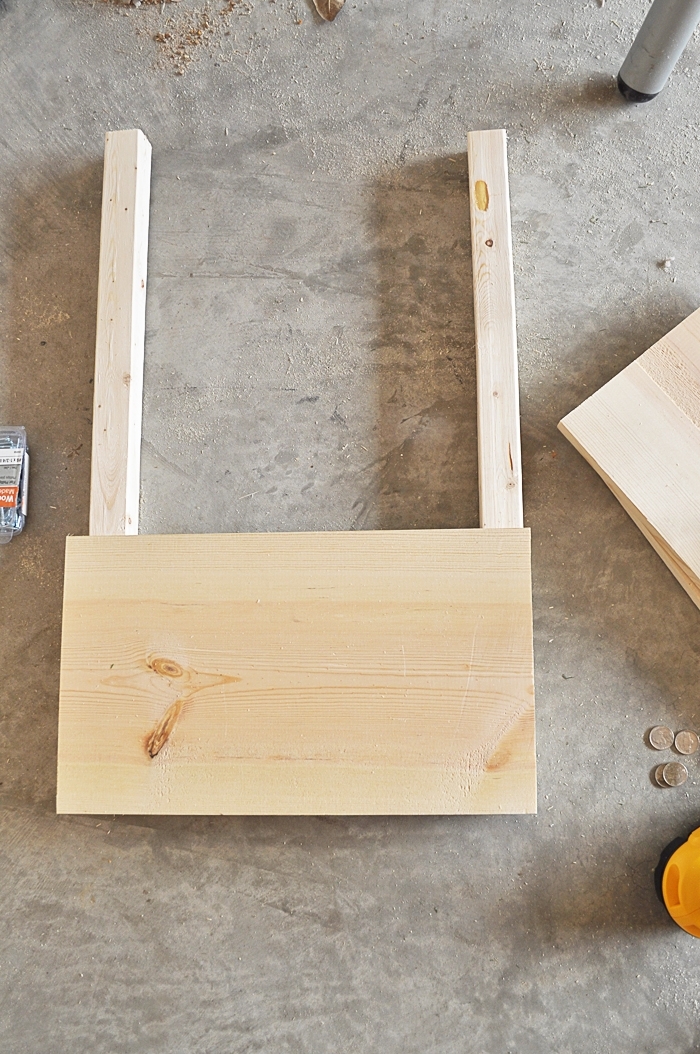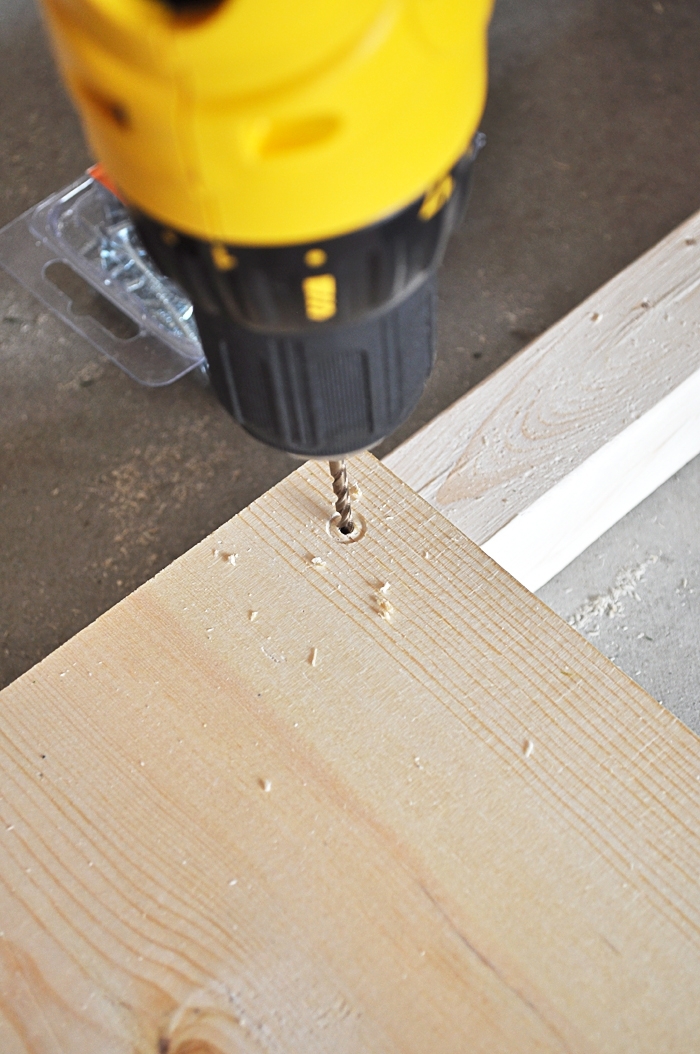 To attach the boards, I made sure to drill two pilot holes on each side to make it easier for the screw to go in, and to ensure the 2x2in board wouldn't split. We used 1 3/4in screws for this part. (TIP: we have two power drills, so I kept the screw driver head in one and the drill bit in the other so I wouldn't have to keep switching them out. It went a lot faster this way, if you have that option.)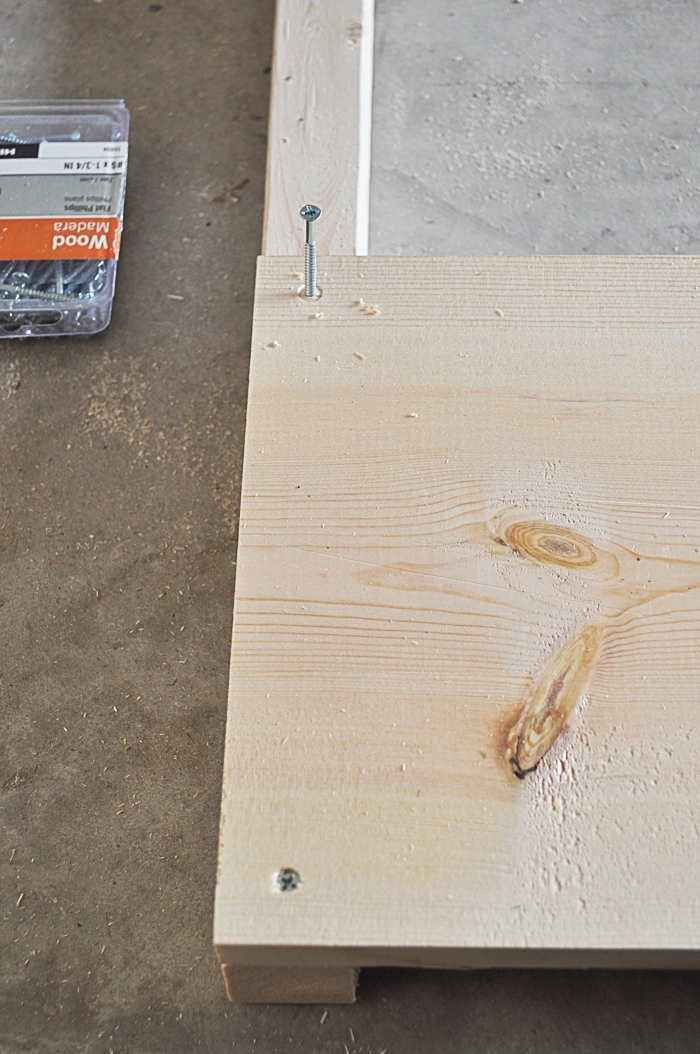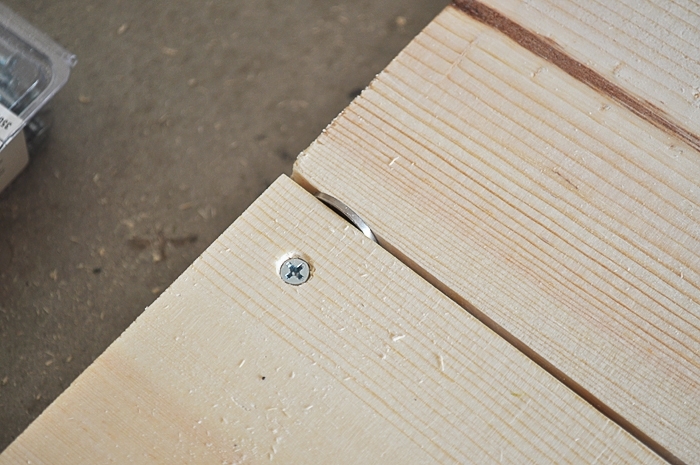 I used nickels as spacers in between each board to give it more of the shipping crate look I was going for. I didn't want the boards to be flush against each other.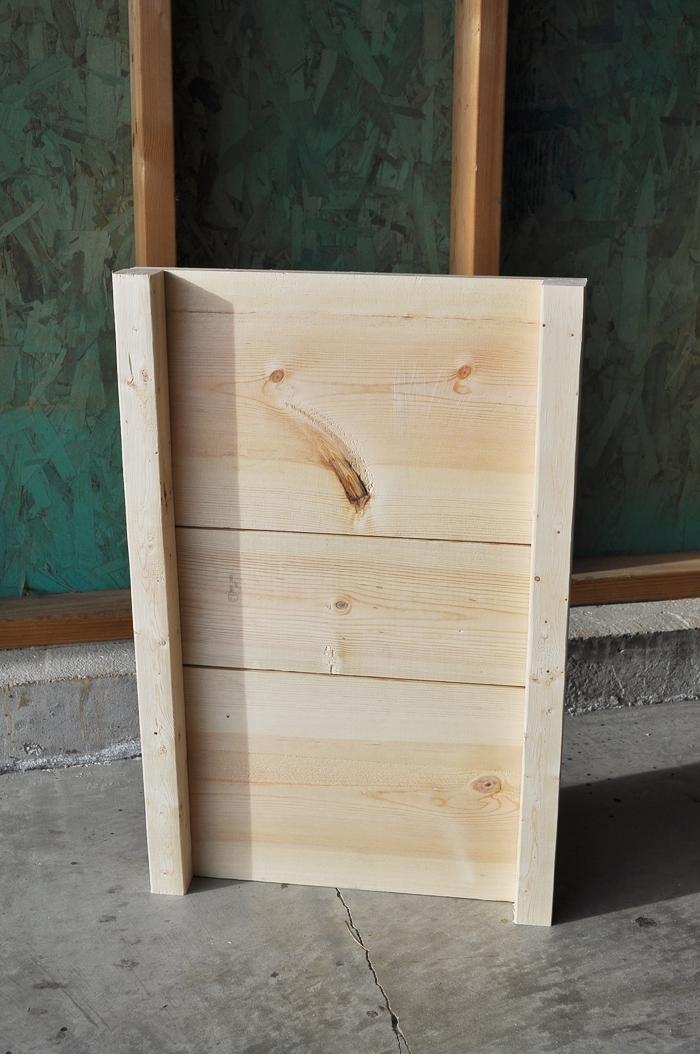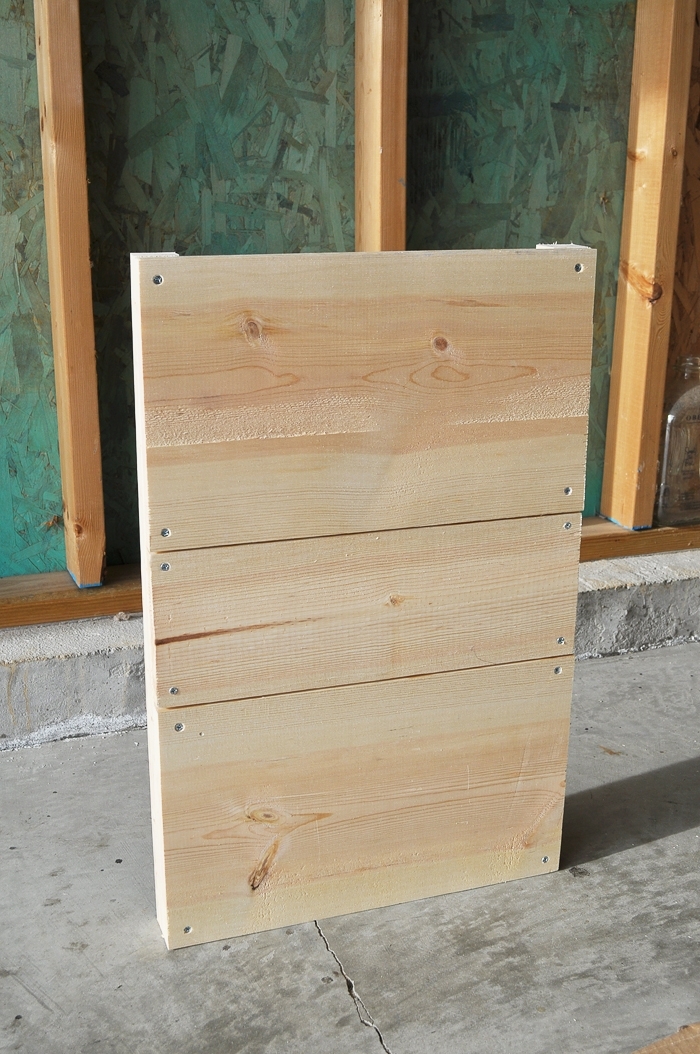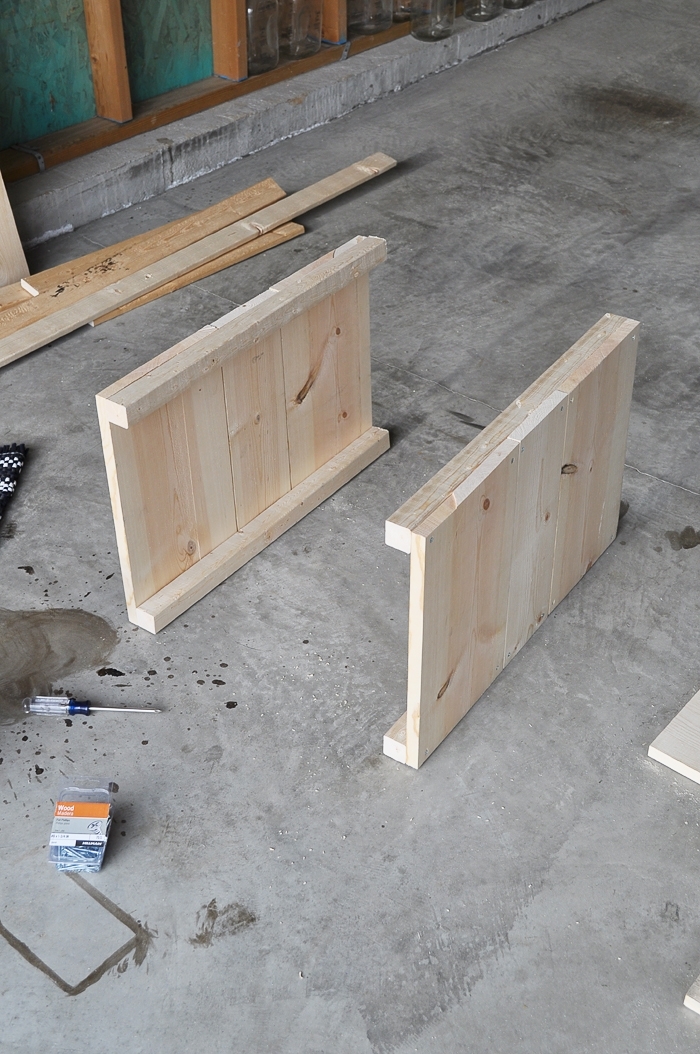 Once I built the front and back, I had to attach the sides, one 26 1/2in 1×10, followed by one 26 1/2in 1×6, followed by one 26 1/2in 1×10. Because I was just drilling the screws still into the 2x2in boards, I used some wood glue on the other boards so they would be securely attached as well. DO NOT drill into the 1×6 or 1×10 boards here.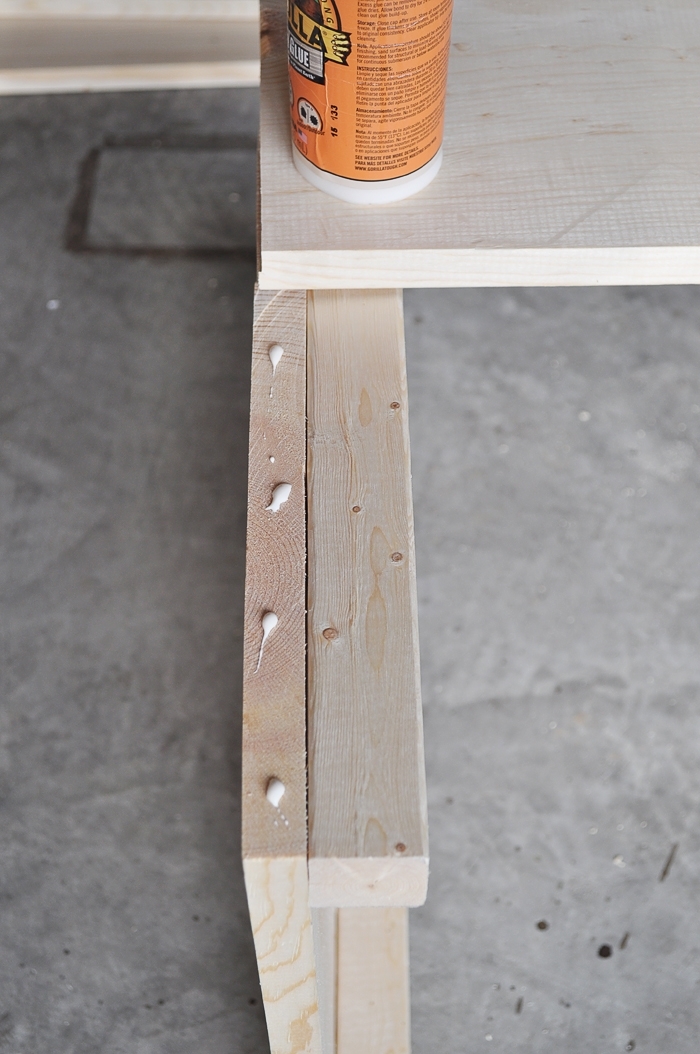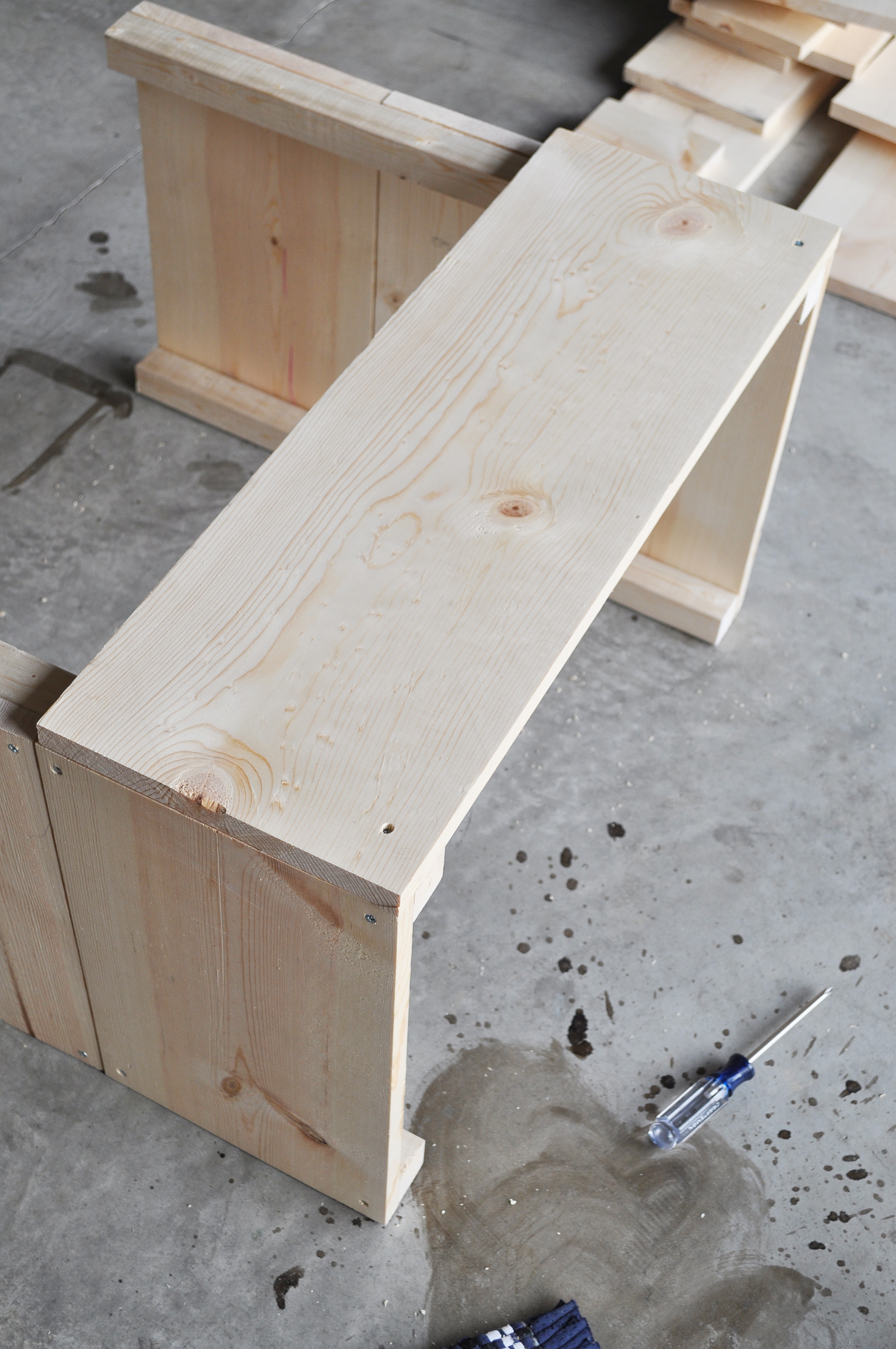 Again, you are basically just repeating the steps above, two screws on each side of the boards into the 2x2in's, use nickels to space, or just line them up with the corresponding boards from the front and back pieces. Once you are finished with one side, flip and repeat on the other side.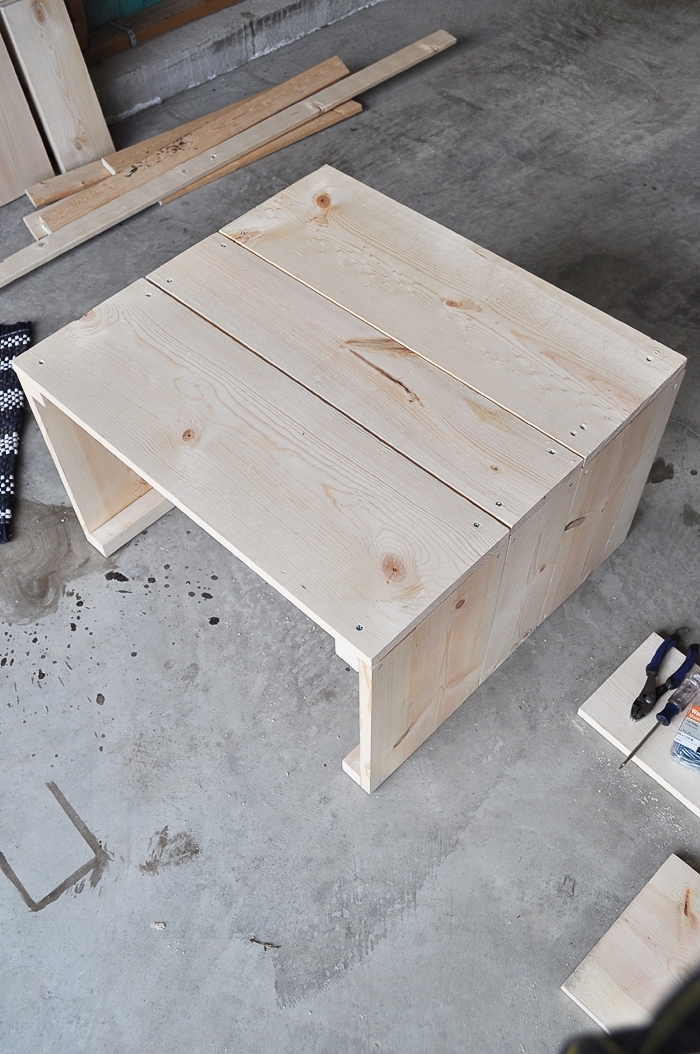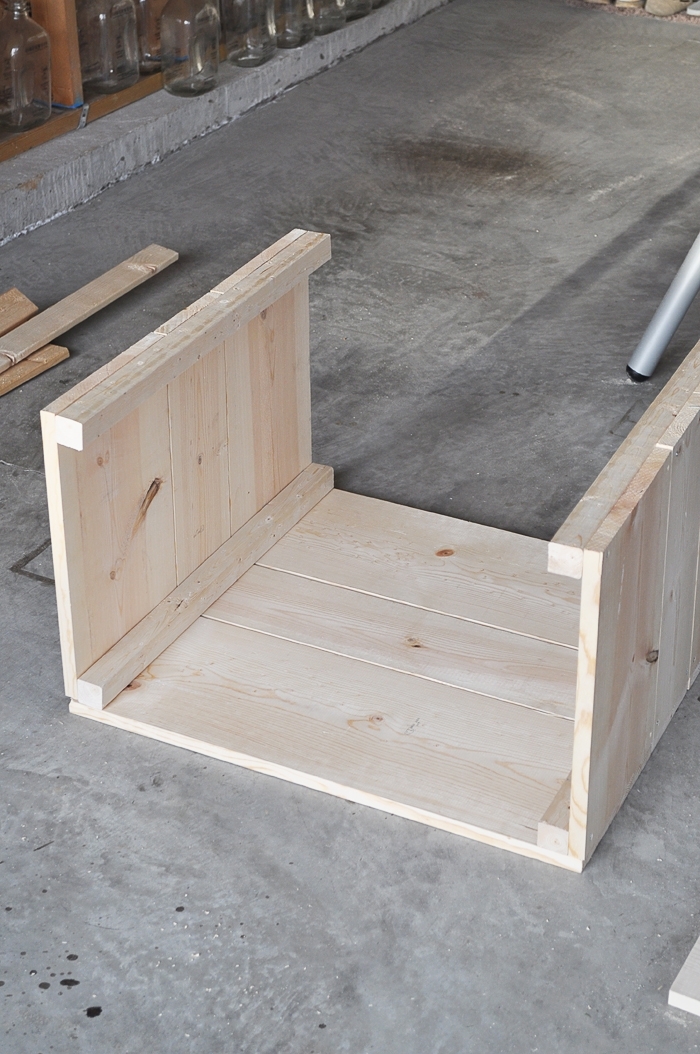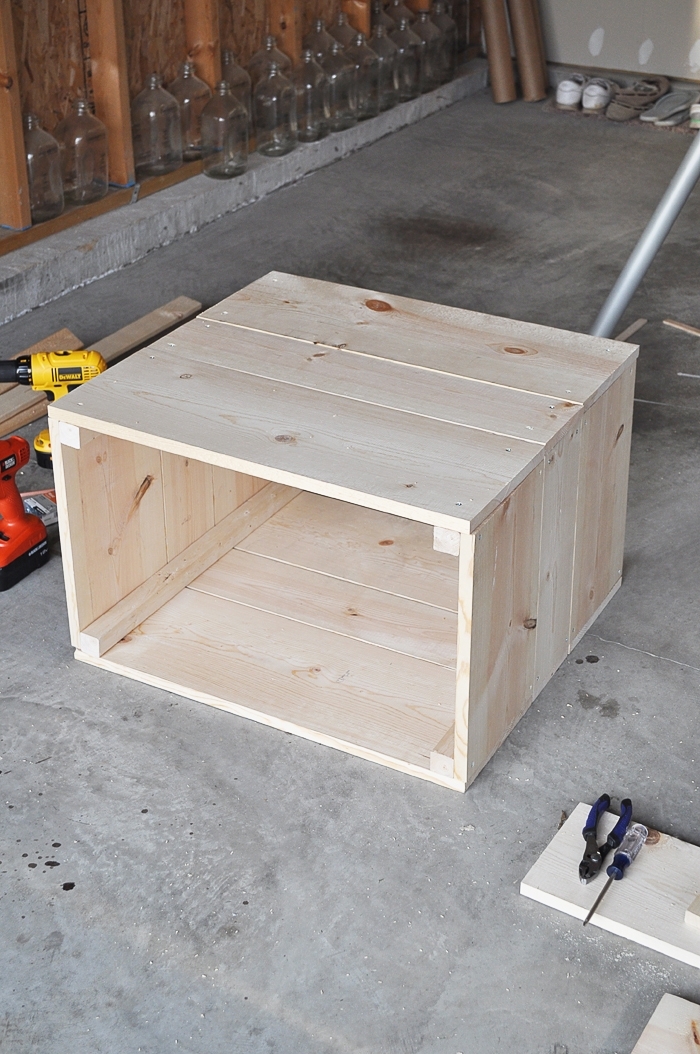 After I successfully built the base of the side table, I just have to attach the top. I again used wood glue on the top 1x10s, but this time we did VERY CAREFULLY drill into these to attach the three 26 1/2in 1x3in boards for the table top. (When I say we, obviously I mean my husband, who is way more careful than I am!)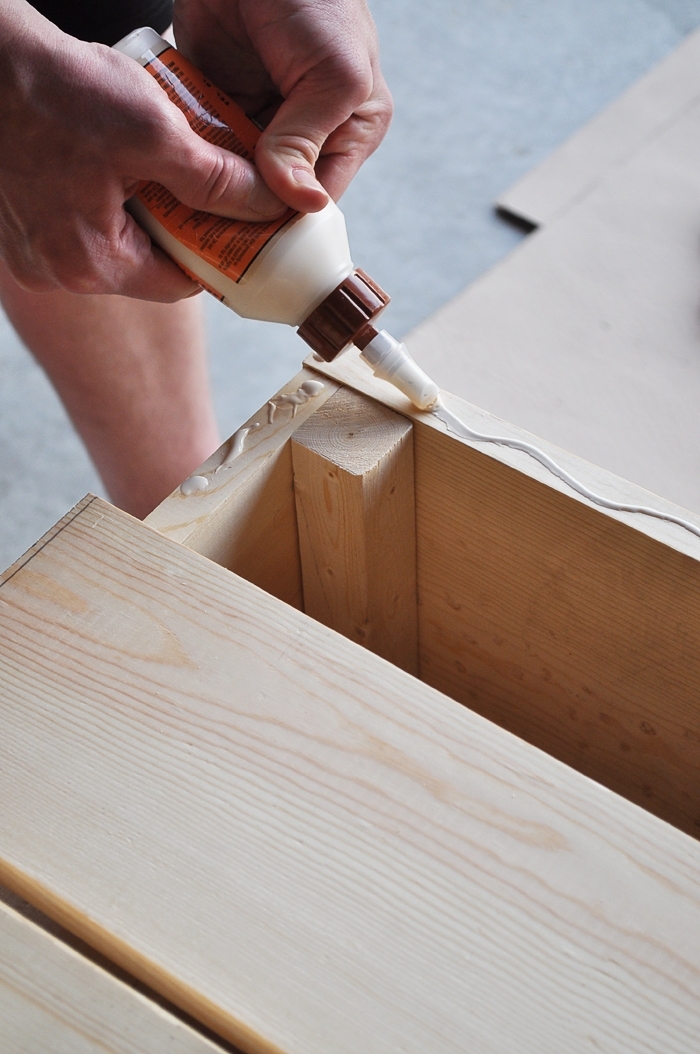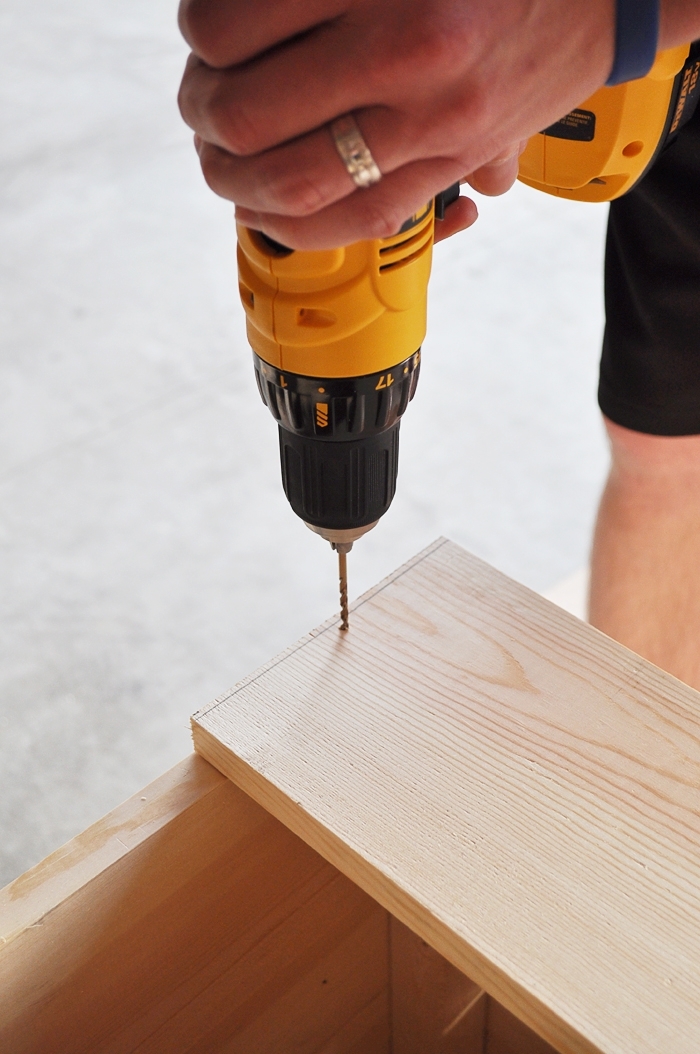 We again drilled pilot holes, but this time used just 1 1/2in screws, two in the middle of each board going into the front and back 1x10in boards, as shown below. I also was sure to attach both top side pieces first so I could evenly space the middle board.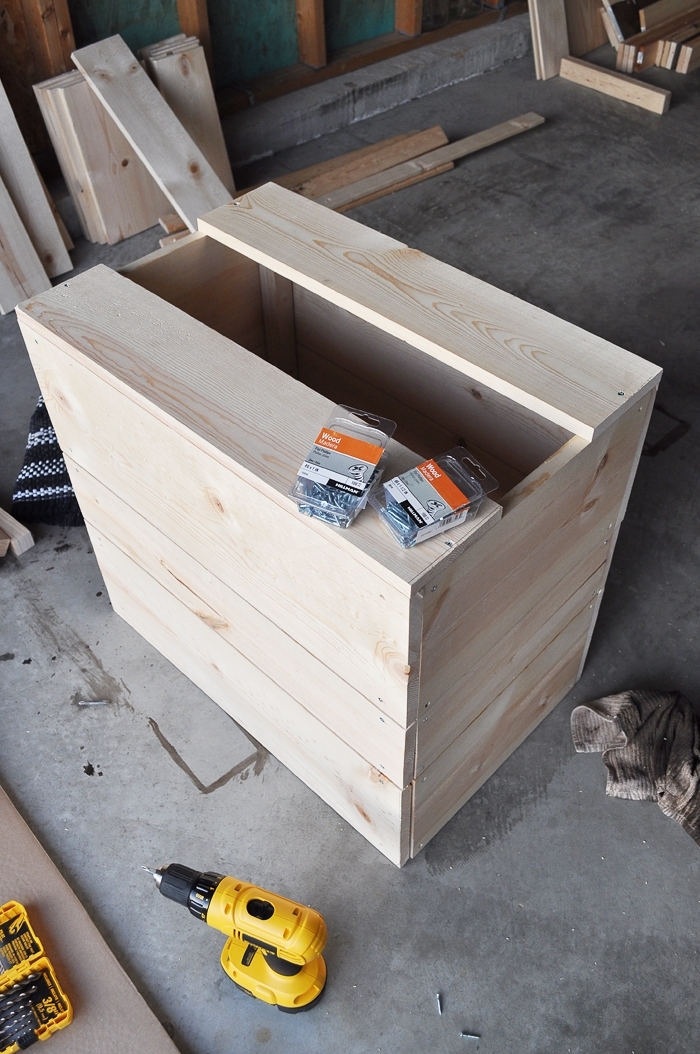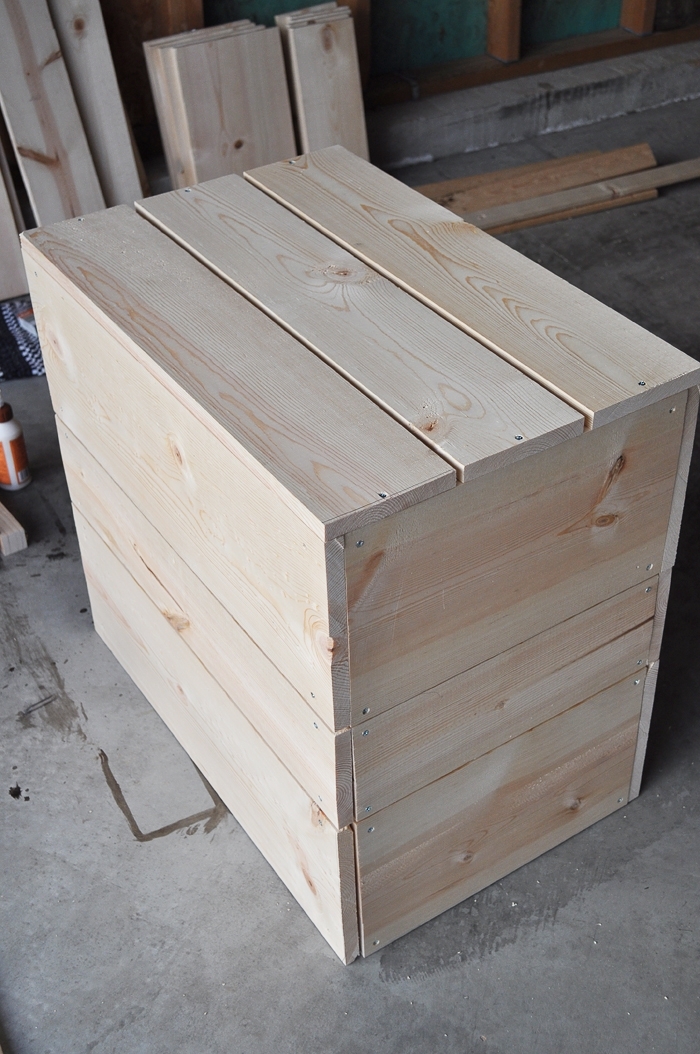 To get the shipping crate effect, I used some scrap 1x3in boards I had laying around for the molding on the front. I cut two at 25in that went along the front sides, and two at 12 1/2in that went across the top and bottom. We used 1in screws to attach these, see below picture.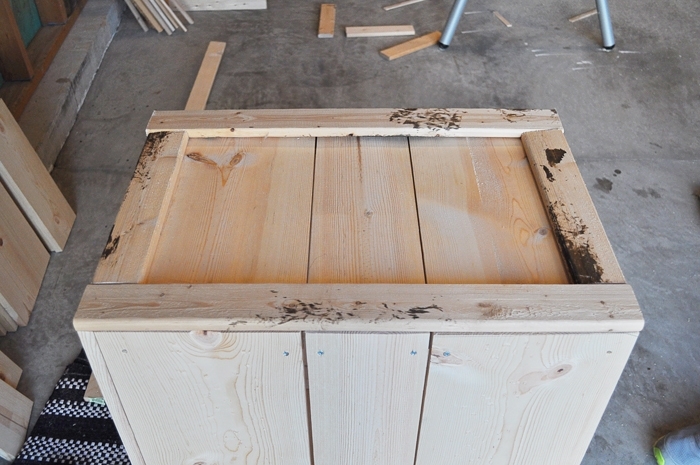 And lastly, I used my sander to sand down each table, then I used some wood stain to stain them. I used Minwax in Provincial, which is just a little lighter than my go-to stain color Dark Walnut. I did this because our floors are dark and I didn't want the tables to match, or blend in with the floor. Do you like the color?!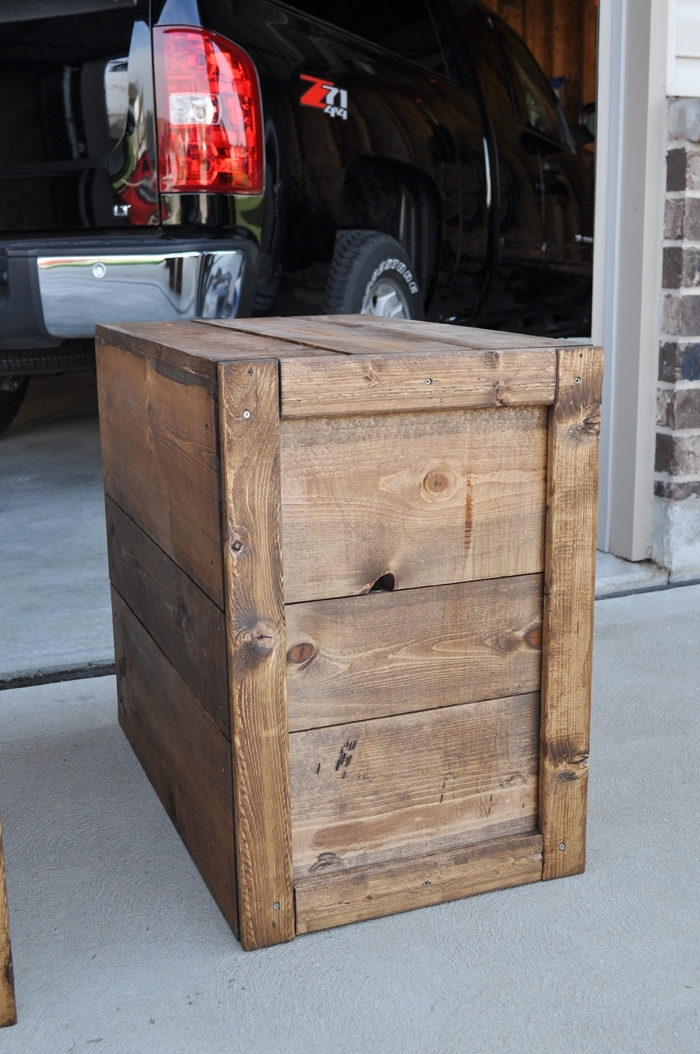 I don't mind the screws showing, and the scratches in the wood. I always go for the old, worn look so nothing I do is ever perfect. If you did want to hide the screws you could always make sure to drill them a little deeper and cover them with some wood filler. Whatever works for you! This is what works for me, and I love how they fit my space!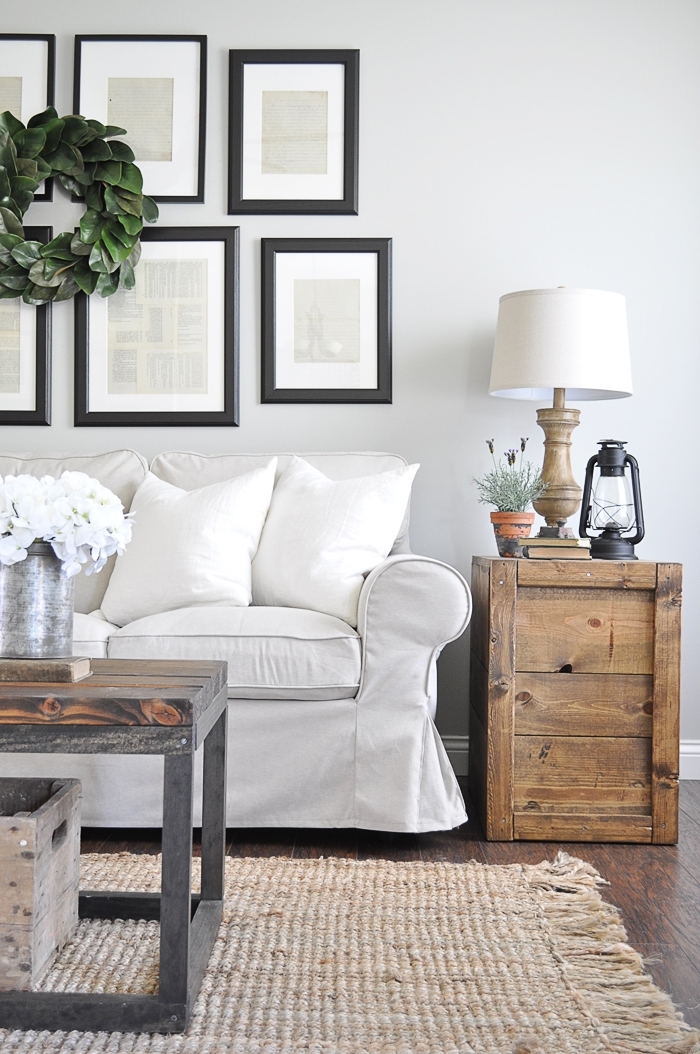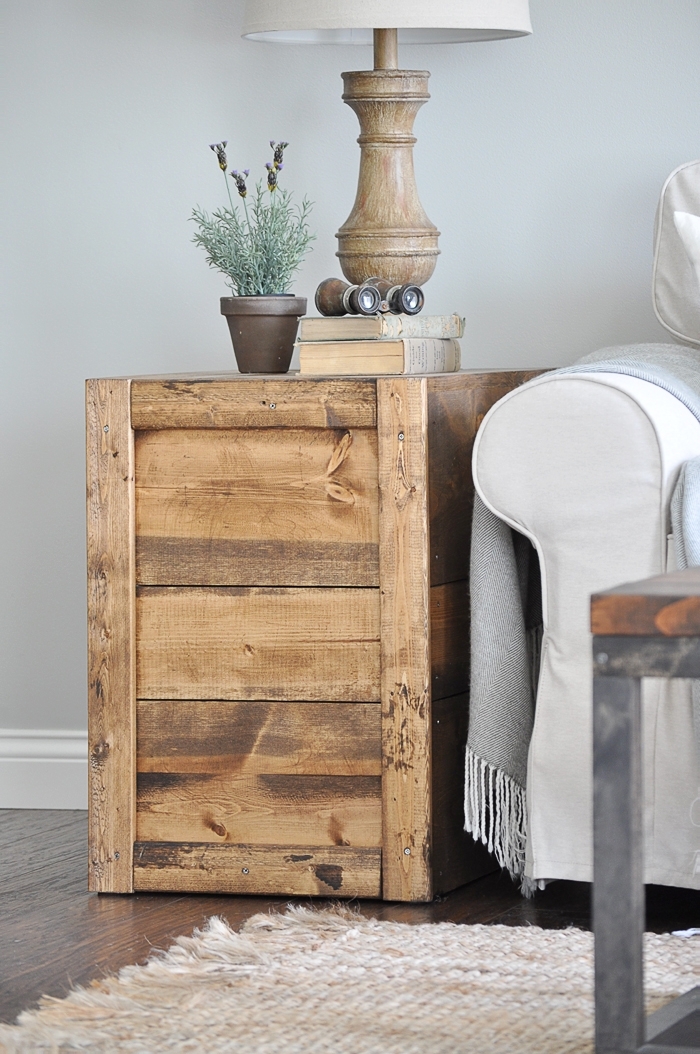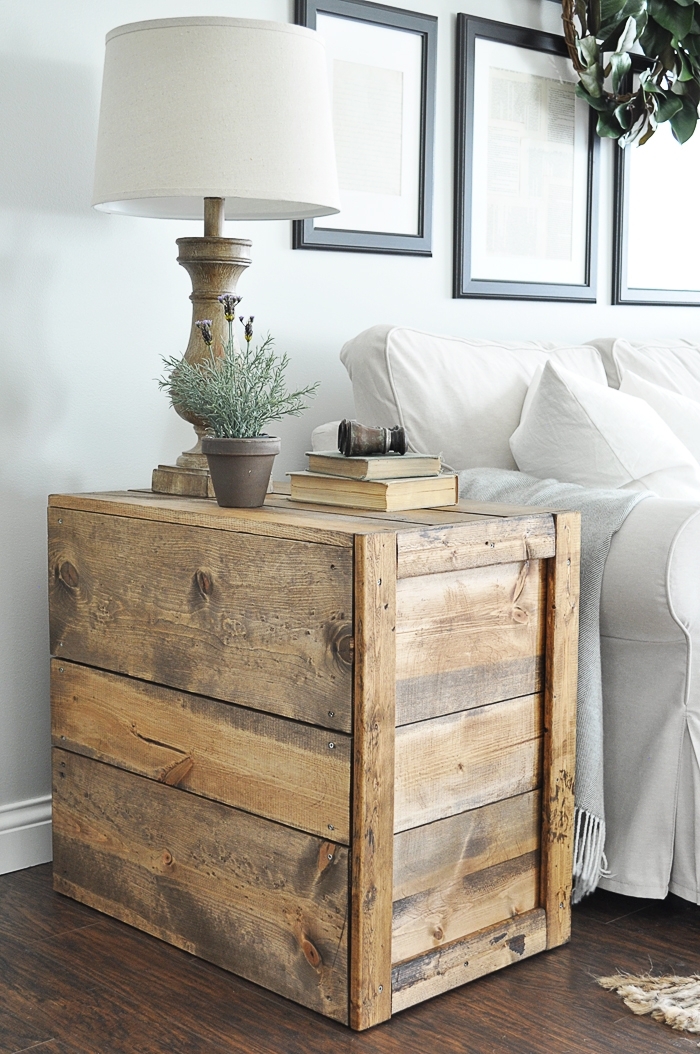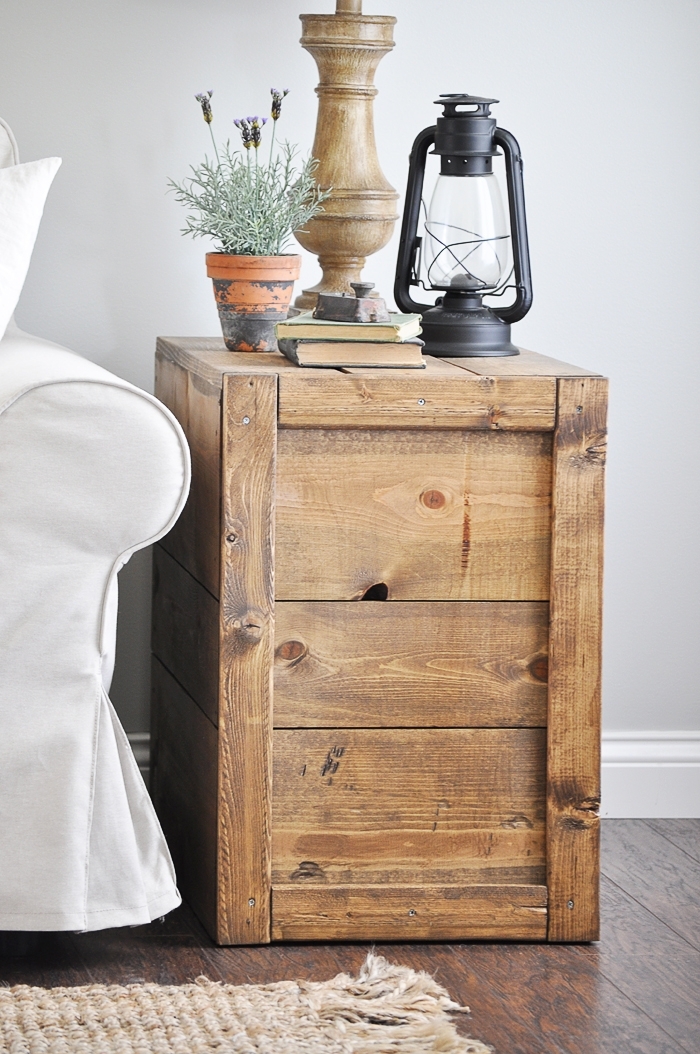 These tables took me a Saturday to build. They are super sturdy, and they really work great for our farmhouse styled house. And I think we probably only spent under $60 total in supplies, making each table around $30 to make. I happen to think that is a deal!
I hope you'll give them a try. Make them your own, paint them, give them a twist!
And don't hesitant to ask questions if you get stuck!