I'm pretty sure I have been saying our guest bedroom is almost done for a really long time now. Although I consider everything a work in progress, I thought it was time to share how it looks as of now. Then I figure I can fill you all in as I go with future updates. I love where the space is at now, and I only have a few minor things I may change. Due to my love for antiques I am constantly switching things out when I find new goodies, and this room has already seen its fair share of changes. That's why I love the modern farmhouse style. You can pair new pieces with old vintage ones, and it just flows.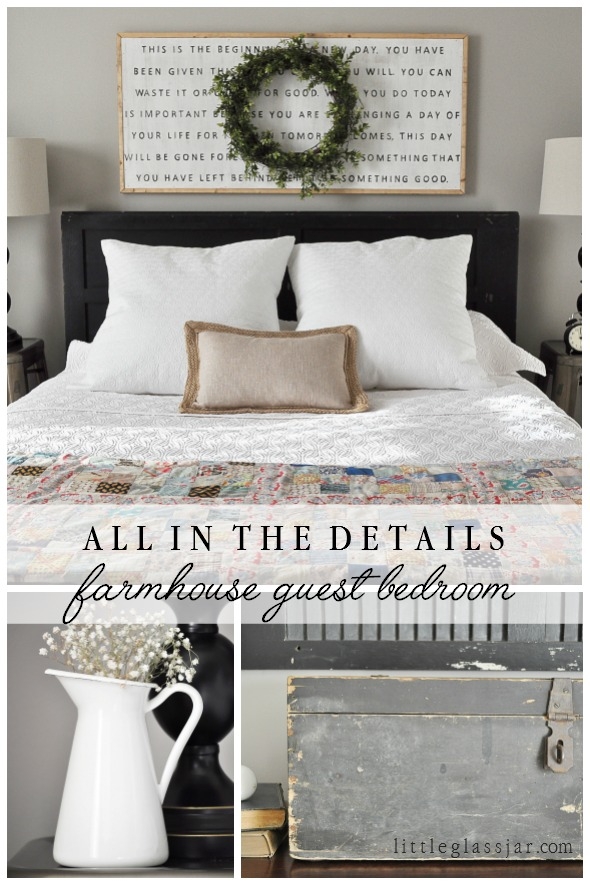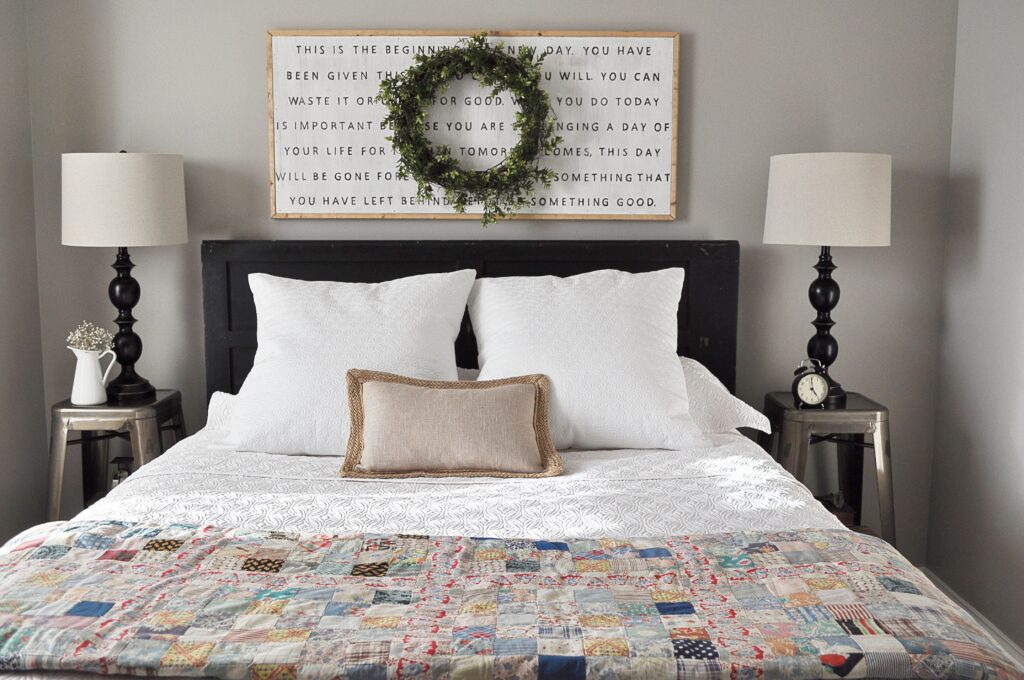 This room is a mix of new and old, with a few DIY projects here and there too. I started this room with a mattress and metal bed frame, and my husbands new (to me) bachelor chest, but the real inspiration came from that quilt you see at the end of the bed. My mom picked it up for me at an antique store while on vacation and is made out of chicken feed sacks. The color and patterns are truly beautiful. It was the perfect start to my farmhouse room.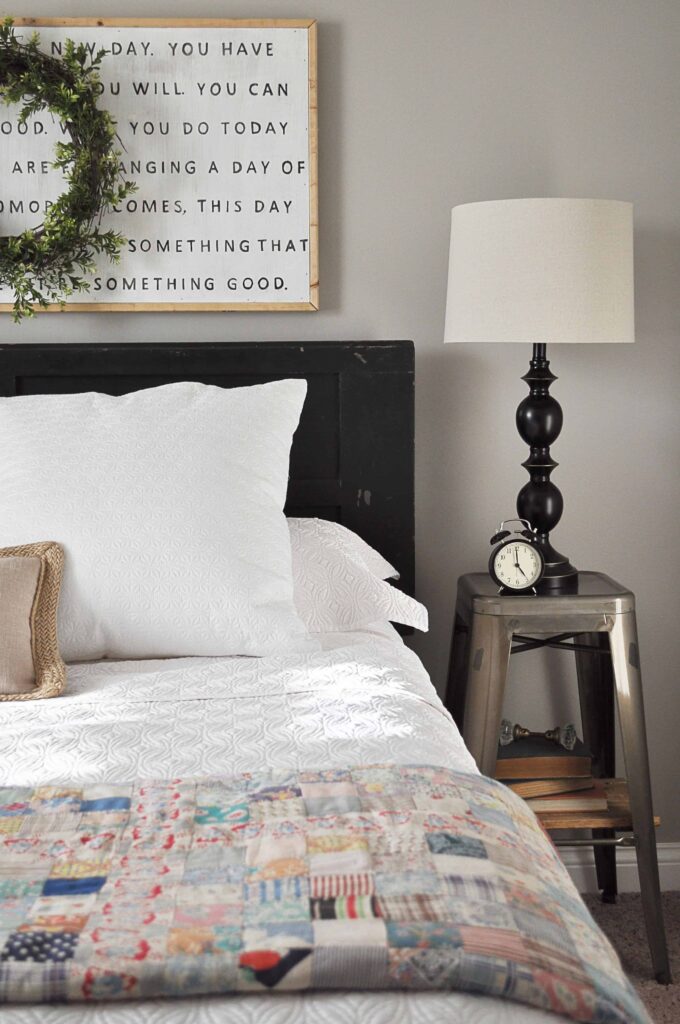 The nightstands in this room happen to be one of my better ideas. My husband and I found these metal industrial stools on sale for only $14 a piece so we bought four of them! At the time we had no use for them, so I decided to use them in the room as nightstands until we got some new ones. Eventually I just turned them into functional pieces for this room that I absolutely love. See the full Industrial Stool Nightstands [here].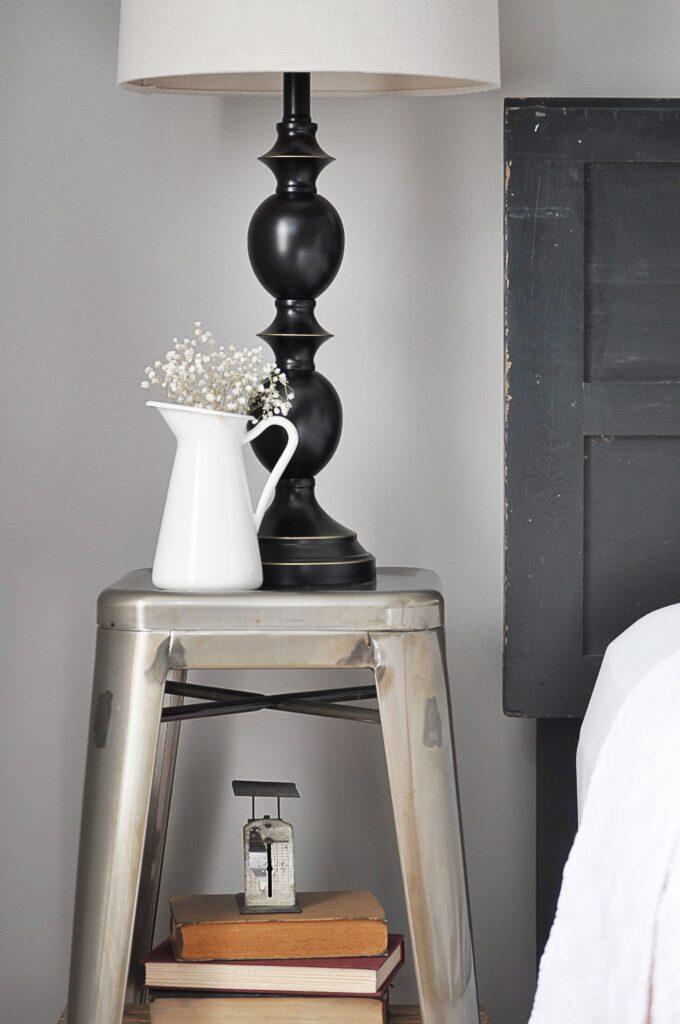 Flowers and greenery are a must in just about any space. For a long time I hated the thought of using fake plants in my house, but now I have them everywhere! I am pretty picky about their look, but for the most part I think the ones that don't look too plastic can really bring some color to a room. Also, dried out baby's breath is a staple in our home. It's too pretty not to use as a filler.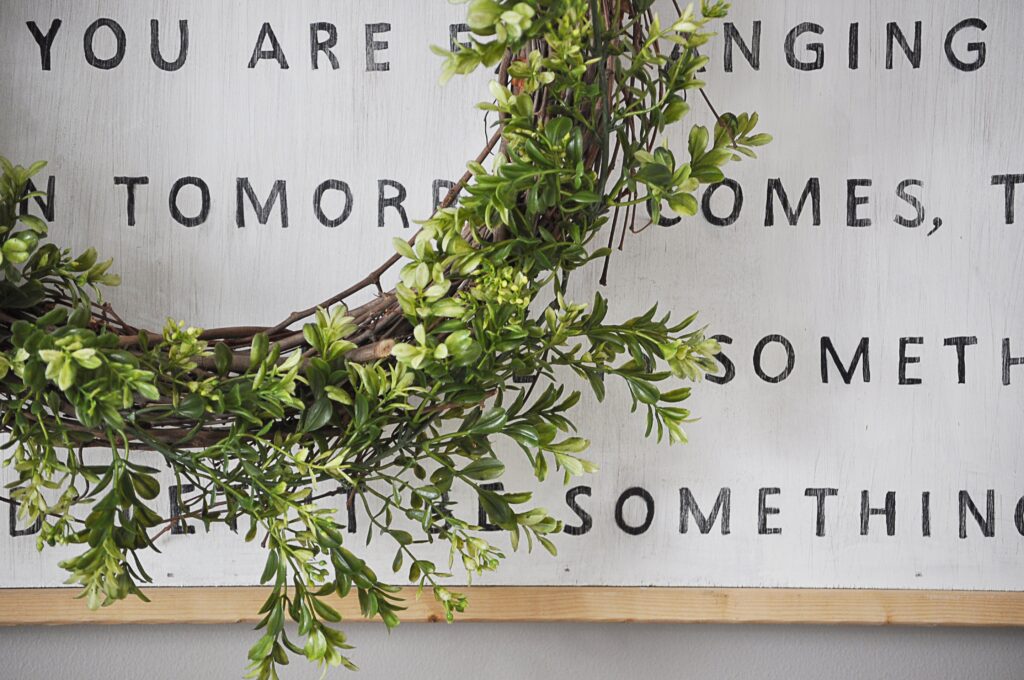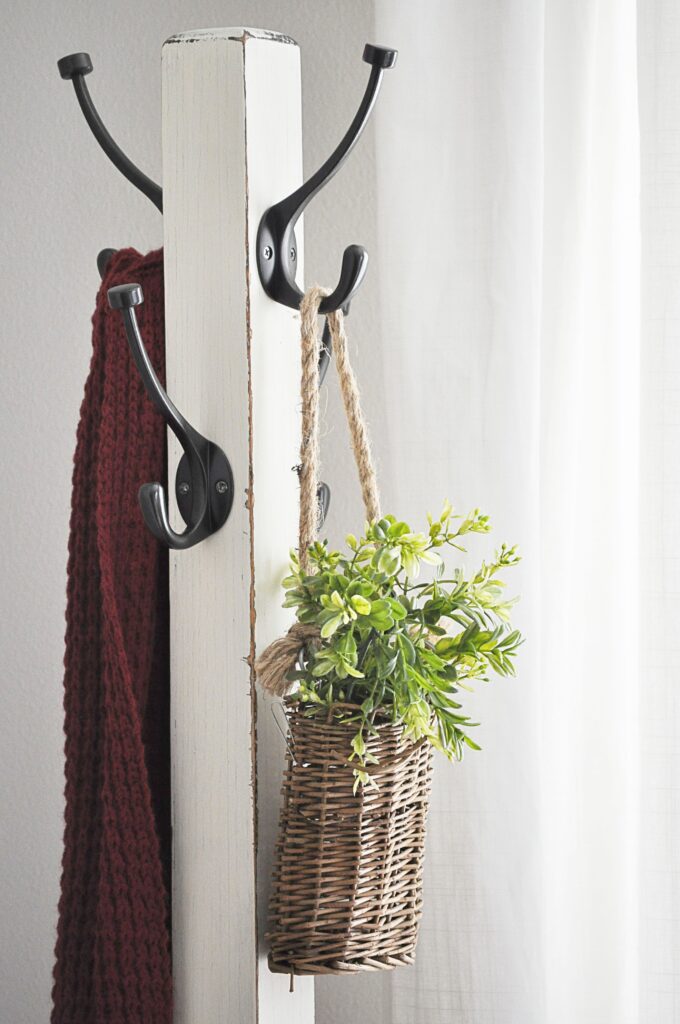 Bedding is yet another purchase I am super picky about. If you have been following along, you know I keep to neutral colors mostly, so I knew I wanted to go with all white bedding in this room for a super clean and bright look. Matched with a cute little burlap pillow, and against our DIY Vintage Door Headboard [here], it all ties together nicely.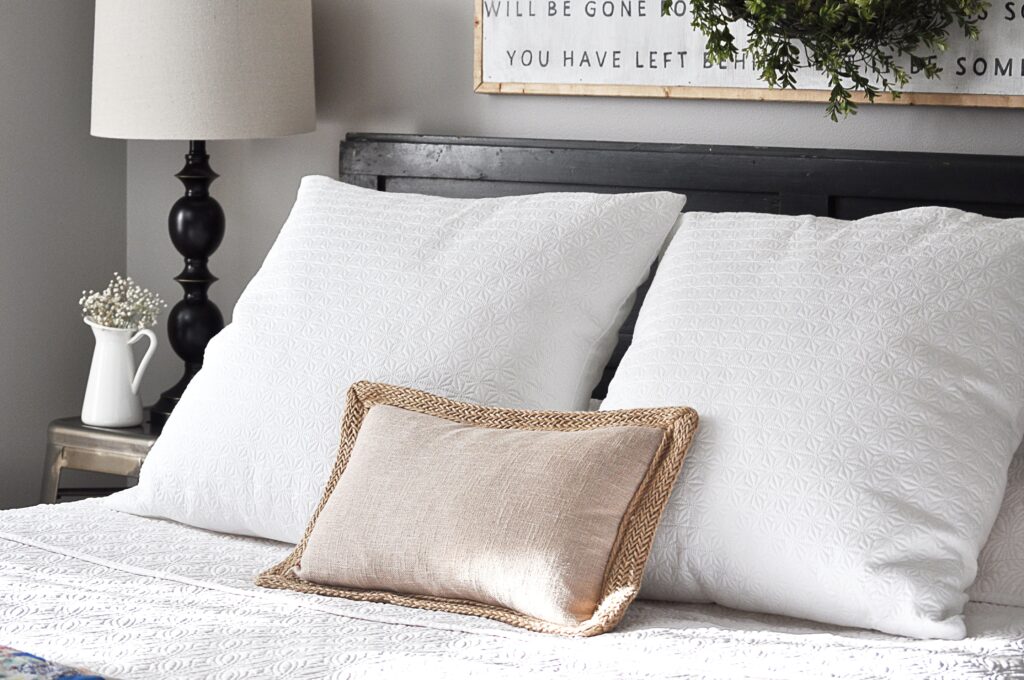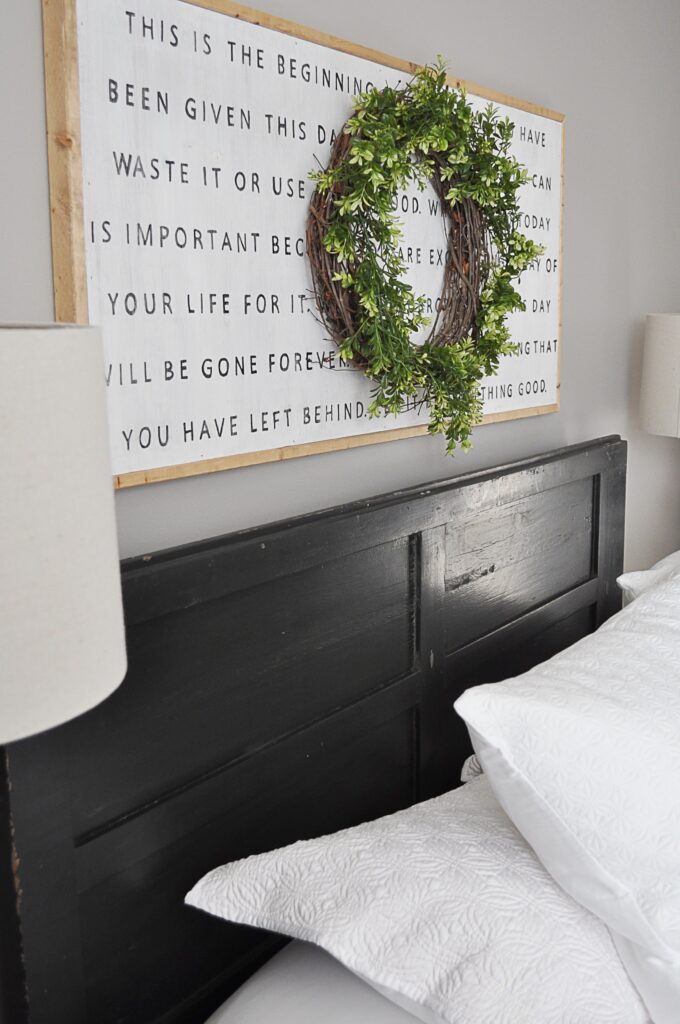 I mentioned I mixed old and new…new being this bachelors chest that my husband bought with his bedroom furniture set before we got married. It's a beautiful piece with lots and lots of extra storage space, which I love. I added some vintage finds to display on the top with the old toolbox, books, and doorknobs.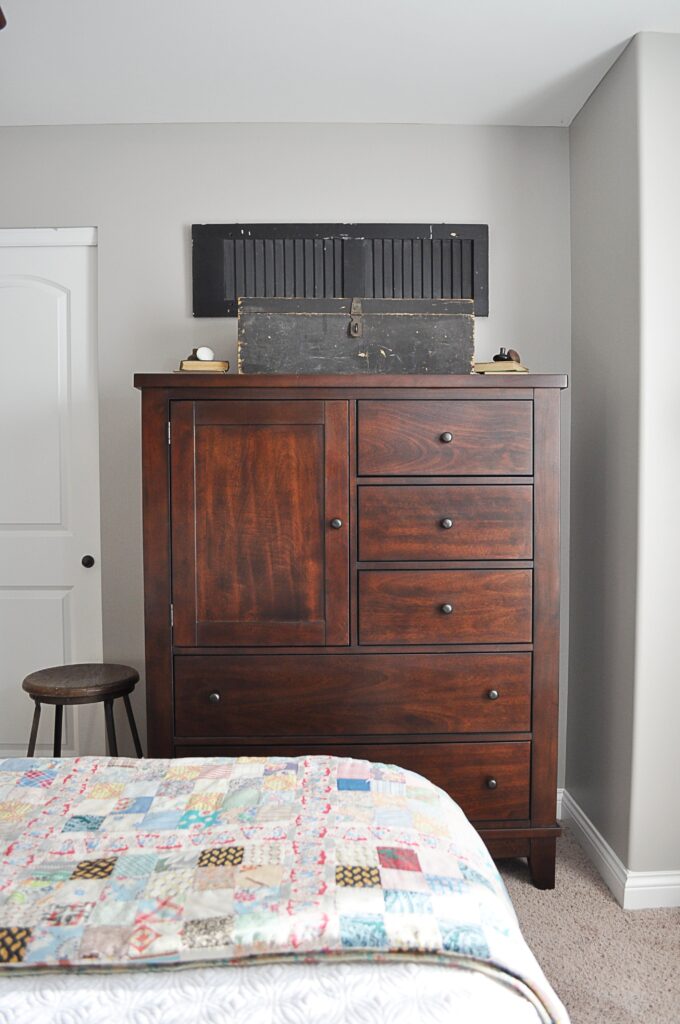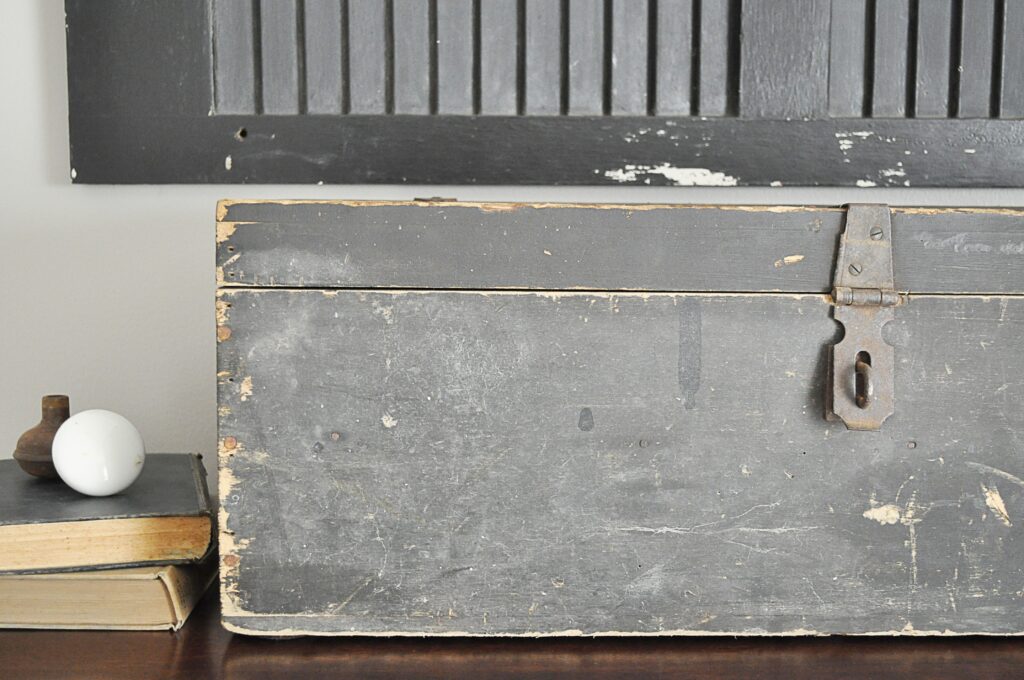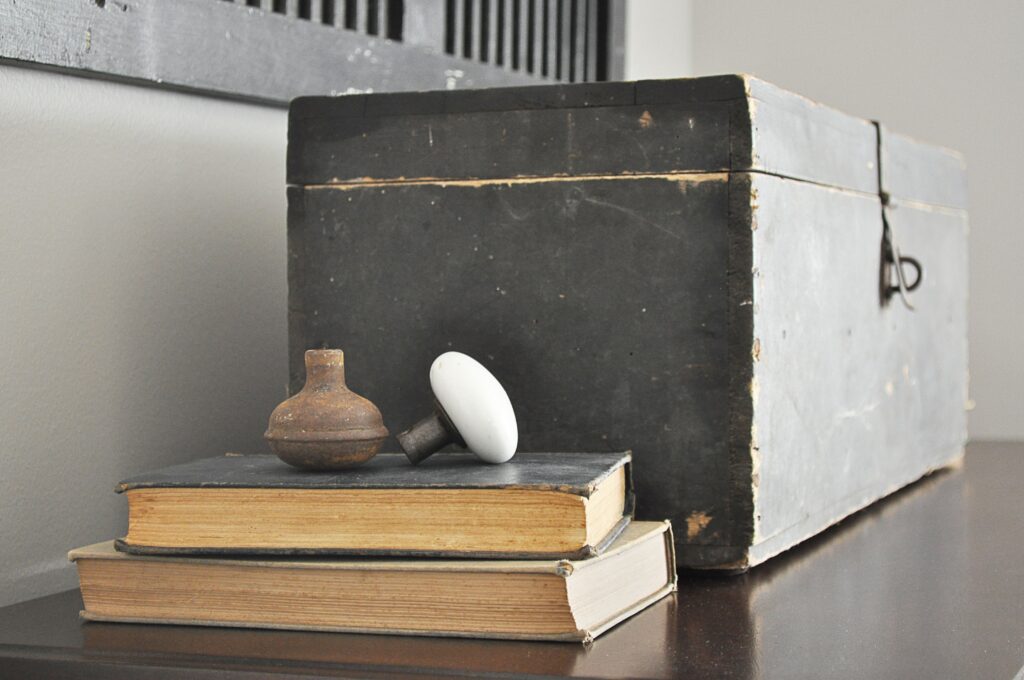 Other decorative touches to our farmhouse guest bedroom include a coat rack I gave a bit of a makeover, an old stool, some barnwood framed farm art (not pictured) and a DIY Rustic Blanket Ladder [here].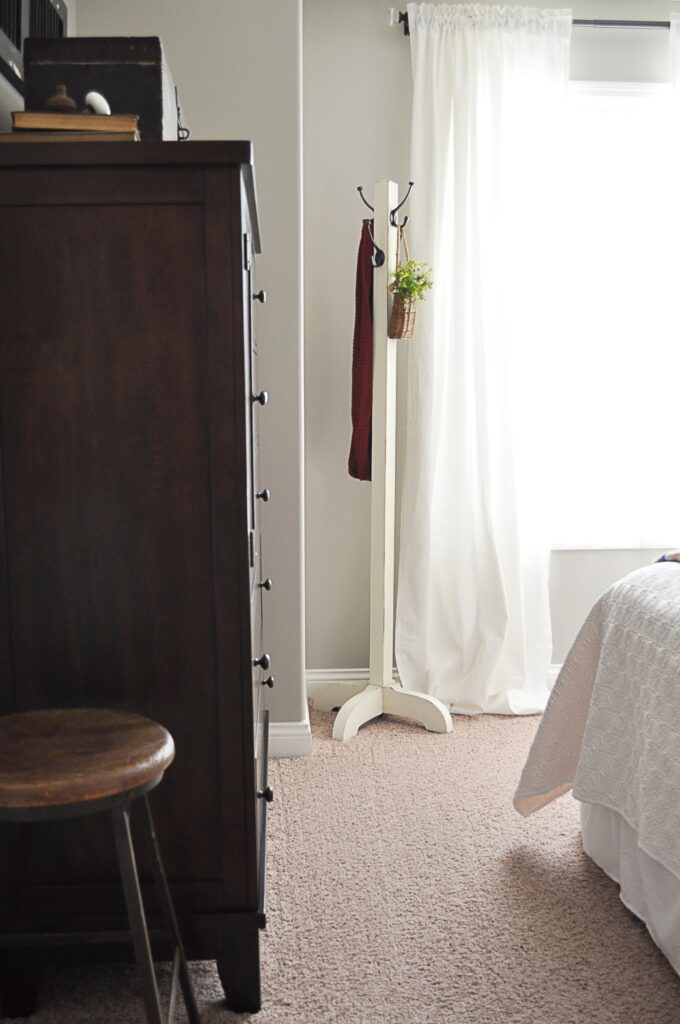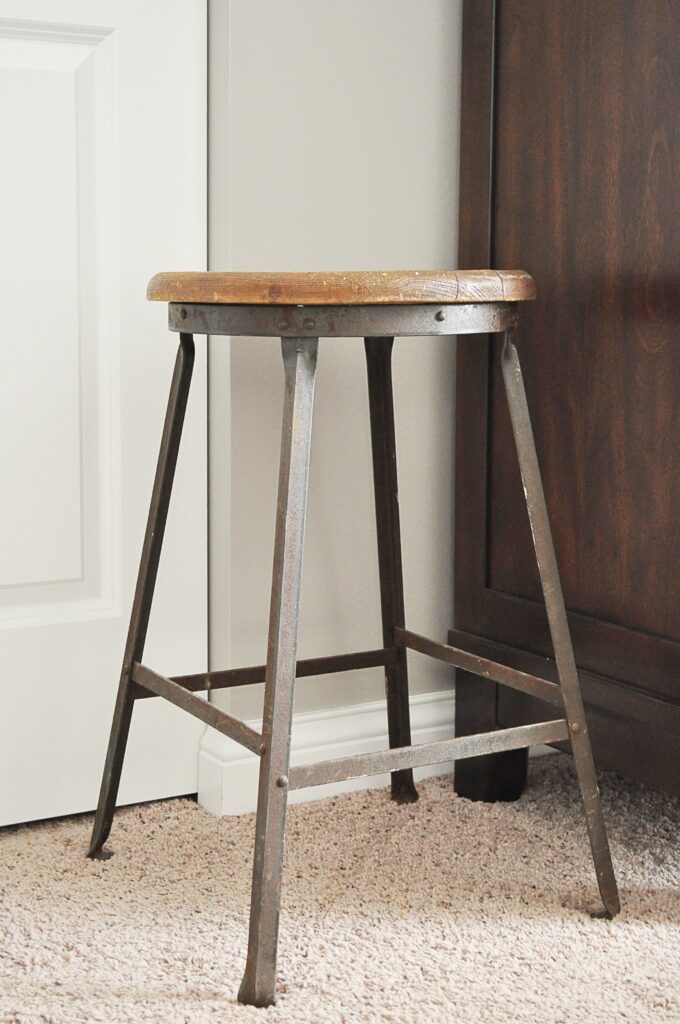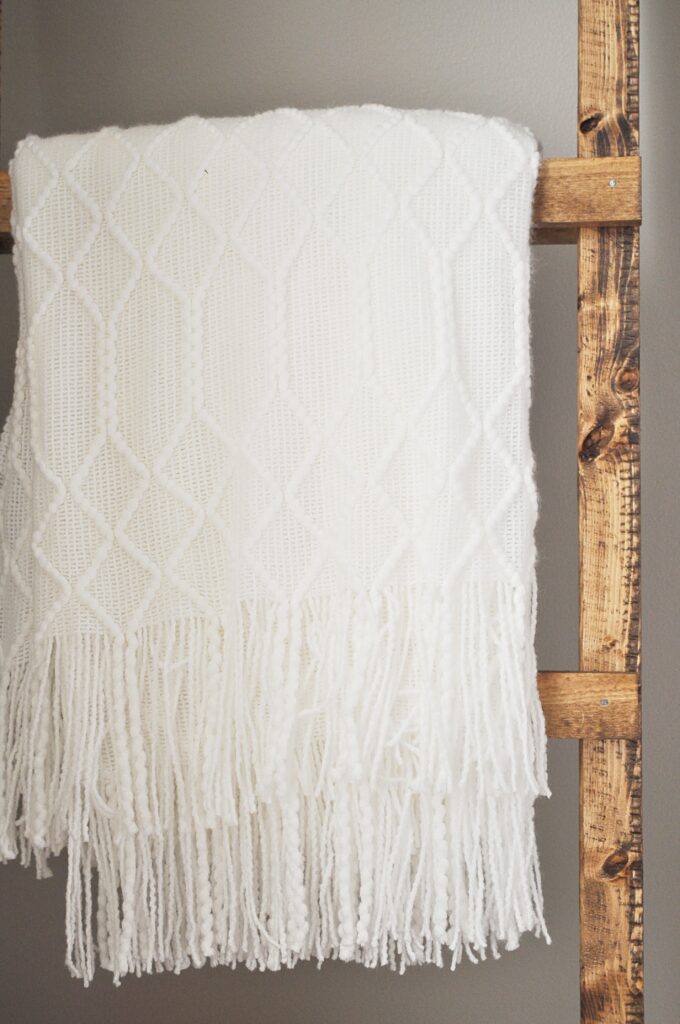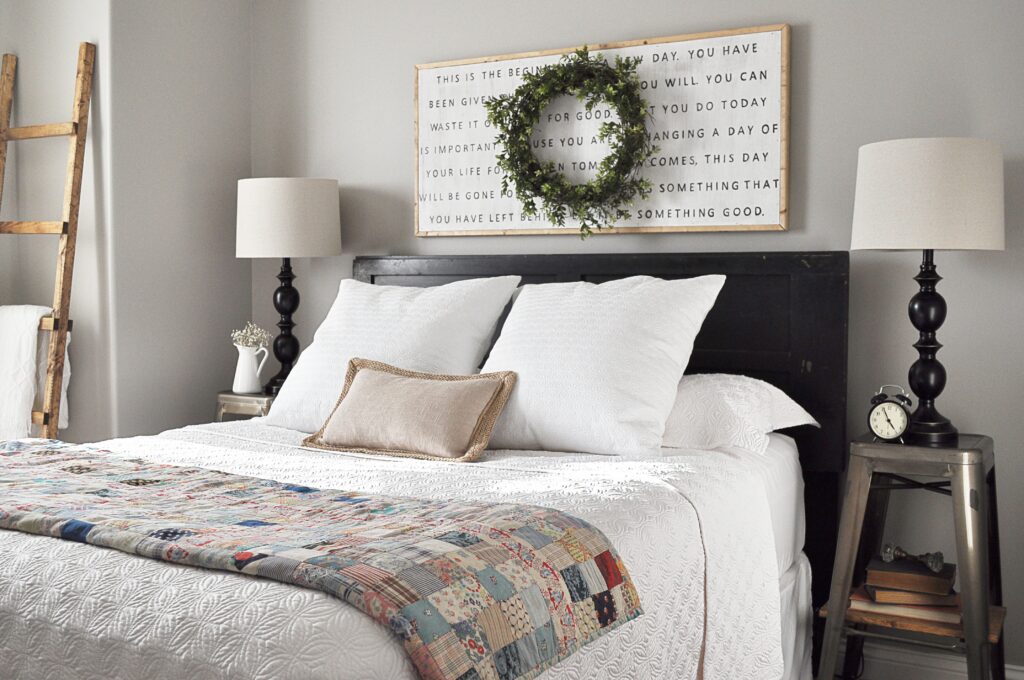 S O U R C E   L I S T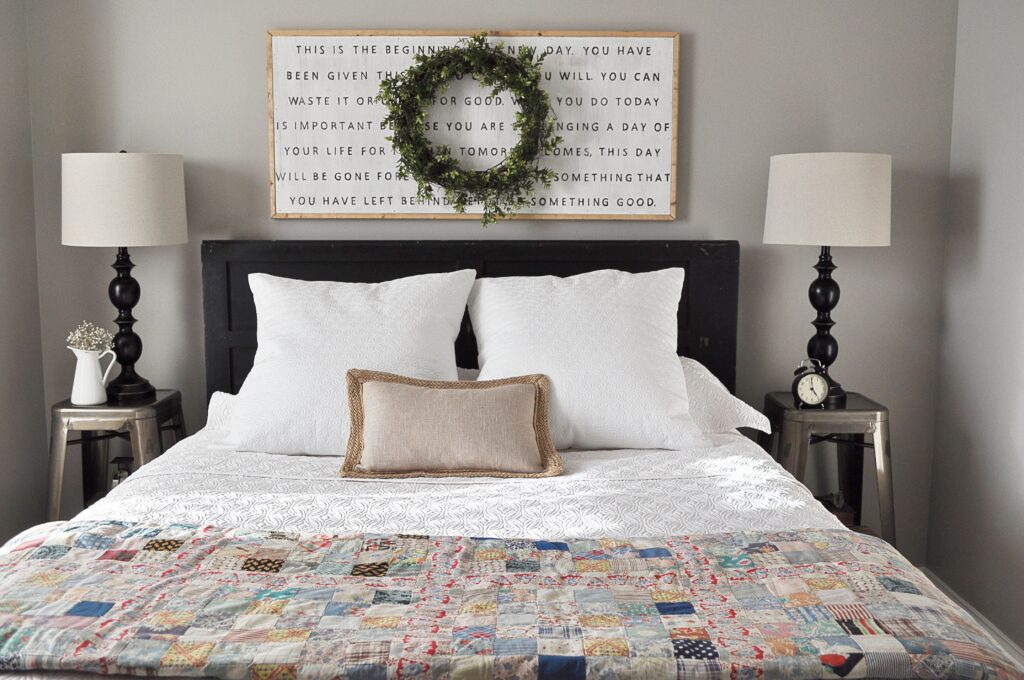 **This post contains some affiliate links for your shopping convenience.
White Bedding – Target
White Pillows – Home Goods
Burlap Pillow – TJ Maxx
Quilt – Antique Store
Vintage Door Headboard – DIY 
Industrial Stools – Sam's Club + DIY
White Pitcher – Ikea
Lamps – Home Goods
Clock – Ikea
Quote Sign – Maebels
Greenery  –  Micheals
Old books – Goodwill
Scale/Doorknobs – Flea Market
Black Toolbox/Vintgage Stool – Antique Mall
Curtains – Ikea
Curtain Rod – Target
Coat Rack – Flea Market
Hooks on Coat Rack – Lowes
Blanket Ladder – DIY
White throw – TJ Maxx
Shutter – Flea Market
Bachelor Chest – Ashley Furniture
Also if you haven't seen our Farmhouse Dining Room yet, be sure to check it out!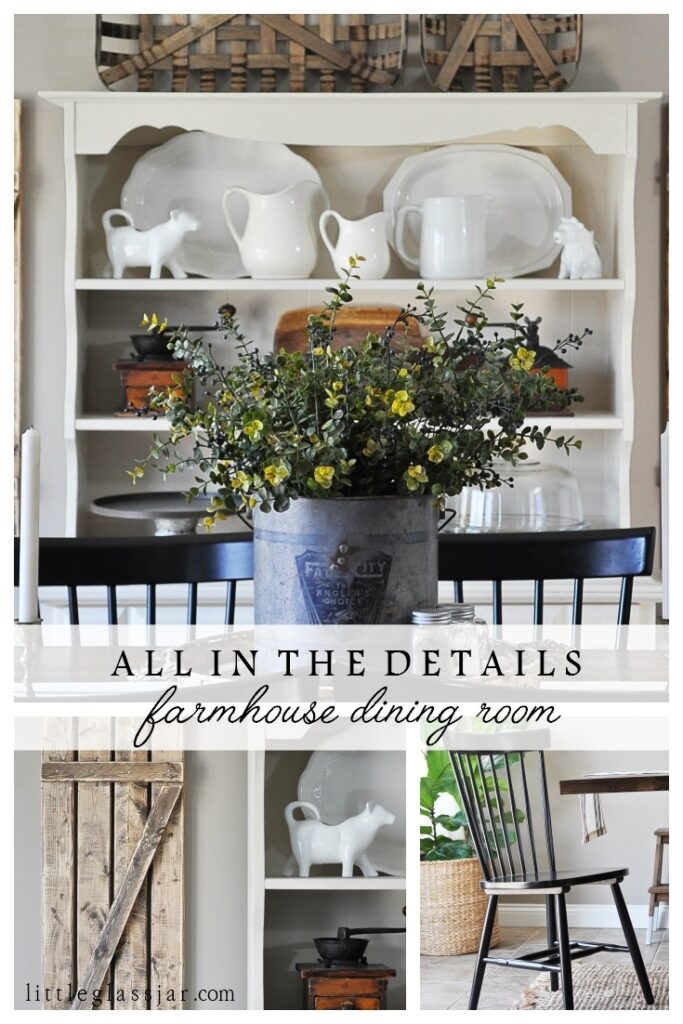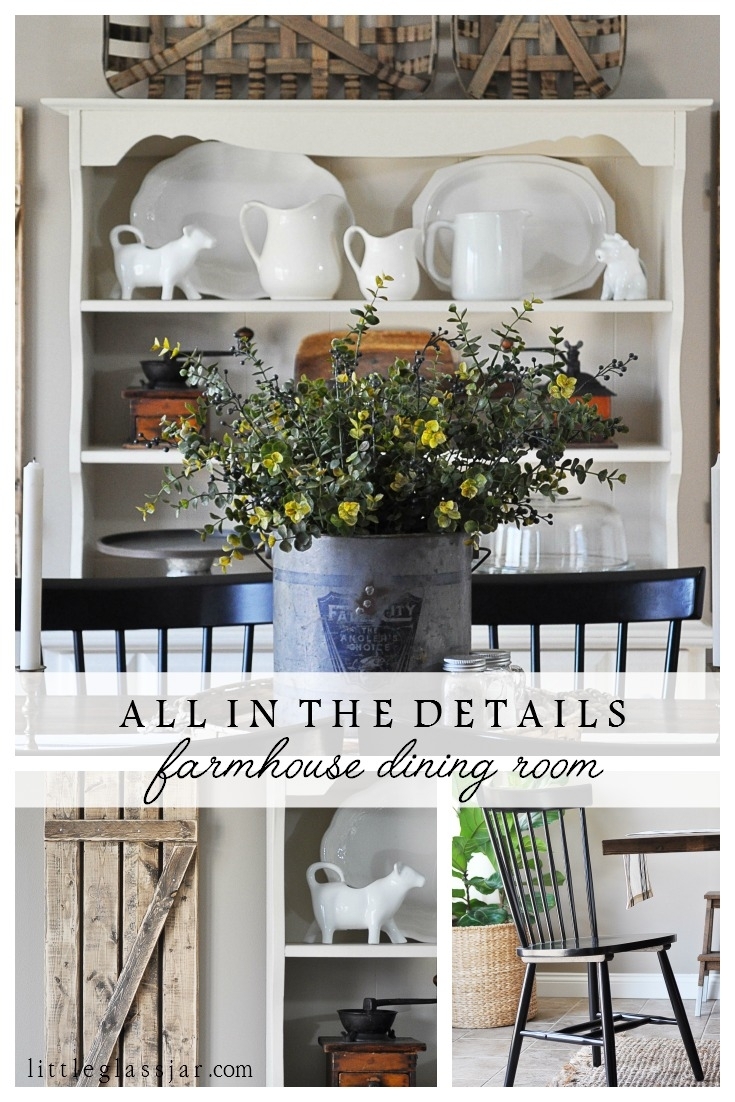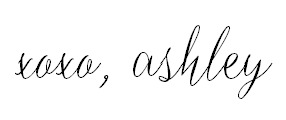 Linking Up: