Last Look at Our Vintage Guest Bedroom
This post may contain affiliate links. For more information please see our disclosure policy.
You guys! I feel like it's been so long! I'm so sorry I have been totally MIA here the last month, but you know what I've learned, pregnancy is very unpredictable. For the last few weeks and even a little before, I have been dealing with the worst ligament pain, that a lot of days had me stuck in bed because I could barely walk. It's getting better, so I finally got around to getting some pictures taken and work done, thankfully!
I've had a ton of time to get my nursery plans together and I cannot wait to share them with all of you soon. We just had our baby bed delivered last week and it's taking everything in me not to rip open the box, put it together, and stare at it all day long. But we are going to wait until closer to our showers next month to start getting things set up in there so they don't just collect dust. We'll see how that goes, because I am so anxious!
Until then, I am planning on dismantling and finding new homes for some of the things in our vintage guest bedroom, that will need clearing out to make room for this little babe. So I thought I would share a few shots of the room together before it gets packed up!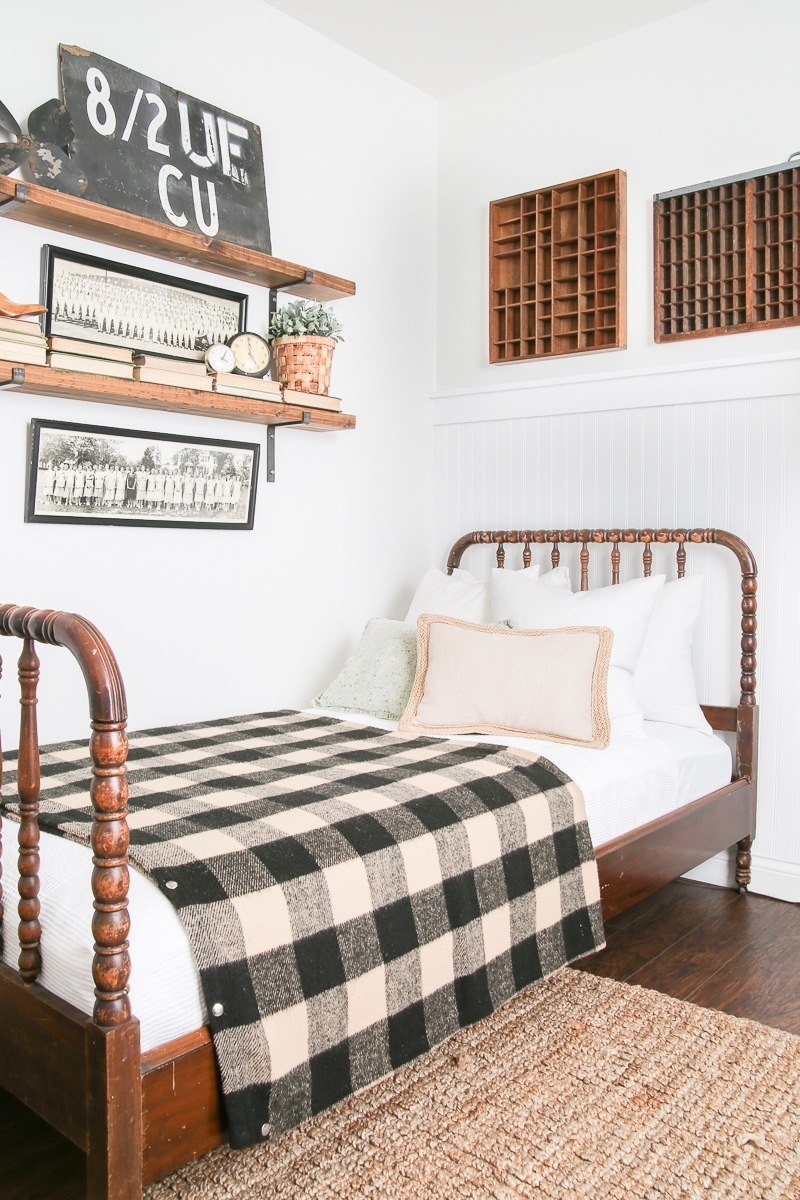 This room has been like a dumping ground for all of my favorite vintage finds. My $35 antique Jenny Lind twin bed is my absolute favorite purchase ever, and will hopefully be reused later on when our little one is old enough for a big kid bed. Also, spoiler alert, the crib I ordered might just be a Jenny Lind too! I can't get enough!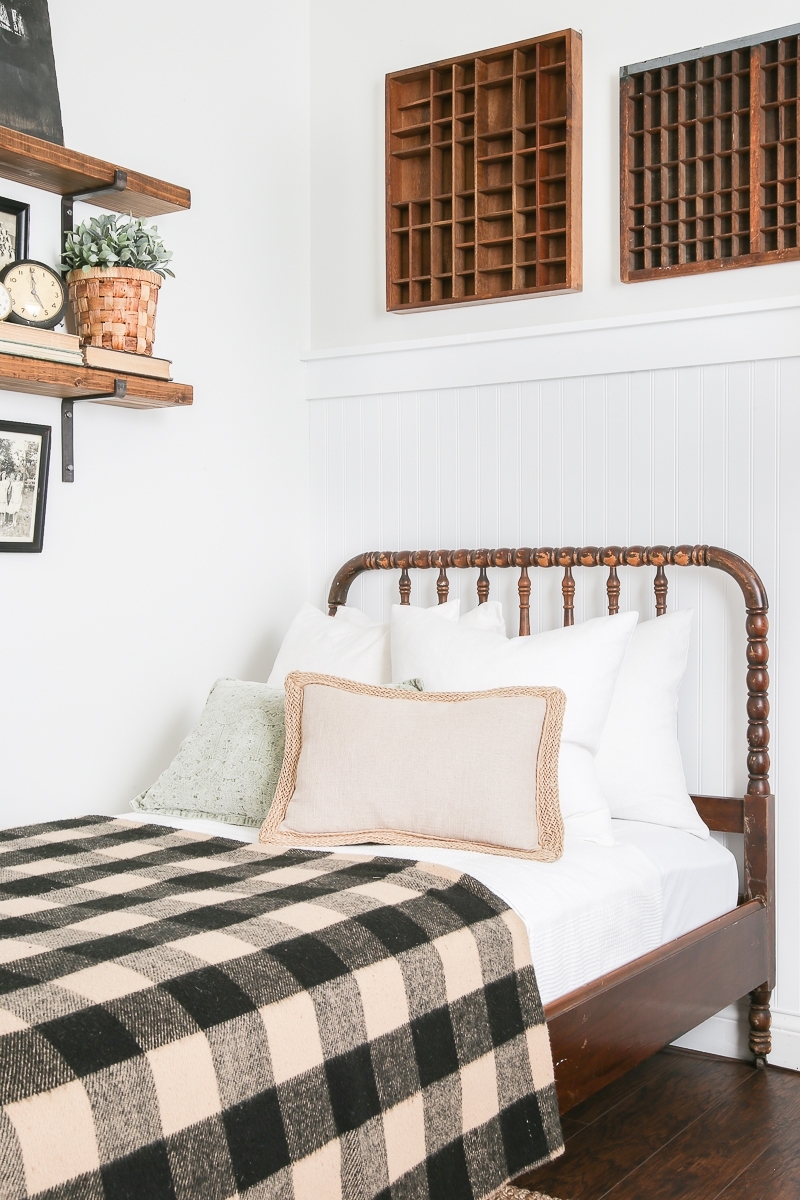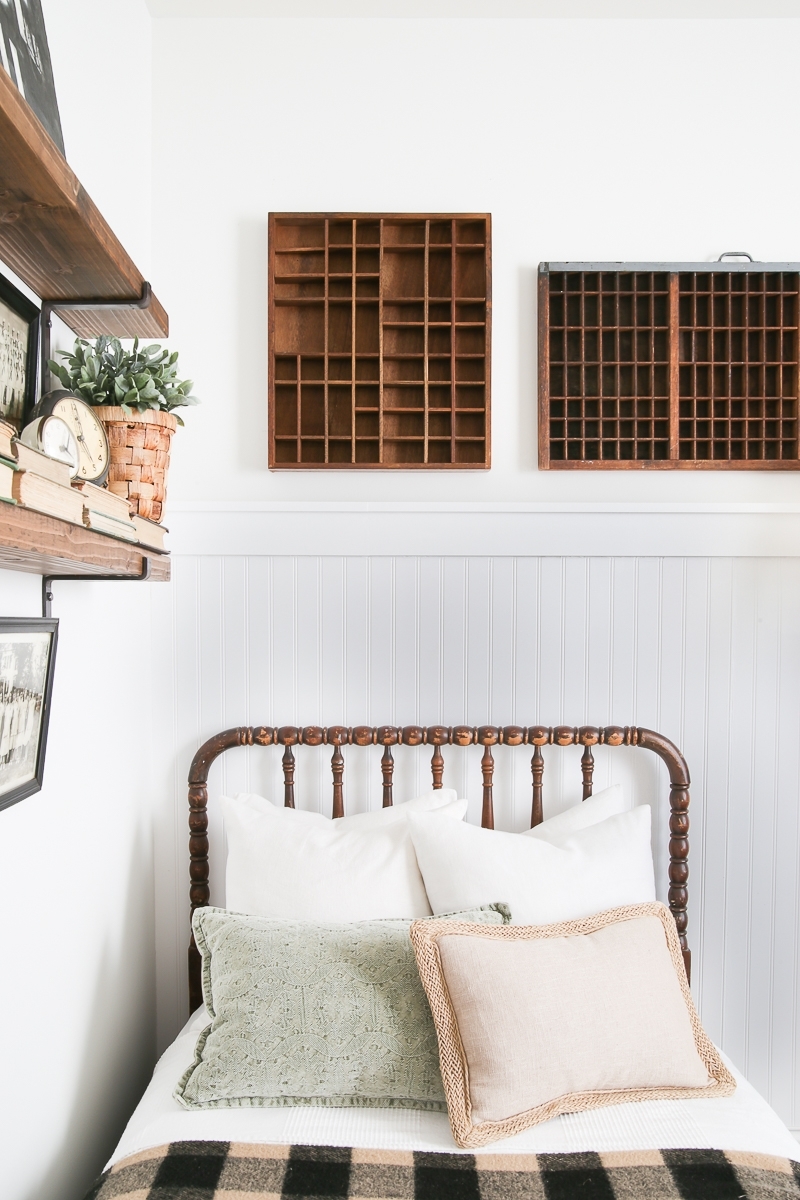 These open shelves have been so much fun to decorate over the years. I love displaying interesting and unique little gems I find from flea markets here, and love switching them out when I feel I need a fresh look.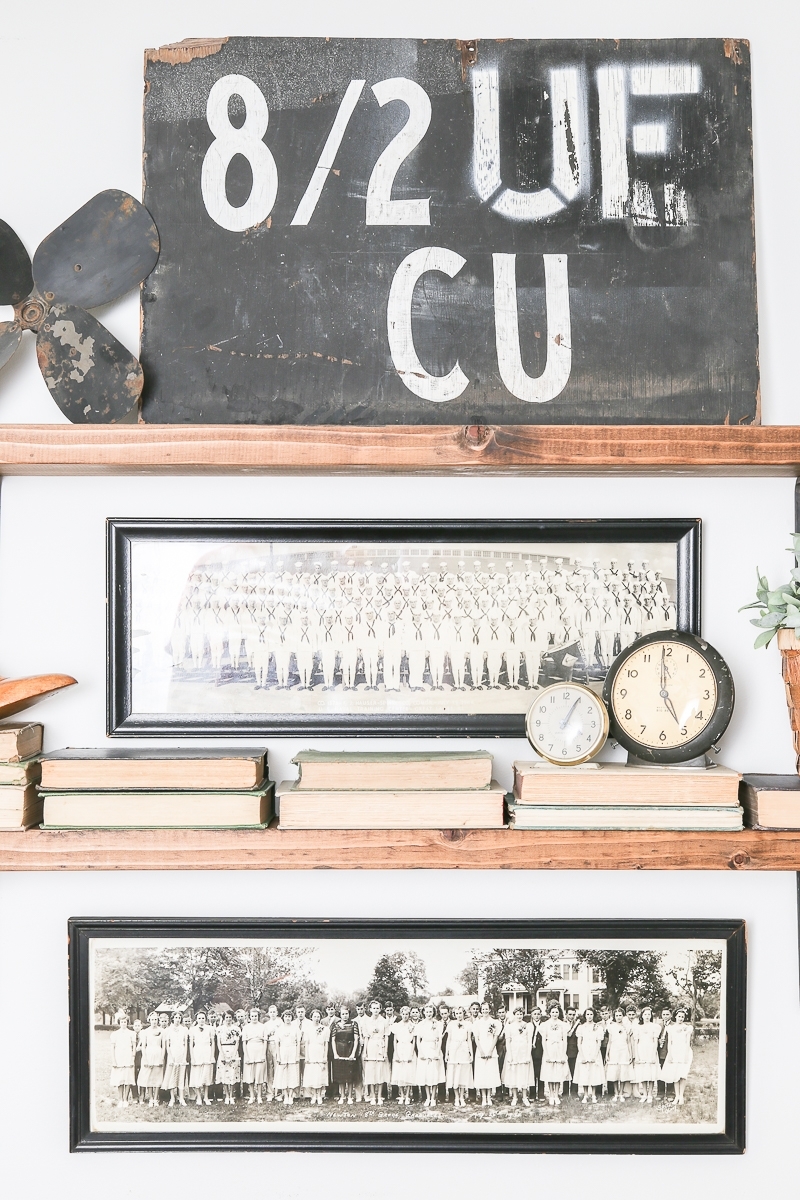 If I'm being honest, I have been dreaming about this very room being turned into a nursery long before I was even blessed with this pregnancy. During our long struggle with infertility, I was still making updates and changes that were ones I would have made had I been pregnant. So it's kind of been being prepped all along for this special time in our lives.
The walls will stay white, along with the wainscoting, and this green armoire makeover that I did with the thought it would be in my future nursery will also stay.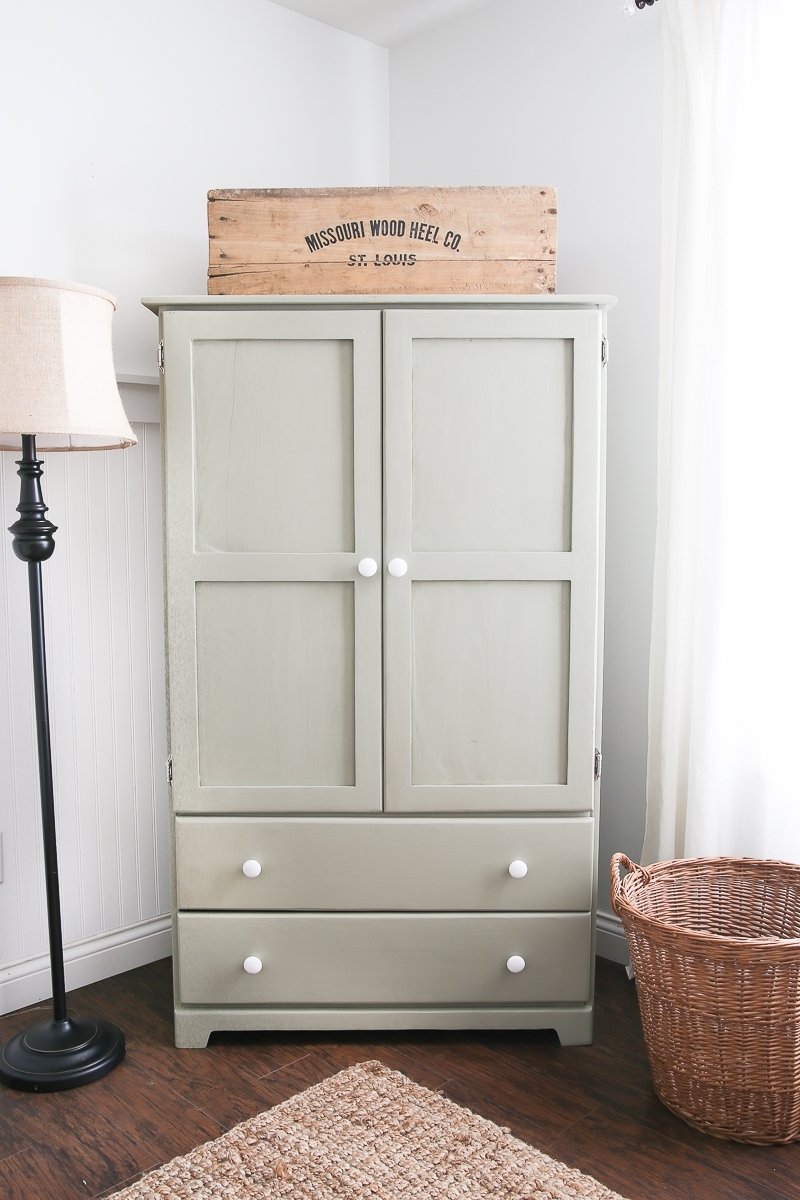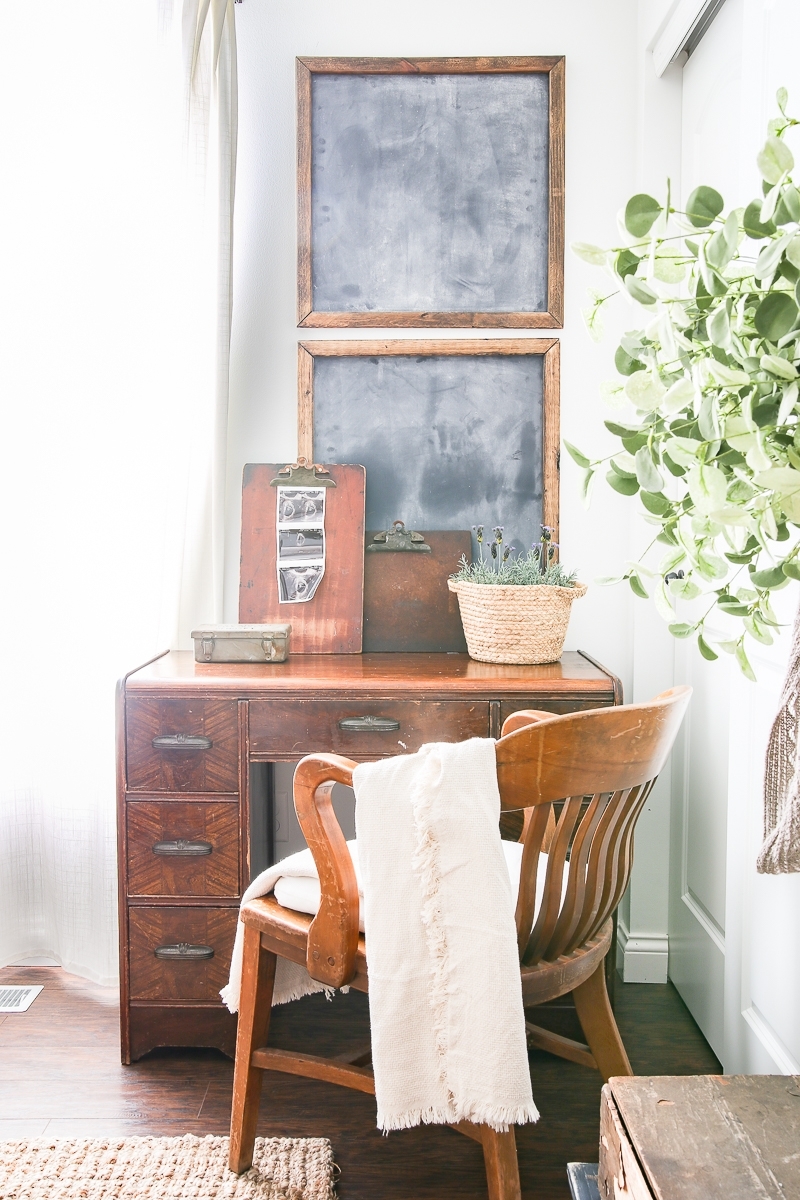 This guest room also doubled as my office, so I will have to find a new home for my little desk too. I've loved working in this nook, but I'll love it even more nursing my sweet little babe here!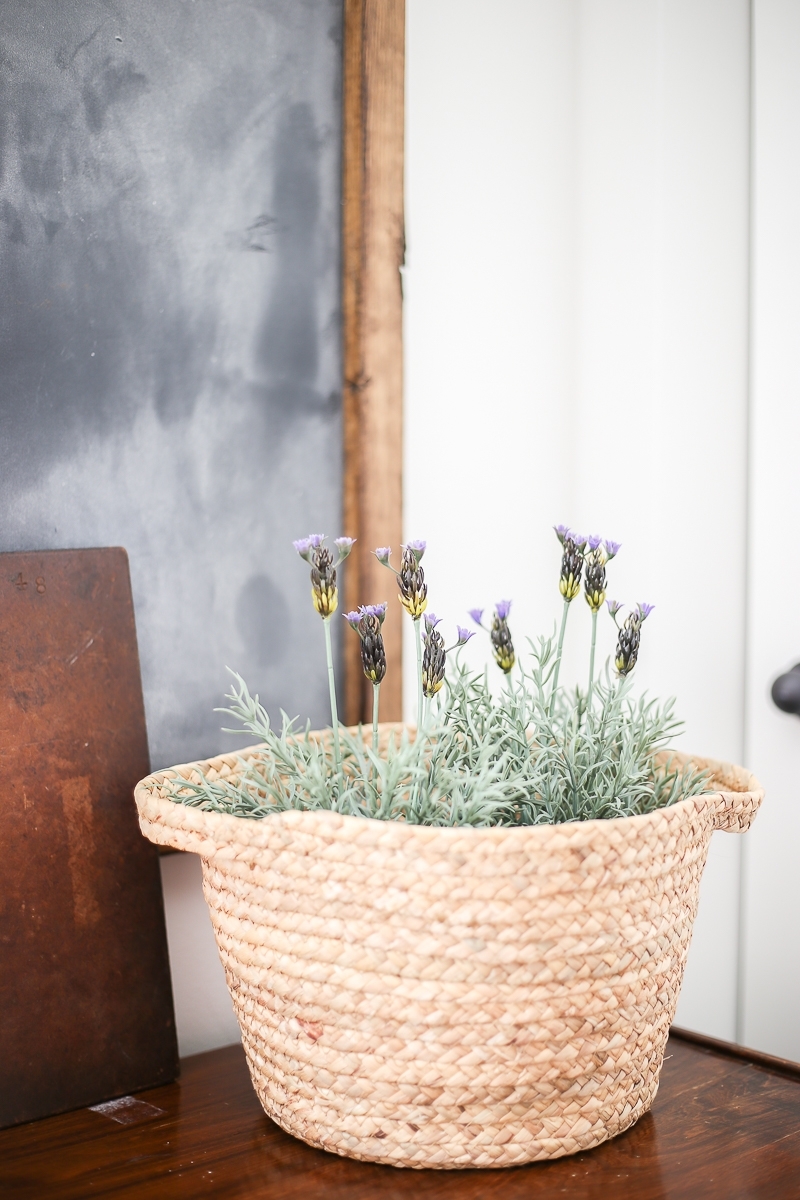 Thank you all for stopping in to say goodbye to this space! And I hope you come back and see how I transform it into its new purpose, a beautiful nursery for our precious baby!
And I really hope to start posting more again here, I am just taking this pregnancy day by day and listening to my body when it tells me to rest! I know I'll thank myself in a few months for doing so when rest is a lot more limited! But overall, I am just soaking in this season of my life, and loving every single second of it!