Neutral Nursery Design and Plans
This post may contain affiliate links. For more information please see our disclosure policy.
I am in full on baby mode here, my friends. I have two baby showers coming up at the beginning of May, I am finally forcing myself to buy maternity clothes because let's face it, the baby bump is getting big, and I am working like crazy to get the nursery together. Not to mention nesting started way early for me, and I want to clean, purge, and organize my entire house before July gets here, all the while making sure to get in lots of time with the hubby while we still can. I cannot believe how fast these last five months have gone!
Even though it all feels like chaos, I am absolutely loving this time. I'm enjoying and soaking in every movement, every kick, every ultrasound, every heartbeat, every second of it. It's so cliche, but like many have said before me, I never knew I could already love someone this much. It's an incredible feeling.
So let's talk nursery design and plans. Since we are not finding out the gender, the nursery is going to be very simple and neutral for now. Later on when we know if the baby is a boy or girl, I'll be sure to add to it. I mean, I go neutral anyways when it comes to decorating so you probably aren't going to see any crazy amount of color regardless, but I promise you it will still feel like a kid friendly room! Here are my plans for the basics!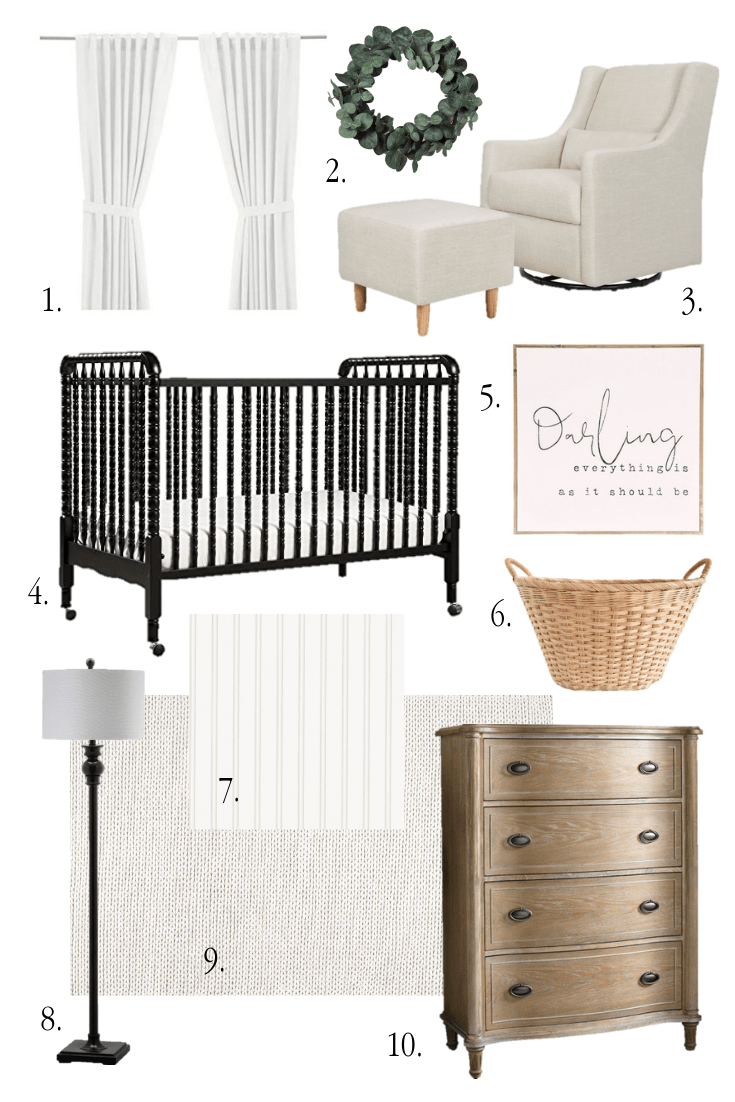 This post does contain affiliate links for your shopping convenience.
CURTAINS – I am keeping my white Ikea Ritva Curtains because I absolutely love them, and they will work perfect for what I plan to do in this space. I may add a roman shade or something to block the light also.
GREENERY – I always have to add some kind of greenery in every room, even the nursery! My plan all along was to add in some green to this space, but unfortunately the green armoire I made over isn't going to fit anymore, so plan B – add green with greenery.
GLIDER – I would love to find a glider that is an off white, linen like color and fabric. This one is beautiful but it's out of stock, and probably out of our budget range, so I'm still looking around for a similar one.
BABY CRIB – This Jenny Lind style beauty is already set up in the nursery as we speak. I tried to wait, but I couldn't! I have had my eye on it for months and months but the black goes out of stock quick, so I had to stalk it for a while, and pulled the trigger the second I saw it was back. I'm obsessed. LOVE IT. (Thanks mom and dad!)
ARTWORK – I'm working on getting some beautiful artwork in this space. I want it to be meaningful and tell the story of how grateful we are that this little one is in our lives.
BASKETS – Because, duh they are cute and add so much texture! And great for organizing! I can see them filled with stuffed animals or blankets eventually.
BEADBOARD – We added beadboard to one of the walls a few years back and love how it will look with the crib against it. I think this wall treatment is perfect for a nursery.
FLOOR LAMP – Perfect to have next to the glider, as needed.
RUG – I already bought this rug and it's on it's way now! Call me crazy for having a white rug in a nursery, but we have super dark floors and I needed to soften it up in there a bit. And this rug is a beauty!
DRESSER/CHANGING TABLE – I'm currently looking for an antique dresser I can turn into a changing table. I am wanting it to be a wood tone, so there may be a lot of sanding in my near future!

So like I said, these are the basics, and I'll be adding in some fun stuff too.
Old vintage kid books, wooden blocks, cute teddy bears, I cannot wait to see it all come together!
---
PIN IT FOR LATER
---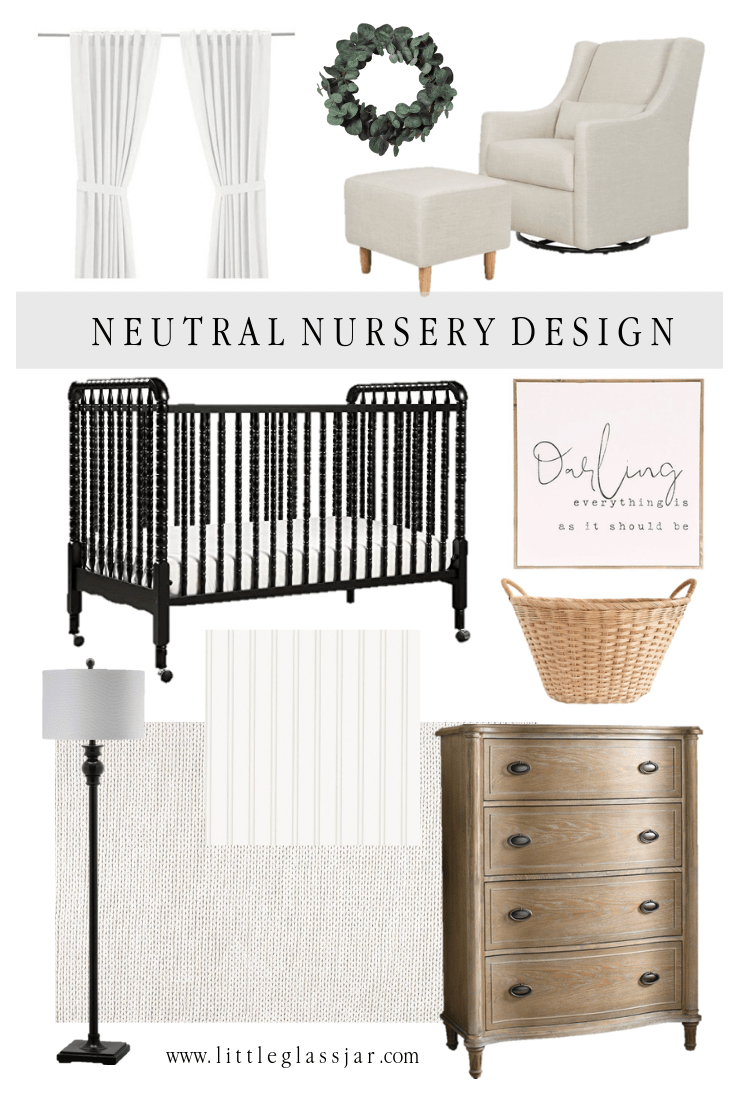 ---