How to Store and Organize Candles
This post may contain affiliate links. For more information please see our disclosure policy.
How to store and organize your candle collection properly to maintain their quality and scent. Create a beautifully organized candle drawer that is easy to access when needed.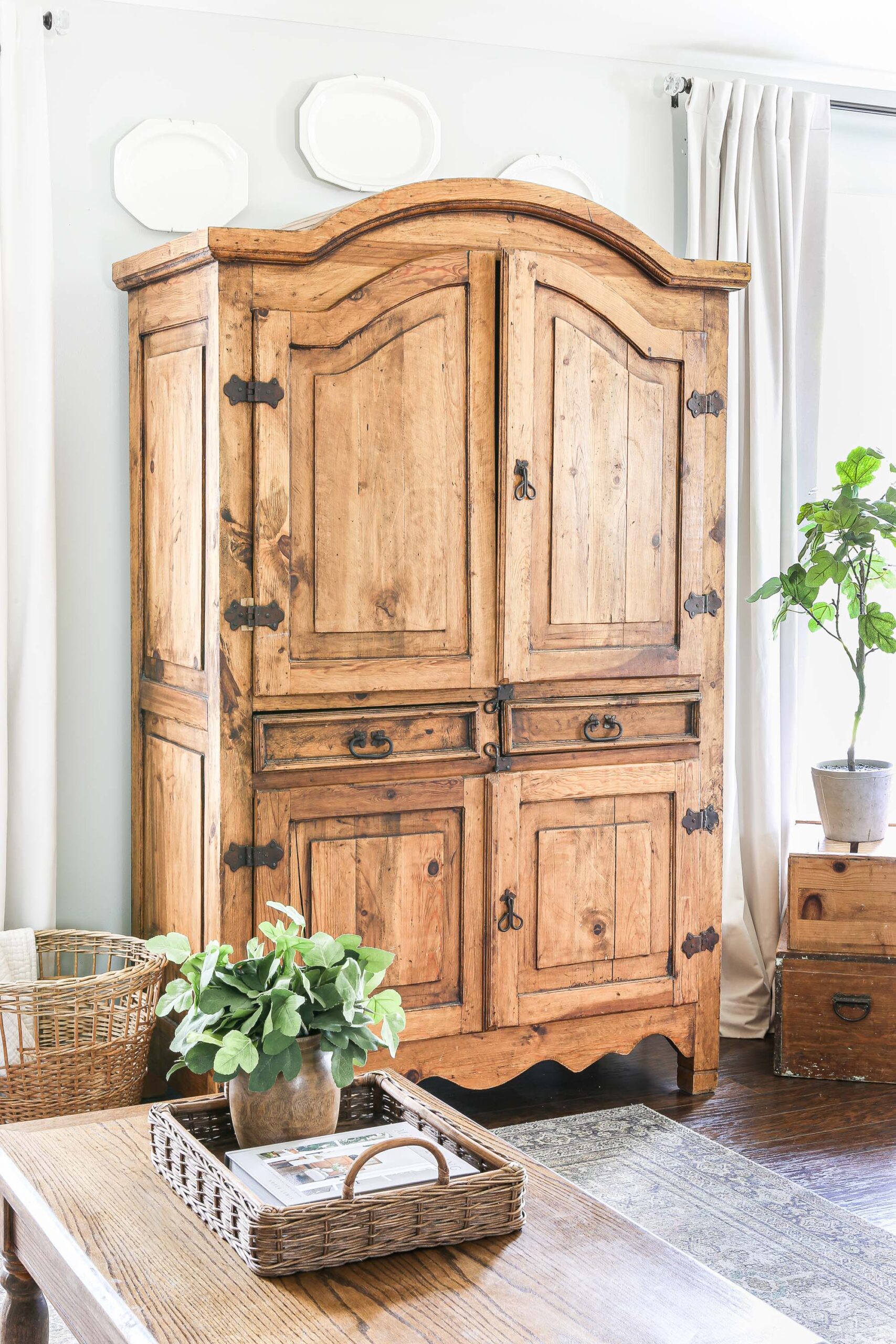 Lately I have been on a mission to be much more intentional with every space in our home. Our house is only a little over 1300 square feet, so we have to get creative with organization as our family has grown.
My goal has been to purge things we don't use or need, and create a dedicated space for everything else. I want every single thing to have a home. Making it easier to access, and quicker to clean up.
Slowly I have been reanalyzing every nook and cranny. Going back through cabinets, drawers, closets, and refiguring them to meet our needs.
It's been fun for me, I'm not gonna lie! I love doing these small projects. And it's such a big help when I need to grab something quickly because I know exactly where it is.
I'm learning how valuable this is since becoming a stay at home mom of two littles.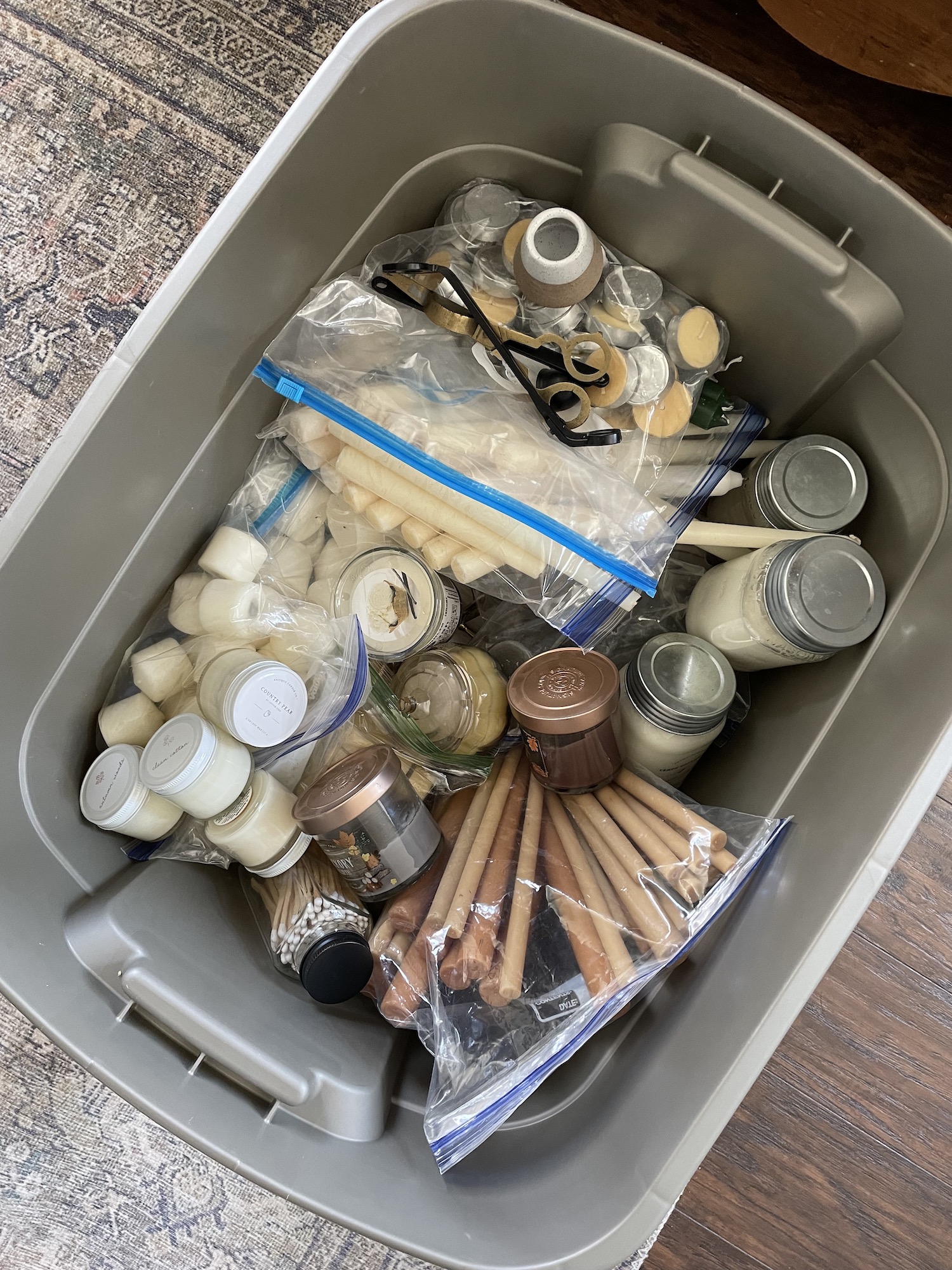 My most recent project was storing and organizing my candles. I have a large candle collection because I love to decorate with them, so they needed a new home.
Let me show you how I now store and organize my candles.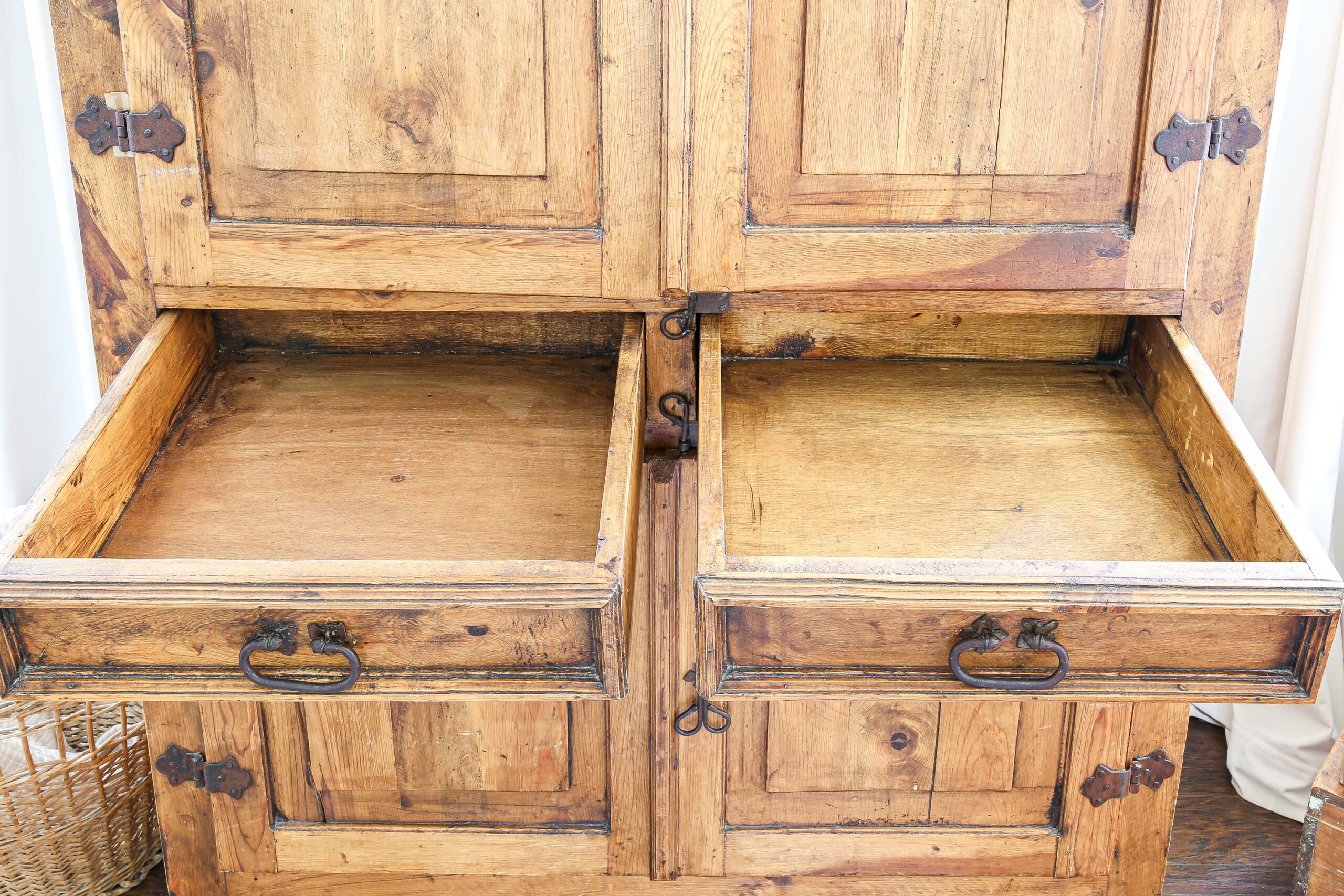 Choose a Cool, Dry Place to Store Candles
First I had to pick a new location to store my candle collection. Previously I had everything candle related in a big tupperware container in our basement.
Whenever I wanted to pull anything it was just a pain. The container was heavy and up on a shelf that just wasn't ideal.
I've had these two large drawers in our living room tv armoire that have stayed relatively empty for years. So I decided to use them for my new candle storage location.
Some things you may want to consider when storing candles:
Candles are sensitive to temperature and humidity flucuations
It's best to store candles in a cool, dry place
Avoid storing in direct sunlight, or near heating vents and radiators
Extreme temperature can cause candles to warp, melt, or fade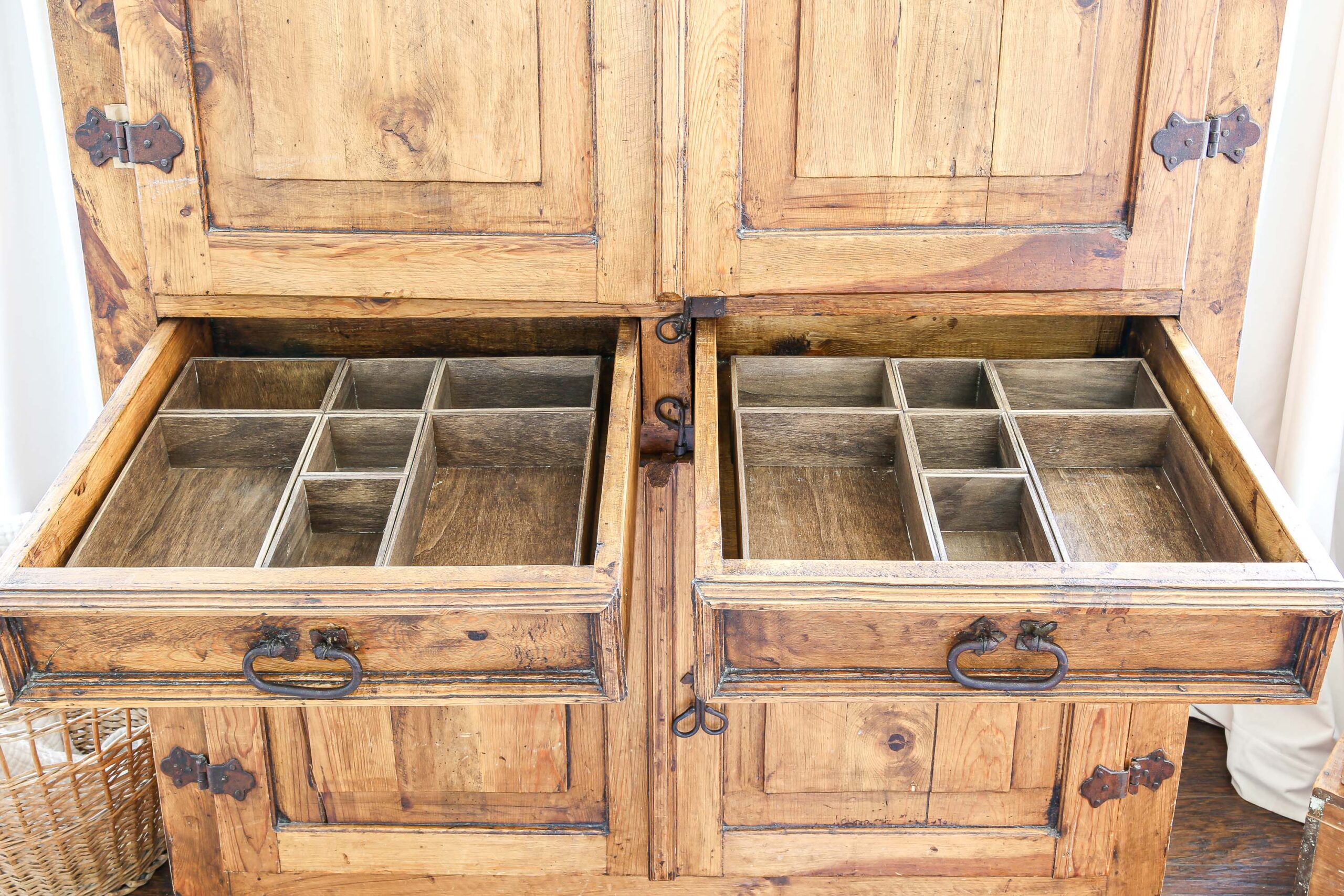 Store and Organize Candles in Separate Containers
I literally just threw all of my candles into one big box. Don't do that! I did have some separated in ziplock bags, but a lot of them still had damage and were broken when I pulled them out.
After going through everything from my big container, and purging anything broken, damaged, or no longer needed, I had a pretty manageable amount left to organize.
I had grabbed some Target dollar spot raw wooden boxes that I had, stained them, and used them in each drawer to divide and hold everything I needed.
This will keep all of my candles safely and beautifully organized.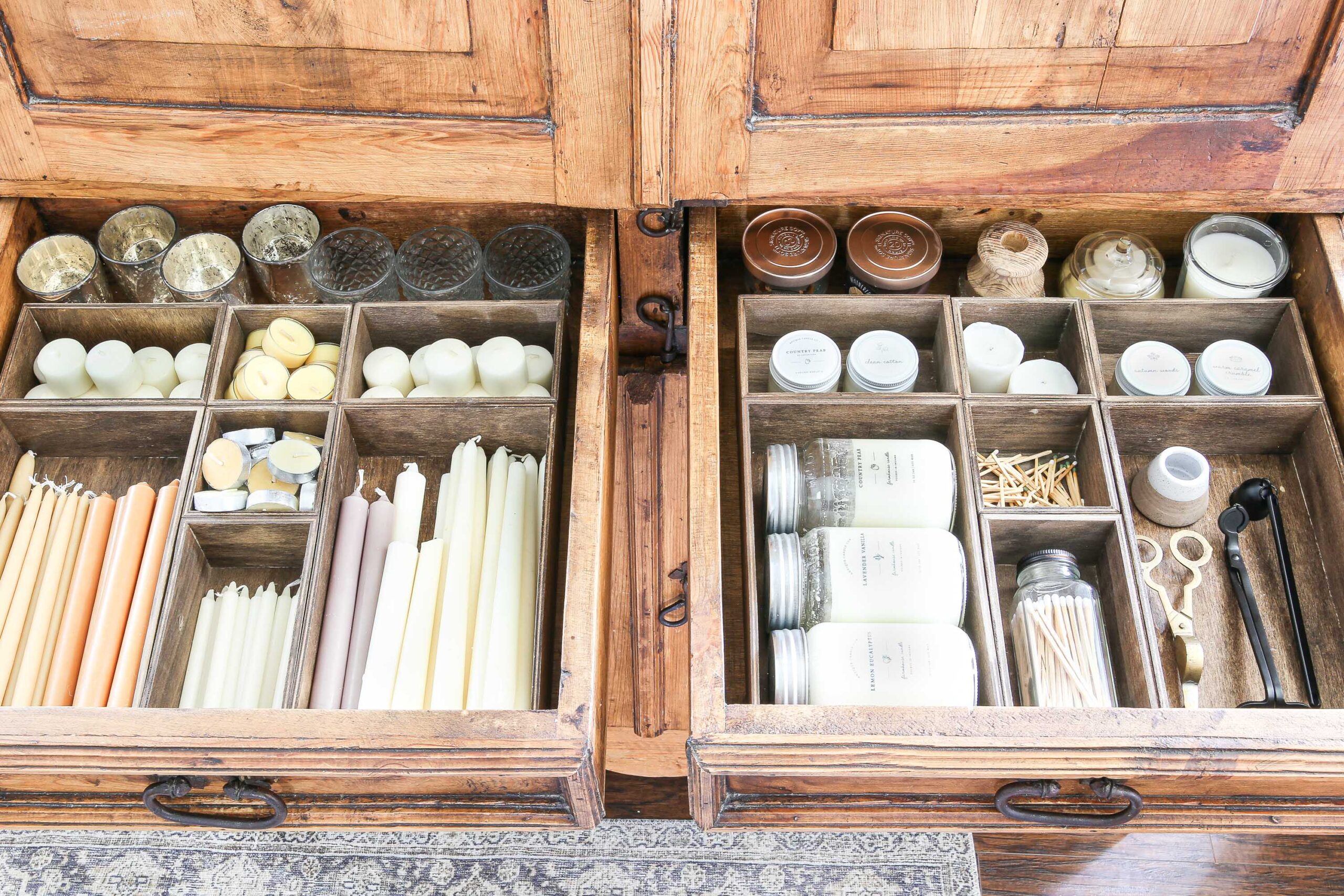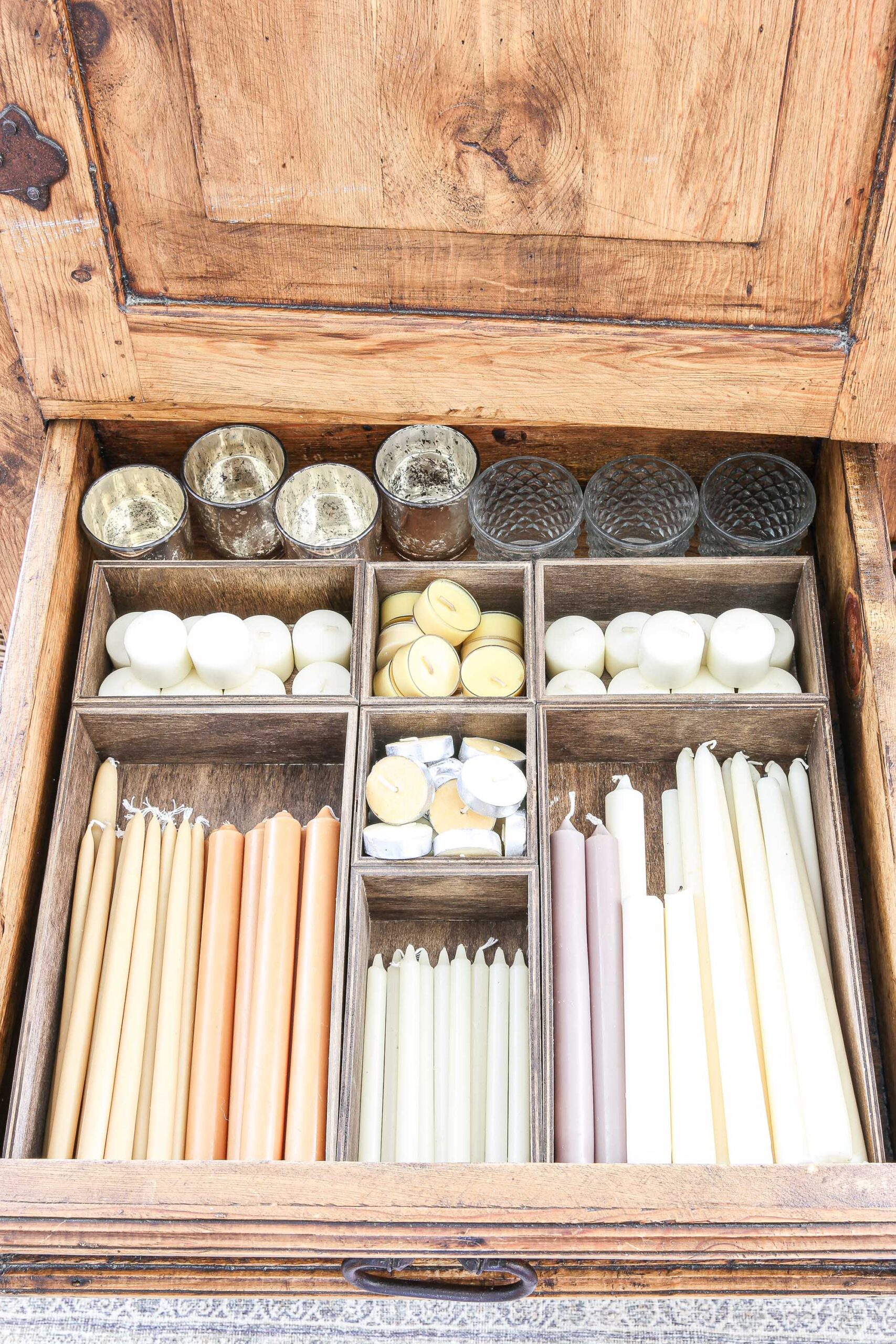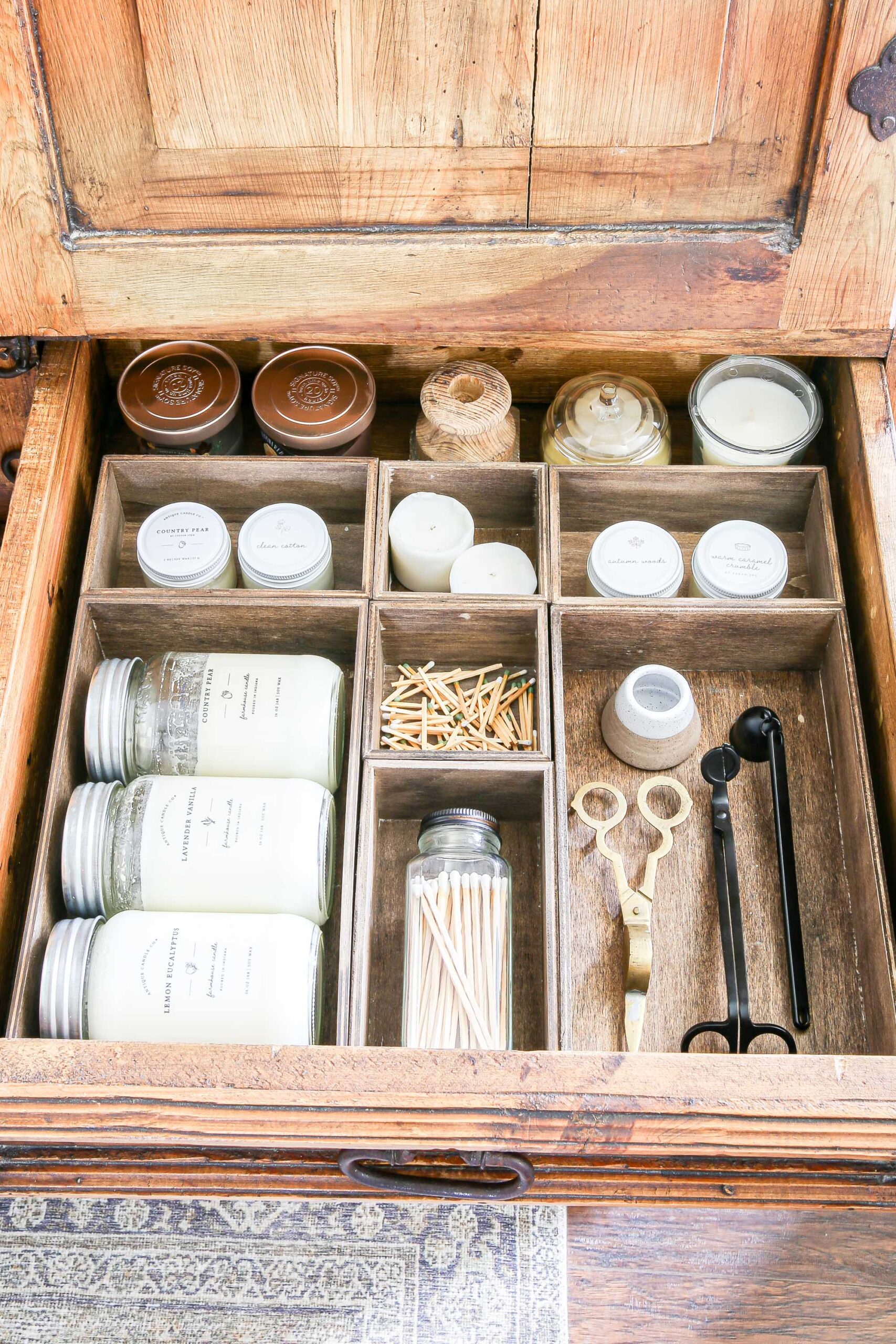 Organize Candles by Size, Type, and Shape
Start organizing your candles by sorting them based on size, type and shape. Group taper candles, pillar candles, tea lights, and decorative candles separately.
This not only makes it easier to locate the candle you want, but also creates a beautiful arrangement within your storage space.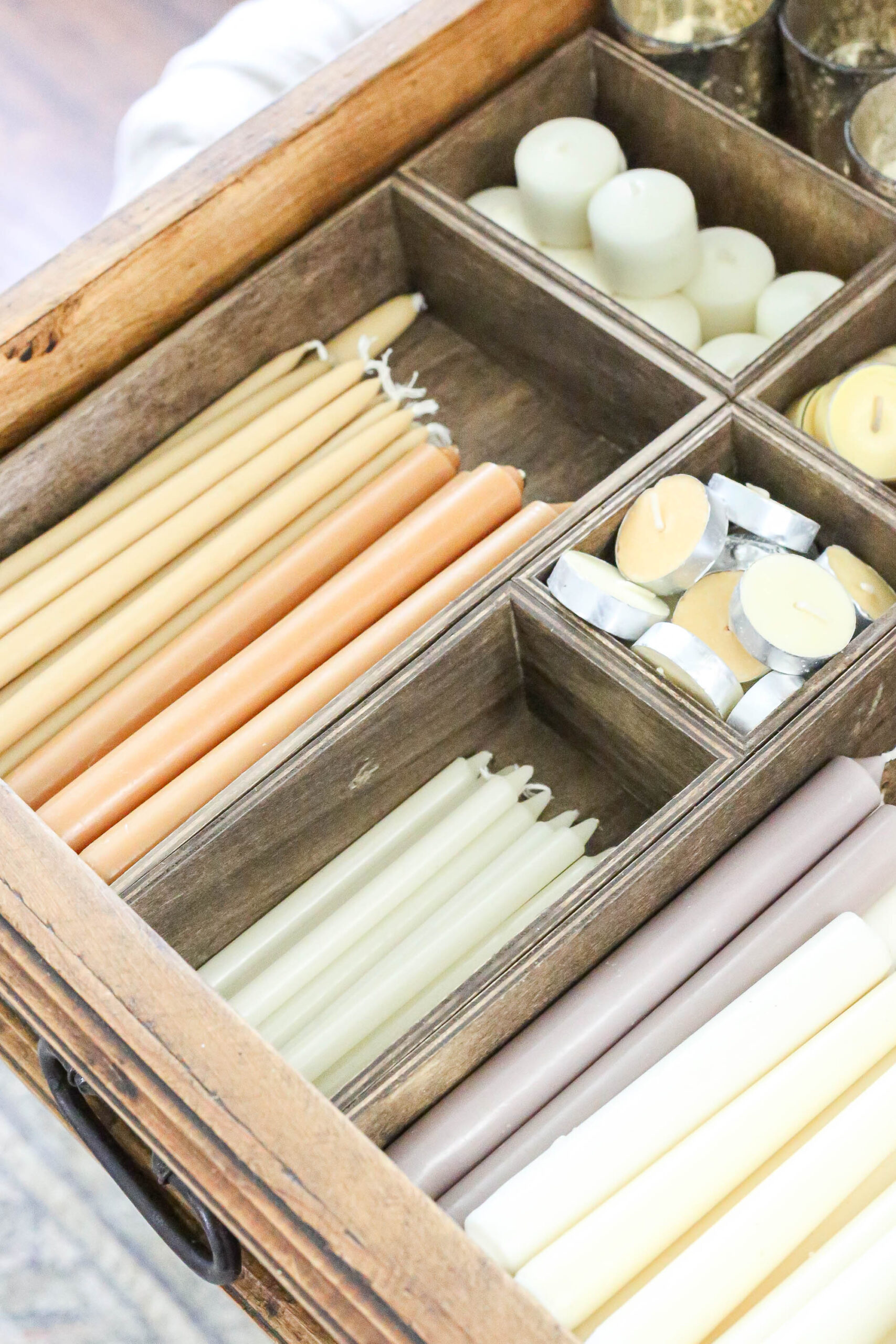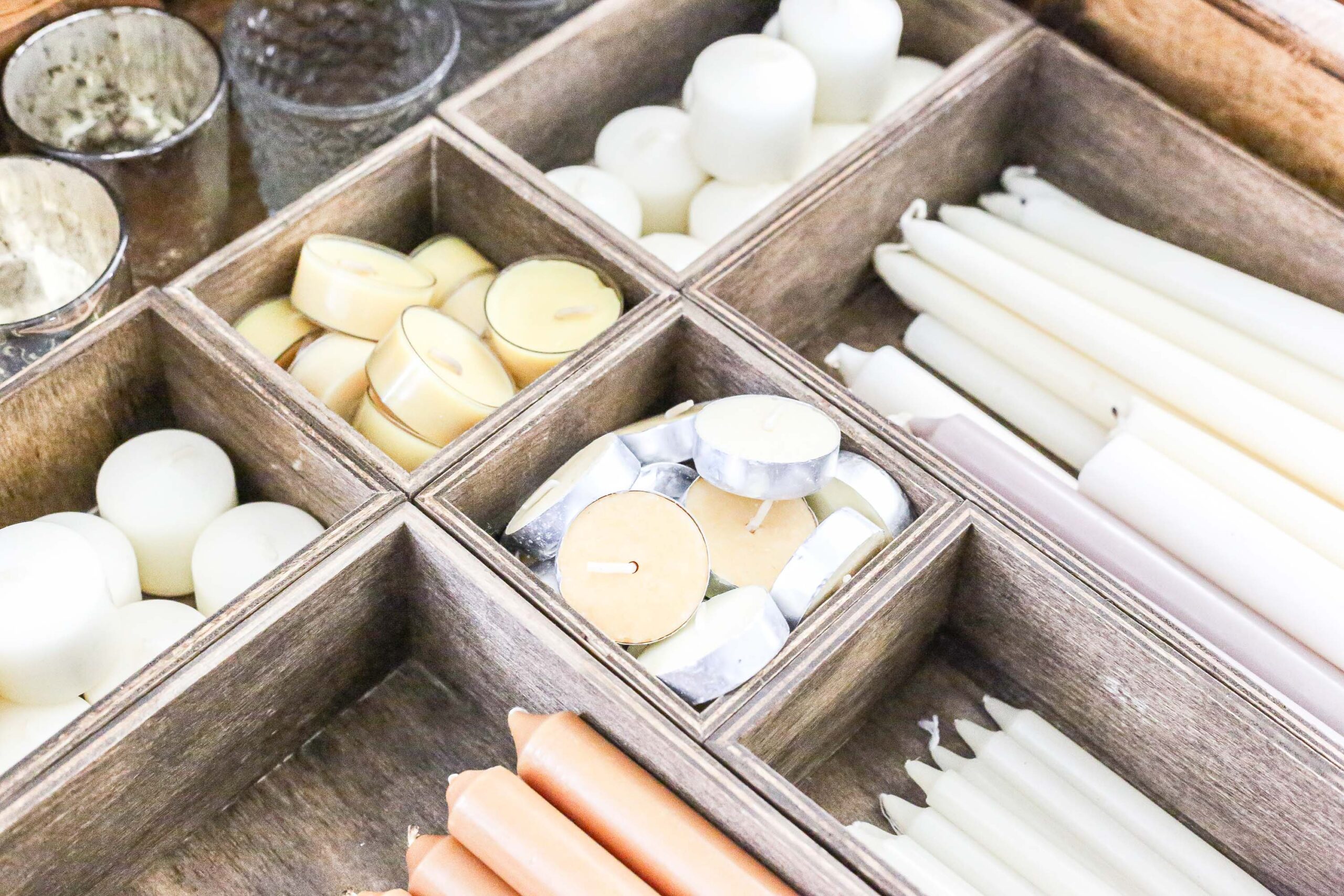 Store and Organize Candle Accessories Too
There is nothing worse that wanting to burn a candle and missing a way to light it. To avoid this I made sure to include my matches in my candle drawer too.
Other candle accessories you may want to round up to store and organize too are:
Lighters/Matches
Electric Lighter
Candle Wick Trimmer
Candle Snuffer
Wick Dipper
Match Striker
Votives
Candlestick Holders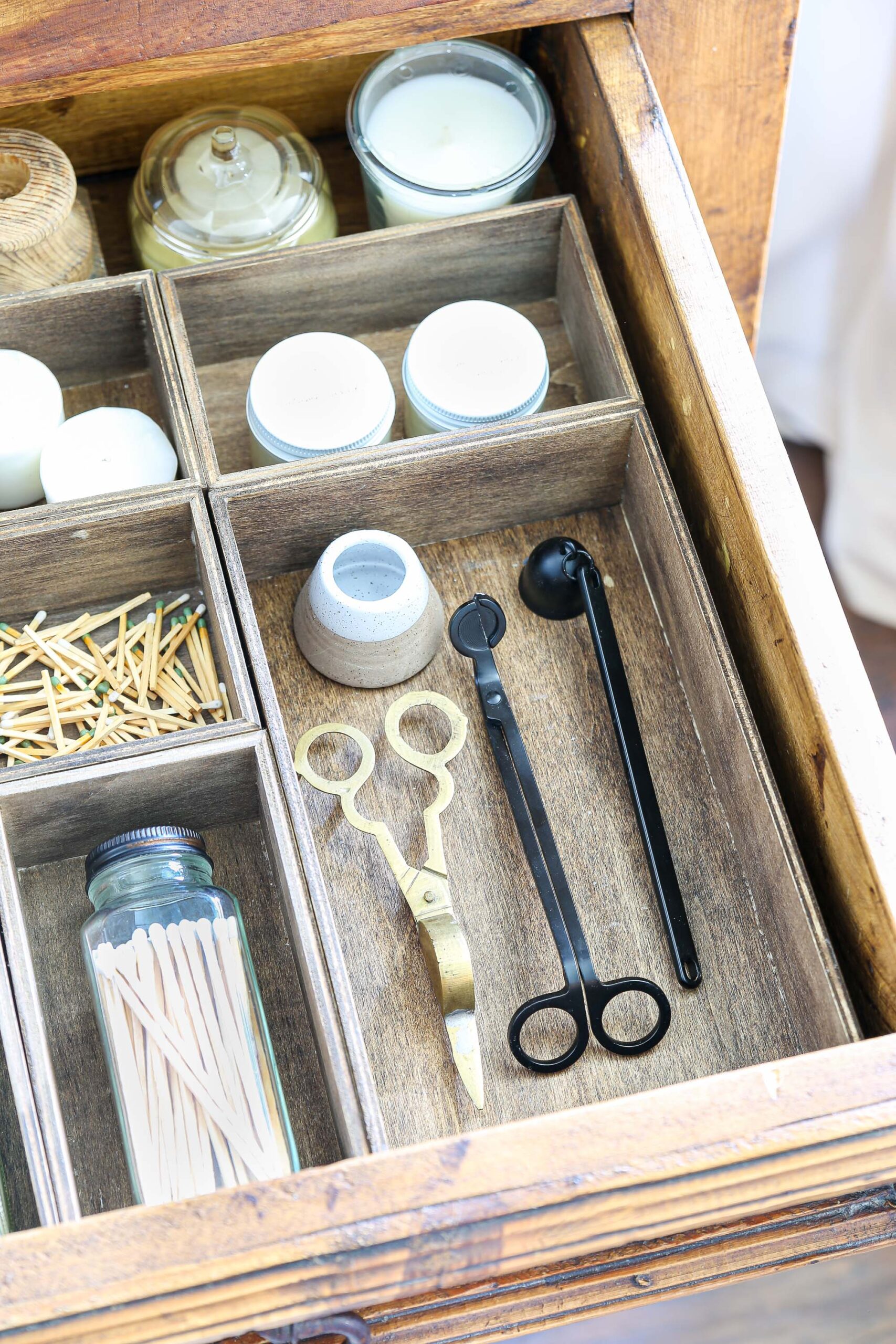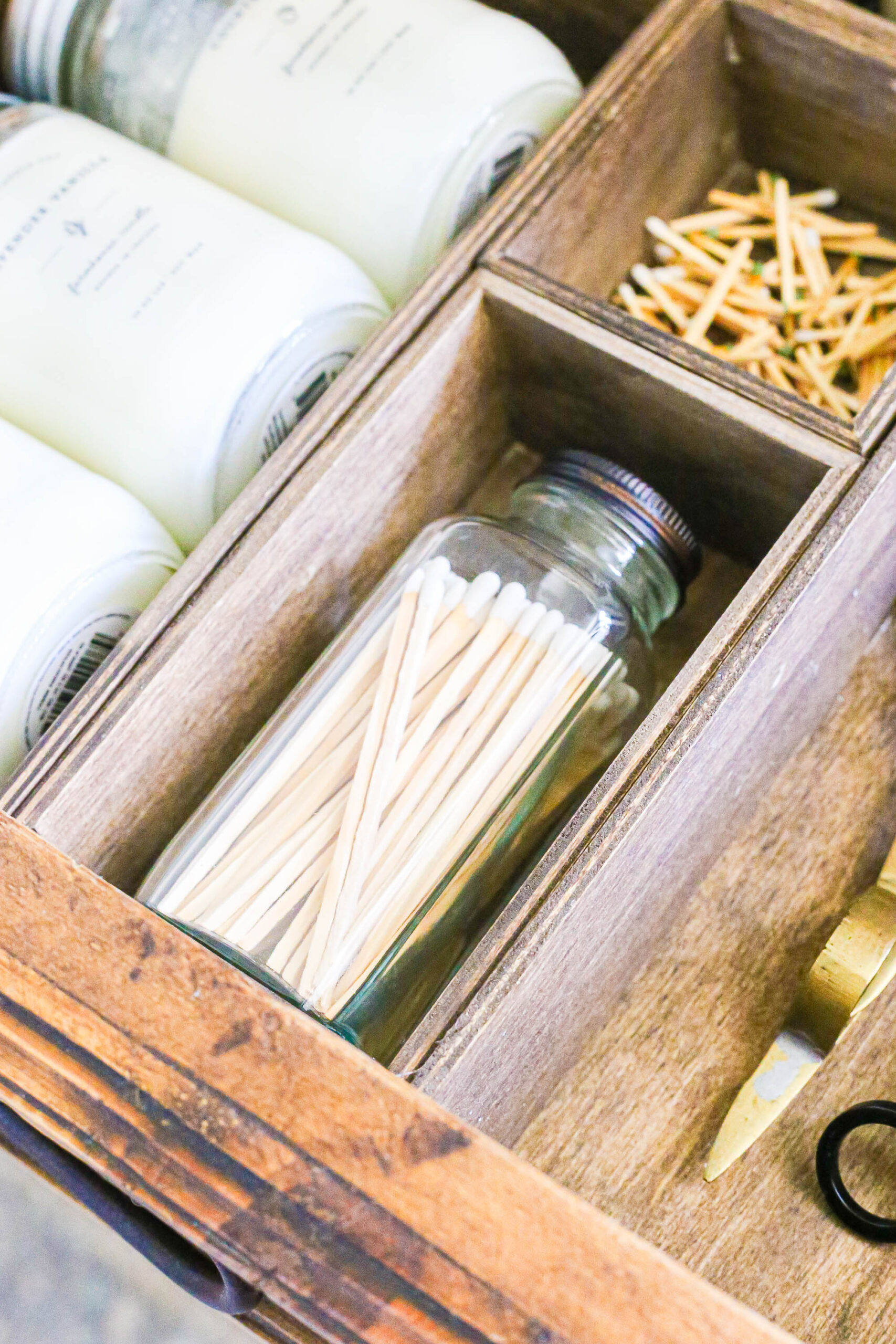 The Best Candles For Scent and Decor
I usually only burn one brand of candle for scent, and that's Antique Candle Co. They are the most amazing smelling candles, and being in a mason jar they blend right in with my decor too.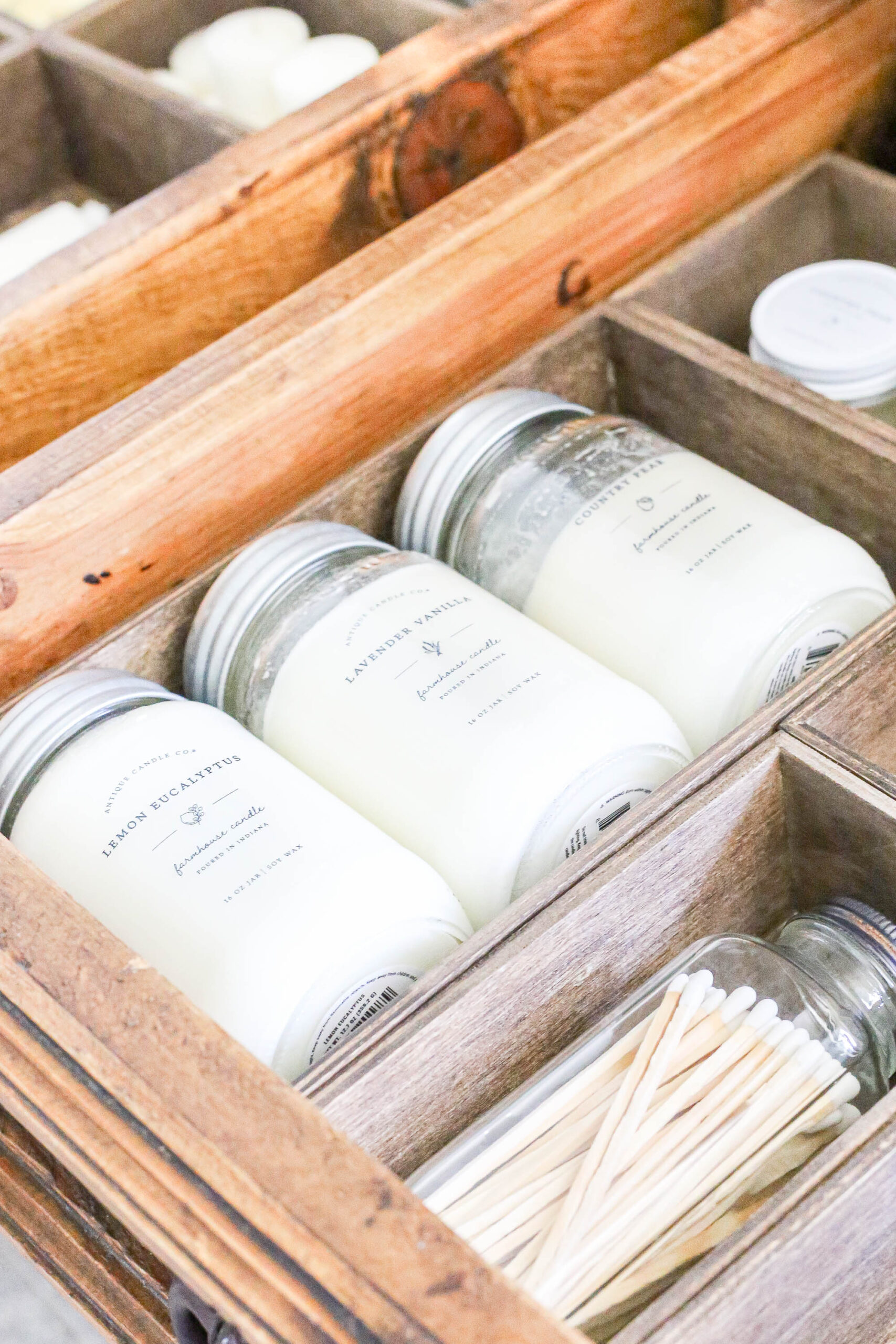 I decorate with a lot of different colored taper candles for each season. I've been collecting candlesticks for years and years and have a whole separate collection of those.
Taper Candles add such a unique and timeless touch to any space. My favorite of any beeswax ones. The neutral yellow is such a fun addition.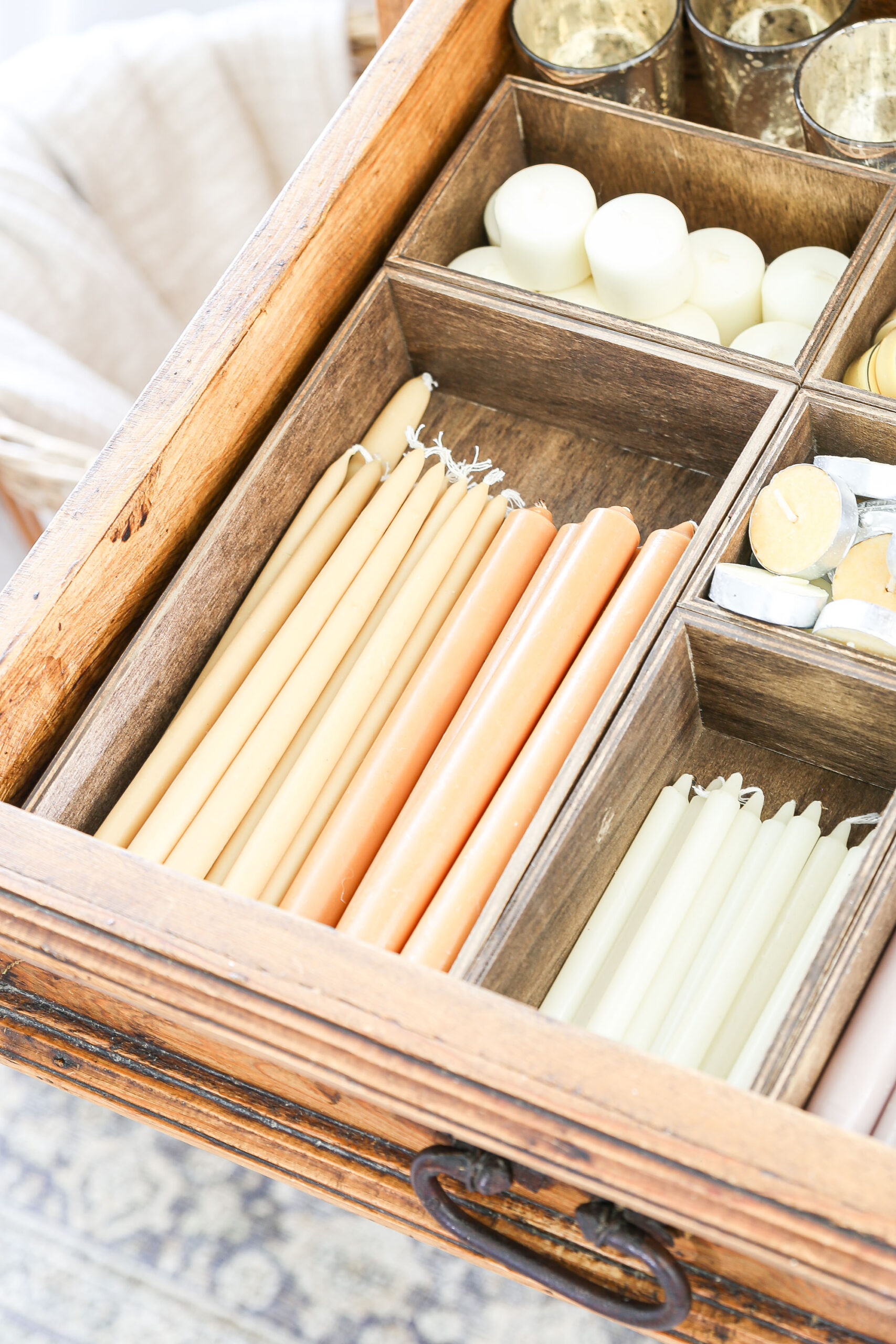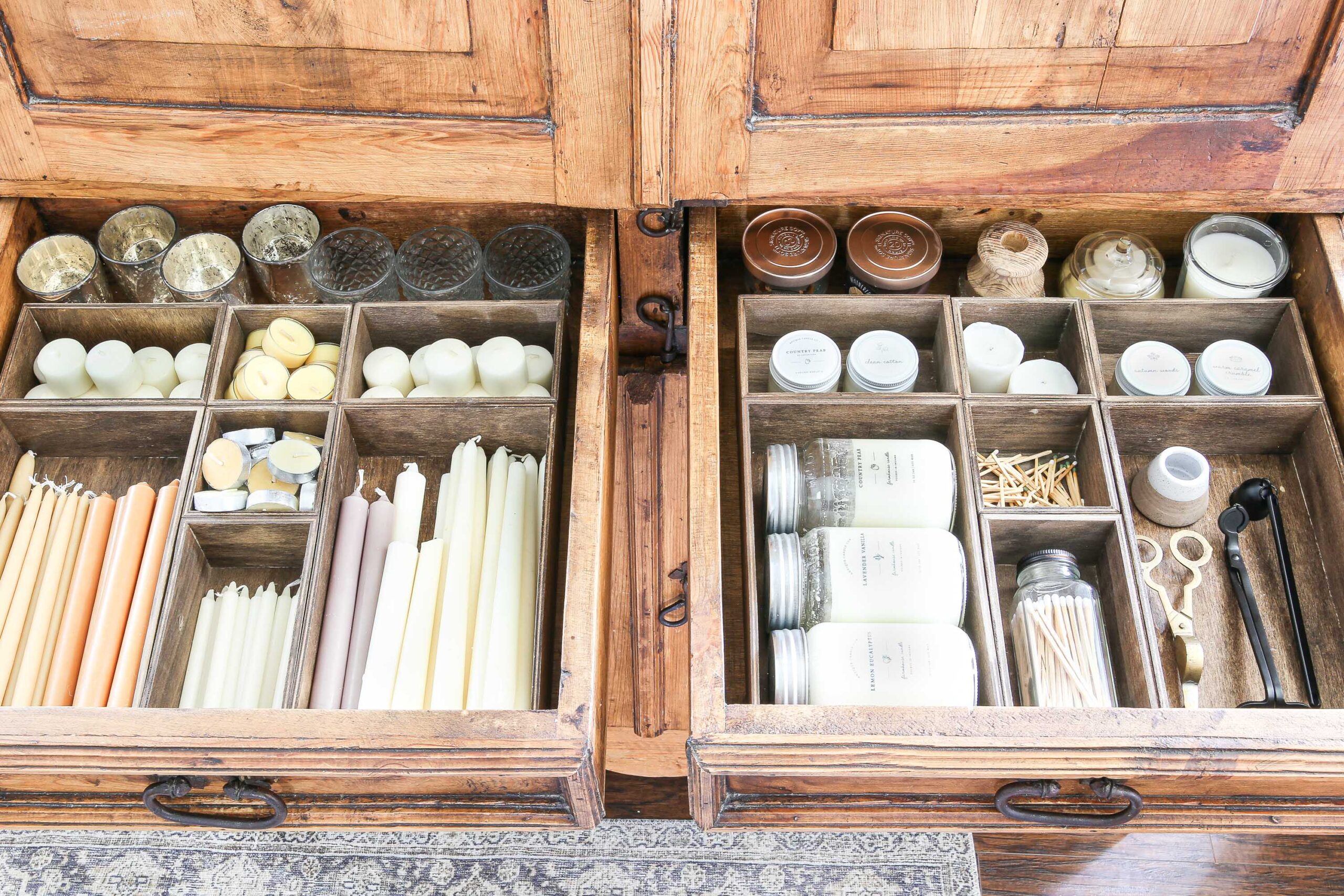 Simular Blog Posts
Pin This Post for Later