How to Organize Spices
This post may contain affiliate links. For more information please see our disclosure policy.
How to organize spices in a clean and simple way. Transform your spice cabinet with new glass spice jars and fresh cute labels!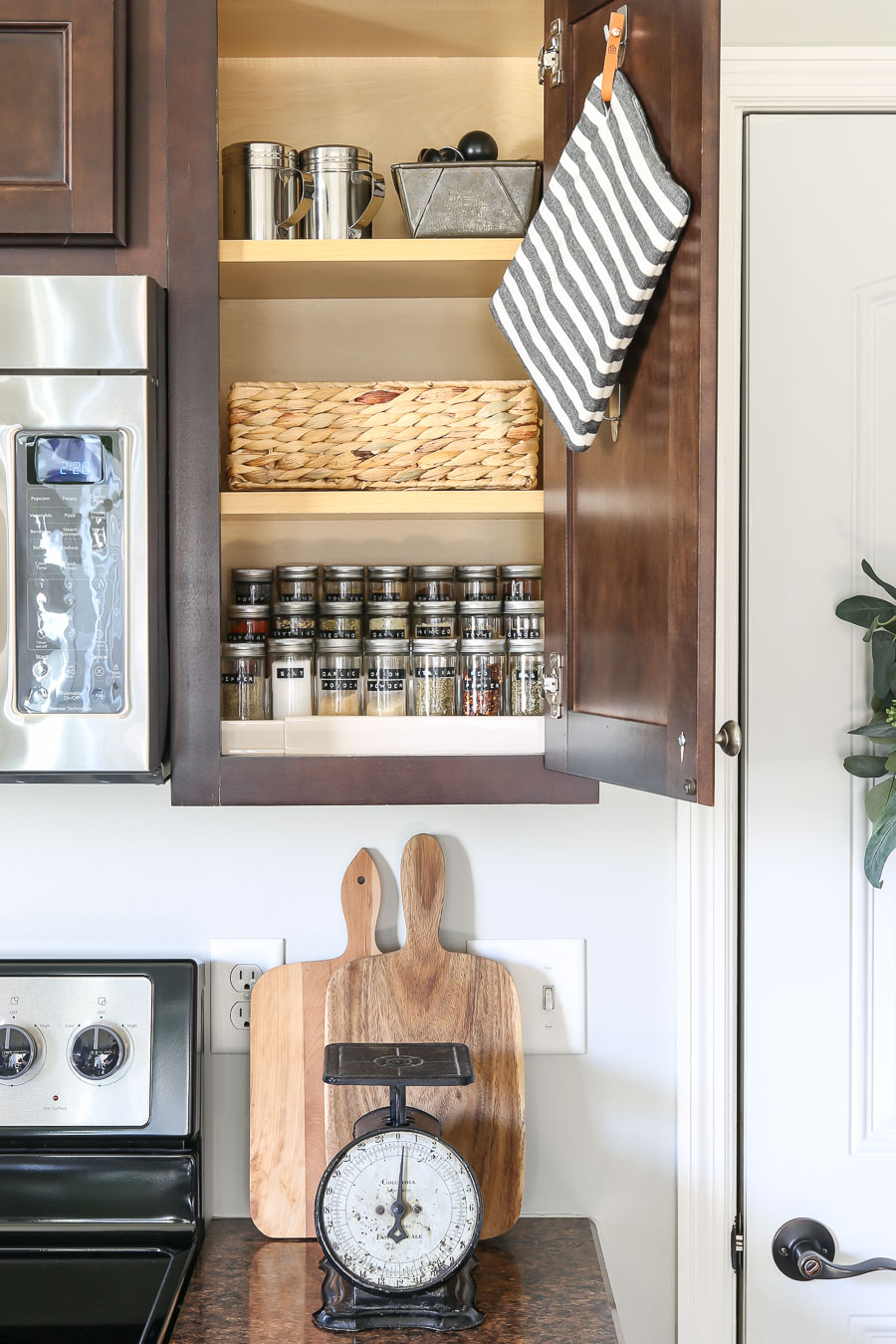 The cleaning and organizing spree is still going strong in our house, and today I am sharing how to organize spices!
There is just something about the beginning of a new year that makes me want to basically deconstruct every nook and cranny, purge, clean, and organize IT ALL.
No room, cabinet or drawer is safe! One of the very first spaces that has been due for an overhaul was our spice cabinet.
It was a giant mess of a million spice bottles, some of which I have never used, and others that were way past expiration anyways.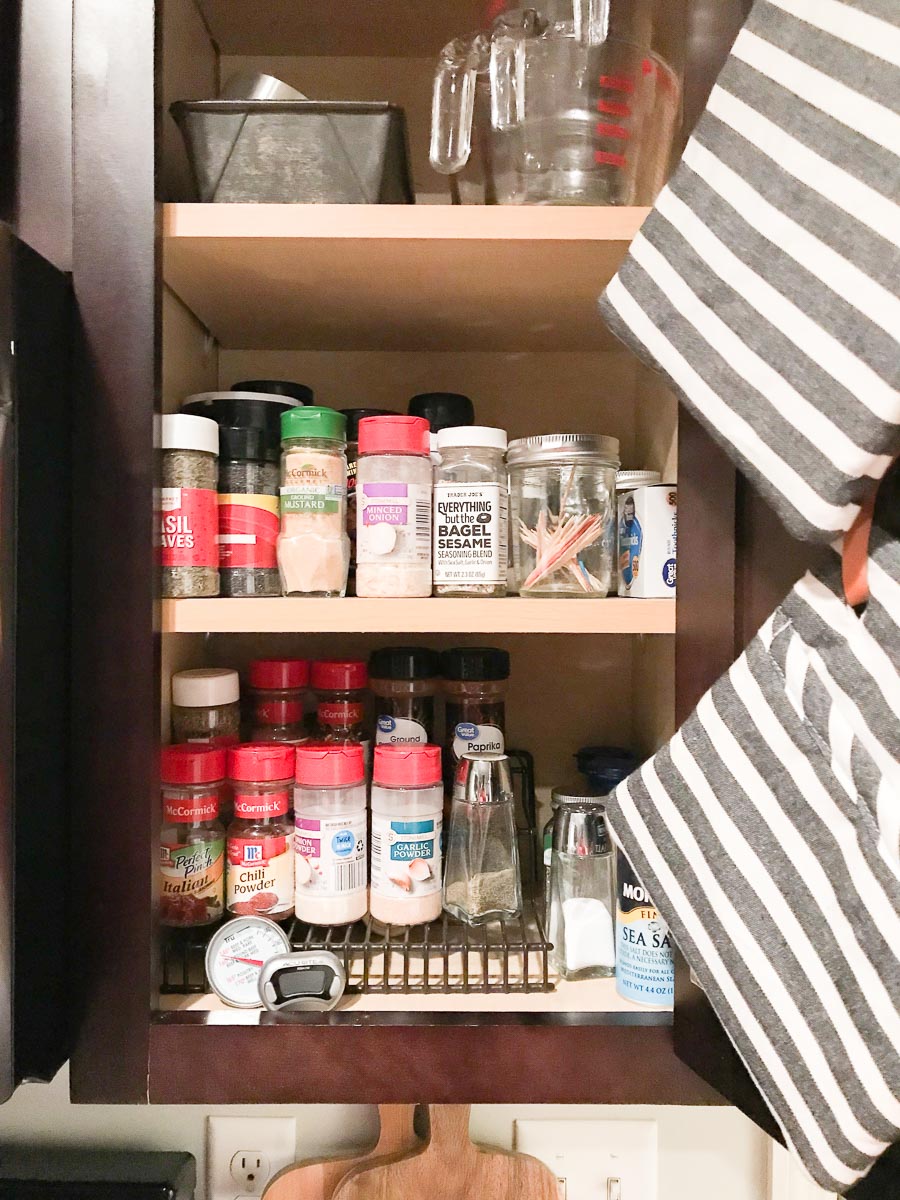 I've been using this little brown wire rack as my spice rack, but I needed something better.
Every time someone would come through the garage to the right of the cabinet and close the door, all the spice bottles would slide off.
If you only knew how many cuss words have come out my mouth every time I opened this cabinet to have bottles falling all over the place.
It's been a lot!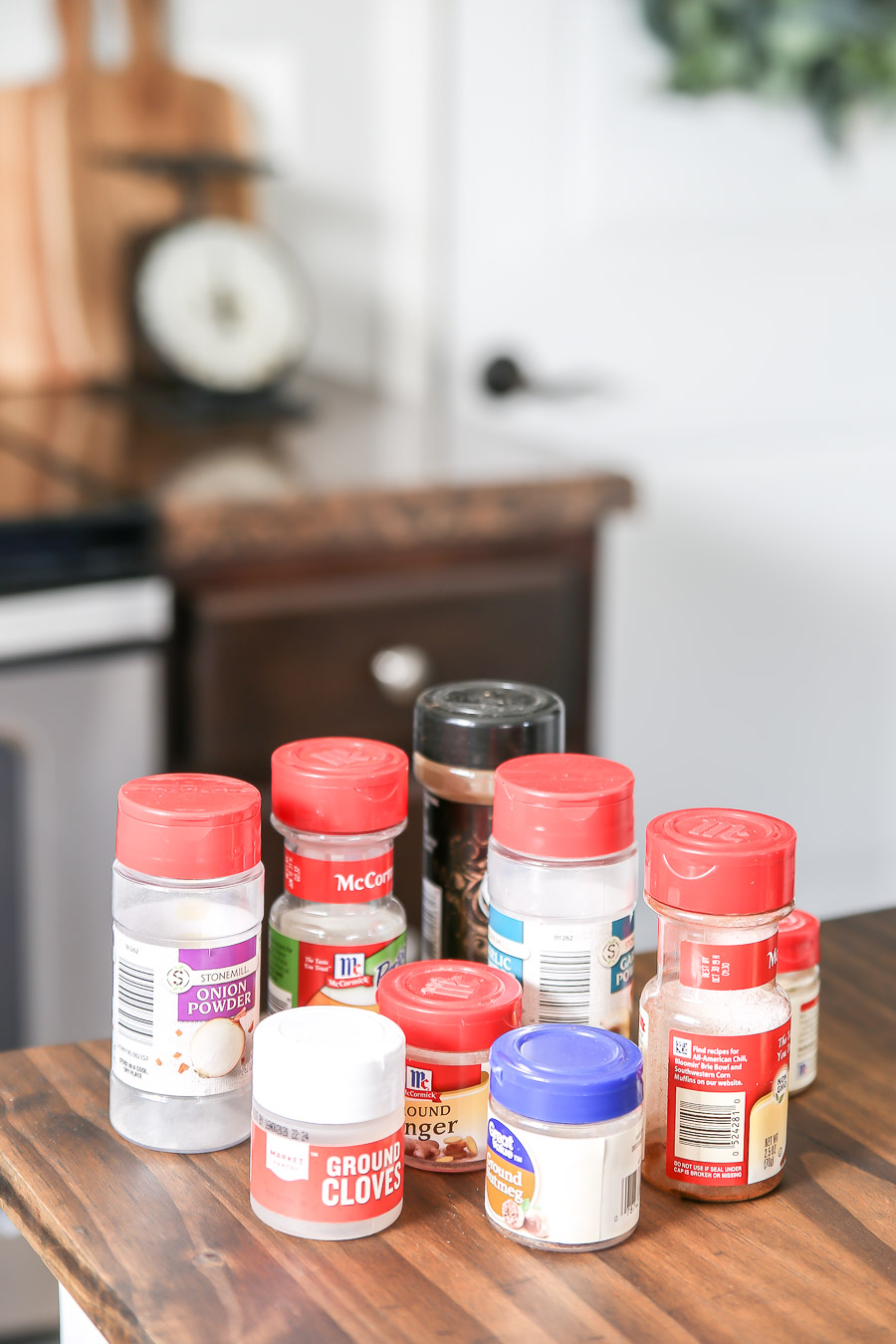 REMOVE ALL SPICES AND CHECK EXPIRATION DATES
Affiliate links are provided below for your convenience. For more information, see my full disclosure here.
The first thing I did was remove all of the spices in my spice cabinet and checked the expiration dates.
I ended up throwing out a few that were too old to use, and also a couple that I knew I would never use in the future.
Also, be sure and keep a list of all the spices that you are getting rid of because of a bad expiration date, so that you can replace them next time you run to the store.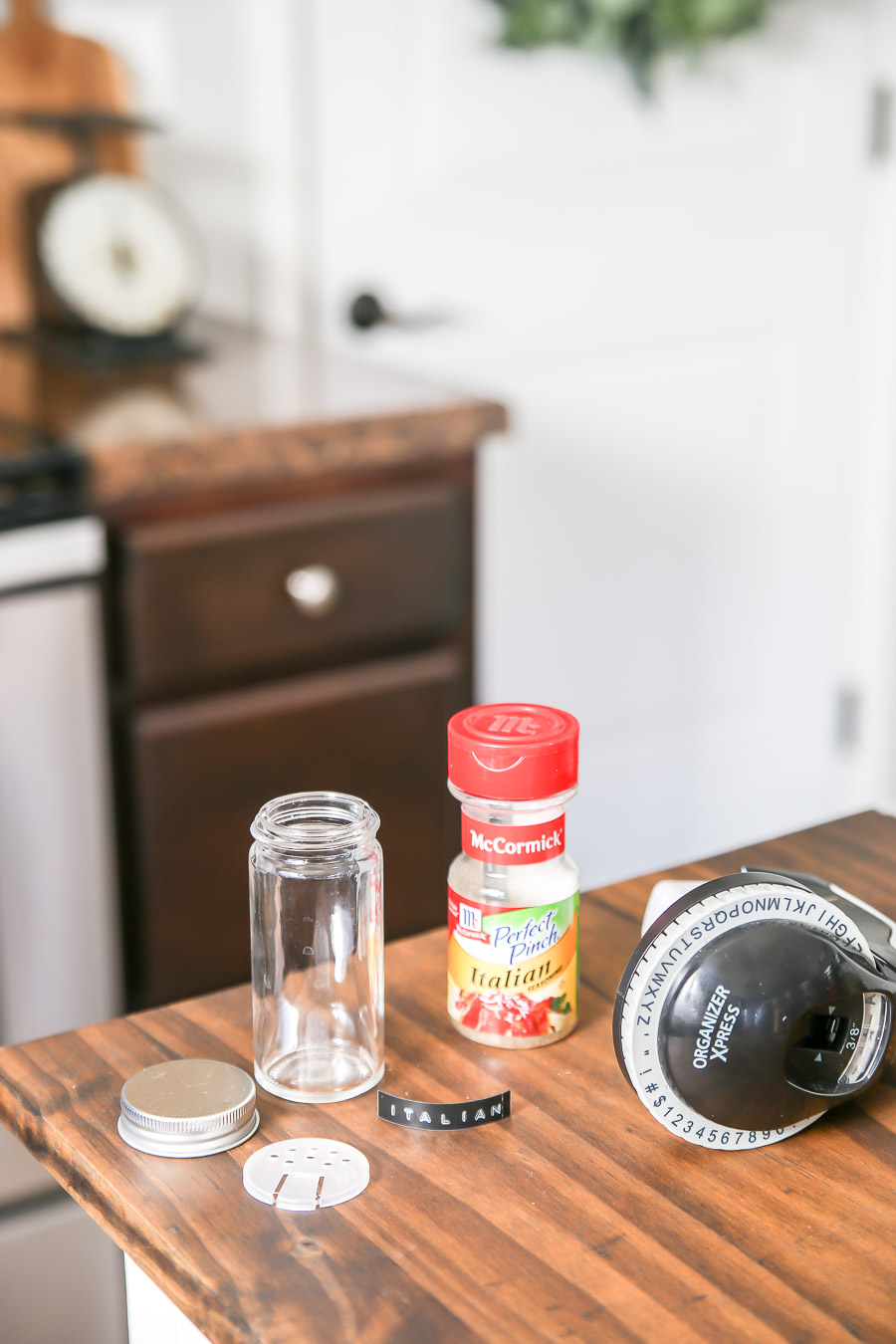 TRANSFER SPICES INTO GLASS SPICE JARS AND LABEL THEM
I found these great glass spice jars from Amazon with shaker/pour lids. After washing the jars with hot water and dish soap, I dried them off and started pouring the spices from the plastic bottles to the glass ones.
I decided on the round jars because I knew I was going to use this particular label maker, and the round ones have no edges that would cut off my labels. I also love the clean, vintage look they give.
Label right after transfer so you don't forget what spice is in what jar and nothing gets mixed up on accident.
I kept the labels high so that when layered on a spice rack you can still see each one.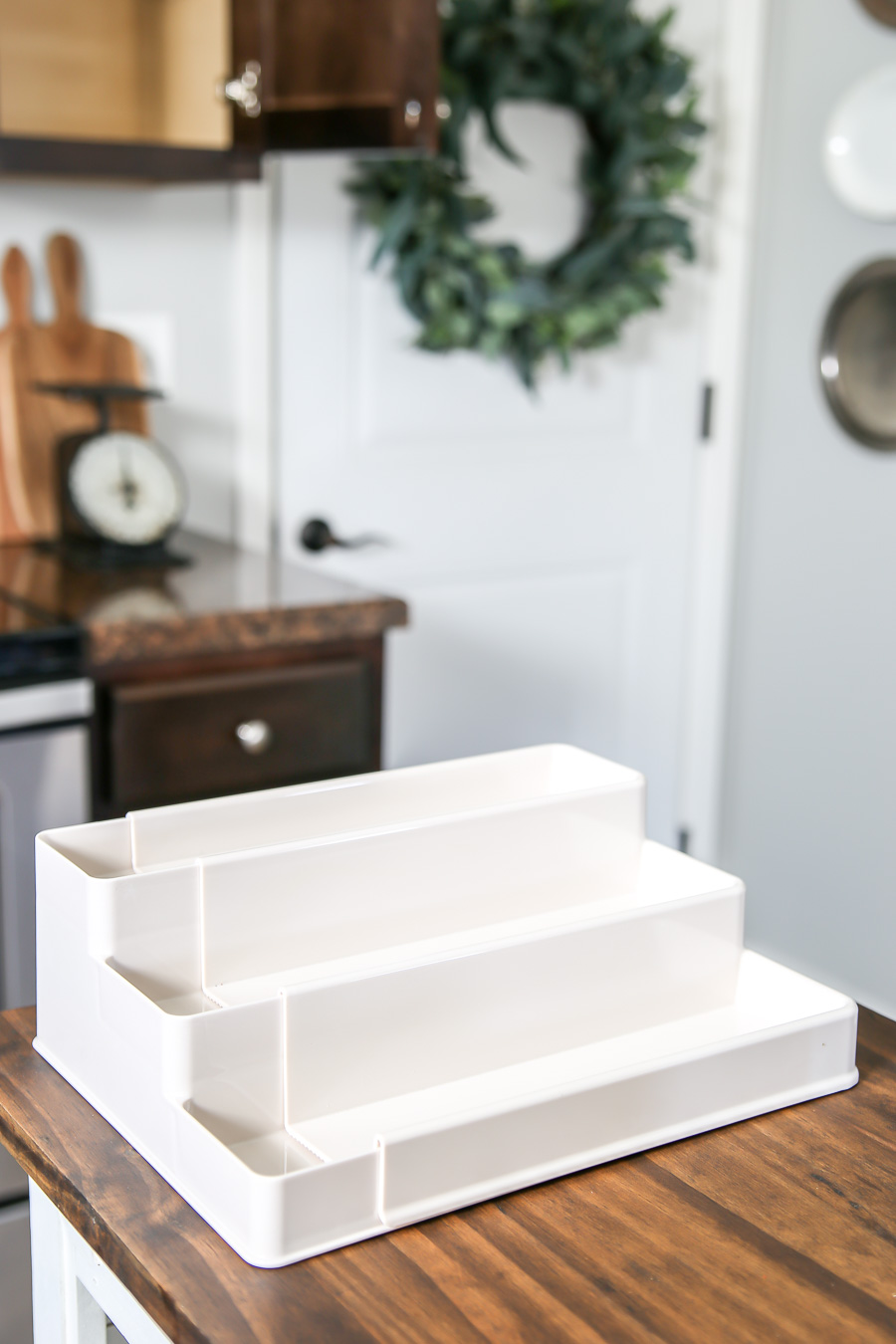 WIPE DOWN CABINET AND ADD IN SPICE RACK
I looked around for a good spice rack to replace our old wire one with. I found this cute adjustable one also off Amazon, and it is absolutely perfect for what I needed.
I love that it's adjustable so it can fit my whole shelf completely, unlike my other one. I also love that it has like a lip on each little shelf to keep the spices from sliding off the rack altogether.
And it comes in a few other colors too!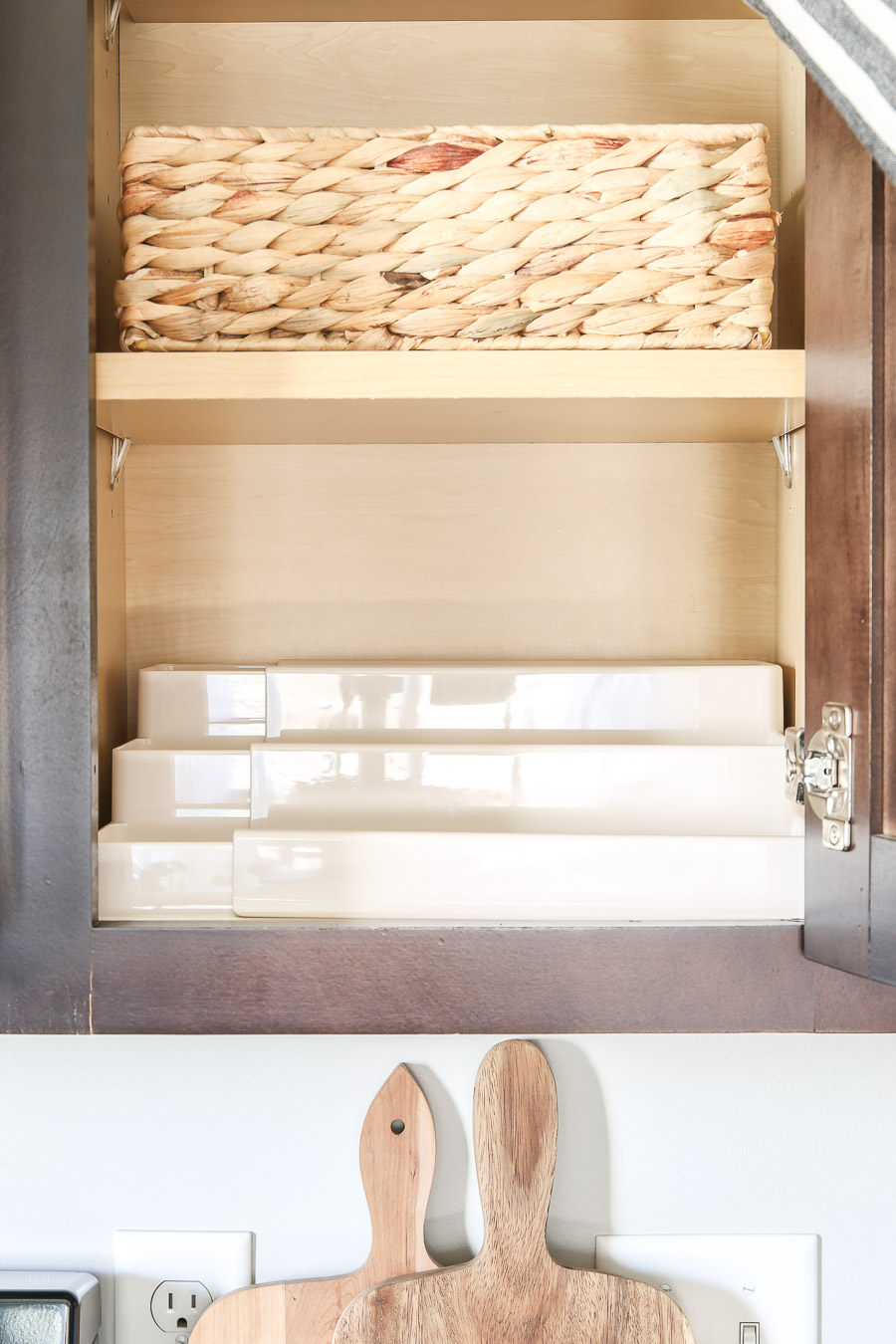 ORGANIZE GLASS JAR SPICES ON SPICE RACK
Once I was done transferring all of my spices from the store bought plastic bottles to the glass ones, I added them back into my spice cabinet.
I was sure to arrange the ones I use most frequently to the front, and ones we rarely need to the back.
I love that I can clearly see all of the spices now at one glance, rather than rooting around and having to take a bunch out so that I can find what I am looking for.
This space now feels a lot less cluttered and much more functional.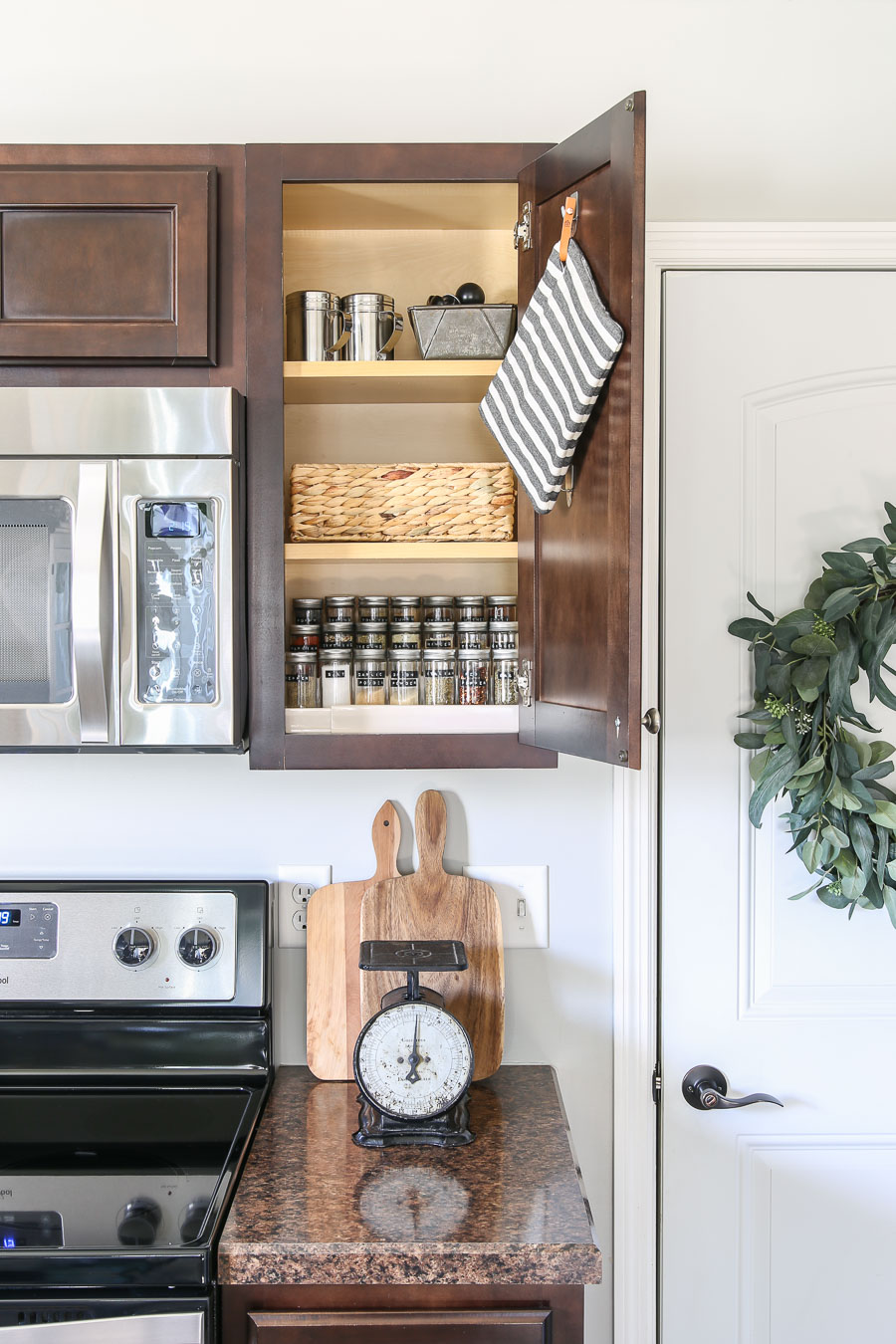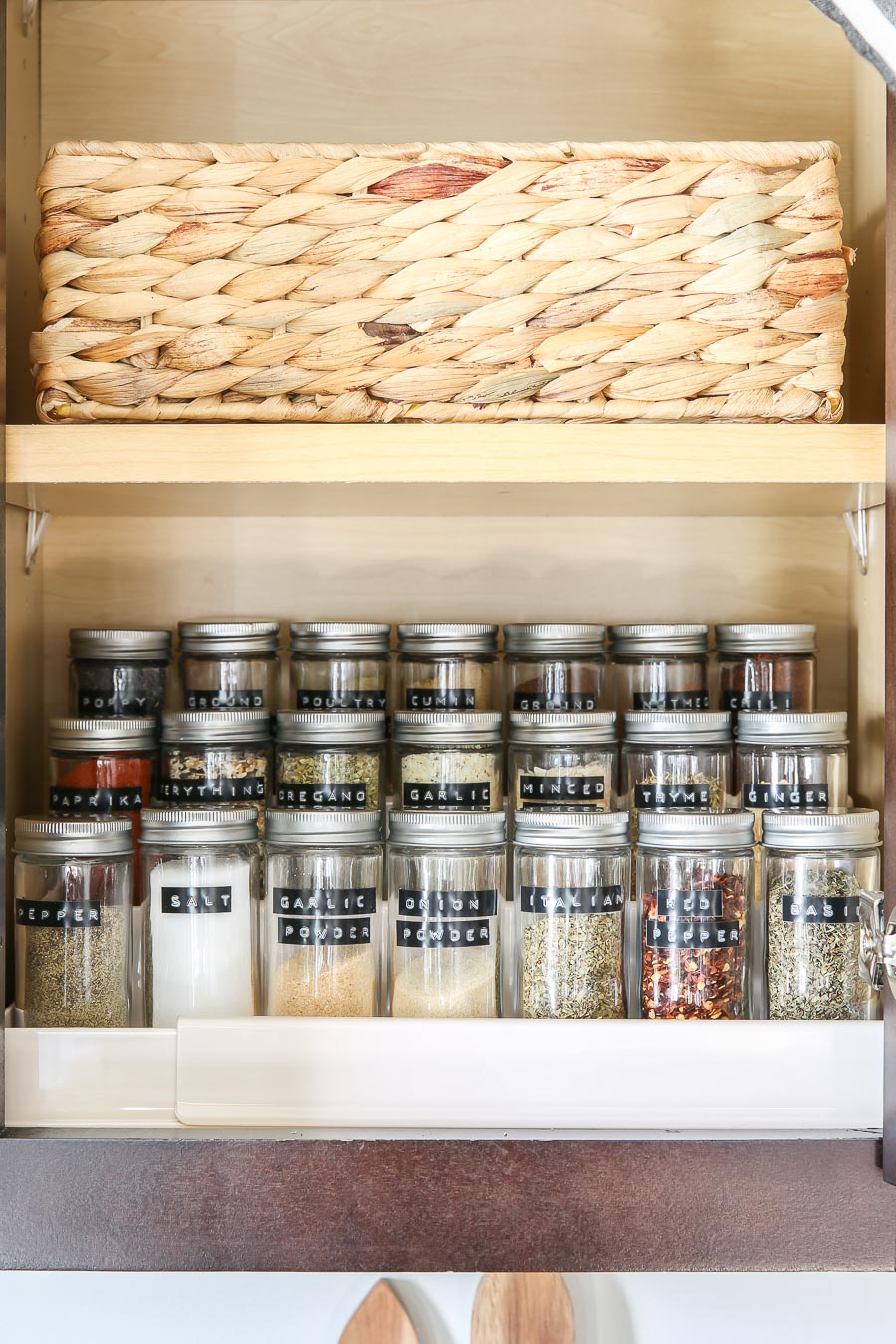 And just look how good they look! I always say I love the pleasant surprise of opening up a cabinet or drawer and finding such a pretty space behind it.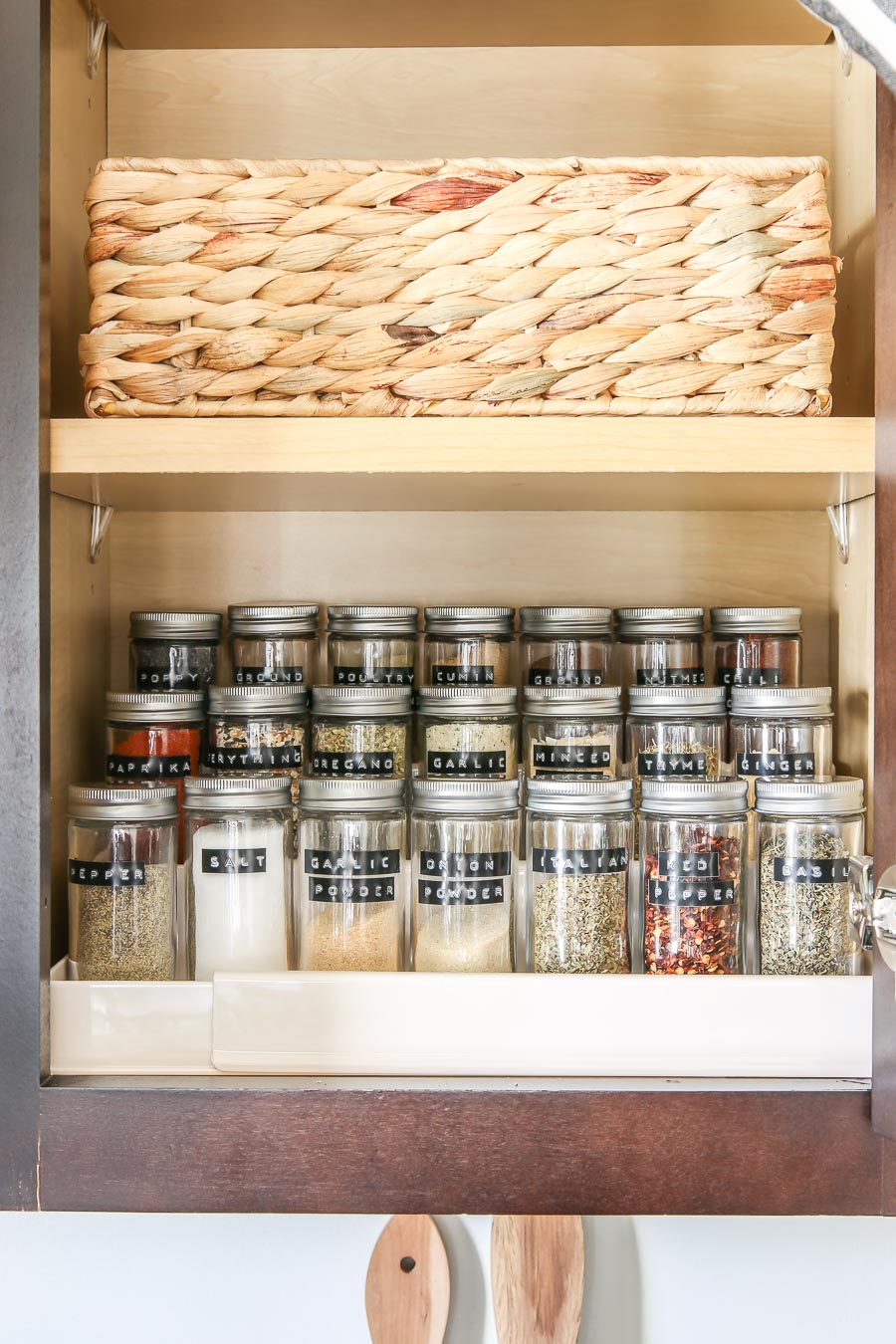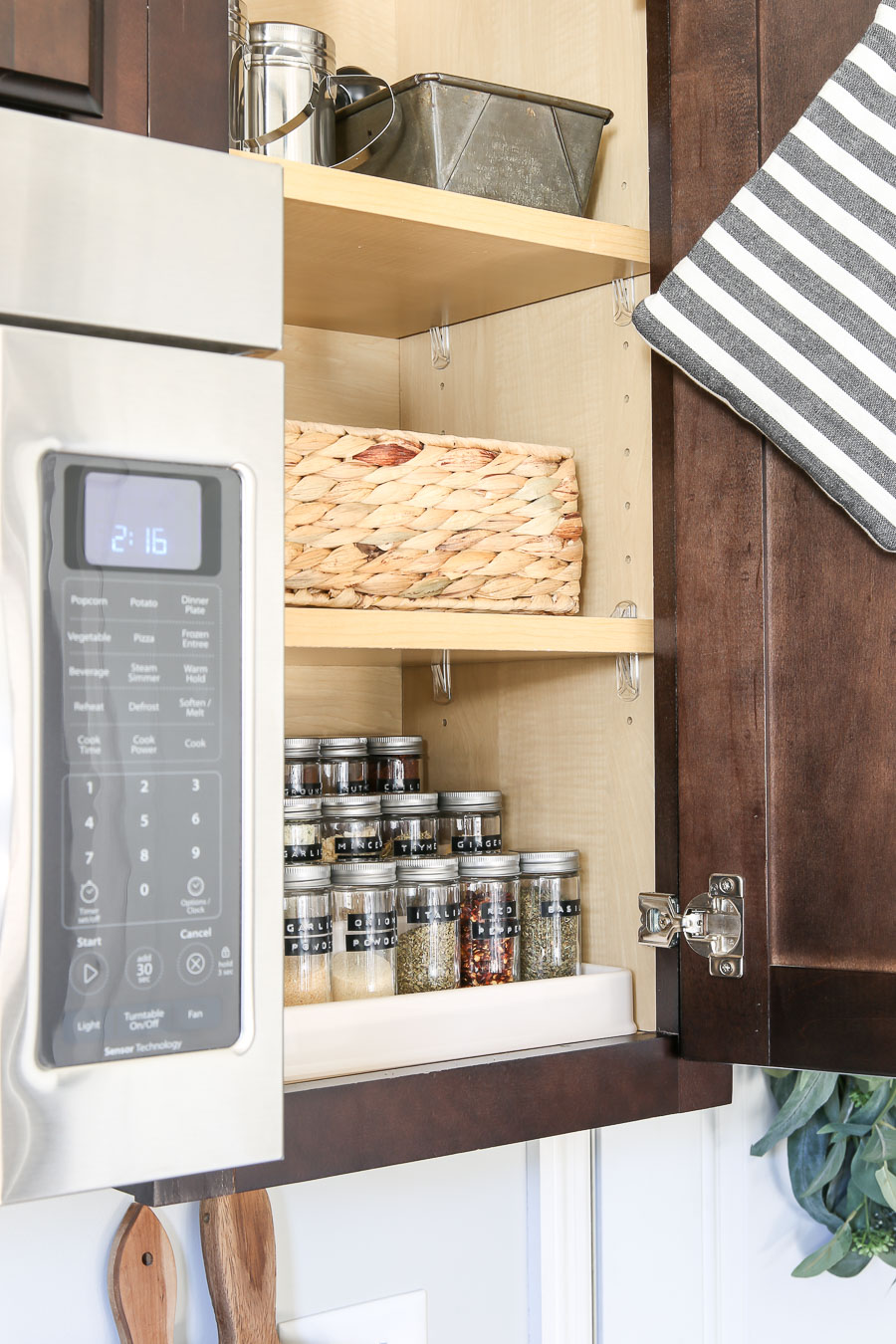 I will say, that these specific jars I used did not take the entire plastic bottle, so I just threw all the access spices in this basket and called it a day.
I will be sure to grab them when I am running low on any.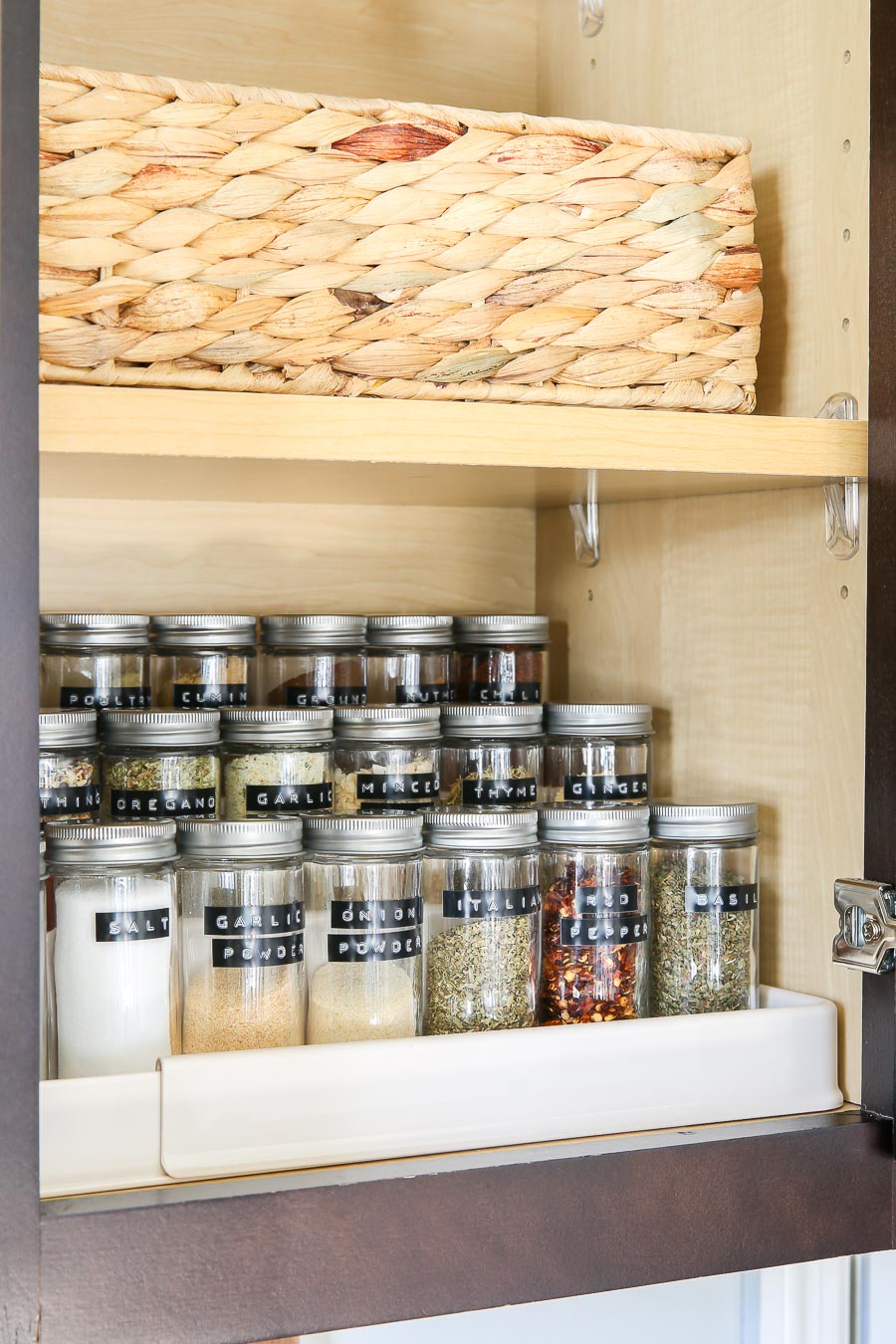 I am so thrilled I got this project checked off my list! I just know it is going to make cooking so much more enjoyable and a lot more functional with my newly organized spices!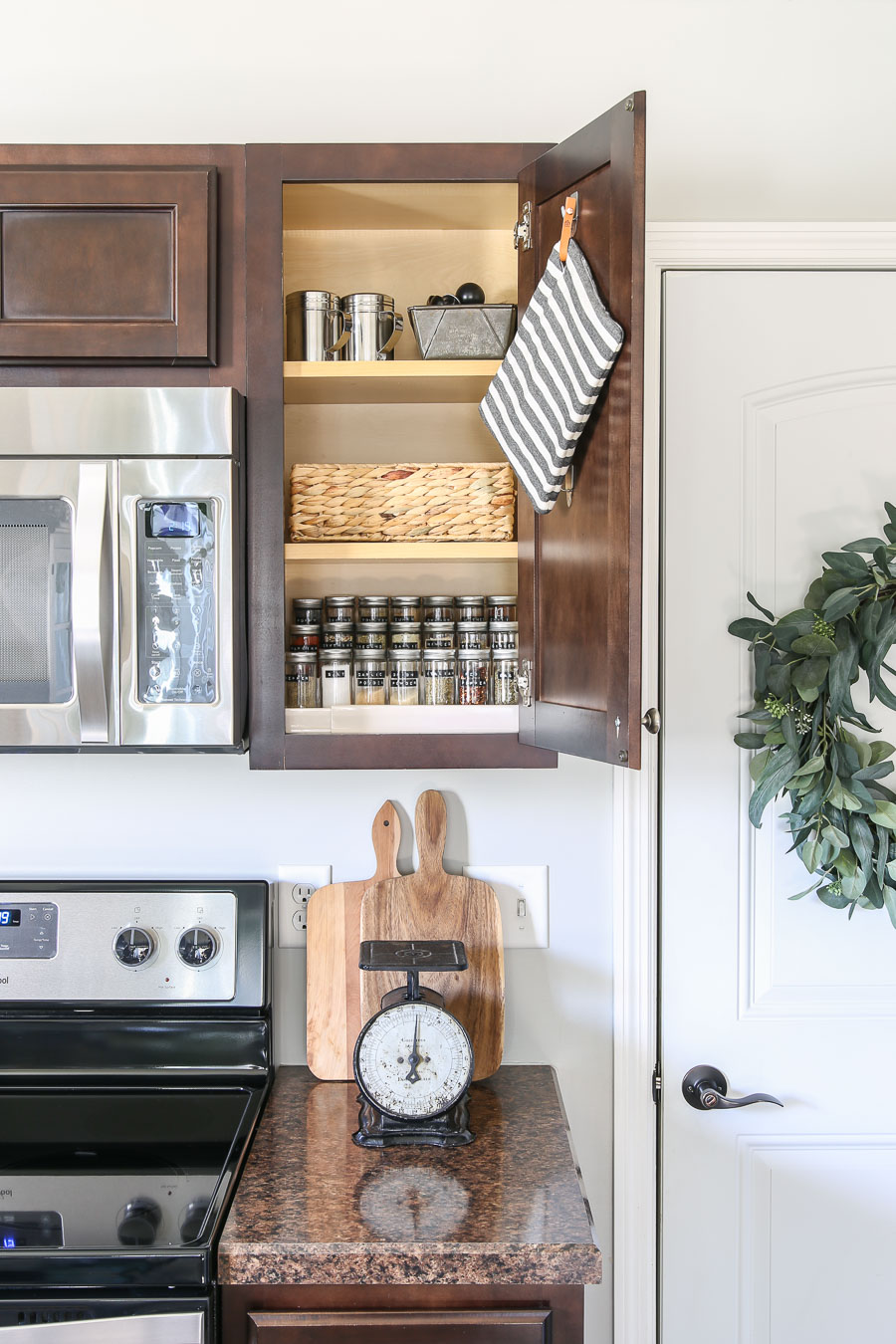 SHOP THIS POST

PIN HOW TO ORGANIZE SPICES FOR LATER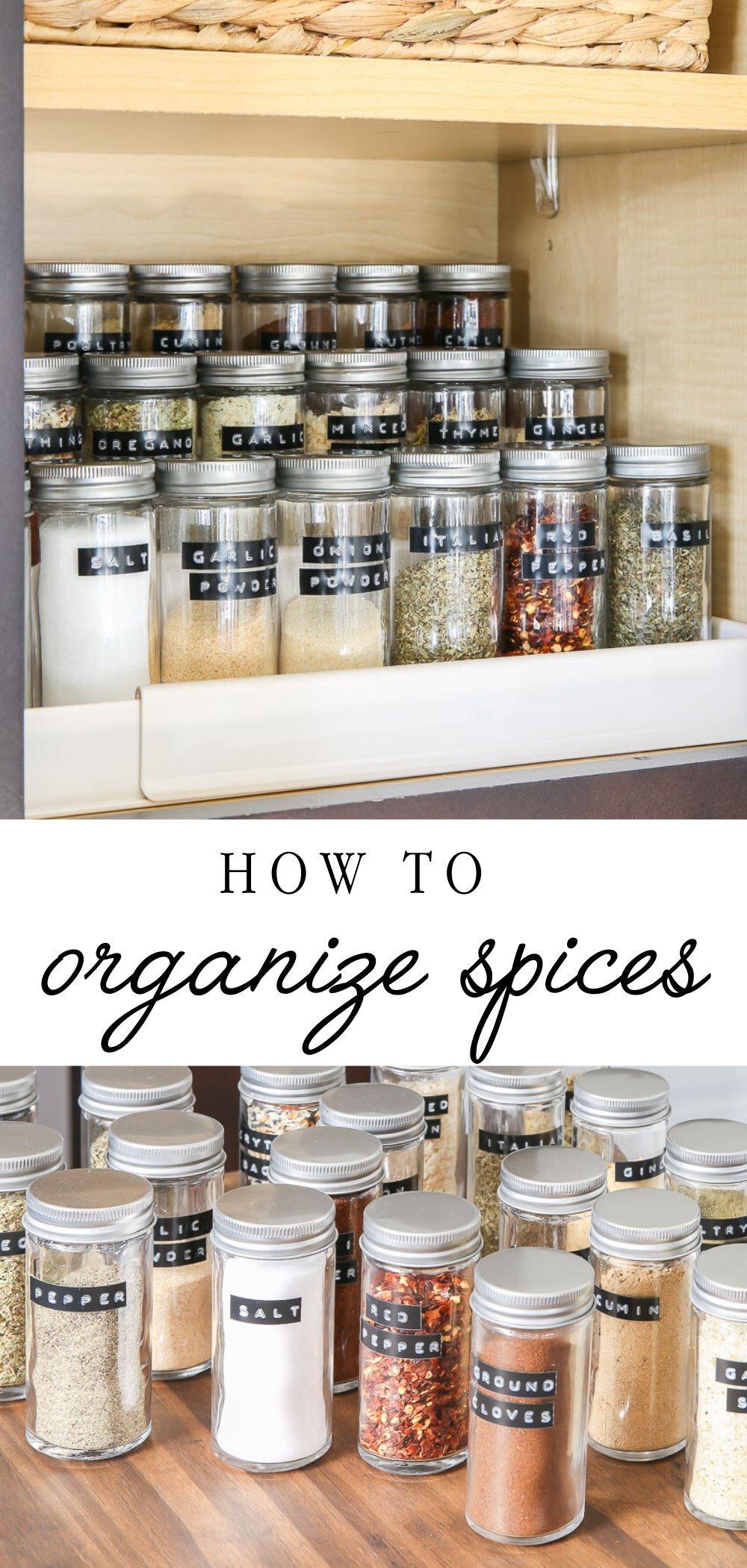 ---
F O L L O W A L O N G
Facebook | Instagram | Pinterest | Twitter
---