The Best Cleaning Products and Supplies
This post may contain affiliate links. For more information please see our disclosure policy.
The best cleaning products and supplies that will make your home feel fresh and look spotless. Make cleaning a little more enjoyable with these finds!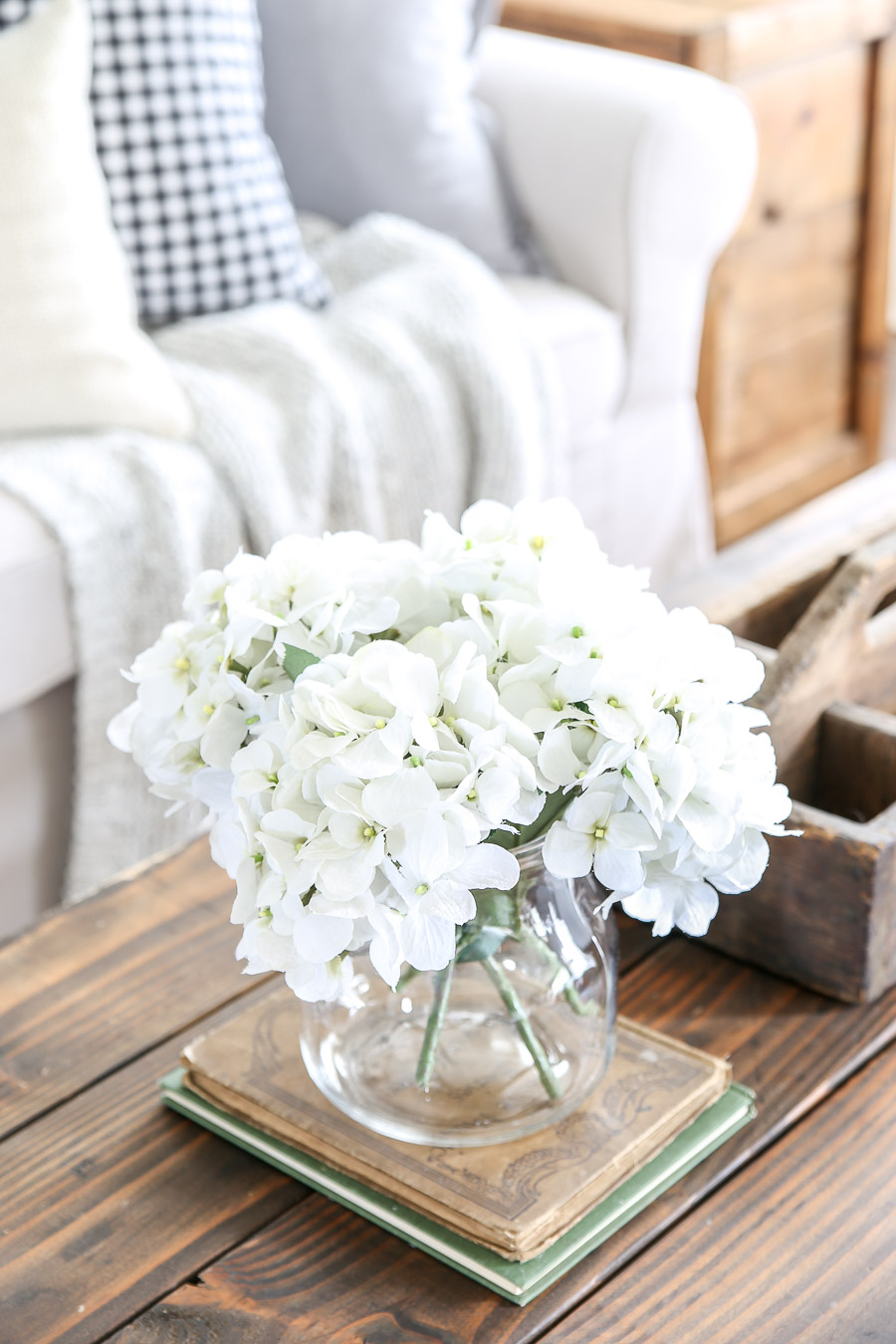 I feel like there are two kinds of people in the world. Those who loathe cleaning and those who love it. Can you guess which one I am?
I am one of the strange ones who finds cleaning therapeutic.
I don't know what it is, maybe it's chasing that accomplished feeling when you end the day with a clean house, or just the mere routine of it all. Regardless, it's something I have come to enjoy doing over the years.
You can also bet that I am one of those people who have tried every cleaning product available, and have in time found the best cleaning products and supplies out there. And most are non-toxic!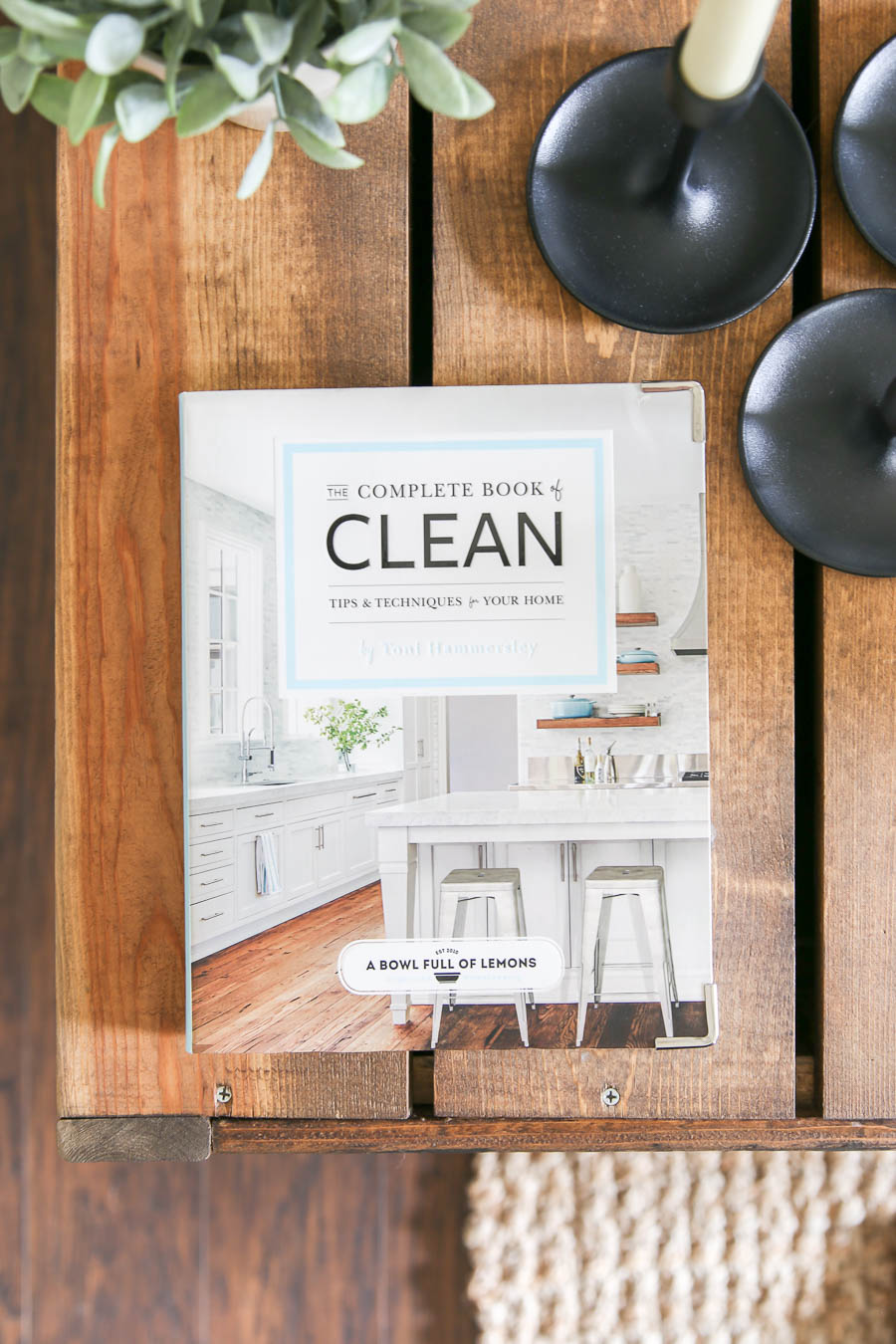 The Best Cleaning Products and Supplies
Affiliate links are provided below for your convenience. For more information, see my full disclosure here.
Although I never purposefully decided that I wanted to replace most of my cleaning supplies with non-toxic ones, I've come to find I'm so glad that I did.
Don't get me wrong, I do still use a few stronger cleaners when I feel they are needed, but for the most part I have gone green with about ninety percent of what I use.
I love that it makes my house feel a lot fresher and not so overloaded with a heavy chemical smell when I am done. So I thought I would share some of my favorites with you all, and all the fun accessories too!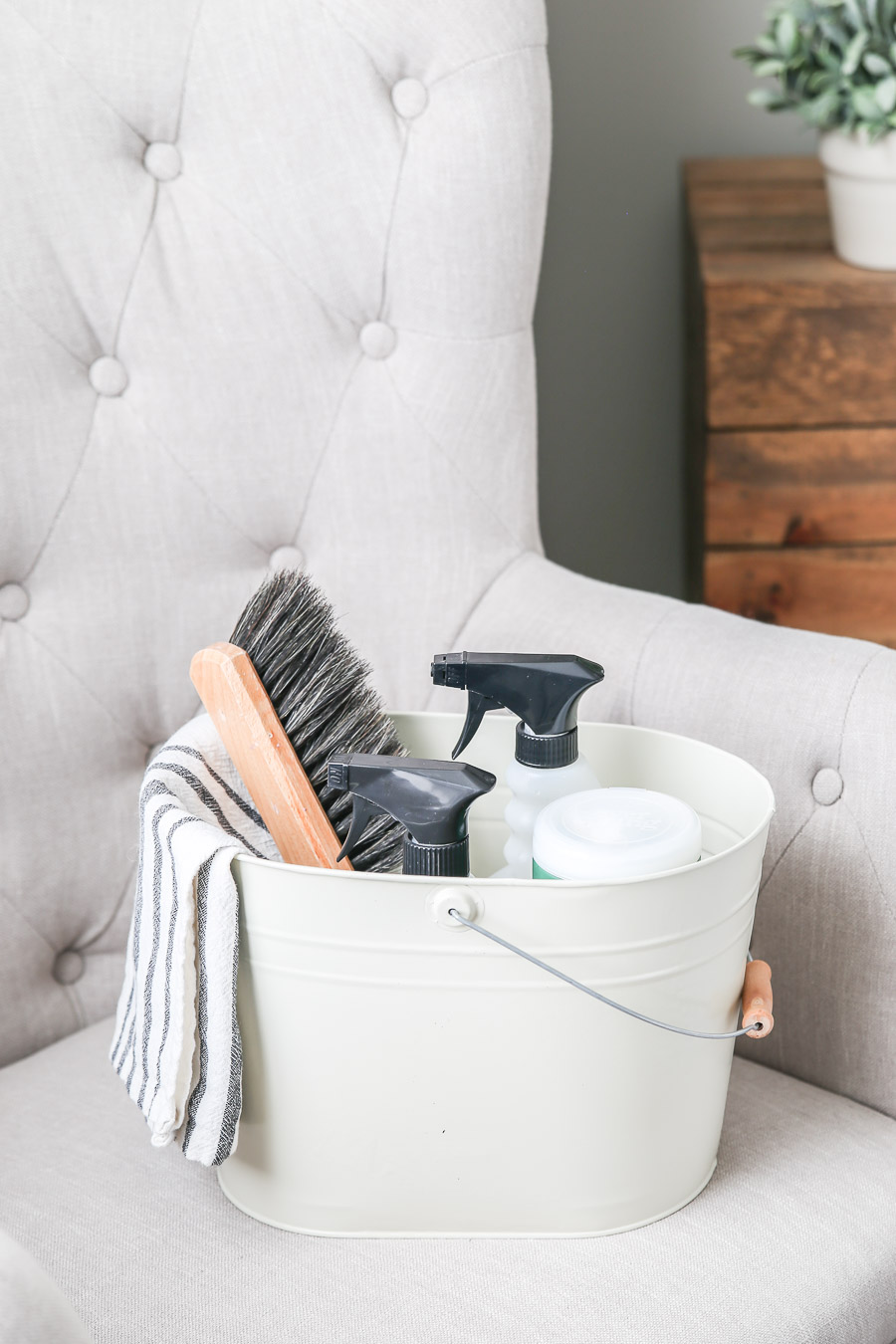 A Good Cleaning Caddy
I think everyone needs the convenience of a good sturdy cleaning caddy. I found this metal one last year at the Target Dollar Spot and have used it since then every time I clean.
It's great to tote around all my cleaning essentials and not have to worry about forgetting something in another room.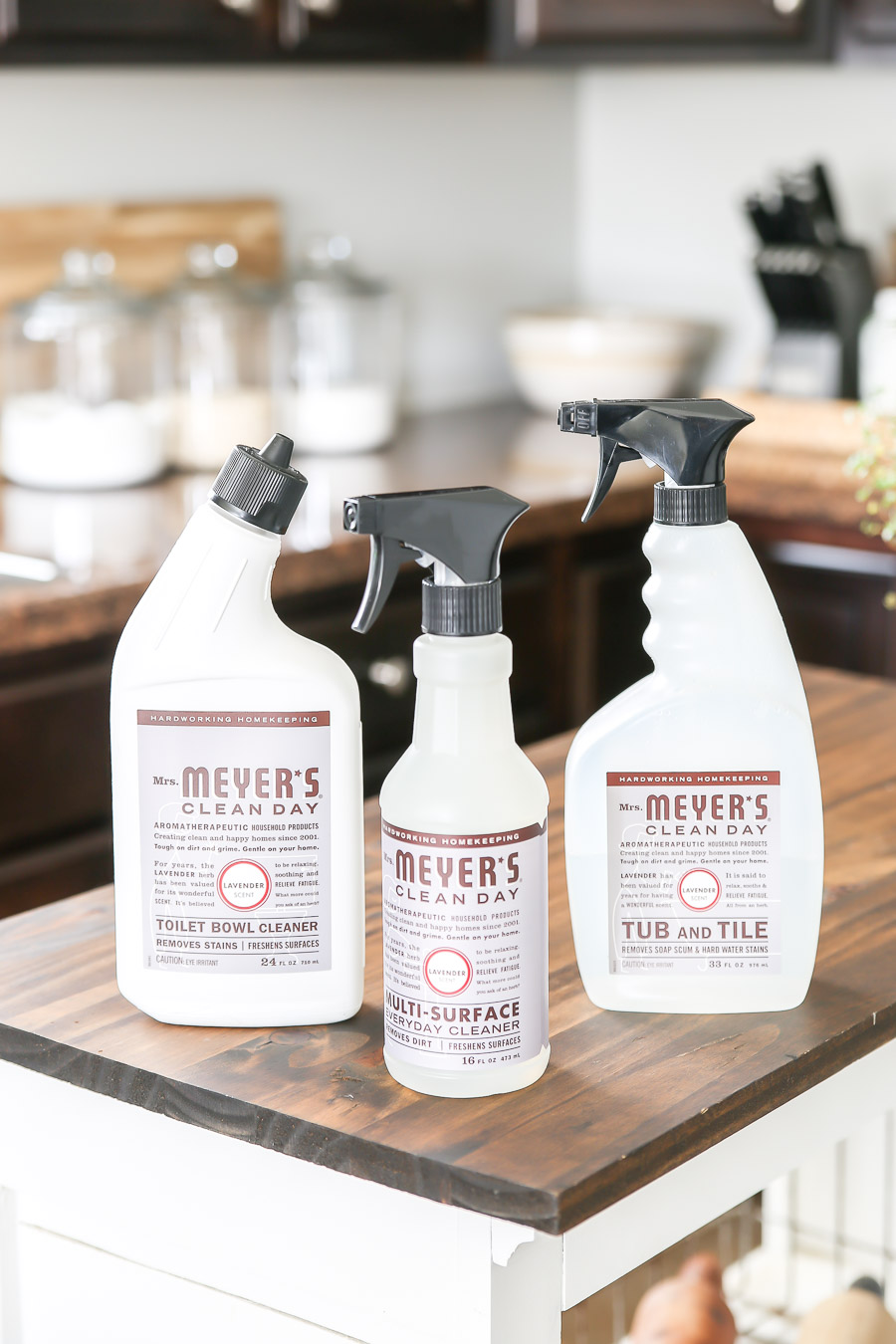 Mrs. Meyer's
The majority of the cleaning products I use are Mrs. Meyer's. I love that they use all plant-derived ingredients and also use essential oils, which makes everything smell great.
My favorites are the scented lavender products. I use the multi-surface cleaner just about everywhere with a microfiber rag, and all of my bathroom cleaners are also from this line. Highly recommend!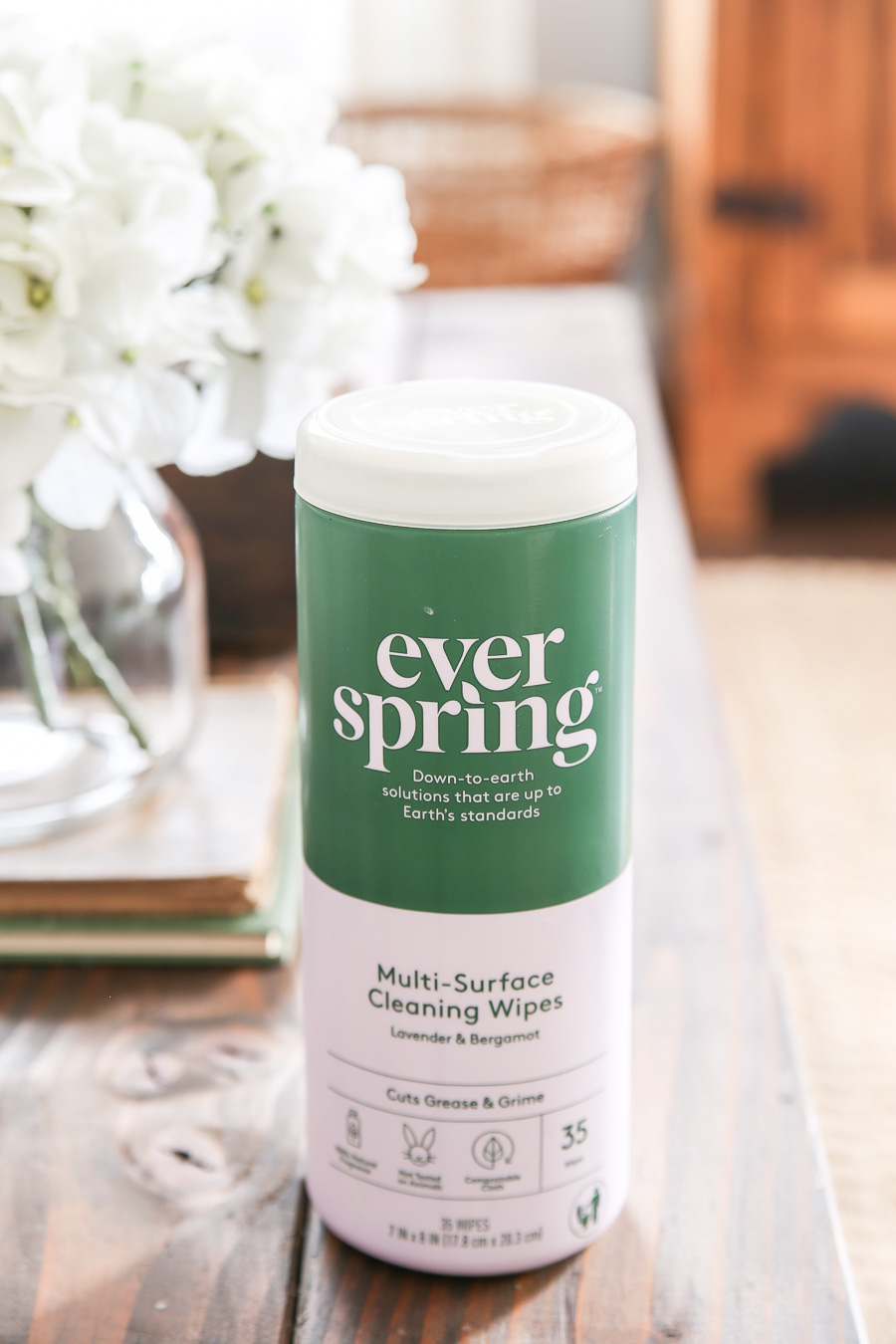 Everspring
This Everspring brand is a new one I have been trying out from Target. I love the convenience of cleaning wipes for spills and quick clean ups. It's also a natural product so I love that there are no harsh chemicals used.
I use these a lot in the bathroom, mostly when I wipe down toilets so I can just throw them away right when I am done.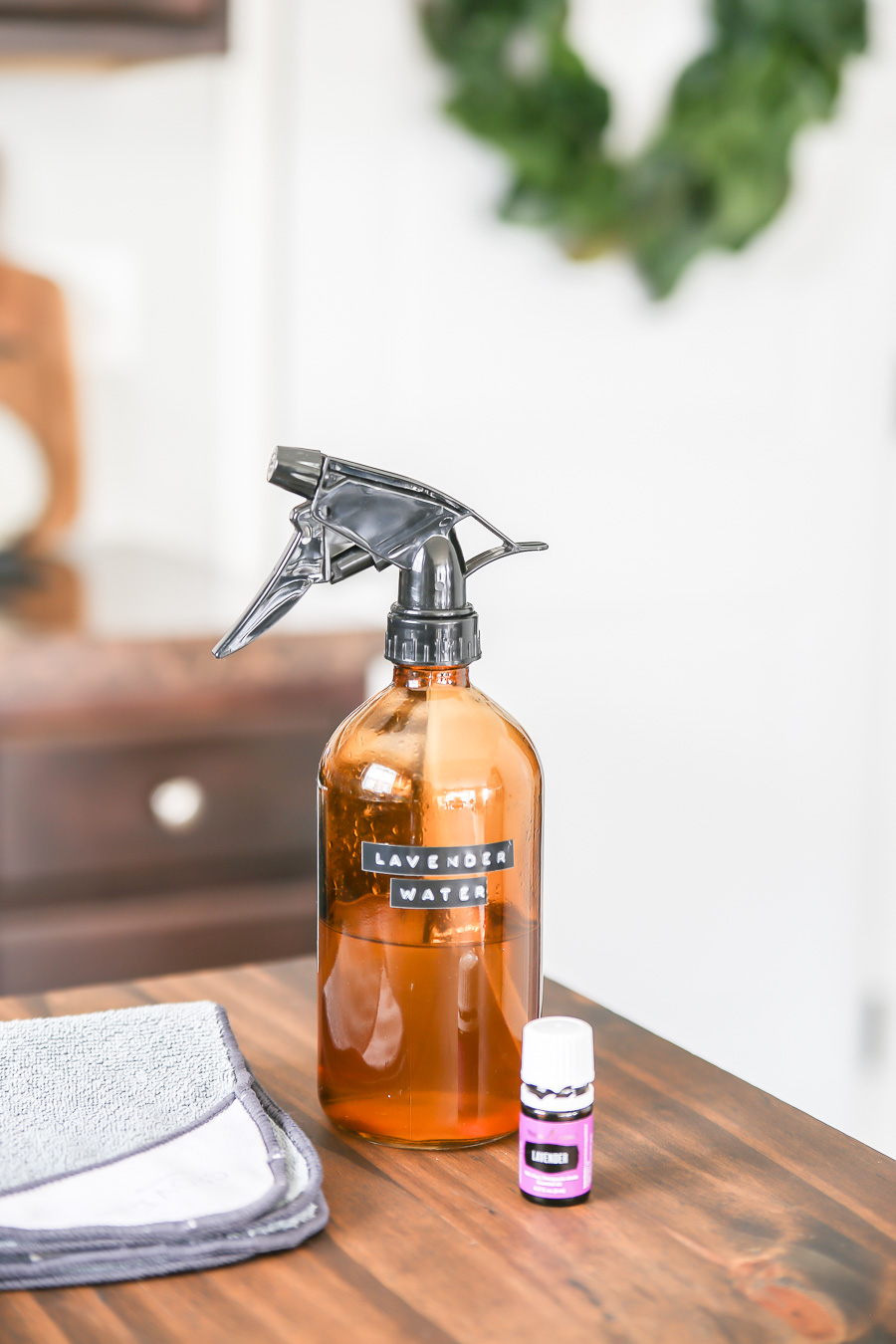 Essential Oils
I love love love using essential oils for cleaning. So by now you can tell I am obsessed with lavender, and this is the main oil I use.
Not only are essential oils great to diffuse in your home, but I like to add a few drops to some water in a spray bottle and use it with a microfiber rag to wipe down my kitchen cabinets, baseboards, walls, etc.
I also will spray some of this mixture on my wet mop when I clean our laminate floors. Smells amazing when I am all done!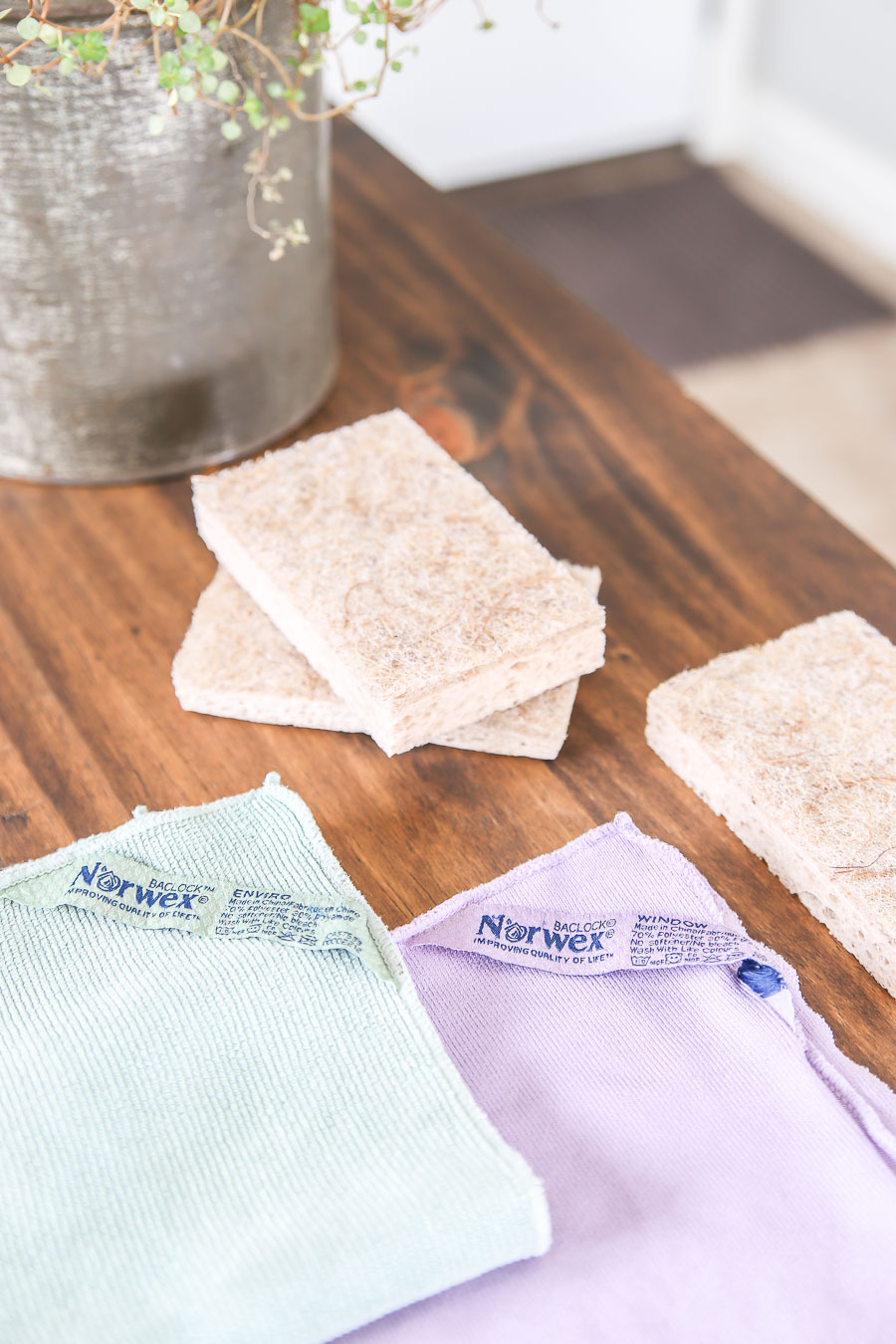 Norwex Cleaning Products
Have you ever been invited to a Norwex cleaning party? They are kind of like the Pampered Chef parties. You might totally roll your eyes at those, just like I did, until I caved and actually went.
I'm not gonna lie, I had no intention whatsoever to buy anything. I just went because some of my best girlfriends were going and hello, they were having some yummy food!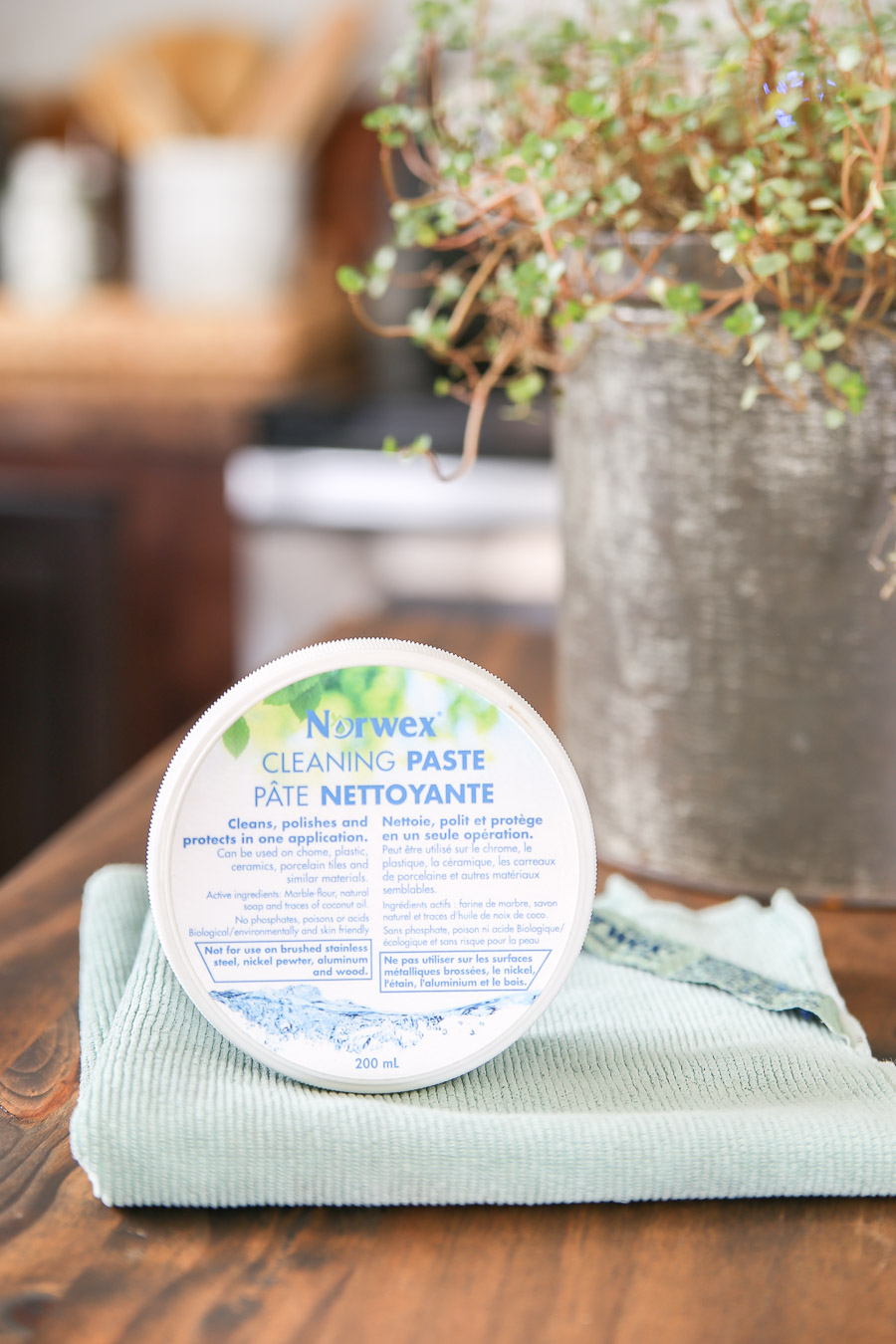 Best decision I ever made, because I drank the kool-aid they were selling and years later, I have never looked back.
I'm not trying to pitch you on anything, but let's just say if you are looking to lessen the amount of chemicals and cleaners you use, check out Norwex.
I could go on and on and on about this company, but in a nutshell you mostly use their rags and products with JUST WATER. Right?
I use the enviro cloth and window cloth (no streaks EVER!) everyday of my life with nothing else. And a long list of other stuff you'll see. Like this cleaning paste that will make your stovetop shine like no other. Best cleaning products ever ever ever.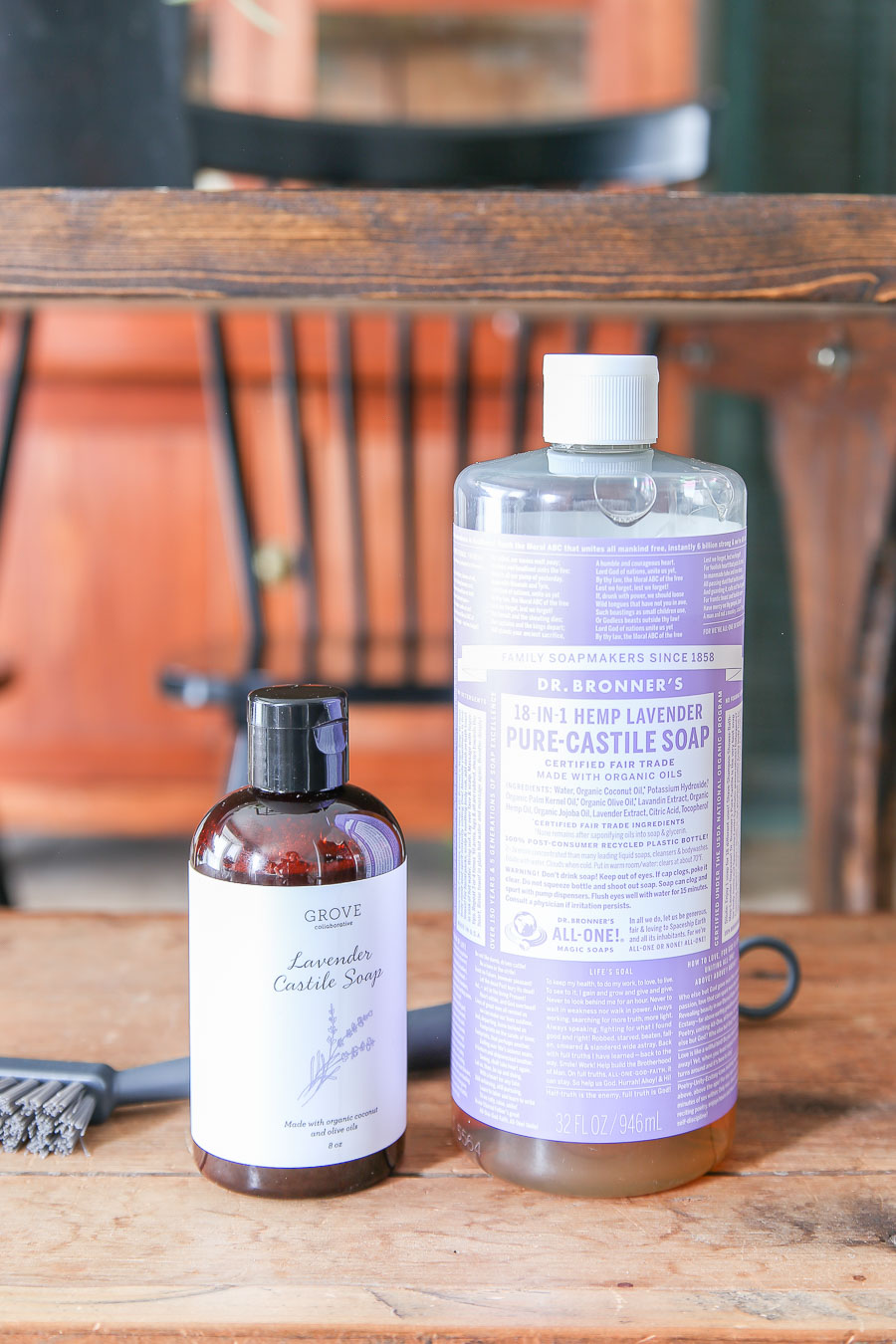 Castile Soap
I don't use castile soap that often, but if I need to really scrub something, like my disgusting tile grout, this is my go-to.
Also a natural product that I simply mix with some baking soda to create a paste, and use a little scrubber to clean whatever I need to clean.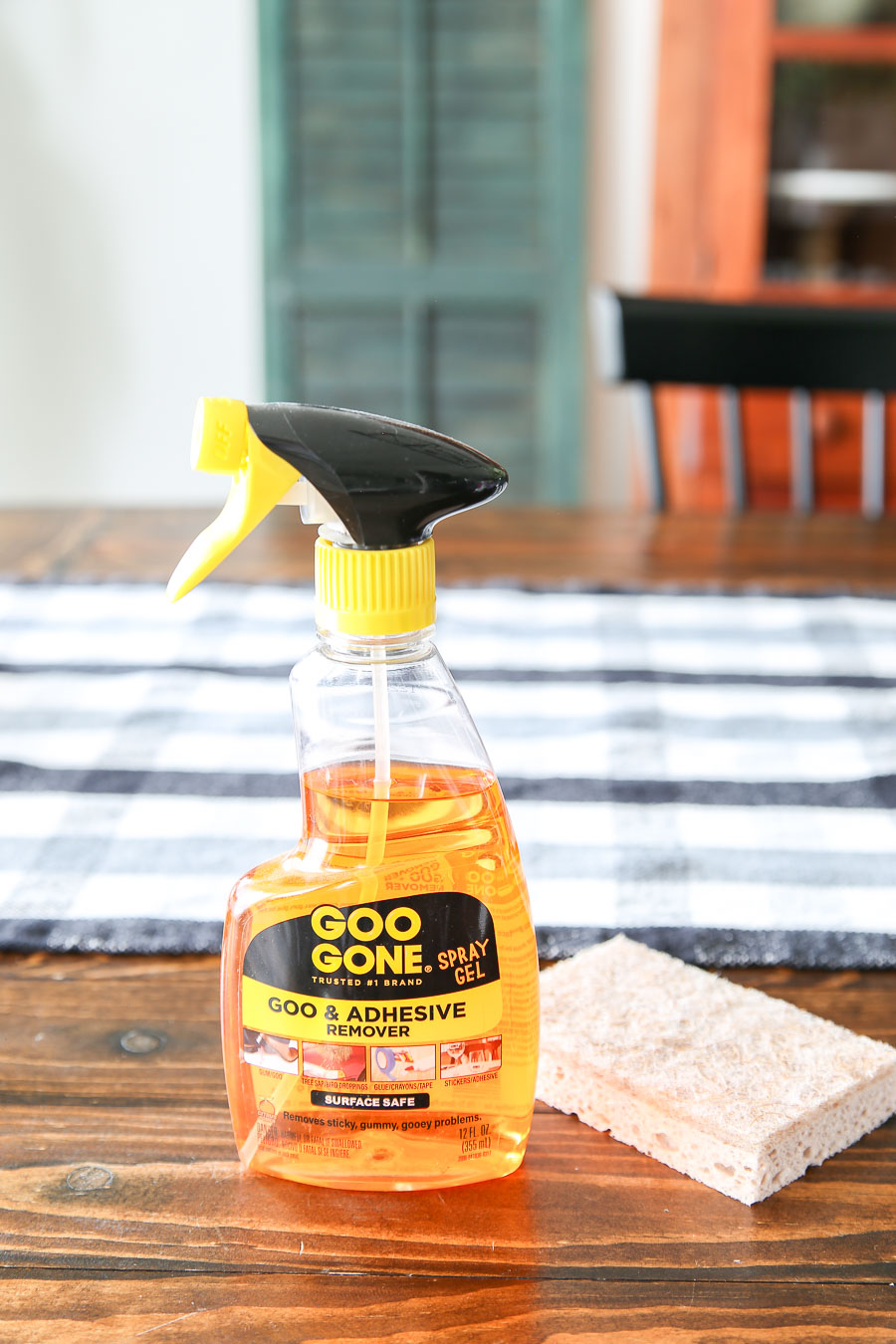 Goo Gone
Another product I rarely use, but is great to have if needed. It's exactly what I sounds like, gets rid of anything gooey.
I use Goo Gone primarily when I peel off a price sticker on something and it leaves that gooey mess behind. This gets rid of it!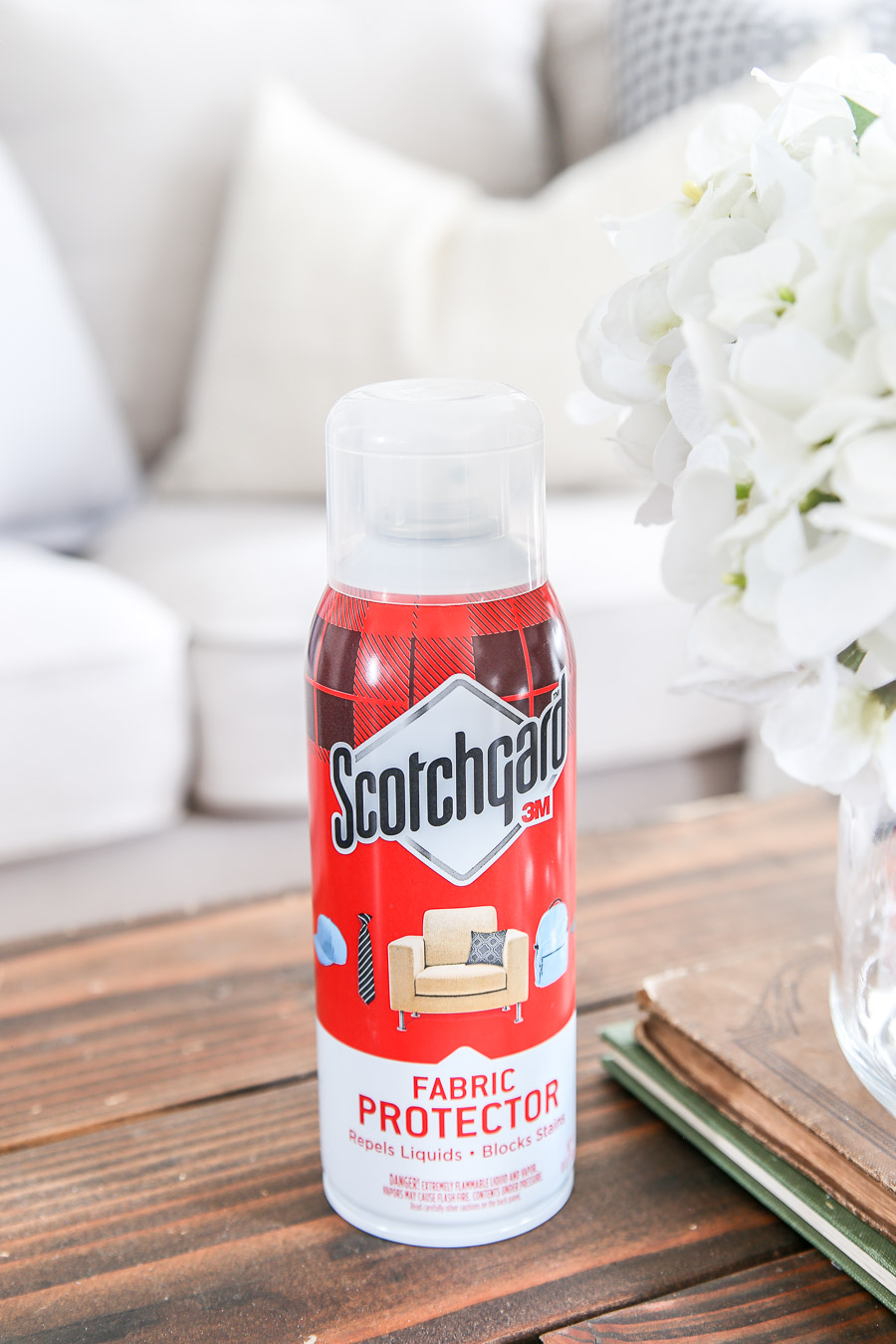 Scotchgard
We have white slipcovered couches with a three year old chocolate lab and a six month old baby. There are a lot of messes that spill on that fabric, so I always spray them down with this stuff after a wash.
It is magic for dog slobber and baby drool!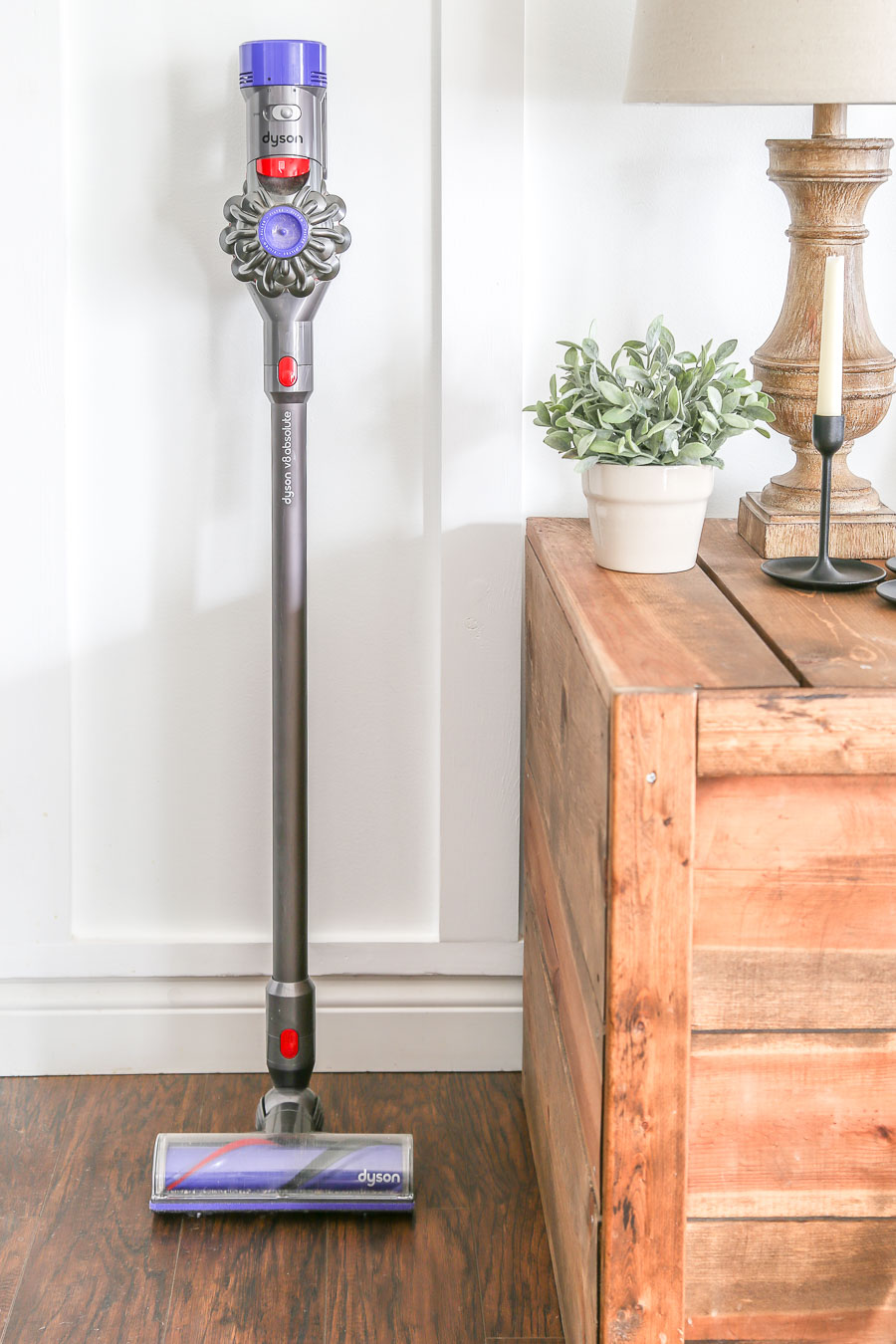 Dyson Cord Free Vacuum
Last year my husband surprised me with a Dyson cord free vacuum for our five year wedding anniversary, and I may have cried.
You know you are getting old when you consider a vacuum the best present ever!
I'm sure by now you have heard all the wonderful things about having a cordless vacuum, and I am here to reassure you, it is absolutely life changing. And I am not exaggerating.
They are definitely an investment, but one hundred percent worth every single penny.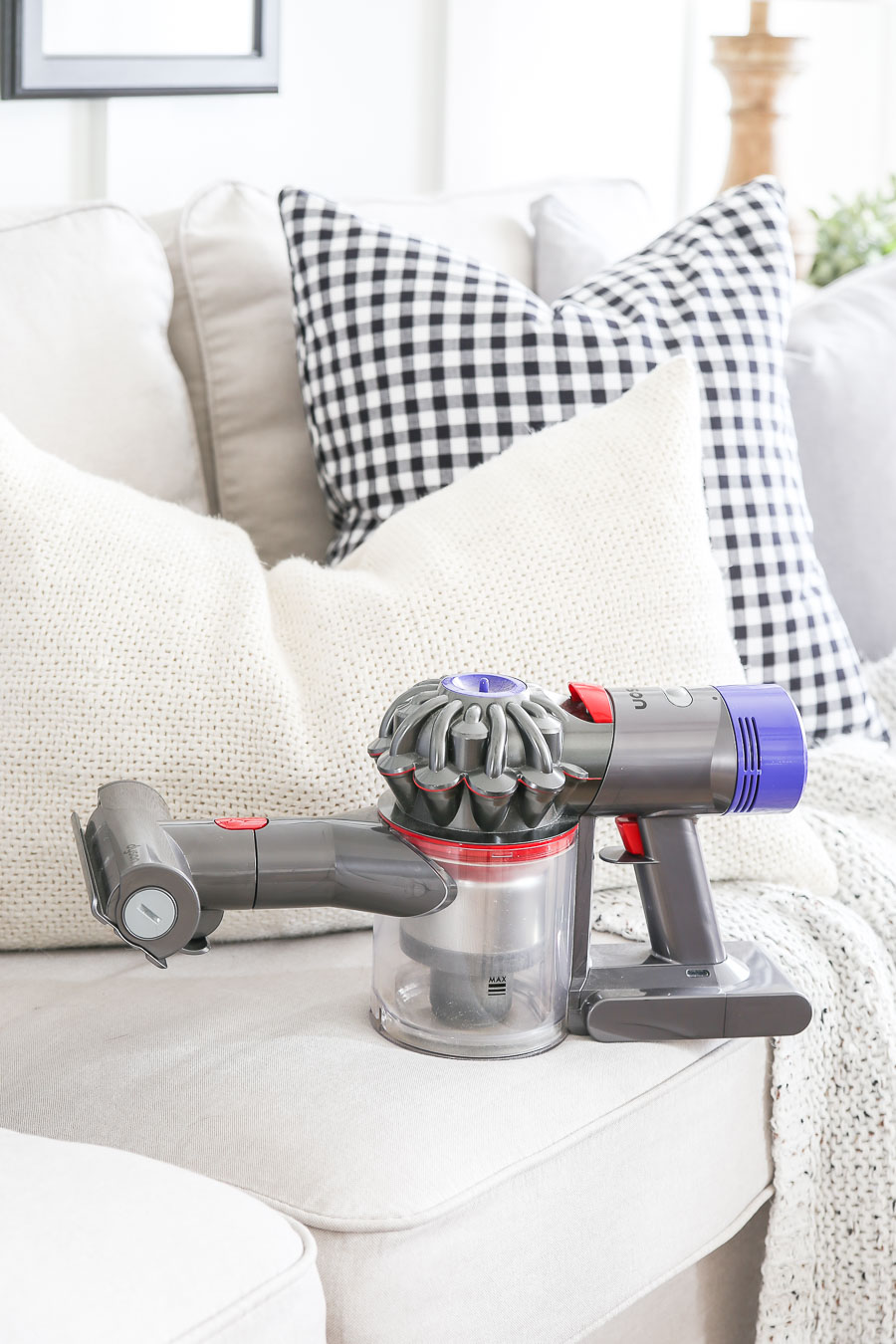 And the best part is they come with all these different attachments, like this short piece that I use to remove dog hair from all the fabrics in our house. So good!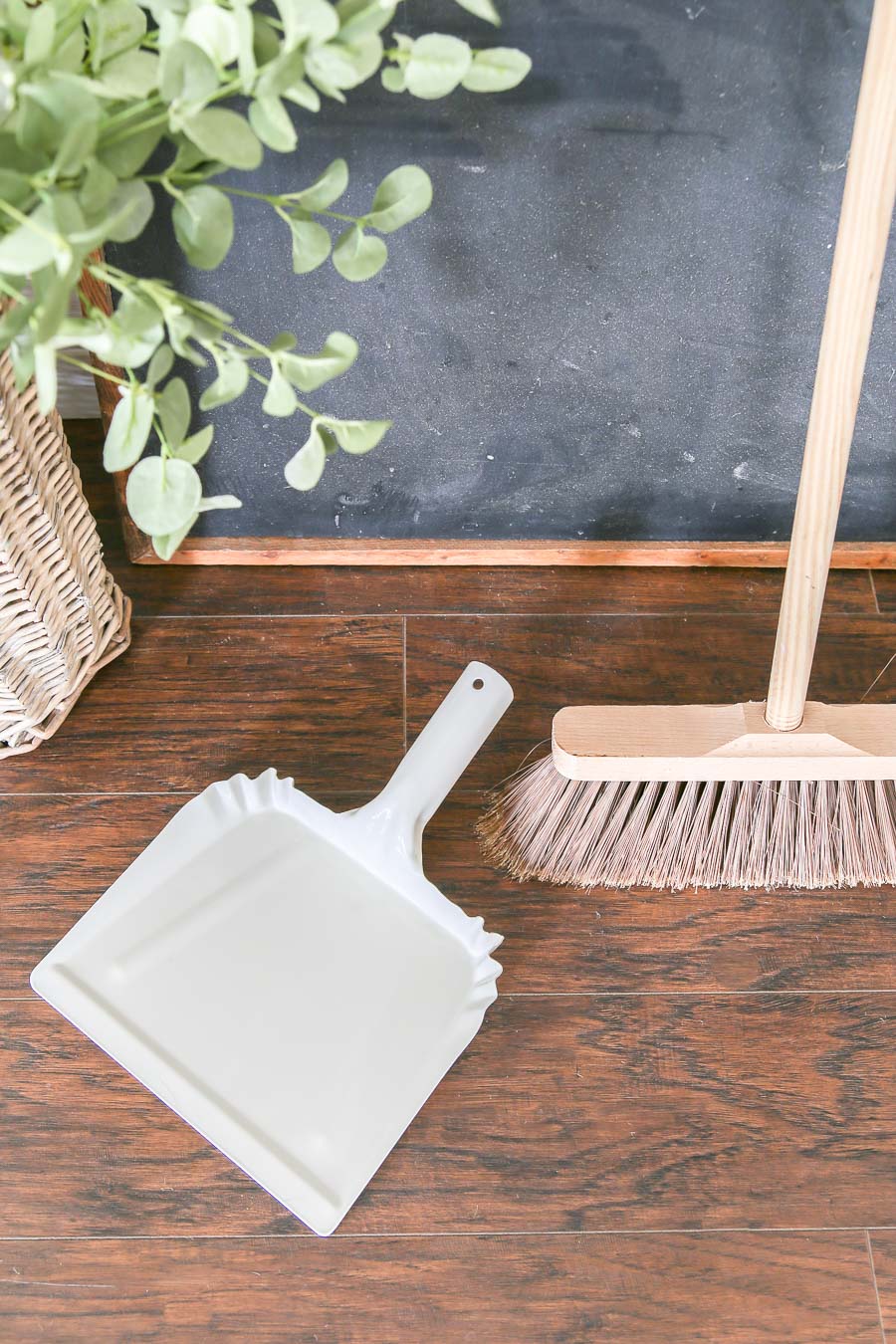 Cute Cleaning Accessories
Because why not have a super cute broom, dustpan, and water bucket when you need it.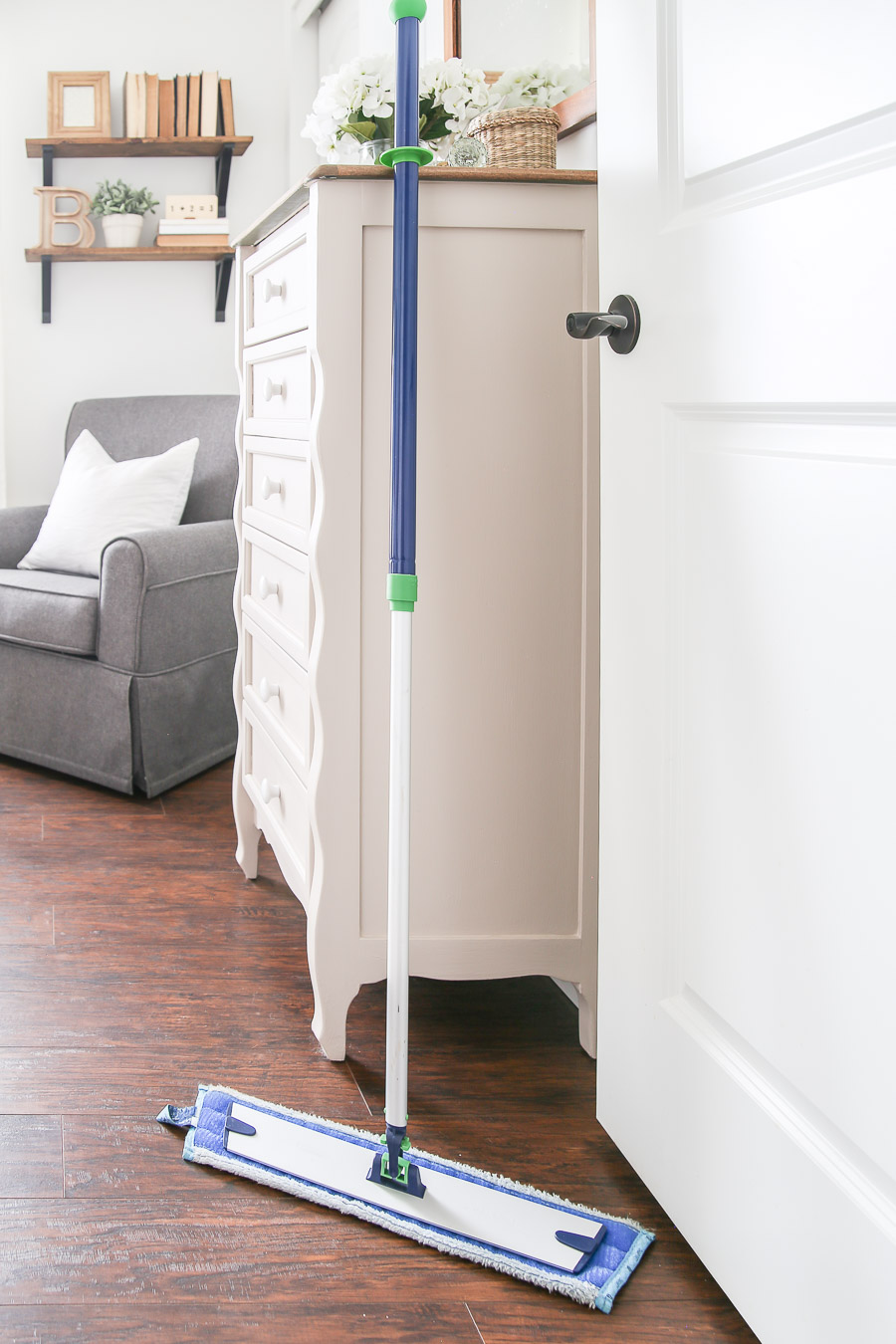 Norwex Mop
Another Norwex product you would never regret buying. This mop comes with a dry mop and wet mop head. The wet mop only requires water, and my tile and laminate floors have never looked so clean!
I have replaced my Swiffer and my Shark Steam mop with this guy. Love it!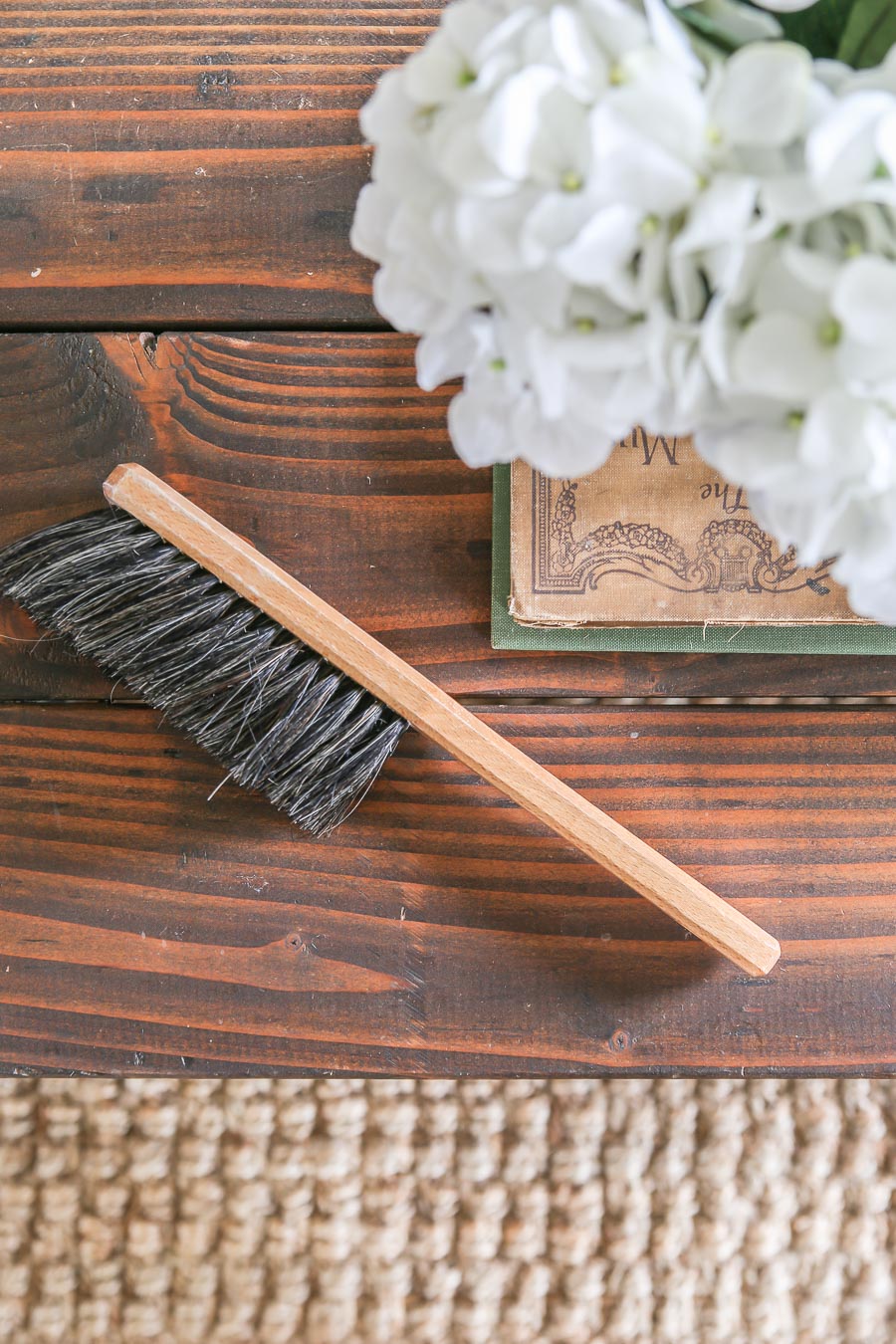 Dusting Essentials
I used to be a big Pledge girl, but now I literally use no chemicals whatsoever when I dust.
One of my go-to's is this cute little wood handle brush, great to dust off our black dining room chairs and baseboards.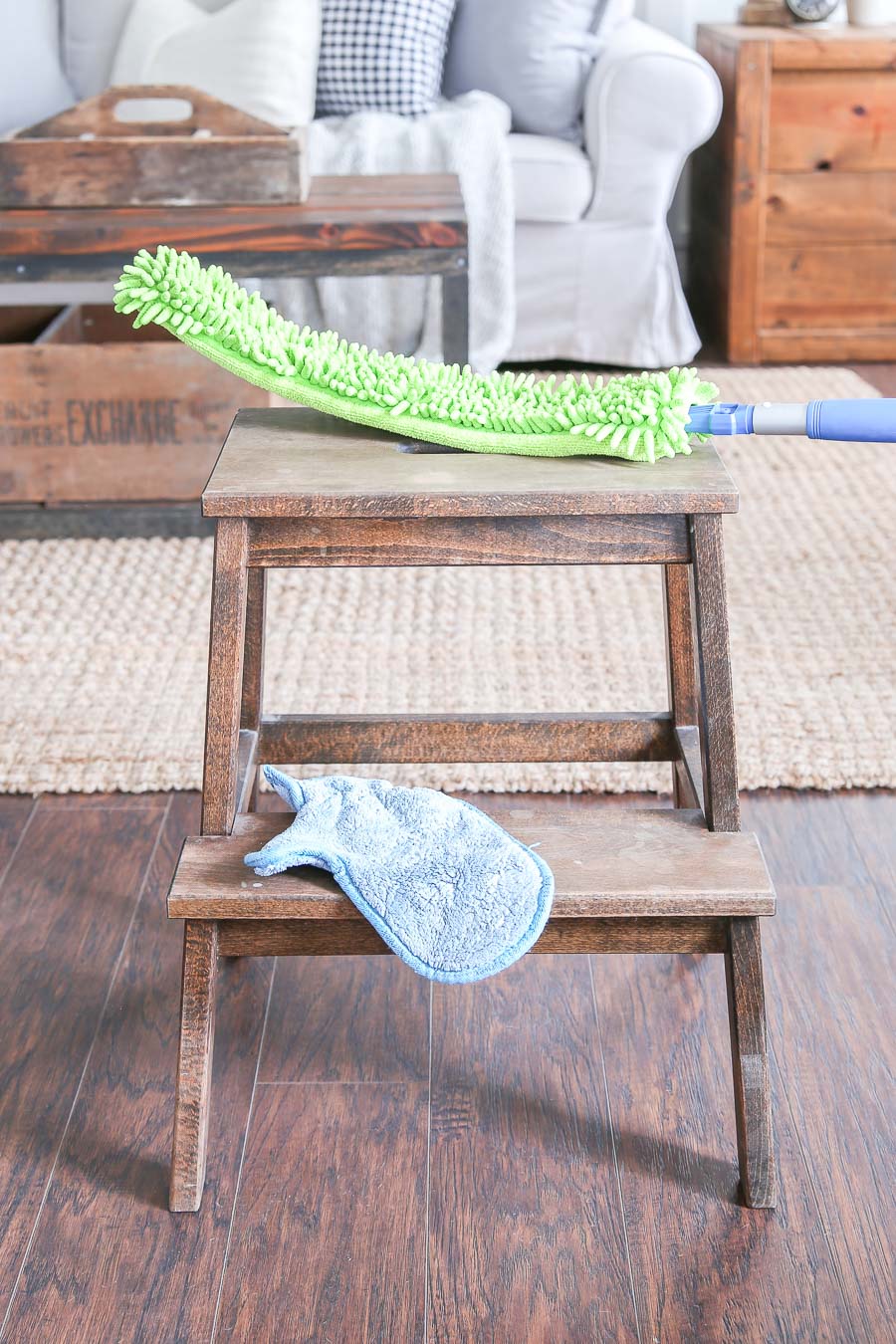 I also use the Norwex dusting wand to reach things like our ceiling fans and light fixtures, and the Norwex dusting mit for just about everything else in our house that needs dusting!
Again with having a dog, and also all our natural jute rugs, our house gets super dusty, and all of these products work wonders on getting rid of that.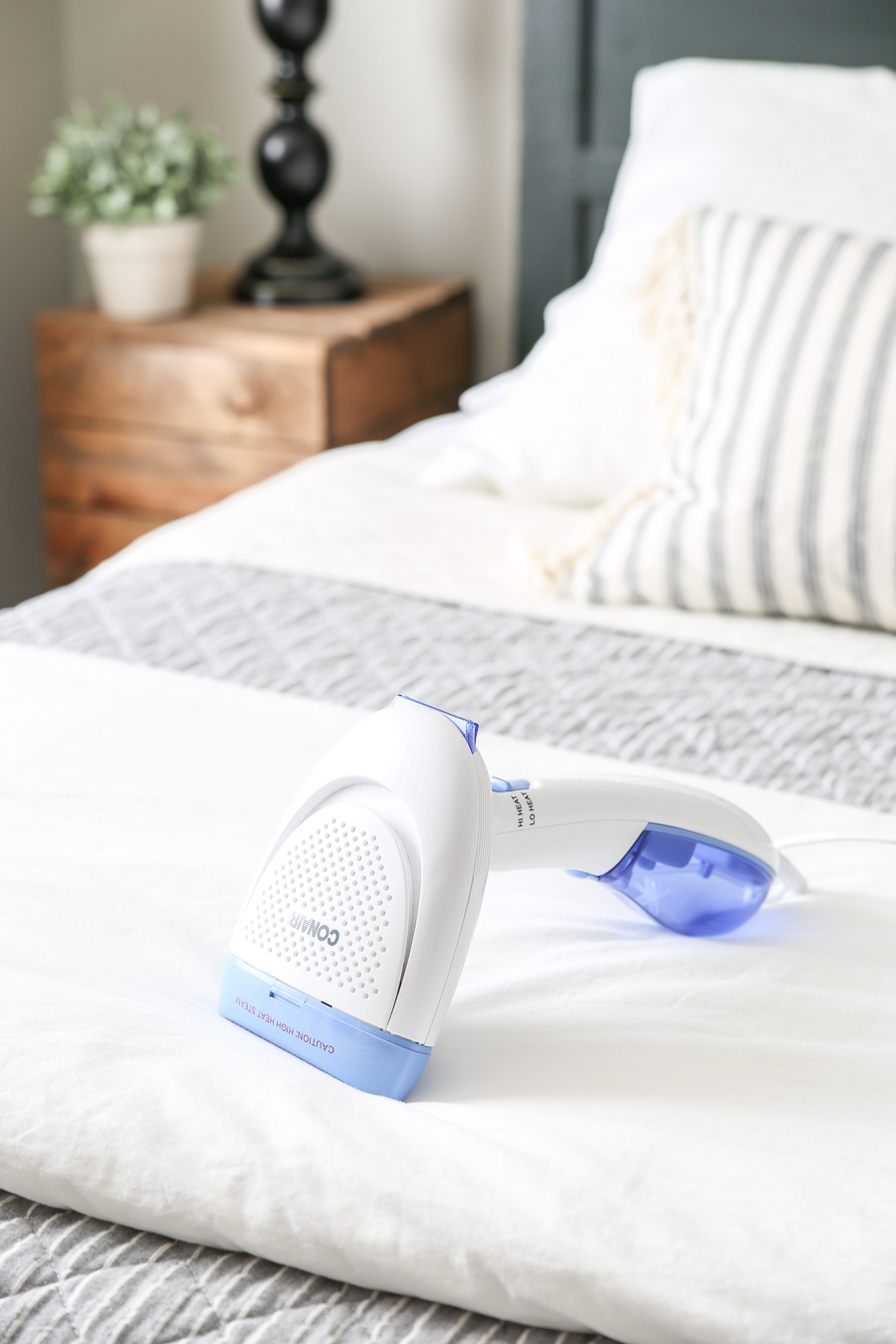 Hand Steamer
If you are a complete crazy person about wrinkles like I am, you need this steamer!
I use it on our couch slipcovers, our curtains, and any bed linens and bedskirts that need a good straightening out. Also great for clothes too!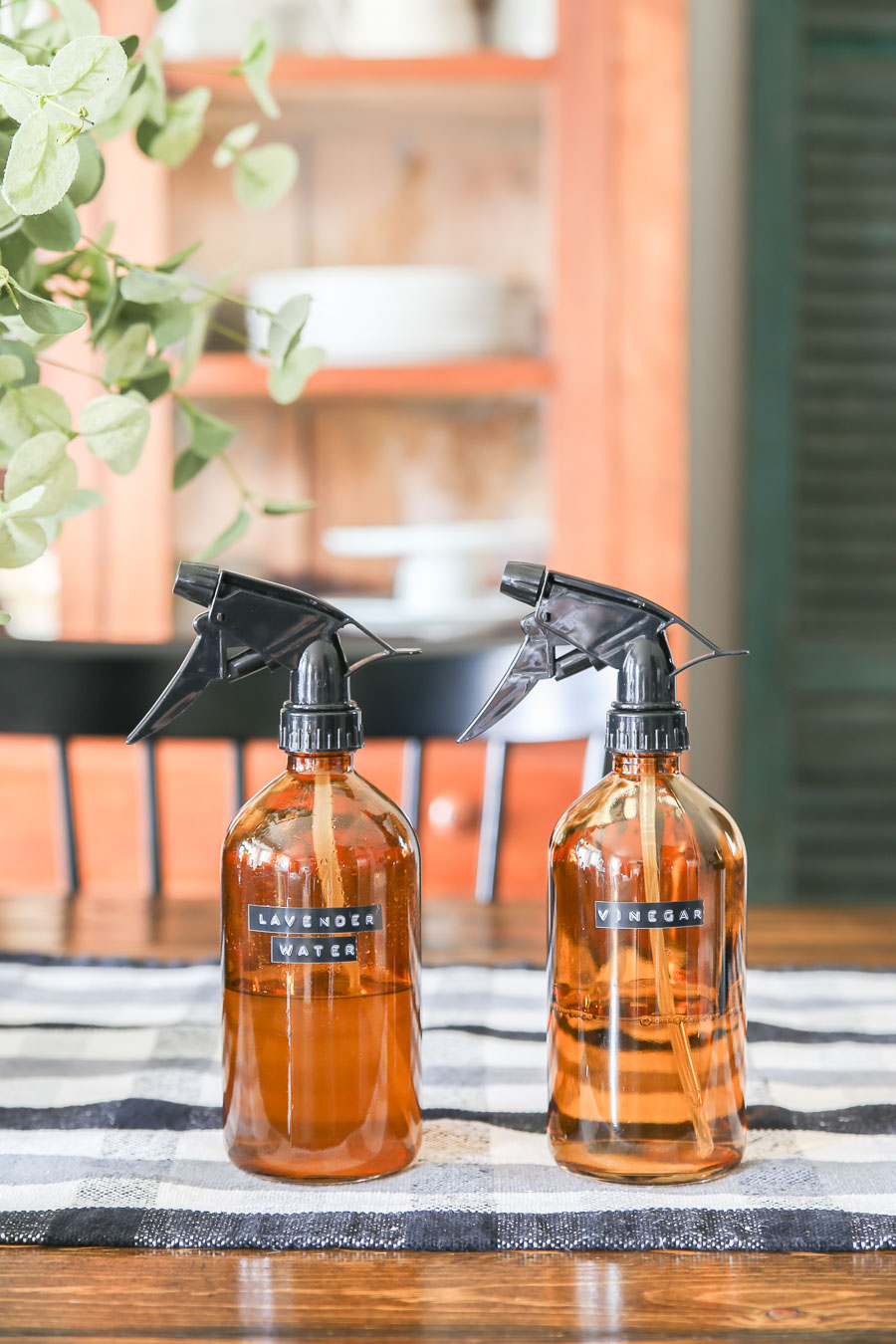 Glass Spray Bottles
I absolutely love using glass spray bottles for cleaning.
I like to mix up bottles of essential oil and water like I already mentioned, vinegar and dawn dish soap (with a magic eraser – which I totally forgot to add to this list!) for our glass shower doors, or just a bottle of water to use with some of my Norwex products.
I use my label maker to add labels to each bottle, and it works out great. And they are cute too, so win win!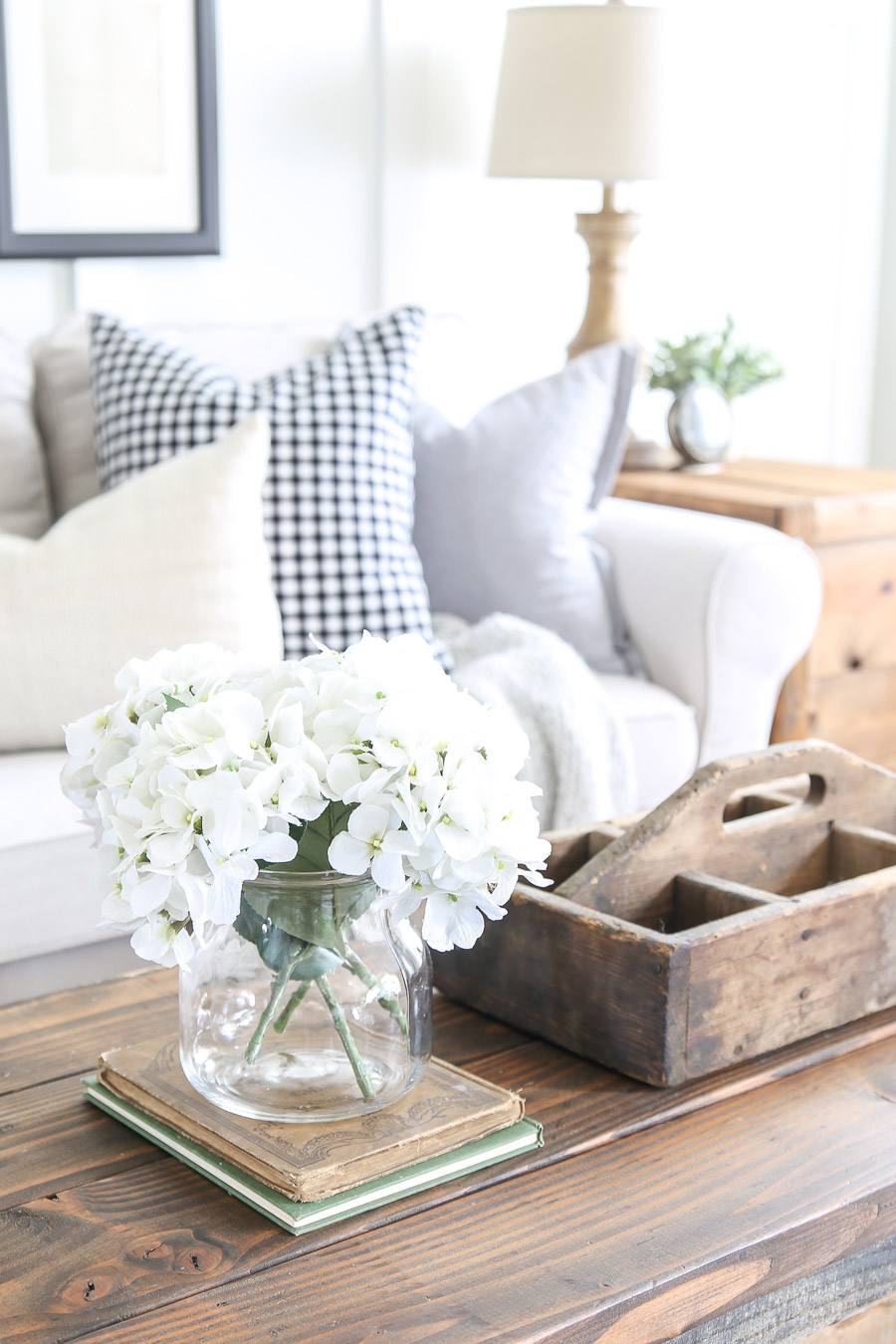 So as you can probably tell, I am crazy about cleaning! I have learned to try and enjoy the process, since it's something that has to be done.
I have found that finding products I love and cute little accessories to use have definitely helped me embrace this part of having a home.
And a good music playlist to clean to doesn't hurt either!
Now tell me, are you someone who loves to clean, or do you loathe it? What are some of your favorite cleaning products?
Shop This Post

More Home Tips and Tricks
Pin This Post for Later