Tips for Picking Out Laminate Flooring
This post may contain affiliate links. For more information please see our disclosure policy.
Pardon me while I do a huge happy dance, because our new floors are done! Actually they have been done for a week and I am loving them oh so much! This was one house update that I have been looking forward to since the day we moved in. Everywhere I lived previously had carpet floors. While there is nothing wrong with carpet, by any means, I have always dreamed of a home with dark, wood looking floors and I am still in shock that I actually have them now. It only took me 30 long years! Ha!
When I showed you a sneak peek of the flooring we decided on, I mentioned how I used to be a huge snob to laminate. My heart was set on hardwood. Well my views quickly changed after seeing it in person in a few of my friends homes, and I am so so pleased with the outcome of ours! I was super picky when I first started looking, and learned some things along the way. So I wanted to share a few tips when shopping around for your perfect laminate floors!
(Disclaimer: I apologize for my all over the place photography here! Some shots came off my phone because I didn't have my camera handy!)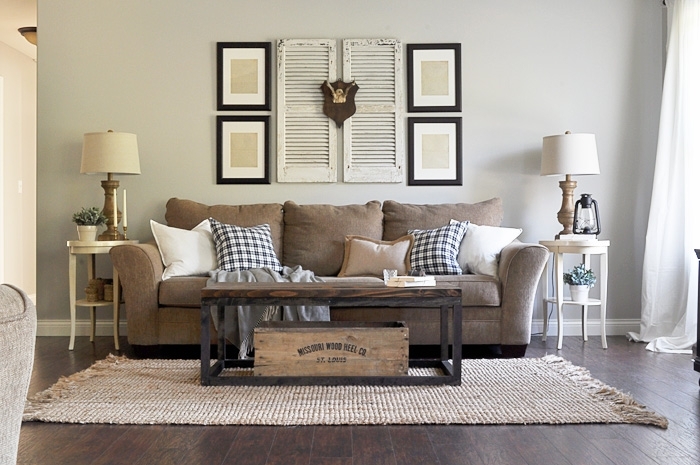 KNOW THE LOOK YOU WANT
Before we even started shopping I knew the exact look that I wanted, so it cut down significantly on the time it took for us to find the perfect fit for our home. My dream floor was a dark, warm color with a real wood texture and a wider plank. So going into your search, knowing the color, texture, and size will really cut your options nearly in half right away. If you don't know what you are looking for, no worries! Take your time, flooring is a huge decision and not something you can return to the store once installed!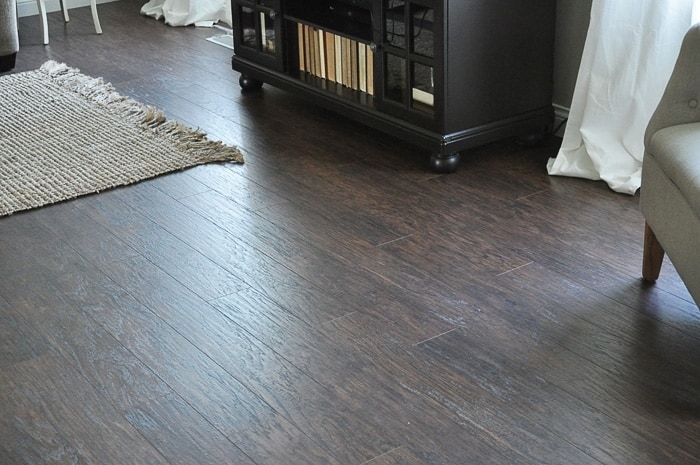 DECIDE ON A PRICE RANGE BEFORE SHOPPING
Knowing your budget is always super important before you start looking around. You don't want to fall in love with a floor that is too expensive for you to take home (i.e. hardwood in my case)! Set a price right off the bat that you cannot go over. Also, don't forget to take into consideration costs for installation (we opted out of DIYing this ourselves and hired someone), underlayment (if not already attached), coordinating trim and moldings, and possibly replacing trim (or if removed, re-caulking, filling nails, and repainting it). Costs can add up, but the great thing about laminate is that it's way more affordable than going with real wood.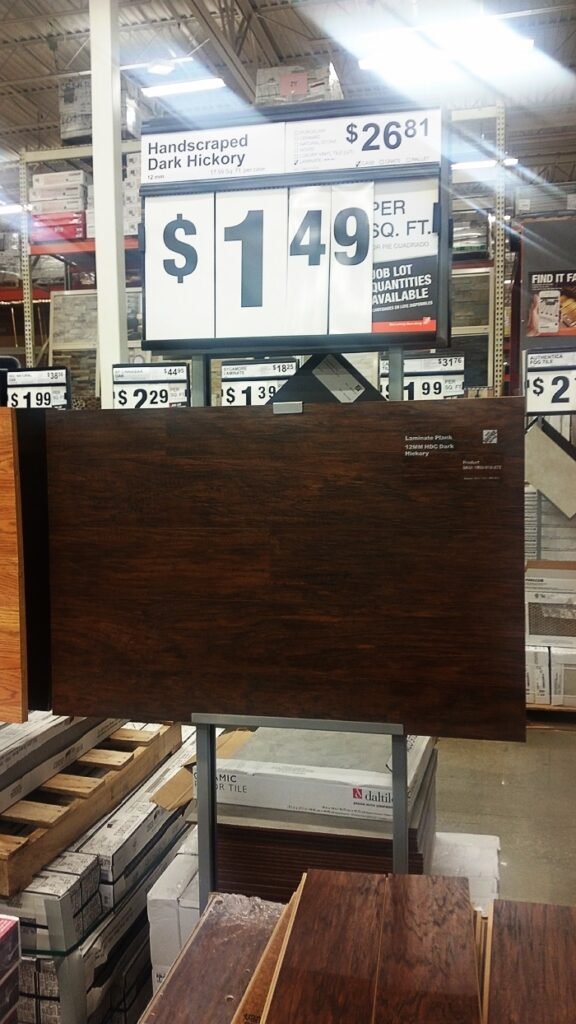 SAMPLE THE FLOORING IN YOUR HOME
Most stores offer those little sample pieces for free. Take them home and lay them against your walls and molding to get a better idea of what they will look like. When we narrowed our search down to a few options, we actually bought a box of the flooring and laid a few strips down in each room to really see the look. It was well worth paying the $27ish up front to get the full effect, and helped us settle on the decision we made. Plus you can always return it if it wasn't a good fit. PLEASE, Make sure that the store you purchase the box from allows you to return it!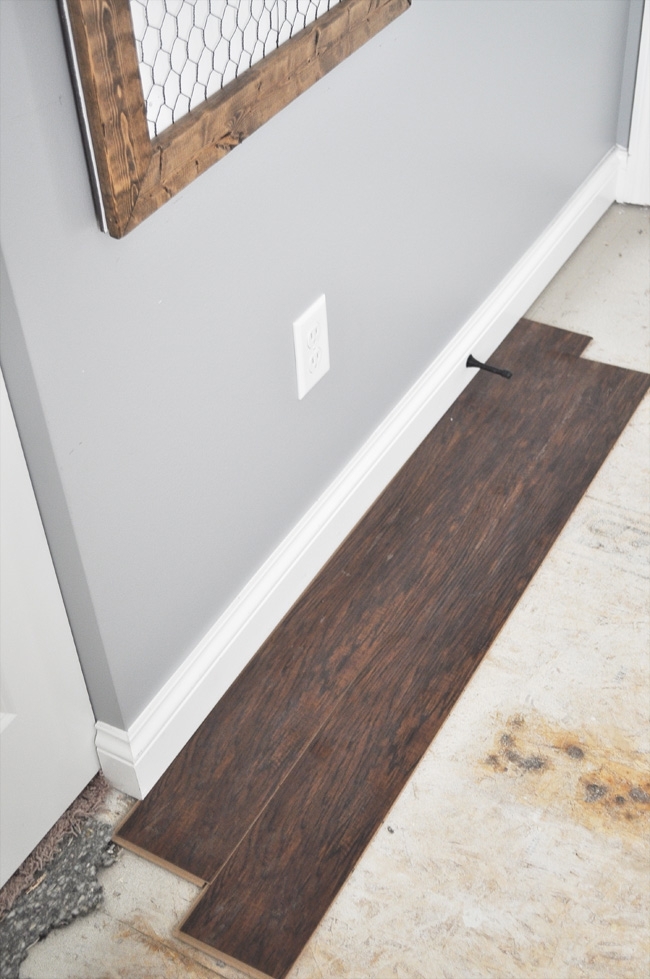 KNOW WHAT QUALITY BEST SUITES YOUR HOME
Laminate floors come in all different types, as most flooring does. Make sure you do your research on which quality would best suite your home. Look into the thickness of each option. Most laminate comes in 7mm, 8mm, 10mm, or 12mm. Obviously, the thicker the better for higher traffic areas. Also, consider the AC Rating. This is a 1-5 scale that rates the floors durability and resistance to wear. Do you have pets, kids, high traffic, low traffic? Taking these simple factors into consideration may help make your flooring last longer and reduce having to repair or replace it in the future.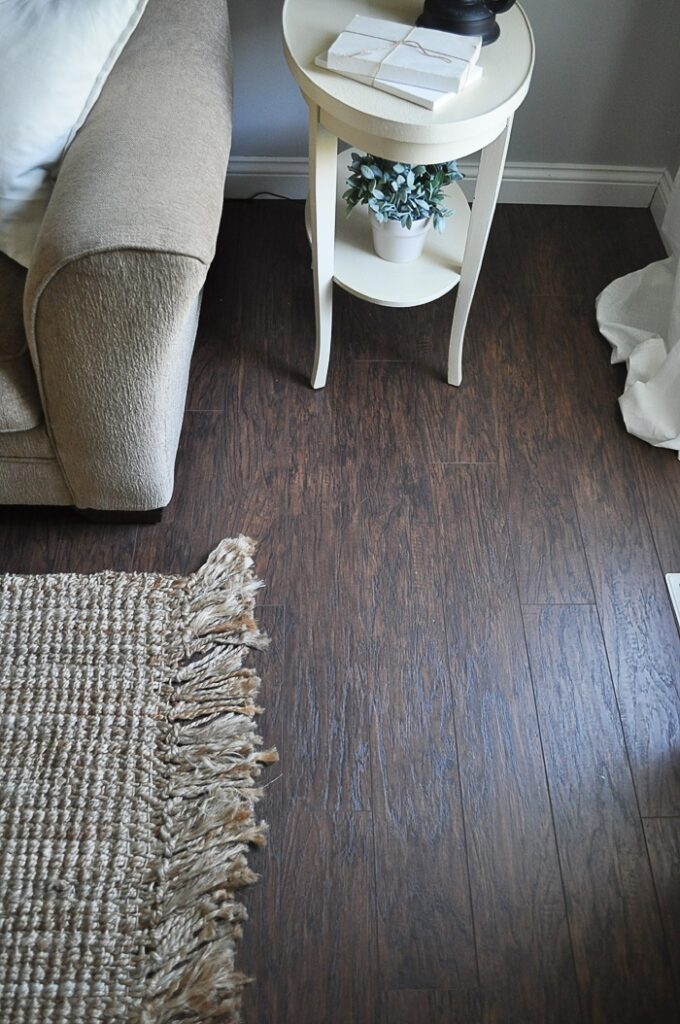 Having our new floors installed has seriously changed the entire look and feel of our home. Deciding to go with laminate versus hardwood was the right decision for this particular home we are in, at this particular moment in our lives. I am so so happy with how they turned out, and I hope if you are looking around too, these tips help you in some small way!
Oh, and I have already received a ton of interest in which floors we chose. We went with Home Decorators Collection at Home Depot – Hand Scraped Dark Hickory. I am in LOVE with it!
Stay tuned, we painted too!
---
PIN FOR LATER
---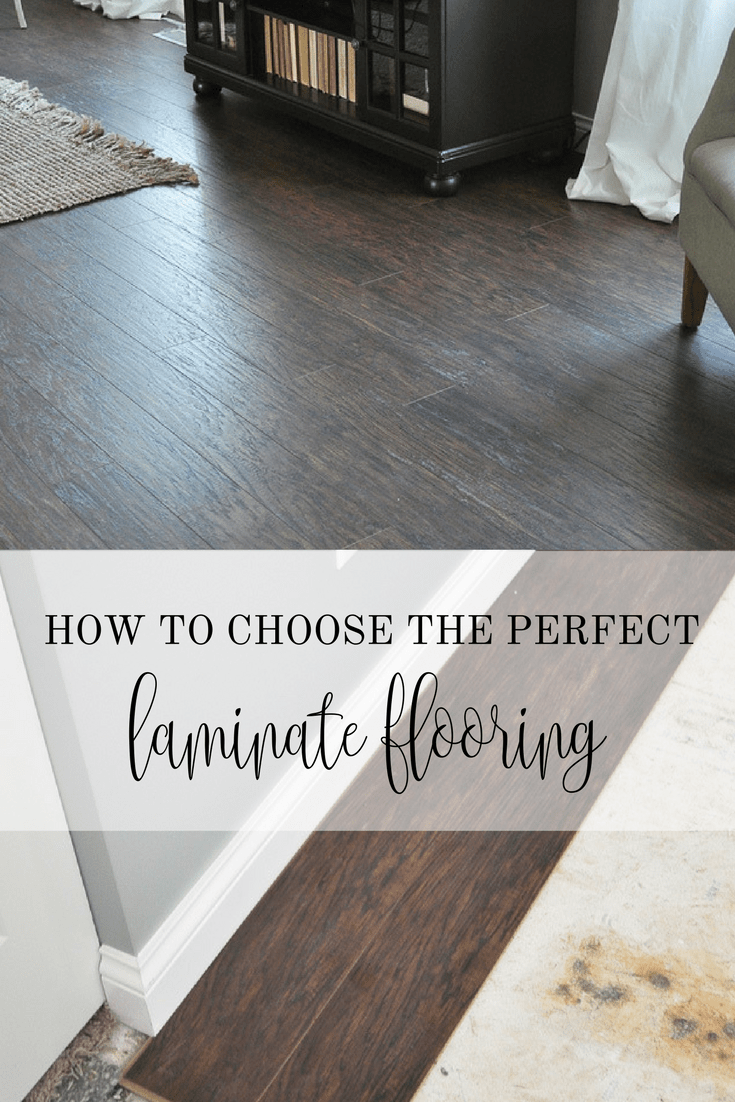 ---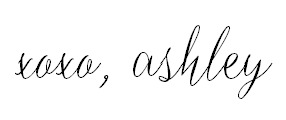 SaveSave