Finally Fall Home Tour 2016
This post may contain affiliate links. For more information please see our disclosure policy.
You guys. It's finally, officially fall! October is hands down, without a doubt, my all time favorite month ever ever ever! Can you sense my pure obsession here? I mean obsessed is an understatement. The weather, the trees, the food, pumpkin flavored everything, the fall bucket lists. I could really write an entire post about this, but it might get really annoying. Or maybe you love it as much as I do? I thought so. What's not to love! It also just so happens, us bloggers love to invite you into our homes to see how we celebrate and decorate for this lovely season. And today you are getting super lucky, because you are getting not one, but twelve (technically thirteen) fall blog tours here! So let me welcome you to Finally Fall Home Tour 2016!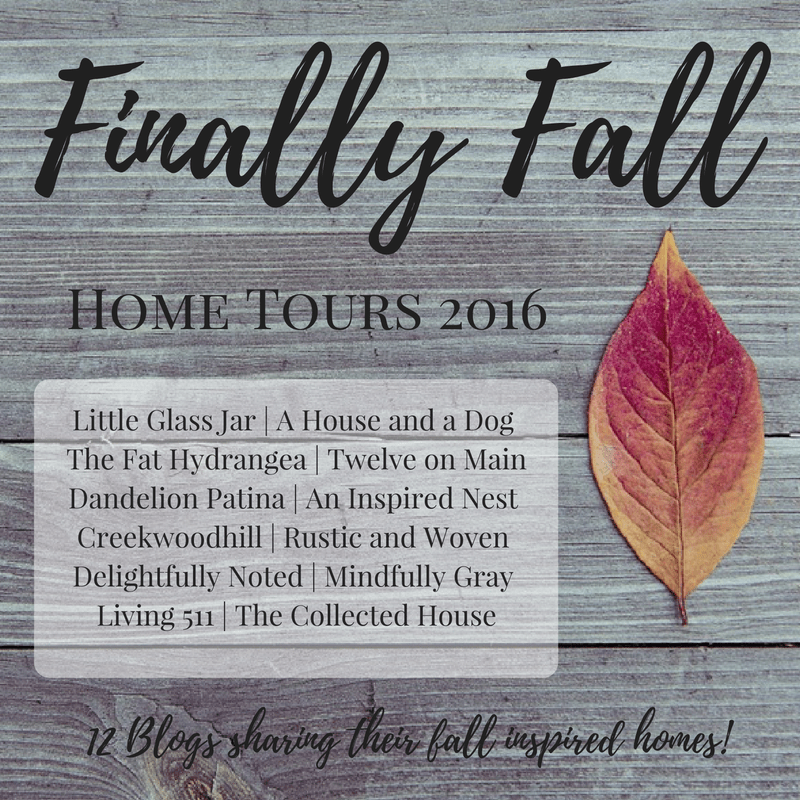 If you are new to Little Glass Jar and are linking over from one of my friends above, thank you so much for being here! Welcome to my little creative spot! I hope you stick around and see all of the home updates we are taking on right now! If we are already friends, good to see you again! I am so grateful that you've come back to see what's going on!
Soooo remember when we got new floors and a lot of new paint!? Even though it was like 2 weeks ago, I am still putting my house back together. It's a process and I hate to say it, but my style is changing slightly. I am purging bigtime. I plan to get rid of A LOT of stuff and simplify my farmhouse style. I am certain you will love the ideas swirling around in my head, and I can't wait to share them. Gradually, as I do. With that being said, my fall décor is minimal and simple (there's that word again…) this year. I am really on a less is more kick, and no it's not because I'm being lazy. We're friends so I would just tell you if that was the case! So here we go, my fall home tour!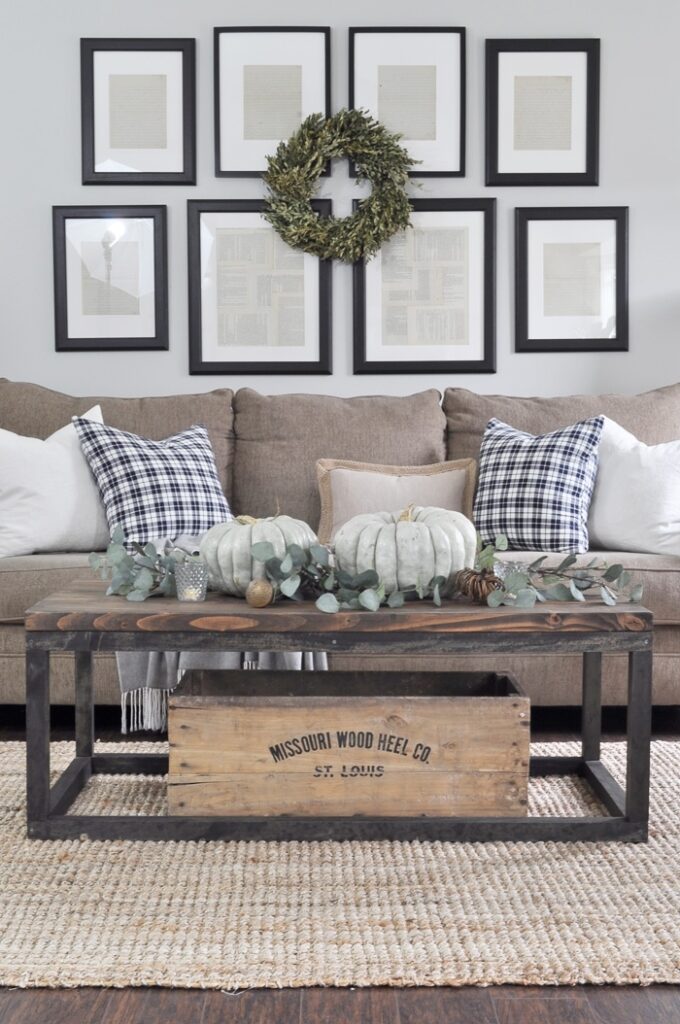 Let's start in our living room, shall we? Since we painted (post on its way) and got new floors, I have been experimenting with this room a lot. For instance, that gallery wall just went up Friday, replacing the other one I just put up a few days before that. And I do happen to know it's just temporary until we board and batten a ton of the house. So there's that. Ha.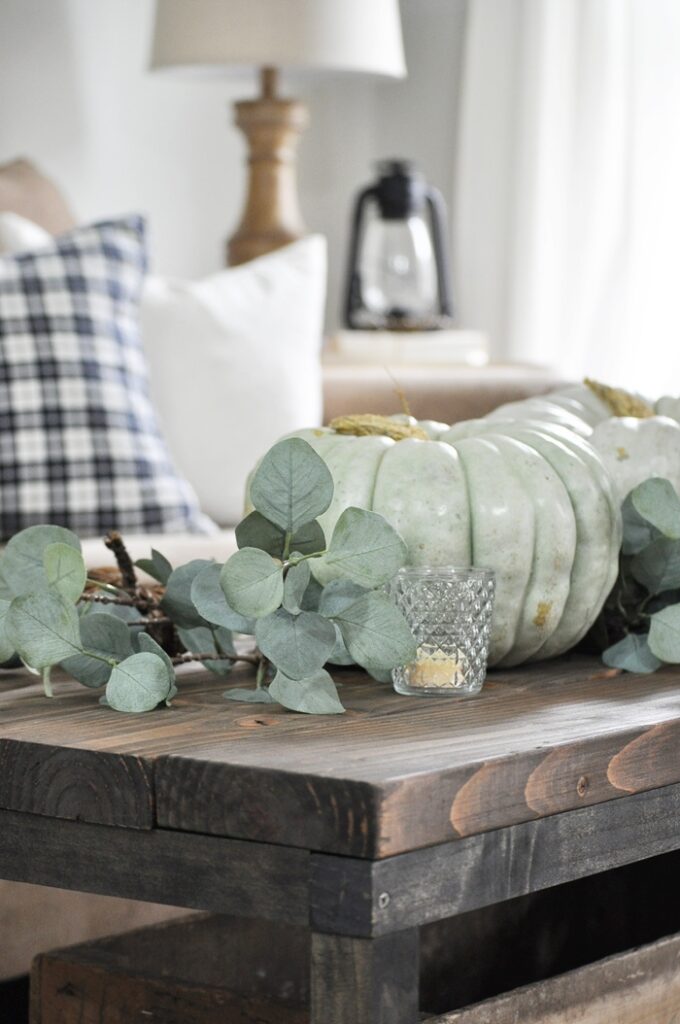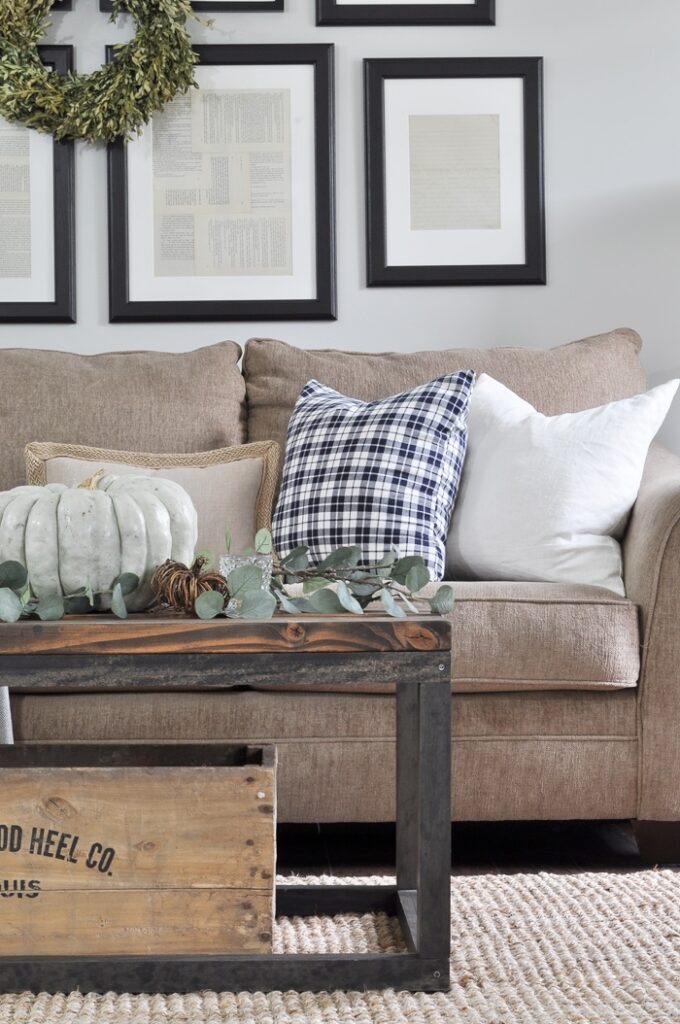 I wanted to keep my colors super muted this year. Whites, greens, and natural elements. That's my jam right now. Heirloom pumpkins are the best alternative if you are trying to stay away from the vibrant oranges, so I went with those. Less really is more sometimes, and I am liking the vibe so far.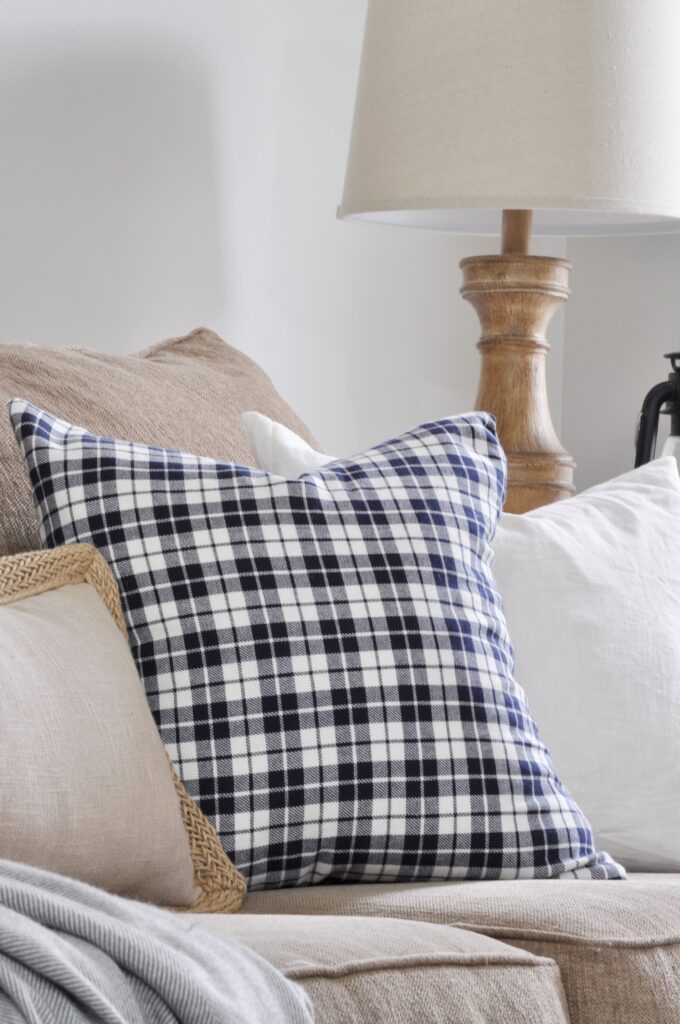 The plaid pillows I love! I actually made them out of a Target tablecloth I got last year on clearance after the holidays. I love the pattern and I think they will be great to keep out even after Christmas for a cool winter feel, since they are navy and white.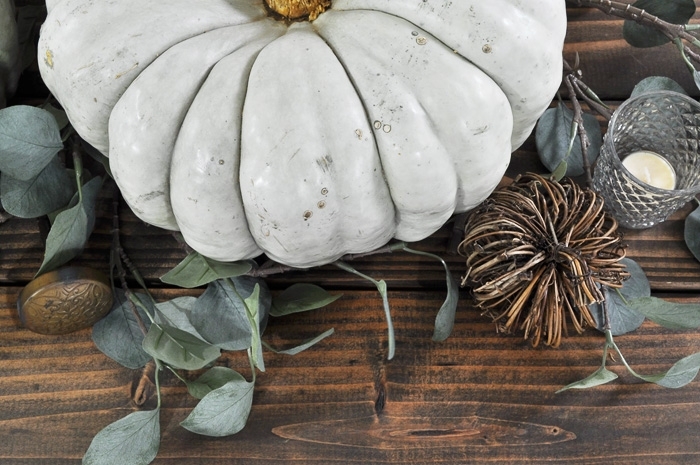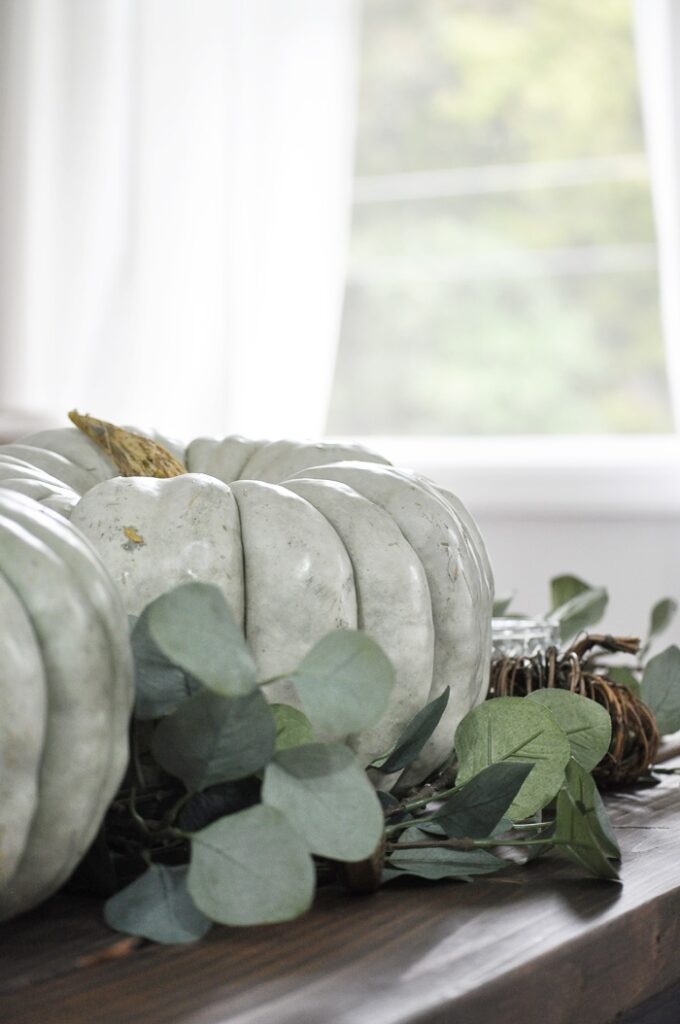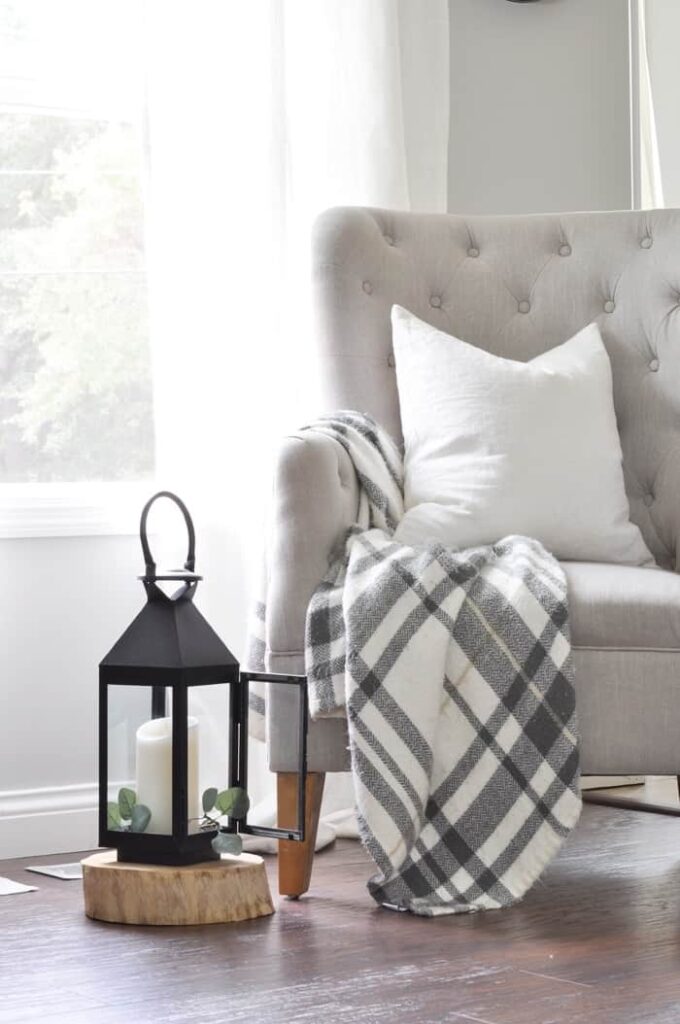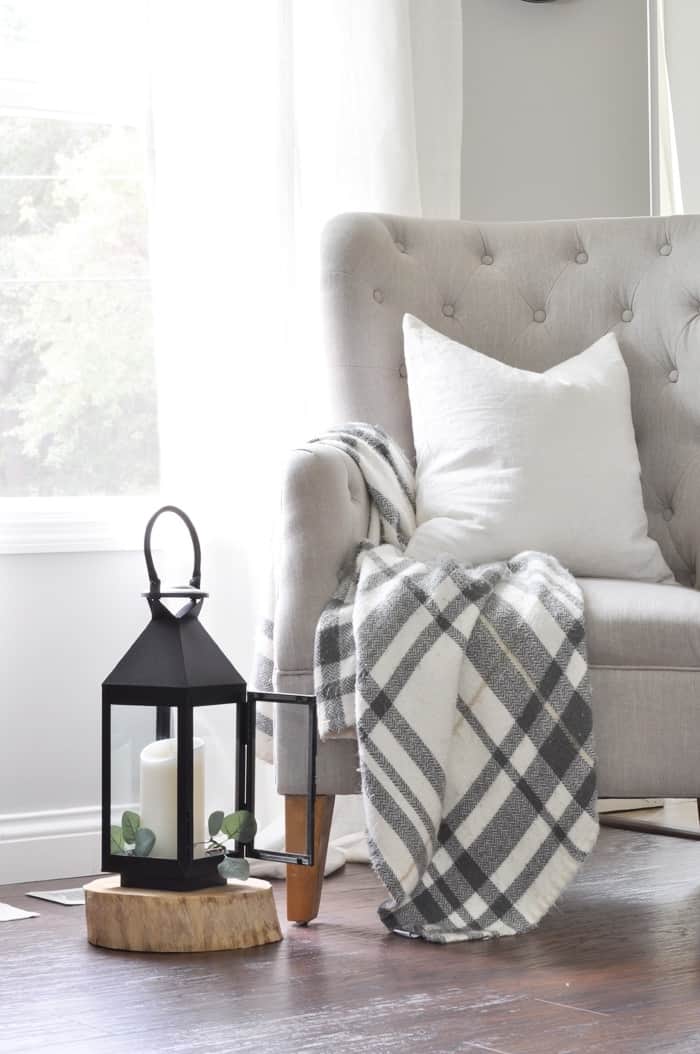 This chair is my favorite. I searched for two years and finally found one, and I love it. It's the best to cuddle up in and read. I used more plaid to pair with it because…can you have too much plaid? (The answer is no.)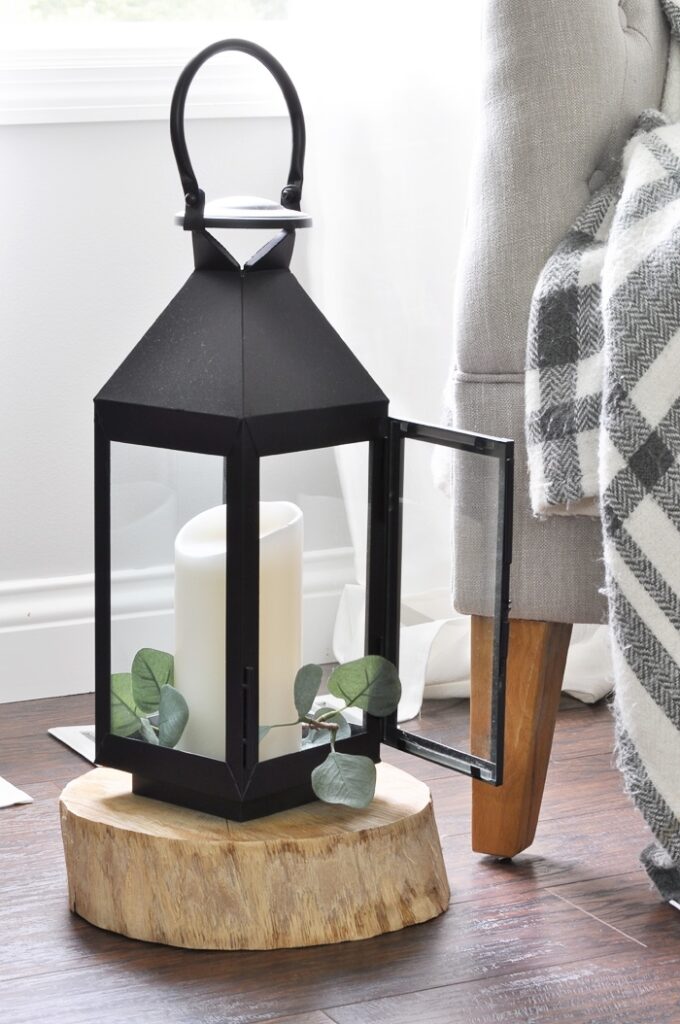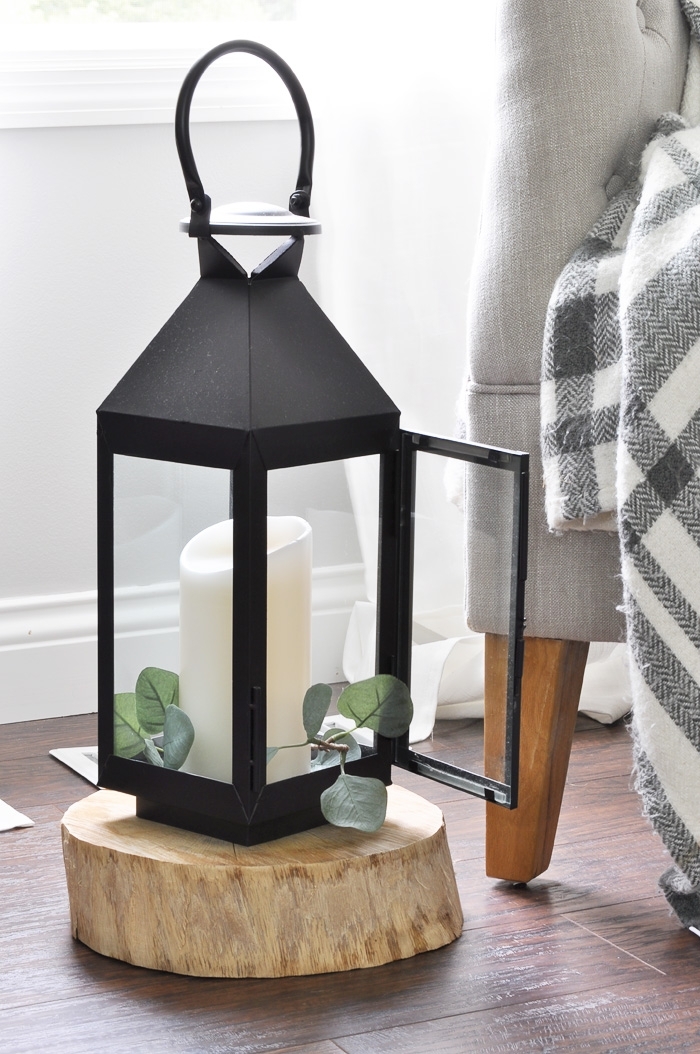 Next up, our farmhouse style dining room. This is the first room that was somewhatly finished after we moved in nearly 4 years ago. I still need a new light fixture for above our farmhouse table, and I need a bigger hutch eventually. But for now, this will do. I carried the same theme into this room because they are connected, and it just flowed, ya know?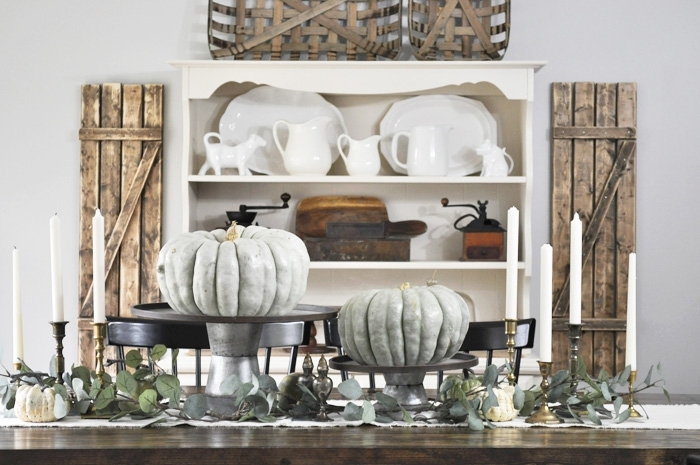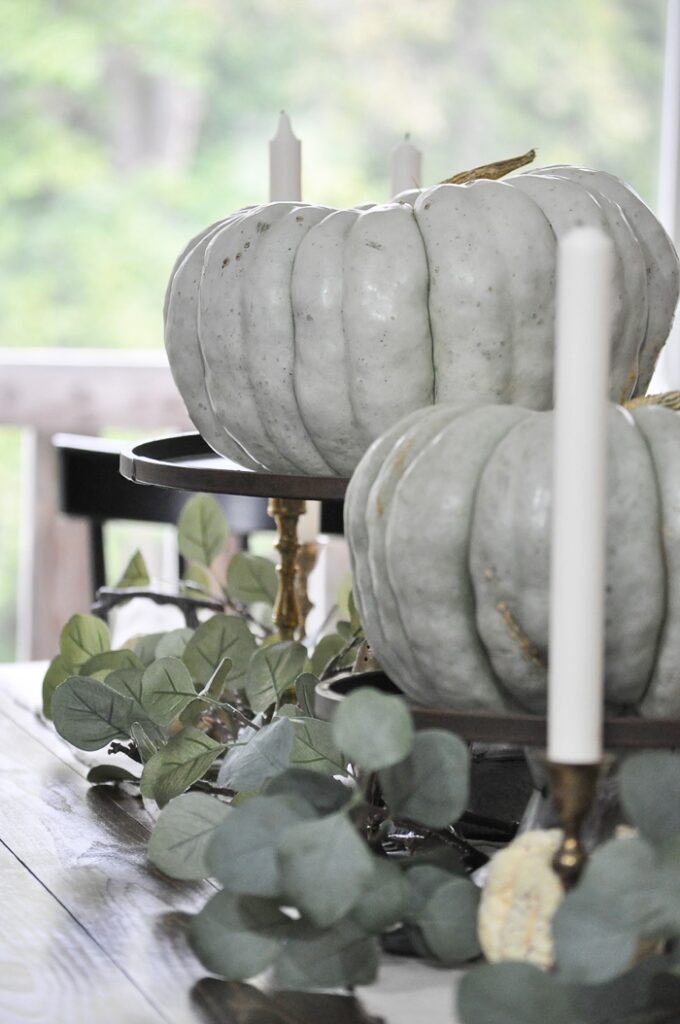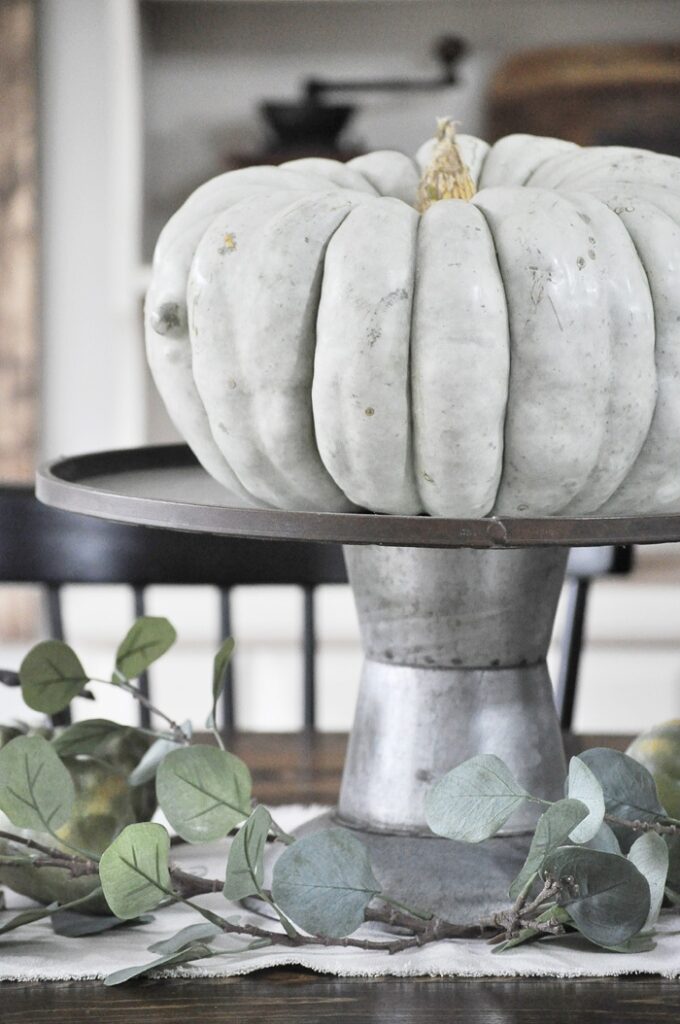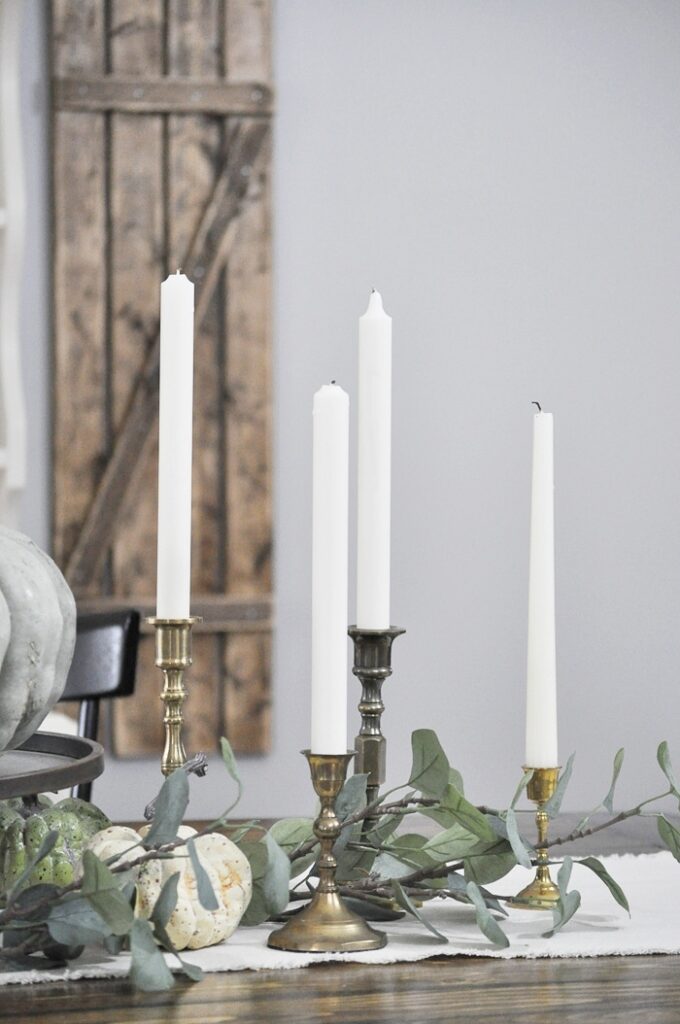 My love for old brass candlesticks is real. I love breaking them out for October and November. They make for a good tablescape addition for Thanksgiving too! Very old school, but goodness I love them. Let's head to our farmhouse styled guest bedroom for a peek now.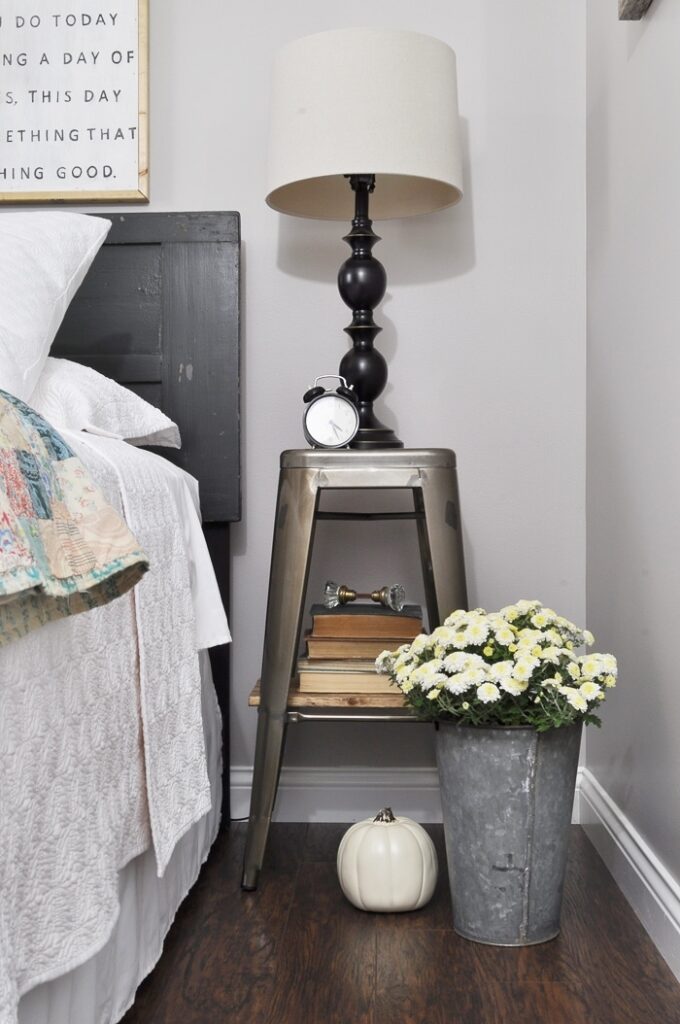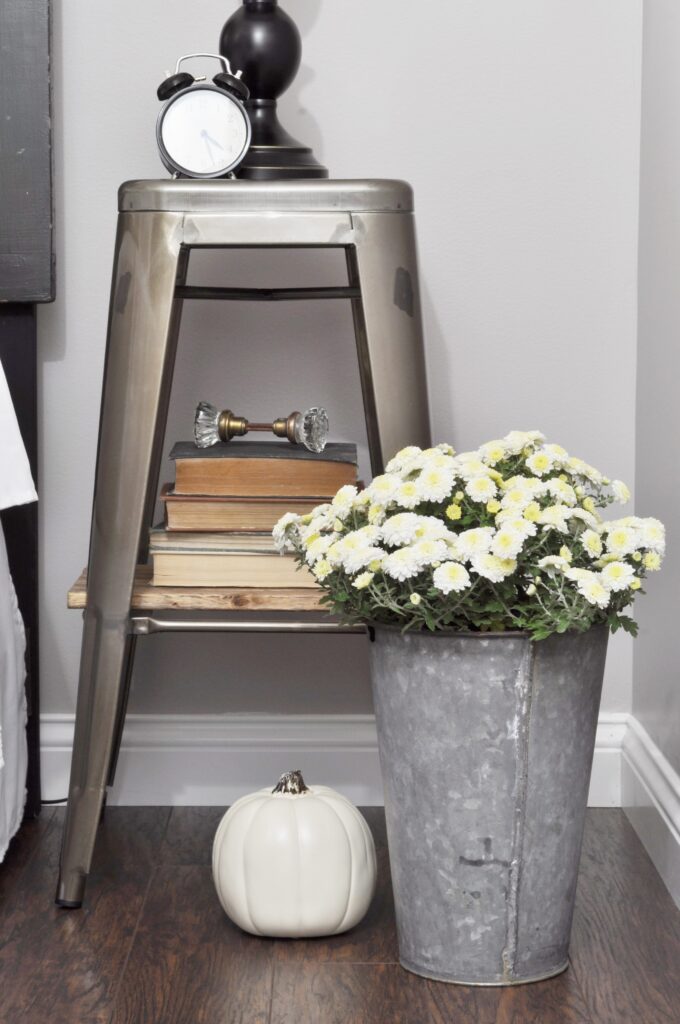 Mums, galvanized metal and white pumpkins. You can't go wrong here! Simple and enough of a touch to know it's fall! That maple sap bucket gets all my heart eyes!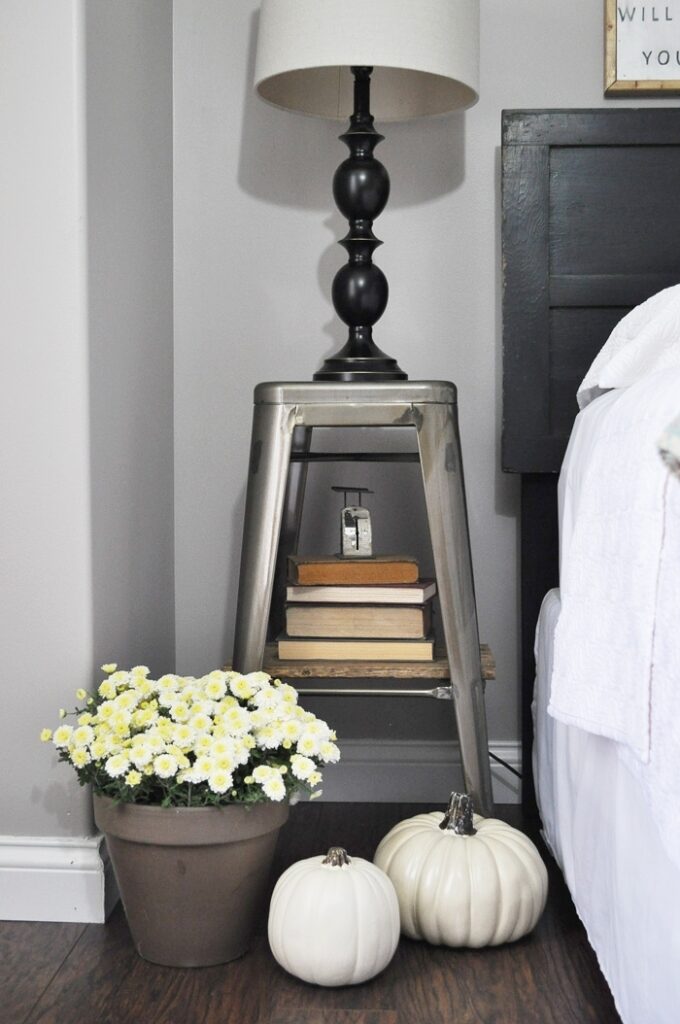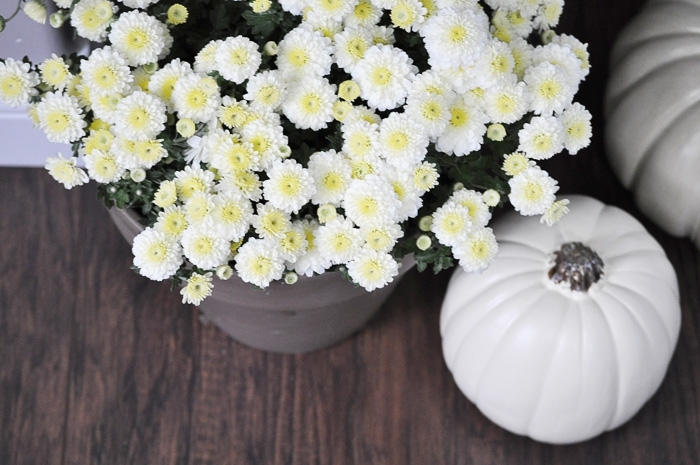 I hope you enjoyed my little home decorated for my favorite season ever! Now, we aren't done! Head over to my friends houses below because I PROMISE YOU, you are going to love them all. Pure talent. Go and show them some love!
And if you wanna hang around, more house updates coming your way here soon!
Thanks, as always, for stopping by!