Ten Months of Motherhood
This post may contain affiliate links. For more information please see our disclosure policy.
Ten months of motherhood have gone by, and it has been quite a journey! I'm sharing an update on Bailey and how motherhood has been going lately!
Ten months.
Every morning that I pull her out of her crib she feels bigger, she looks bigger, so I hug her longer. Because, man, time really does just disappear doesn't it?
Motherhood is still a dream, and I am still pinching myself everyday that she's mine. She is so smart, so angelic, so bossy, so independent, so beautiful, so perfect.
How do you stop your heart from just bursting out of your chest? It's the best feeling!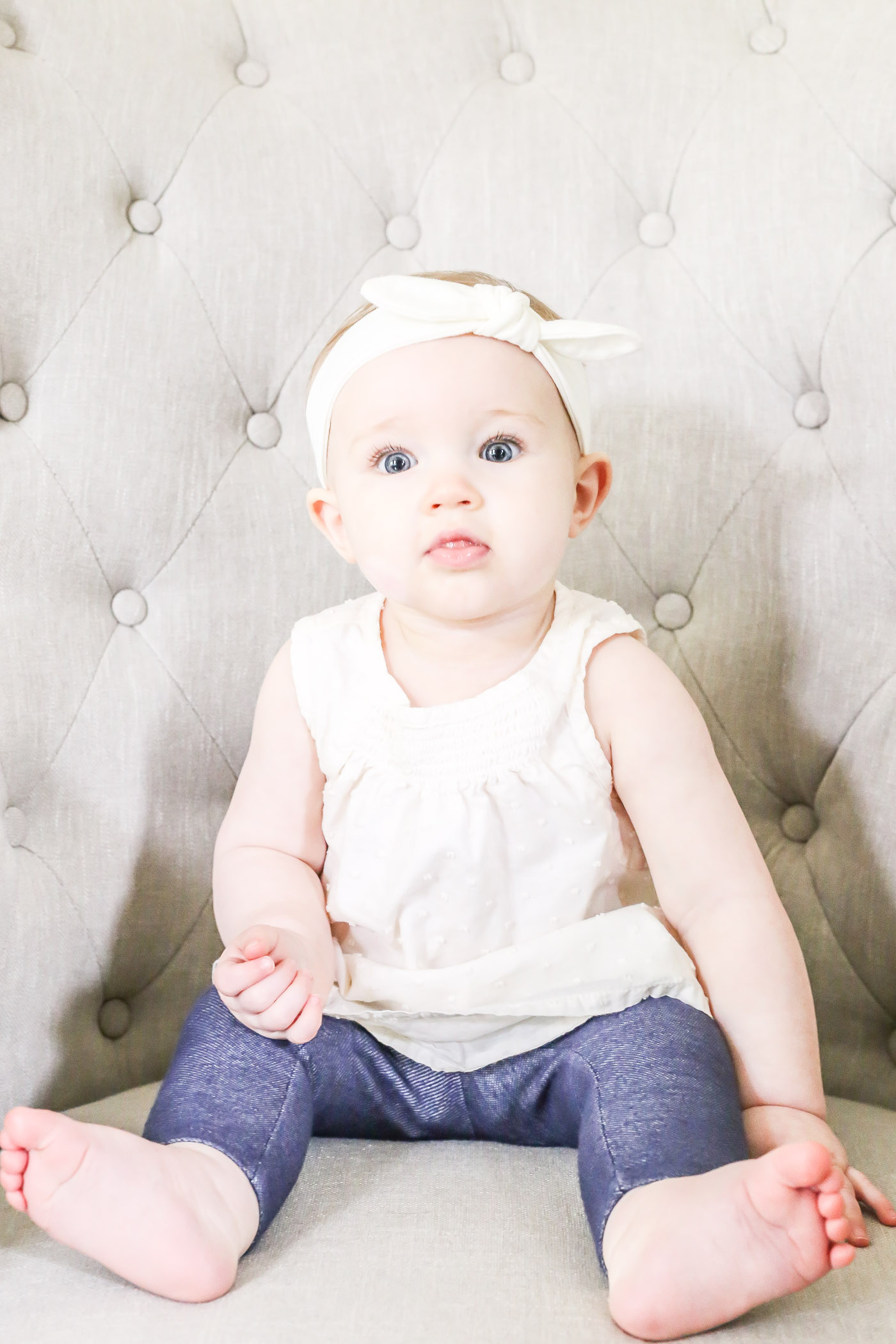 You guys! I know I am so overdue for an update on this little lady, so here we are! Bailey is turning ten months on Saturday, and I am left just speechless that she's basically a toddler already right? Haha!
I know we still have a few months, but there are so many moments I just look at her, and she looks like this little person, and not a baby anymore. But that will never happen. She's always going to be my baby.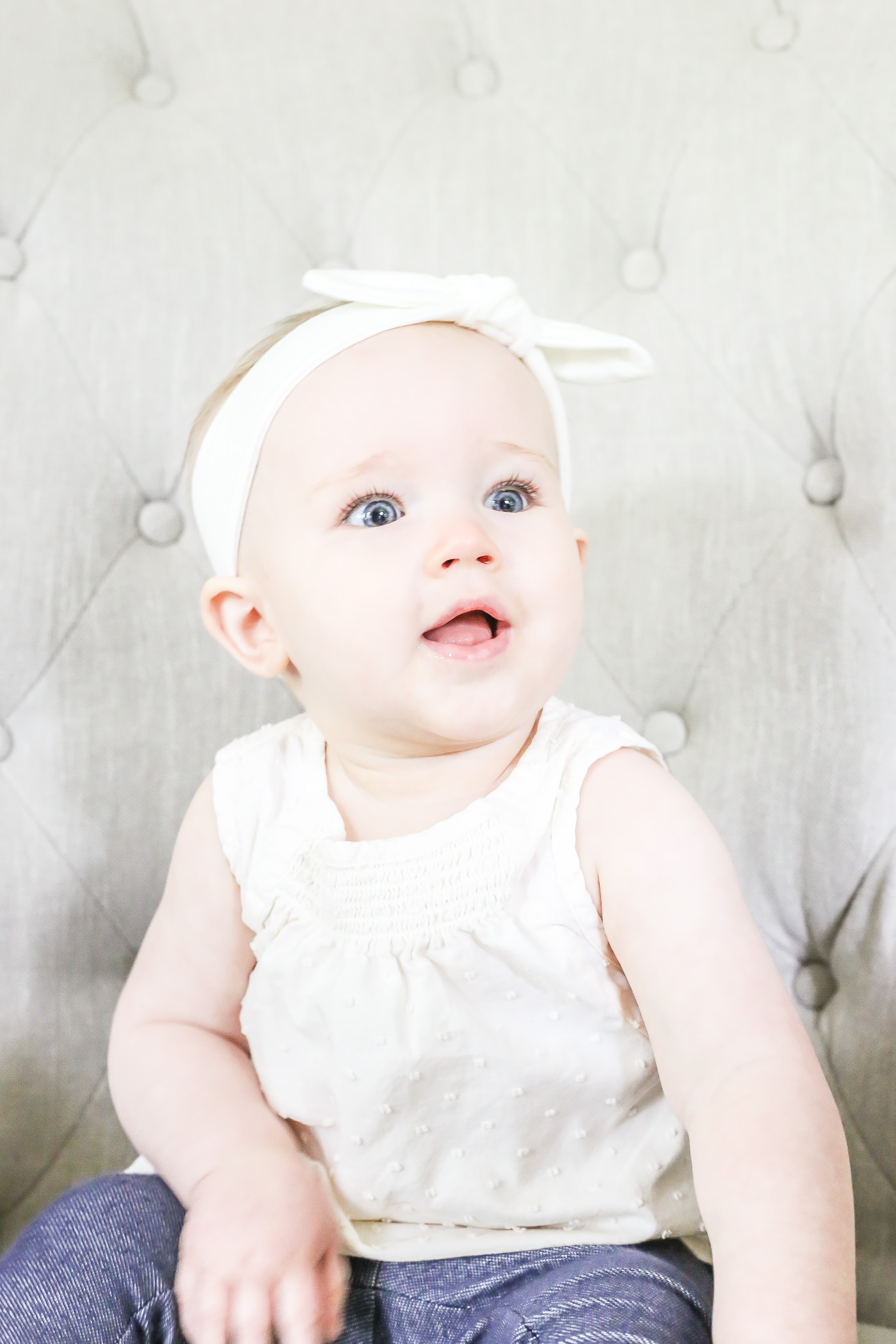 Bailey at Ten Months
Here we go!
She has two teeth, on the bottom. I think that we have a few tops that are about to pop, but I've been saying that for at least a month, so who knows!
Mama is still pumping exclusively. It's just become part of my everyday so I don't really even notice it much. I set a goal to breastfeed her until she was a year old, so I've got two months left!
We are slow going on table foods. She loves her purees too much right now. We are trying little bits of this and that when she sits down to eat, and I'm just letting her go at her own pace.
So far we are a big fan of puffs, yogurt melts, and strawberries.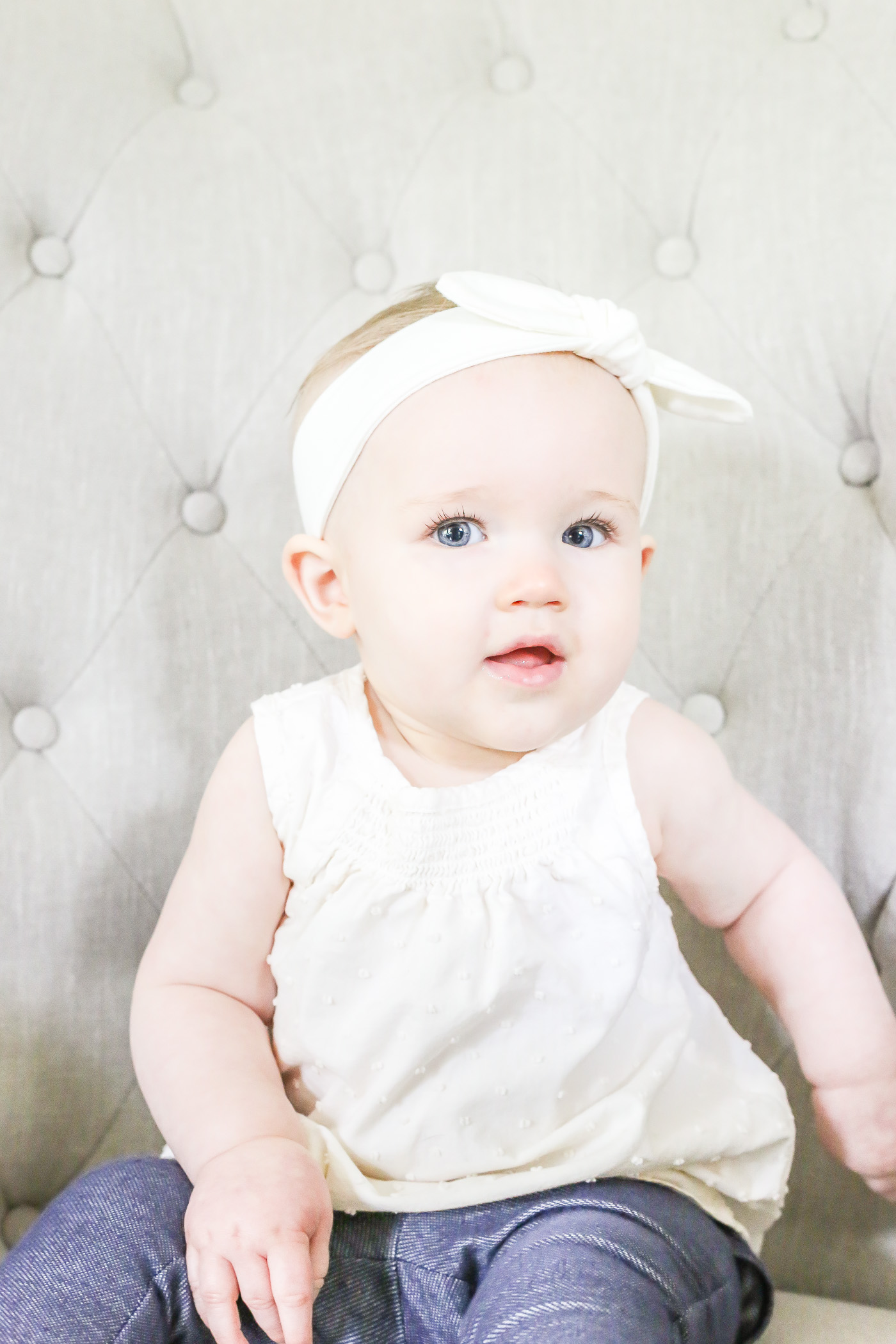 She's on the verge of a full crawl. For some time I thought she would just skip crawling and go straight to walking, but she's been scooting all over so it's just a matter of time before she masters it.
She does a lot of couch cruising. She hates naps. She is still obsessed with her puppy. She says "dada" and "pup pup", no mama yet. She likes to clap, and we just learned to wave.
She is a daddy's girl like no other. She loves Daniel Tiger. She sleeps for 12 hours every single night (after a VERY long sleep regression that is finally over!)
I'm sure I'm forgetting so much! But basically she's the best.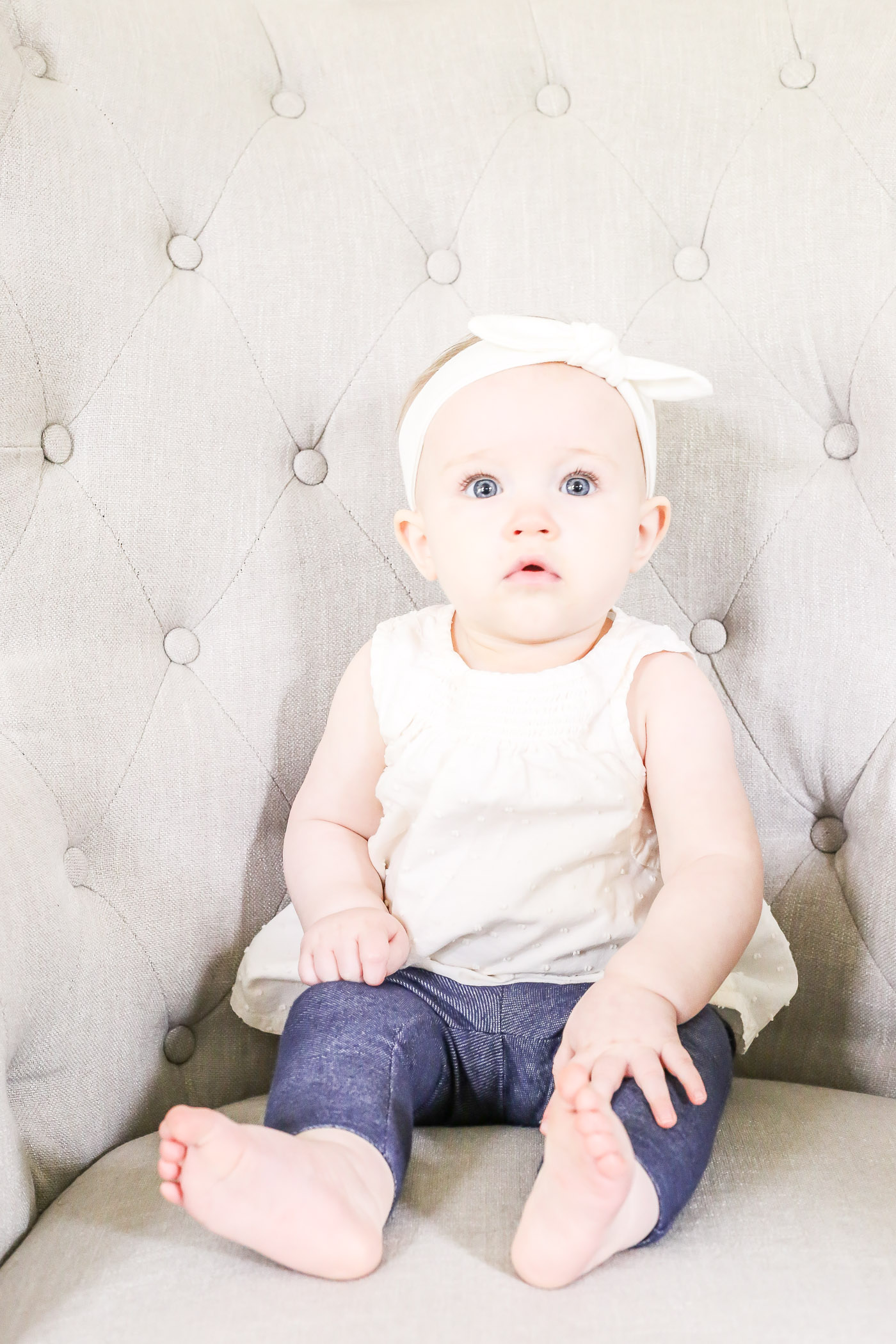 Mama at Ten Months
I've learned a lot these past few months about myself. Mainly to try not to compare where she is with other babies her age. I let myself stress a lot about if I was doing certain things wrong because she wasn't doing this or that just yet.
But don't worry, I quickly learned how toxic that kind of mindset was!
Being a first time mom definitely comes with its challenges. It is a vulnerability like I have never experienced before. It truly is like wearing your heart on the outside of your body.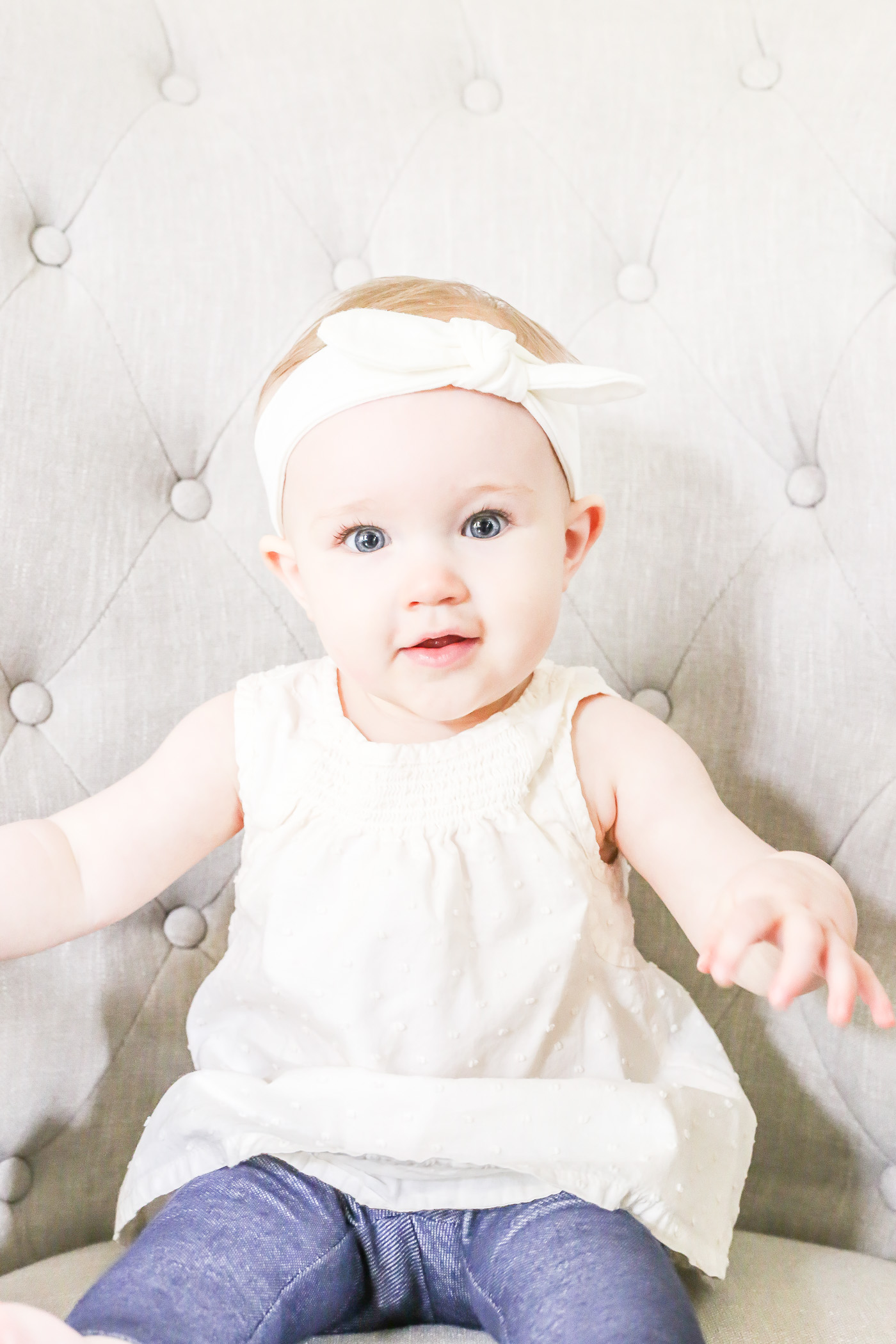 All that aside, this little girl owns my entire heart. It's hers.
I still cry a lot, just from the pure happiness she brings into our life, and how overwhelming it is. After all we went thought to get her here, I'm not sure that will ever go away!
Motherhood is magical. It is what I was born for. It is just the greatest joy, and I thank God for her every single day.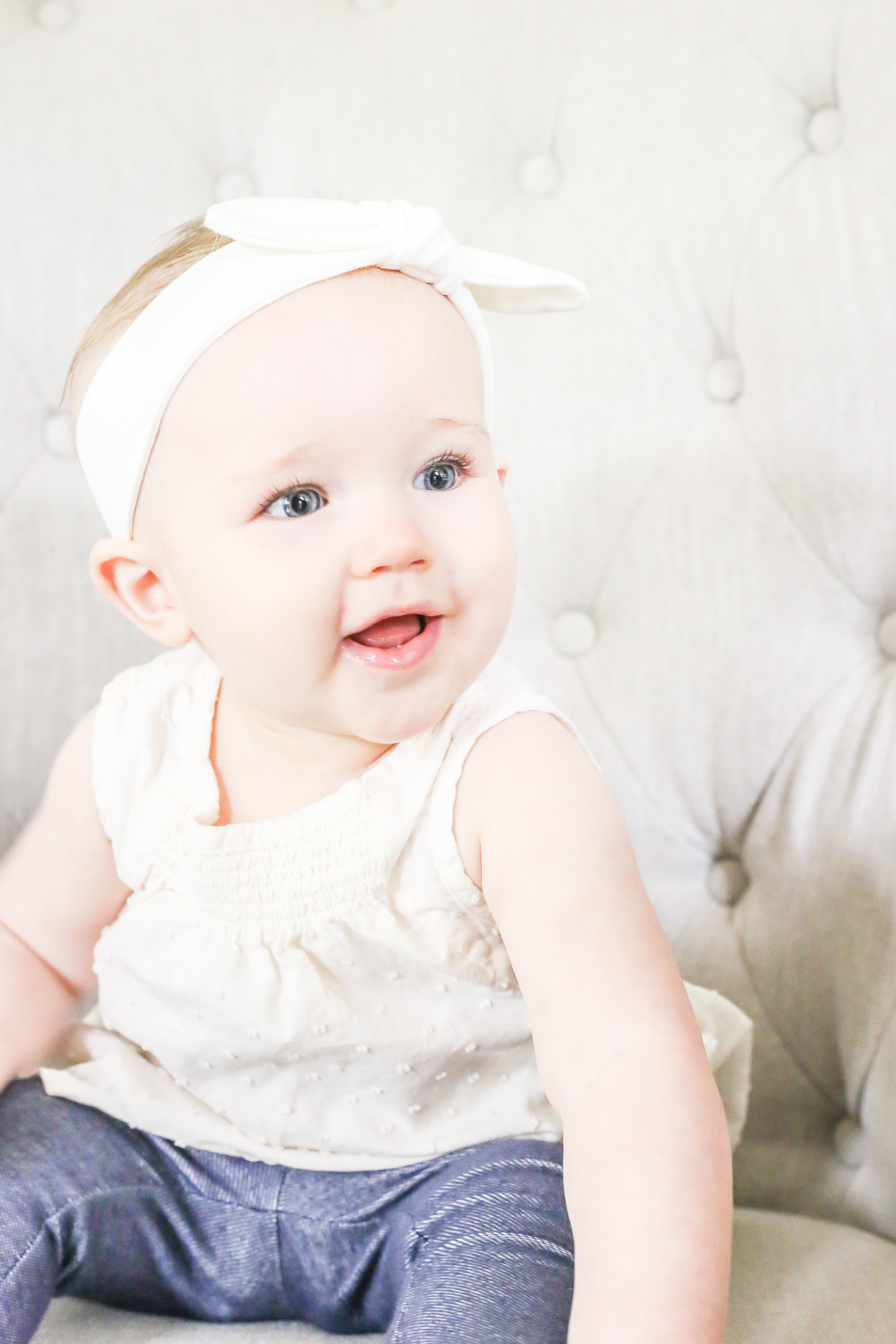 Thank you for loving our baby girl as much as we do!
I get alot of update requests about her, and it warms my heart every time!
You all have such a special place in our family, for all your prayers and support.
We'll never forget it!
---
F O L L O W A L O N G
Facebook | Instagram | Pinterest | Twitter
---