Farmhouse Desk
This post may contain affiliate links. For more information please see our disclosure policy.
I spent a ton of time working on our office this weekend. One day I think it's almost done, the next day I am wanting to redo it all again. It's been a very slow process to say the least. The desk that I was using in the space when I worked from home was pretty beat up, and very much not my style anymore. It was just a simple dark brown, modern desk from Target that I've had for years. I've been on the lookout for a new one, but spending money on a new desk is pretty low on my list of priorities right now. I decided to try and salvage the old before getting rid of it, and as always, I am so so glad I did.
My plans for this desk were pretty simple. I wanted to paint the body of it white and add a plank wood top, to see if I could turn it into a cute little farmhouse desk. I ran the plans by my husband and we were off to our local hardware store for supplies.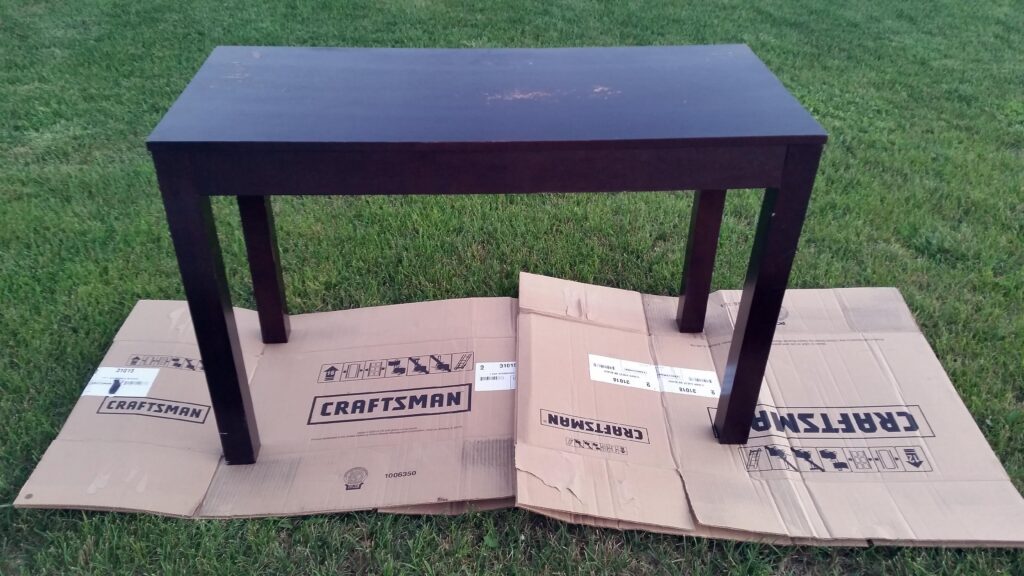 MATERIALS:
Primer Spray Paint
Flat White Spray Paint
Saw
4 1×6 White Board cut to 4ft
Wood Stain
16 1 1/2 inch Galvanized Common Nails
First I used Primer in a spray can to spray the desk so all of the imperfections were covered. I then used two coats of white spray paint in flat to spray over the dry primer.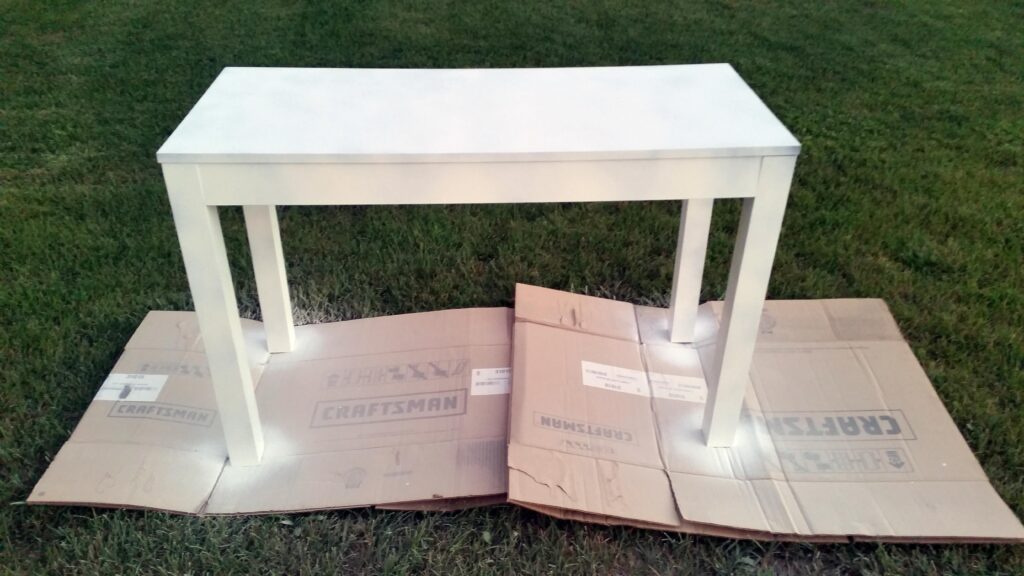 I let the desk dry overnight, in the meantime we cut a total of 4 1×6 boards to 4ft in length so there would be a little over an inch of overhang on all sides on the top of the desk. After they were cut to size I stained the boards with a dark wood stain and let those dry overnight as well. Once everything was good and dry, we used 1 1/2 inch nails to nail the boards onto the top of the desk.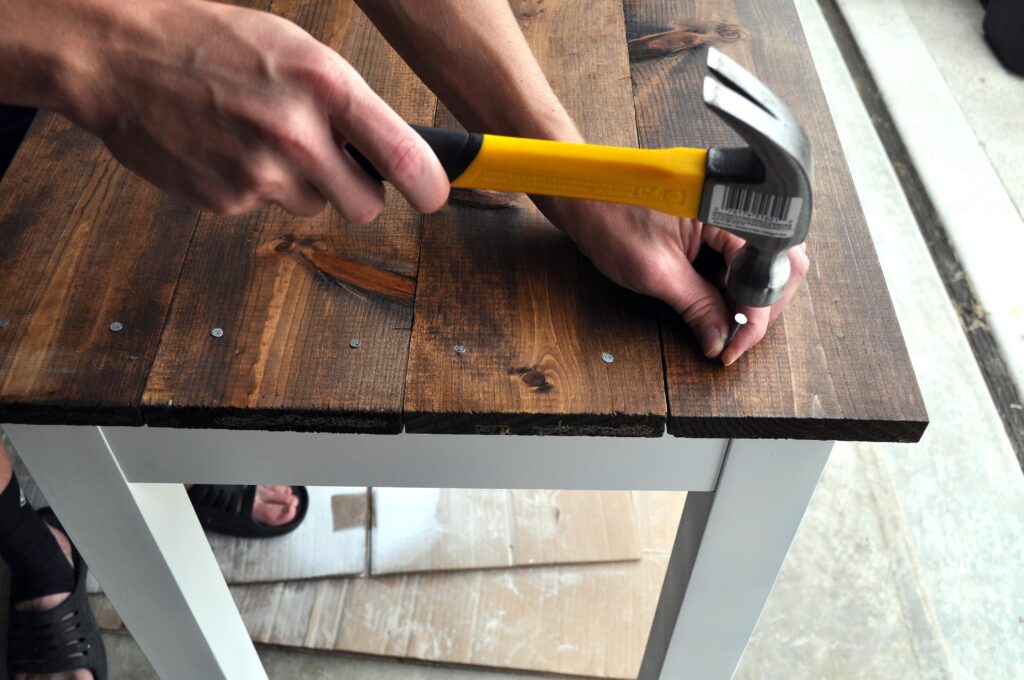 I am not even kidding you when I say this was one of the easiest projects we have done to date, which such an impact! I am in love with my new farmhouse desk! I still cannot believe how simple and cheap this was to salvage. My favorite part of decorating has got to be when I can completely transform something I am about to throw away, into something I fall totally in love with again.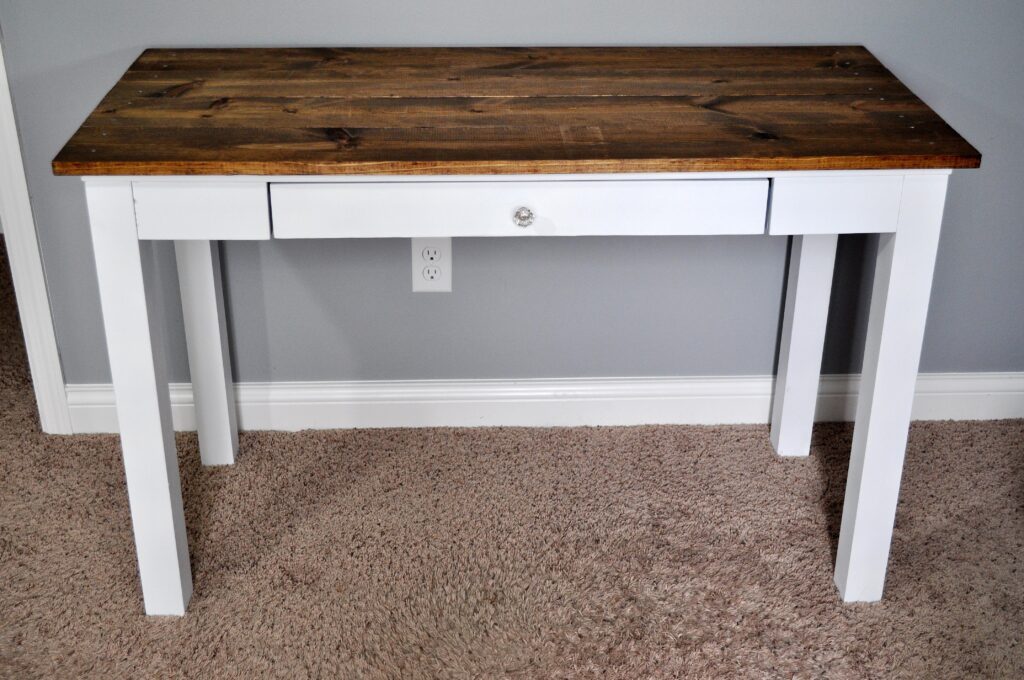 We also added a little crystal knob to the drawer on the front to give the desk that much more character and make it more functional. I had a great time decorating our office now that I have this adorable desk to work with!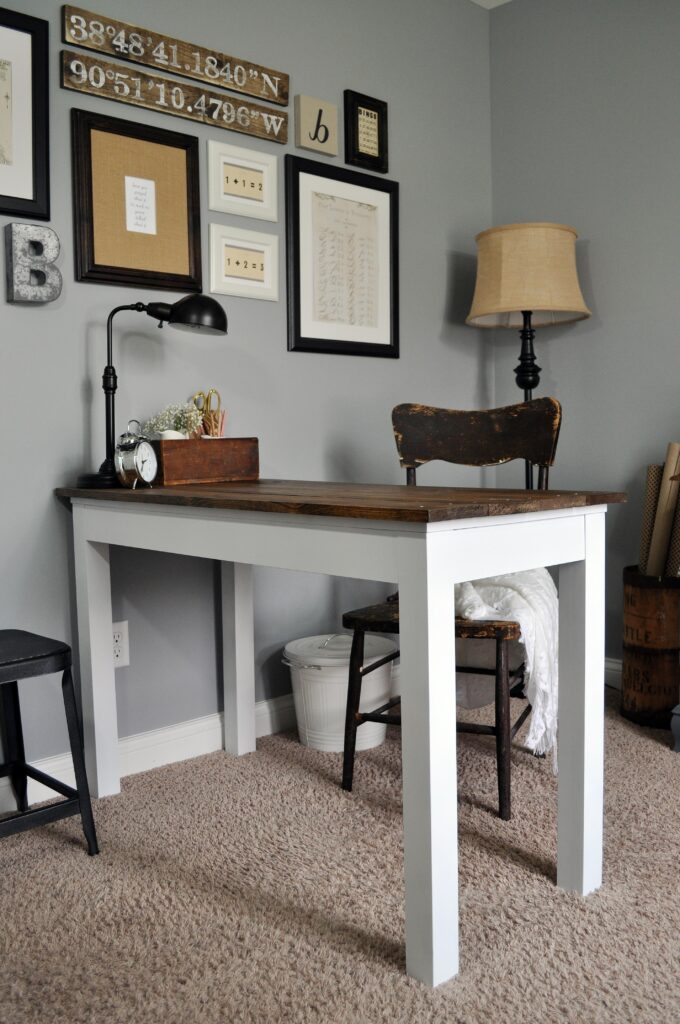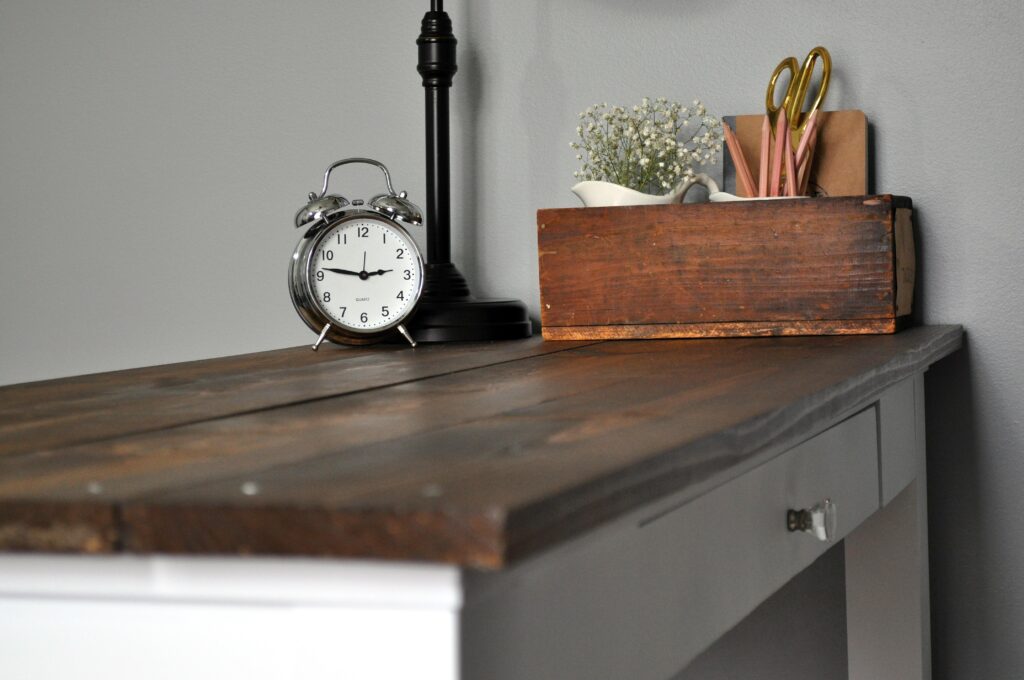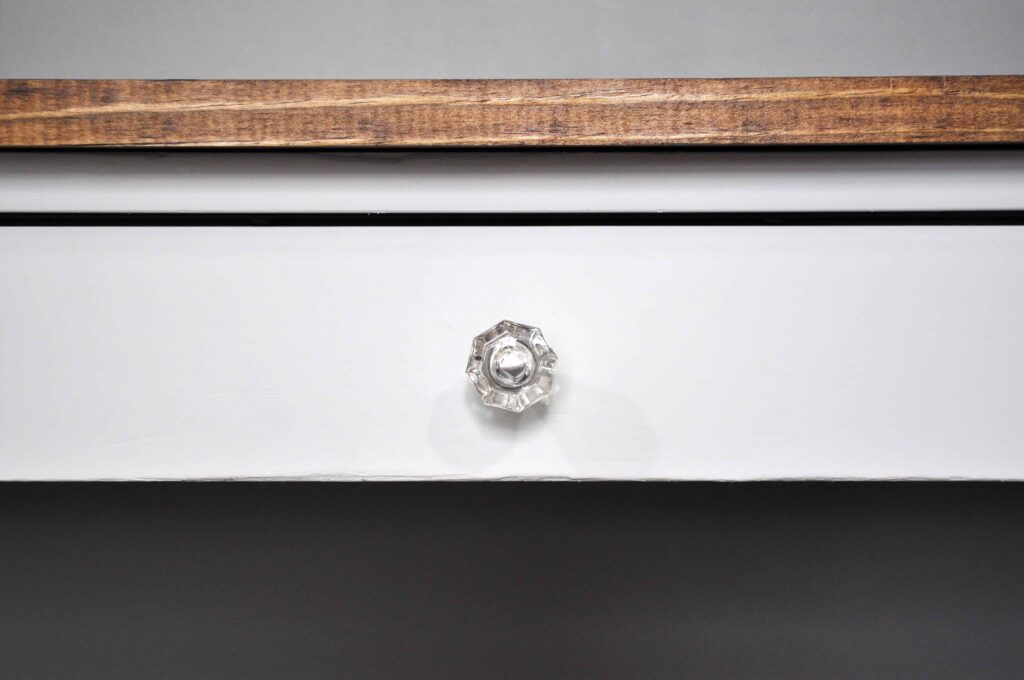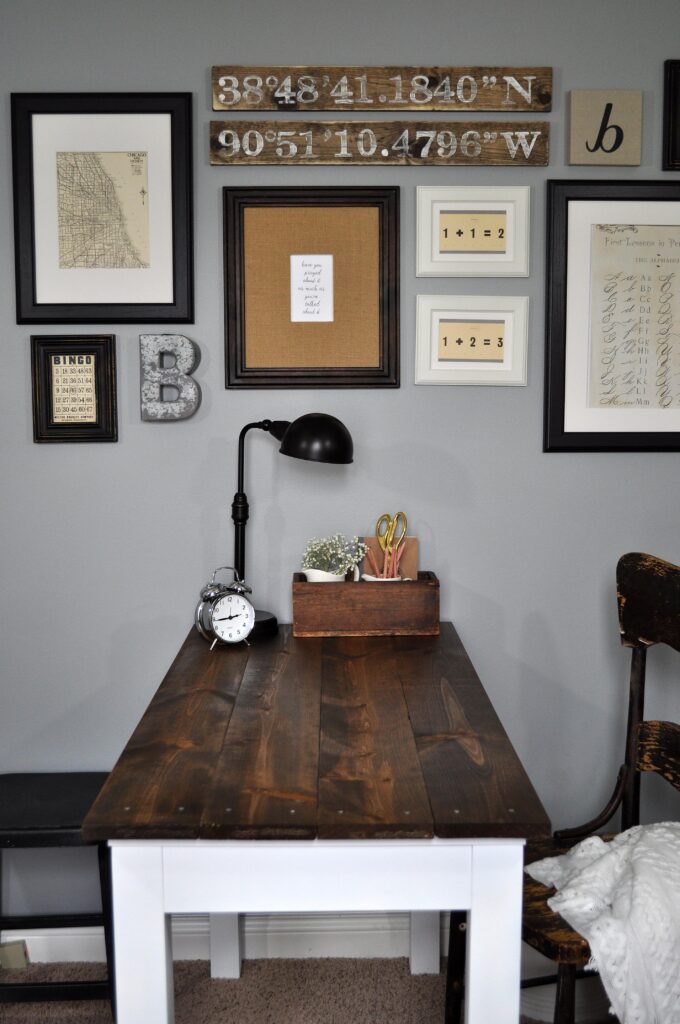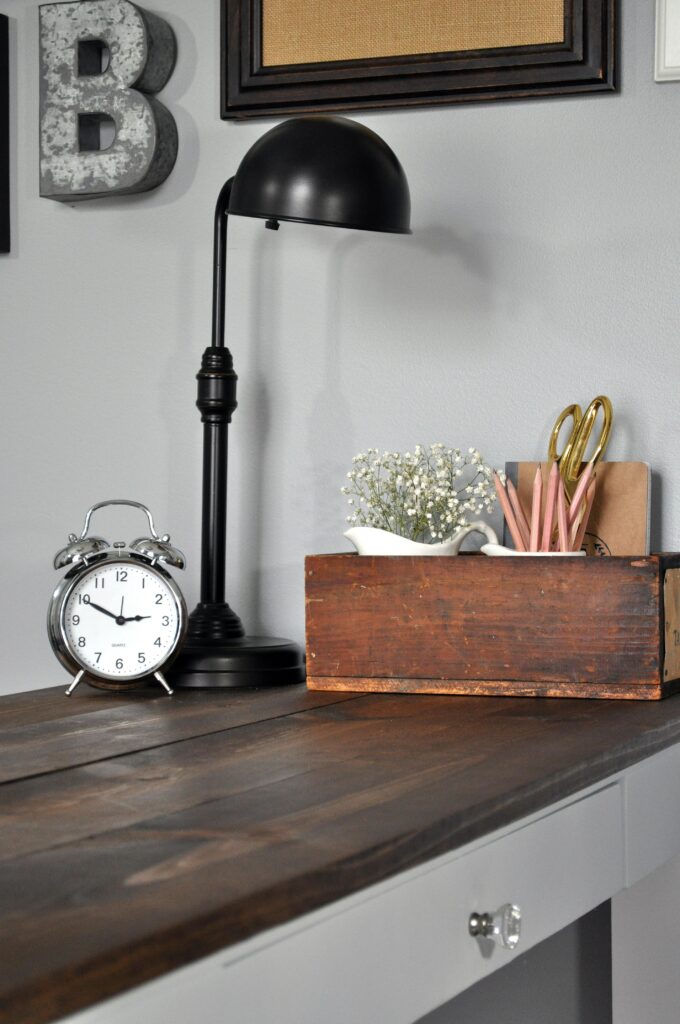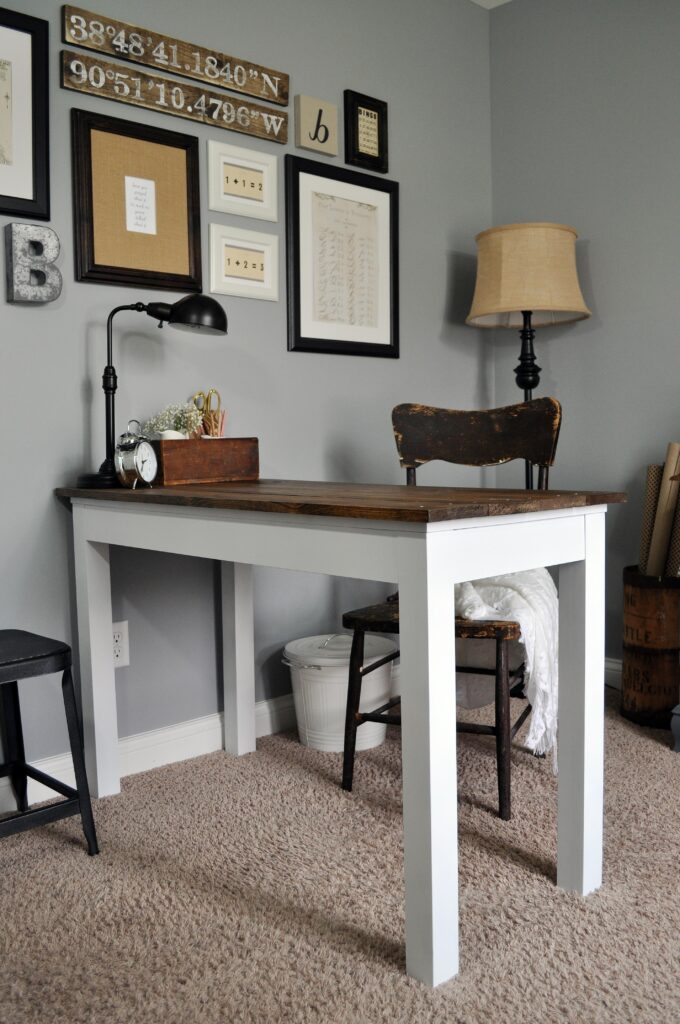 Now I just want to go find a bunch of old furniture and add a plank top to it! Do you love it? I am already so excited to be sitting at this new desk writing this blog post. I see a lot more time spent in this office now that it is looking so pretty!