Shiplap has finally made an appearance in the Little Glass Jar household! It's very minor, but it's there! I wanted to test the waters with a small space before committing to an entire wall, or a whole room for that matter. And you guys, it was a lot easier than I thought it would be. Meaning now I want to shiplap the entire house! The walls, the ceiling, the floor.  HA! Maybe not the floor, but you get the idea. My poor husband! Seriously though, we shiplapped the inside of our pantry for our Farmhouse Pantry Makeover and it looks amazing. I have wanted to redo this space for a million years with this exact plan in mind and we finally got around to doing it a few weekends ago.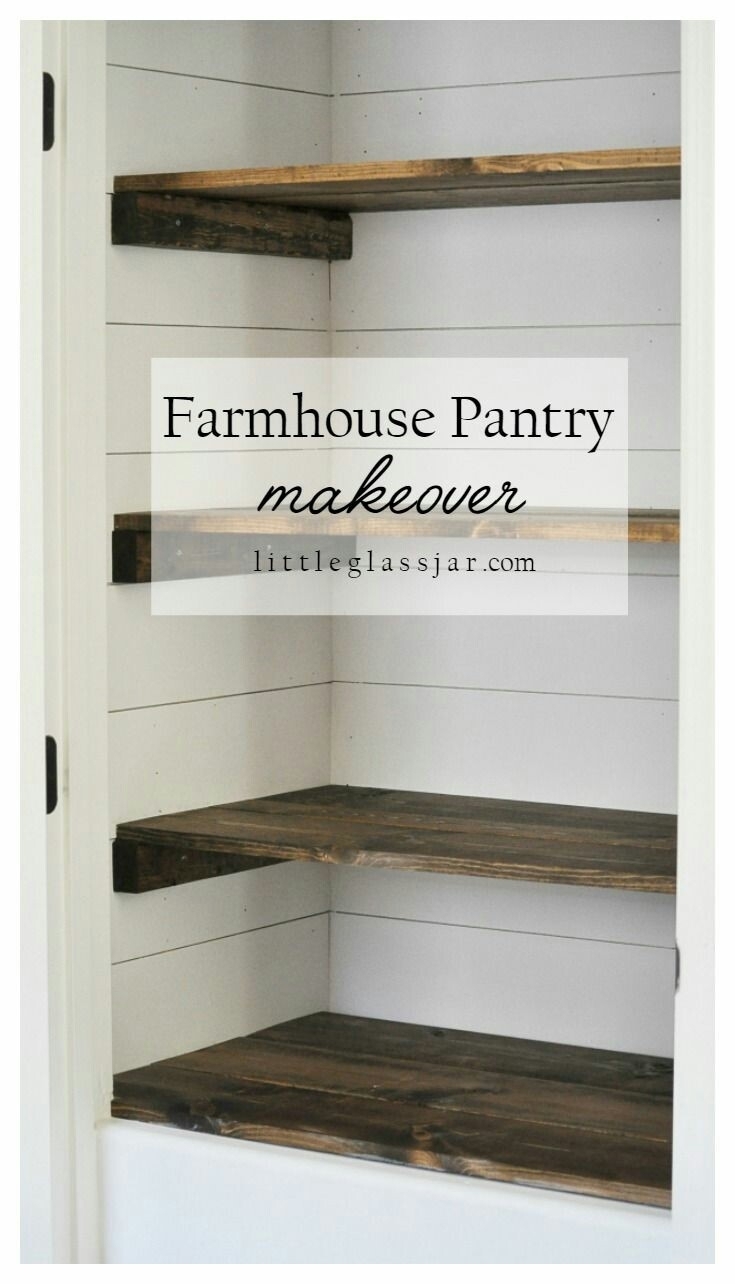 There are more than enough tutorials online for how to get the faux Fixer Upper shiplap look. I went with [this] awesome video tutorial from one of my favorite DIY bloggers Jenna, from Jenna Sue Design. Again, there are so many ways of doing this with different types of wood and methods, but this is the one that worked best for us, and it was super affordable.
Here is the reality of the before: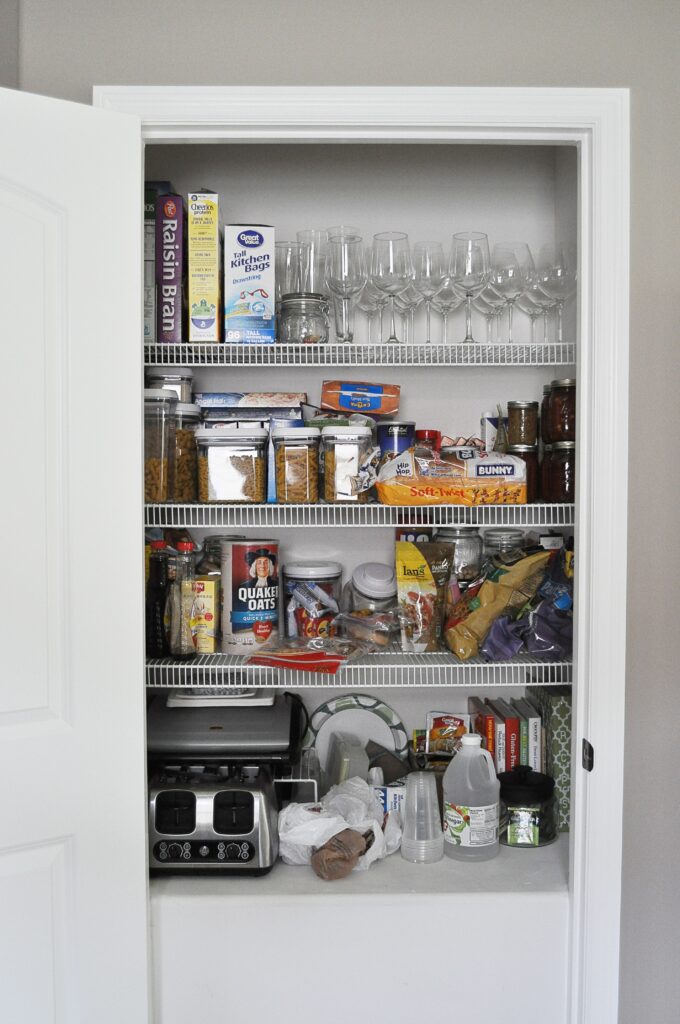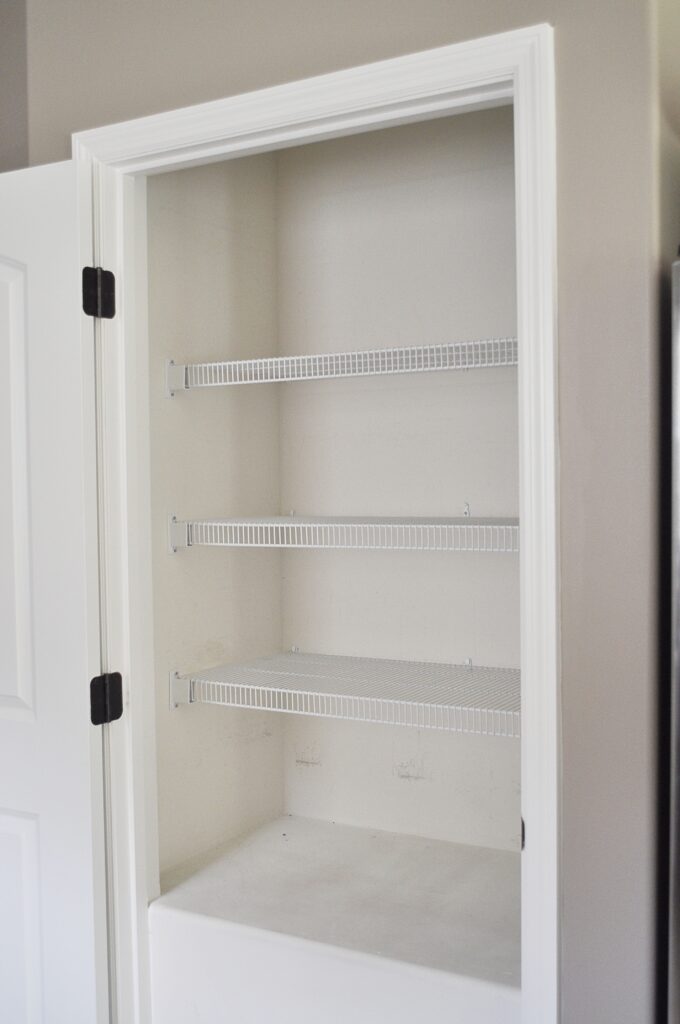 SUPPLIES NEEDED:
For Shiplap
2 sheets 8x4ft plywood underlayment at 1/4in thick
Miter Saw
Hand Sander
Nail Gun and Nails
2 Nickels (used for spacers)
Level
White Paint
Paintbrush/Paint Pail
For Shelves
1inx8in white wood (for top of shelves)
1inx2in white wood (for top of shelves)
2inx3in white wood (for side support)
Miter Saw
Dark Wood Stain
Stud Finder
Drill
3 inch Screws
Drywall Anchors
Level
INSTRUCTIONS:
For Shiplap
-We headed to our local Home Depot, and picked out a few 8x12ft sheets of plywood underlayment at ¼ inch thick for $11.97 a piece. We took both sheets to the cutting center at the back of the store and had their fabulous employees cut the plywood into 6 inch wide strips since our cabinet measure exactly 66 inches in height.
-We also picked up white paint and some 1x8in, 1x2in, & 2x3in pieces of white wood for our DIY shelves.
-When we got home we measured and used our miter saw to cut the 6 inch plywood strips to the length needed for all three pantry walls. Afterwards, I sanded all of the cut edges of the plywood smooth with my hand sander.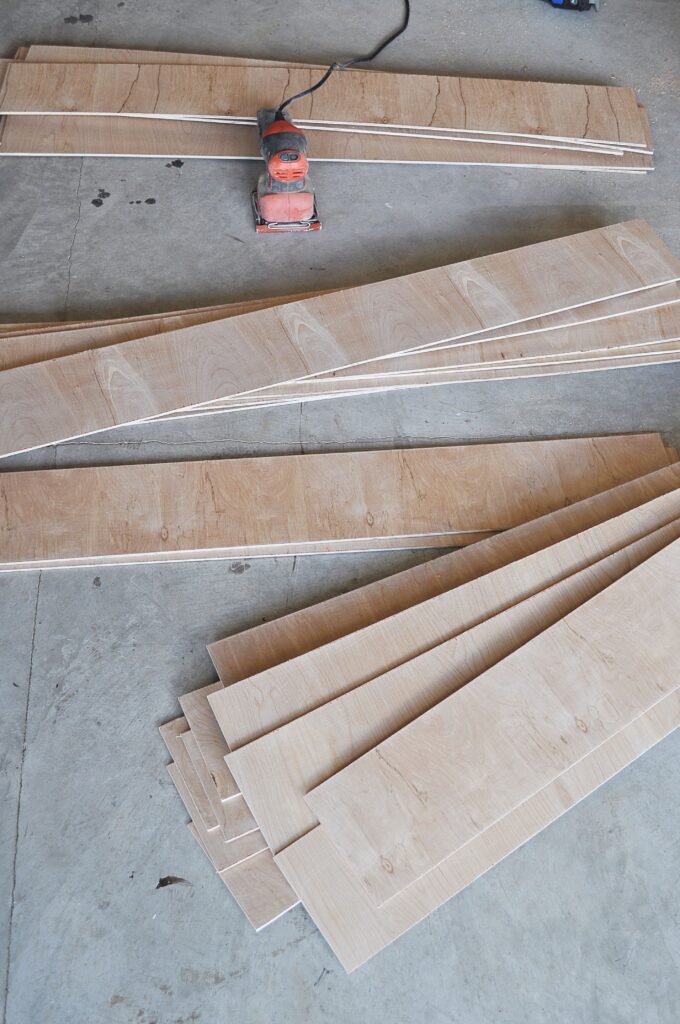 -We started with the 6 inch plywood strips on the middle wall and worked our way from bottom to top. Using my nail gun, I put 3 nails in the left side, the middle, and the right side of each wood strip when securing the shiplap to the wall. Once the first strip was done, it was all downhill from there. Simply use a nickel at each end as your spacers, setting another board on top of them and using your level to make certain they are straight, and your nail gun to secure them each to the wall.  Repeat over and over!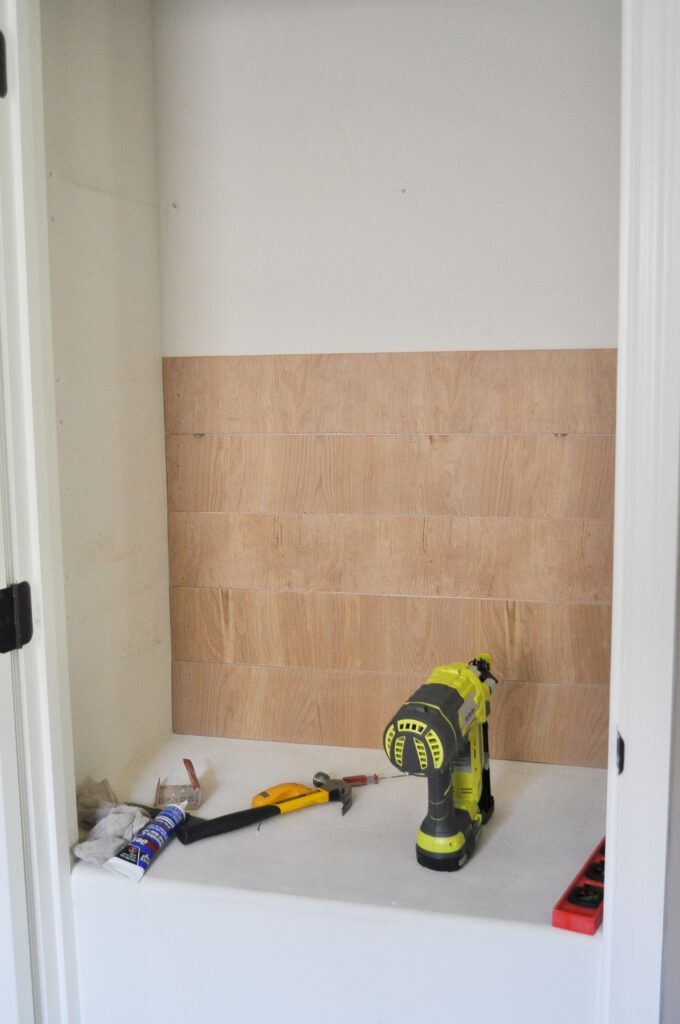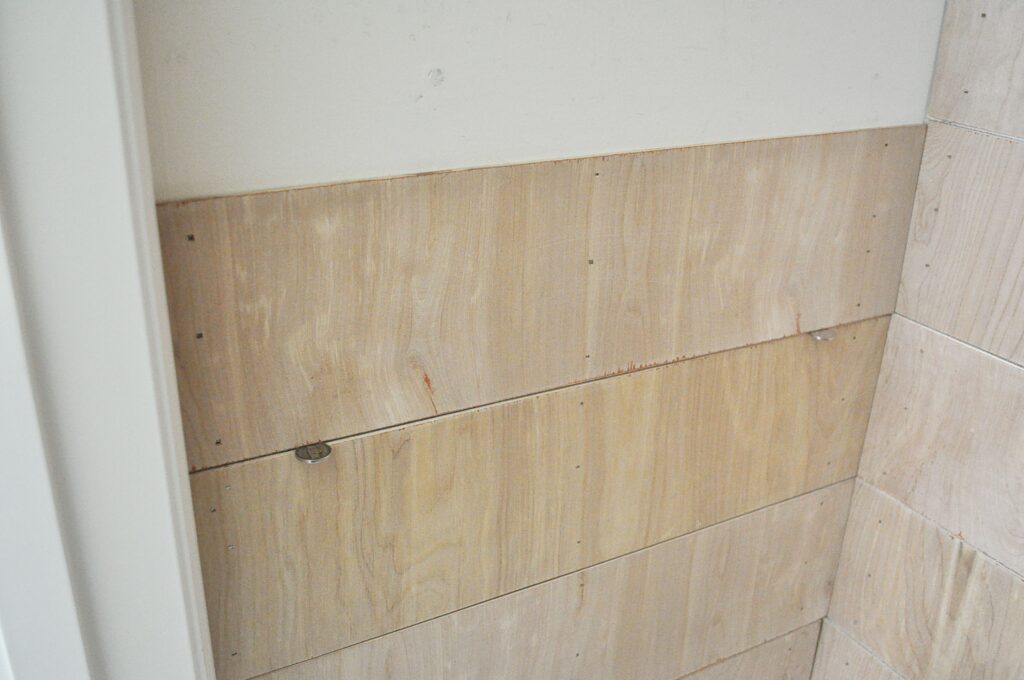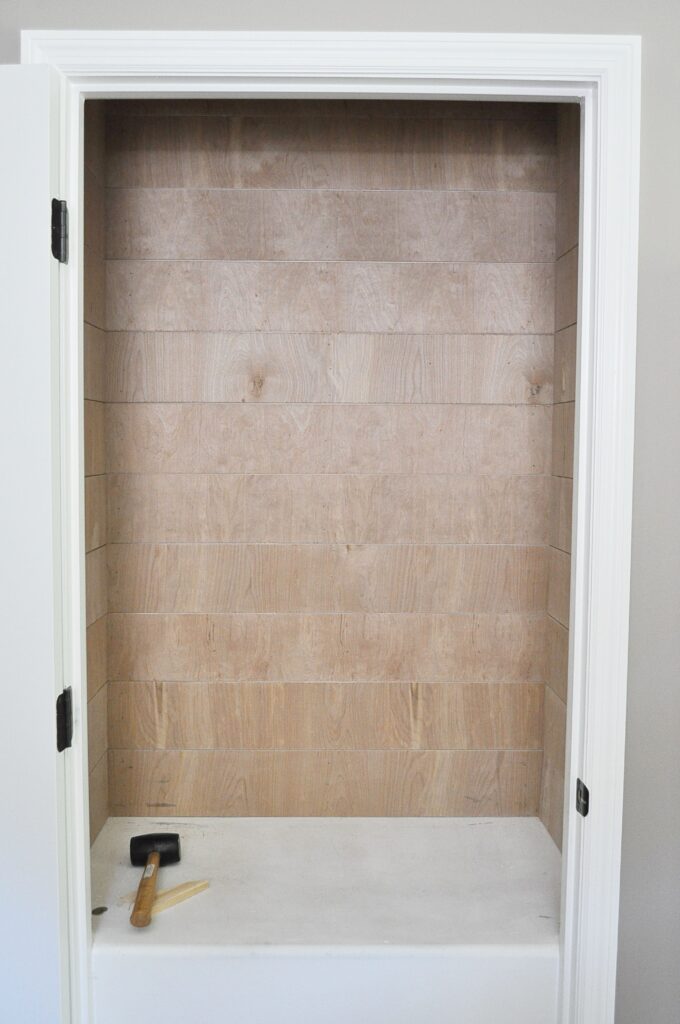 Once all three walls were completed, I painted over the plywood with white paint. I had to use about 4 coats to get a solid coverage, but it was well worth it! My Handy Paint Pail was a lifesaver during this project, since I had to actually climb into the pantry to paint, so not having to get out every time I needed more paint was super convenient!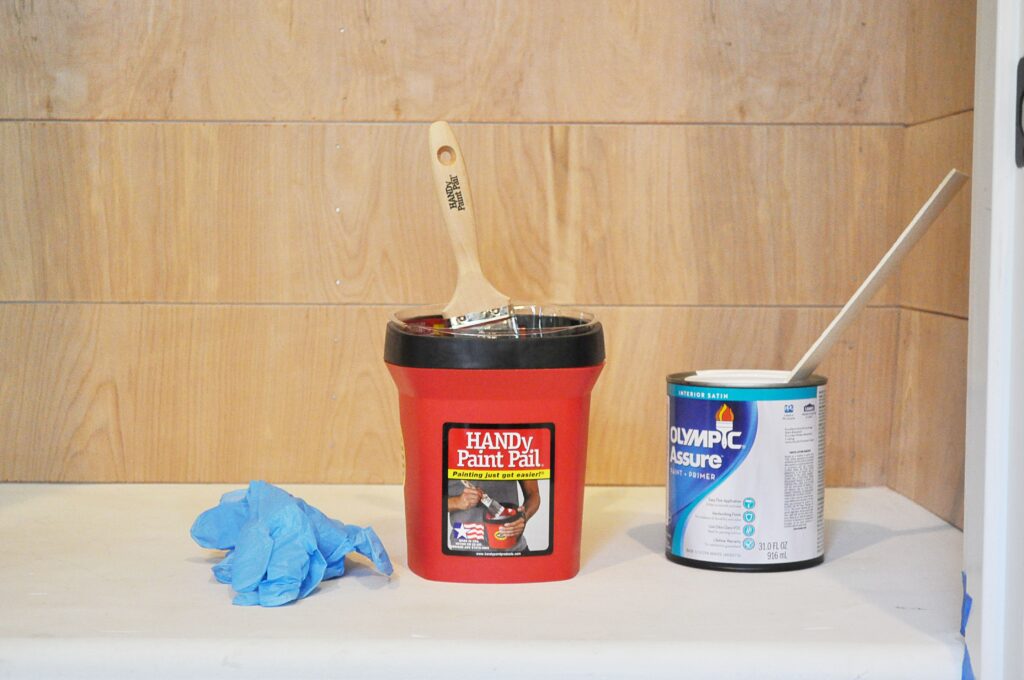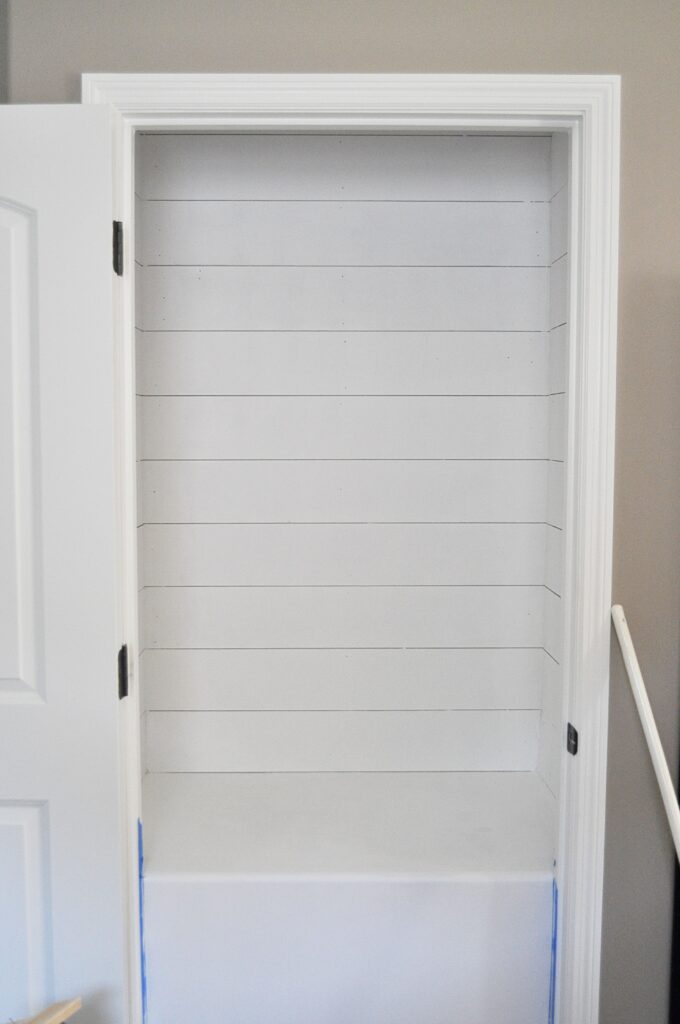 [FYI: You can use wood filler or putty  to fill in any shiplap seems or nail holes you don't want seen, but I love the rougher look so I chose not to.]
For Shelves
-Our pantry measured 23 inches deep and 39 inches wide, so for the side supports of the wood shelves, we used our miter saw and cut the 2x3in's into 18 inch pieces for the side supports. For the actual shelf tops, we cut the 1x8in & 1x2in into 39 inch pieces.
-I stained all of the wood pieces for the shelves with my favorite dark wood stain and let them dry thoroughly.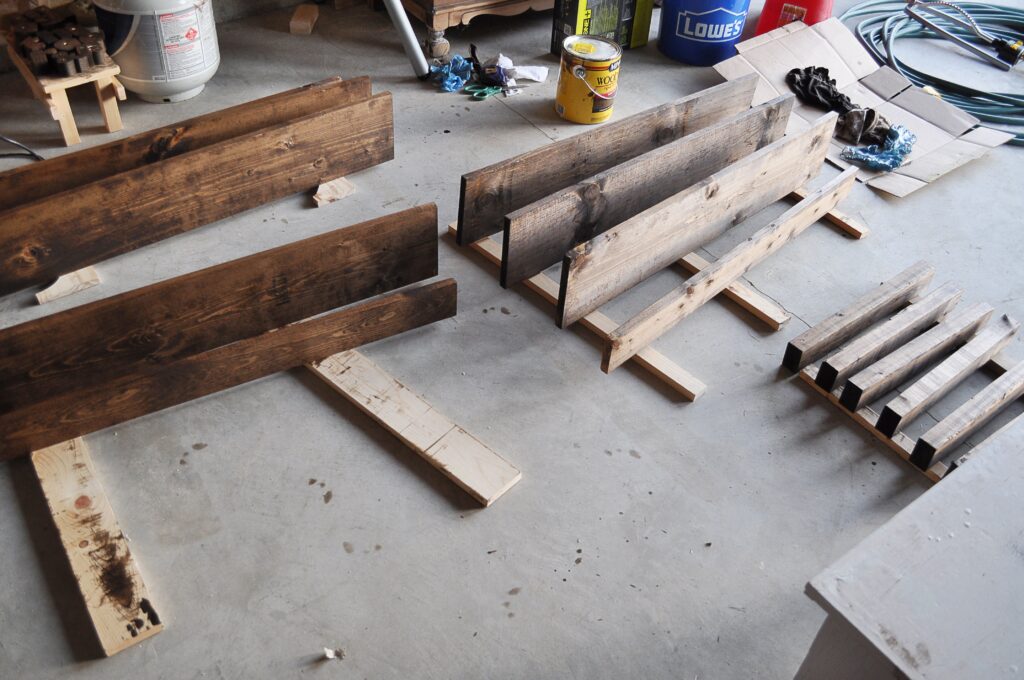 -Because we were replacing wire shelves with heavier wooden ones, we wanted to assure these shelves would be attached to studs for adequate support. We used a stud finder and marked the wall where we found the studs. Unfortunately, our pantry only had two (um, really!?), so we had to use drywall anchors in the areas lacking them.
-Using our drill, we attached the wooden 2x3in side supports with 3 inch screws, making sure to drill directly into the studs or the drywall anchors.
[FYI: As you can tell in the above picture, white walls and stained wood don't mix well, so I had to do ALOT of touch ups with my white paint after installing the shelves! But again, well worth it!]
-Once all six side supports were attached to our newly shiplapped pantry walls, we just set one 1x8in, then a 1x2in, then another 1x8in to get the total 18 inch shelves, on top to create the finished shelf. We choose not to screw them into the side supports, but rather just let them sit on top just in case we wanted to take them out at any point.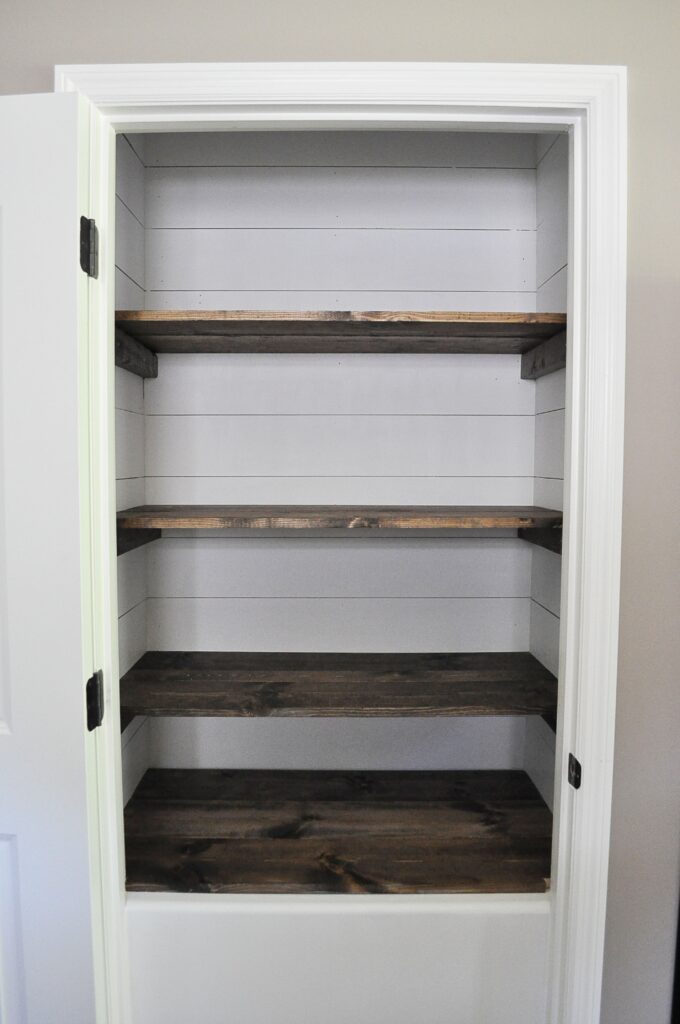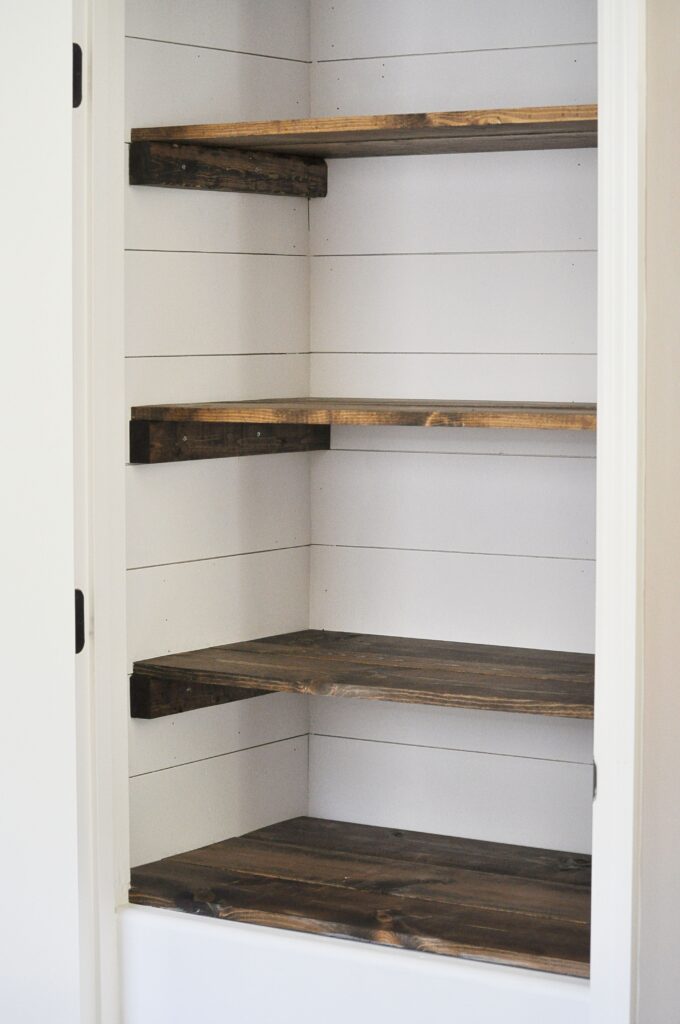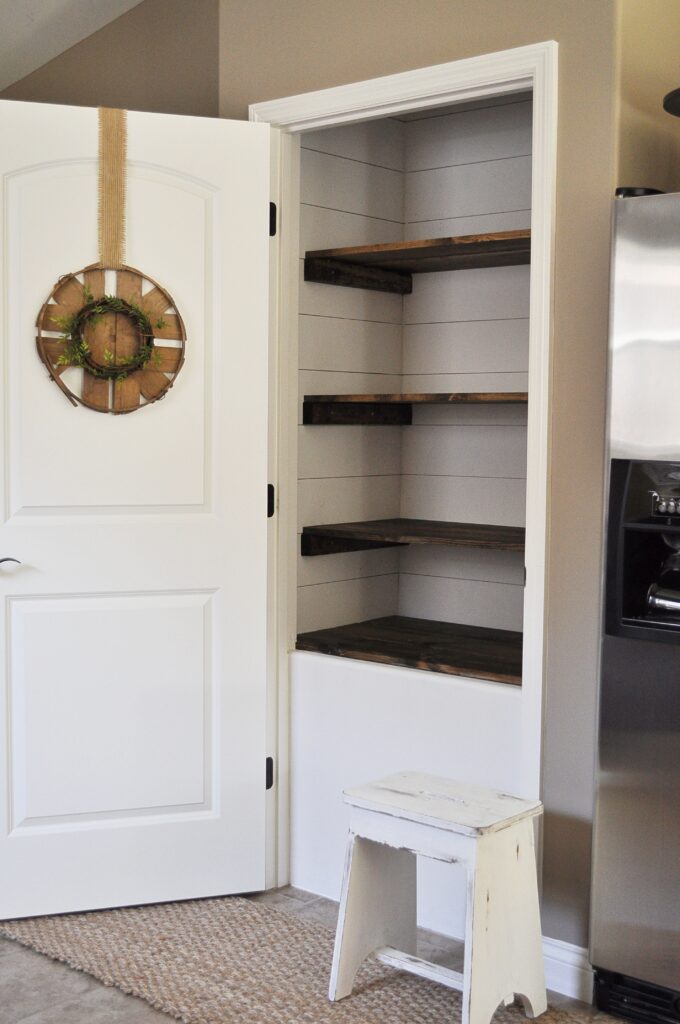 And then the fun part, decorating! But, who decorates their pantry? I do! I have been collecting different jars and baskets to do this pantry makeover for a long time. And I absolutely love the end result! What do you think!?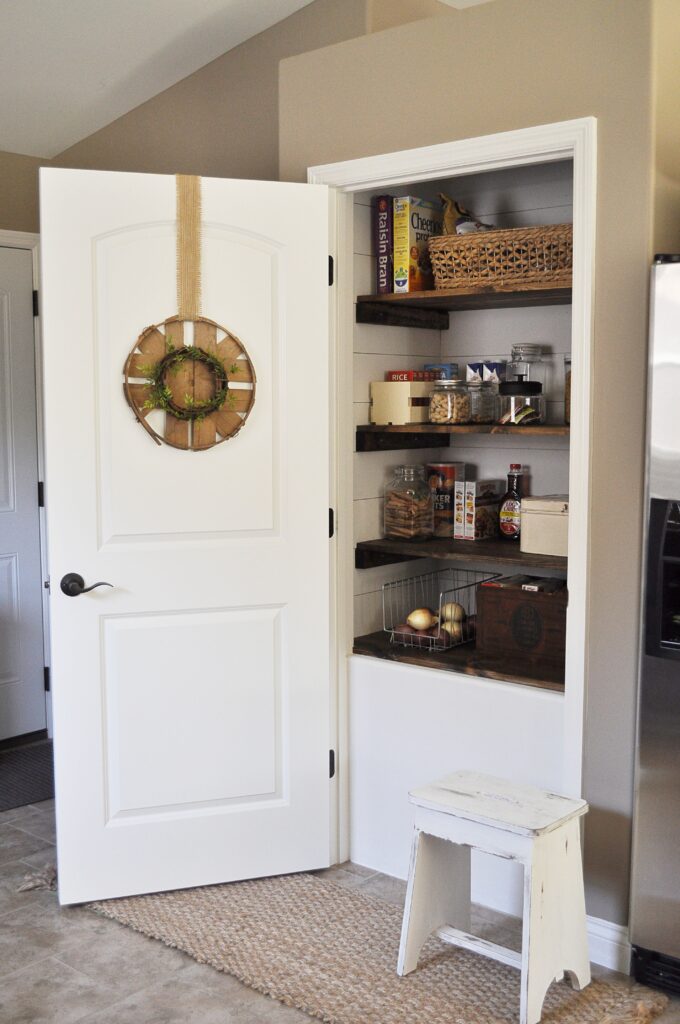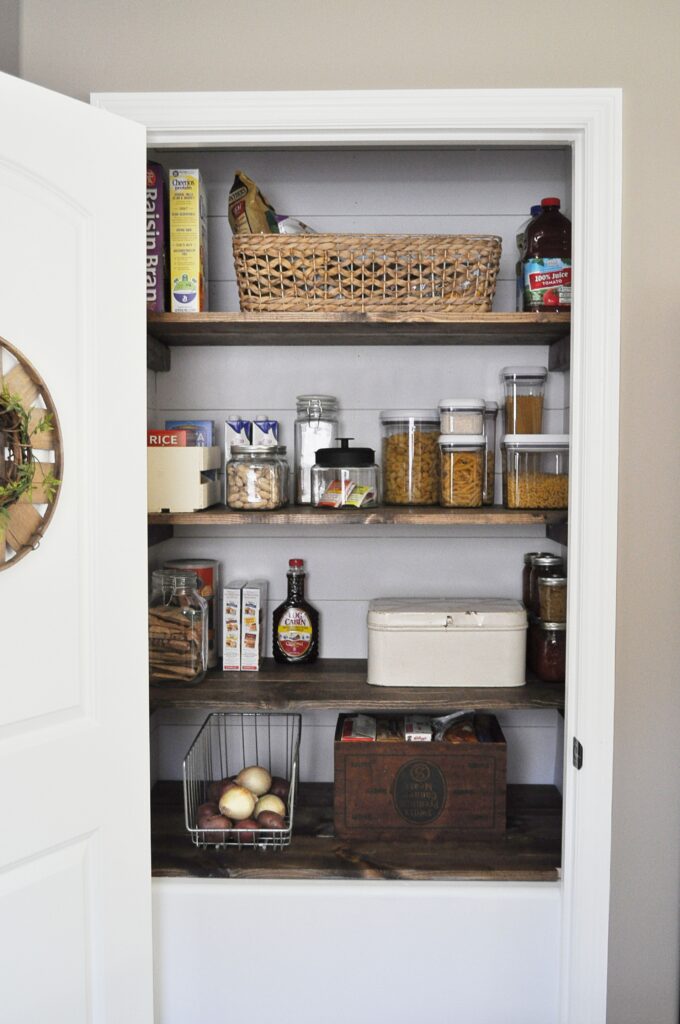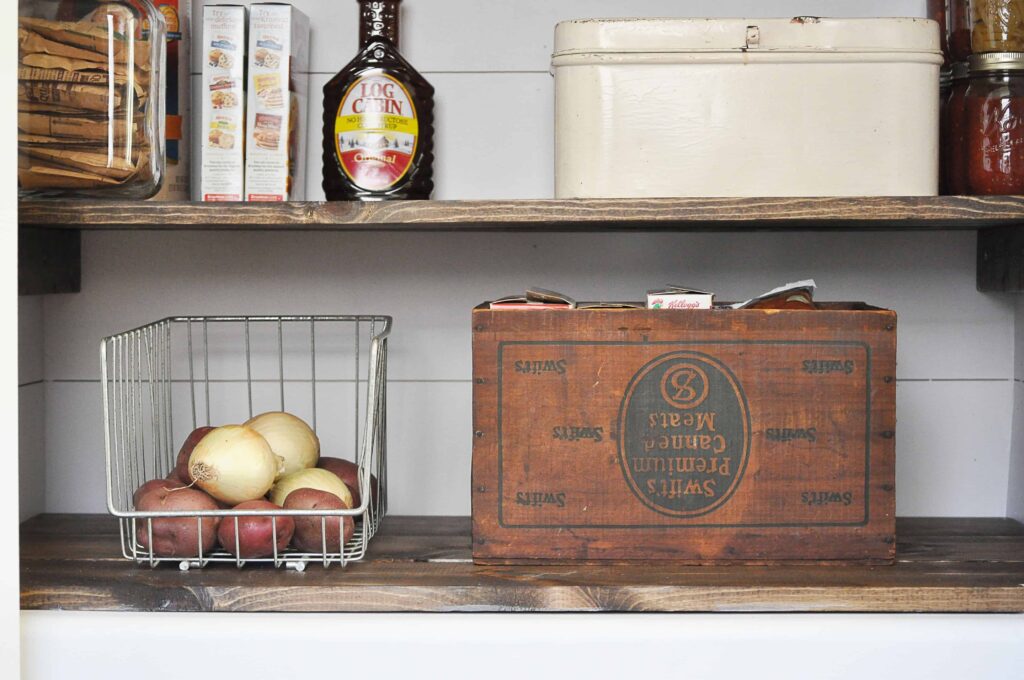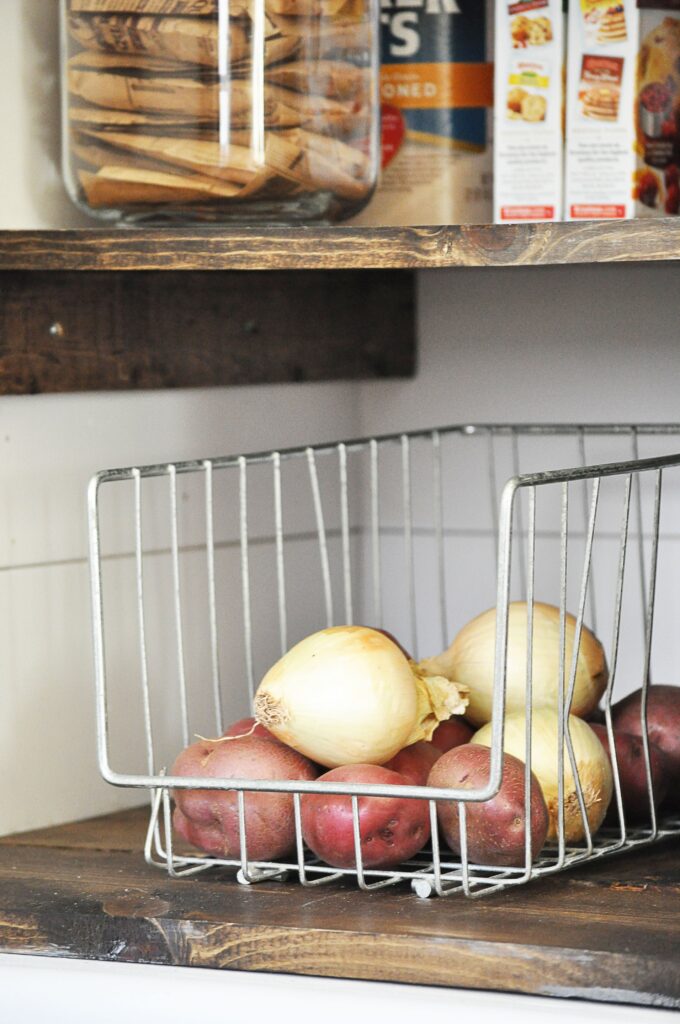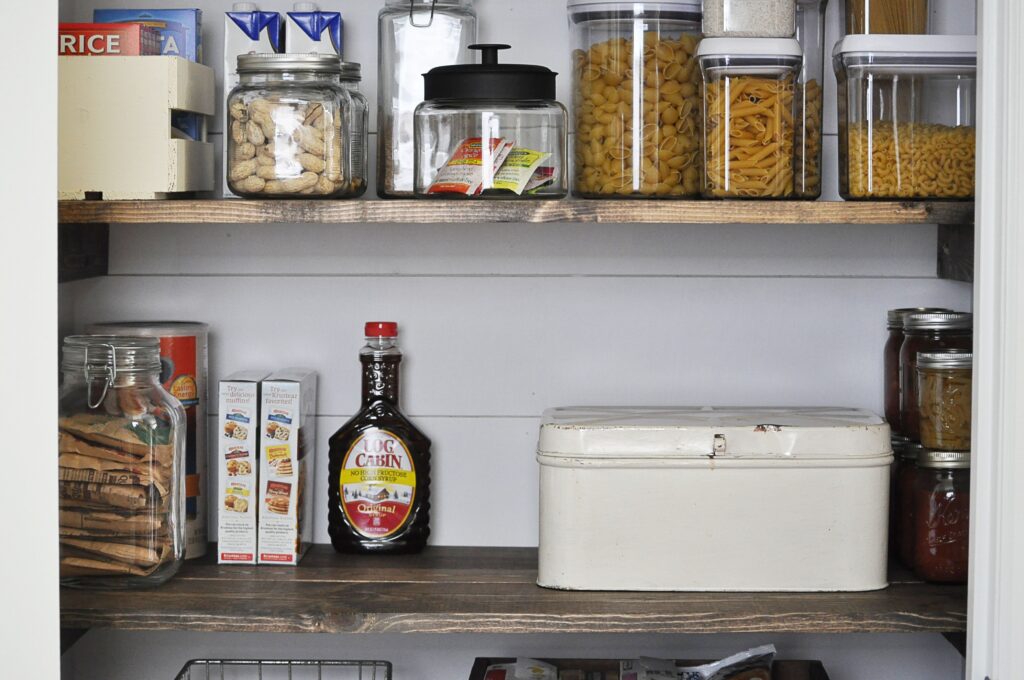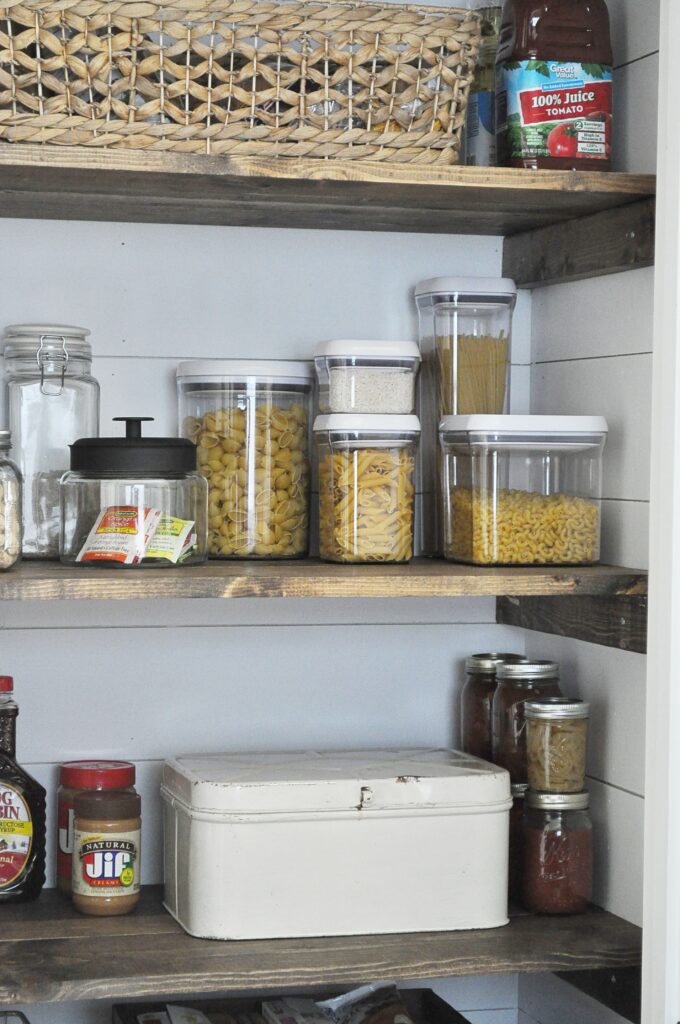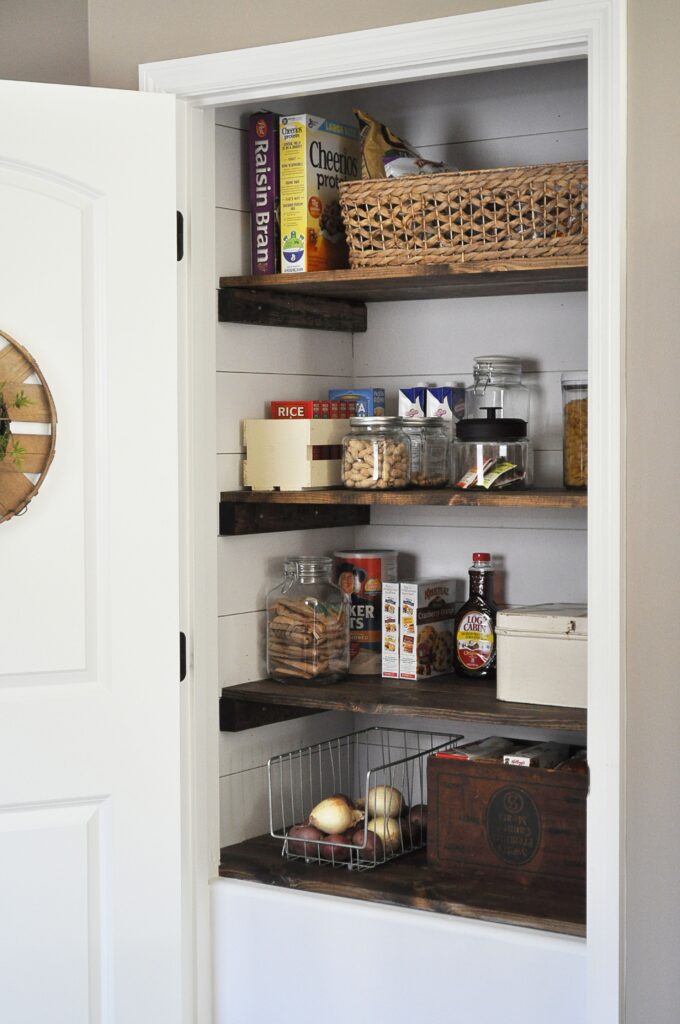 She's pretty, isnt she?