DIY Rustic Pumpkin Serving Stand
This post may contain affiliate links. For more information please see our disclosure policy.
This post is sponsored by The Home Depot.
Fall is right around the corner, and I could not be more excited about it! Cooler weather, changing leaves, and most importantly, pumpkin season! I am seriously obsessed with anything pumpkin related, so you can imagine how thrilled I was to be invited to participate in a virtual Do-It Herself Workshop with The Home Depot involving, you guessed it, pumpkins! I support anything that encourages women to get their hands a little dirty with some power tools and their minds conjuring up some creativity, and this DIY Rustic Pumpkin Serving Stand does just that!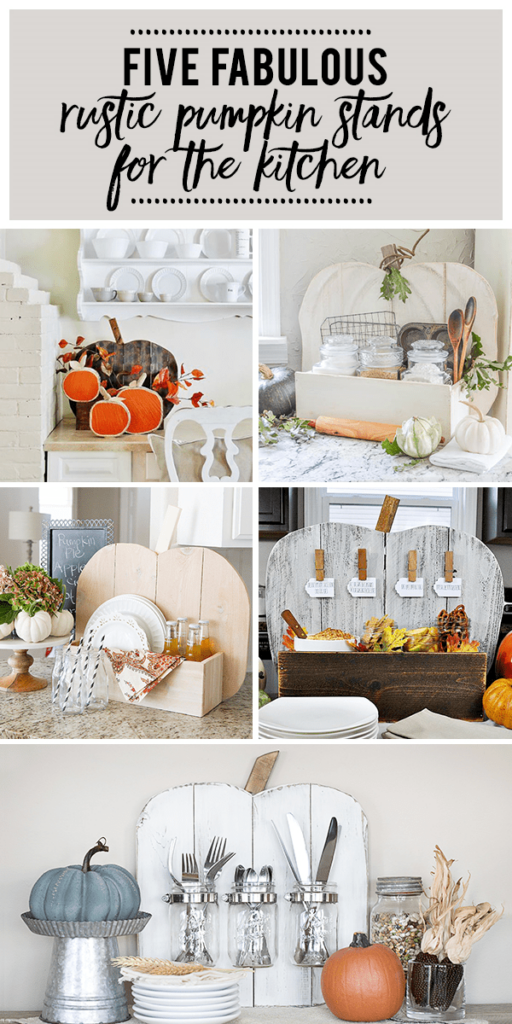 You may or may not already know this, but The Home Depot offers workshops at all of their locations for do-it-yourselfers of all ages and experience levels. Umm…sign me up! There are three types of Workshops offered: Do-It-Yourself (DIY), Do-It-Herself (DIH) and Kids. The Home Depot's Workshops are designed to provide a mix of associate-led instruction, demonstration, and some hands-on learning. Customers can learn how to build décor projects, how to make easy home repairs and how to operate tools through demonstrations and step-by-step instructions. Materials can be purchased to make your own project. For more information on any of these awesome workshops, contact your local Home Depot store and/or visit http://workshops.homedepot.com to learn more.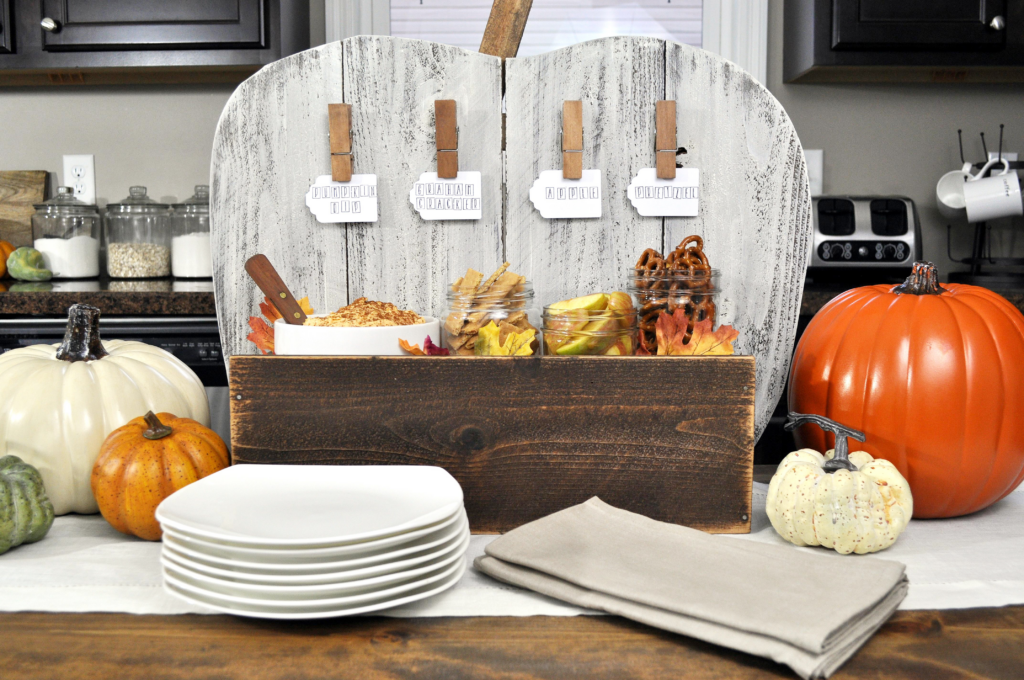 SUPPLIES NEEDED:
2 – 72″ x 5-1/2″ Cedar fence pickets, square edged preferred
1 – 1×2 x 4 feet long (can cut a 8 foot long 1×2 in half for use on two projects)
1″ & 2″ staples
Exterior wood glue
Measuring tape
Circular saw or miter saw
Jigs saw
Ryobi Airstrike Crown Stapler
Clamps
Solid work surface
Carpenter's pencil
Wood Stain
Rags
White Paint
Sponge Brush
Sand block
Clothespins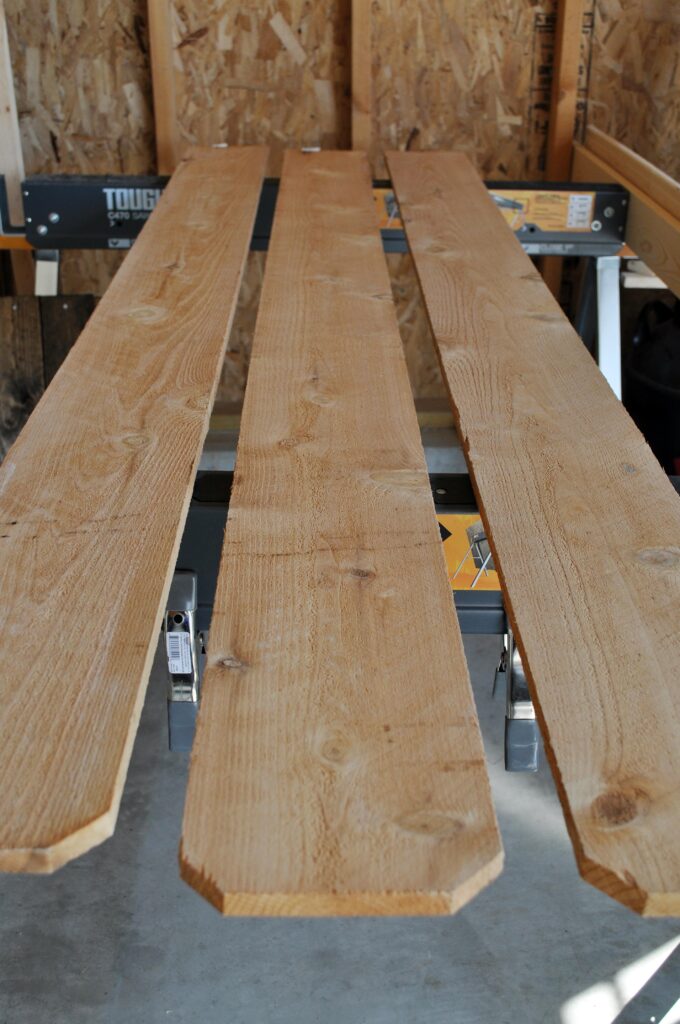 CUTLIST:
FOR THE PUMPKIN
4 – Cedar fence pickets cut into 18″ long pieces (length can be flexible to accommodate all four cuts on a single cedar fence picket)
2 – 1×2 @ 20″ long
1 – 1×2 @ 8″ long (length can be flexible to use up scrap wood)
FOR THE FRONT BOX
1 – Cedar fence picket @17″ long
2 – Cedar fence pickets @ 5-1/2″ long
1 – Cedar fence picket @ 16″ long
INSTRUCTIONS:
Cut all of your boards according to the cut list. For the pieces on the pumpkin, there is flexibility to cut slightly shorter to accommodate all of the pieces per given materials list. For the box pieces, it is important to cut straight and accurate to the cut list. The easiest saw to cut these pieces with is a miter saw, but a circular saw can be used as well.

Lay the four fence pickets on the work surface, so overall width is about 23″. Place 20″ long 1x2s on top, with about 1-1/2″ gap on either end. Use wood glue and two 1″ staples per overlap of 1×2 and each cedar fence picket to secure 1x2s to the fence pickets. Flip the project over. Add additional two staples per overlap of fence picket and 1×2 to secure fence pickets from front to 1×2 supports. Do not staple within 1″ of the edges, as there is no 1×2 backing there.

Starting 3″ out at the bottom edges, draw a pumpkin shape on the front of the cedar boards (I used a piece of the white chalk to draw mine). Avoid drawing so that the 1×2 supports will be crossed. Keep the shape organic and unique. Pumpkins generally are "bottom heavy" so consider a smaller rounding on the bottom and larger rounding on top. Position project so area to be cut out overhangs work surface to allow jigsaw blade to cut freely. Secure the project to the work surface with two clamps. Test to make sure project is secure. Cut out following pumpkin shape with jigsaw. Remove clamps and reposition and re-clamp to cut full pumpkin shape out.

Place stem in the center of the pumpkin and attached with glue and 2″ staples.

Use glue and 1″ staples to attach front of box to the sides of the box. Apply glue along three edges of bottom of box. Place bottom of box inside front and sides. Staple in place along side and front edges with 1″ staples.

Place box open side up on work surface. Apply glue along top edges. Place pumpkin on top, aligning bottom edge, and the start of the pumpkin shaped cut with the outside corners of the box. Use 1″ staples to secure bottom of pumpkin to bottom of box. Use a straight edge to guide you when stapling the pumpkin to the sides of the box.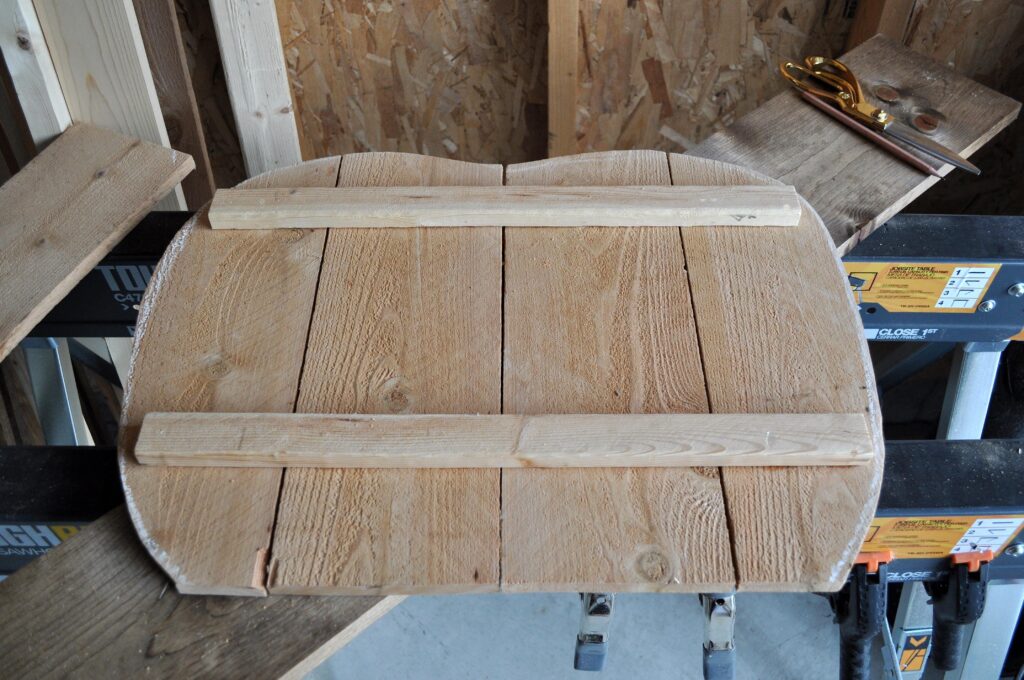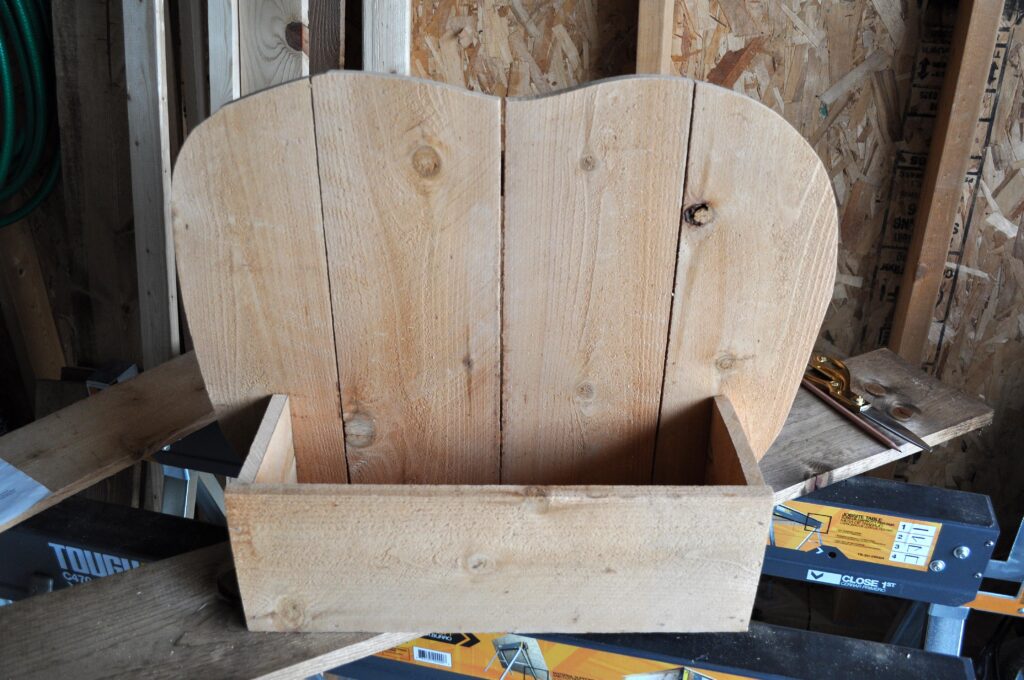 Once I was done getting the pumpkin stand put together, it was time to decide how to use it! Each group of the virtual Do-It Herself Workshop bloggers were assigned a different room to incorporate the stand in. Naturally, when I think of a kitchen I think of food, so I decided to use my pumpkin stand as a fall serving stand for my favorite pumpkin cinnamon dip!
I started by applying dark wood stain to the entire stand with old rags, making sure to wipe the stain off immediately after putting it on. Once it was completely dry, I used a sponge brush to add some white paint onto just the pumpkin part, brushing it on gently enough to where you could still see some of the stain and wood grain peeking through. I never get enough of that worn look! I left the box stained but used a sand block on the edges it to make it look more old and rustic. You know my style! I than attached some large clothespins to the pumpkin with wood glue for my serving labels to be pinned to. What do you think!? I love how it goes right along with my fall décor theme, and it is also super functional for any festive fall parties!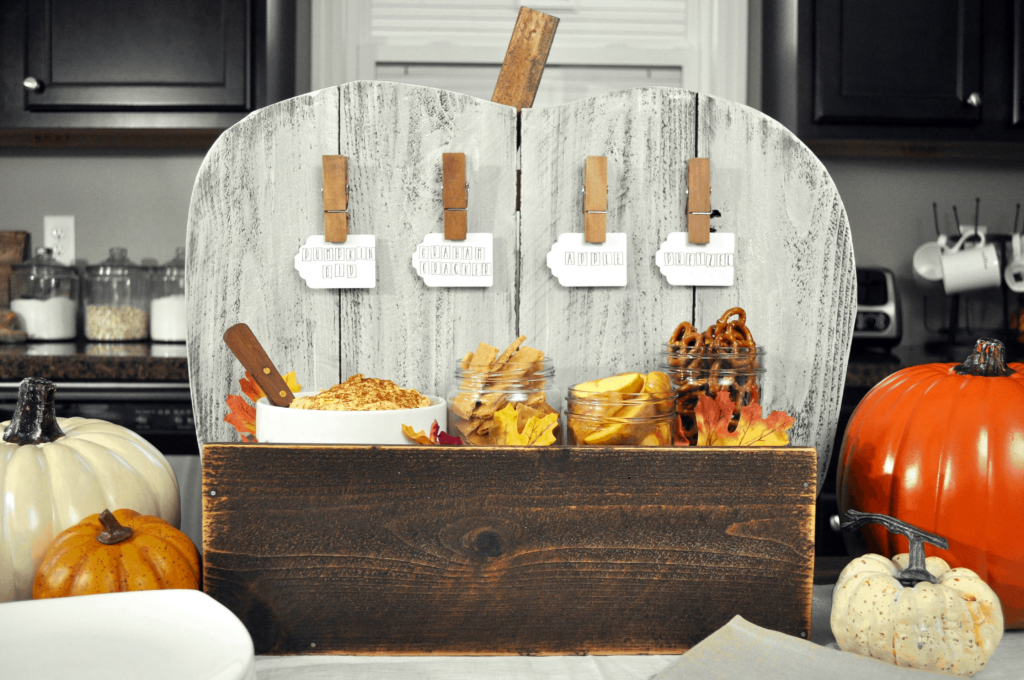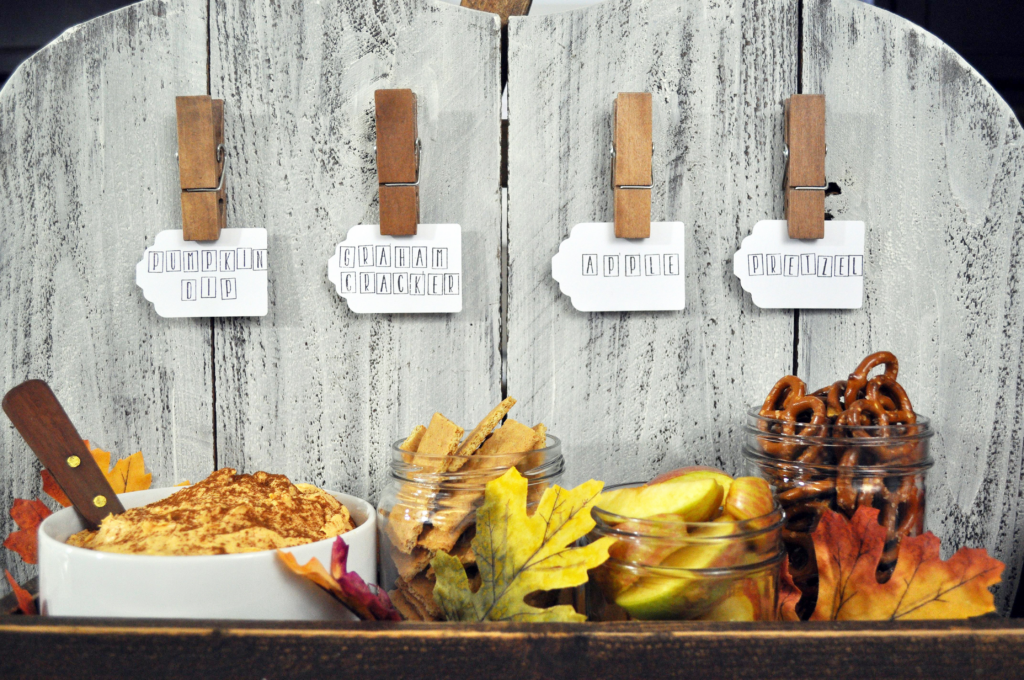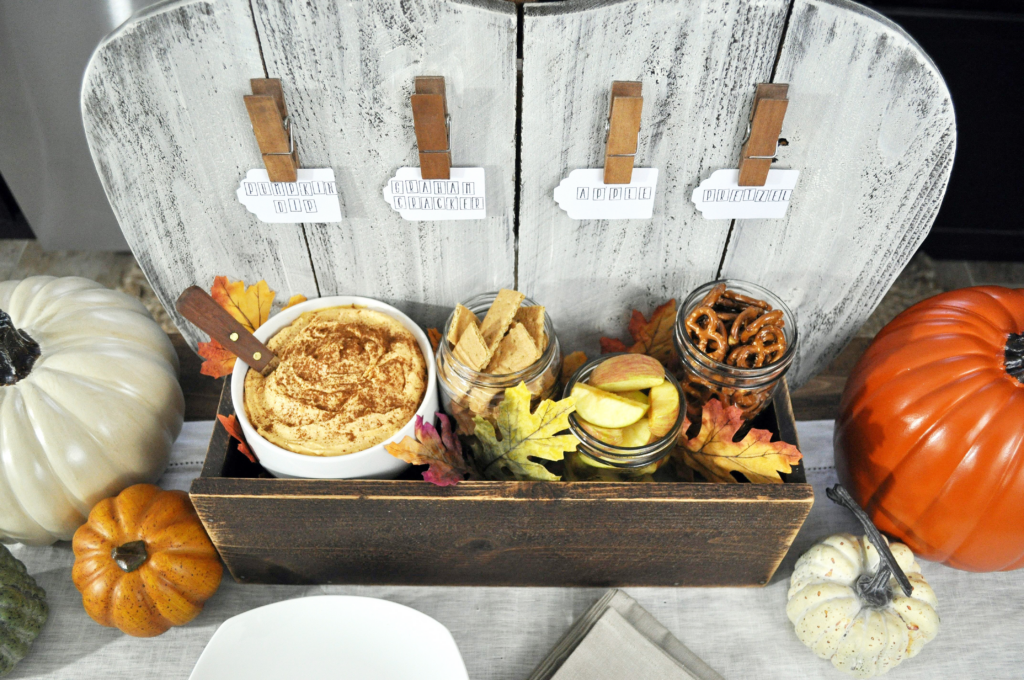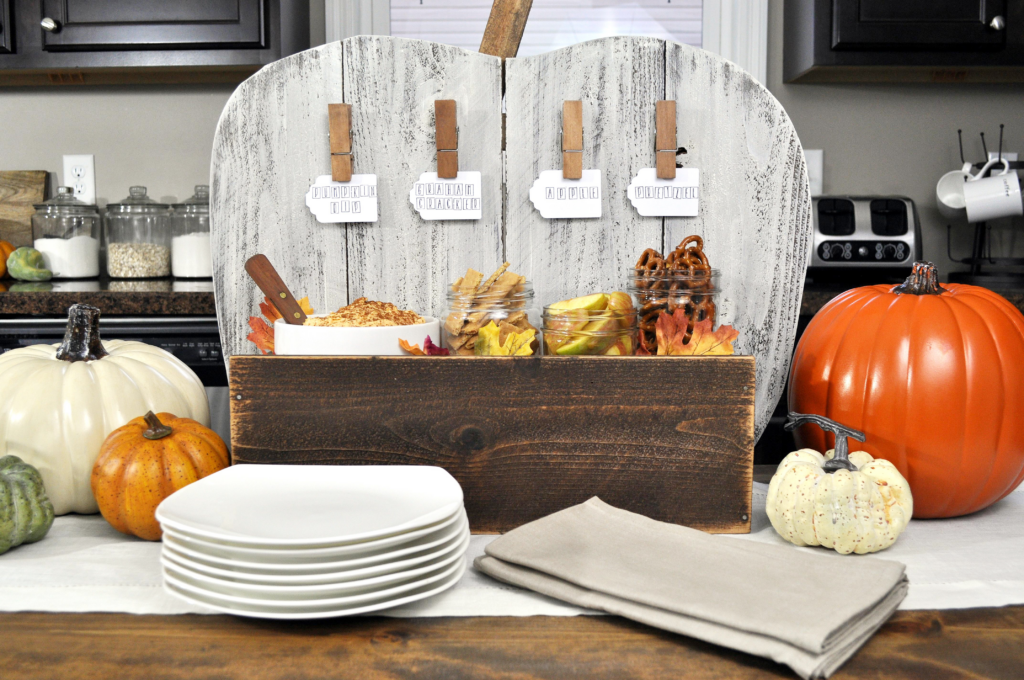 Be sure to stop by all of the other ridiculously talented bloggers below to see how they styled their DIY Rustic Pumpkin Stands! Trust me, you won't want to miss these! I hope they all inspire you to attend one of the upcoming workshops hosted by The Home Depot! To register, visit [here].

Kitchen
Guest Room
Living Room
Dining Room
Outdoors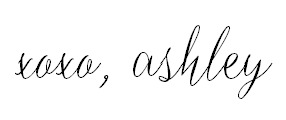 I acknowledge that The Home Depot is partnering with me to participate in this Workshops Program (the "Program"). As a part of the Program, I am receiving compensation in the form of products and services, for the purpose of promoting The Home Depot. All expressed opinions and experiences are my own words. My post complies with the Word Of Mouth Marketing Association (WOMMA) Ethics Code and applicable Federal Trade Commission guidelines.