Mondays are for fun announcements right? Well, I am super excited to let you know I am teaming up with The Home Depot on another Do-It-Herself Virtual Workshop! Thanks again to my good friend Kelly from Live Laugh Rowe for inviting me to join in on the fun! Mark your calendar for Monday June 16th, 2016 and join us! The June DIH project is a super cute Beverage Station that you can customize and add your own personality to. It's the perfect project to kick off summer and provide a spot to grab drinks from on all the hot days ahead. I know here in St. Louis the humidity can get unbearable, so this will be convenient to have around! And boy do I have some cute ideas to give it a little character!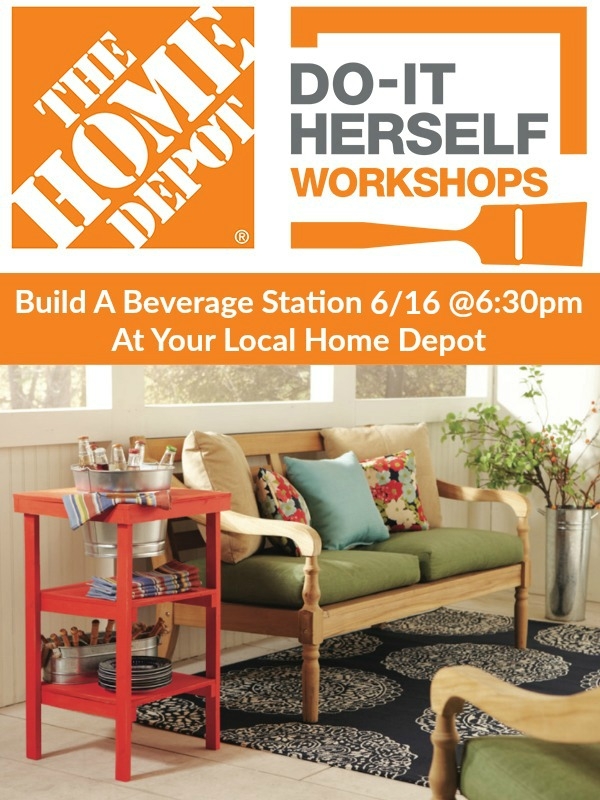 Fun Fact: Home Depot offers workshops at all of their locations for do-it-yourselfers of all ages and experience levels. They offer three types of workshops: Do-it-Yourself (DIY), Do-It-Herself (DIH) and Kids.  Customers can learn how to build decor projects, how to make easy home repairs and how to operate tools through demonstration and step-by-step instructions. How awesome is that!? Did I mention these are FREE classes? Makes you want to sign up right?
REGISTER HERE to make your very own Beverage Station at YOUR local Home Depot!
Grab some of your girlfriends and head to your local Home Depot for a fun night of DIH! Then come back here and see how I customized mine, along with a bunch of other talented bloggers too! There is nothing more empowering than building something all on your own, and impressing people when you tell them YOU built it! Don't miss out on all the fun!
 This post is sponsored by The Home Depot.